Tis the season for meat and cheese boards! I'm here to give you the low down on all things charcuterie boards with FFF partner, Lorissa's Kitchen!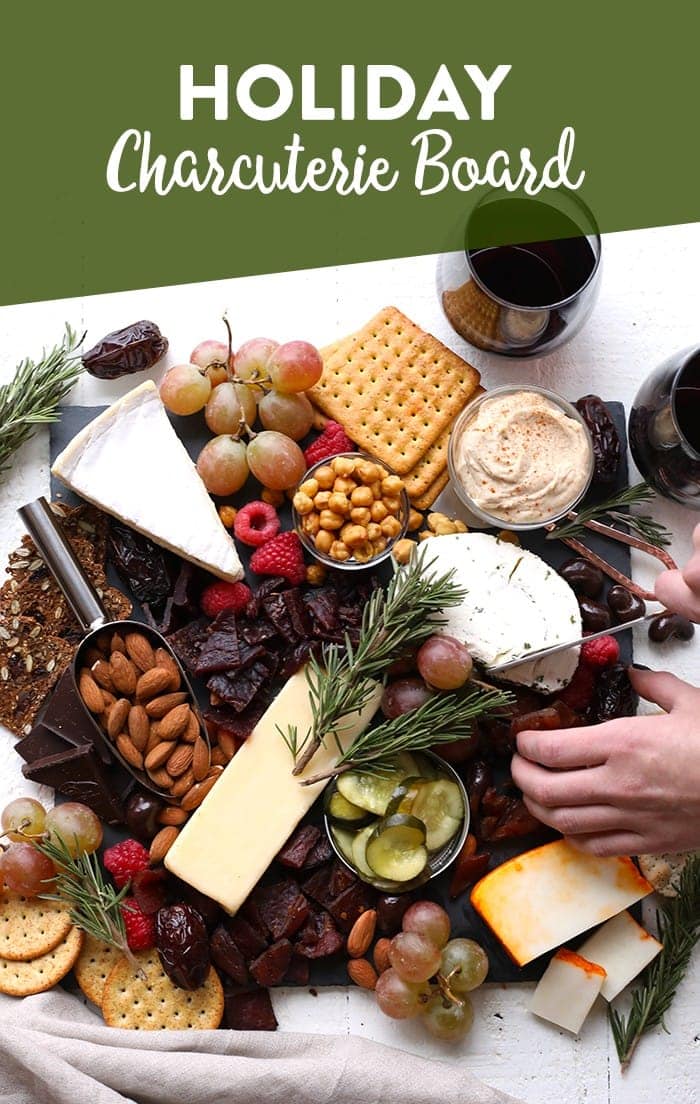 This might be one of the most fun, festive posts Linley and I have ever put together. I mean, if someone were to task you to make the ultimate holiday charcuterie board and call it work…I'm pretty sure you would be ecstatic (unless you were allergic to dairy and vegetarian).
One of my personal favorite brand partners is MN-based Lorissa's Kitchen. I love them because their product is something that I actually eat on a weekly basis and for so many different reasons! I love the quality and nutrition of their product, how easy it is to bring ANYWHERE, and how it makes for the perfect protein addition to any sweet and salty snack…like this charcuterie board! It's also a super accessible product to purchase if you live in the Twin Cities. We're talking Lunds and Byerlys, Target, etc! If you haven't tried LK yet, it's a "protein snack" that's packed with amazing flavor, no preservatives (this is huge), and meat without hormones (the way it should be!). One way that I've been enjoying LK is with CHEESE. You would think Lorissa's Kitchen would be a salty snack, but their flavors are actually quite the opposite. That's why I love pairing this protein with some form of salty.
Lin and I thought we'd put together the ultimate holiday charcuterie board to inspire you to throw a party and eat a whole lot of cheese.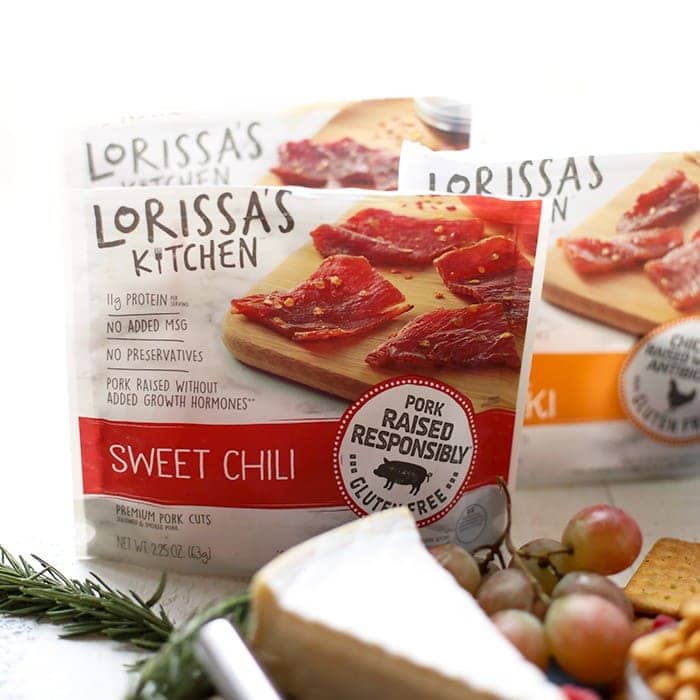 First things first- you need to get yourself a charcuterie board. Every 20-something should own one because you never know when wine and cheese night is going to sporadically pop up. We got our slate cheese board from Crate and Barrel…along with some adorable cheese knives. I felt so grown up with these purchases. It's about dang time, seriously.
Next up is the anatomy of your charcuterie board.
Cheese
Fresh and dried fruit
Nuts and seeds
Jams and Spreads
Veggies
Meat
Crackers
Fresh herbs
Dark chocolate/sweets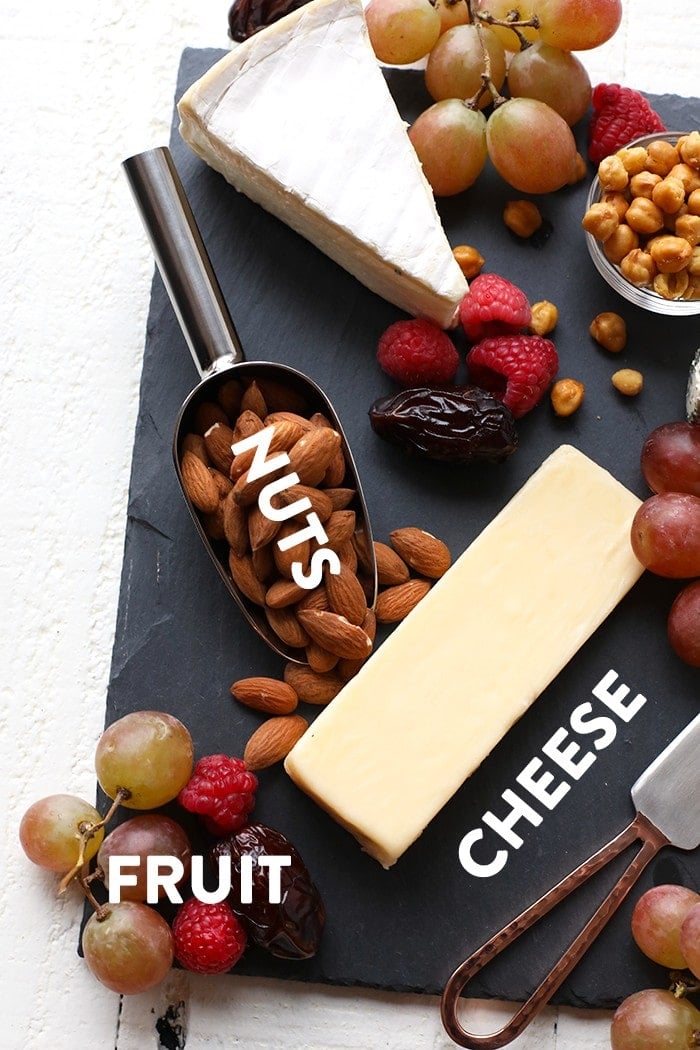 The amazing thing about making one of these bad boys…is that you can pretty much use anything that's in your kitchen and mix and match the essentials to go with your personal preference. For example- we chose four of our favorite cheeses (brie, gouda, cheddar, and goat). For fresh and dried fruit we used grapes, raspberries, and dates. Almonds and roasted garbanzo beans for the nuts/seeds. And the pickles, dark chocolate, and chocolate covered cashews were all last minute additions because that's what we had on hand.
How could I forget the Lorissa's Kitchen. We used 3 flavors in total: Sweet Chili, Ginger Teriyaki, and Korean BBQ. They are the perfect replacement for fresh or cured meats and they give an amazing texture to your combos!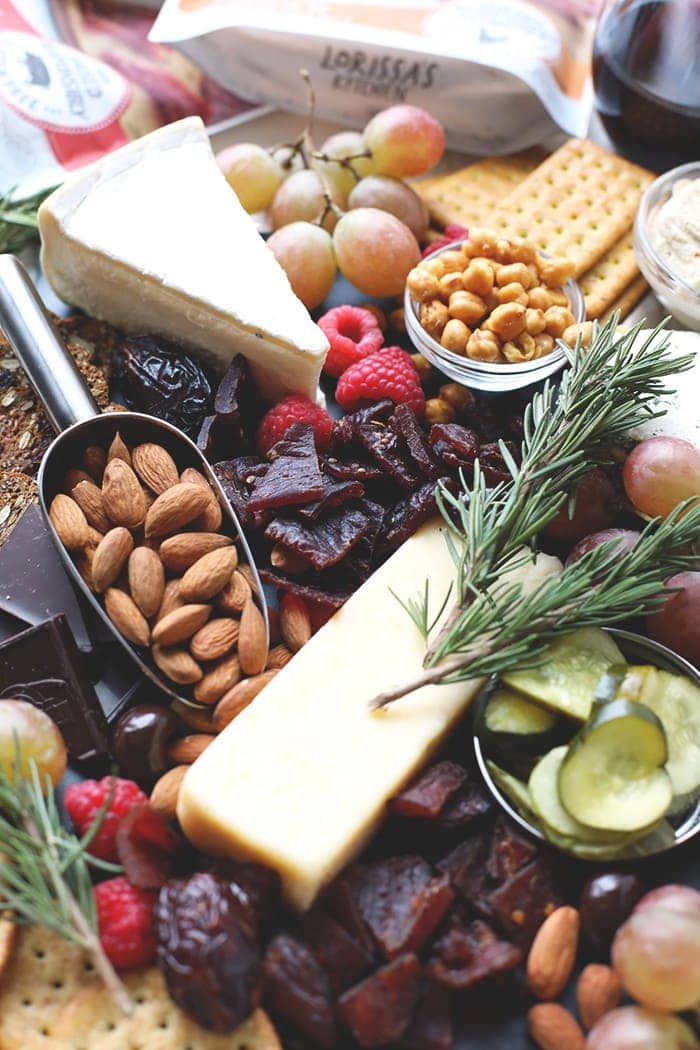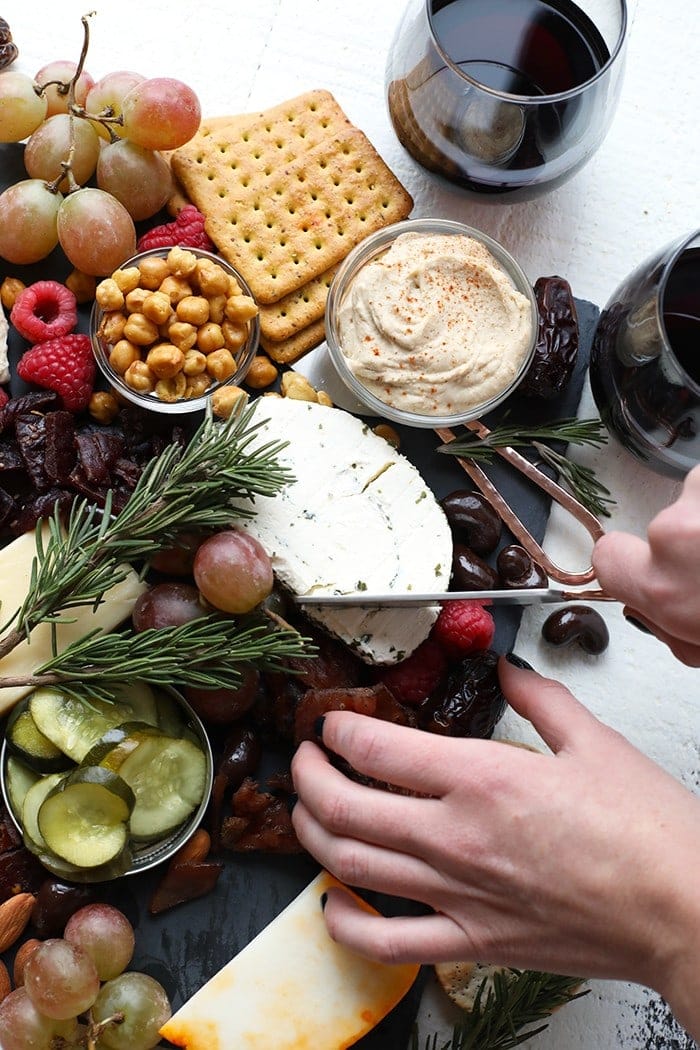 I hope this post has inspired you to make your own charcuterie board this holiday season instead of purchasing a store bought one! They're so easy and fun and a necessity for your next party.
This post is sponsored by Lorissa's Kitchen. I was compensated and all opinions are my own! Thanks for supporting Fit Foodie Finds and making this website possible!