So much for making Shakshouka.
I always get these ideas to make something fabulous and then half way through it turns into something WAY MORE FABULOUS…usually on accident.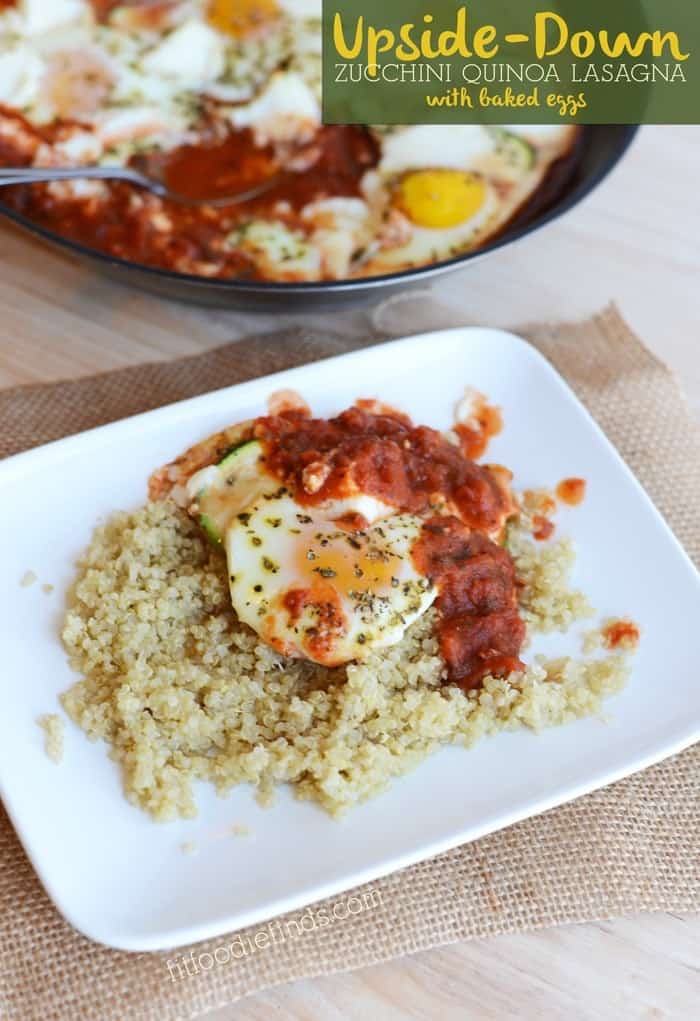 Upside-Down Zucchini Quinoa Lasagna with Baked Eggs it is!
Hot diggity dawg. This is all of my favorite things in one dish.
A long, long time ago, back when FFF was in its prehistoric age, I made Zucchini Quinoa Lasagna. It was damn good, but I had no clue how to take a photo. I've been telling myself that I should remake that meal because is tasty as ever and that post could use some new photos.
Well. I sorta did that?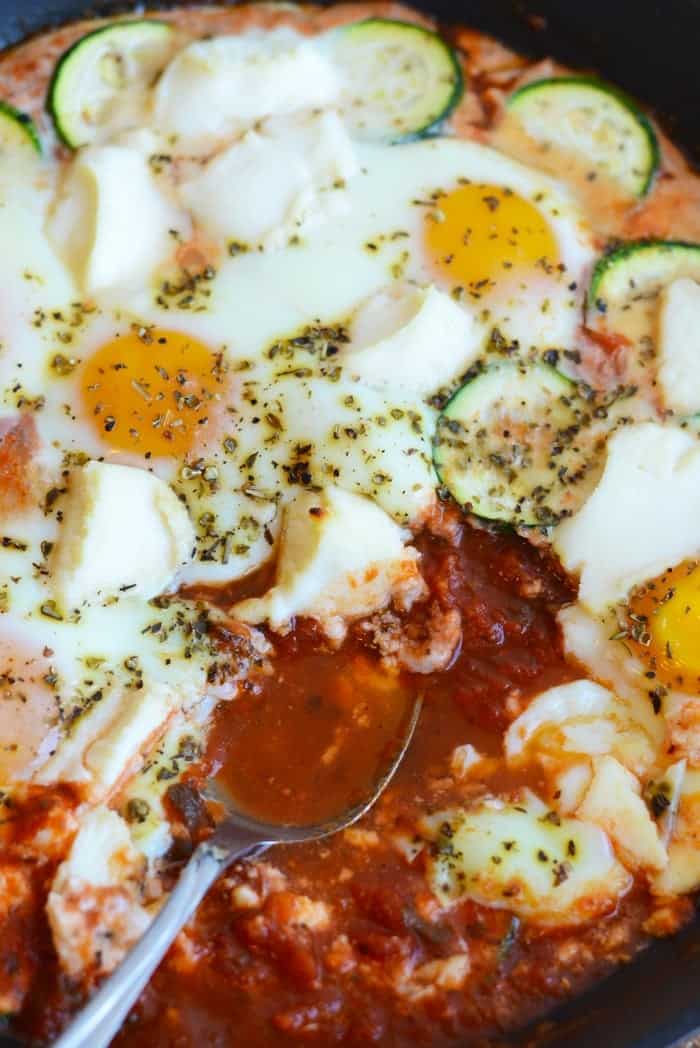 Eggs on top of this is actually genius. I LOVE BAKED EGGS.
Next time I make this, I am adding some meat into the sauce (maybe ground turkey or ground beef if Blake is lucky).
Recipe
Upside-Down Zucchini Quinoa Lasagna with Baked Eggs
Prep Time:

20 minutes

Cook Time:

40 minutes

Total Time:

1 hour
Ingredients
-1 jar marinara sauce (any kind will work!)
-1/2 cup onions, diced
-1/2 Tablespoon garlic, minced
-1 Tablespoon EVOO
-6 eggs, large (or more if you can fit them!)
-1 large zucchini, thinly sliced
-3/4 cup (or more) ricotta cheese
-1 teaspoon basil, fresh or dried
-salt and pepper, to taste
-1 cup quinoa, uncooked
-2 cups vegetable broth (or water)
Instructions
In a large oven safe sauce pan, heat 1 tablespoon of EVOO. Then, sauté 1 tablespoon of minced garlic and 1/2 cup diced onions until onions become translucent.
Next, pour on marinara sauce. Then place thinly sliced zucchini on top of sauce.
Crack 6 eggs on top of the zucchini. Then, season with salt and pepper (to taste) and basil.
Finally, spoon on ricotta cheese. I used about 3/4 cup and spooned on about 1 tablespoons at a time, but feel free to use more!
Bake at 350 for 35 to 40 minutes or until your eggs are at the desired texture.
While your eggs are baking, prepare quinoa by placing 1 cup of quinoa and 2 cups vegetable broth in a medium size pot. Bring to a boil. Then cover and turn down to low. Let simmer for about 15 minutes or until all of the water has absorbed.
Serve Zucchini Lasagna with Baked Eggs over a big scoop of quinoa!
Similar
Love this before and after.
So gorgeous.
ONE POT MEALS ARE THE BOMB.
Seriously. I threw this guy in a tupperware and ate this all week. Now that's my kind of Sunday meal prep. I didn't tell Blake about this because I wanted the leftovers all to myself…shhh :D He saw me writing this post and was like…"WHAT IS THAT SLASH WHERE IS THAT?"
Oop. Sorry, babe.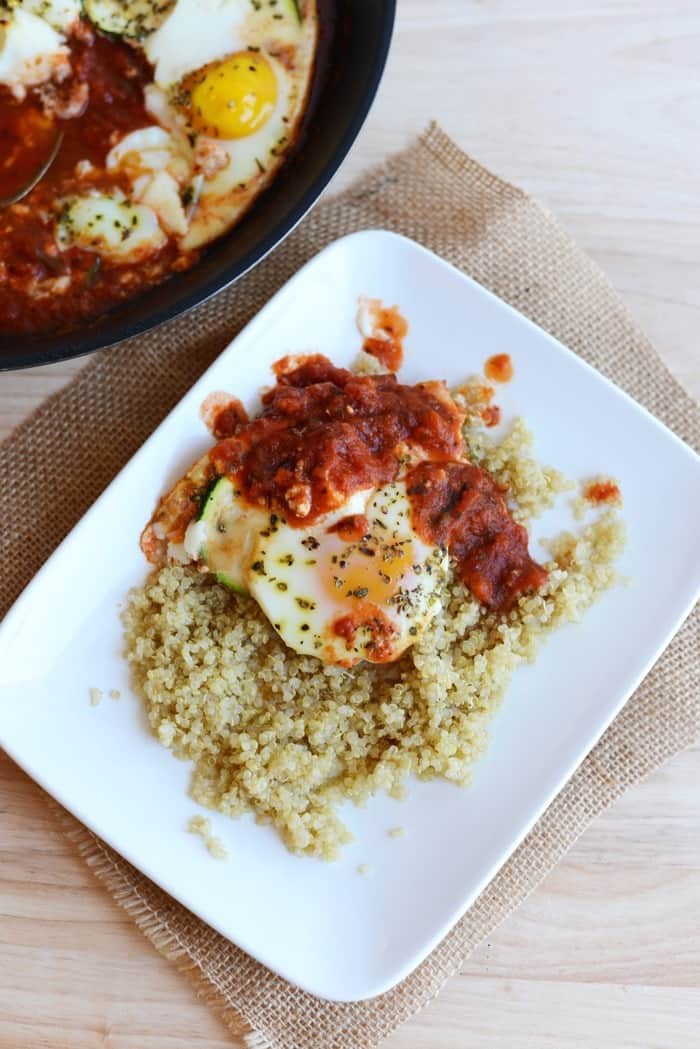 I'm sitting here watching the squirrels play in my backyard. Oddly enough, it's making me really happy. The sun is shining, the grass is starting to change from a poop brown color to a poop green color. Spring is finally approaching. Life is good!
Happy Holidays to those celebrating today!