This healthy rice pudding recipe is made with brown rice, vanilla almond milk, and coffee giving it the most delicious, aromatic flavor! Plus- it's gluten-free and vegan!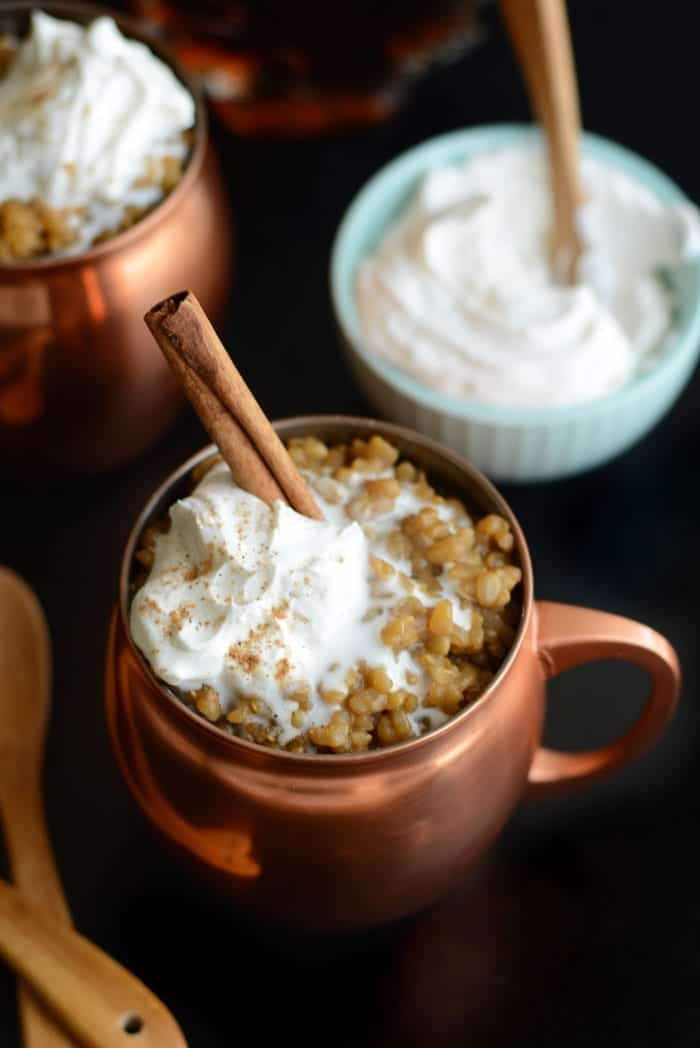 As a blogger who is constantly producing new (AMAZING…jus sayin :D ) content, I try and keep most of the Fit Foodie jam off of my personal facebook page. I do every once in a while link to a recipe I'm proud of or a fun workout.
Last week I asked my personal friends…."If you were going to make rice pudding but wanted to give it a unique holiday flavor…which would you choose?!"
I got over 40 responses…here are some of my favorites:
Eggnog
Gin
Cinnabun
Mashed Potatoes and Gravy
Gingerbread
Candy Canes and Rum
Turkey Broth
These responses say a lot about my friends….1. They love holiday flavors 2. They are almost always drunk (jk, but they love to drink) and 3. They are extremely creative.
My girl Emily Miner commented with Gingerbread Almond Milk Latte, which got me on the Latte train. Oo0o do I love the flavor of coffee :D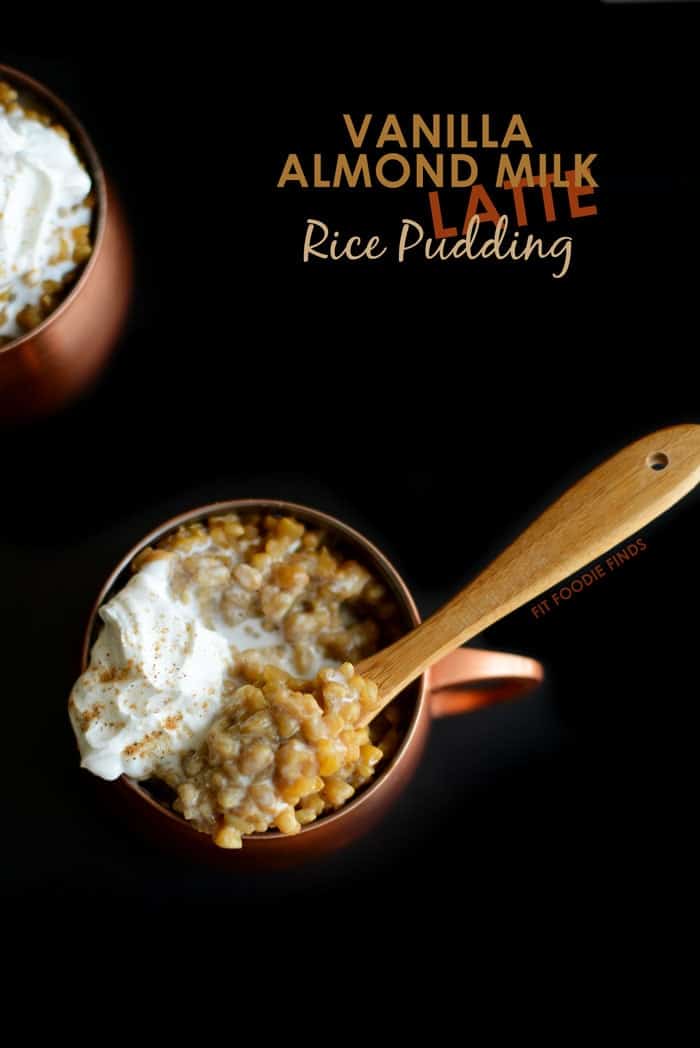 This shiz is SO TASTY I couldn't stop eating it. I topped it off with some maple coconut whipped cream and ER MER GERD.
It's the hot plus cold that makes me swoon.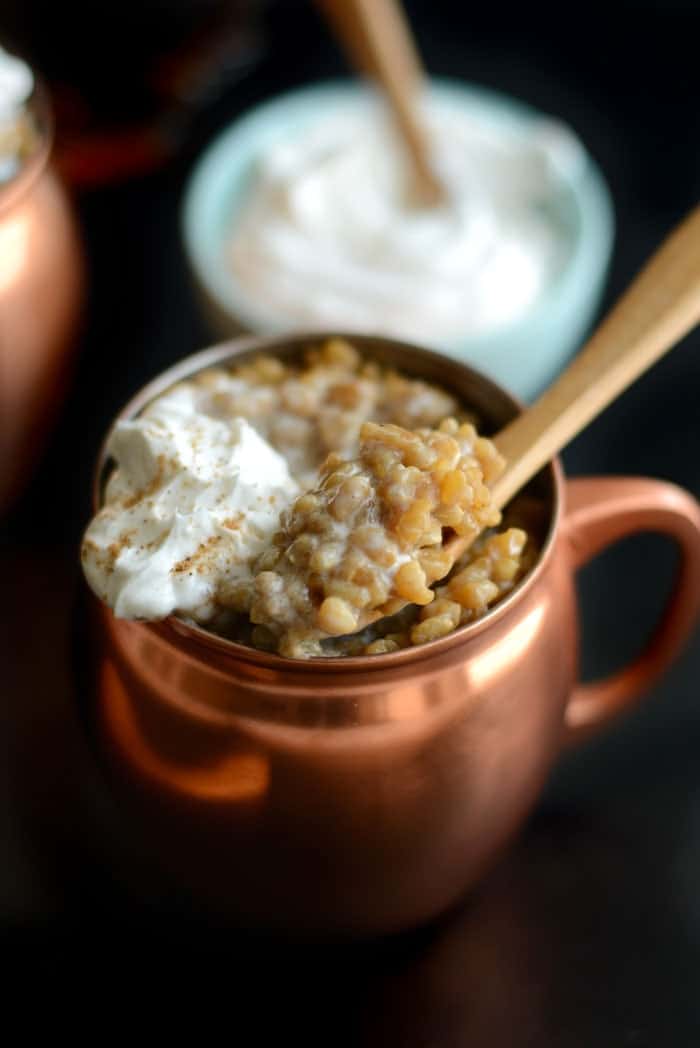 Definitely a recipe that I hid in the back of the fridge and prayed to God Blake didn't see :D
I should start putting all my good recipes in dark containers with a tag on it that says something gross like liver or cow brains. Knowing Blake that would intrigue him enough to open it :D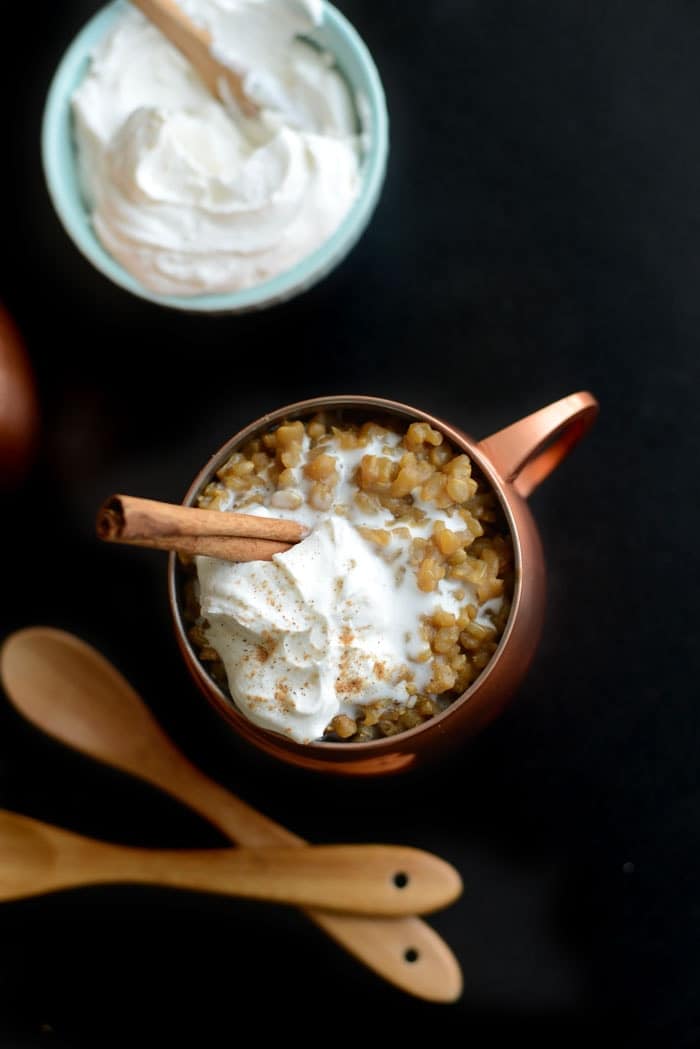 Recipe
Healthy Vanilla Almond Milk Latte Rice Pudding
Prep Time:

5 minutes

Cook Time:

1 hour

Total Time:

1 hour 5 minutes
Ingredients
For the Rice Pudding
1.5 cup

s short grain brown rice

1.5 cup

s coffee, brewed

2.5 cup

s +

1/2 cup

s divided vanilla almond milk, unsweetened

6 tablespoon

s coconut palm sugar

1 teaspoon

vanilla extract

1

cinnamon stick
pinch of salt
For the Maple Coconut Whipped Cream
1/2 cup

coconut cream, chilled

1 tablespoon

maple syrup
Instructions
For the Rice Pudding
Place all ingredients (minus 1/2 cup of almond milk) in a medium-sized pot. Bring to a boil and then cover, turn down to low and let simmer until most of the liquid is dissolved. It too about an hour of simmering. Taste the rice to see if it has softened, if it is still hard, add more milk and continue to simmer. Once the rice is at your preferred texture, add about 1/2 cup of almond milk and stir. It should be very thick at this point.
For the Maple Coconut Whipped Cream
Place coconut cream and maple syrup in a medium size mixing bowl. Then, using a hand mixer, mix for about 3-5 minutes or until it becomes fluffy like classic whipped cream.
Similar
Please excuse me while I go stuff my face with the last of this recipe :D