Make dinner easy tonight with these delicious vegan sweet potato tacos! No meat? No problem! The flavors in these vegan tacos are vibrant and will leave your taste buds tingling.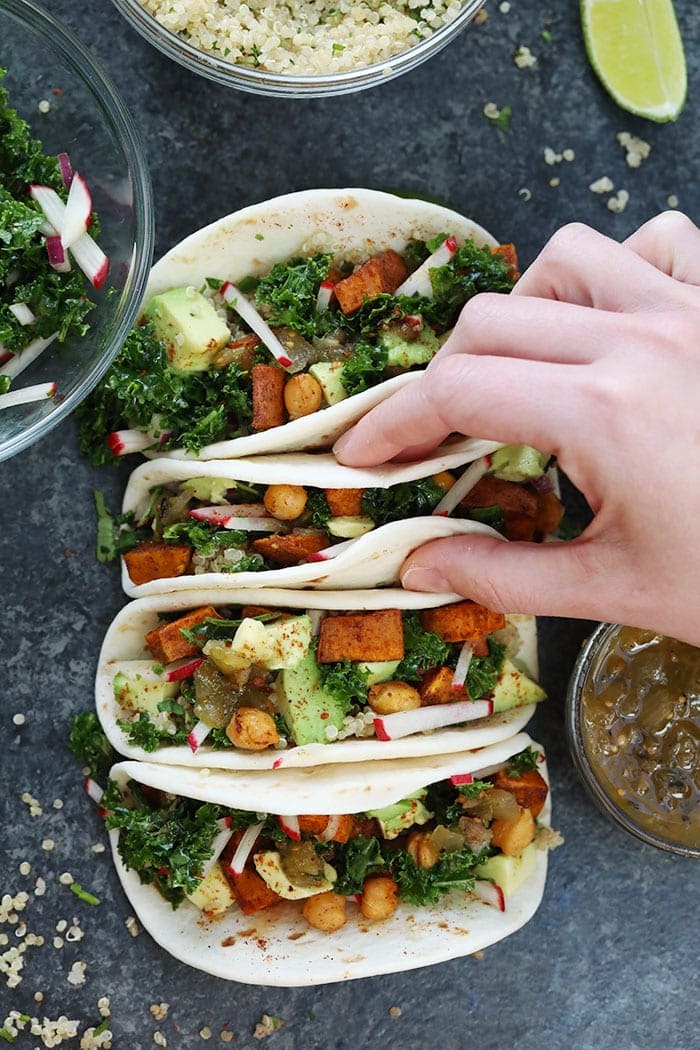 Have you ever met someone that didn't like tacos? Think about it for a second. Right?! It is a staple meal in most people's home! We have plenty of taco recipes on Fit Foodie Finds. Including taco inspired recipes like this taco soup and 7 Layer Taco Dip! I think that tacos are so widely loved because you can make them your own. Not only can you switch out your protein for whatever you'd like and decide whether or not you want a soft shell or a crunchy shell, but you can make tacos with traditional Mexican spices OR do a fun variation of tacos with an Asian flare! The options are endless!
Today we are talking all about these vegan sweet potato tacos. These babies are great for an easy weeknight dinner or perfect for a meal prep option for the week! The deal is that you'll make each step of these vegan tacos, store them separately, and build them the day you eat them. SO simple and SO delicious.
Vegan Meal Prep
We love a good meal prep recipe on Fit Foodie Finds! There are so many people that follow FFF from many different walks of life that all have different needs when it comes to your diet. We've got chicken meal prep options, breakfast meal prep options, and everything in between! Today we are talking VEGAN MEAL PREP. Why? Because there are so many of our followers that follow a vegan lifestyle and we love developing vegan recipes.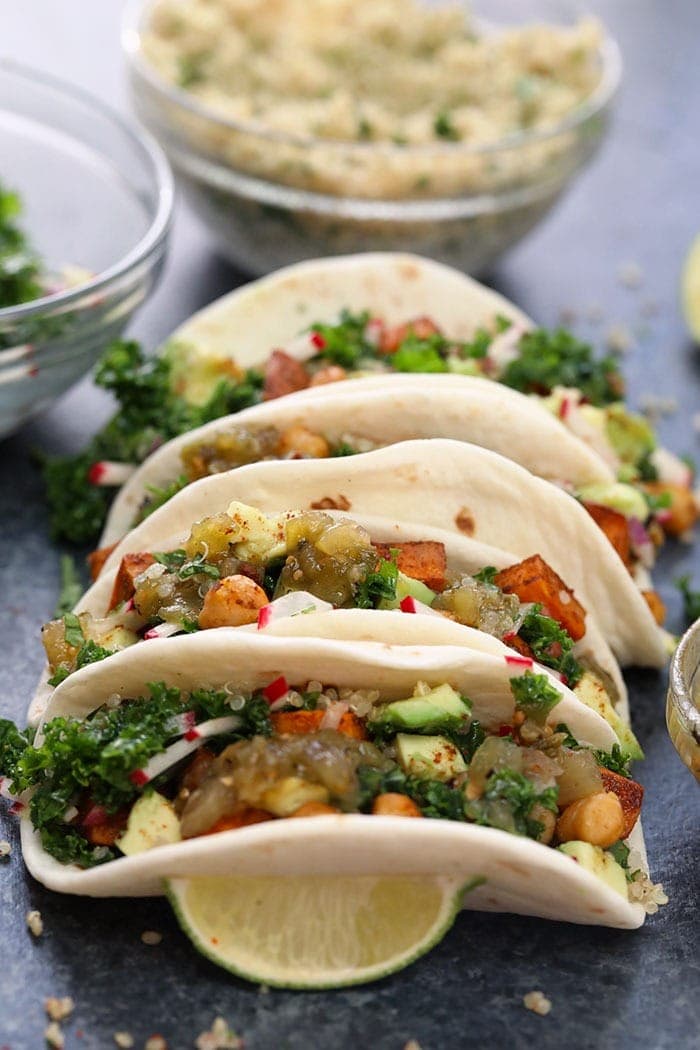 How to Build Vegan Tacos
We have separated out this sweet potato tacos recipe out into steps in the recipe card. You will prepare your kale slaw, cilantro lime quinoa, and sweet potato meat all separately and build your vegan tacos when you are ready to eat them. So, meal prepping these tacos could look like three separate meal prep containers that have been equally filled with the innards of your tacos paired with a stasher bag of tortillas of your choice. Boom. Lunch is ready.
Vegan tacos look so different for everybody. These sweet potato vegan tacos are exactly what we like to put into our tacos. We love sweet potatoes and we added extra protein with the garbanzo beans. Another combo we can't live without is the hot/cold combo in every meal. The kale slaw gives us a tasty and bright flavor that pairs nicely with the sweet potatoes! Lastly, the cilantro lime quinoa brings this whole recipe together.
If you are not a fan of our vegan taco recipe, we've done a little brainstorming for you below, so you can make this vegan taco recipe your very own. You just need one of each ingredient below and you'll be all set!
"Meat"
Sweet Potatoes (Check out our how to roast sweet potatoes post for different ways to roast your taters)
Tofu or Sofrita
Black Beans
Roasted Garbanzo Beans
Red Potatoes
Mushrooms
Jackfruit
Mock duck
Slaw
Purple cabbage
Massaged kale
Shredded brussels sprouts
Arugula
"Grain"
Cauliflower Rice
White Rice
Quinoa
Farro
Toppings/Spices
Fresh cilantro
Fresh Lime Juice
Avocado
Toasted quinoa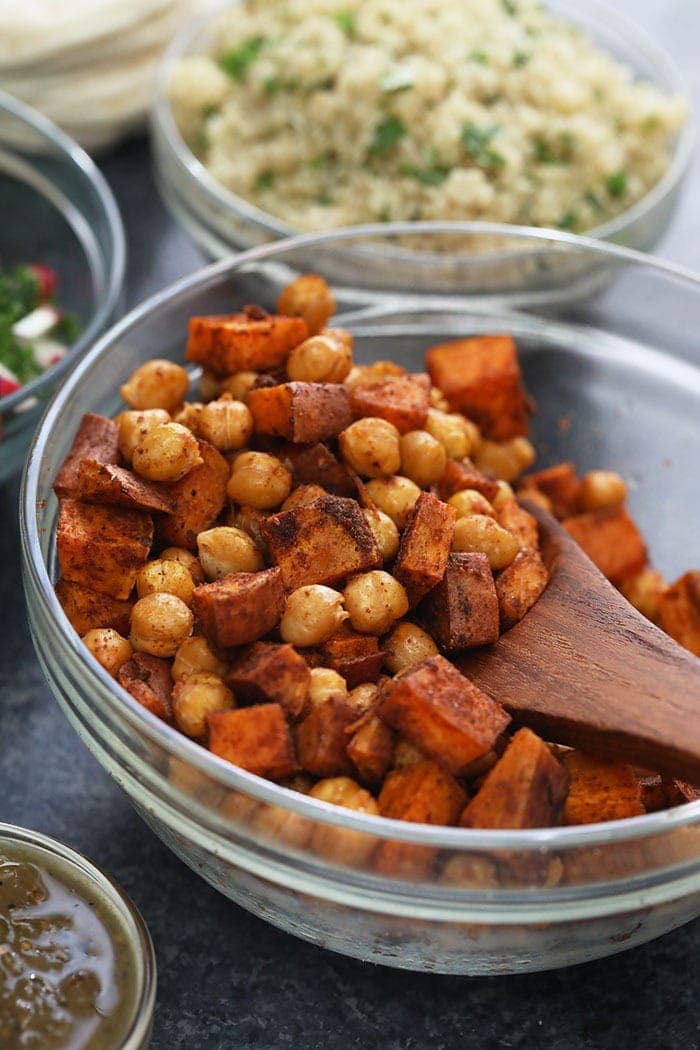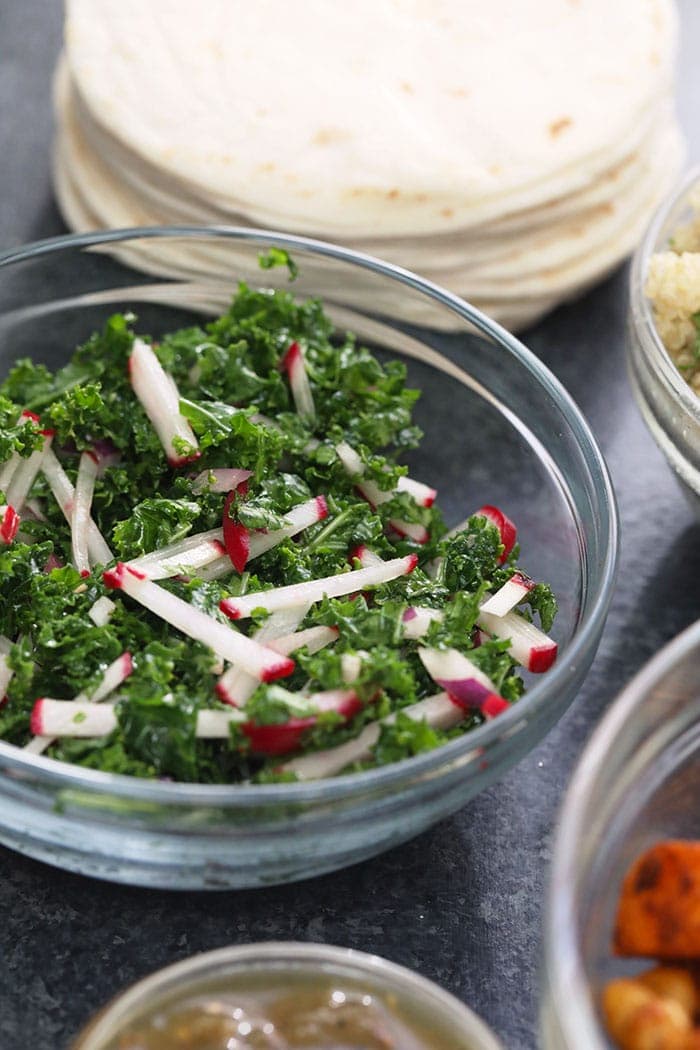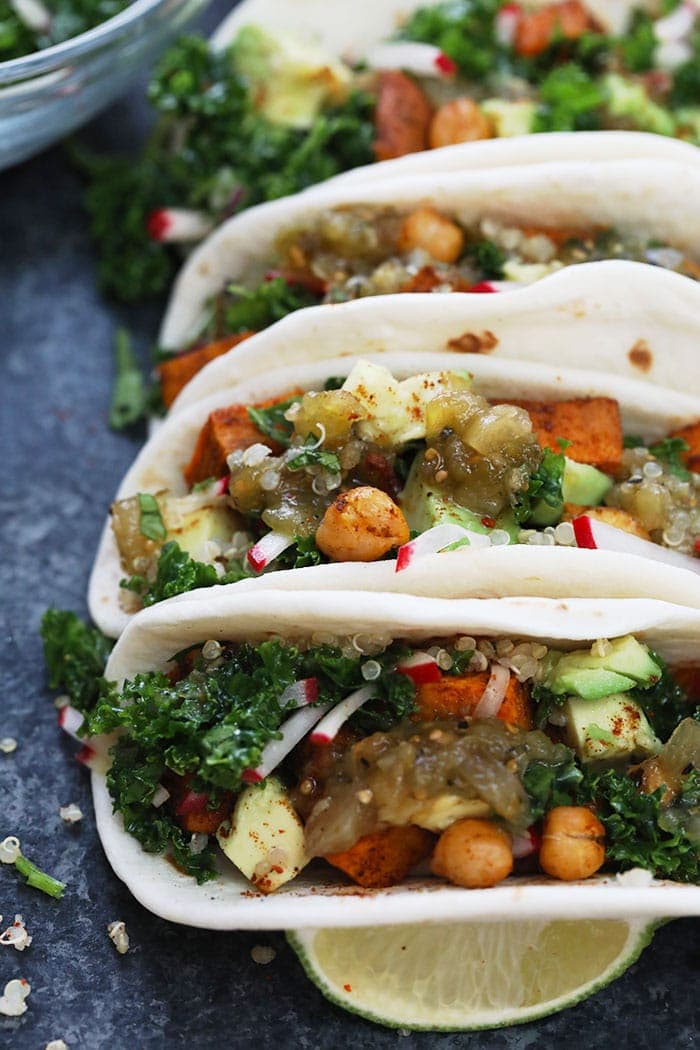 Fit Foodie Finds Vegan Recipes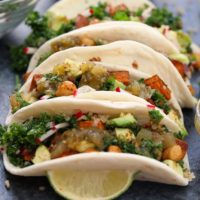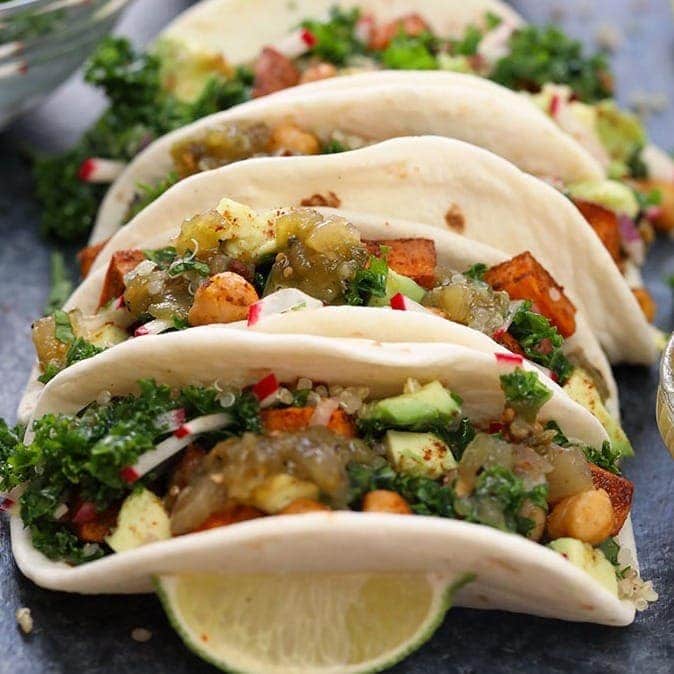 Vegan Meal Prep Tacos
Make dinner easy tonight with these delicious vegan sweet potato tacos! No meat? No problem! The flavors in these vegan tacos are vibrant and will leave your taste buds tingling.
Prep:
30 minutes
Cook:
30 minutes
Total:
1 hour
Fat
16
Carbs
68
Protein
14
Ingredients
Kale Slaw
1 cup

packed kale, de-boned, rinsed and chopped

1 teaspoon

olive oil
pinch of salt

2 tablespoons

minced red onion

1

large radish, thinly sliced

1/2 teaspoon

apple cider vinegar

1 teaspoon

lime juice
Sweet Potatoe Taco Meat
1

large sweet potato, chopped into

1

-inch squares

2

cloves garlic, minced

1 tablespoon

olive oil

1/2 tablespoon

chili powder

1/2 tablespoon

ground cumin

1/8 teaspoon

paprika

1/2 teaspoon

salt

1

15-oz. can garbanzo beans, (drained, rinsed, and de-cased)
Cilantro Lime Quinoa
1/2 cup

uncooked quinoa

1 cup

water

2 tablespoons

fresh cilantro, finely chopped

1 teaspoon

lime juice
pinch of salt
Tacos
8

small flour tortillas

1

large avocado
salsa or hot sauce
Instructions
Kale Slaw
Place kale into a medium mixing bowl. Add olive oil and massage with your hands for 3-4 minutes or until kale breaks down and becomes soft.
Add the rest of the ingredients for the kale slaw to the bowl and mix. Make sure all ingredients are combined and place into the refrigerator.
Sweet Potato Taco Meat
First, preheat oven to 400ºF. Place sweet potato and garlic onto a baking sheet. Drizzle with olive oil and then season with chili powder, cumin, paprika, salt, and pepper. Toss and make sure all ingredients are combined and sweet potatoes are covered with olive oil and spices. Roast for 10 minutes.
Remove from oven and add garbanzo beans to the baking sheet. Toss with all ingredients and roast for an additional 15 minutes.
Begin to prepare cilantro lime quinoa and then remove sweet potatoes from the oven.
Cilantro Lime Quinoa
Place water and quinoa into a medium saucepan over high heat. Bring to a boil and then turn heat to low, cover, and let simmer until all water has been absorbed (about 20 minutes).
Next, place quinoa into a mixing bowl and add cilantro, lime juice, and salt. Mix well.
Tacos
Evenly distribute kale, sweet potatoes, cilantro lime quinoa, and an avocado onto tortillas and enjoy with your favorite salsa or hot sauce.
Tips & Notes
Nutrition includes tortillas
Nutrition Facts
Serving Size:
1/4
Calories:
457
Sugar:
8
Sodium:
741
Fat:
16
Carbohydrates:
68
Fiber:
15
Protein:
14
Category:
Dinner
Method:
Oven
Cuisine:
Tex Mex
5 Ingredients – 4 Vegan Meal Prep Ideas
We took 5 basic vegan ingredients that you likely have on hand at all times and made 4 different vegan peal prep recipes! Each recipe uses all 5 ingredients (sweet potato, onion, garlic, garbanzo beans, and quinoa) plus a few other basic add-ins for 4 completely different vegan meal prep ideas.

4 Vegan Meal Prep Ideas