Why get out of your it® bed when you can have breakfast in bed? This flavorful Pumpkin French Toast is made with sprouted bread and pumpkin puree and topped with a delicious pumpkin coconut whipped cream!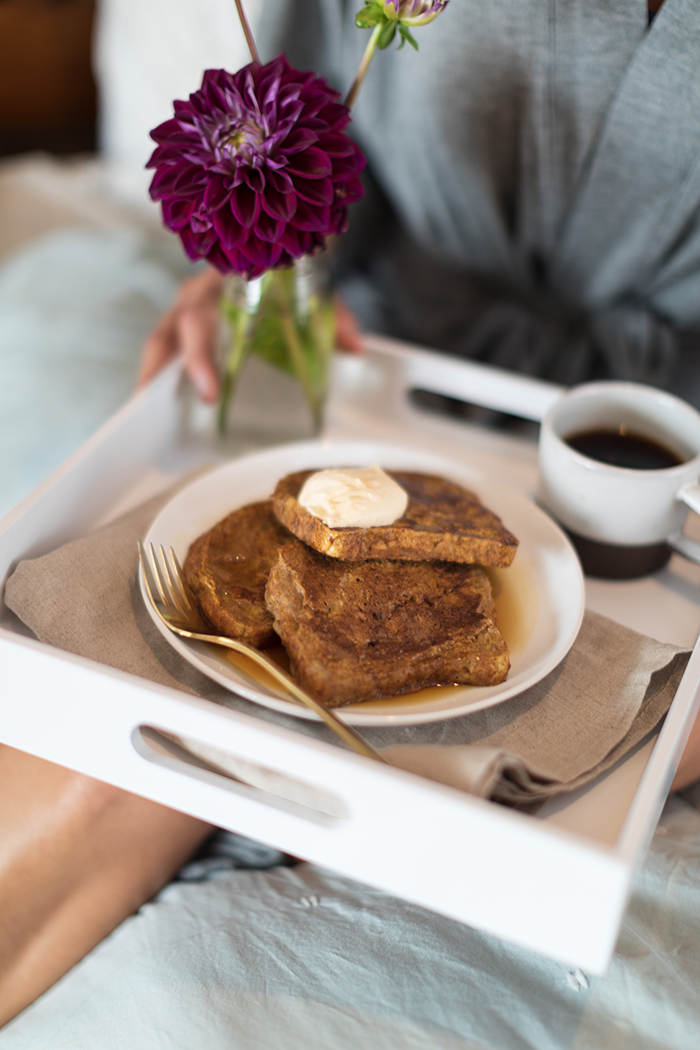 Hello there! I am back with another collab with my friends over at it® bed. I thought it only made sense to develop the most delicious, fall-inspired breakfast to go along with my favorite way to sleep…on my it® bed 😀
Before we jump into this AMAZING Pumpkin French Toast recipe, I wanted to chat more about my experience so far with my new bed! For starters, once you go king you never go back. Having a king bed is like a dream, and with this bed, I feel like I have the hotel experience every single night. Second, I am a sucker for information and I love the high-tech aspect of this bed. In my post a few weeks ago I shared a little bit about how the SleepIQ® technology allows you to track how well you sleep. Well, over the past few weeks it's been such a cool feature to use and analyze and better understand how to tweak a few things to get better sleep.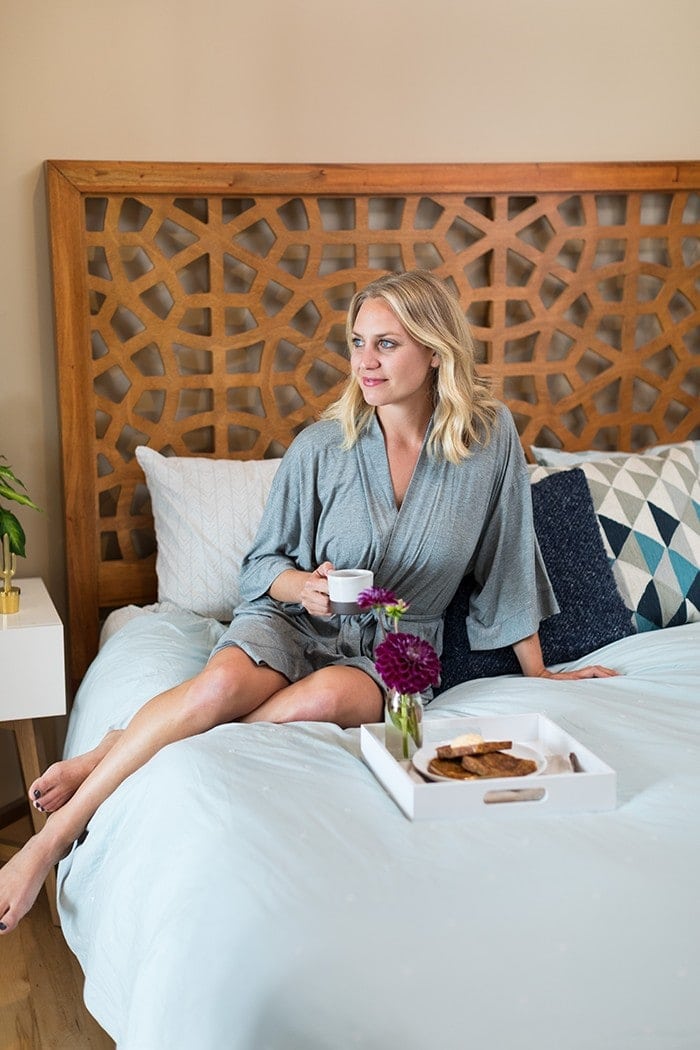 Mark and I have always been competitive with one another since high school (yes, we went to HS together). I remember as 17-year-olds we would play lawn games, go bowling, play soccer, etc. together and always be super competitive with one another. Turns out, Mark is better at all sports that have to do with hand/eye coordination. He's also better at sleeping than me…which I knew before the SleepIQ® App 🙂 In all seriousness, the SleepIQ® app has been pretty eye-opening when it comes to sleep data because you not only learn a lot about your own sleeping habits but about your partner's as well!
Let's talk about the SleepIQ® App
The SleepIQ® app spits out loads of information based on how you slept that night in comparison to all other nights. How? The it® bed has sensors built into measure things such as your heart rate, breathing, and movement so you know how well you're sleeping. Every morning you'll get your SleepIQ® score, representing your individual quality and length of sleep. You'll also see your restful sleep, restless sleep and time out of bed. For example, when I wake up from a night of sleep, it will tell me something like: "you slept 1 hour and 21 minutes more than your goal of 8 hours and 8 hours and 23 minutes of that time was restful sleep." If you scroll down to the photo below, it shows you this awesome graph of starting with when you got in bed to when you got out. You can see which parts of the night were restful vs. restless AND even seen when you got up to go pee!
Here are all the amazing insights you'll get from the SleepIQ® app:
Sleep Number
SleepIQ® Score
Average heart beats per minute
Average breaths per minute
Time spent in bed
Time to fall asleep
Restful vs. out of bed vs. restless sleep
I mentioned that Mark is a better sleeper than I am above and according to the app, he is! His average sleep score is an 83 and mine is a closer 80. I do, however, get more sleep than he does, which I am obviously proud of. Everyone's bodies are different and I definitely need more sleep than he does. I need a solid 9 and he's closer to 7 or 8 hours.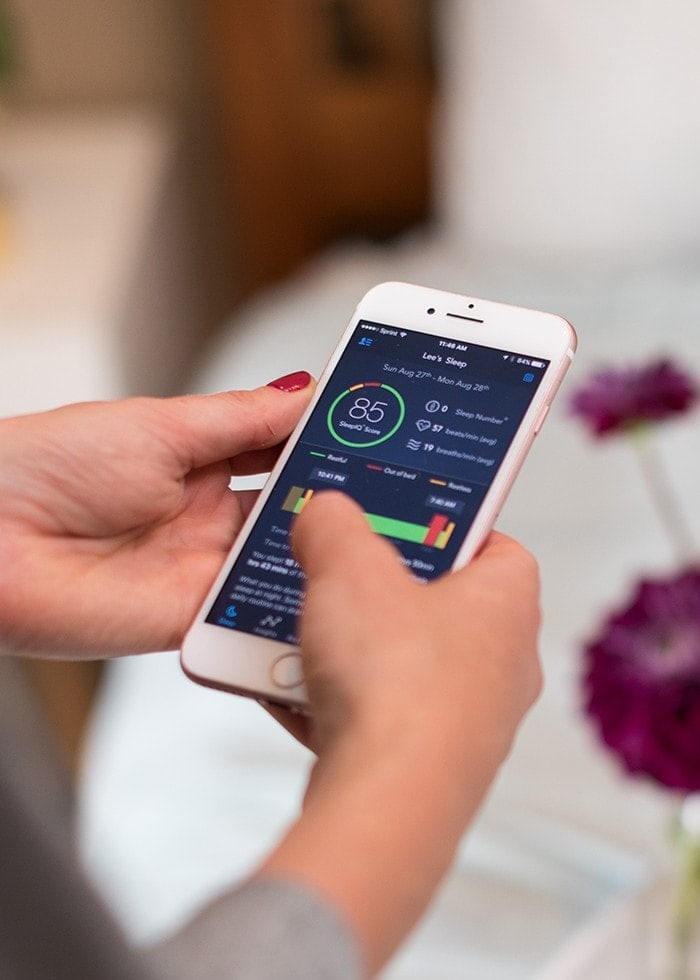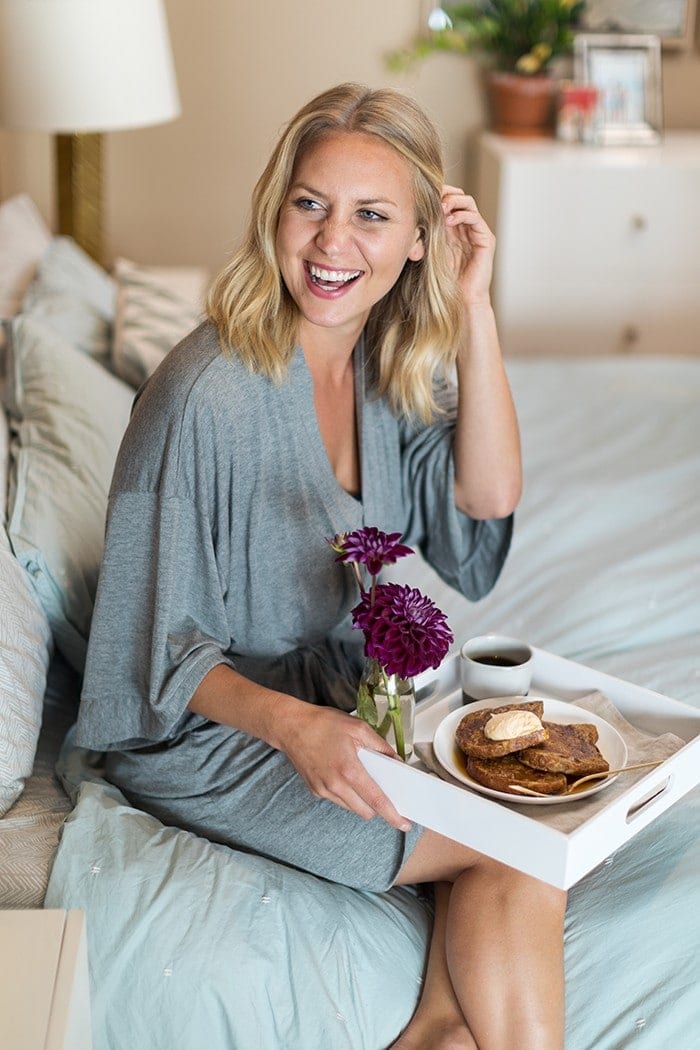 As always, if you guys have more questions about the it®bed, feel free to ask! Before we jump into all things breakfast in bed, there is currently a promotion of $100 off any it®bed until 10/15! Do it up…now is the time!
I know you have pumpkin sitting in your cabinets and this recipe is calling your name. You only need a few simple ingredients to make this epic breakfast in bed recipe.
sprouted bread
eggs
pumpkin puree
almond milk
ground cinnamon
vanilla extract
We used sprouted bread for more wholesome nutrition and ground cinnamon and vanilla for a delicious spicy flavor. If you've never used pureed pumpkin in your French toast, you're truly missing out! Don't forget to top your creation with coconut pumpkin whipped cream for a sweet explosion of flavor.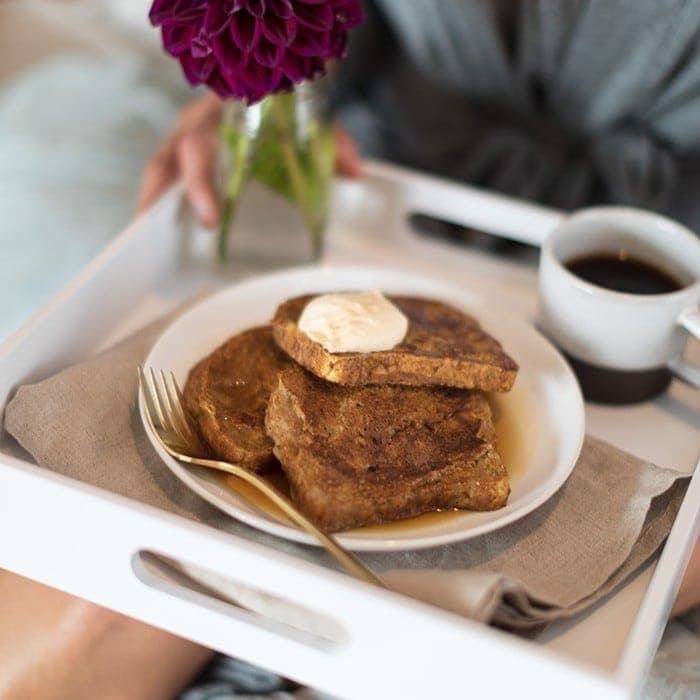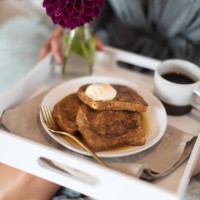 VIDEO: Breakfast in Bed Pumpkin French Toast
Why get out of your it® bed when you can have breakfast in bed? This flavorful Pumpkin French Toast is made with sprouted bread and pumpkin puree and topped with a delicious pumpkin coconut whipped cream!
Prep:
5 minutes
Cook:
15 minutes
Total:
20 minutes
Fat
27
Carbs
47
Protein
18
Ingredients
For the French Toast
4

pieces sprouted bread

3

 large eggs

1/4 cup

pureed pumpkin
Splash of unsweetened almond milk, plain

1 teaspoon

ground cinnamon

1 teaspoon

vanilla extract
For the Coconut Pumpkin Whip
Cream from

1

can of full-fat coconut milk, chilled

1 tablespoon

maple syrup

2 tablespoons

pureed pumpkin
Instructions
Place eggs, pumpkin puree, almond milk, cinnamon, and vanilla into a medium size bowl. Whisk until combined.
Heat a large skillet over medium heat and spray with coconut oil cooking spray.
Submerge each piece of bread in the egg mixture, making sure everything is evenly coated and saturated.
Then, transfer bread onto skillet and let cook on medium for 2-3 minutes on each side.
Repeat for each piece of bread.
For the pumpkin coconut whip, place coconut cream, maple syrup, and pumpkin puree in a medium bowl and use a hand mixer to mix until fluffy.
Serve French toast with coconut whip and maple syrup.
Nutrition Facts
Serving Size:
1/2
Calories:
531
Sugar:
9
Sodium:
360
Fat:
27
Carbohydrates:
47
Fiber:
12
Protein:
18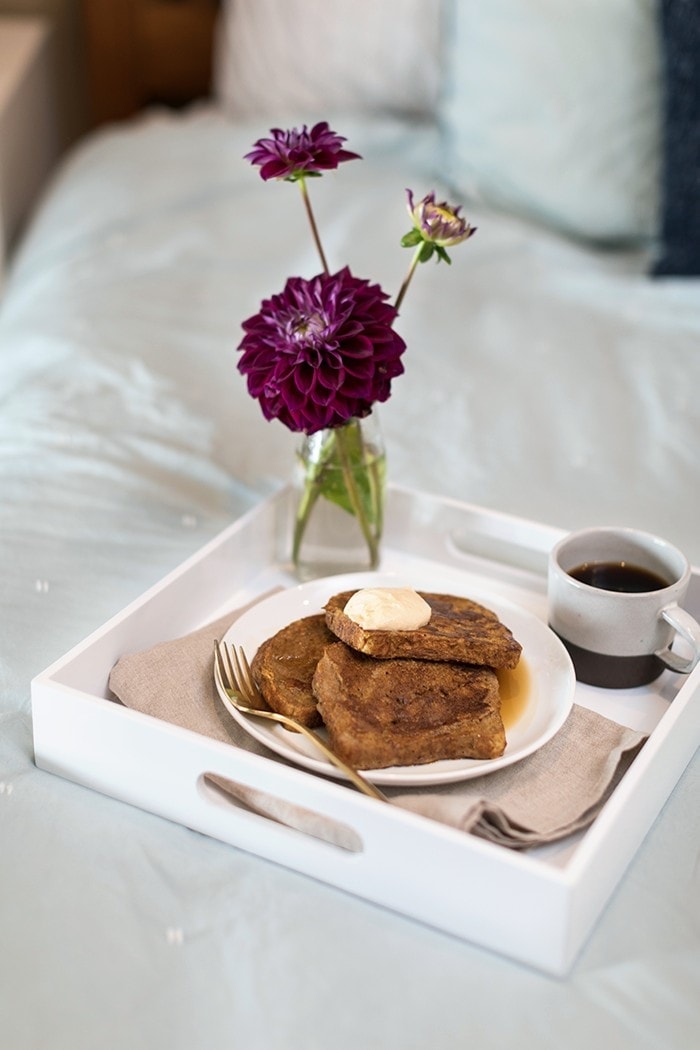 This post is sponsored by it®bed by Sleep Number. I was compensated and all opinions are my own. Thank you for supporting Fit Foodie Finds and making this website possible!