A golden milk latte is the perfect way to soothe the soul after a long day! It's made with an almond milk base and tons of Ayurvedic spices like turmeric, dates, and ashwagandha.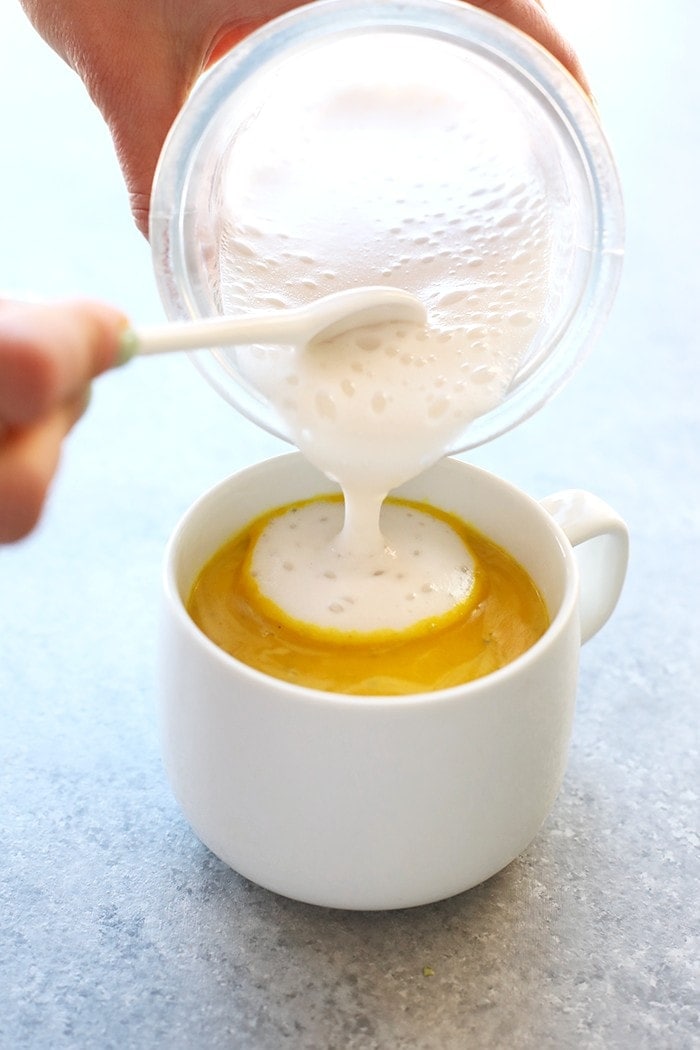 Golden milk lattes seem to the all the rage and uh…I completely agree. I'm excited to be partnering with
Gaia Herbs
today and their
Golden Milk
 to spread the love of all things Ayurvedic.
——————————
One thing that's been proving to be easier said than done is disconnecting after work and living more intentionally after 5PM. I know I don't work a traditional 9 to 5, but I've found that routine reduces a lot more stress in my life. I have had my morning routine down for quite some time, but my nightly routine has taken some work, or should I say werrrrk. Over the past 6 months I've started incorporating a handful of practices to add to my nightly routine in order to not only decrease stress, but to nurture my body. This includes decreasing screen time, warm epsom salt baths, and a handful of other things — including golden milk lattes! If you watch my Insta stories, you know it's my new post dessert go-to 😀 I love drinking something soothing before bed and for so many reasons this latte hits the spot.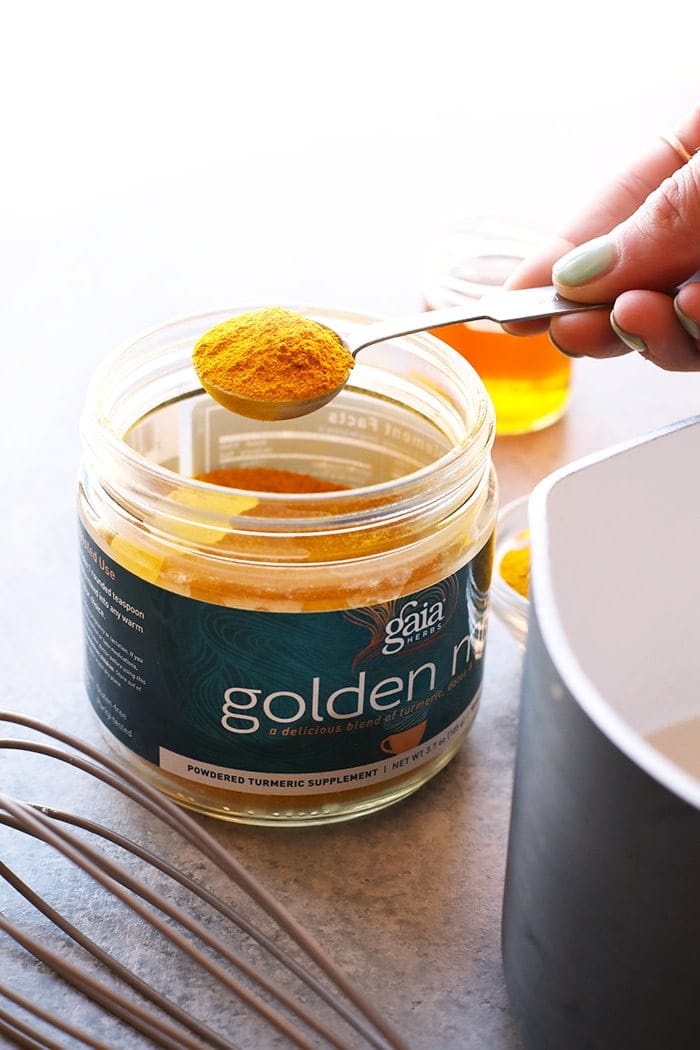 I want to talk about what the heck a golden milk latte is and why I'm obsessed. 
A golden milk latte is essentially a blend of Ayurvedic herbs with warm milk and other optional add ins such as ghee, coconut oil, and a sweetener. If you've never heard the term Ayurveda/Ayurvedic before, it refers to the traditional Hindu system of medicine that is based on balance amongst the bodily systems through the food you eat, yogic breathing, and herbs. Gaia Herbs has combined a blend of herbs in their golden milk latte powder to create the most soothing, delicious drink you'll ever taste. The herbs they use all have their own health-supporting properties for the body, but of course the main star is turmeric, which is where the "golden" color comes from!
Turmeric — helps maintain overall health and vitality
Black Pepper — traditionally paired with turmeric to help with absorption
Vanilla — naturally a mood booster
Ashwagandha — tones the body
Cardamom — supports digestive health
Dates — amazing source of vitamins and minerals
I've been mixing the Gaia Herbs blend with warm almond milk, a little bit of honey, and frothed almond milk on top for the perfect latte creation 😀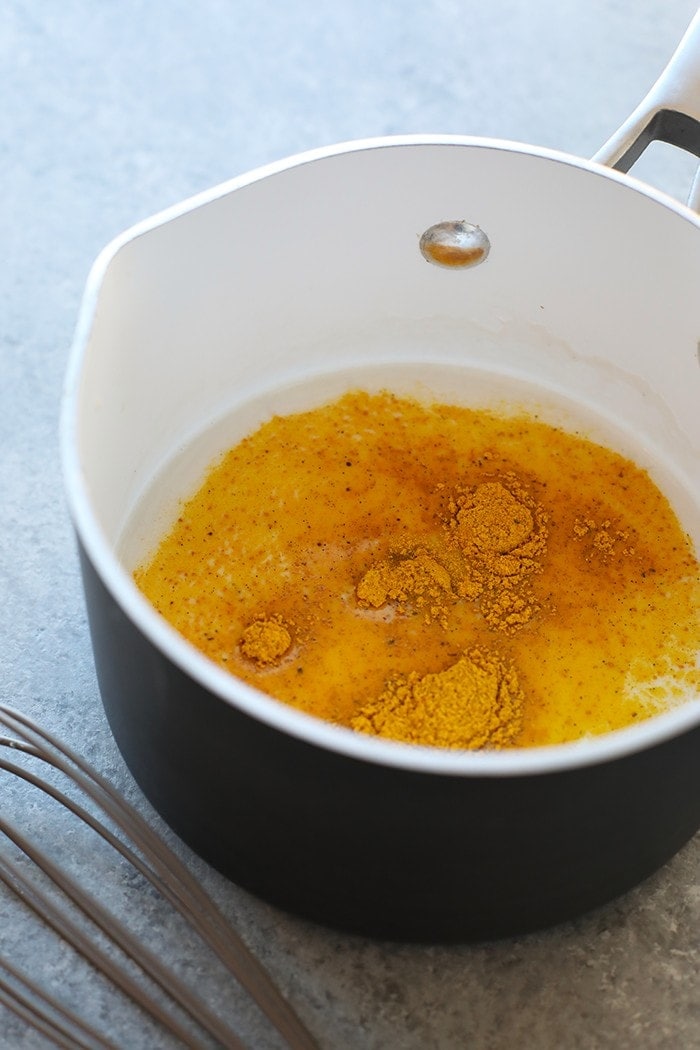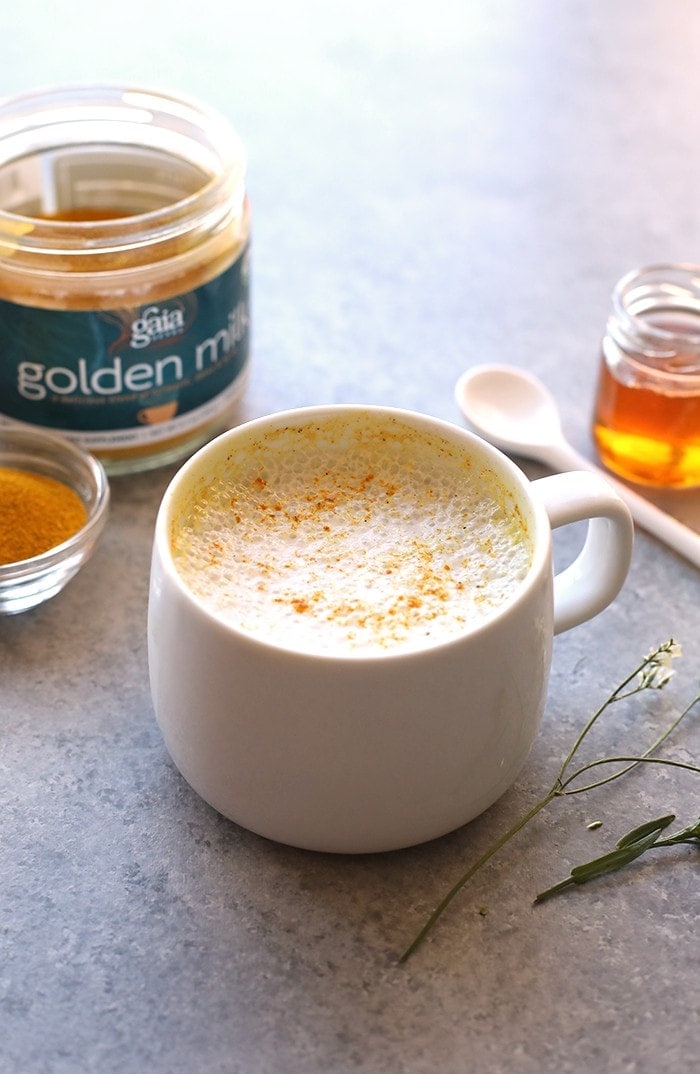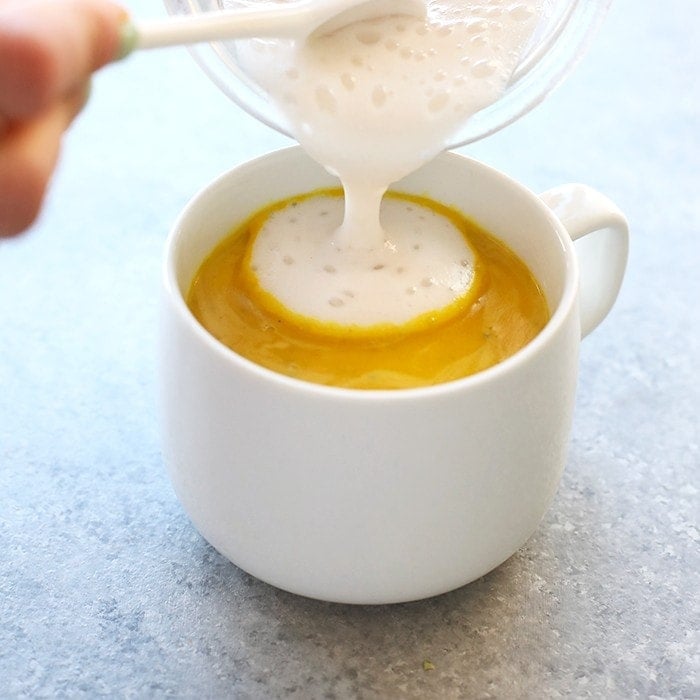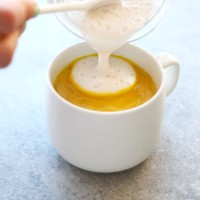 VIDEO: Golden Milk Latte + My Nightly Routine
A golden milk latte is the perfect way to soothe the soul after a long day! It's made with an almond milk base and tons of Ayurvedic spices like turmeric, dates, and ashwagandha. 
Prep:
5 minutes
Cook:
0 minutes
Total:
5 minutes
Ingredients
1 cup

almond milk, unsweetened + more for frothing (any kind of milk will work!)

1 teaspoon

Gaia Herbs

1

–

2

teaspoons honey (or maple syrup)
Instructions
Place all ingredients into a small sauce pan and bring to a boil while whisking periodically.
Once boiling, turn down to low and let simmer for about a minute. Then transfer into a mug.
Add about 2 tablespoons of almond milk into a cup and use a frother to froth. Scoop a few tablespoons of froth on top of your latte.
Enjoy!
Nutrition Facts
Serving Size:
1
Calories:
94
Sugar:
16
Sodium:
160
Fat:
3
Carbohydrates:
17
Fiber:
1
Protein:
1
In addition to golden milk lattes, I want to share some of the other things I've been incorporated into my nightly routine. In all honestly, Davida has rubbed off on me…so I can't take 100% of the credit for this 😀 I've been trying to shut my computer down by 5:30ish. Not going to lie, I suck at this part. re: 5:32 on Friday night 😀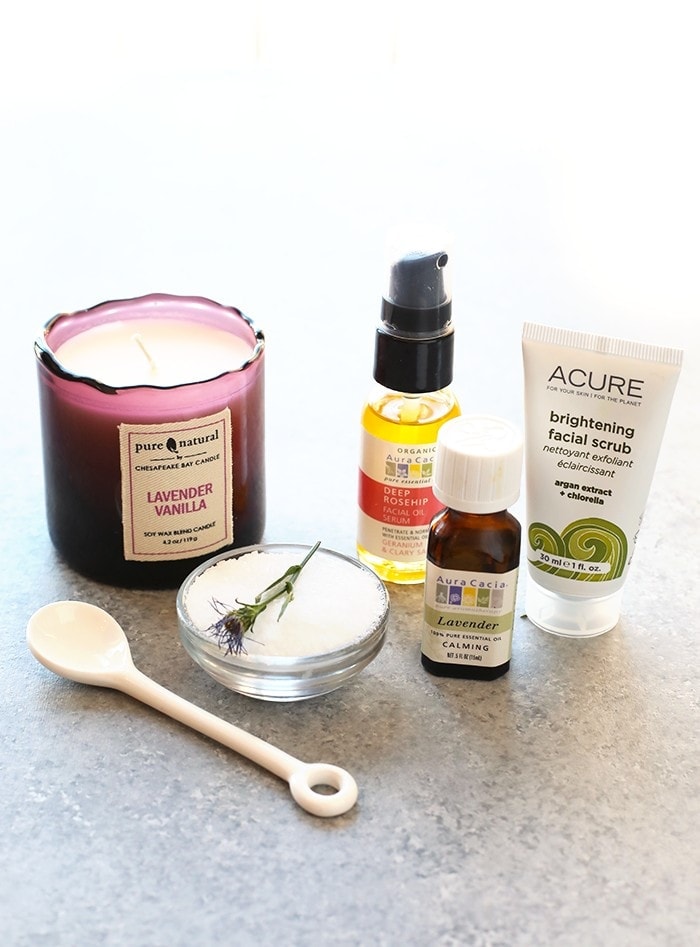 Epsom Salt: Even if it's just a 5 minute epsom salt
bath, it's still the best feeling of my entire day. No phones allowed in the tub, just me and some epsom salt. I love how soothing it makes my muscles feel and the smell is quite delicious as well!
Essential Oils: Over the past year, I've gotten really into essential oils
. I even have 2 diffusers
going at all times in my house! Depending on my mood or what I'm in need of is the scent that's being diffused. At night I love lavender
to help calm me down and making falling asleep easier. During the day I've been loving lemongrass
or lemon
!
Exfoliant: Night time is when I like to exfoliate my skin. Recently I've been making my own exfoliant with oats and honey!
Face Masks: Post exfoliation, I am all about dat face mask. I have been trying different charcoal masks to find one that I love. That stuff is face mask gold and pulls all my blackheads to the top 😀
Rose Hip Oil: Post face mask, I pump a few drops of rose hip oil
into my hands and massage my face with it. It smells SO GOOD and leaves my skin silky smooth.
Candles: If you come to my house you will see that I am a candle hoarder. Not only do I have 5 candles out at all times, but I also have 5 stocked away for when one gets used up. OOPS.
This post is sponsored by Gaia Herbs. I was compensated and all opinions are my own. Thank you for supporting Fit Foodie Finds.