Give the gift of wellness and get your girls wellness gifts perfect for a little self-care!
I LOVE GIVING GIFTS and there's not much more to it. This year, my family decided that we weren't doing any holiday gifts because we're going on a family ski trip to Park City. I got strict instructions that I was NOT allowed to purchase anything for anyone. Oh, come on! There's always a workaround for that, so I'm turning my gift giving into a business expense. Insert- Fit Foodie swag tees. They are currently in the design process with my friend Sara, and I can't wait to give my fam their gifts (that really aren't gifts).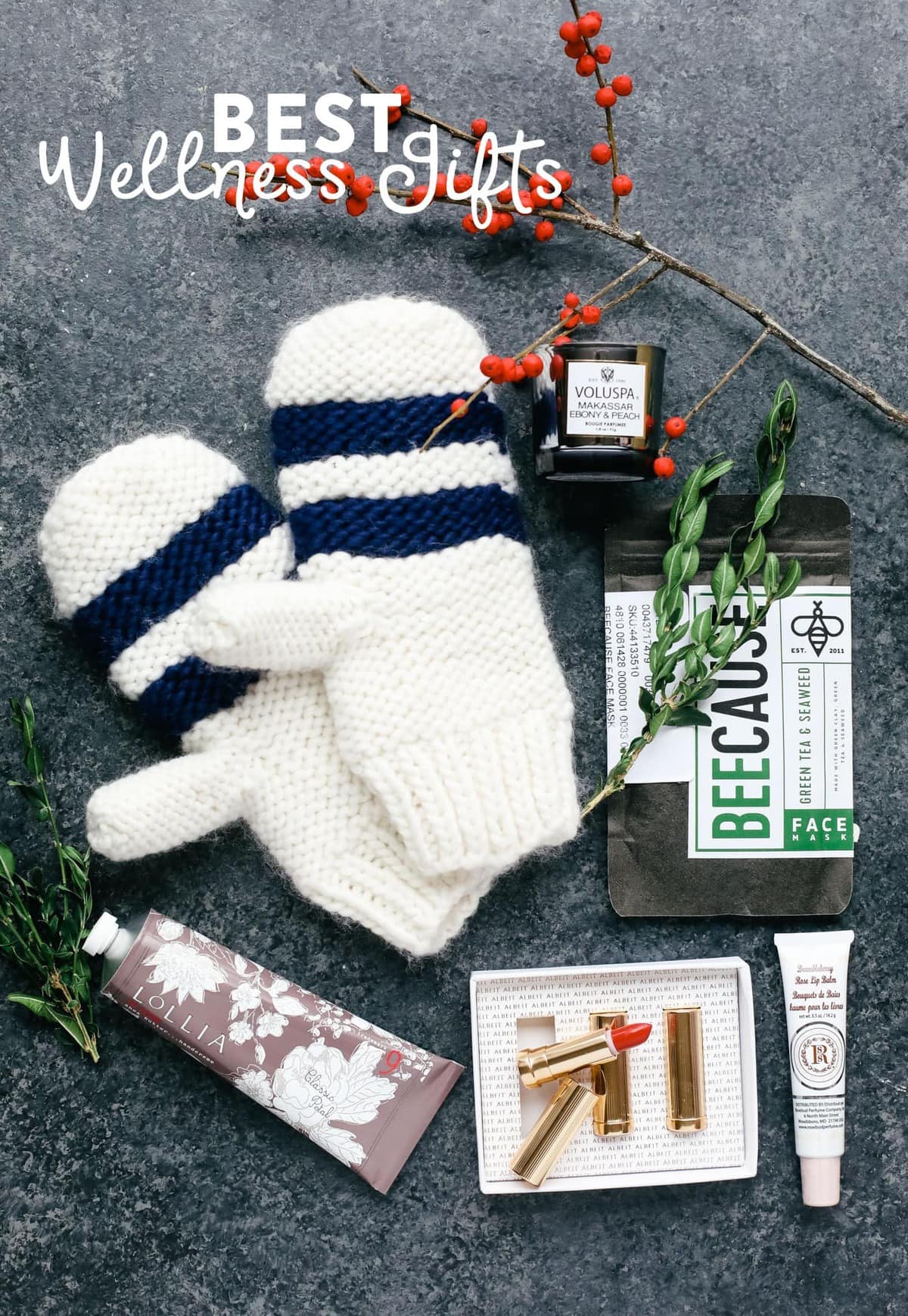 My team, on the other hand, has no say in what I buy them 🙂 I couldn't be more grateful for my little team. We may be small in size, but we've been able to make some amazing things happen over the past couple of years. Never in a million years did I expect Fit Foodie Finds to be what it is today. Linley and I both make full-time salaries (+benefits) and Emily and Mckayl are part-time. Guys- Linley has been with Fit Foodie for almost 4 years and Emily for over 2! WUTTTT.
When I think about the things that I want to buy myself but don't necessarily want to spend the money on, it's on new wellness products! Yes, I am all about wellness and self-care, but trying new products can get extremely expensive! That's why I decided to get wellness gifts for my team including products they might want (AKA what I want) that they wouldn't necessarily spend money on for themselves.
Because I am a secret ninja sale shopper, I hit up Anthropologie during Black Friday and got 30% off my entire order. Anthro has a legit wellness and all-natural beauty section that I'm obsessed with, so it was pretty difficult what to choose for these wellness gifts! Here's what I got them:

From the top left to the bottom right: Outbound Mittens –  $32  //  Lolia Hand Cream – $24  //  Smith's Rosebud Lip Balm – $6  //  Volupsa Mini Candle – $10  //  BEECAUSE Facemask – $15  //  Albeit Mini Lip Trip – $28
PS: we have our team dinner tonight, so hopefully they don't read this post 😀
Check out our other Fit Foodie Finds gift guides HERE!
We are having a giveaway!
Since I love and appreciate you guys from the bottom of my heart, I'm giving away this exact wellness bundle (total value: $115) to one lucky winner! All you have to do is head over to the Fit Foodie Finds Instagram to enter!
Rules and regulations: This giveaway is open to US residents age 18+ only, and ends 12/15/2017 at 4:49 PM CST. Winner will be drawn at random & notified via Instagram message. Void where prohibited. No purchase necessary.