*Disclosure: This is a sponsored post through Under Armour and Fitfluential. I was not compensated, but was provided with apparel. All opinions are my own.

One of the reasons that makes me proud to be a Fitfluential Ambassador, is the empowering campaigns we are able to participate in. Like Under Armour's What's Beautiful IWILL Campaign. This campaign is more than just "promoting UA" or wearing their clothing. It's about empowering yourself to be who you want to be and do what you want to do. In my opinion it is the epitome of inspiration and empowerment. It's about real women setting real goals and having the mindset of IWILL. Not just I CAN…but #IWILL.
There are many campaigns out there that are inspiring and empowering, but what I love about this campaign, is that we are setting our own goals. Everyone is different and everyone has their own goals and aspirations, which is why I love this campaign- because it's individualized. One woman's goal could be simply lacing up her shoes for a walk around the block, where another's could be a sub-8 minute mile half-marathon. Either or- both goals matter. Both goals kick ass.
The first step in achieving a goal, is setting a goal. Big, small, fast, high…you have to start somewhere and you HAVE to have the mindset of IWILL. Yes, you can…but will you?
The first goal that I have set for myself is "To love my body every day and to empower others to do the same." I hope to keep this goal and achieve it every single day of my life.
As you know- I've struggled with body image since high school and all the way through college. I've shared part of my eating disorder story, but not the whole entire thing (YET- I have a feeling it's coming soon). I thought about setting a more short term goal for myself- like to run 5 consecutive miles without stopping, but a goal like loving myself for who I am is more of a lifestyle. Down the road I will set more short term goals and IWILL achieve them too!
I love the team aspect of the What's Beautiful Site. You can create teams- where you set goals together. I've decided to join a few women part of this campaign who inspire me on a daily basis: Lindsay from Lean Green Bean, Kasey from Power Cakes, and Jody from Truth2BeingFit.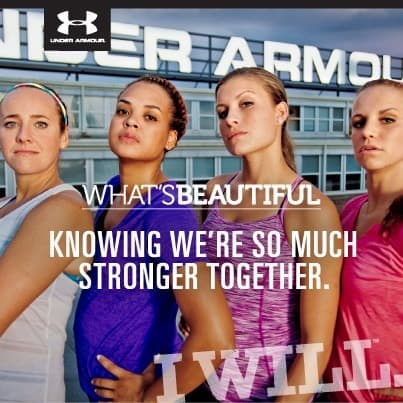 So, I encourage all you women out there to have the mindset of IWILL. To not only set, but achieve the goals you set for yourself. Scream it out loud so we can cheer you on!
So tell me: What's your goal?