Make this zoodle pasta with a veggie-filled marinara sauce topped with crunchy bacon pieces for a low-carb, 30-minute meal that's healthy and delicious!
The day Blake got me a spiralizer (I think it was for my birthday?) was the BEST DAY EVER! Seriously my Paderno is by far my favorite kitchen toy to play with. What's better than being able to turn your vegetables into slinkies? Nothing.
We are HUGE fans of spaghetti in this house. We usually make a meat sauce with ground beef or turkey if I can sway Mr. B :D I decided I wanted a sauce that was a wee-bit lighter and veggie-packed. Fun fact: I hate mushrooms…unless they are hidden in sauce.
Bingo. 
I don't dislike many foods, but mushrooms…I can't STAND. Blake on the other hand loves those things. So what do I do? I compromise by putting them in a spaghetti sauce.
First step- spiralize your zucchs…or what ever veggie you'd like as your base.
Next up- sauté veggies in olive oil and season with salt and pepper. Make sure they cook down before you add your favorite kind of marinara into the pan!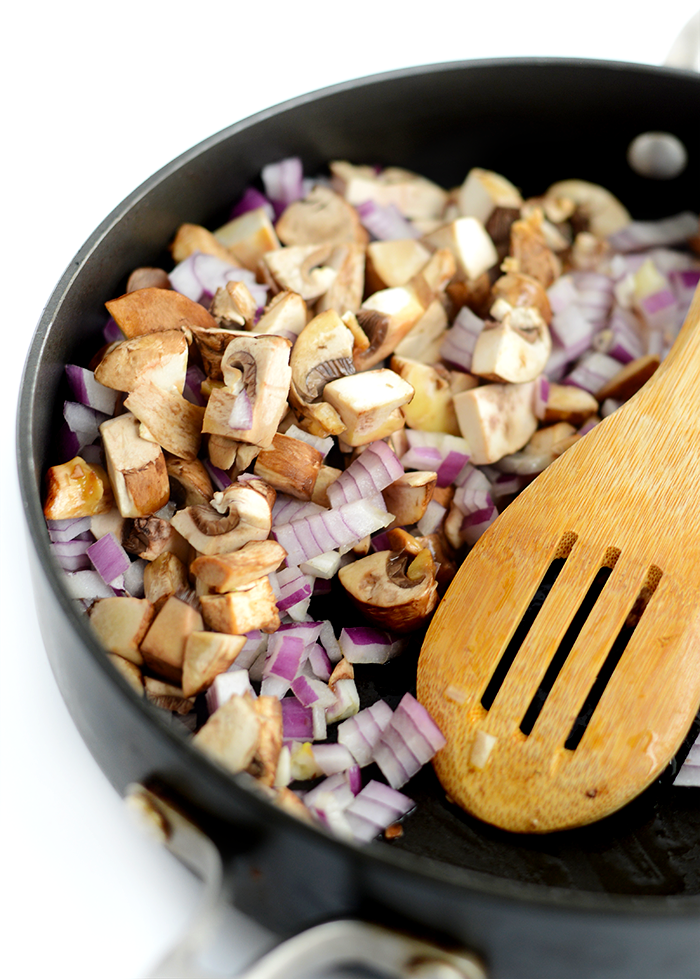 How could I forget?
While you're putting together the base of your meal, make sure you are cookin' your bacon. Baking bacon is seriously the best way to cook bacon EVER. There's barely any mess and you can pretty much set it and forget it.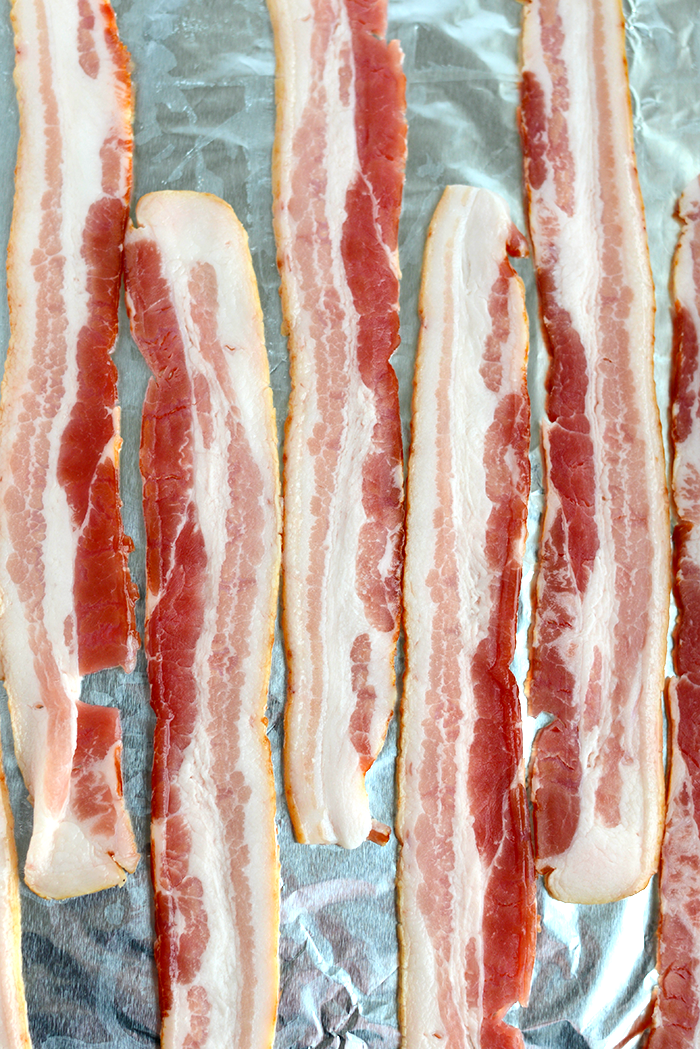 For the vegans and vegetarians out there….you could leave the bacon our for an easy vegetarian meal <—Just had to throw that modification out there!
And- for the extreme meat lovers out there…feel free to add in some ground beef or turkey into your sauce. Go big or go home, right?
Recipe
Zoodle Pasta with Mushroom and Onion Marinara and Bacon
Make this zoodle pasta with a veggie-filled marinara sauce topped with crunchy bacon pieces for a low-carb, 30-minute meal that's healthy and delicious!
Prep Time:

10 minutes

Cook Time:

20 minutes

Total Time:

30 minutes
Ingredients
2

zucchinis, washed

2 tablespoon

s of EVOO

1 cup

mushrooms, chopped

1/2

red onion, finely diced.
salt and pepper, to taste

1 tablespoon

minced garlic

4

–

6

strips of bacon

1

jar of your favorite organic marinara sauce
Instructions
First, preheat oven to 375ºF. Then, line a baking sheet with tin foil and place bacon on top. Cook back in oven at 375º for 20-25 minutes, or until bacon reaches desired texture. Place bacon on a paper towel-lined plate and pat off excess grease. Chop into bite sized pieces.
Next, prep veggies by chopping mushrooms and finely dicing red onion.
Heat 1 tablespoon of EVOO in a sauce pan on medium/high heat. Sauté veggies for about 5-10 minutes, or until they cook down. Season with salt and pepper. Add in marinara sauce and let simmer on low.
For the zoodles, begin by spiralizing 2 zucchinis. You can watch a video on how to do so from Inspiralized HERE.
Then, in a separate sauce pan, heat 1 tablespoon of minced garlic in 1 tablespoon of EVOO. Add in zoodles and sauté for about 5-7 minutes or until they cook down.
Transfer zoodles on to servings plates, top with sauce, and a sprinkle of bacon.
Nutrition
Serving Size:

1/2

Calories:

432

Sugar:

15

Sodium:

1965

Fat:

28

Carbohydrates:

36

Fiber:

9

Protein:

13
Similar
Pin for later!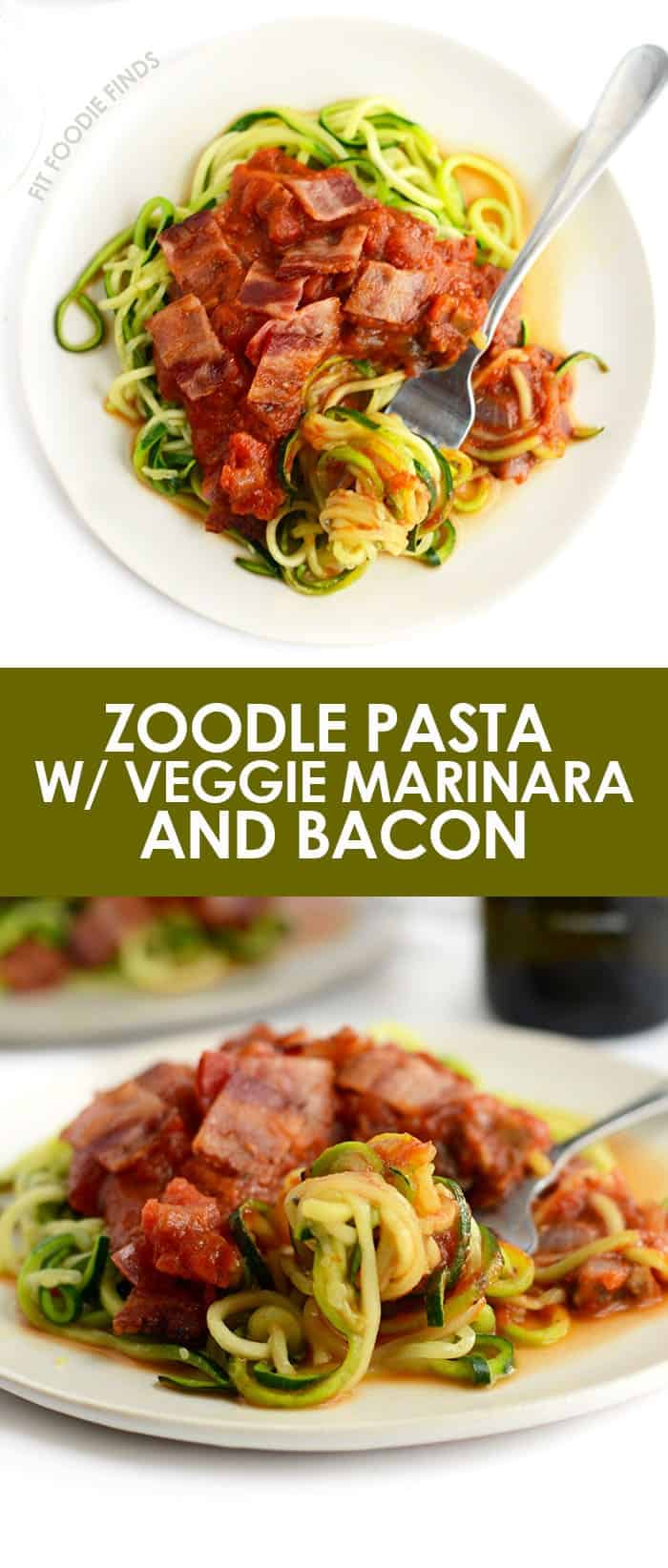 Do you have a spiralizer yet?! What's your favorite veggie to make into a slinky?