We've been longtime fans of Daily Harvest and their smoothies, so we're thrilled to share our full and honest review of ALL of the food in their collections.
From flatbreads to oat bowls to plant-based ice cream, Daily Harvest truly has it all when it comes to plant-based healthy food that's delivered right to your doorstep.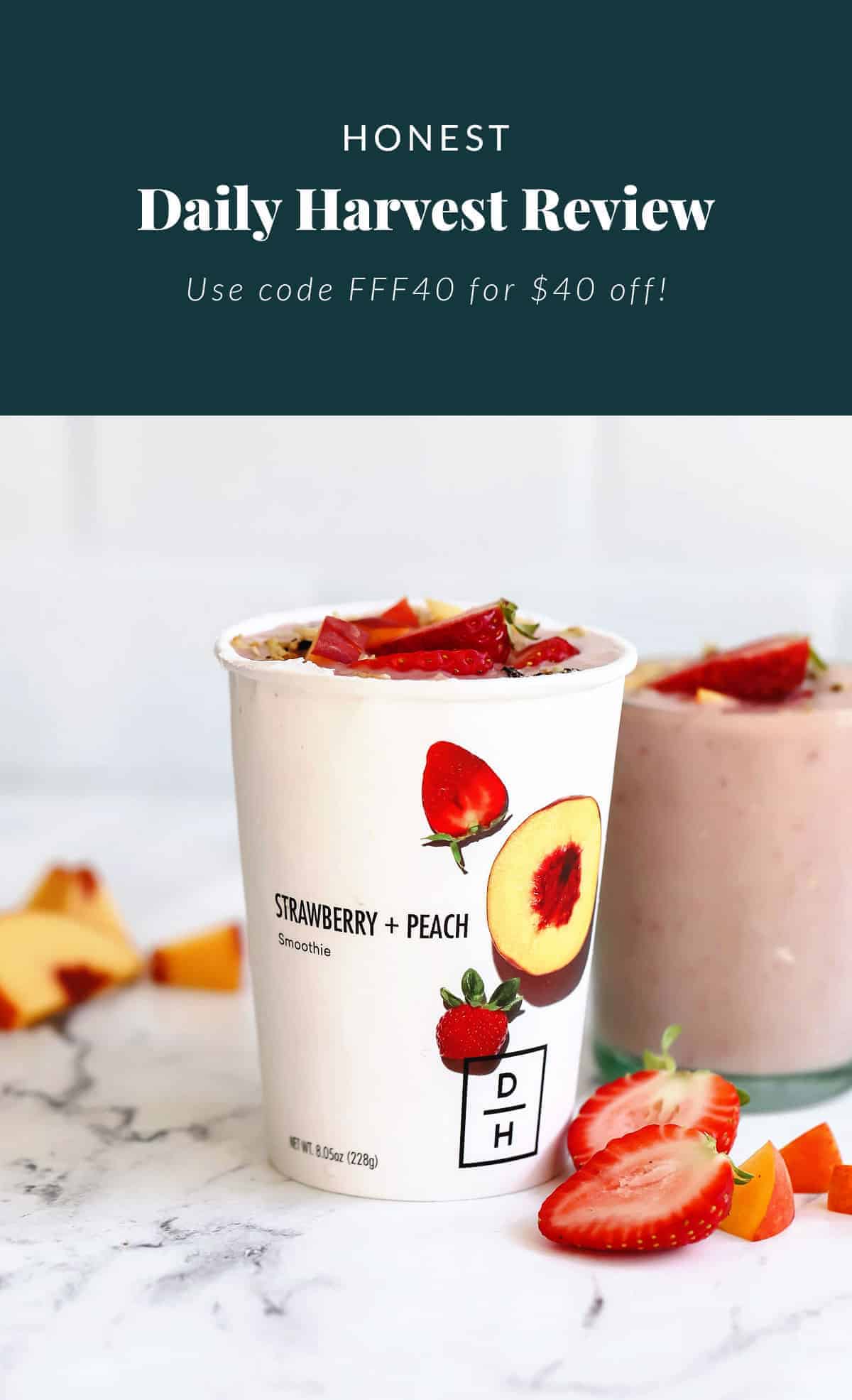 If you're looking for Daily Harvest Reviews, you've come to the right place. We've been buying and eating Daily Harvest food since 2017. It's been a life-saver for busy mornings and nights when we just don't have the time to whip up a healthy meal.
We first fell in love with Daily Harvest's signature smoothies and a box of these babies is actually our favorite gift to send to new moms and dads. We even stocked up Emily when Bode was born.
What is Daily Harvest ?
Daily Harvest delivers delicious food right to your door (frozen!), and every single thing is ready to enjoy in minutes. How does it work?
How Does it Work?
First, choose how many items to deliver either weekly or monthly, whichever is better for you and your lifestyle!
But what if you don't want the same items each time? Each delivery is completely flexible and allows you to add items, change box sizes or even skip deliveries.
With more than 90 options, there truly is something for everyone! We're talking smoothies, oat bowls, flatbreads and more.
Why We Love Daily Harvest
We love Daily Harvest for a lot of reasons, but the top of our list is the convenience factor. With all their food delivered right to your doorstep, all you need to do is store everything in the freezer until you're ready to eat. Why else do we love Daily Harvest?
Daily Harvest makes it SUPER easy to eat more fruits and veggies every day.
Daily Harvest makes it possible to stock your freezer with delicious food built on whole fruits and vegetables.
Everything is gluten-free, dairy-free, and plant-based.
You'll never find gums, preservatives, or artificial ANYTHING in Daily Harvest food.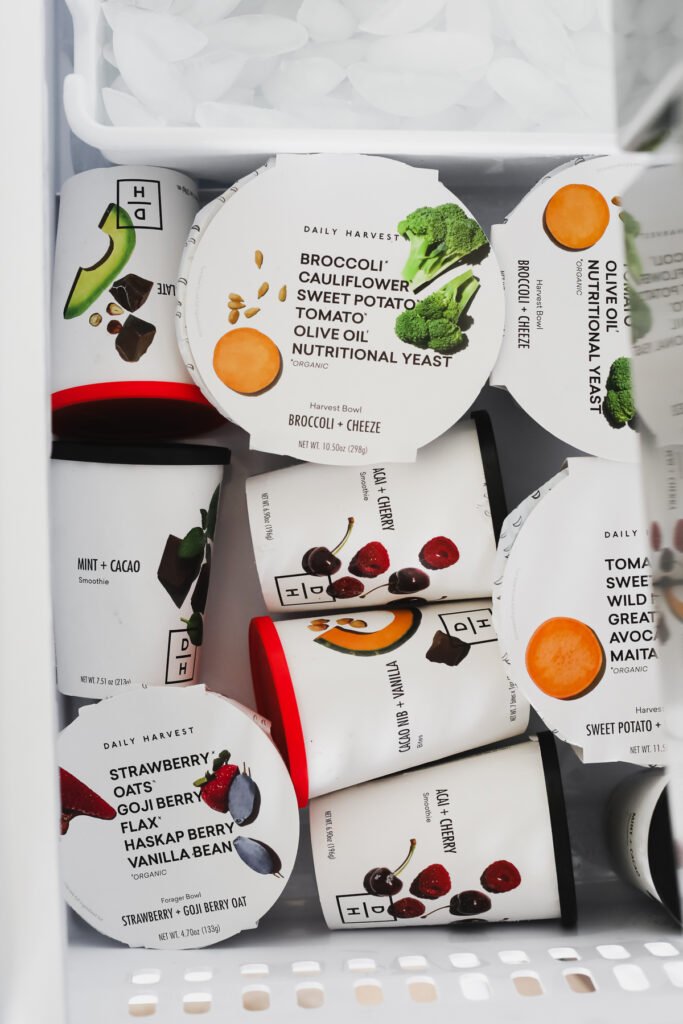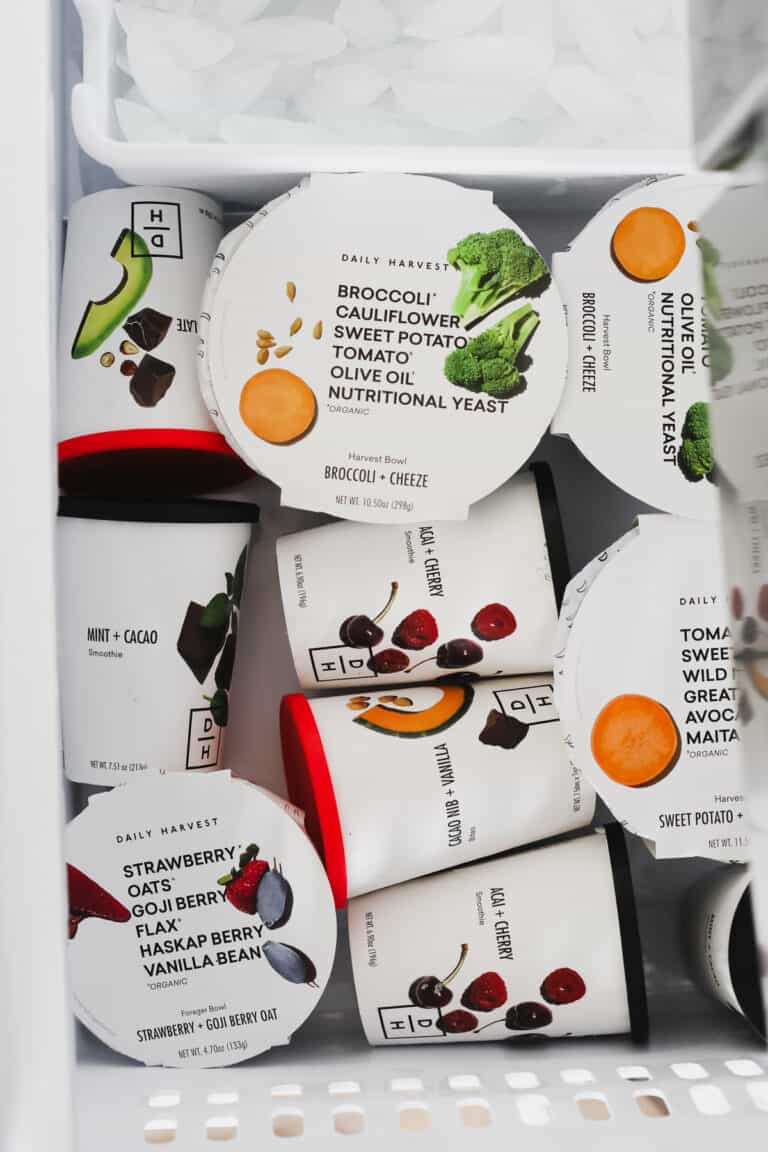 These smoothies have been our go-to smoothies to have on hand for YEARS. Not only are they nourishing, meticulously sourced, and crafted — they're super easy to make (oh, and delicious, too!).
Simply fill the cup with a milk or any liquid of your choice (we love using almond milk!), and pour everything into the blender and blend til it's smooth. Your kids (or your picky eating partner!) won't even notice any of the veggies these smoothies are packed with 😀
Flavor faves we're loving:
Strawberry + Peach Smoothie: This smoothie is a delicious combination of strawberries, banana, peach, raspberries, oats and goji berry. Such a delightfully fruity combination.
Mint + Cacao Smoothie: Filled with banana, spinach, cacao, cashews, chlorella and peppermint. This smoothie is so decadent and tastes so much like mint chocolate chip ice cream!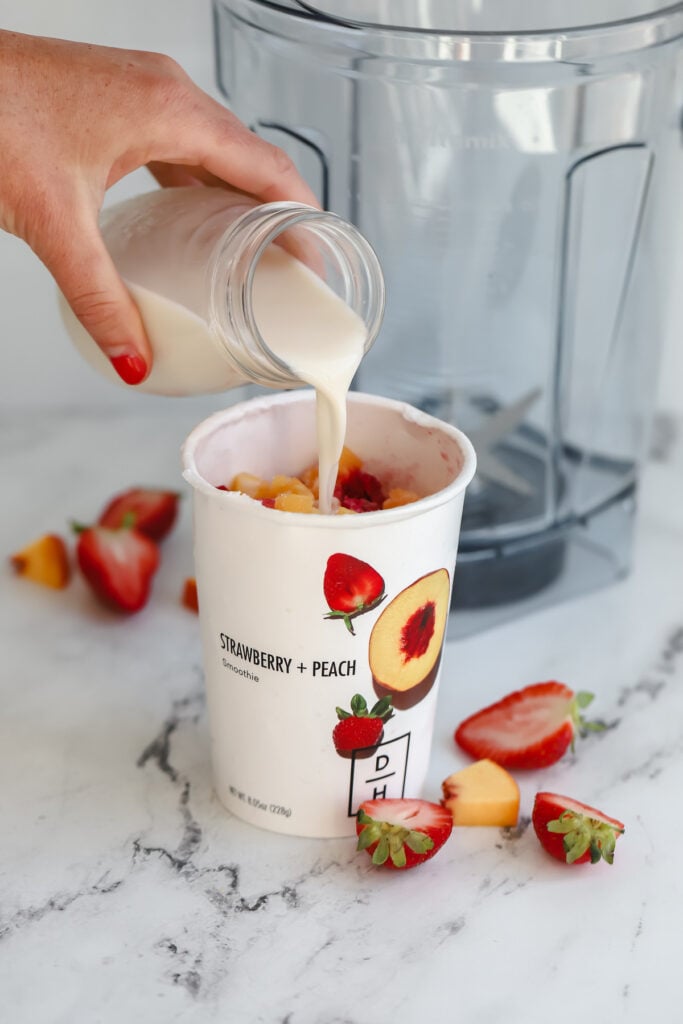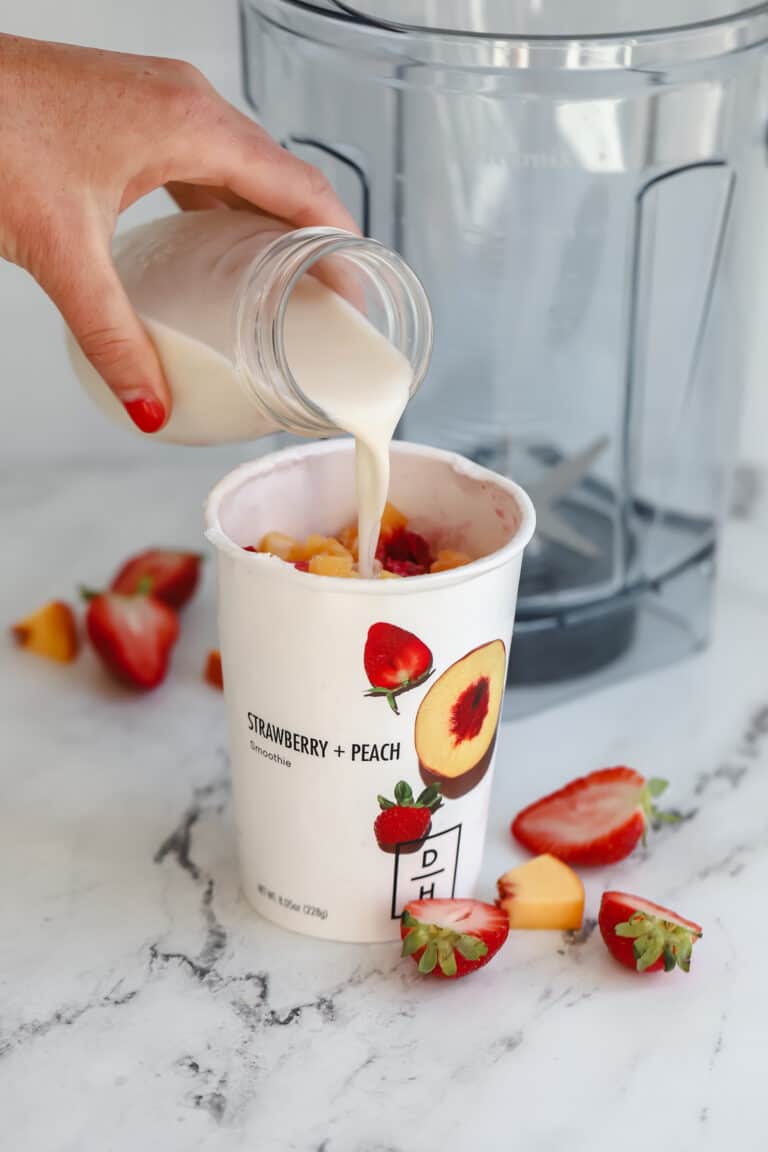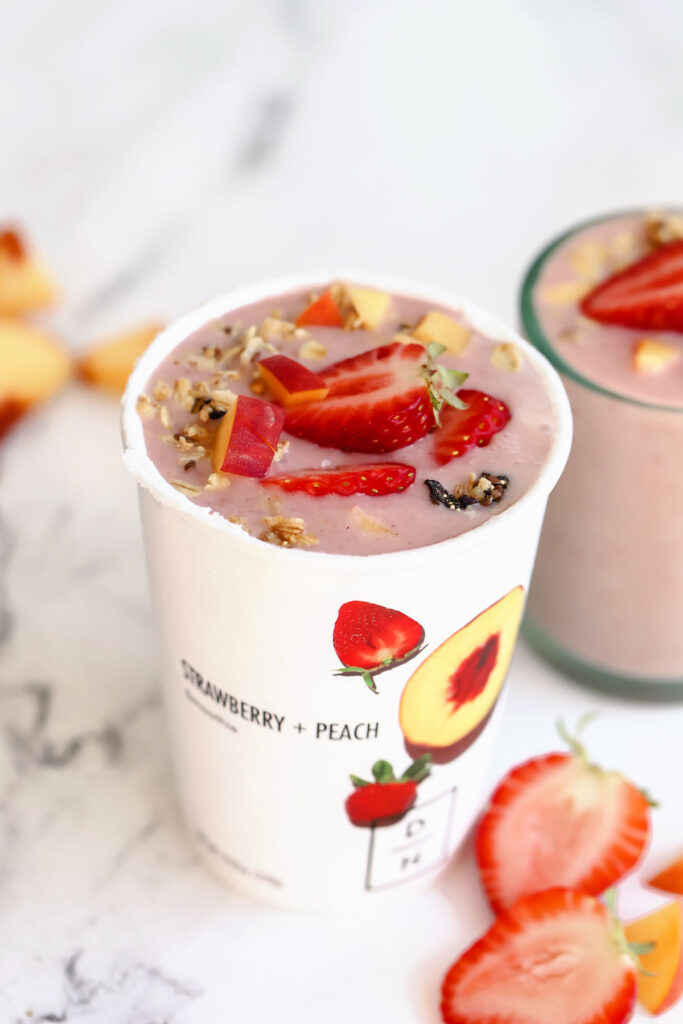 You know we're big fans of all things oatmeal and overnight oats, so our bar is set pretty high when it comes to oat bowls. But thrilled to share that these oat bowls stood the test! You'll find us gobbling these up for breakfast on the regular at the Fit Foodie Studio.
We love the flavor combos as well as the short list of nutrient-rich ingredients in these oat bowls. One-step breakfast, friends!
Oat Bowls We're Loving
Apple + Cinnamon: This oat bowl tastes exactly like autumn! It's packed with oats, apples, cauliflower, walnuts, pumpkin seed and cinnamon.
Strawberry + Goji Berry: Calling all sweet breakfast lovers! This oat bowl brings together strawberries, oats, goji berries, flax seeds, haskap berries and vanilla bean for the perfect fruity oatmeal.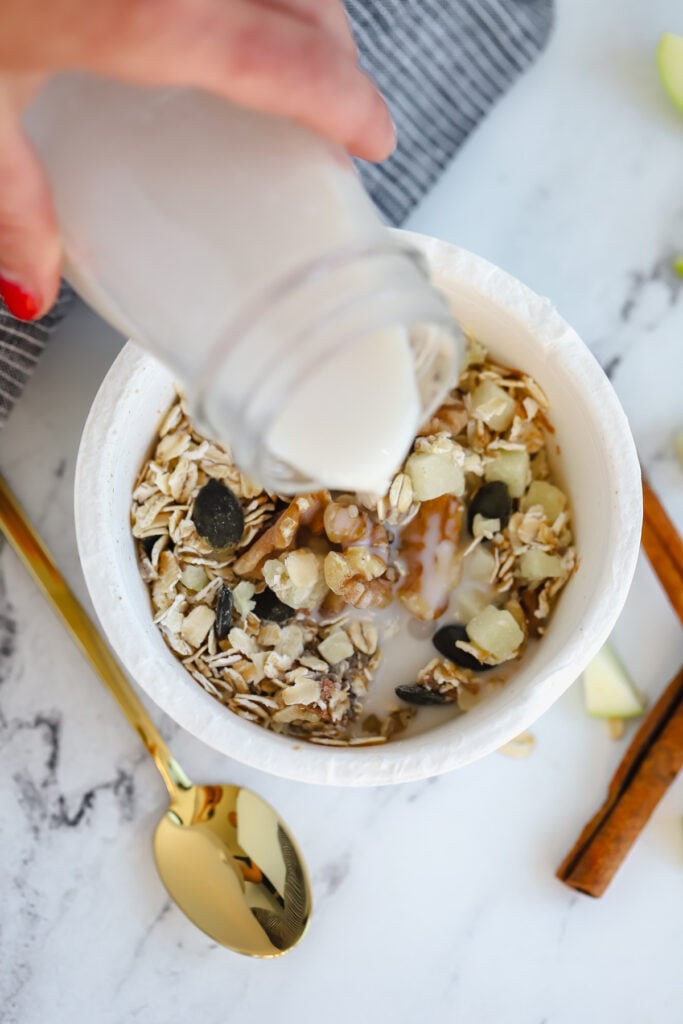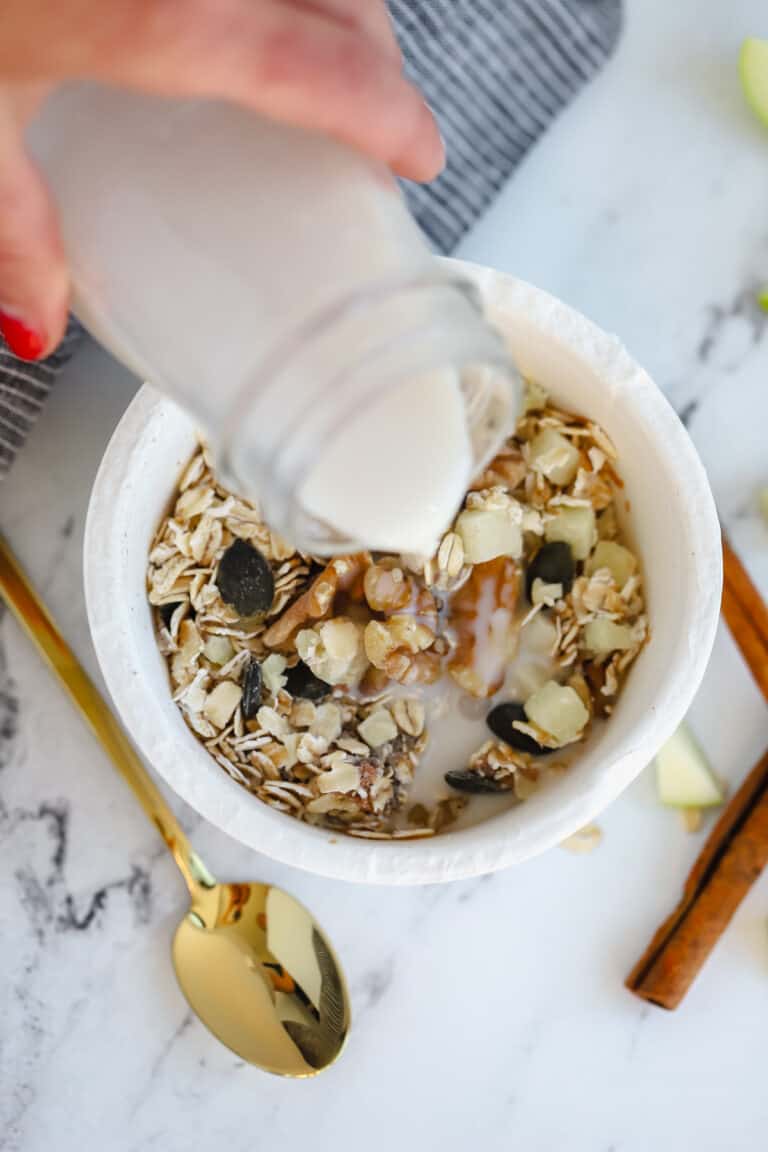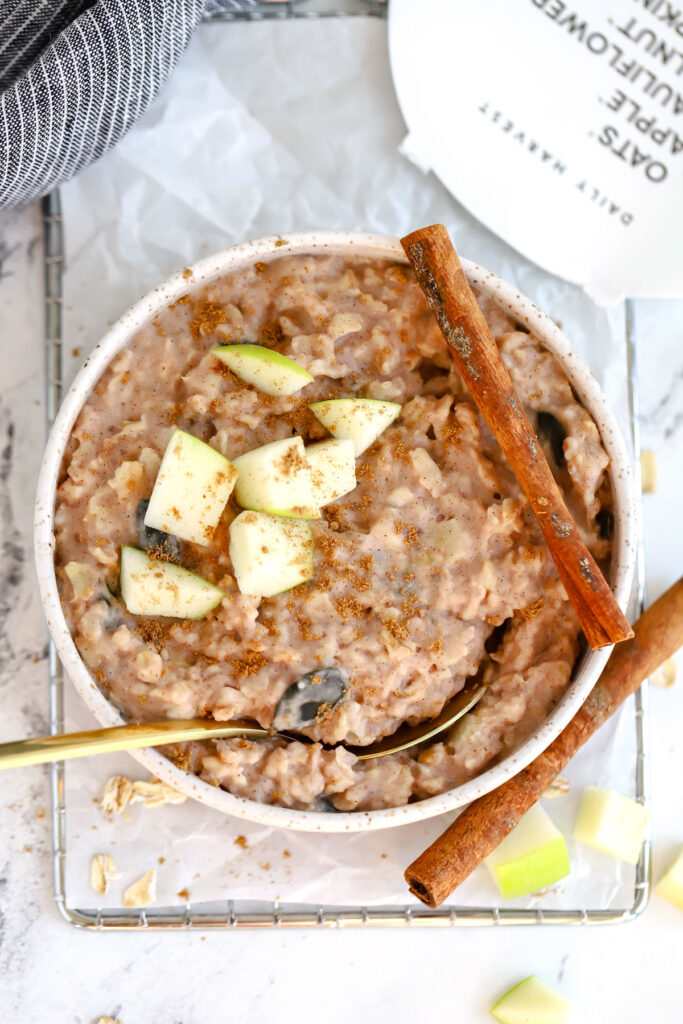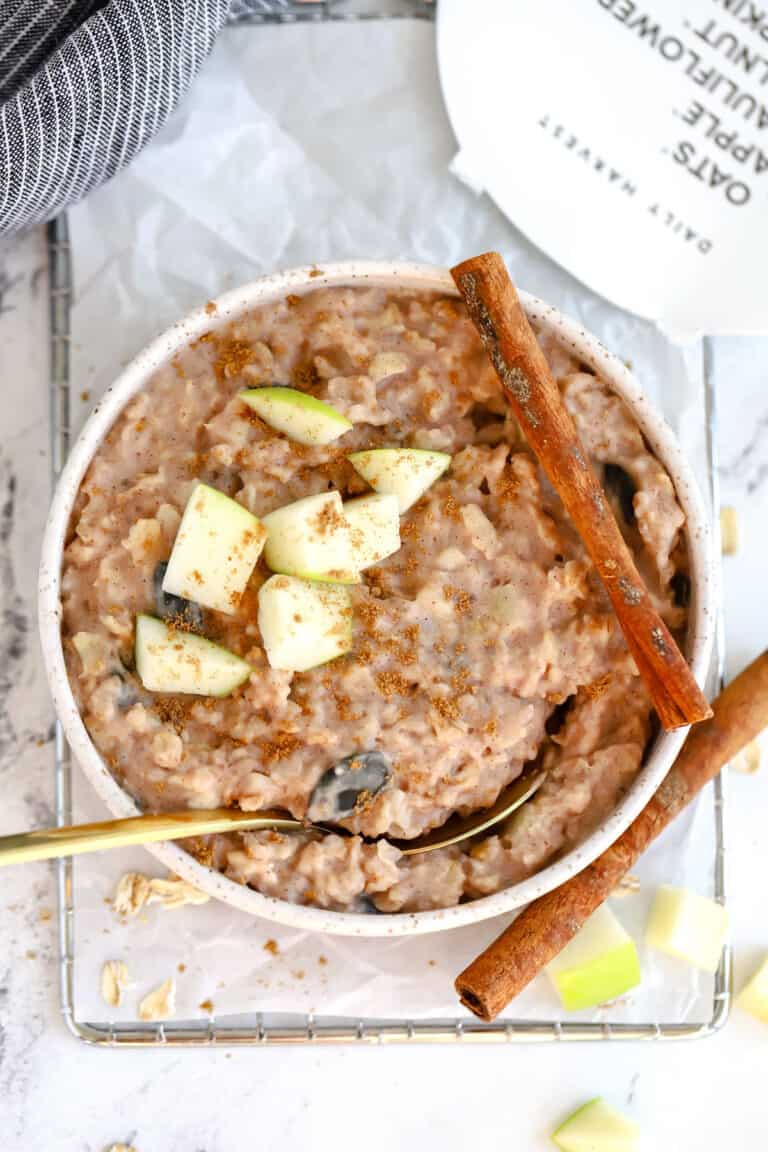 These harvest bowls are super-nourishing and so delicious! We love sending these to new mamas in our life because they're easy to make in the microwave or stovetop and the ingredient list cannot be beat. Plus, they're a great meal option no matter the time of day.
If you're on team savory for breakfast, these can be a deliciously nutritious way to start your day! We pop a harvest bowl in the microwave and fry up an egg at the same time. Top your harvest bowl with an egg, and you're on your way.
Harvest Bowls We're Loving
Sweet Potato + Wild Rice Hash: Is there anything better than this flavor combo?! This harvest bowl brings together tomato, wild rice, sweet potato, great northern beans, avocado and mushrooms for a deliciously savory hash. For a simple "hack", we love topping this harvest bowl with fresh avocado slices and sautéed mushrooms when we have enough time.
Broccoli + Cheeze: This harvest bowl truly tastes cheesy! But we promise it's dairy-free with help from broccoli, cauliflower, sweet potatoes, tomato, nutritional yeast and olive oil.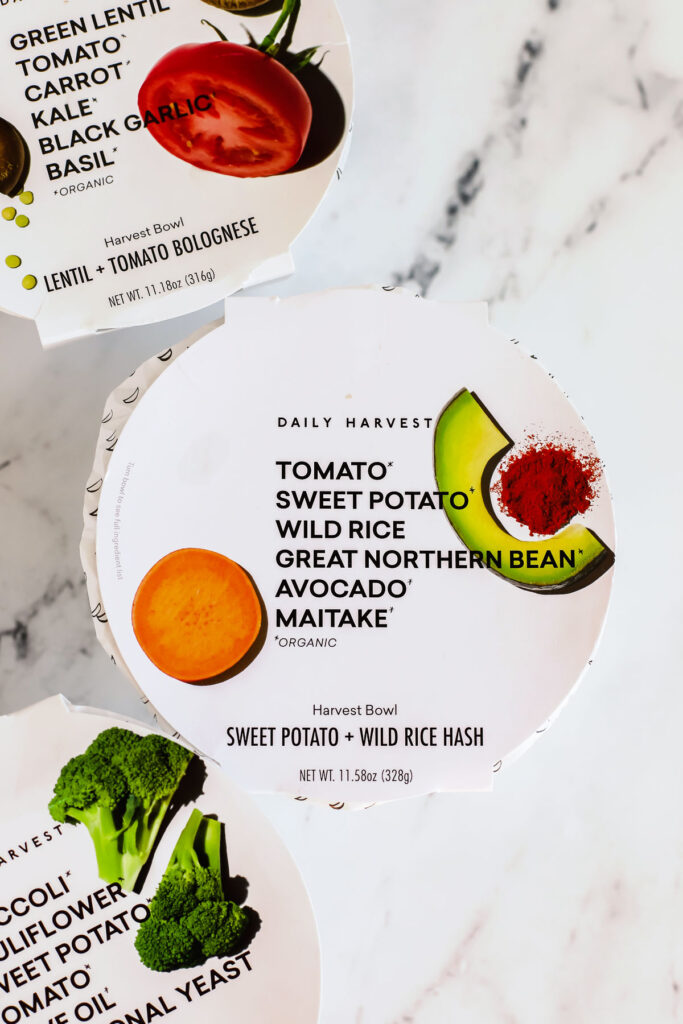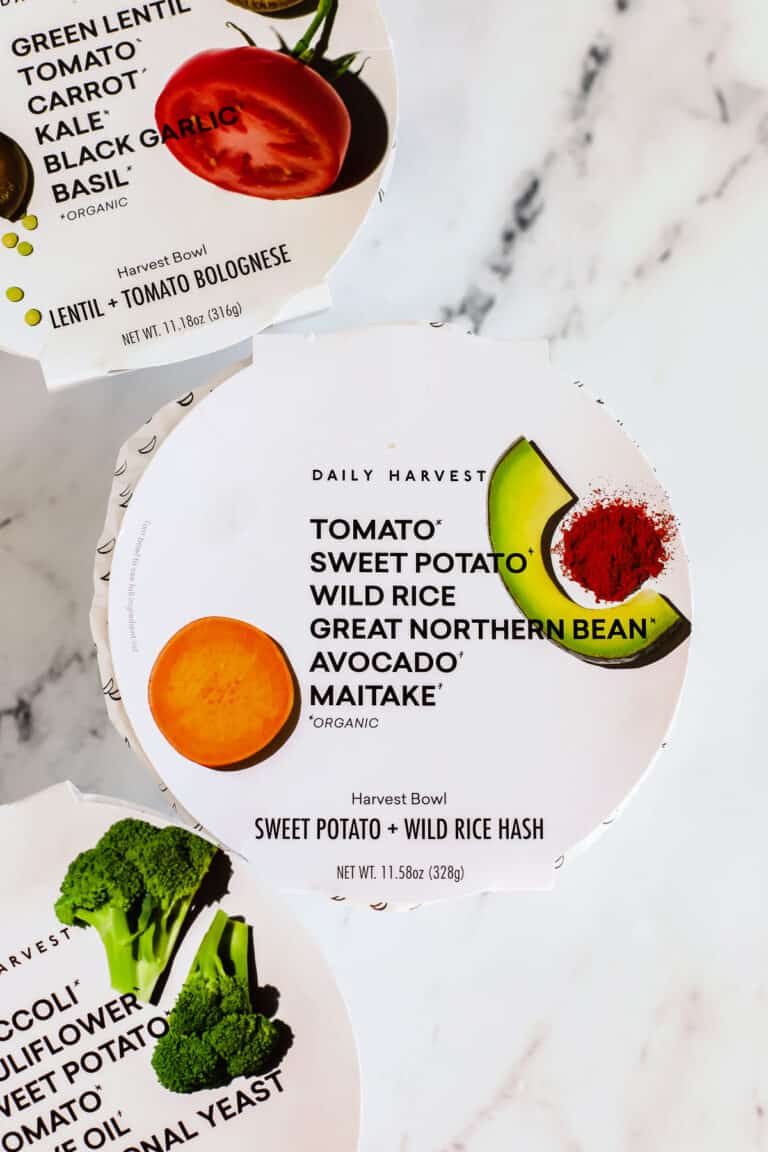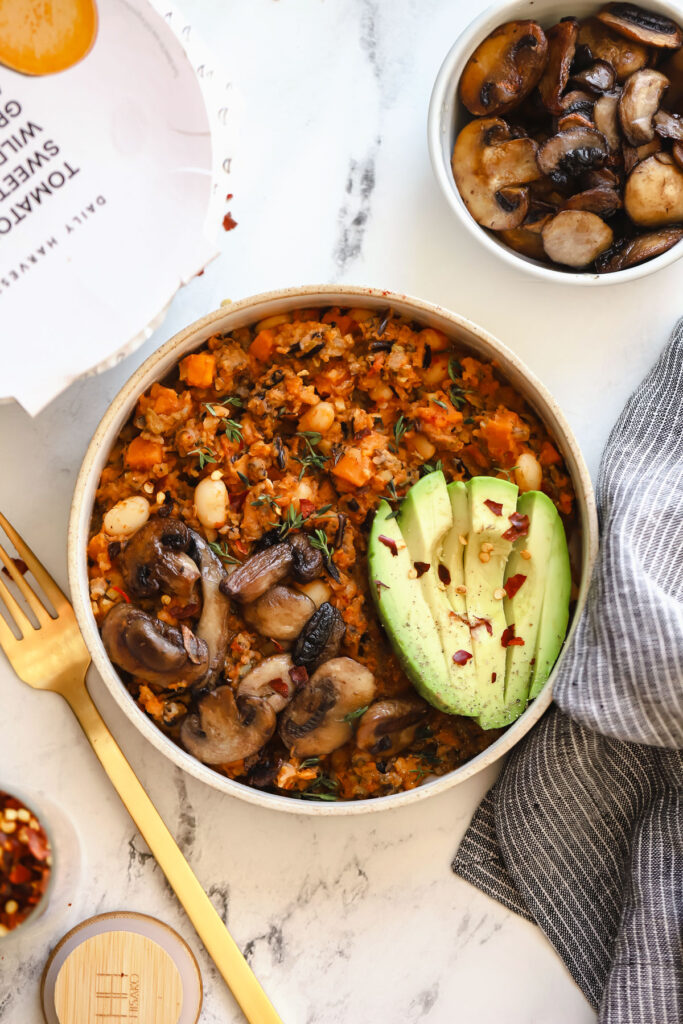 These Daily Harvest flatbreads are made with real, whole ingredients (the toppings AND the crust AND the sauce!). The crust (which is a combo of broccoli, cauliflower and sweet potato YUM!) is crispy and the toppings pack a seriously delicious flavor punch. Plus, who doesn't love a personal pizza?!
Daily Harvest's flatbreads are a super convenient meal you can eat with one hand (calling all new mamas!).
Flatbreads WE'RE LOVING:
Kale + Sweet Potato Flatbread: This flatbread has a sweet potato crust with red cabbage, kale, cauliflower, spinach and coriander, which gives it a complex and super flavorful taste.
Tomatillo + Pepper Flatbread: This flatbread is our fave! We love the combination of sweet potato, brussels sprouts, tomatillo, picked pepper, oregano and a kick from just the right amount of cayenne.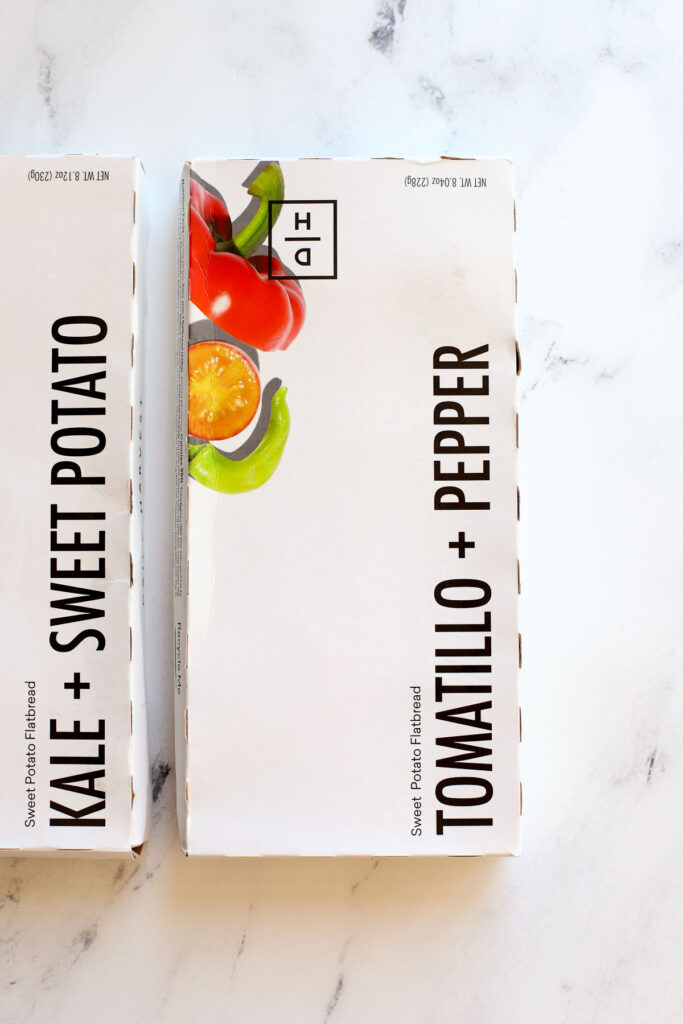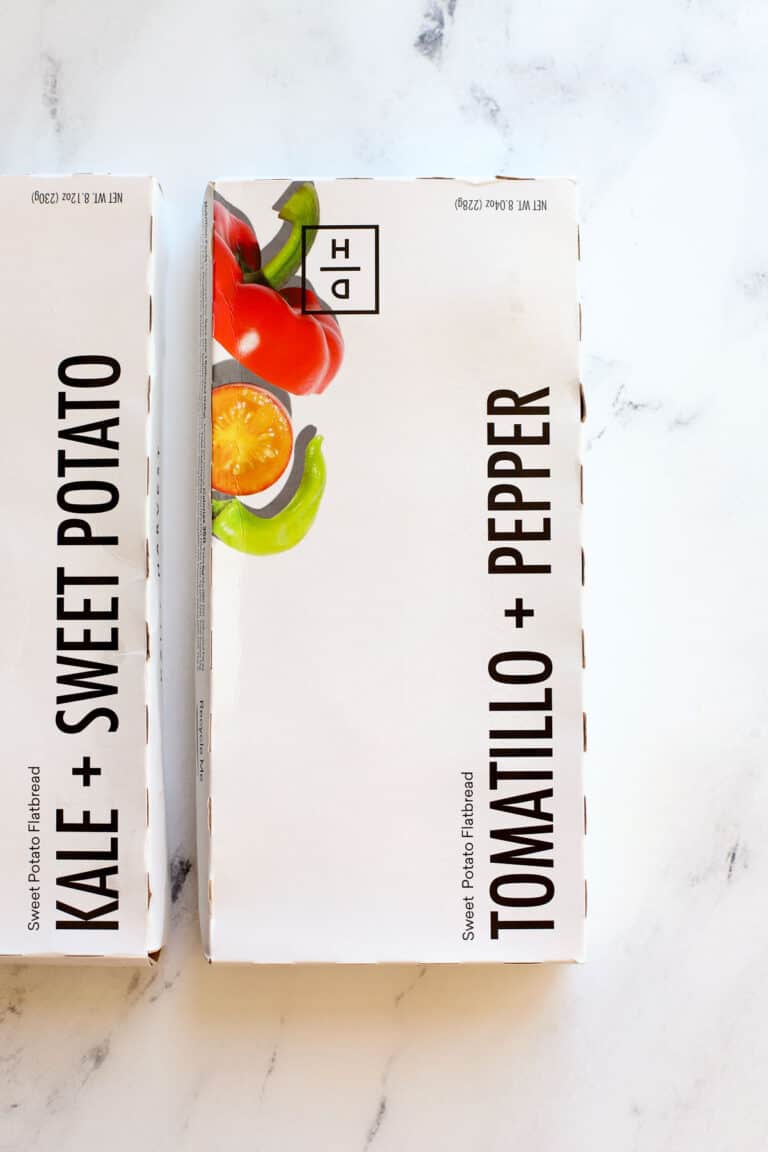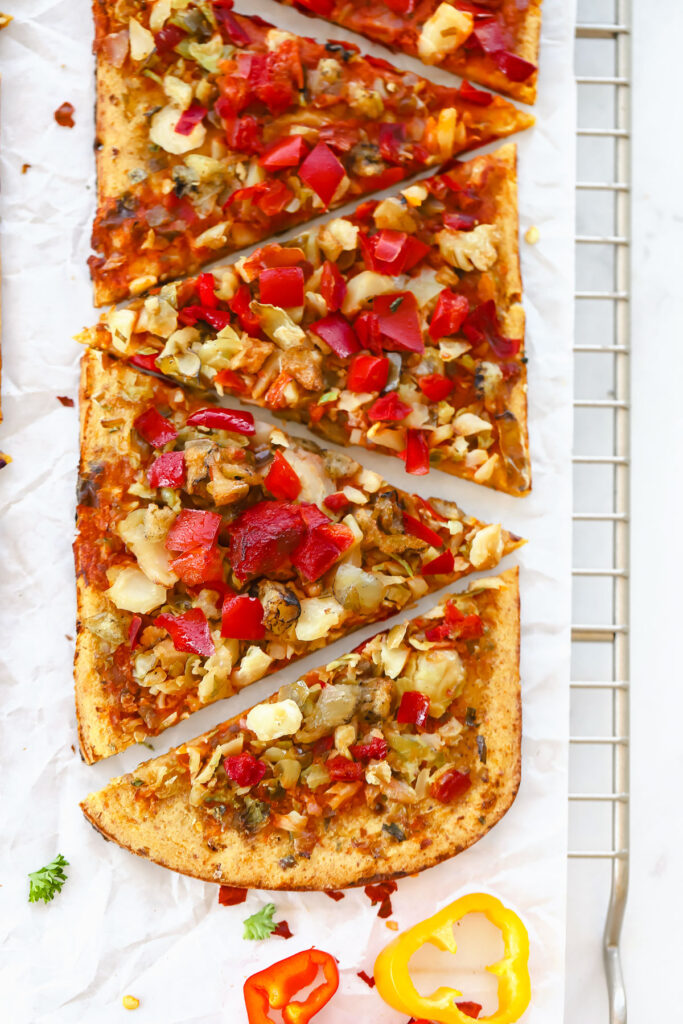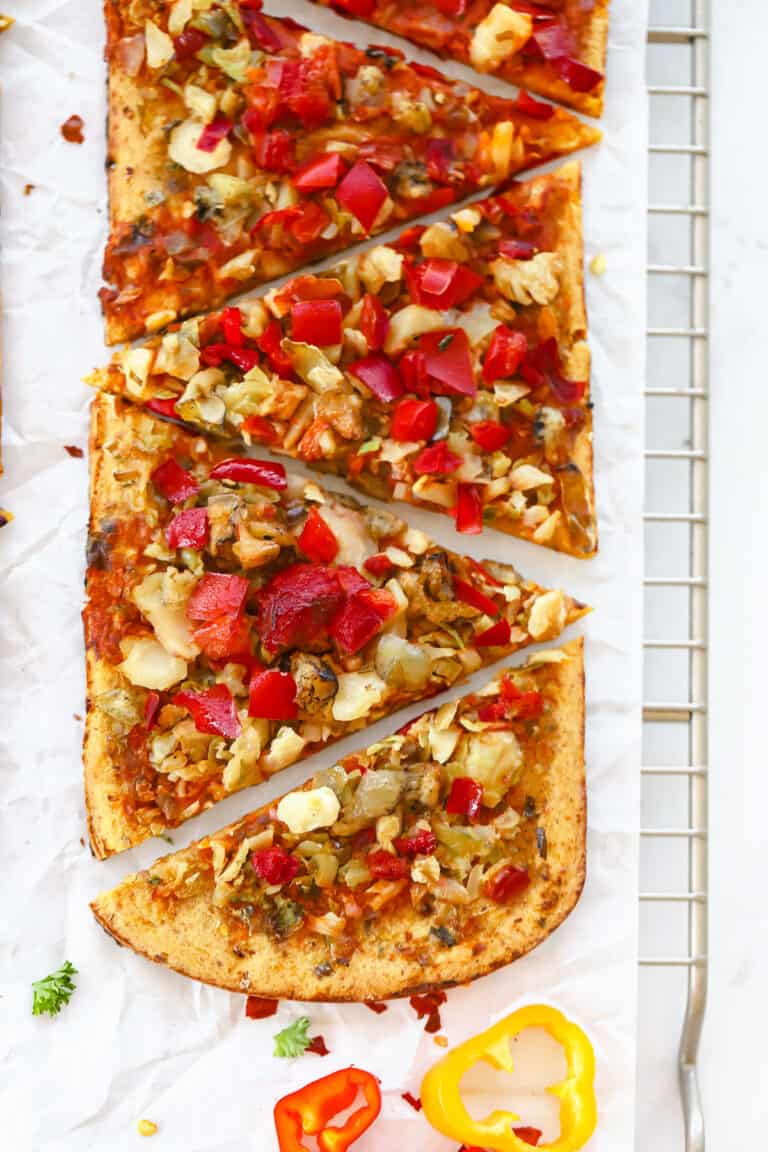 Daily Harvest Bites
Energy balls, protein bites, whatever you call them, we love 'em! These bites are a combo of superfoods with a touch of sweetness. Just grab one out of the cup from the freezer, and snack on them right then and there!
These bites are a perfect midday snack or healthy sweet treat to enjoy after dinner. The options are endless!
Bites we're loving
Cacao Nib + Vanilla: These bites taste just like cookie dough! But are packed with chickpeas, coconut, cacao, kabocha squash, maca and vanilla bean. YUM!
Hazelnut + Chocolate: This flavor is super decadent and rich! Thanks to the combination of avocado, hazelnut, cacao, chia, reishi and vanilla bean.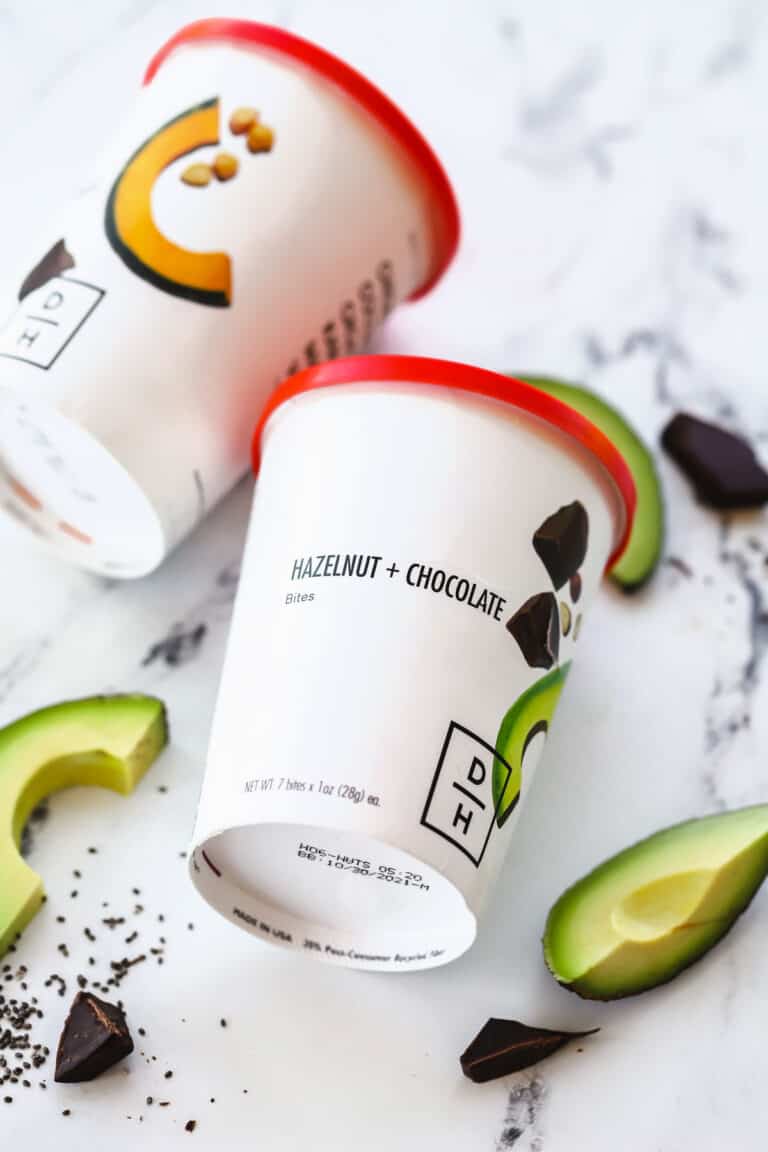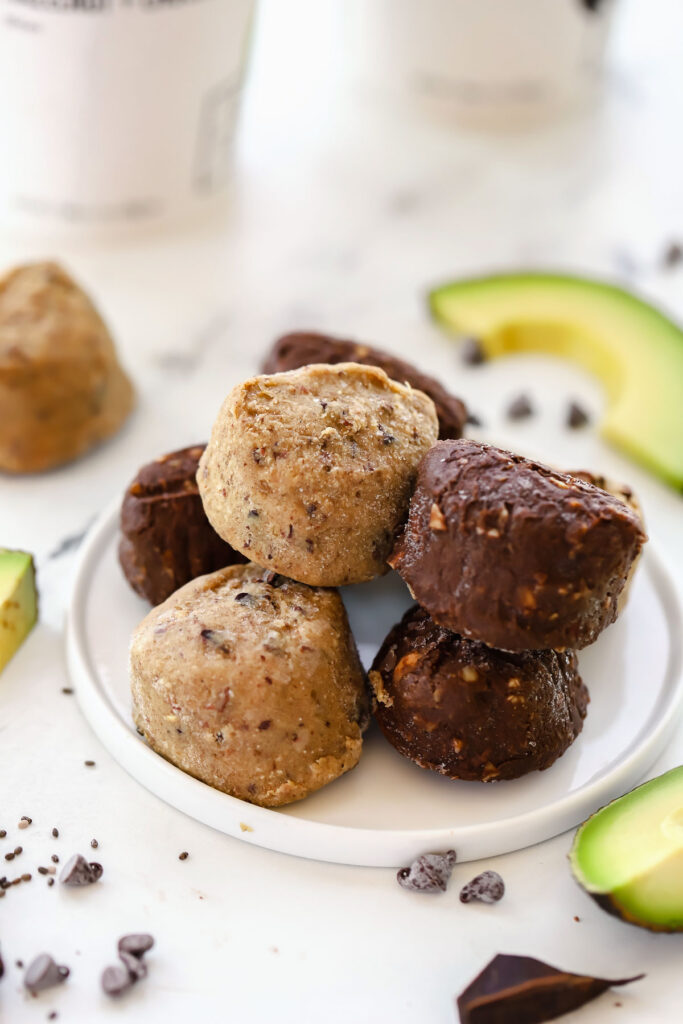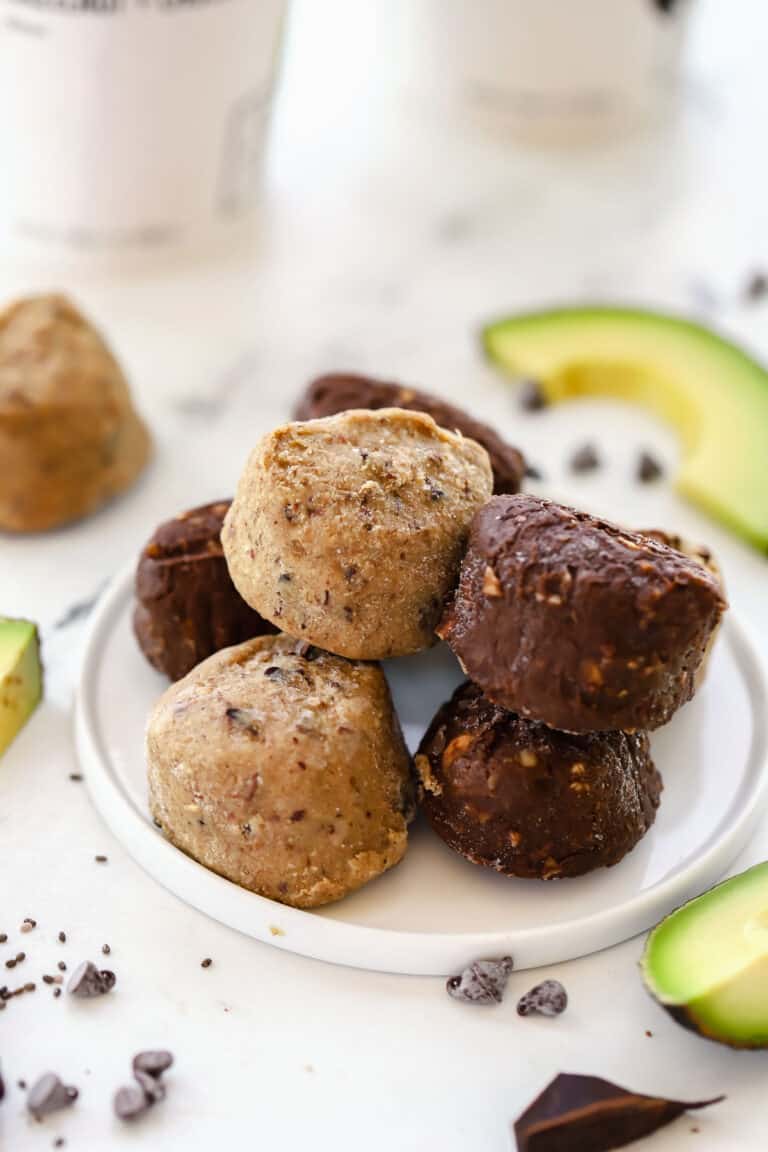 Daily Harvest Scoops
Daily Harvest Scoops (aka plant-based ice cream!) are seriously decadent but with nourishing ingredients. They're super creamy and the perfect frozen treat. Plus, you won't be finding any fake fillers, gums or refined sugars in these scoops.
Whether you're a chocolate lover or enjoy more of a fruity sorbet, these scoops are for you!
Scoops Flavors we're loving
Strawberry + Rich, Rippled Berry Compote: Ahh so light and refreshing! This berry compote features coconut, strawberries, dragon fruit, raspberries, vanilla bean and a probiotic.
Chocolate + Ooey, Gooey Midnight Fudge: This flavor brings together coconut, maple, cacao, avocado, pine pollen and vanilla for the most ooey gooey chocolatey flavor. Seriously like rich and creamy chocolate ice cream. For a simple "hack", we love topping this with flaked coconut and dark chocolate chunks!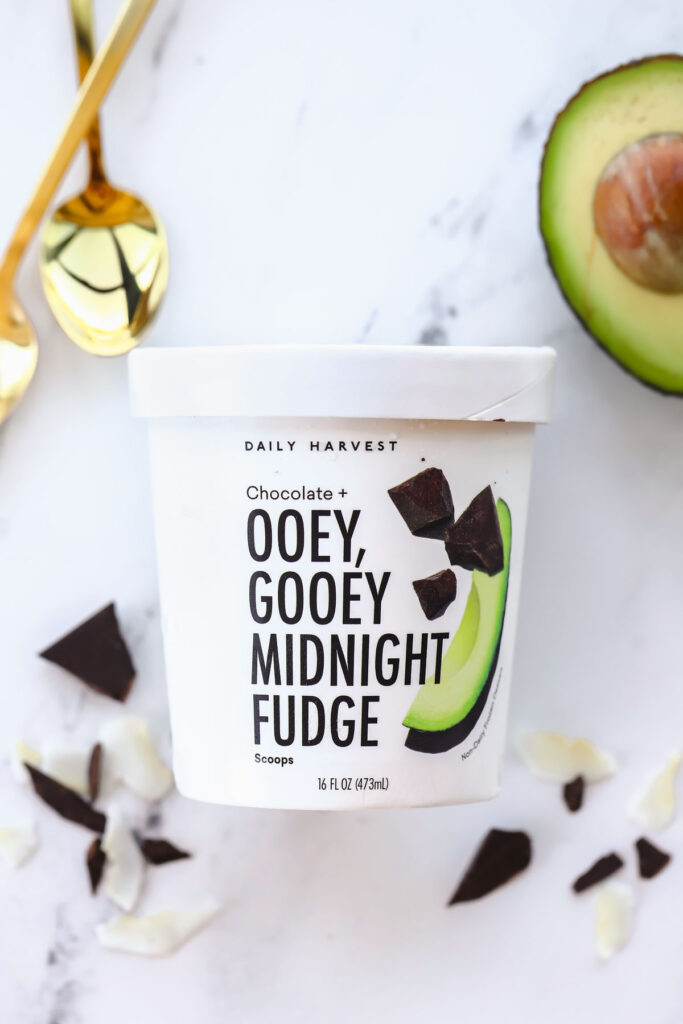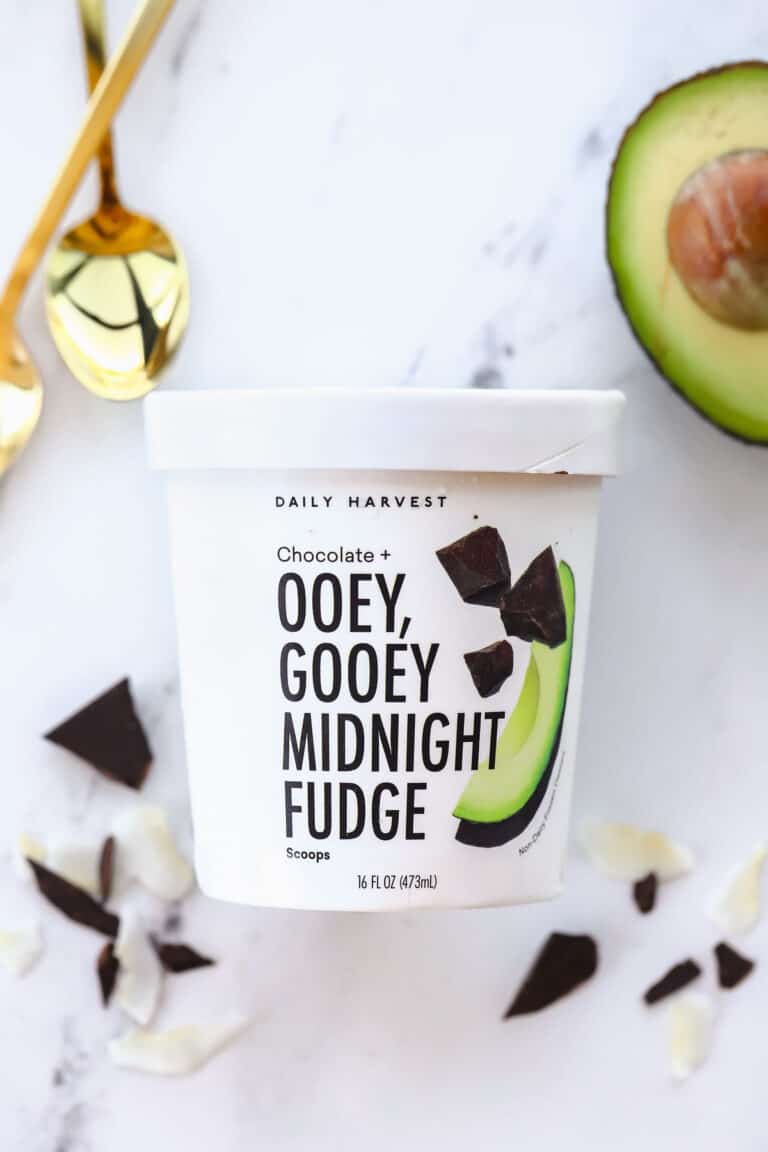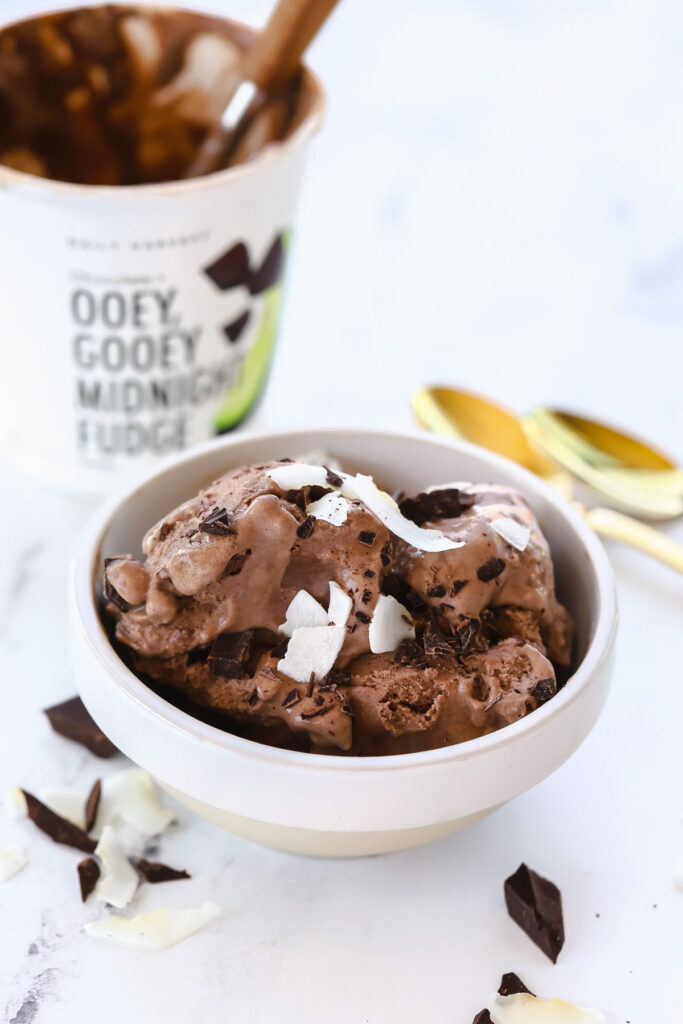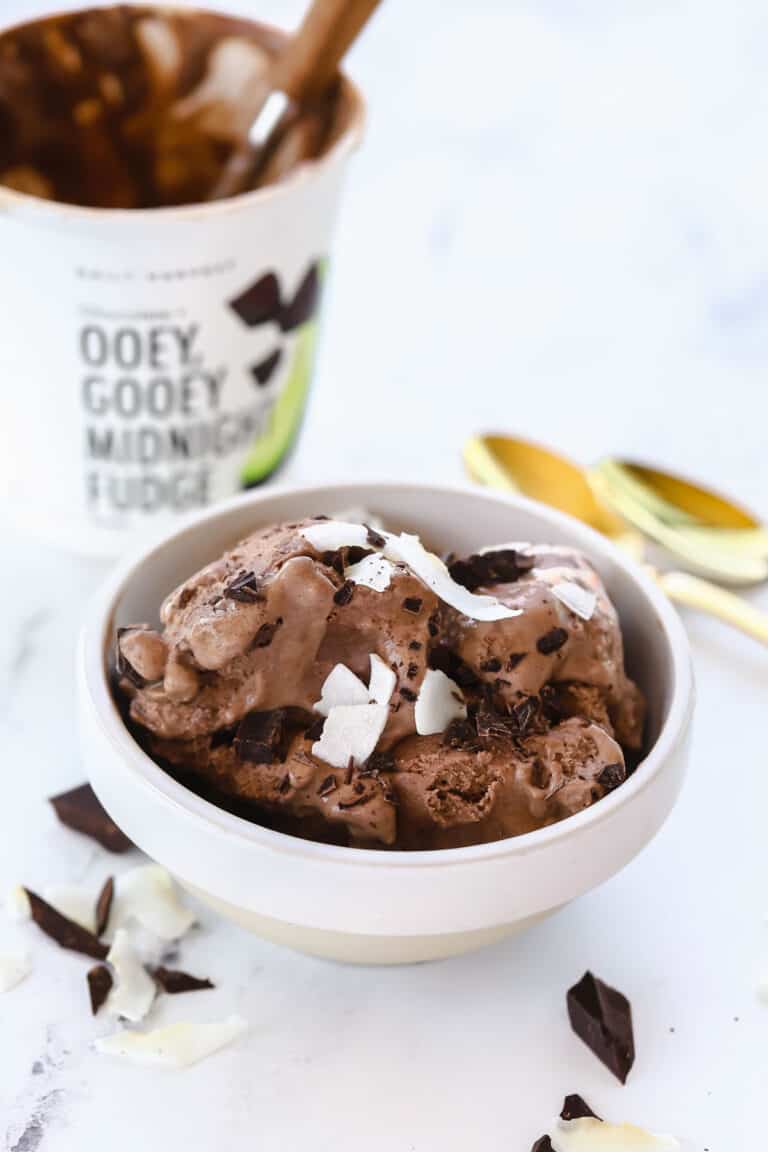 Disclaimer: This post is sponsored by Daily Harvest. We were compensated and all opinions are our own. Thank you for supporting Fit Foodie Finds!