The day has finally come to bring Overnight Oat Week to a close.
I know, I know. I'm sure you're super sad. Well, I'm sad too. Oatmeal recipes are actually the thing that got me to start reading blogs way back when. If you're into oatmeal, then you know about Kath's (from Kath Eats) montage of oats on her site. That lady can make oatmeal look like a freaking million dollar recipe!
Long story short, I fell in love with oats, especially overnight oats, about six years ago and haven't looked back since. It's my breakfast every single day of the week. I loved this series because creating all of these recipes didn't seem like work at all. It was so fun to try new combos and get to eat oats for breakfast, lunch, and dinner seven days straight..I kid you not.
---
---
If I had to choose my top three recipes from this glorious list I think I would choose…
Moose Tracks
Chocolate Covered Strawberries
Peanut Butter Cookie Dough
If nut butter is involved…I just can't help myself!
I hope that these recipes have given you some inspiration to make your own overnight oats in any variation. Before I let you gawk at each recipe one last time, I want to give you some pro tips on making the best overnight oat recipe EVER!
Start with a 1 to 1 ratio of oats and liquid (I usually go with almond milk). From there- add more liquid if you're not a fan of chewy, super thick oats!
Greek yogurt is the master of creaminess.
Adding chia seeds will make your entire breakfast expand. They soak up a ton of liquid and expand 8x, which is going to be great for increasing volume AND digestion.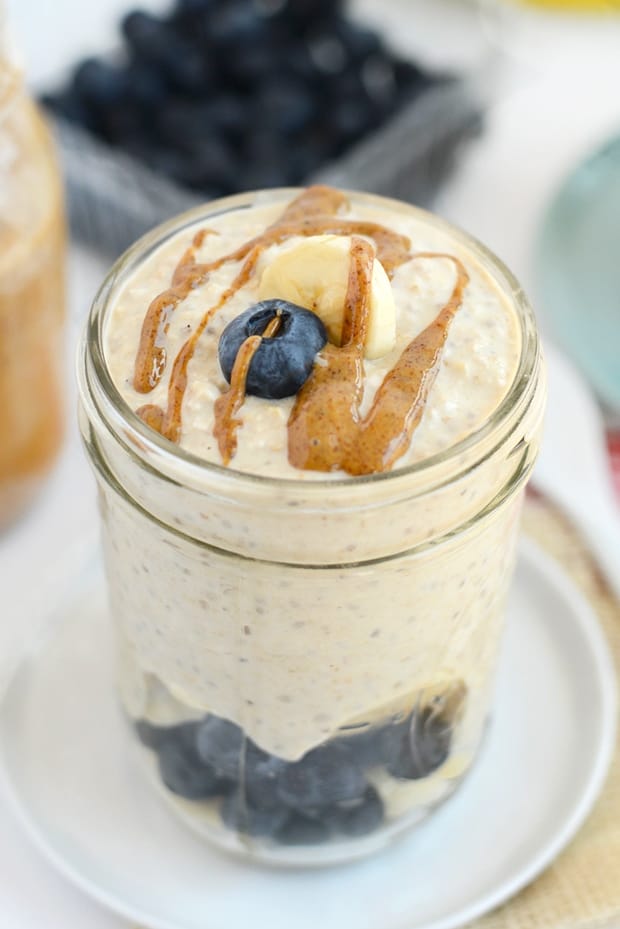 More recipes from my blogger friends…