In search of a vegan overnight oats recipe that packs clean ingredients and doesn't skimp on creamy taste? This vegan overnight oatmeal will quickly become your go-to overnight oats recipe.
Whip up a batch of these healthy overnight oats today and enjoy it all week long for breakfast (or heck, even enjoy it as a healthy snack!).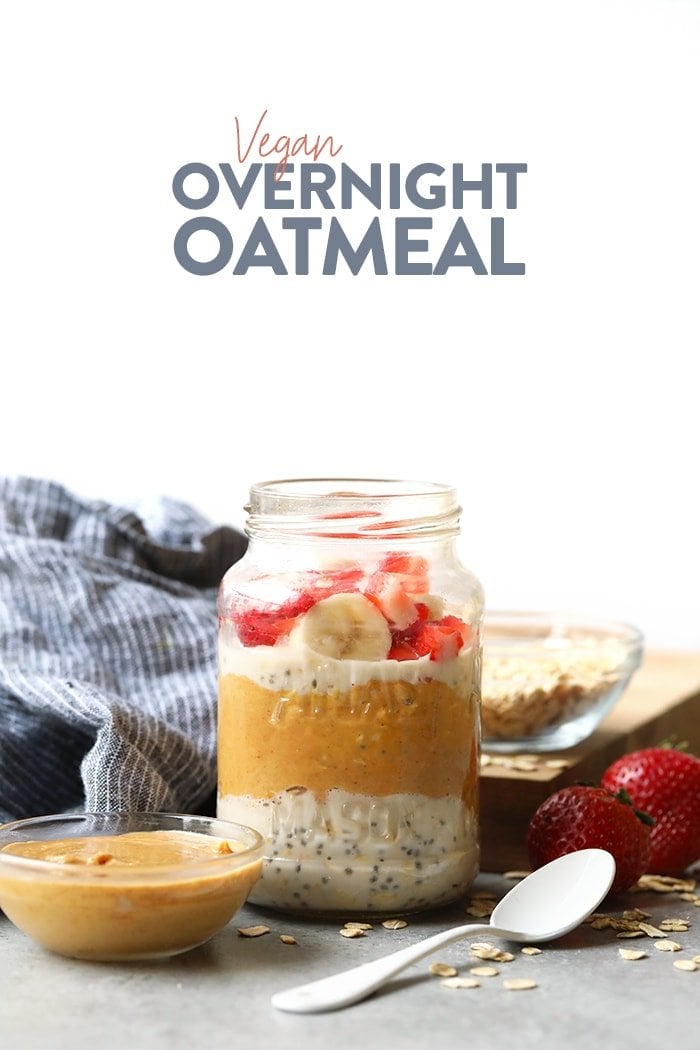 We Love Overnight Oats
We're back with another healthy overnight oats recipe, my friends! We know how much you love our oatmeal and overnight oatmeal varieties, so today we're comin' atcha with a vegan overnight oats recipe.
It's creamy, protein and fiber-filled, and can be meal-prepped and enjoyed all week long. Before we get into this overnight oats recipe itself, let's chat through a few of the overnight oatmeal staples that we make sure we always have on hand in the Fit Foodie Finds kitchen.
Overnight Oats Pantry Staples
Chia seeds: Chia seeds are not only a great source of antioxidants, fiber, and omega-3's, but they help thicken your overnight oats and make them extremely creamy and satisfying.
Vanilla extract: You can't go wrong with vanilla. We almost always add a teaspoon of vanilla extract to all overnight oatmeal recipes!
Maple syrup: All natural sweeteners are key when it comes to overnight oats. Ditch the table sugar or brown sugar for something more natural like maple syrup.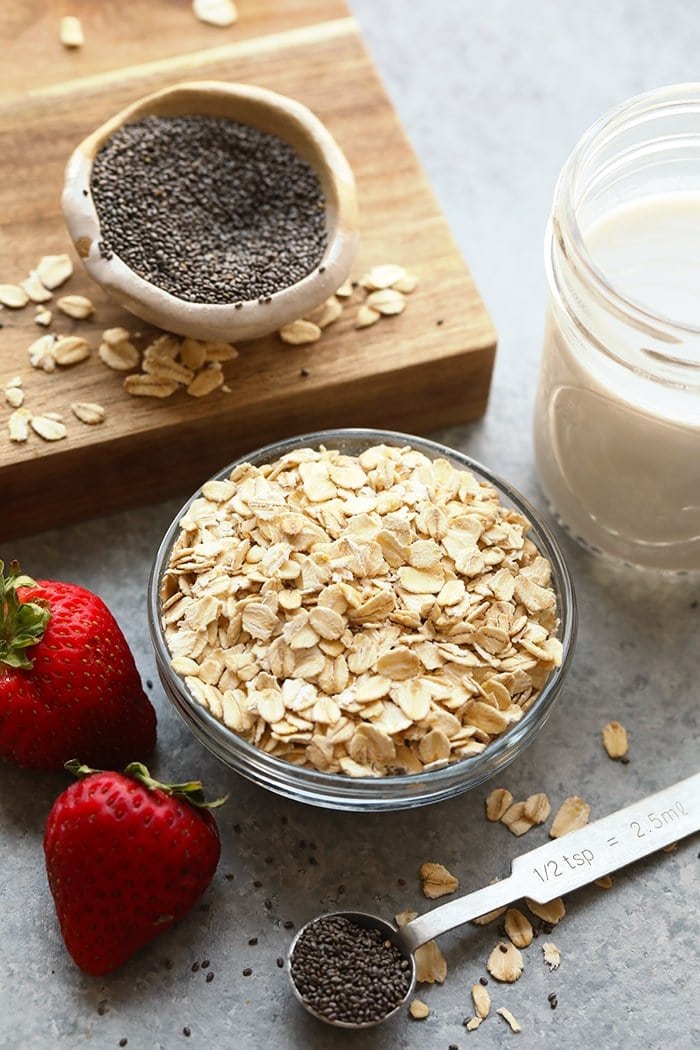 How to Make Vegan Overnight Oats
Preparing a batch of overnight oats could not be easier! Once you have all your ingredients on-hand, you can whip up a batch in about 5 minutes, and then place them in the fridge for 2 hours or overnight.
Mix all of the ingredients together in a mason jar.
Cover jar tightly and shake until combined.
Place in the refrigerator for at least 2 hours or overnight.
Overnight Oats Pro Tips
We recommend preparing your overnight oats in the same container (HERE'S our fave for batches of any size) that you're going to store them in for simple clean up. That way you can give them a nice stir before placing the lid on — aka minimal prep time!
Whip up a batch before bed the night before you want to enjoy them so you can wake up and have breakfast already made. Meal-prep at its finest.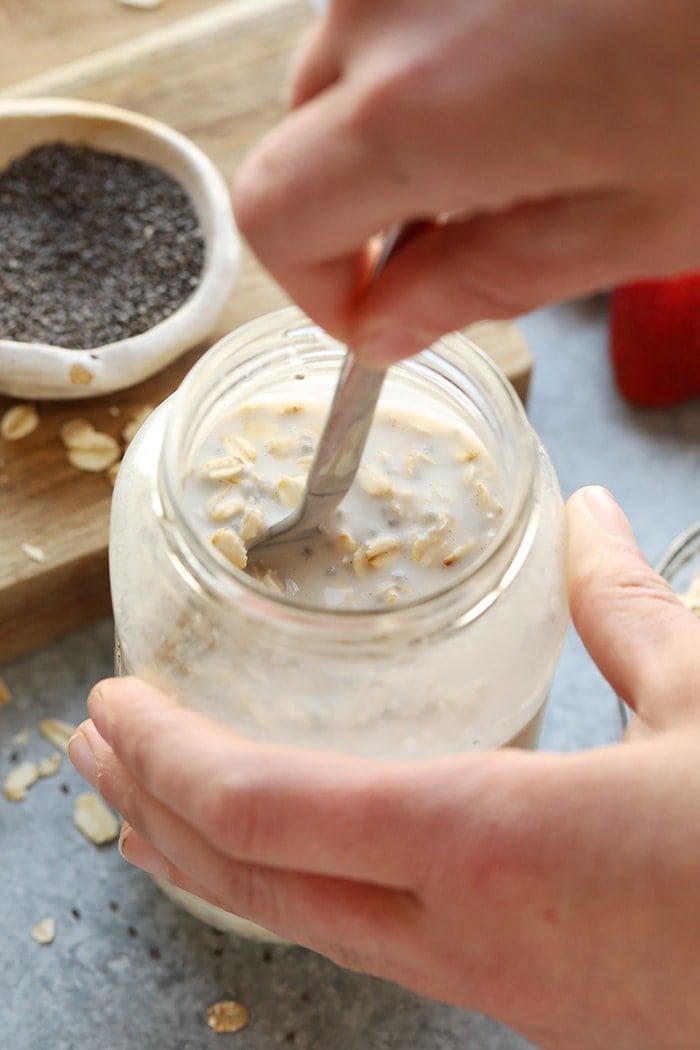 How long do overnight oats last?
Overnight oats will typically keep in the fridge for 3-5 days (depending on what recipe you use), so we often triple or quadruple an overnight oats recipe to have them on hand for breakfasts and snacks all week long.
Is this recipe gluten-free?
You can absolutely make these vegan overnight oats gluten-free by using certified gluten-free oats.
What kind of milk can I use?
Any kind of non-dairy milk your heart desires! Such as, almond milk, cashew milk, soy milk, oat milk or any other dairy-free milk.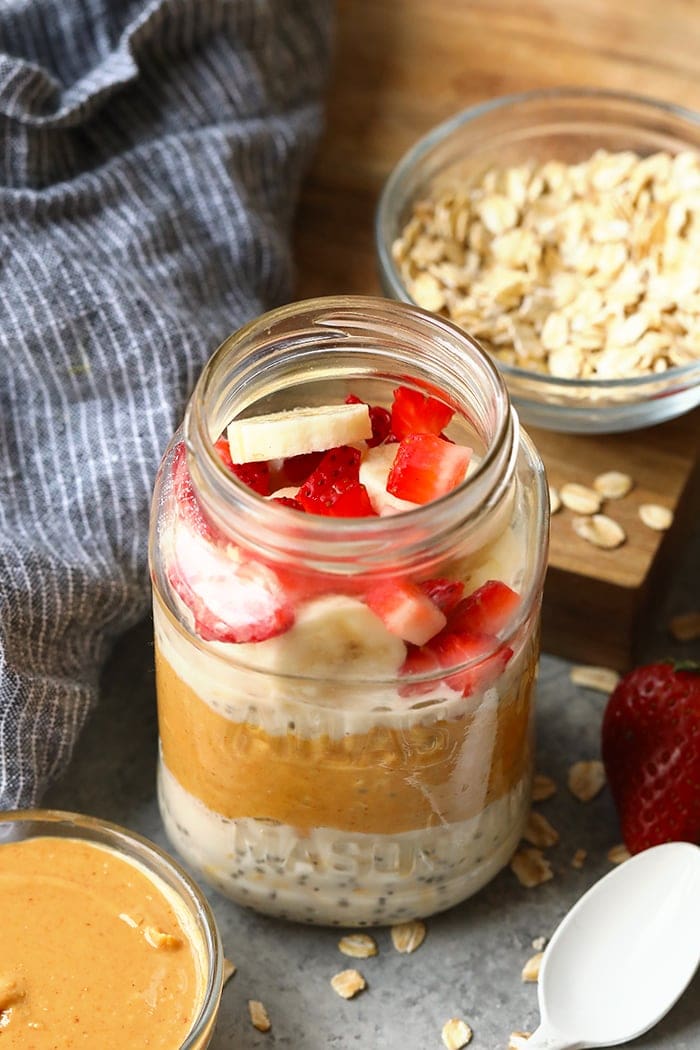 Overnight Oats Toppings and Mix-ins
Because this vegan overnight oats recipe is a simple CLASSIC, feel free to add your own spin on this base recipe and add your favorite toppings and mix-ins. Some of our fave ways to incorporate a crunch, texture and flavor boosts include:
Sliced berries
Sliced bananas
Sliced apples
Fresh berries (blueberries, strawberries or raspberries)
Nut butters (peanut butter, almond butter, cashew butter, etc.)
Granola
Chocolate chips
Dried Fruit (coconut
Diced nuts (walnuts, pecans, almonds, cashews)
What are some of your go-to overnight oats toppings? Or need a bit more inspiration? Check out some of our other overnight oats recipes below.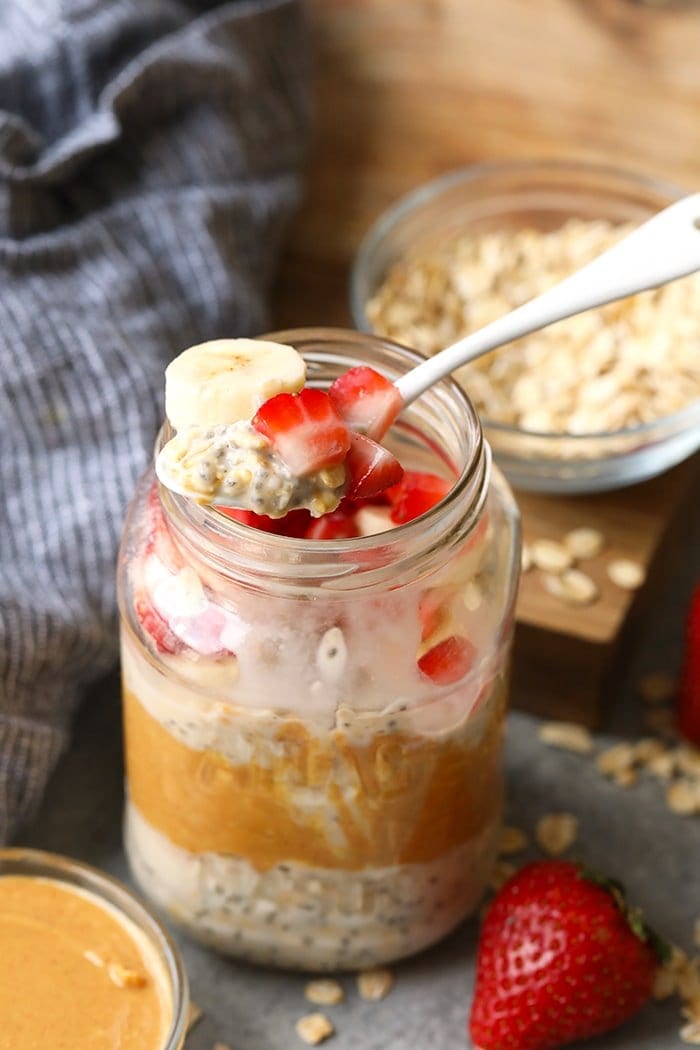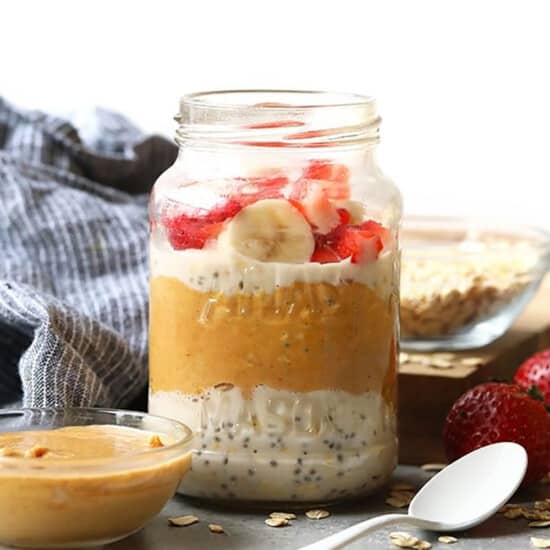 Vegan Overnight Oats Recipe
These Vegan Overnight Oats are packed with clean ingredients and are super creamy. Enjoy!
Instructions
Mix all of the ingredients together in a mason jar.

Cover jar tightly and shake until combined.

Place in the refrigerator for at least 2 hours or overnight.

Option to add more almond milk before serving for desired consistency.
Nutrition facts
Calories:
159
kcal
Carbohydrates:
25
g
Protein:
5
g
Fat:
4
g
Fiber:
5
g
Sugar:
5
g