These 6-ingredient peanut butter and jelly overnight oats are the perfect way to start off your morning!
They're made with a peanut butter overnight oatmeal base and topped with your favorite jelly giving you tons of fiber, protein, and a whole lotta lovin'.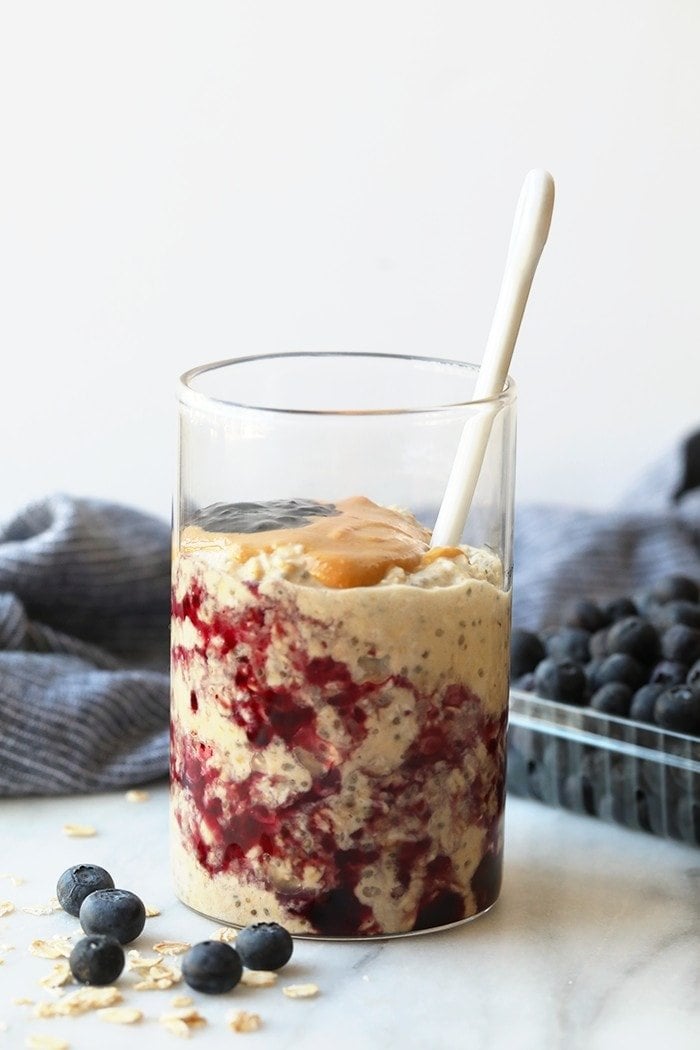 I am a sucker for anything peanut butter. I mean let's get real…like 50% of the recipes on FFF are peanut butter related. Sorry not sorry.
This overnight oat recipe gives me so much life. It's both gluten-free and vegan and I can so get down with that. The base of this peanut butter recipe is peanut butter and then we swirled in some jelly.
In these photos, we used blueberry jelly, but any kind works. You could even use homemade preserves like we did in THIS recipe.
Here's What You Need
vanilla almond milk, unsweetened
Jelly or preserves
I'm the type of girl who doesn't like to mix my layers. My sister on the other hand- is a mixer. I remember growing up we would make sundays…and she'd mix it all together. Me? No thank you! I like to keep em' separate.
If you are anti-jelly (I know you people exist), feel free to just use fresh strawberries!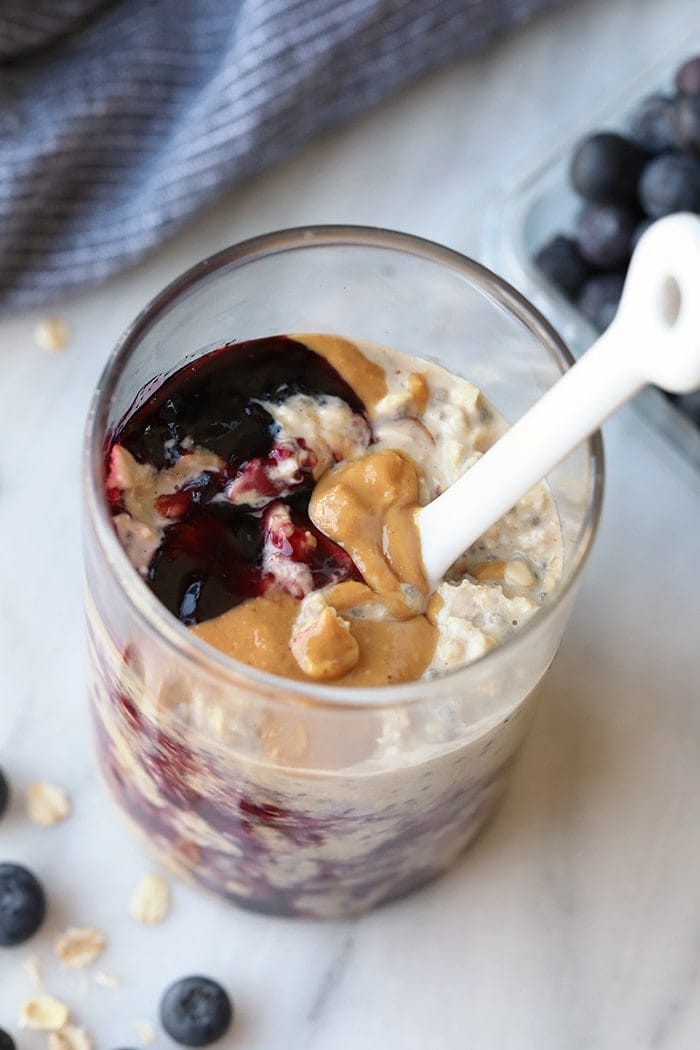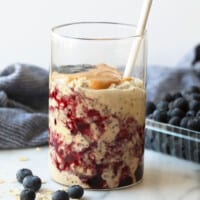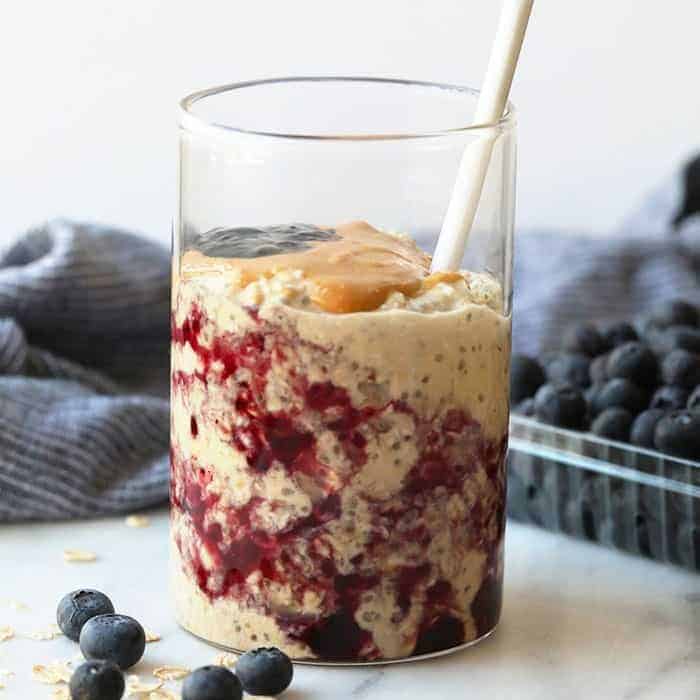 PB and J Overnight Oats
These PB & J Overnight oats are made with a peanut butter overnight oatmeal base and topped with your favorite jelly giving you tons of fiber, protein, and a whole lotta lovin'.
Instructions
Place all ingredients minus the jelly in a glass Tupperware and mix. Cover and let sit in the fridge for at least 2 hours or overnight. In the morning, swirl in some jelly and enjoy cold!
Nutrition facts
Calories:
326
kcal
Carbohydrates:
45
g
Protein:
11
g
Fat:
13
g
Fiber:
8
g
Sugar:
11
g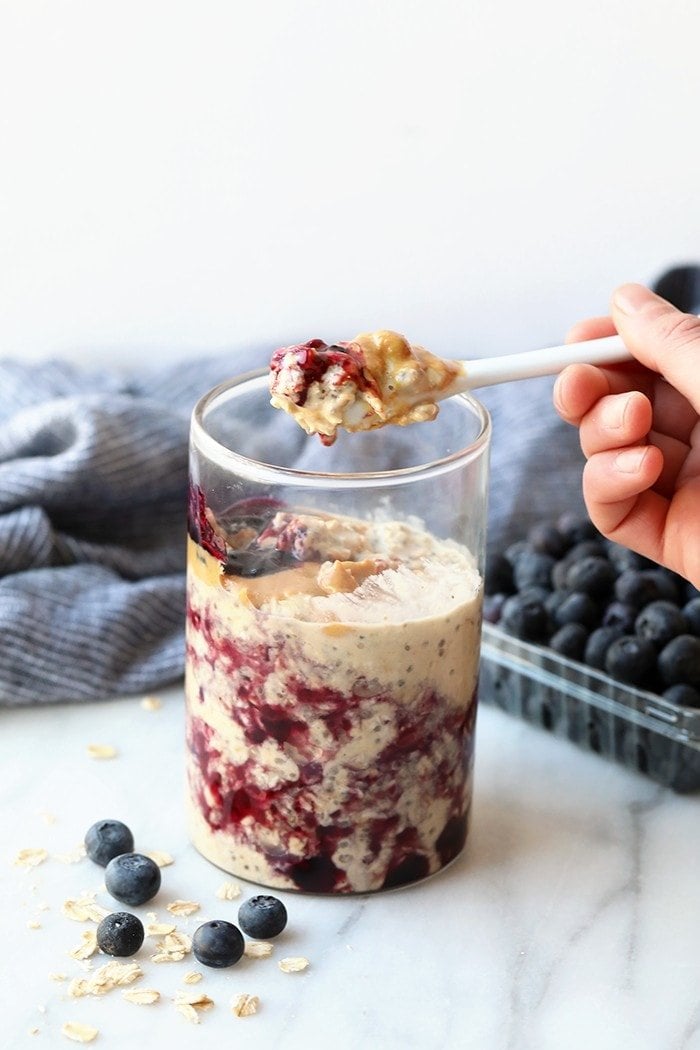 Fun Fact #3: I'm a DD…and hate it.
Yah, I went there. You guys know I am all about body positivity, but often times I find my boobs bringing me down and getting in the way (literally). I know, I know. Most people would love to have a huge rack, but not me! I was a late bloomer and didn't get my period until I was 16, which meant I was pretty much flat-chested until my senior year of high school. Entering college, my chest was a solid C cup, which was propionate for my body. When I went through my eating disorder, my boobs were the last thing to go and the never fully went. Long story short, when I gained my weight back, a lot of it went to my chest…even more than before! Today, I am a DD and hate it. I can't remember the last time I wore a real bra because I prefer to smash them into my chest and make them look as small as possible. They get in the way when shopping for clothes and working out. Anyone with large breasts knows that flowy tops don't really work because they make you look "frumpy." For me, the tighter the shirt the better….but I'm pretty conservative with how I dress and hate tight shirts. As for working out….jumping jacks. Enough said.
The worst part is- it's really hard for me to find proper sports bras because I am 34 inches around, but my cup size is huge. Usually what happens is that I find a great cup size, but then the inches around is way too big. Fail. Anyways- As you can see, I'm still working on being okay with "my new friends," and how they make my body look. I'm not asking you to feel bad for me…because that's just how my body is and I'm working on loving my top half for the way it is 😀
PS: I don't mean to be so negative, but I wanted to share my true feelings on being a DD.