Yosemite, you stole my heart. And Mark's too! Today WE are recapping our amazing, short but sweet, trip to Yosemite. Yup, Mark is making a cameo on the blog and recapping all of our beautiful hikes. Scroll down to see what he has to say 🙂 PS: Apparently he likes to write a lot more than I do.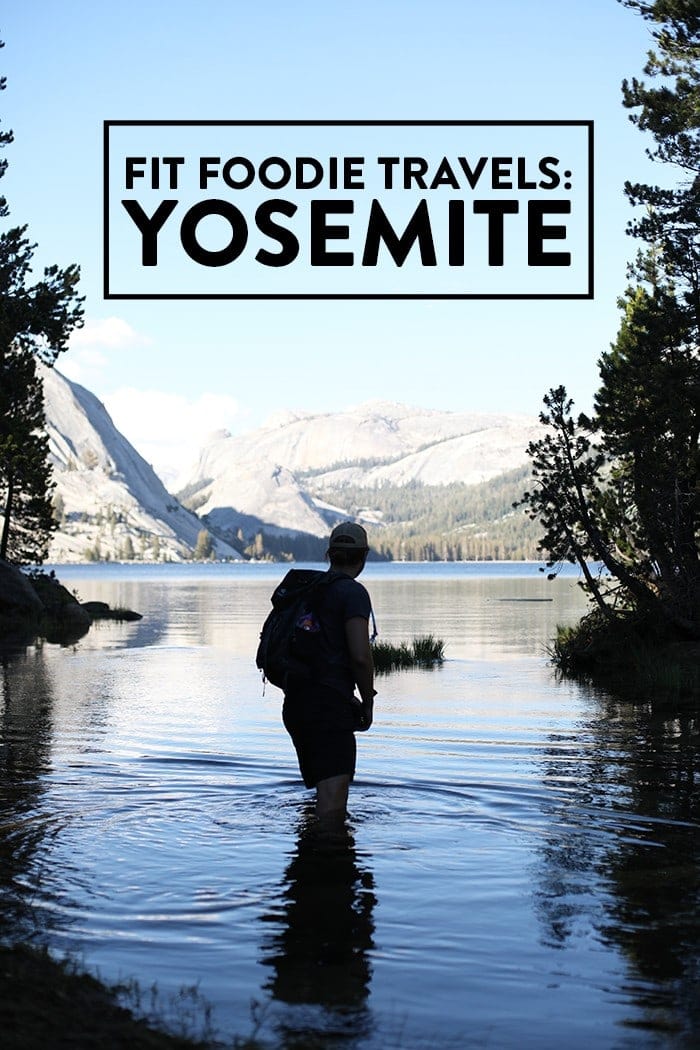 Yosemite National Park was stop number two on our Tour de California and we didn't want to leave. >>You can read about stop number 1 HERE<< It was actually a last minute decision to go here and then we almost didn't go! In between Hermosa Beach and San Fran, we allotted ourselves around 3 days to do something else and after lots of research and asking friends and family, Yosemite just seemed like a no brainer. However, just a few days before we left for California, a blazing wild fire started just outside Yosemite, which left us on edge the first part of our trip. The fire was located in Mariposa, CA which borders Yosemite to the west. We monitored smoke levels via photos from Twitter and the National Park website and decided that we were going to go either way. Lucky for us, the smoke cleared up for the most part and we really only noticed it on day 1.

WHERE WE STAYED
Thanks to YOUR recommendations Mark and I ended up snagging up a last minute cancellation in Half Dome Village. This place books up fast, but we think that because there was an active fire going on right outside the park, people freaked out and cancelled their reservations. No complaits over here.
Half Dome Village, otherwise known as glamping in Yosemite…was really great. Half Dome is great for a variety of different reasons. 1. You can rent a yert like we did or stay in one of their classier hotel-like rooms. 2. The location is in Yosemite Valley, very close to a lot of the main attractions. 3. You don't need to worry about food because they have everything from a dining hall to a pizza restaurant to a convenient shop right on the property.
Our yert slept 4 people. It had 2 single beds and 1 double. We didn't need this much room, but it's what was available. Since we didn't go to California just to hike and camp, we didn't have enough room to pack our camping gear. That's why our yert was just perfect. The yert came with bed linens, towels, and electricity. We used a shared bathroom that felt very campground-esk and it was perfect for our situation. One thing I am glad we brought is our white noise maker. Mark got me one for Christmas and now I can't sleep without it. Since we were sharing a campground with thousands of other people (and animals!!), the white noise maker was on point.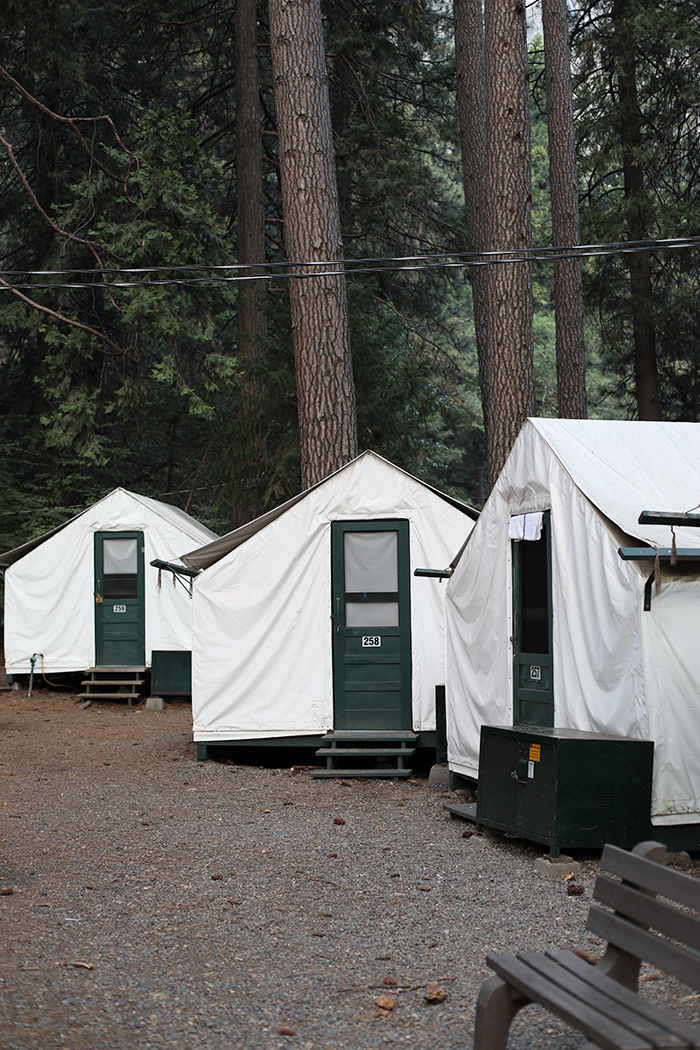 WHAT WE ATE
Like I stated above, Half Dome is pretty great food-wise because you don't really need to worry about main meals. There are many options on the property, all which come at a heftier price due to the convenience and the fact that there isn't anything else for a few hours. Since we knew the situation going into our trip we made sure to stop at the store to stock up on hiking essentials:
If we weren't eating any of the above, we were eating at one of options on the property. The main dining hall served it's purpose. I'd say the food was hit or miss, but better than I expected. The pizza restaurant was fantastic and I was really impressed with the beers they had on tap (all local!). If you stay at Half Dome, I highly recommend you grab a beer or two! Love love love. We didn't have enough time to explore any of the other options, but maybe next time!
WHAT WE DID
What up TEAM FIT FOODIE, Mark (@dafunkshow) here for my first cameo on FFF, and what better to write about than Yosemite National Park. For those of you who don't know my relation to Fit Foodie, here's a quick recap.
2008-2015: Friendzone

2016: Known as "Man Candy" on the blog (while flattering, was NOT a fan)

2017: Finally achieved first name status of "Mark"
After our six hour drive from LA to Yosemite, we wanted to get in a quick hike in the afternoon to stretch out the legs and take in some scenery. We entered Yosemite from the East side through the Tioga Pass entrance, which had actually just opened the final week of June due to the record breaking snowfall this year (more on that later). If you are lucky enough to be visiting when Tioga pass is open, you should definitely take the time to drive it from the East all the way into the valley or vice versa. It is a tight 2 lane road that takes you from almost 10,000 ft in the high sierras, and winds you back and forth all the way down to the valley floor with some absolutely unbelievable views along the 1.5 hour drive. Lee yelled at me about half a dozen times as I kept staring up out of the window instead of at the winding road ahead of me. Fair enough. We decided on Tenaya lake since it is just off of Tioga Pass road, a few miles past Tuolumne Meadows.
Quick sidebar on how to avoid crowds in Yosemite. The National Park pulls in over 4 million visitors every year, so it's not easy to avoid the crowds, but here is what we found to be the best bets:
Do long hikes. The average tourist isn't willing to hike too far from the road, some even won't do anything they can't pull their car up to. So throw on the hiking boots and get out there.

Wake up early. This is generally smart anyways if you are planning to do a long hike in order to avoid the hottest part of the day as well as any thunderstorms that may quickly blow in in the afternoons.

Leave the valley. Half Dome, El Capitan, and the many waterfalls surrounding Yosemite Valley tend to draw the biggest crowds, and with good reason. These sites are all must sees, so absolutely DO NOT skip them. But if you have the time, the High Sierra is equally as beautiful and allows you to be surrounded by nature instead of people.
Tenaya Lake
Distance: 3.4 mile out and back
Elevation Gain: 259 feet (trail starts at about 8,100 ft)
Difficulty: Easy
Time: 2 hours
So it turns out this is definitely an out and back, but we (me) turned it into about a 4.5 mile loop by (unintentionally) deciding it would be easy (it wasn't) to cross through some woods to the trail we saw from the beach. Remember that record-breaking snowfall I mentioned? Well, when over 200 inches of snow pack in some areas finally melts, that results in fast moving streams, high water levels, and gushing waterfalls. The first sign of this was as we approached the Tenaya trail and encountered a 20 foot wide stream about mid-thigh deep blocking us from continuing. Despite Lee's pleas to turn around, I insisted that we wade through and continue on. After all, we already had on our amphibious shoes and we were in Yosemite-freaking-national-park, so why not live a little? We made it across and and were rewarded with views across a glacial lake with granite cliff backdrops. (Sidebar/told-you-so: Lee also took what ended up being the cover photo for this post of me wading through the water here. So you're welcome for my stubbornness, Lee 🙂 )
The rest of the trail was relatively flat, and we only encountered one more creek to cross as we did a full loop around the lake. Overall, the trail took about 2 hours. We then hopped back in the car and made our way to our new home for the next two days in Half Dome Village, but we both agreed it would have been a great spot to pack a lunch or dinner due to the plethora of beaches and campsites.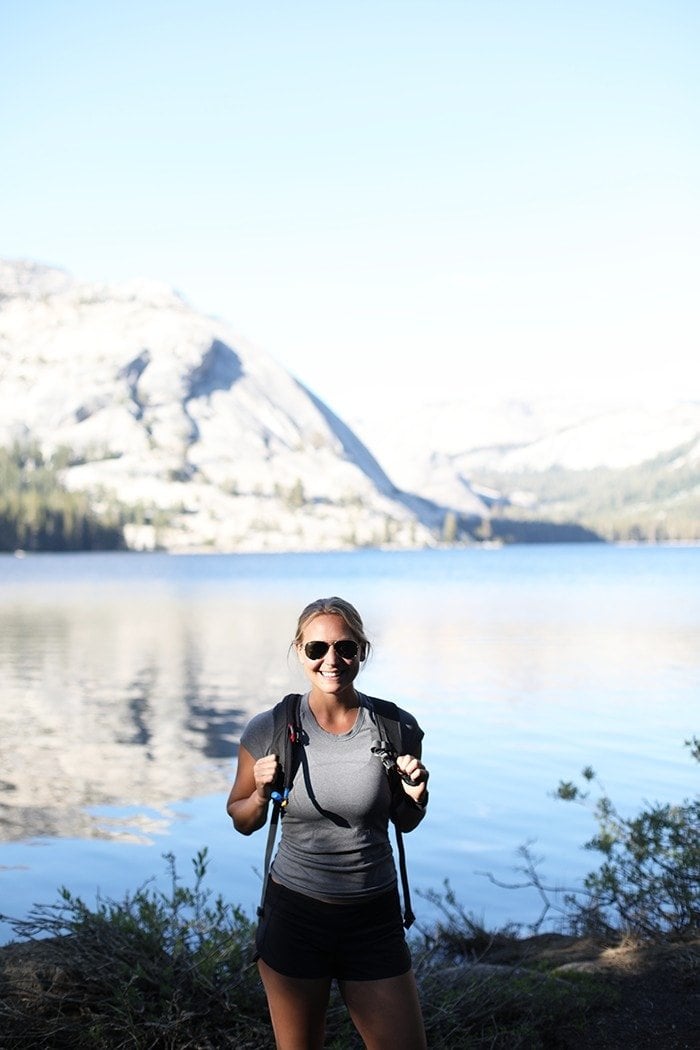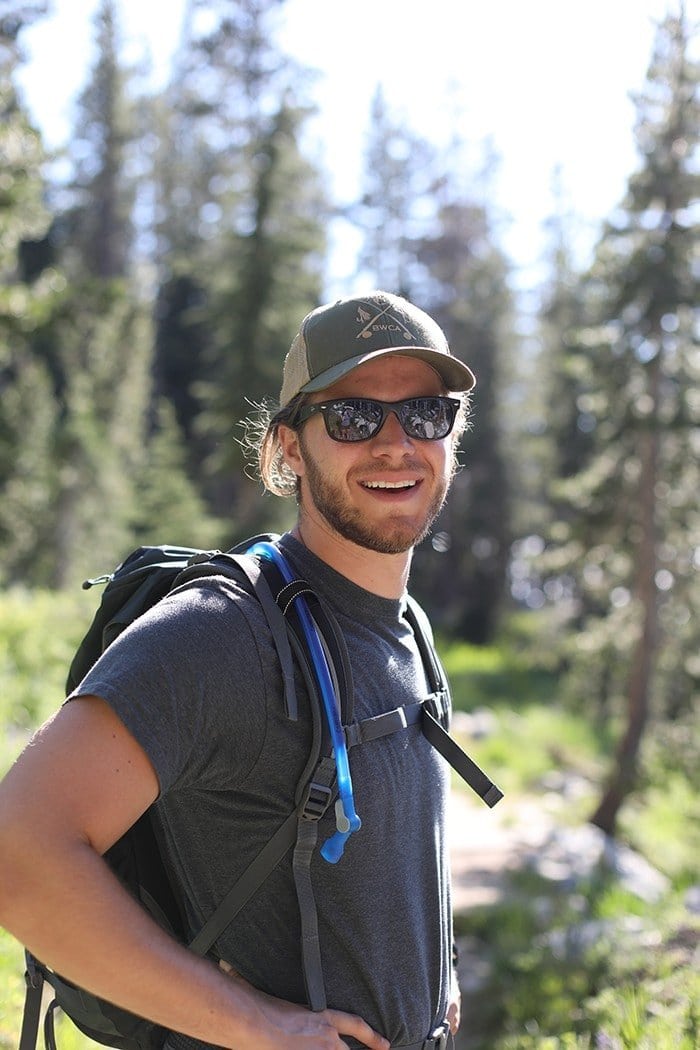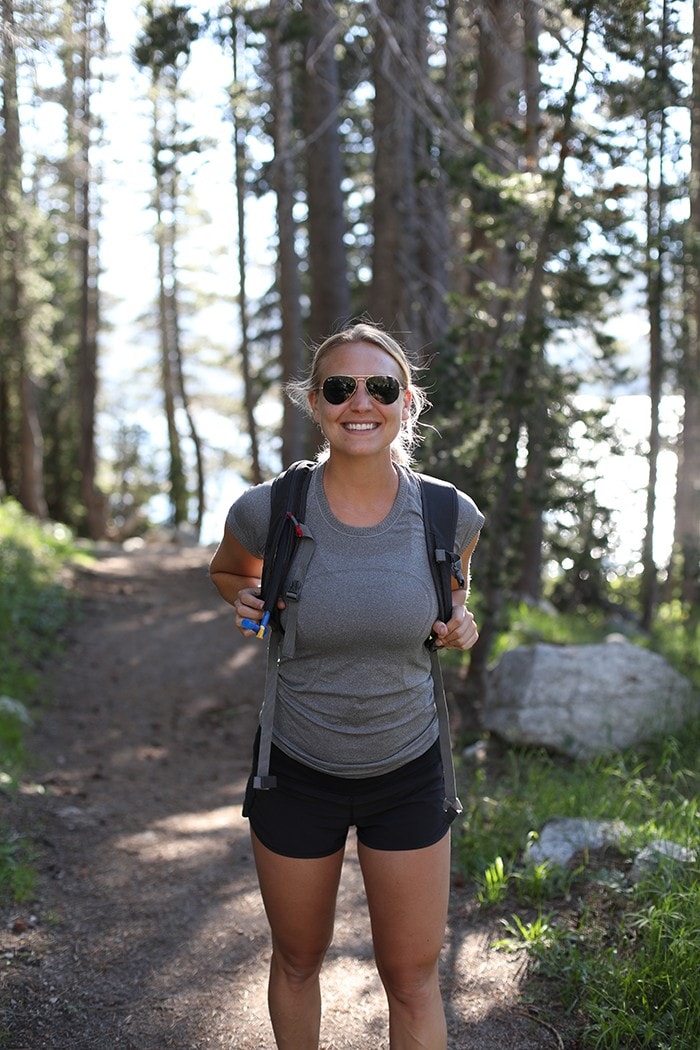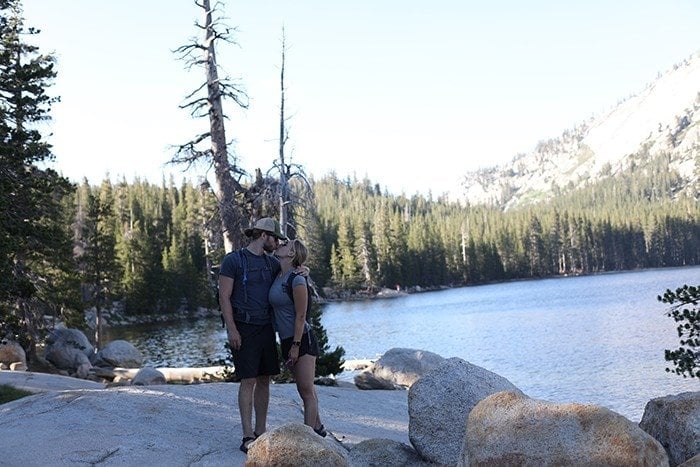 4 Mile Trail
Distance: 4.6 miles point to point
Elevation Gain: 3389 feet
Difficulty: Strenuous
Time: 3 hours
I am a firm believer that the 4-mile Trail to Panorama Trail route is the best way to see all the best things Yosemite Valley has to offer in one day. It makes for a long, long day (about 14 miles and 8-10 hours of hiking, depending on how many times you stop to eat, take in the sites etc), but it is well worth it. You are able to see Half Dome, El Capitan, Sentinel Rock, and the Cathedral Rocks, as well as Yosemite Falls, Illilouette Falls, Nevada Falls, and Vernal Falls! (Ya gotta be jokin my ass, FOUR waterfalls!?) However, if you don't have enough time, or simply do not want to hike quite that far, both hikes are 5 star hikes individually as well.
4 mile trailhead is about 1.5 miles from Half Dome Village. We woke up with the sun, ate breakfast, had coffee, and headed out. We decided to park our car at Camp 4 and walk about a half mile to the trailhead, since we planned to take the bus from the end of Panorama trail back to Camp 4, since the 2 trails don't make a perfect loop. The bus conveniently runs all over Yosemite Valley every 15 minutes.
4 mile trail is basically just 4.6 miles of hiking directly uphill. It is mostly wooded, and every half mile or so you'll find a chance to peek out through the trees, noticing as the views get more and more spectacular the higher you get, culminating at the famous Glacier Point. Glacier point offers dramatic views of the valley and Half Dome, and is probably the most instagrammed point in Yosemite National Park. There was almost no one on 4 mile trail, and then suddenly there were hundreds of people at Glacier point. We were definitely a bit frustrated with the buses of tourists being dropped off at the top, but there is something just so rewarding about earning that view! (note that if you wanted to take the 4 mile only one direction, you could take that bus up or down and park your car at either end, I think the bus is $25). I actually found that my favorite view was about halfway up the trail looking the opposite direction of Half Dome, with El Capitan and Sentinel Rock perfectly framing the Merced River running through the valley.
At the end of the hike you will certainly find yourself exhausted. Be sure to bring lots of water. We put down 5L between the two of us and filled up at the top, then put down another 5L on the way down Panorama.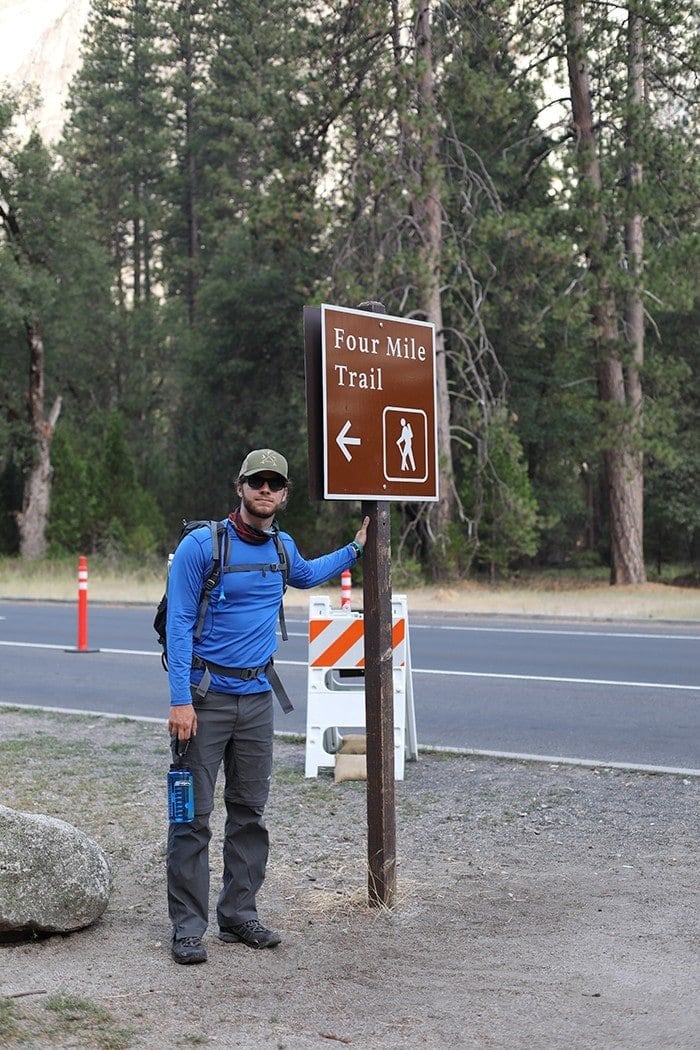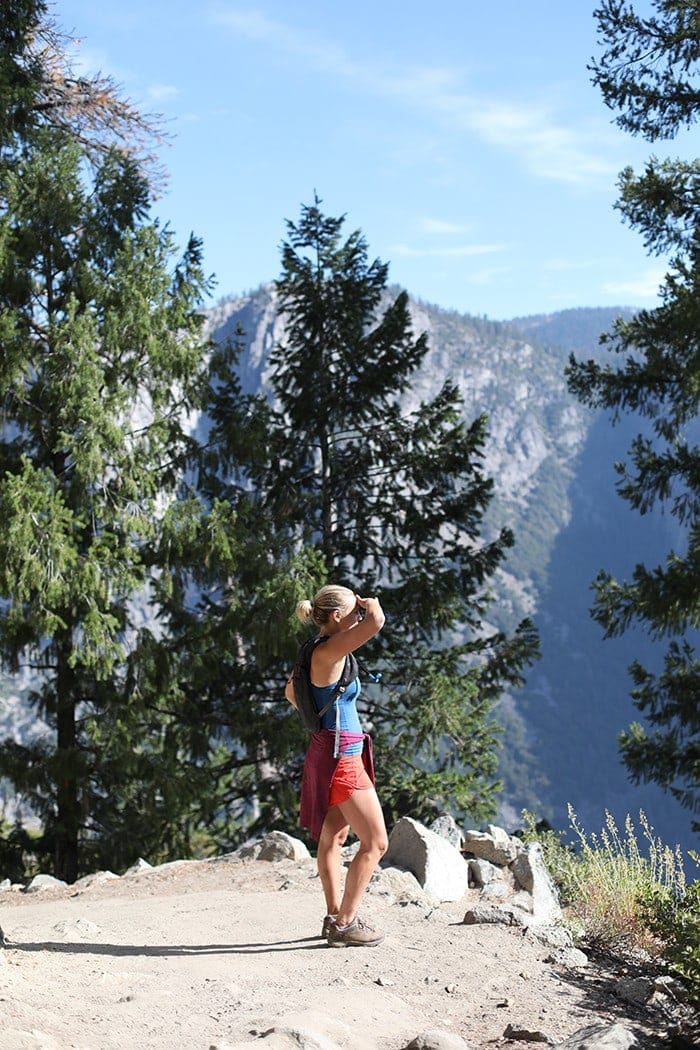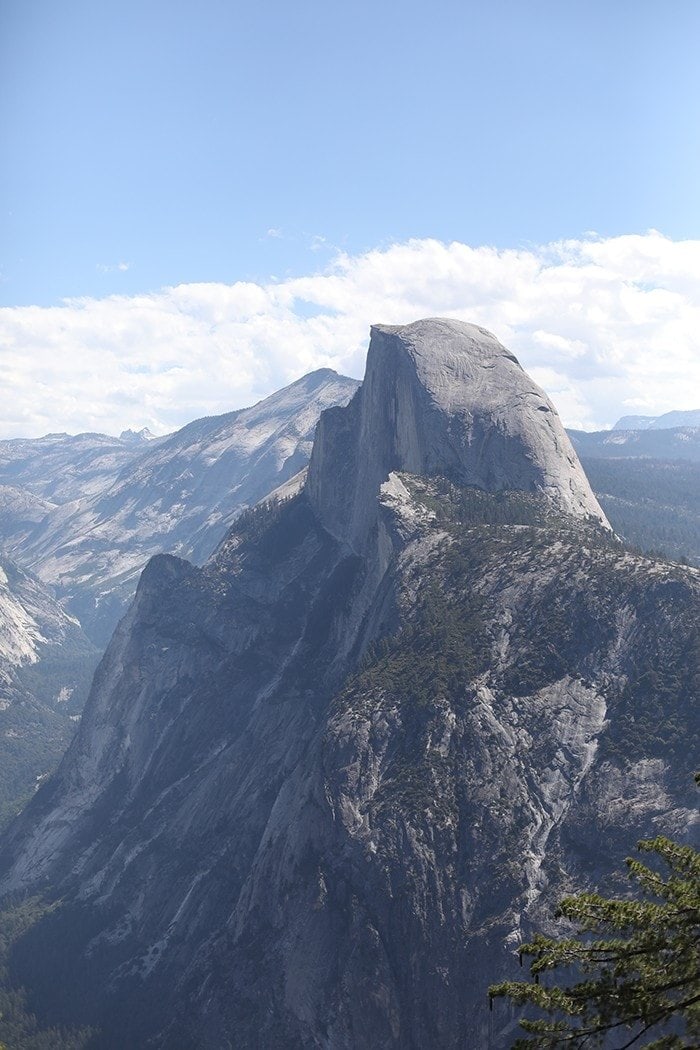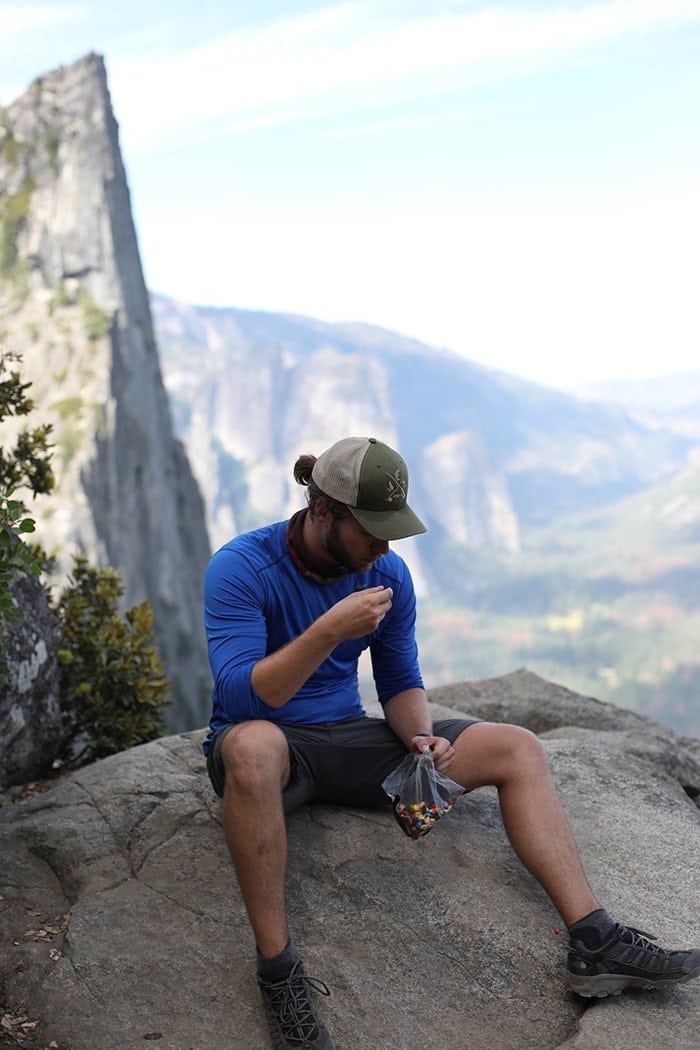 Panorama Trail
Distance: 9.5 miles point to point
Elevation Loss: 3200 feet
Difficulty: Strenuous
Time: 5 hours
From Glacier Point you can follow signs to the Panorama Trailhead. Upon starting the hike, you almost immediately ditch all of crowds and go back to the wilderness and no humans besides the occasional friendly hiker "Hello!" every so often. Lee and I make it a point to say hello to EVERYONE we pass. Shouts out to that Midwestern nice!
Panorama is aptly named for its panoramic views of the park. Wow. Wow. Wow. You start out by heading downhill from Glacier point to Illilouette Falls. I read an incredible tip online, and now feel the need to pass on. About a half mile after you pass Illilouette there is an unmarked path that veers left a couple hundred feet, leads you through a tight path between some prickly bushes and eventually to what is called Panorama Point. This was my favorite part of the hike, but is not for those afraid of heights. As you walk out of the brush and approach the point you get hit in the face with a gush of wind and see an absolutely breathtaking view of the valley from behind Half Dome. Careful though, no guard rails here!
From here you head uphill again for a short while before making the final descent to an up close visit of Nevada and Vernal Falls. Here Panorama meets up with one of the most popular hikes in Yosemite, Mist Trail. About 90% of Panorama is relatively light trafficked and peaceful. Mist Trail…not so much. I love waterfalls. You love waterfalls. Everyone and their mother loves waterfalls. If you are lucky enough to travel here after a snowy winter like we did, you will be treated to gushing waterfalls and get sufficiently "misted" on the way down. After the slippery descent, we caught the bus and headed back to home base to grab a gigantic pizza and a much needed beer. I went with a Sierra Nevada, felt fitting. Plus..I heard Sierra Nevada is a 100% solar powered brewery, HOW NEAT IS THAT??!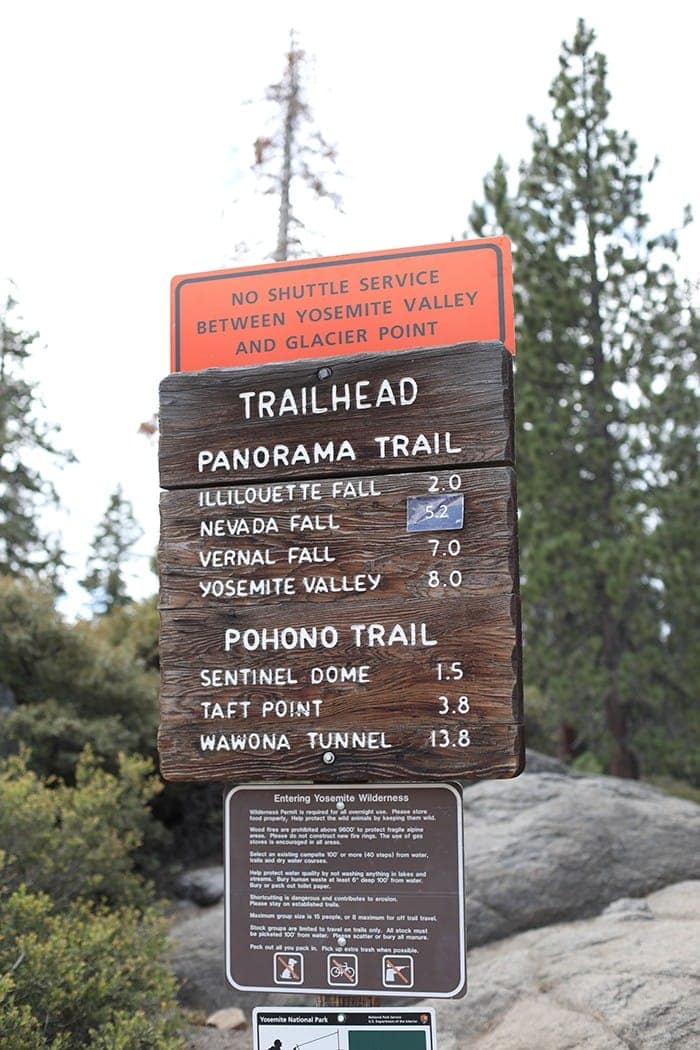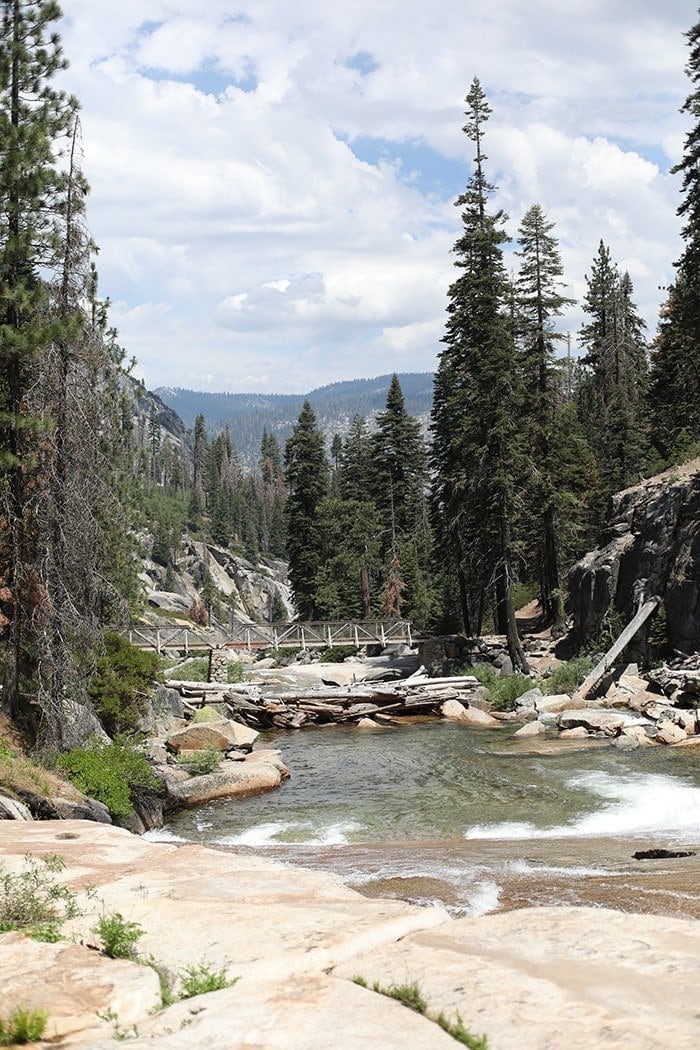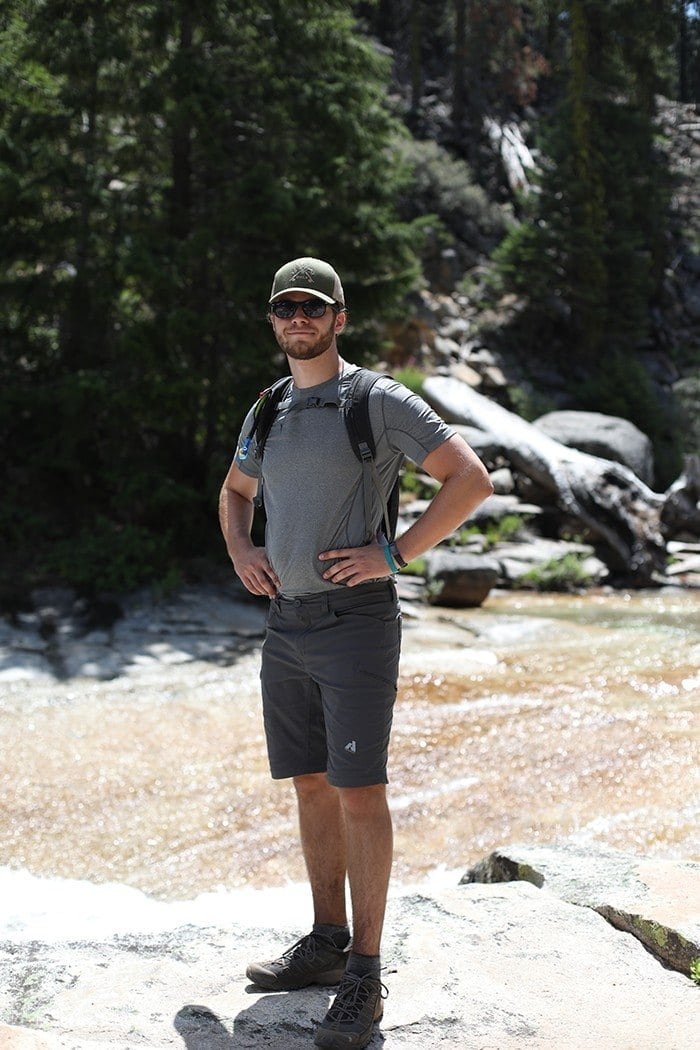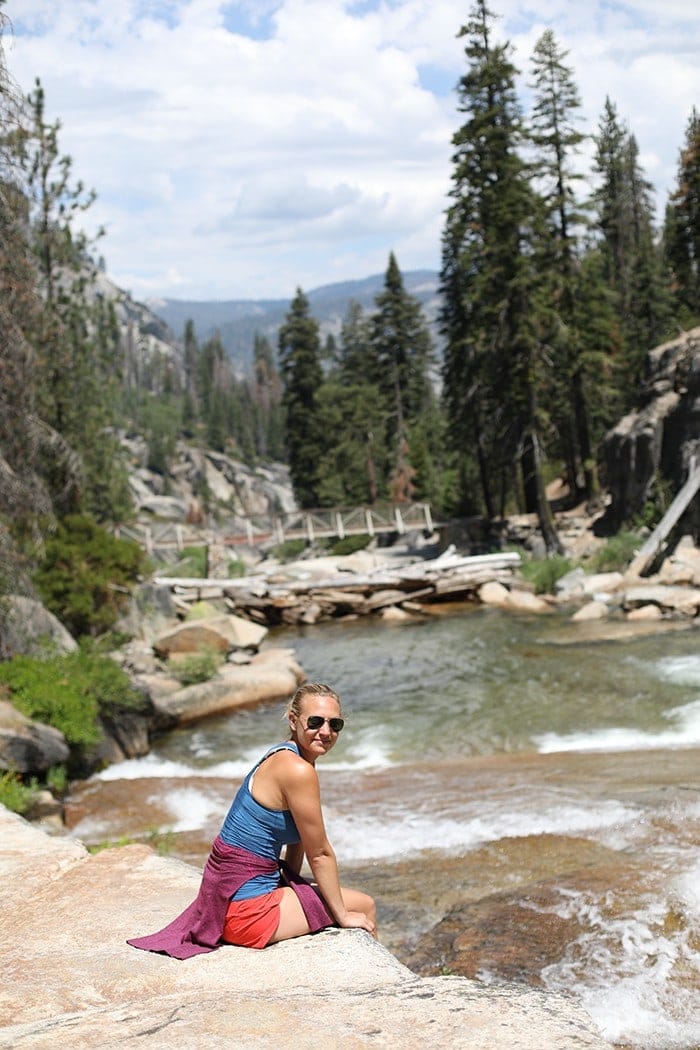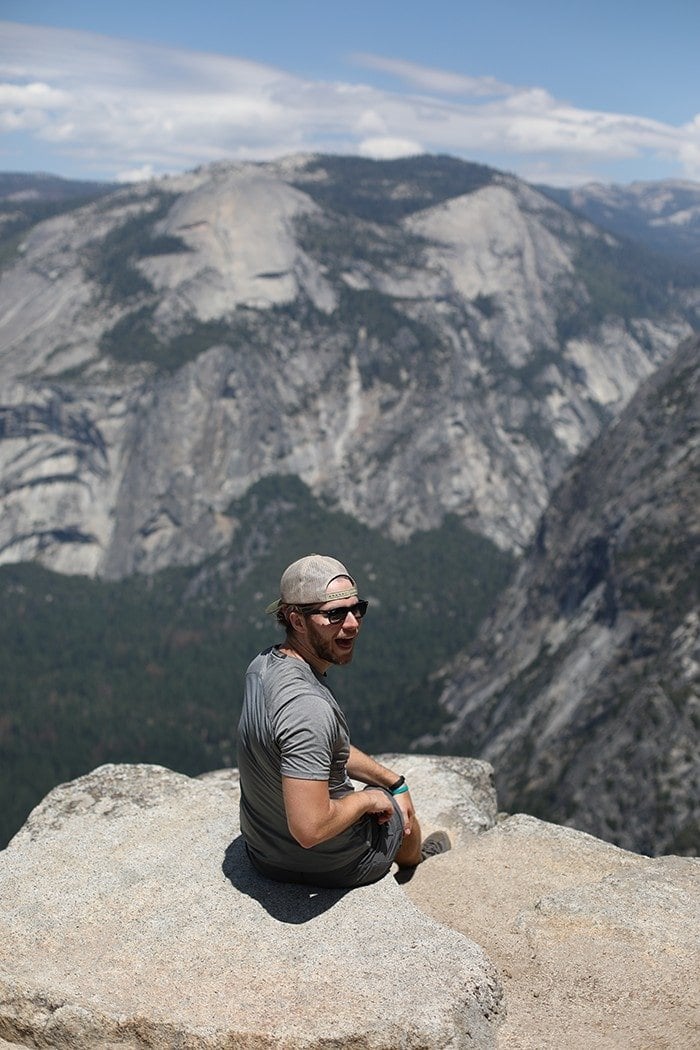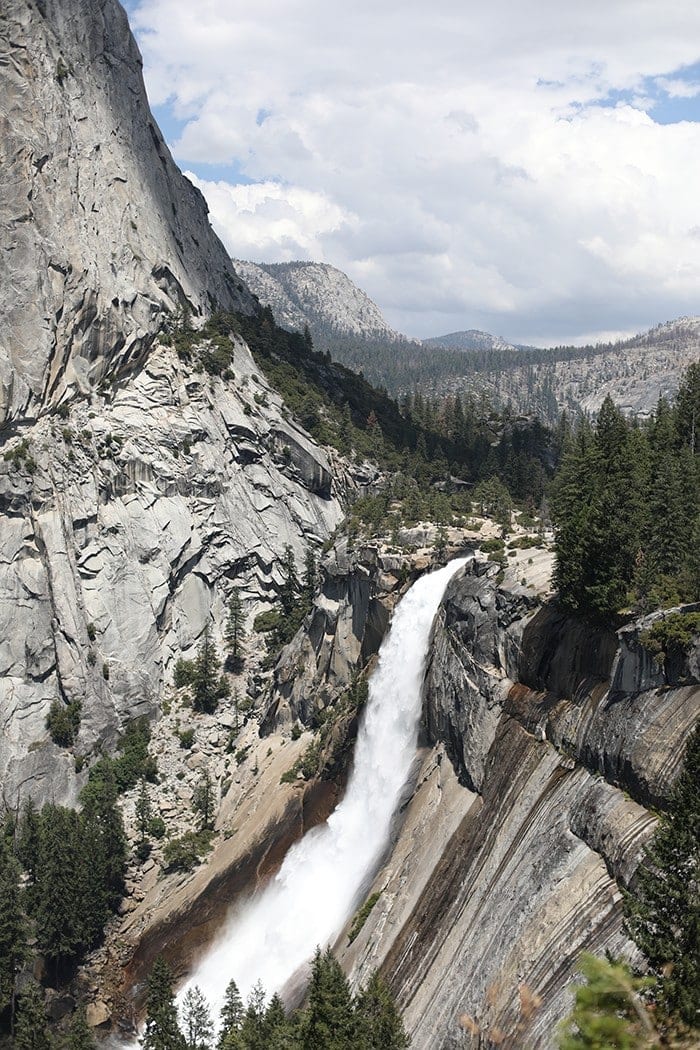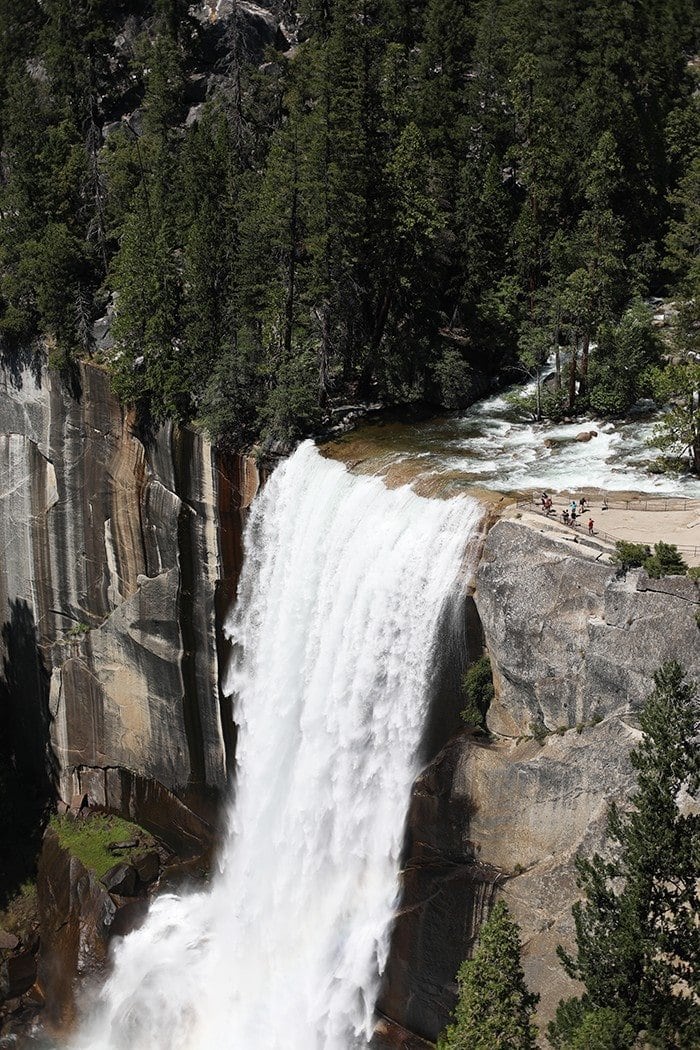 Cathedral Lakes

Distance: 7 mile out-and-back
Elevation Gain: 800 feet
Difficulty: Moderate

On our final day we decided to leave the valley and explore one of the High Sierra's many lakes. We decided on Lower Cathedral Lake. We parked our car at the trailhead at about 8500 feet on the side of the road of off Tioga Pass.
This trail was almost entirely wooded and shaded from the sun, which was nice. There was also almost no one doing this hike with us compared to the valley hikes. We only saw a few backpackers along the trail. We started out by heading uphill through the wilderness. We were then greeted by some wildlife – a skittish marmot and a sleepy deer were among the few animals we encountered on the way. After a minor scare and fear that we lost the trail due to the high water levels (which led to a few more creek crossings, and even snow!), we found ourselves about a quarter mile from the granite wrapped beauty of a lake that is Lower Cathedral. We hopped our way through a marsh and sat down for a nice lunch on our ENO Hammock overlooking the water before heading back.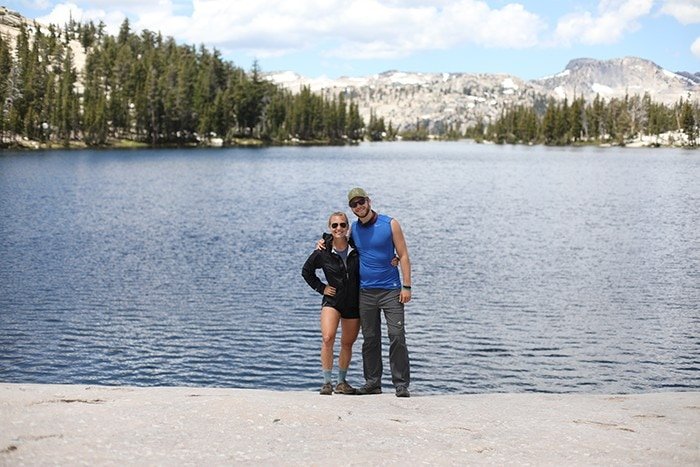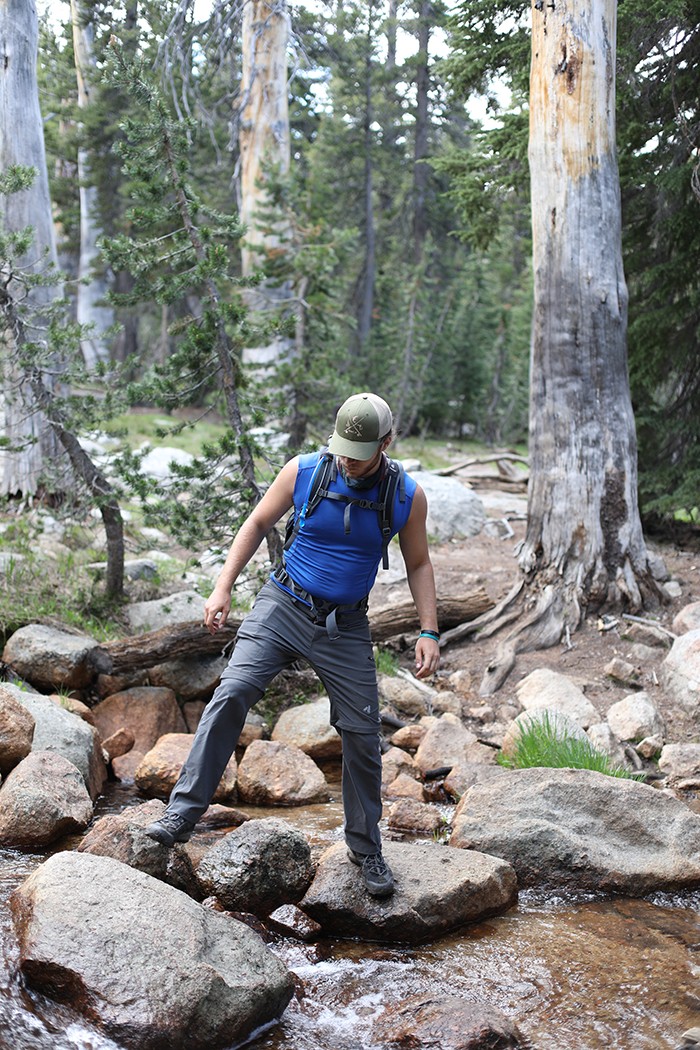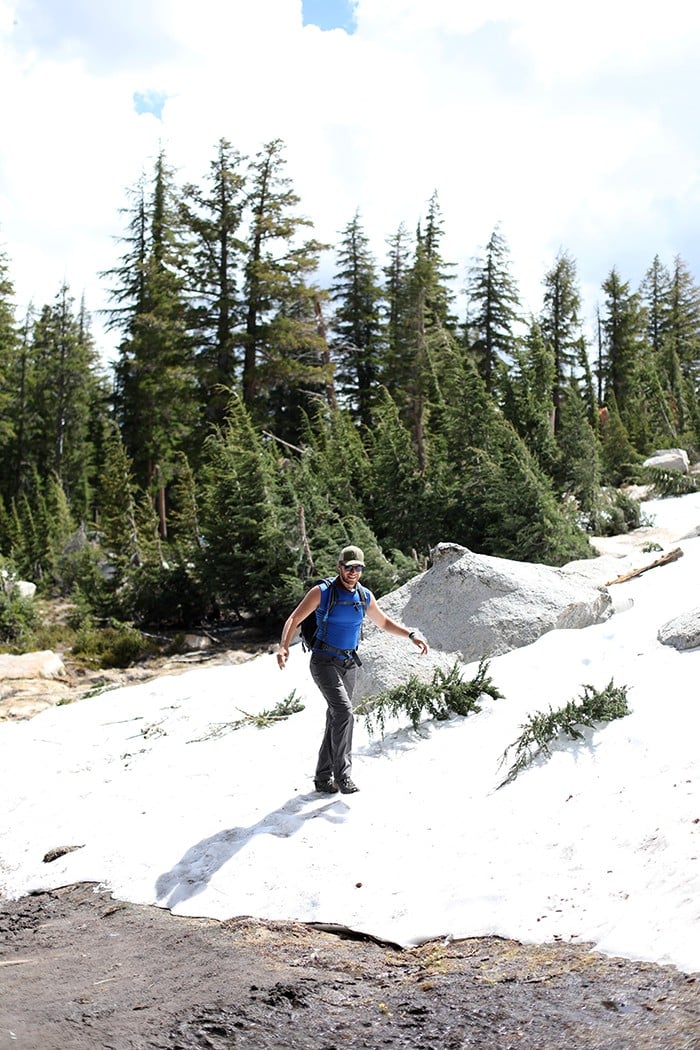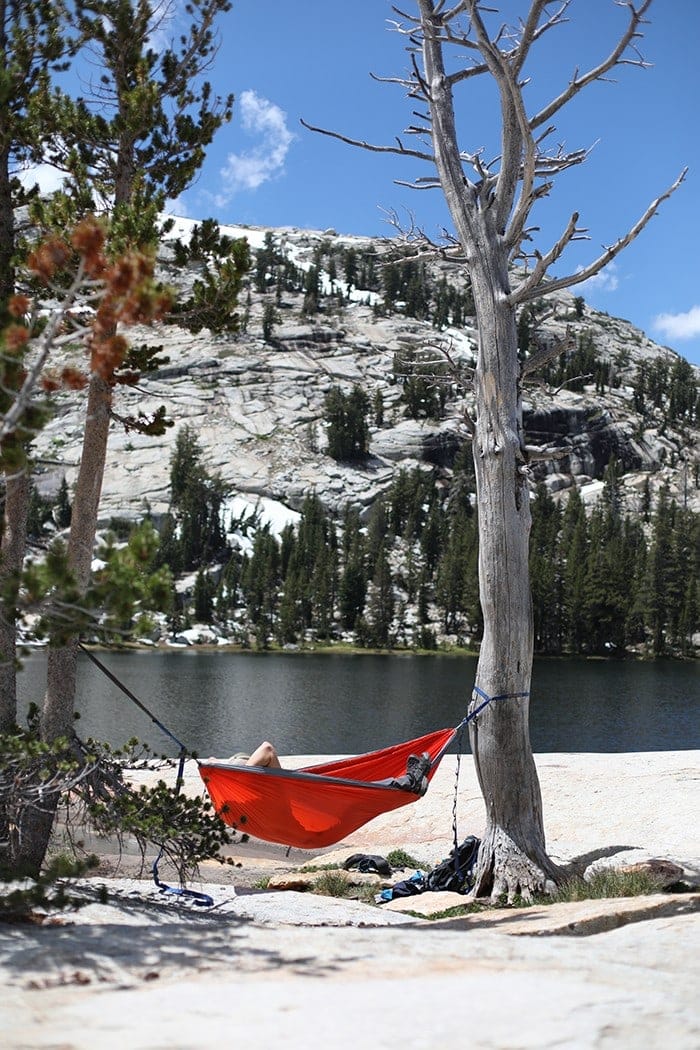 Star Gazing at Glacier Point
10,000 feet up and ZERO light pollution. Sold.
We bought tickets for a ranger-led star gazing "tour" and drove up to Glacier Point's amphitheater seating to check out the Milky Way up close and personal. Tickets were only 10 bucks if you drove yourself, otherwise $50 if you want to take the bus round trip…but that was never an option anyways as Lee would have certainly vomited in the back of a bus on that windy, hour long drive.
I have never seen that many stars in my life. And I had never seen the Milky Way come out of hiding like that outside of pictures and computer backgrounds. But there she was, in her purply goodness. It was also pretty fun to have a ranger pointing out different constellations with a laser pointer. Lee fell asleep, but she'll tell you the 15 minutes she saw was pretty spectacular, I imagine.
10/10.
I love you, Yosemite. We will be back.
————————————
Hi! Lee again. Well there you have it folks…a VERY thorough recap of what you should do if you have 48 hours in Yosemite. Now, I'd love to know if you've been to Yosemite and what you did! We're obviously scheming to go back sometime soon 🙂