If I could choose one photo out of the thousands that were taking during the #FreshCoastRetreat, my first blogger retreat, to describe my weekend…it would be this one…My engagement photo session with Hummusapien as my wifey and the man brains behind Chezus and Show me the Yummy as our photographers. Oh, take me back.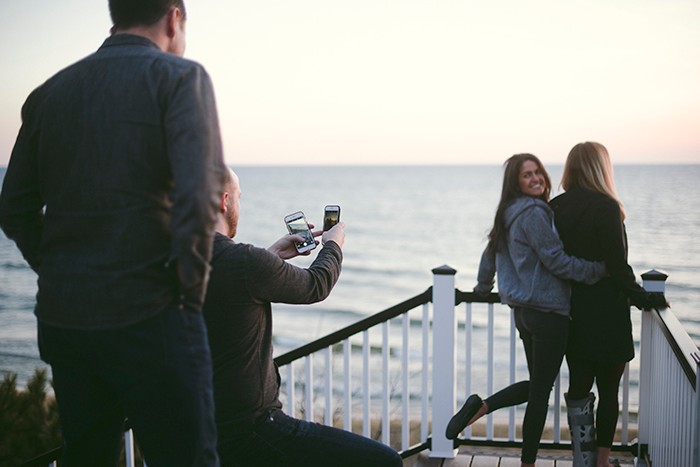 I've been to a handful of blogging conferences and gone on countless press trips with other bloggers and I've never had as much fun as I did on the #FreshCoastReatreat in Muskegon, Michigan. A blogging retreat is a little different from classic blogging conferences like BlogHer in that it's really a weekend long mastermind meeting fused with a wholeeeeee lotta fun and eating and drinking and laughing. We stayed at Liz's (The Lemon Bowl) AMAZING family home on Lake Michigan. It was the most incredible house I've ever seen and I love that it was right on the lake. It would be the perfect house to rent for a multi-family lakaction (is that a word?). The best part? It's on VRBO! Fun fact: I grew up right on the other side of the lake in MKE!
The retreat was planned by Liz, Phi, and Dara. They did an amazing job choosing the group of bloggers for this get together. Get this- I hadn't met a single one of these amazing bloggers in real life until the #FreshCoastRetreat. On social media yes, but IRL…NO! It was so great to be in the same room as people who do the exact same thing as you and that rock my world. You need to follow all of the following blogs right MEOW- Hummusapien, The Lemon Bowl, Andie Mitchell, Sweet Phi, Skinnytaste, Always Order Dessert, Cookin' Canuck, Chez Us, Amy's Healthy Baking, Foodie Crush, Show Me the Yummy, and Order in the Kitchen.

So what exactly did we do?
Networking/Masterminding: We had a full schedule each day consisting of different topics in relation to blogging and business. Some of my favorite sessions were on: TV, photo editing, and VIDEO. Video video video was a hot topic.
Bonding: It was really nice to get to know all of the bloggers on a more personal level. There wasn't one person I didn't like. Throw a little wine in the mix and stories start flowing. ME LIKE. I feel like Liz and I have been Snapchat frands since forever and I've stalked Hummusapien (I don't EVER call her by her first name. Most of the time it's Hummus, for short) since 2002. Andie Mitchell is like a freaking celeb and SO IS SKINNYTASTE. Oh and I have a huge girl crush on Foodie Crush. Seriously I only have good things to say about everyone!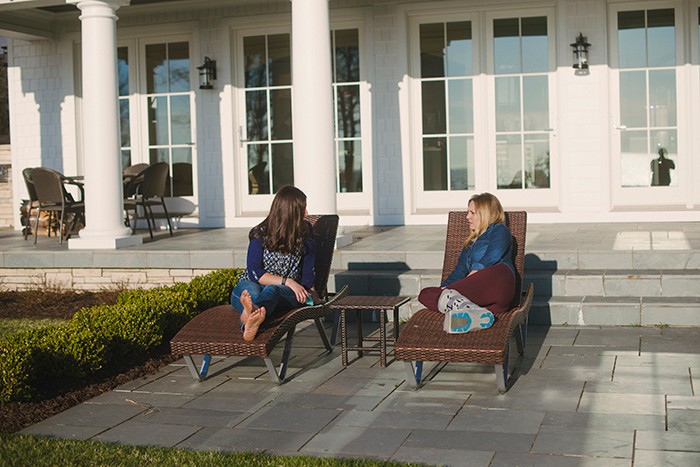 EATING/DRINKING: Food bloggers know how to eat and drink and DATS A FACT. DANG we did it right. I love that all of the meals we ate at the house were recipes from our blogs. We gathered into teams and cooked for one another. It was so fun to be able to try real live recipes from each other sites. Stand out recipes include: Skinnytaste's Grilled Rosemary Lamb Chops, Always Order Dessert's Ginger Peach Moscow Mules, The Lemon Bowl's Cucumber Laban Lebanese Yogurt Sauce, and Amy's Healthy Baking Apple Pie Oatmeal Cookies. For 2 of the meals we ventured into Muskegon for 2 meals at local restaurants and I was really impressed with how nice the local folk was and how nummy the food was!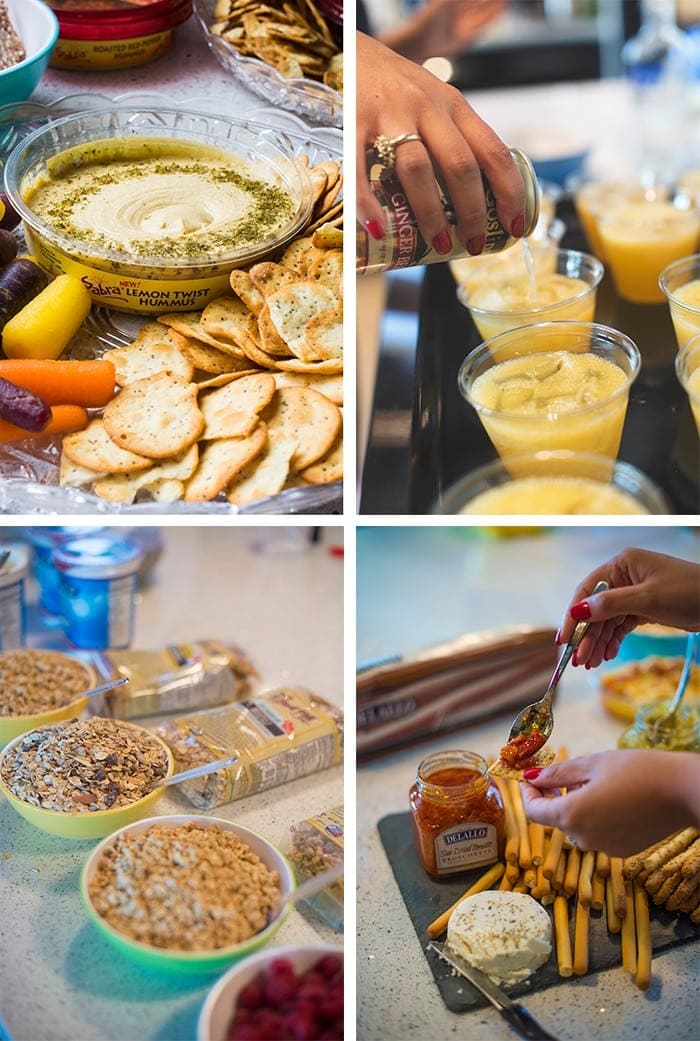 We had unlimited amounts of snacks from the #FreshCoastRetreat sponsors. I am officially ADDICTED to hummus and crackers and yogurt and granola. I COULD EAT THAT EVERY SINGLE DAY.
——————————————————————————–
The #FreshCoastRetreat wouldn't have been possible without all of the amazing sponsors who helped bring us all together. They also kept us fed and entertained the entire time! Thank you so much to Bob's Red Mill, Stonyfield, Experience Grand Rapids, and Sabra! A big thank you to Liz's amazing photographer, Alejandro Photography, for capturing all of these moments.