Let's do it.
Let's talk about…big boobs and sports bras! JK, let's talk about all boobs and sports bras because from girl to girl, sometimes sports bra shopping can be a pain no matter what size you are. So? That's why we set off to find the best medium and high-impact sports bras. These bras will work for all, but we specifically kept in mind sports bras for the large chested woman because…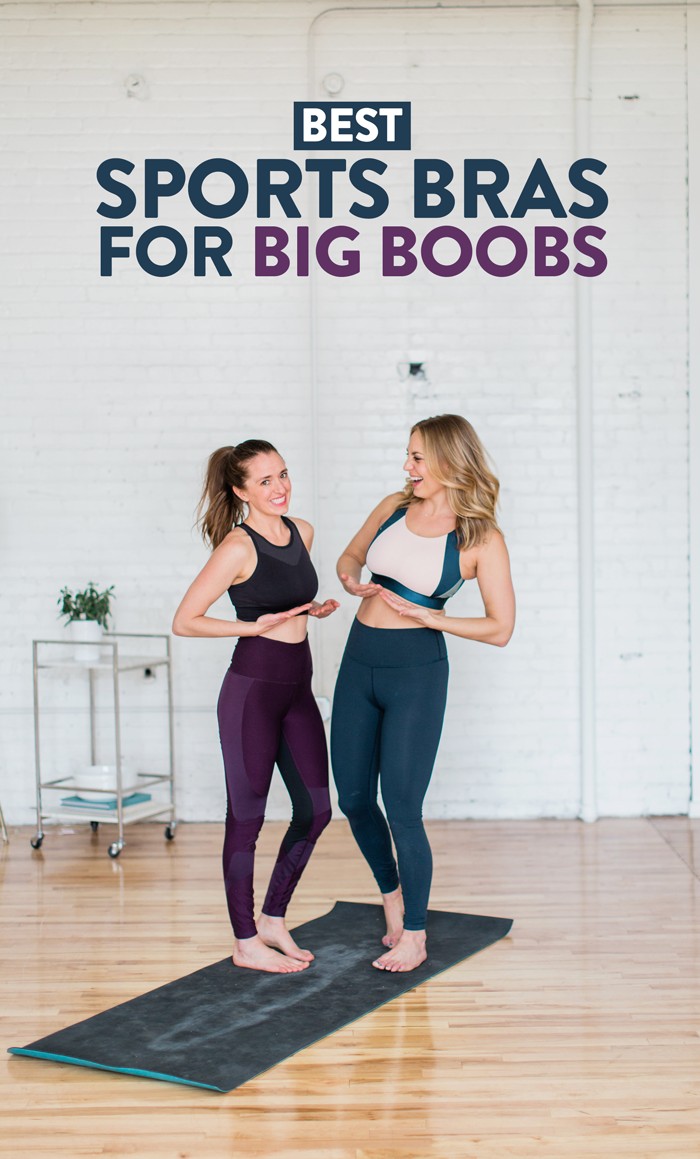 Lee is a 34DD and…
Linley is a 32C/D.
Both are not HUMMMMONGOUS, but larger than the average lady. Linley and I both have very different builds. I have very large, full breasts (we're talking LOTS of side boob) with a smaller waist. I am bigger boned and very muscular shoulders and traps. Linley is all around very petite with a small waist and fluxuates between a C and a D. We both prefer sports bras with no underwire and we like our girls smooshed. We asked this question to our Instagram friends and lots of ladies with larger chests agreed that they also liked their (uni)boobs smashed against their chest because 1. it holds them in and 2. no need to make them bigger than they actually are. Oh, and some bras that don't smoosh your boobs and turn 'em into coneheads. Aint nobody want a cone boob.
Okay, so…last week we set off to find the most epic medium and high-impact sports bras for large-chested women. The first place we turned for recommendations was YOU. We got hundreds of replies from you wonderful ladies and set off to the mall where we probably tried on 30ish bras each. We tried bras in all different prices ranges and made sure to try on lots of different brands and fits. Here's what we considered…
What We Considered
Underwire vs. no underwire
General fit
How you strap them in — this refers to a pull-over, front zip, or back clasp. We all have our own preference.
Fabric/material
Scoop neck vs. high neck
Price point
Activity
Bras We Reviewed
With all of this said, we used a rating scale of 1 to 10 for each bra. 1 being this bra sucks bad and 10 being OMG I LOVE THIS BRA. Enjoy!
Power of She Bra // Athleta // $54 // wearing a size small
This bra though. I love it soooo much. It fits perfectly around the waist, is full coverage, and an adorable design! The Power of She Bra is a medium-support bra that's wireless and (semi) high neck. The girls are nicely held in, but not too smashed. and I love the back of the bra so much. I am usually right in between a small and a medium, but the small fit so well! If anything it was just a tad loose around my ribs. Overall I rate this bra a 9/10. I think if it had adjustable straps it would be a full 10/10 for comfort, fit, and price!

Body Fusion // Zella (Nordstrom) // $35 // wearing a size small
Ok, people. This Zella Body Fusion sports bra is not only affordable, but it is one of my favorites from our whole outing! I am a big fan of high neck sports bras because they hold the girls in, no matter how big they are! I fluctuate between a C-cup and a D-cup and I have found that high neck sports bras fit my boobs no matter what size they are! I have worn this bra running, and I wore it to a cardio dance class when I was in Chicago last weekend (if you live in the Chicago area, check out Mazi Dance Fitness Studio!). This bra held up bouncing around and twerking as well as sprinting on a treadmill. So far, so good! Overall, I give this bra a 9! It is my favorite bra so far. I will update all of you if there is a movement or activity where this bra doesn't stand up.

Fiona Sports Bra // Brooks // $50 // wearing a size 34D
This might sound a little weird, but I think  I just found my everyday bra. Yes, my everyday bra is a sports bra (I honestly don't own a real bra), but the reason I love this one is that it does not have a racerback and the straps won't show with normal shirts and blouses. This 34D Fiona Sports Bra fits me like a glove and I can see why all nursing moms out there RAVE about this bra. The straps are adjustable by velcro so you can easily whip out the boob if you're breastfeeding, and overall the bra is full coverage and snug. There is a clasp in the back as well so you can tighten or loosen as needed. The other Brooks bra that came highly recommended was the Juno, which appears to be more high-impact, but I didn't get a chance to try this one on! Overall I give this bra a 9.5/10. It's a no-brainer for nursing moms and I can't wait to wear this every day.

Determination Bra // New Balance // $65 // wearing a size small
This Determination Bra by New Balance really holds the girls in just like I like! So far, I have worn this bra running and in an Ashtanga class. It was a great bra for running. I had no chafing and my chest didn't feel bruised afterward. Does that happen to any of you? If I don't have a supportive bra when I run, sometimes it feels like I've done a full out chest workout and I haven't even lifted any weights! Anywho, I have to say I probably won't wear this bra for yoga again. The band under the bra really irritated my skin when I was bending and twisting. So, runners, this bra is for you! Yogis, maybe go with the body fusion bra! Overall, I give this bra a 7.5. It has good support, but comfort is so important for me. The irritation of the waistband is the only thing I would change!

Flyknit Racerback // Nike // $80 // wearing a size medium
This Nike bra reminds me a lot of the Nike Swoosh bra, but with more structure and a much higher price point. I did a spin class in the Flyknit Racerback and it for sure kept the girls snug to my chest. I'd say that this bra is much tighter than the Swoosh and when I say structure, I mean that the material doesn't have as much give. I'll for sure wear this bra during HIIT workouts when I'm doing a lot of jumping and bouncing around. Overall, I'd rate this bra a 7.5 because I think the price point is a little too high and I wish from top to bottom there was one more inch because you can definitely see some cleve.

Time to sweat Bra // Lululemon // $52 // wearing a size 4
This Time to Sweat Bra really surprised me! When we were trying on bras at Lululemon, I was convinced that I was going to buy the Enlite Bra. It held the girls in and is known for its great to support during running. However, last minute I found the Time to Sweat Bra! The Time to Sweat Bra was supportive, comfortable, and easy to put on. What really swayed me away from the Enlite Bra was the fact that I needed someone else to help me clasp it on. It comes with an adjustable band (which is great), but I couldn't clasp it myself! I have done a circuit class and a yoga class in the Time to Sweat Bra and loved it! Overall, I give this bra an 8. I wish this bra went a little higher on my chest to cover all my cleavage!

Fully Focused Bra // Athleta // $44 // wearing a size small
This might actually be the softest sports bra I've ever worn! The Fully Focused Bra is very similarly made to the Lululemon Energy Bra (my all time fav). I love this bra and would totally buy it again..especially at $44. If you're an instructor, at Athleta you get 30% off full-priced items which makes this bra even more appealing. I did a cardio + lower body strength workout in this bra and this girls were held in tight. I love me a good racerback bra and the straps are very comfy. YAY. The only thing I wish was different about this bra is like 1 more inch of fabric from top to bottom. I have a very full chest and 1 more inch would be absolutely perfect to cover my cleavage.

Classic Swoosh Bra // Nike // $30 // wearing a size medium
Nike's Classic Swoosh Bra is the cheapest bra we reviewed at $30. Technically this is a medium-support bra, but it's SO COMFORTABLE and FULL COVERAGE. Emily and I are both wearing a size medium and I'm a 34DD and she's a 34B. Guess what? We both LOVE this bra. It's like the sisterhood of the traveling bra. It's stretchy and comfy and does the job. I would likely wear this bra doing yoga or something more low impact because it's not super high impact, but Em loves it for running and HIIT. If there a lot of jumping involved, things get a little out of control for me, but overall hands-down one of my favorites.

Vanish High Zip Bra // Under Armour // $65 // wearing a 34DD
At $65, I give the Vanish High Zip Bra a 7/10. This bra really held the girls in and was very easy to put on thanks to the front zip (PS: there is a clasp, too). I also loved the adjustable shoulder straps. While I'm not currently breastfeeding, I've heard from a lot of breastfeeding mamas that front zips are all they wear and I can totally see why. If you're wondering, it did not come unzipped while I was working out (I did a full body workout with not a lot of cardio), so that's great! This bra has a lot of structure, and not a lot of give (not super stretchy). Not sure I'll be able to wear this during my period when my boobs get even bigger. What I didn't love was the fact that the bra was padded (the girls don't need to be any bigger) and there was no adjustable strap around the waist. Maybe I should have gone up to a 36D or 36DD because of I kind of felt like I couldn't breathe it was so tight.

The Player Bra // Victoria's Secret // $22.50 // wearing a small
Another surprise of our shopping day was The Player Bra from Victoria's Secret. I wasn't expecting to find such a comfortable sports bra from Victoria Sport. The Player Bra comes in multiple fun colors, has a band, and has nice medium support for my chest. I have the black and purple colors. Just to mention, the black bra in the photo below does have a nude fabric under it, it's not just lace :D. I have worn this bra cycling and the band did not irritate my torso as I predicted. I can't see myself running in this bra, but can really see myself wearing this as an everyday bra. I will keep you all updated. So far, I give this bra a 7.5.

/// BONUS: Small Boobie Bras ///
Illusion Bra // Athleta // $59 // wearing a small
Heyyoo, small boob frands! We couldn't leave you ladies out 😀 I love love love the look and fabric of this illusion bra. It's incredibly soft, but still wicks sweat really well (which surprised me). I tested this out in a vinyasa class and LOVED it. My only complaint is that the mesh fabric is a bit scratchy, so I wouldn't recommend it for a longer run or any workout that has a ton of repetition. I had a little bit of chafing on my shoulders when I wore this on my long run, but will definitely still be rocking it for everyday wear and yoga. And this has easily taken the top spot for prettiest sports bra I own. Overall, I'd give this baby an 8/10.

Free to Be (wild) // Lululemon // $48 // wearing a size 6
This has been one of my all-time faves for years (I have it in 4 colors!). It's super comfortable for everyday wear (it was not uncommon for me to rock this underneath a dress shirt back in my corporate days), but is supportive enough for even the toughest Alchemy workouts. You'll even find me doubling this as a swimsuit top in the summer. And as always with Lululemon, the quality of this bra is great. Hands down, 10/10.
And there you have it! Our favorite medium and high-impact bras for big boobs…and small boobs, too! Leave us a comment with your thoughts and recommendations if we skipped one of your faves <3
PS: This post contains affiliate links. Meaning that if you click on a link and purchase, we will get a monetary kickback from it.