We've tested every pair of lululemon mens shorts (for a variety of workouts and casual wear!), and rounded up all our favorites.
Read on for our go-to lululemon shorts for activities like running, strength training, HIIT and more. Plus, our favorites for casual wear with the family!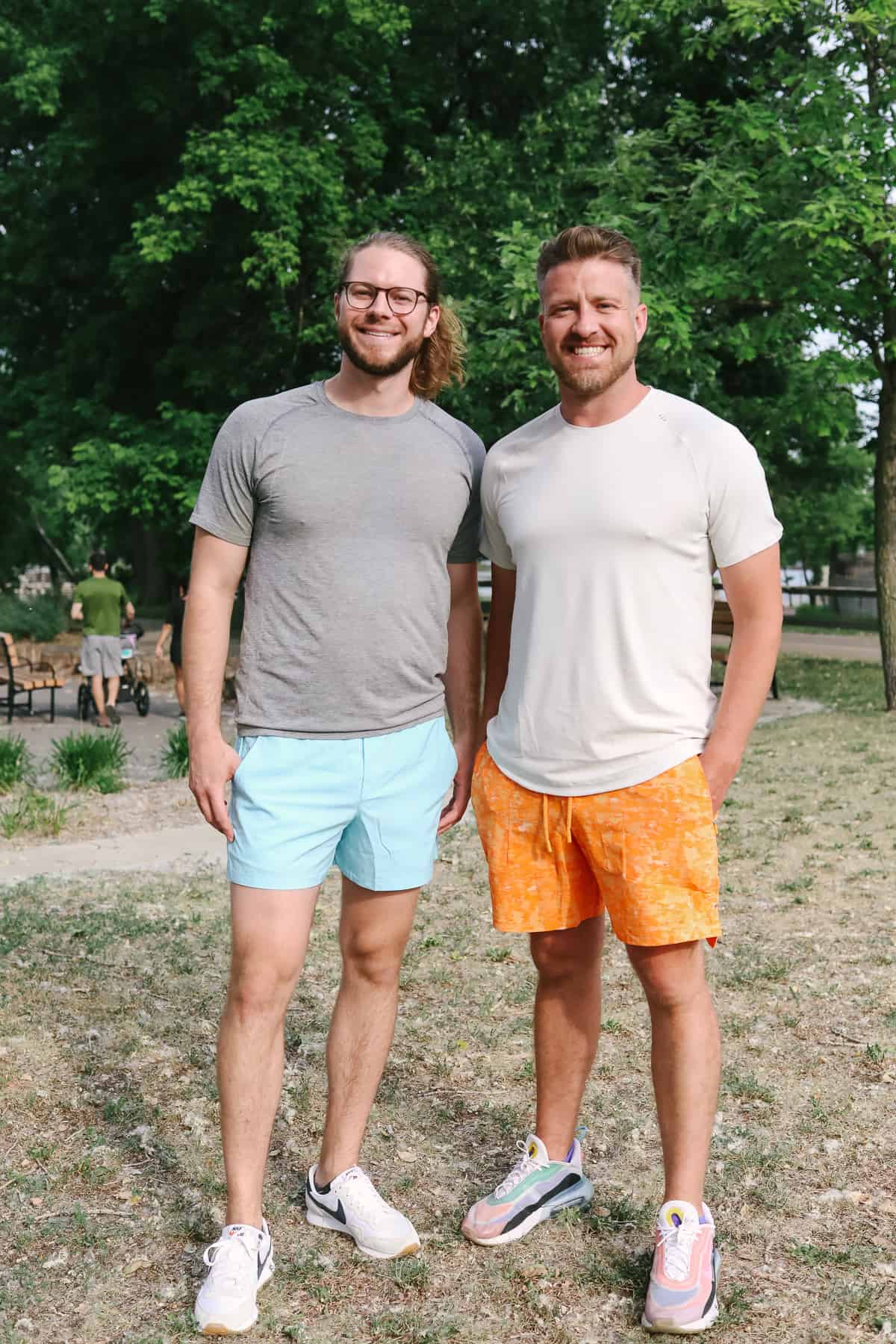 lululemon Mens Shorts Review
If the Fit Foodie Husbands are working out, you'll undoubtedly find them in a pair of lululemon mens shorts! Whether it's the Pace Breaker for a run, the Commission for a round of golf, or the Bowline for a day at the park with the kids.
You truly can't go wrong with our top picks for lululemon's mens shorts, which includes:
all things lululemon mens shorts
We've tested each style of lululemon shorts for at least 30 days, and while we were compensated, these opinions are our own.
lululemon shorts run true to size, but are a bit on the slim side compared to other athletic shorts in our experience. If you have a wider frame, we recommend sizing up in some cases. Mark (6'1″) and Bryce (6'0″) both wear a size L or 34″ in lululemon mens shorts.
Wear lululemon shorts for their intended activity or use to increase the lifespan of the shorts.
License to Train Short
Top pick for sweaty workouts
The License to Train short is an absolute must for running and HIIT workouts. The fabric is super sweat wicking, which means they're super light and airy even during a super sweaty workout.
If you sweat a lot, or are typically doing high intensity workouts, these are the workout shorts for you. Pro tip: we love the liner version for a little extra ball support!
Shop: License to Train Short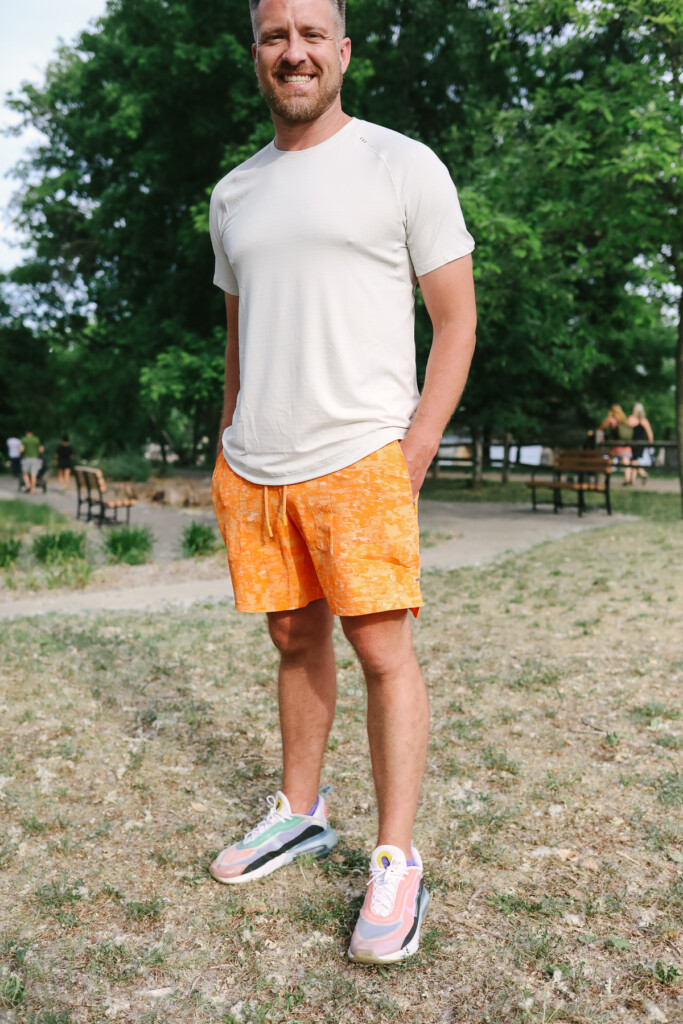 Pace Breaker Short
Top pick for running
The Pace Breaker is Mark's OG lululemon short for all things workouts — you'll find him wearing these for strength training, yoga and running. They're light and airy and super breathable. We love that they come in a liner and linerless version, as well as in multiple lengths. Mark is wearing the 5″ version.
Shop: Pace Breaker Short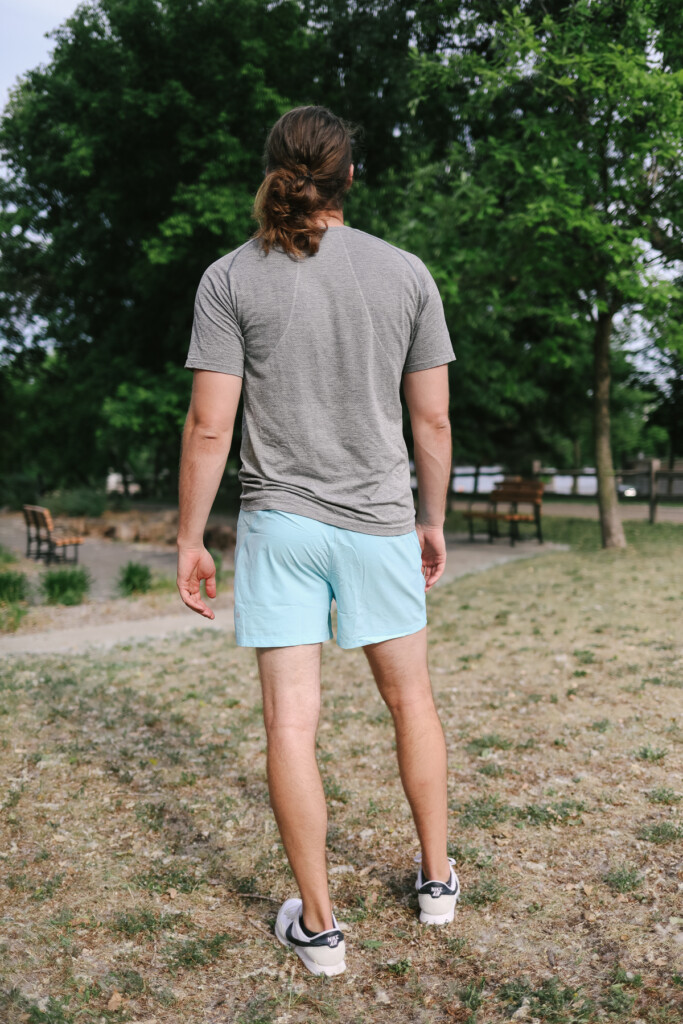 Bowline Short
Top pick for casual shorts
The Bowline short is new to our collection, and we can't get enough of it for casual and outdoor wear! The fabric is more hearty and durable than traditional athletic shorts, but still definitely moisture-wicking. They're pull-on shorts with a drawstring, so you have a little flexibility on sizing, too.
We like to wear them out and about with the kids but will also be taking them along for our next camping trip.
Shop: Bowline Short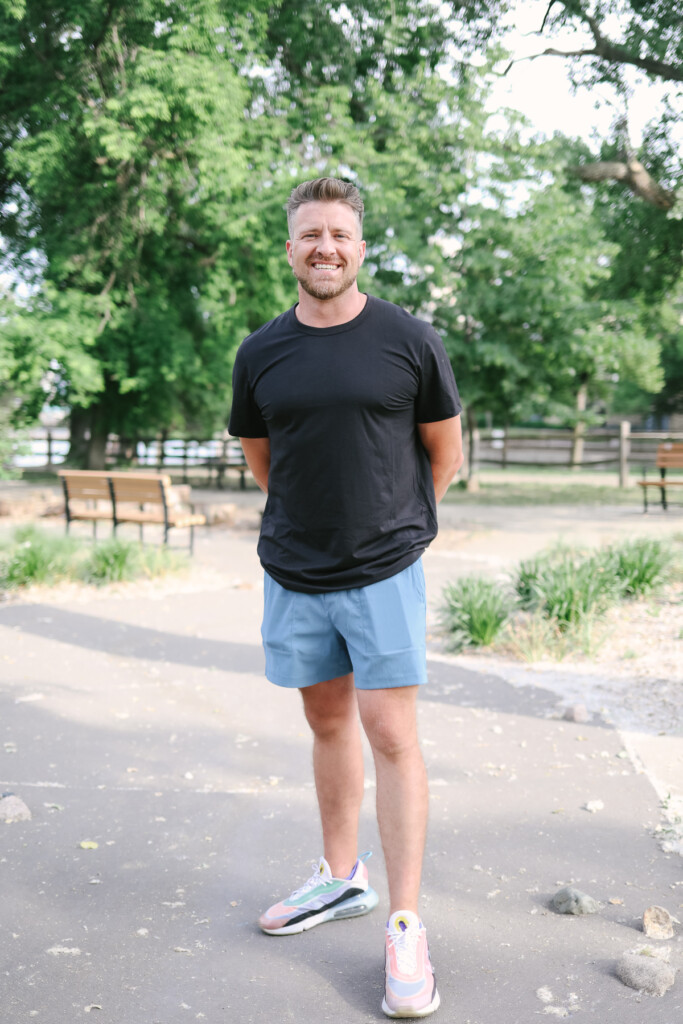 Commission Short
Top pick for fancy-ish occasions
You can absolutely dress these Commission shorts up or down! And honestly, when we're not working out, you will likely find us wearing a pair of Commission shorts.
We've worn the Commisions for everything from weddings to rounds of golf to professional meetings. The button and a fly can be worn with a belt — they're THAT dressy. But don't worry, these shorts are still moisture-wicking if you find yourself at a park with the kids.
We've collected (more than) a few colors of these shorts over the years, and they truly do last! You'll find us wearing the 7″ version, but they also have a 9″.
Shop: Commission Short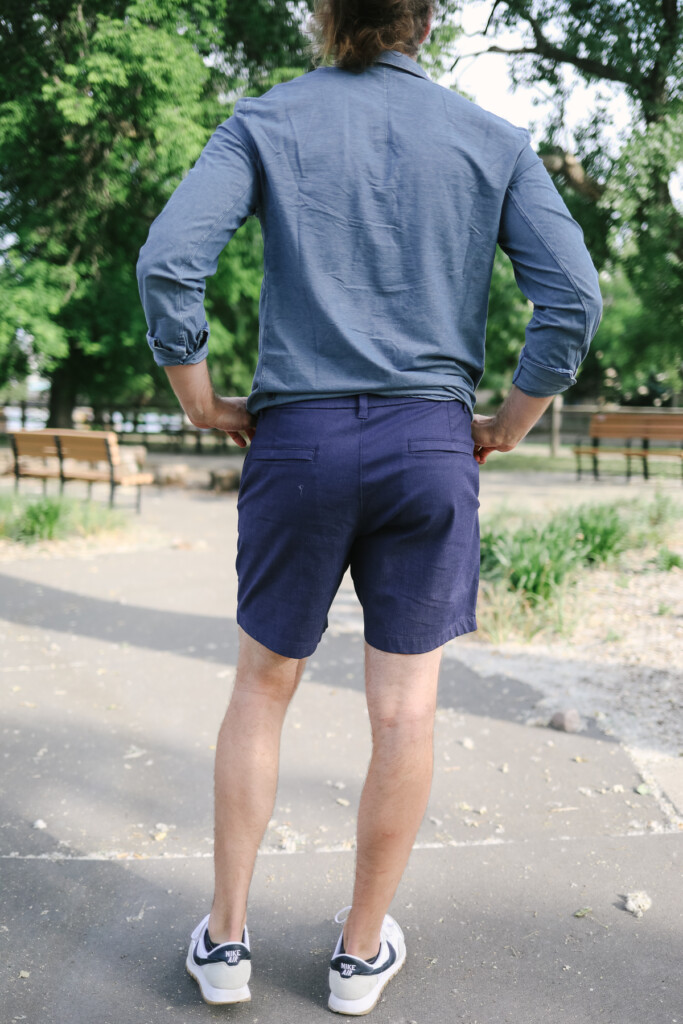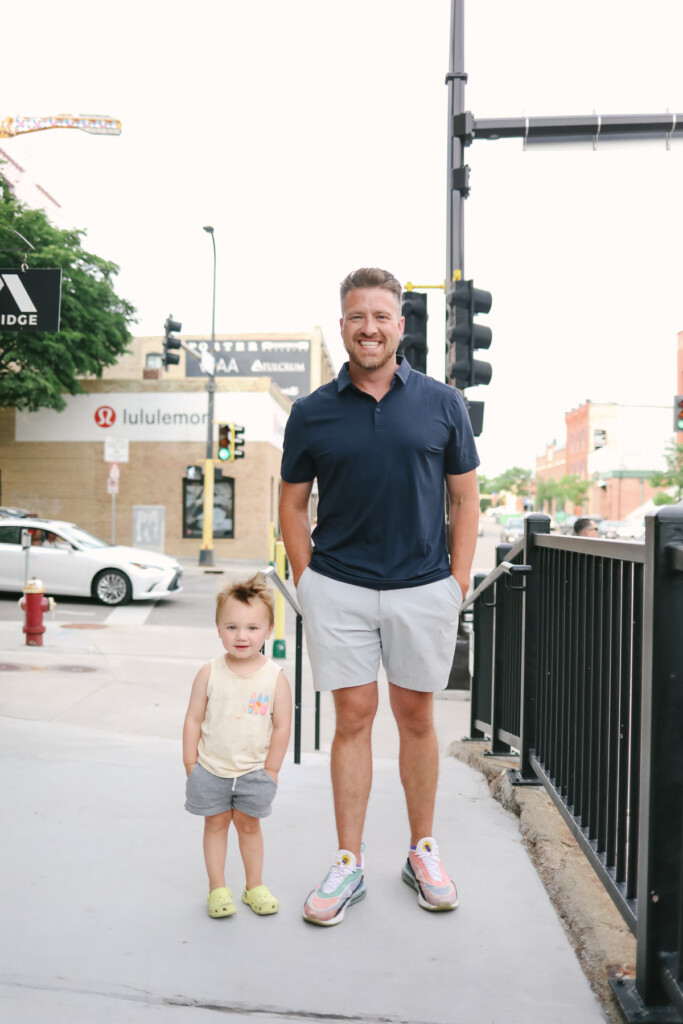 New Venture Short
Another great option for casual wear
The New Venture short are also a short that can be dressed up or down. So, just like the Commission, you'll find us wearing these casually about town or lounging at home. the large pockets fit your wallet and phone without looking super bulky, and the draw string can be tucked into the shorts when you're dressing up the shorts.
We like to think of these shorts as a pull-on Commission short with a similar fit, feel and texture to the fabric.
Shop: New Venture Short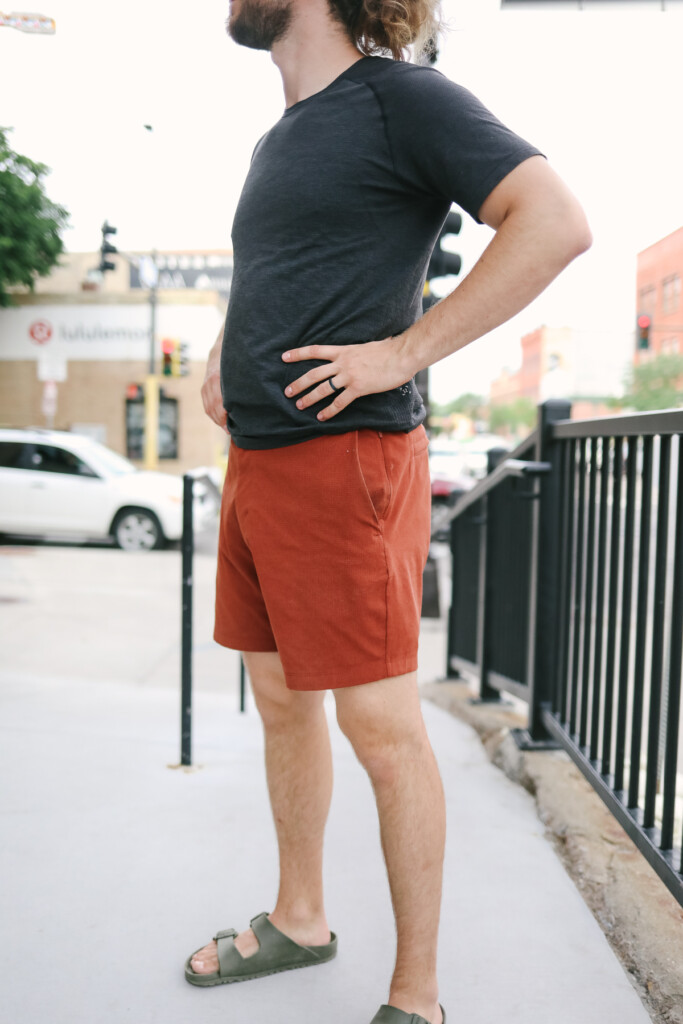 Disclaimer: This post is sponsored by lululemon. We were compensated and all opinions are our own. Thank you for supporting Fit Foodie Finds!