We've tested every lululemon sports bra (for workouts and everyday wear!), and rounded up all our favorites.
Read on for our go-to lululemon sports bras review to see what our top 3 picks are and why you need them in your life.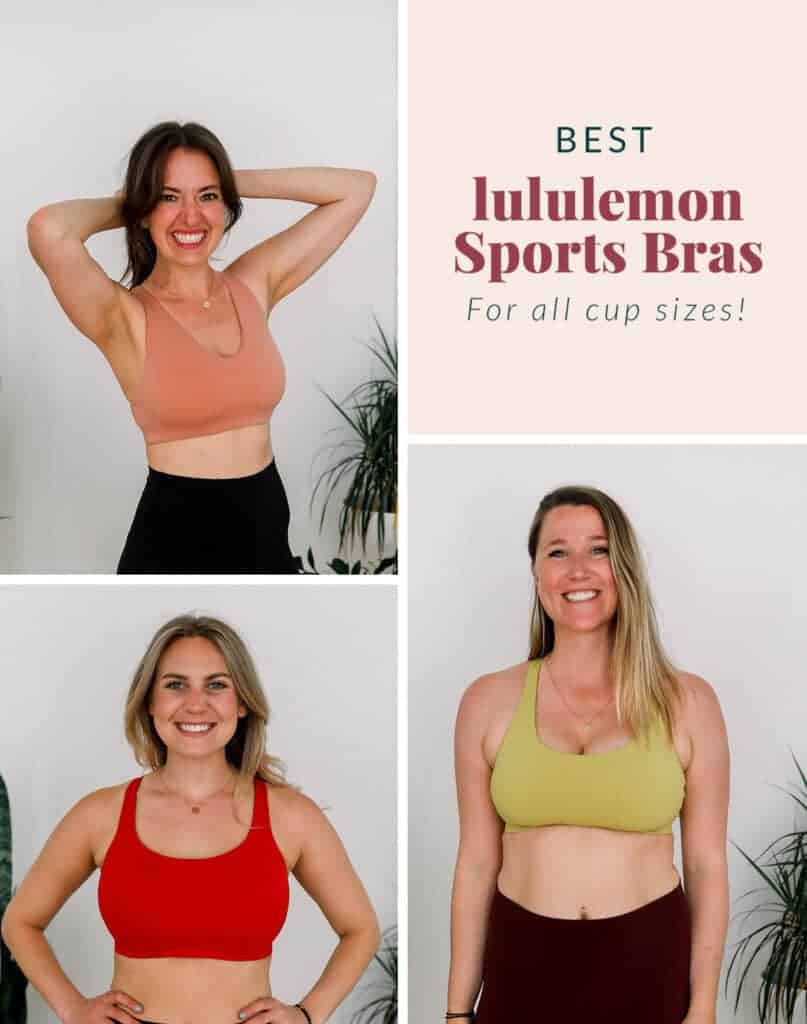 This post was updated on May 20, 2021 with lululemon's latest sports bra styles.
We're so excited to be reviewing all of lululemon's 2021 sports bras today because it's been highly asked for by you guys!
These reviews are workout-approved and the bras that we selected we truly recommend, love, and wear on a daily basis both during workouts and everyday life.
our bra sizes
Lee: 5'7″ – 34DD
Linley: 5'3″ – 32C
Emily: 5'9″ – 34B (pre-pregnancy) and 34DD (post-pregnancy)
One thing to note: each of us go up 1 full size from our normal lululemon tank top size. For example, I wear a size 6 in most tank tops, but an 8 in sports bras.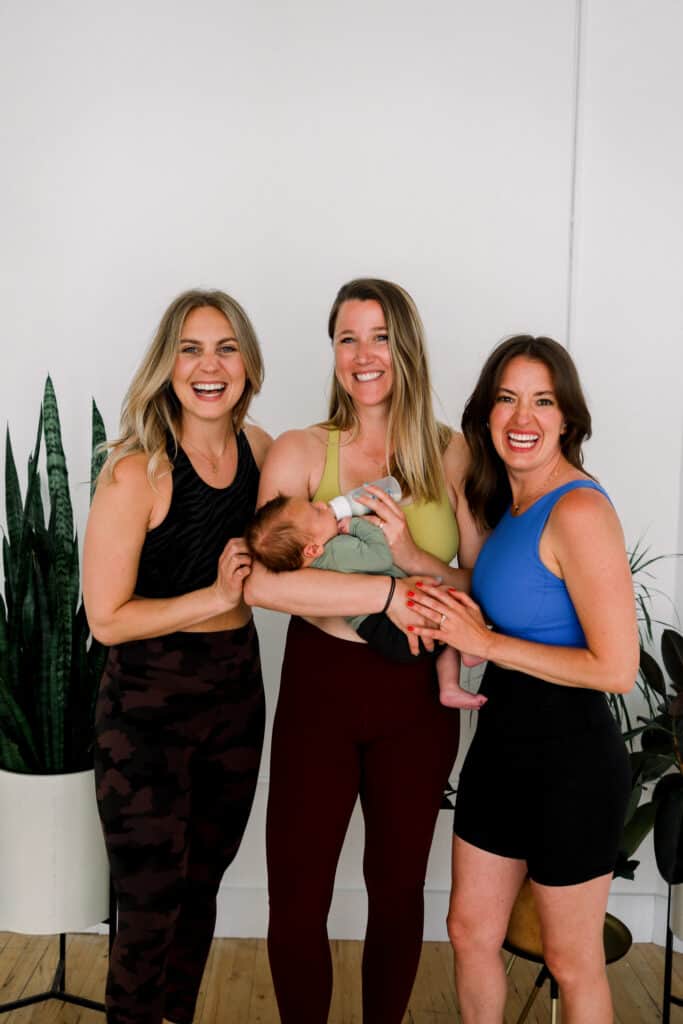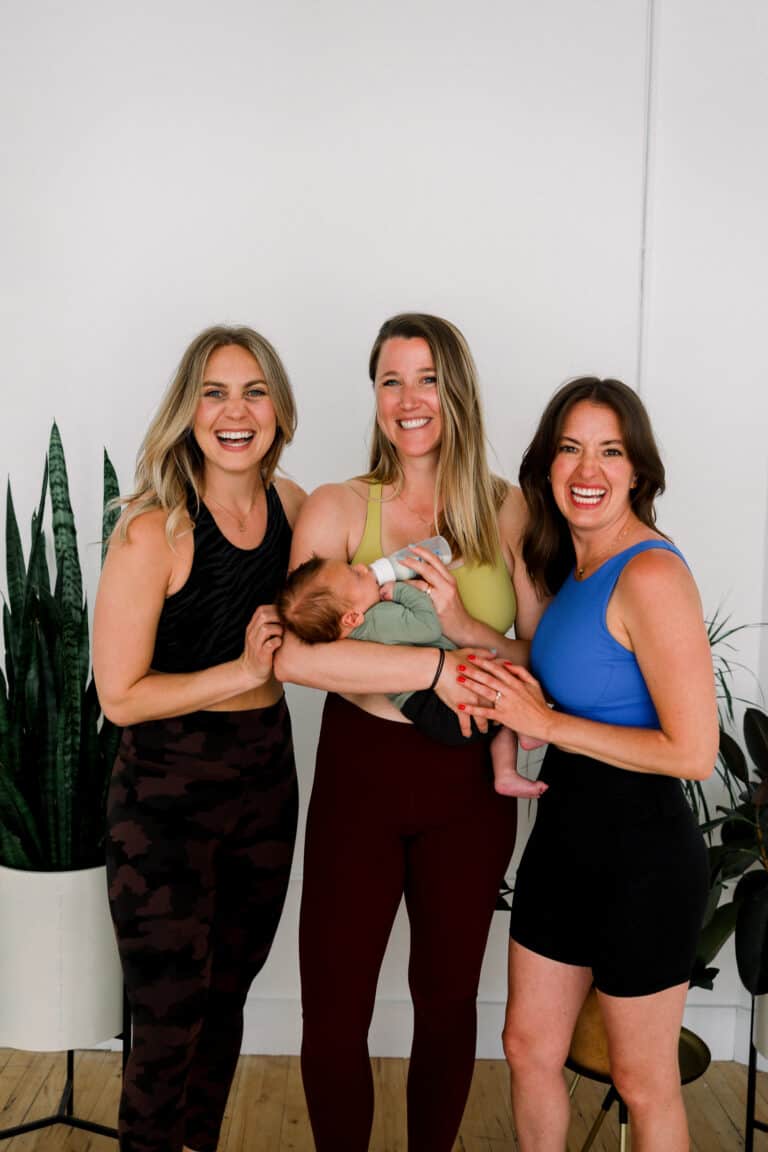 Top 3 lululemon Sports Bras
lululemon categorizes their sports bras by low, medium, and high-impact use. They come in a variety of fits – either number sizes (2, 4, 6, 8) or cup sizes (34A, 34B, 34C).
We decided to share our top 3 lululemon bras that were unanimously voted for between the 3 of us and a few extras we just had to tell you about.
Energy Bra (regular + high-neck)
In Alignment Bra (regular + racerback)
Energy Bra
Between the 3 of us, the Energy Bra is our one true love. It's really what made us fall in love with lululemon sports bras in the first place and it's what we recommend to anyone who has never bought a lululemon sports bra before.
The Energy Bra is a medium-support, B-D cup sports bra. It's a racerback and comes in a variety of different styles.
Emily is wearing the classic energy bra. It was her go-to before giving birth to baby Bode and after. It holds the girls in and allows for all different types of training. (Emily, size 8)
Types of Energy Bras
Regular Energy Bra – this is the bra pictured below.
Long-Line Energy Bra – out of the 3 types of Energy Bras, the long-line is our favorite because it provides a little bit extra coverage with more fabric.
High-Neck Long-Line Energy Bra – this variation is Linley's go-to. She is a C-cup. I've found anything larger than that and you get side boob.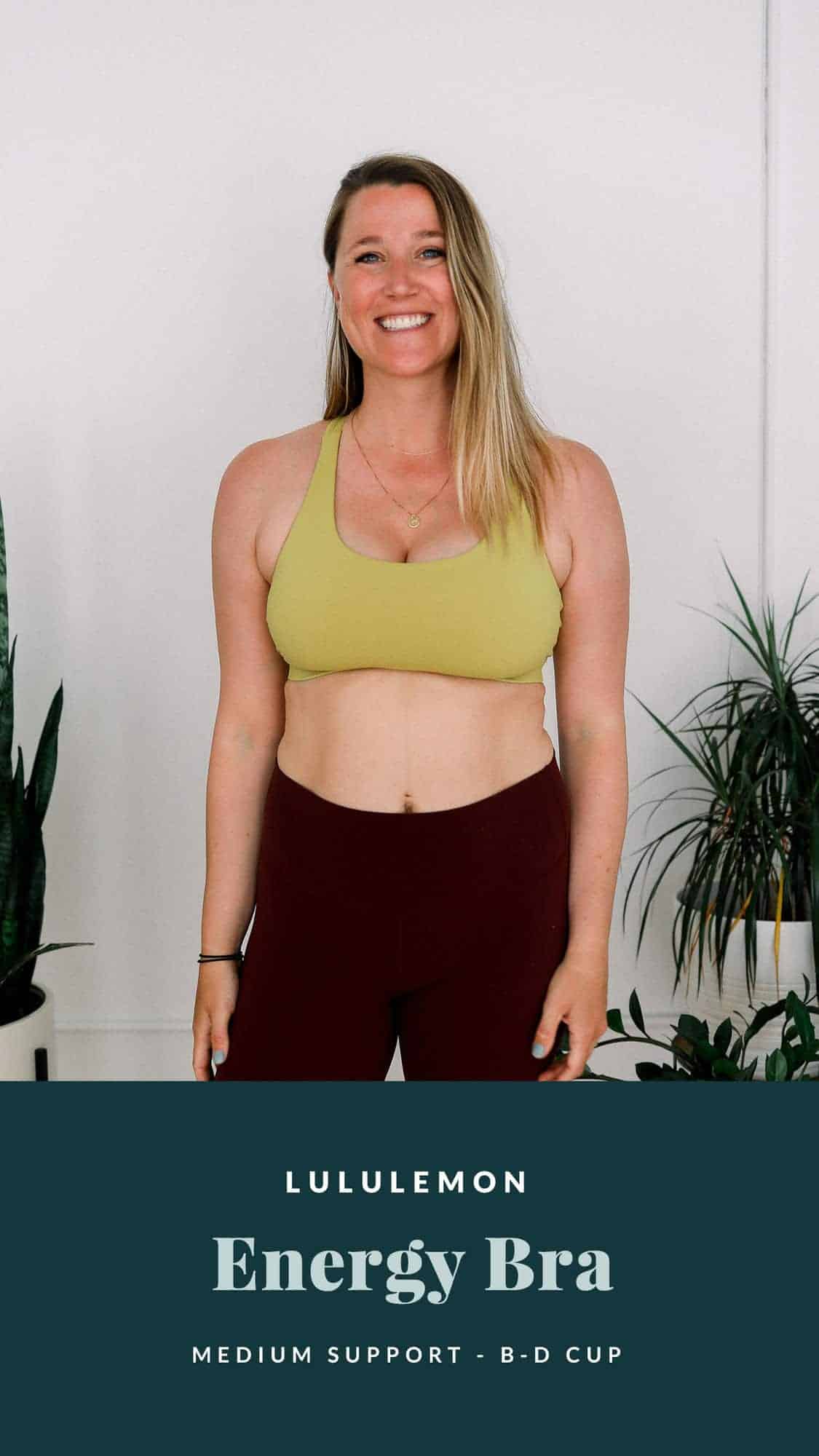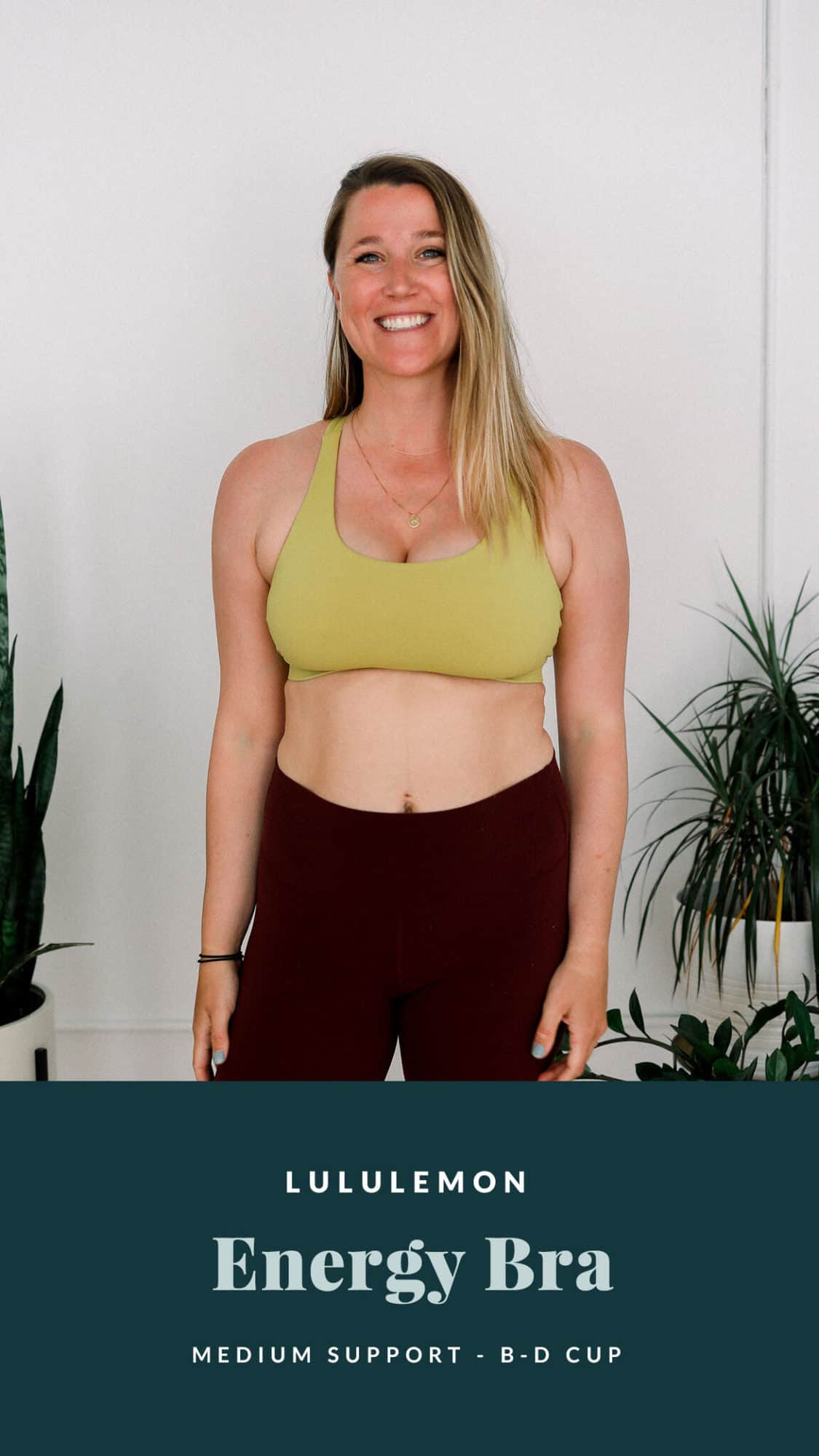 In Alignment BRA
We first tried the In Alignment Bra last year when lululemon released the A/B cup size. When the C/D cup size was released our lives were officially changed.
The In Alignment Bra is a light support, A/B and C/D cup size sports bra (comes in 2 sizes). It comes in racerback-style and straight strap-style.
The straight strap style is actually our go-to t-shirt bra. The three of us prefer to wear sports bras over real bras and the fact that this bra comes in a straight strap, allows us to wear it with t-shirts and tanks. 10/10 highly recommend! (Linley, Size 6)
Types of In Alignment Bras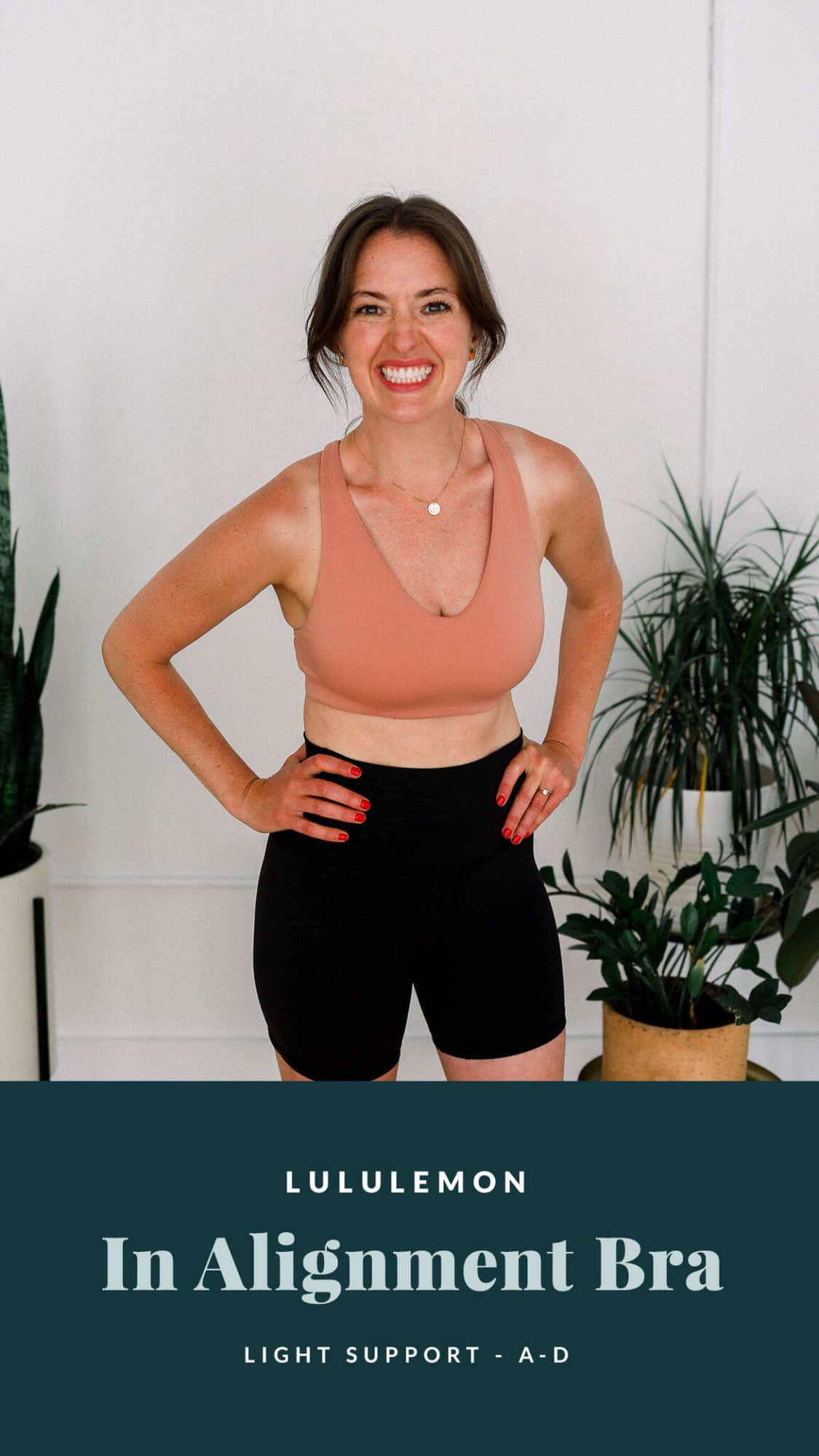 Wunder Train Long-Line BRA
The Wunder Train Long-Line Bra is medium-support, C/D cup sports bra. It's a new lululemon sports bra and I was very surprised and delighted when I first tried it. It's similar to my all-time favorite lululemon bra (Stronger Than One Bra) that no longer exists, but it has a racerback instead.
I love the extra fabric of the long-line and it's more coverage for a DD chest compared to the Energy Bra High-Neck. (Lee, size 8)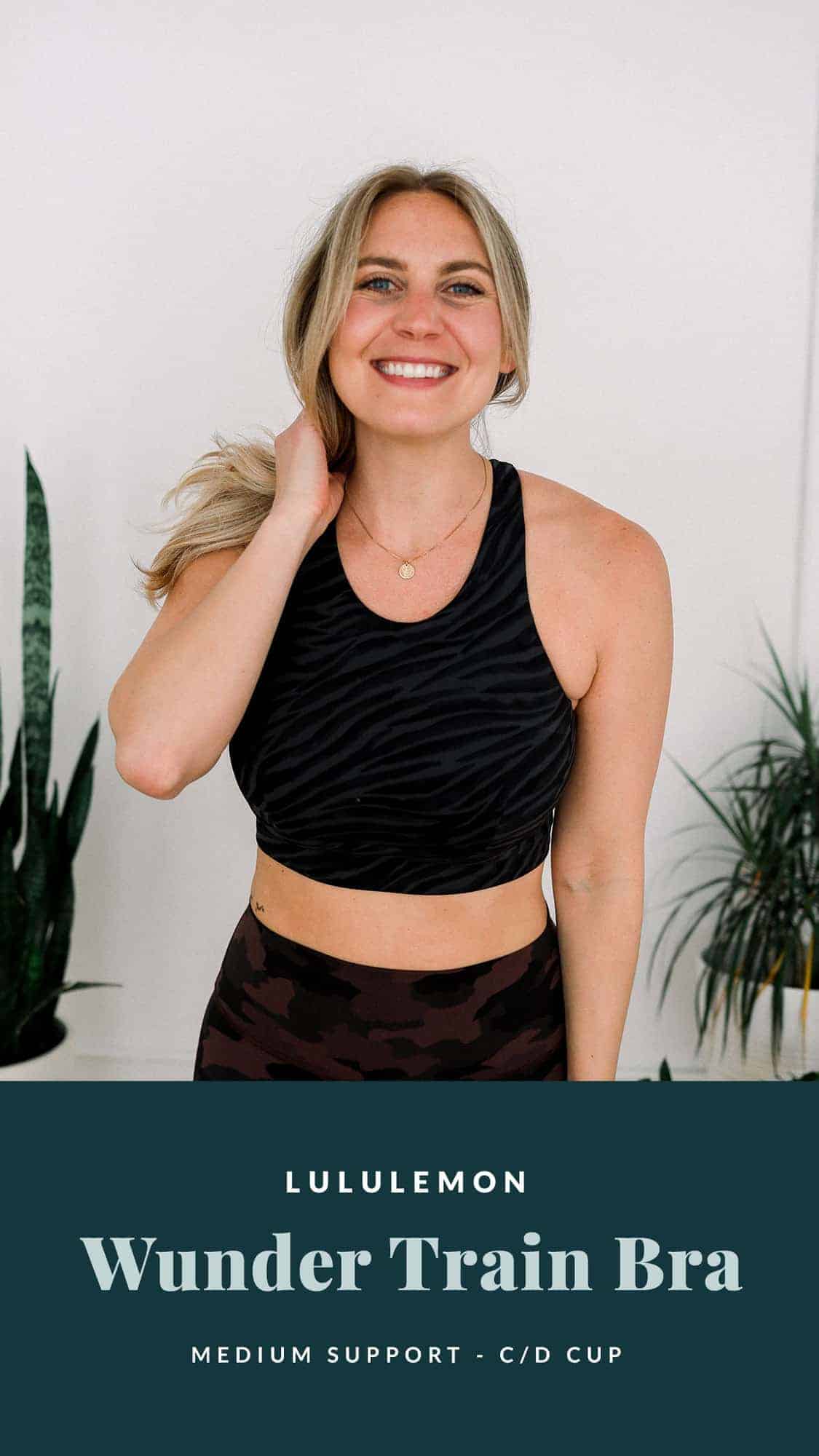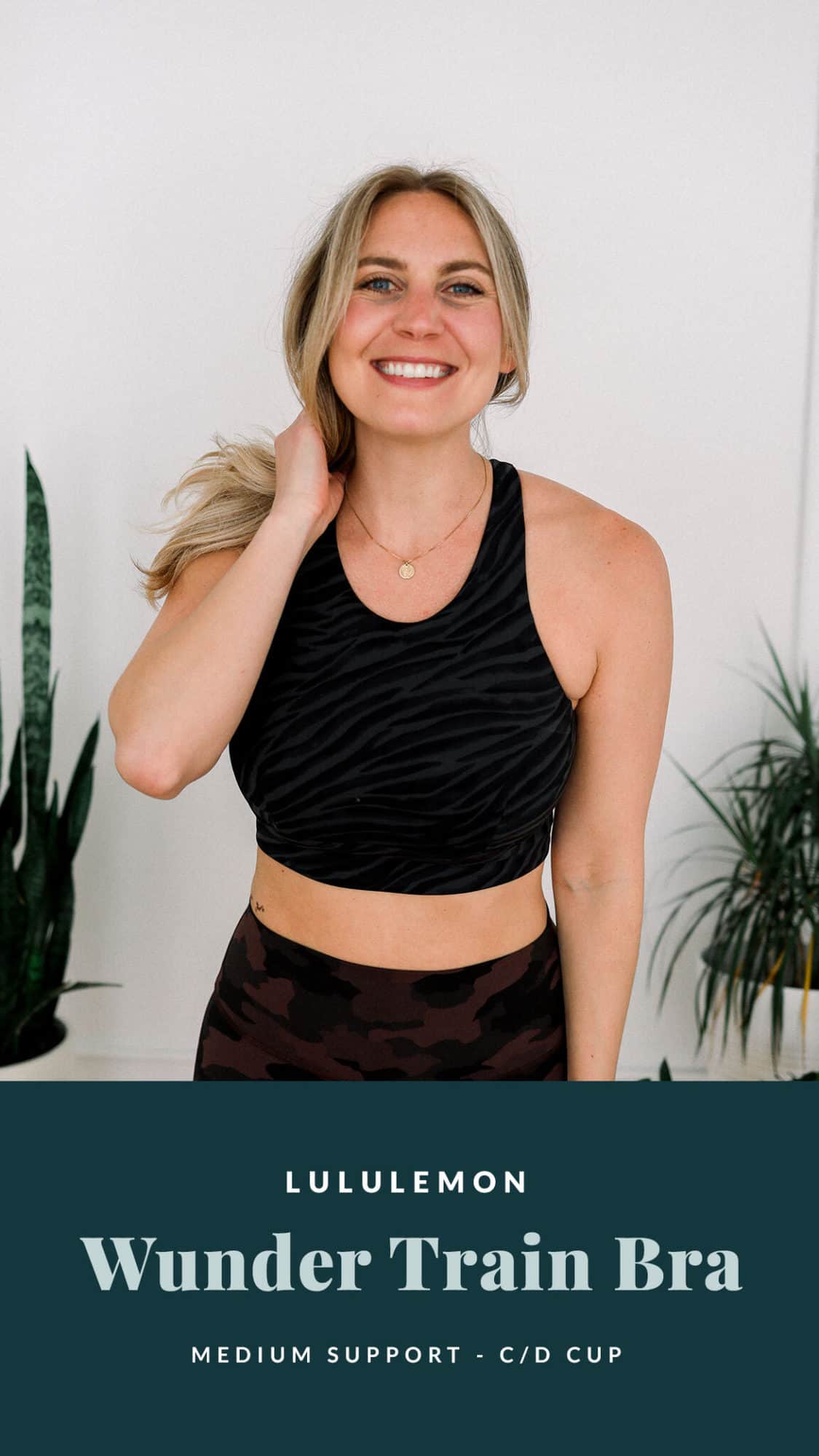 Other Favorite 2021 lululemon Sports Bras
Free to Be Elevated Bra
The Free to Be Elevated Bra is a light support, DD/E cup sports bra. I love the full coverage aspect of the bra and the strappy back. While this is listed as a light support bra, I've done many different workouts including HIIT, cycling, and running and find it to be more medium support. (Lee – size 8)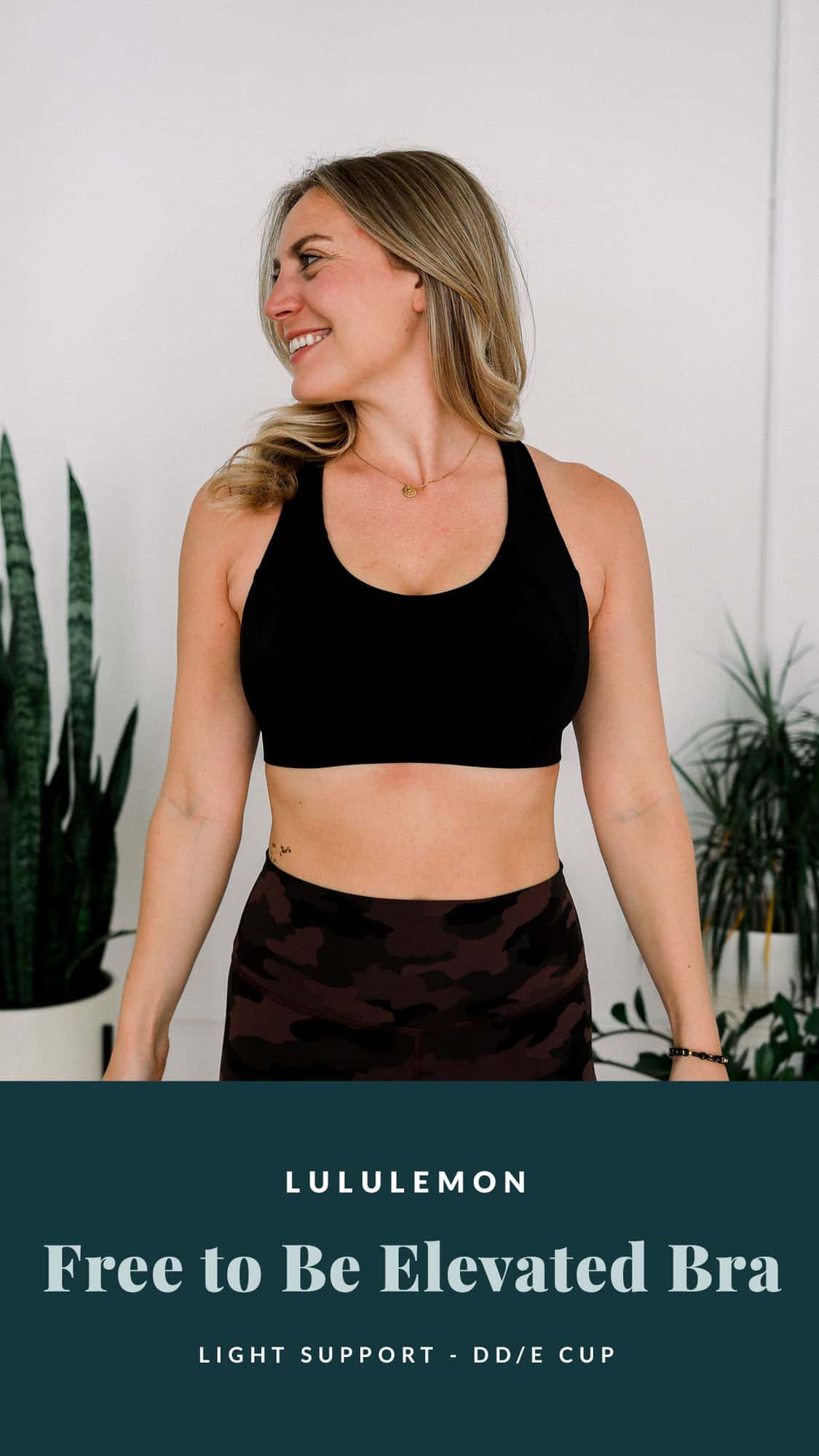 All Powered Up Bra
The All Powered Up Bra is a medium-support, A-E cup sports bra. I love that this comes in waist/cup sizes so that you can really get a solid fit. I am wearing a 34E (up from my normal DD cup size) and I love the extra coverage. It is unique that the straps are thinner and that there is a clasp.
One reason why I love this lululemon sports bra is because there is structure, but without any unnecessary padding. I also appreciate that you can make the straps longer and shorter. (Lee, size 34E)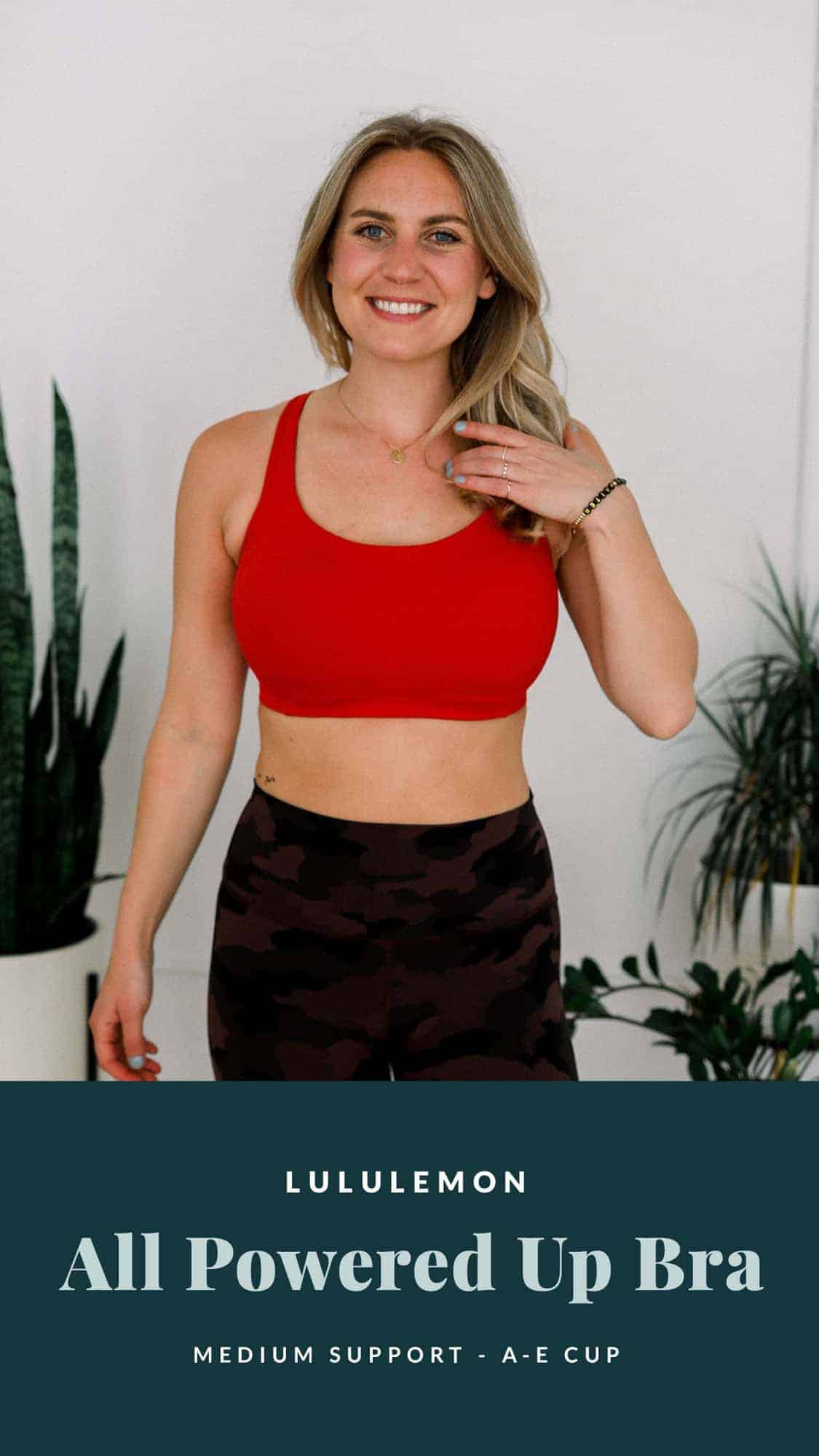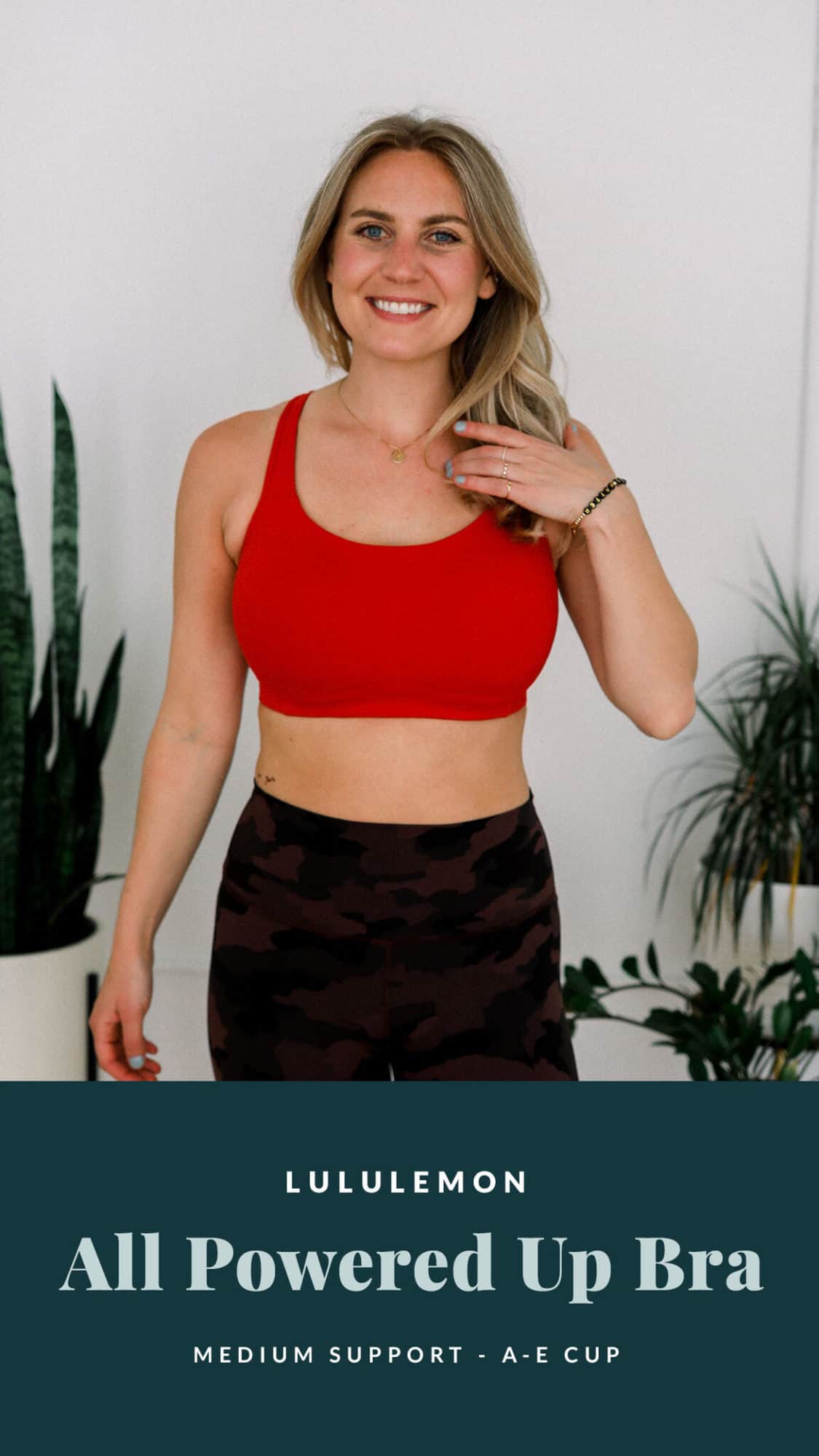 Disclaimer: This post is sponsored by lululemon. We were compensated and all opinions are our own. Thank you for supporting Fit Foodie Finds!