The best workout leggings for women all in one place! We set off to find the best workout leggings, and tested all of these doing yoga, HIIT, running, and everything in between. Read on for our top 3 best workout leggings + honorable mentions.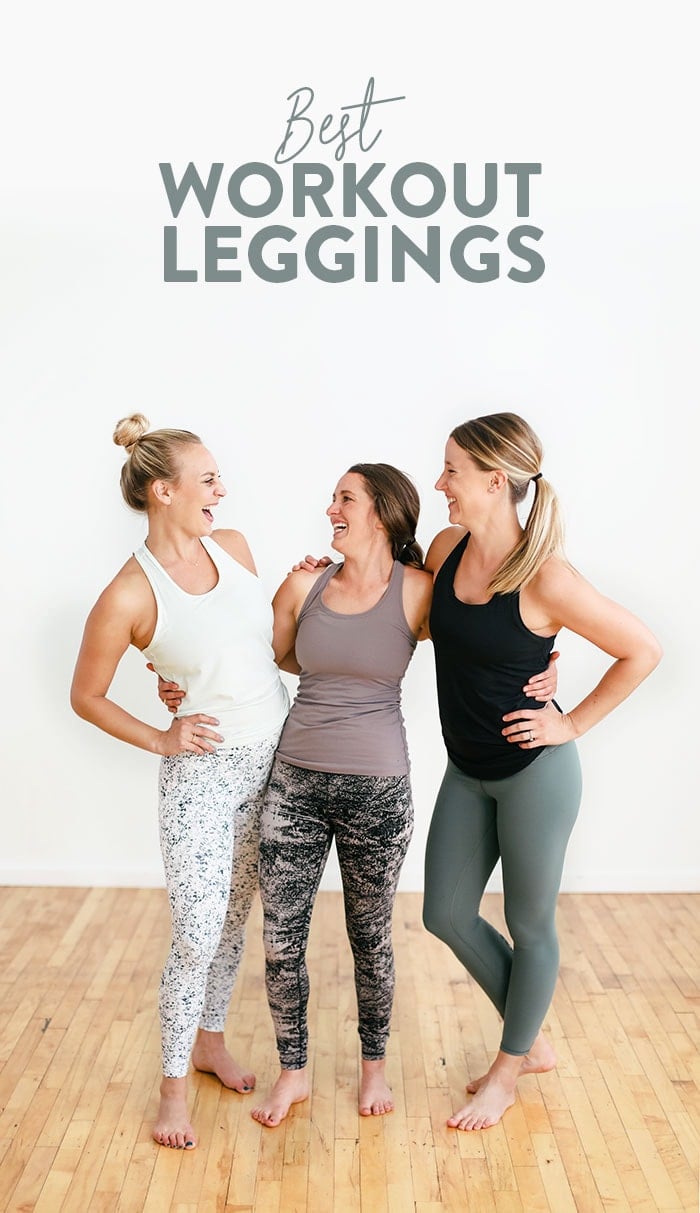 Best Workout Leggings Video Review
The Process
"What workout leggings do you recommend?" is a question we get from our readers all the time, so last year, we decided to turn it into a blog post —> and try on a bajillion pairs of leggings to find the very best. Well, we're back for round 2!
We set off on an adventure this summer to find the best workout leggings on the market after asking YOU which brands we should try. We hit up some of the most popular, top of the line athleisure stores (such as Lululemon and Athleta) as well as budget-friendly stores (such as Target and Gap) and many of your recommended online brands (such as Outdoor Voices and Ptula) to hunt down a variety of amazing leggings perfect for all types of bodies and activities.
We tried on over 20 pairs of workout leggings each, did various workouts in our top 10, and then narrowed it down to our top 3, which we've been wearing on the regular since this summer.
The Review
Before we jump right in, we wanted to give you the low down of how we chose our favorites for this year's Best Workout Leggings post. We've worked out, traveled, lounged, and everything in between in each of these pairs of leggings. And things we took into consideration include:
fabric
quality
fit
price
versatility
stretch
wear and tear
other (ie: do they give you a camel toe? Or get super see-through when you squat?)
Since we each have different body types (and likes and dislikes when it comes to workout leggings), there are a few different styles of workout leggings that we wound up loving, but overall, it came down to 3 clear brand winners. Athleta, Lululemon and Ptula.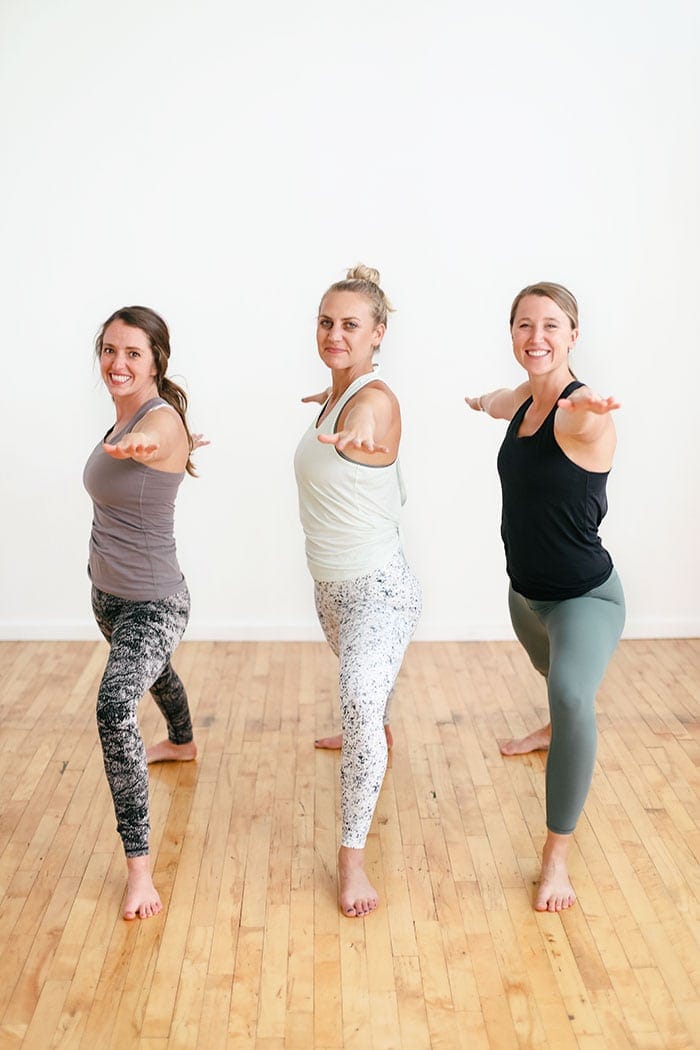 Athleta
Talk about the softest pants I've ever put on my body! Athleta is one of my favorite athleisure brands and I absolutely adore their workout leggings. If I had to choose a favorite from Athleta, it would be the Salutation Stach Pocket Pant.
I've been doing more yoga lately and I specifically like this pant for yoga because they're moveable and breathable all at the same time. I love the high-rise fit and have I mentioned how soft they are? It doesn't even feel like I'm wearing pants! The pock detailing is also clutch for more of an athleisure-wear because you can stick your phone right in there. -Lee // 5'8″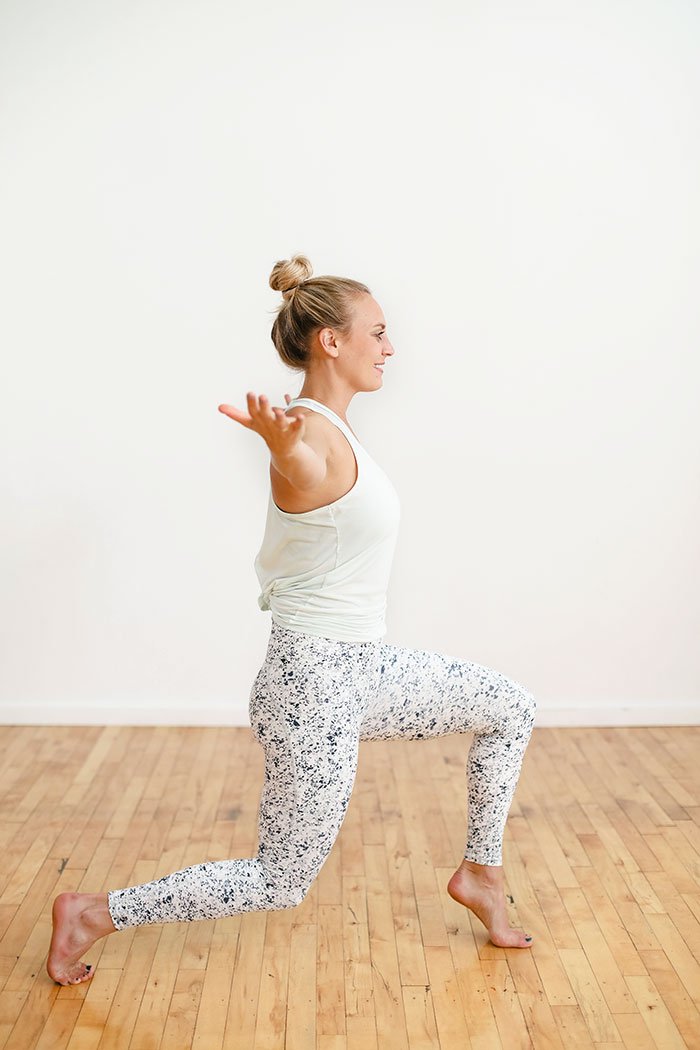 I've been a long time fan of the Salutation tight with Lee and have them in multiple colors and lengths, but recently fell in love with the Savasana tight. They are my absolute favorite workout leggings for yoga. They move with you so well through a yoga flow. Don't ride up or down, and are incredibly buttery soft. And I love love love the fun little macrame pattern on the back (thinking I'll need to add the macrame sports bra to my collection, too).
One thing worth noting is that I don't loveee these for running. They feel a little too soft and slide around on my waist so much that I find myself tugging at them throughout the entire run. But if you're looking for a perfect pair of workout leggings for yoga or bopping around town, the Savasana is your gal! -Emily // 5'8″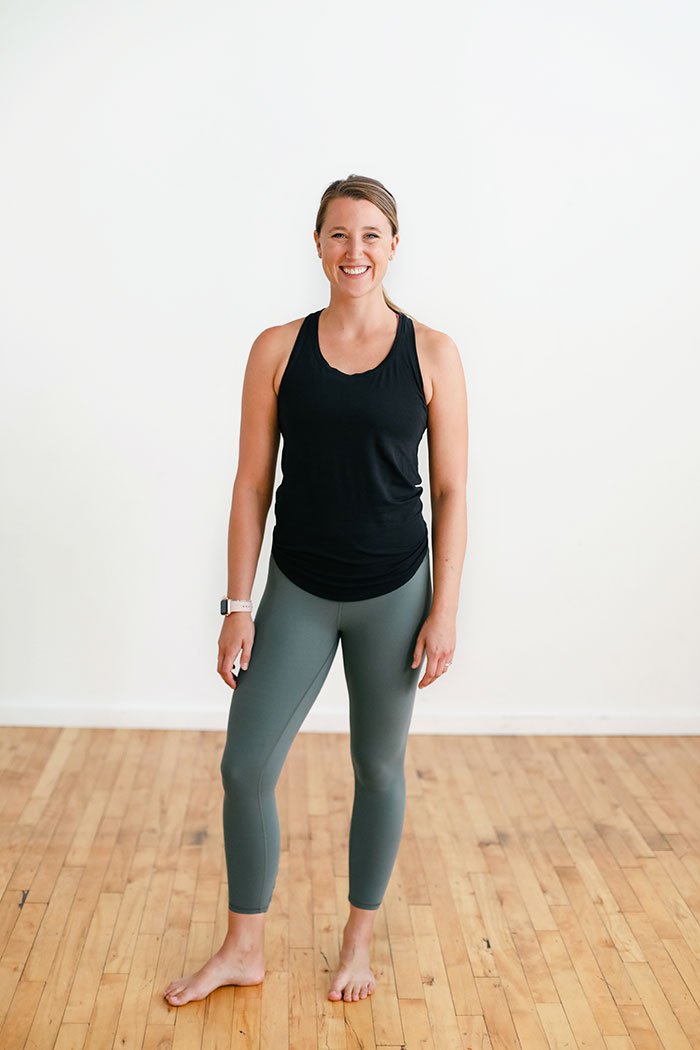 These high wasted workout leggings are one of my absolute favorite workout pants AND go-to athleisure pants. They are sturdy pants that are made with a thicker fabric, so they are great for outdoor running when its a bit chilly or for those of you who like to be held in nice and tight. They also look great with boots or tennis shoes.
These work out leggings ride high and stay put. I am 5′ 3", and I've got wide hips. Generally, when I try on yoga pants they are too long. So long that it looks like I am wearing leg warmers over my pants. The Elation pant in 7/8 rocks because they hit me right at the ankle. I also appreciate that these elation workout leggings are a true high rise pant that holds everything in when I am in a forward fold. -Linley // 5'3″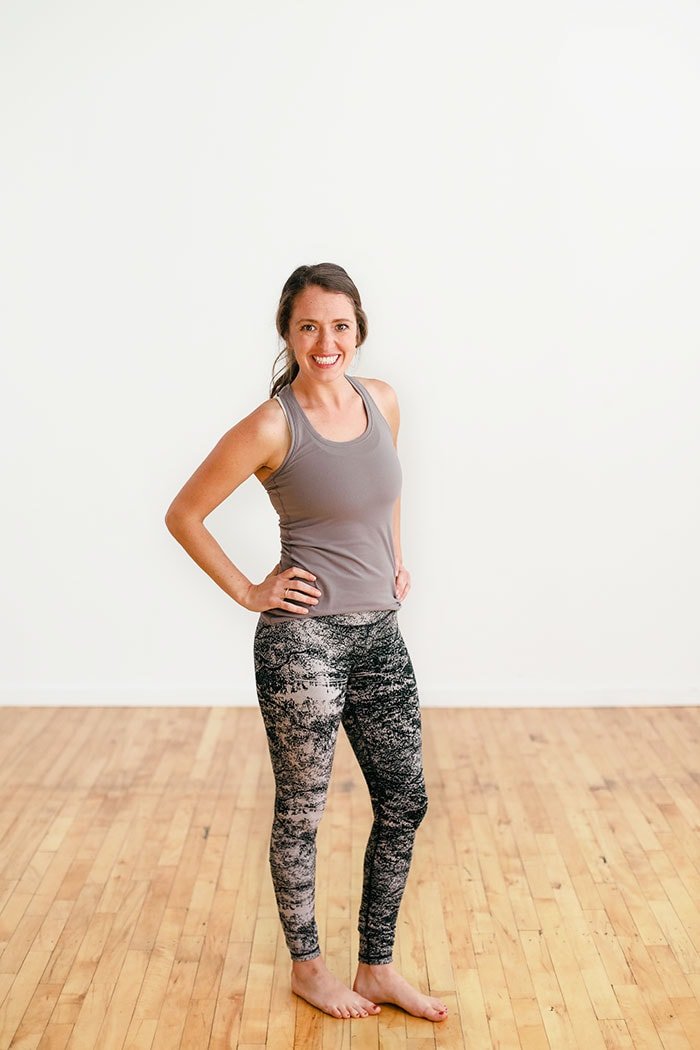 Not only do Lululemon's Hi-Rise Wunder Under Pants come in ridiculously fun patterns and colors, but they go high enough on my hips and waist where I am comfortable no matter if I'm doing crunches or sitting in half pigeon. And they don't fall down when you're on a run BOOYA.
They are breathable and come in multiple lengths (Lee prefers the 21″ length and I prefer the 7/8s). Lee and I both have multiple pairs of these and wear them to workout, run, and throughout the day with boots or tennies. While these are the highest priced pant on our list, we're firm believers that they are worth every penny. Keep your eyes peeled for sales at Lululemon, sometimes you score big and find a pair of Wunder Under's on sale! -Emily // 5'8″
Hi, it's Lee! I couldn't not say something about the Wunder Under Hi-Rise pant because they are the workout leggings that I compare every other workout leggings to. Time and time again I go back to Lululemon for their Wunder Under Hi-Rise (both the pants and crop) and am never disappointed. I love that there is no seam down the leg, the high-rise fit fits my long torso perfectly and I promise you once you try these on, you'll ask yourself why you own anything else.-Lee // 5'8″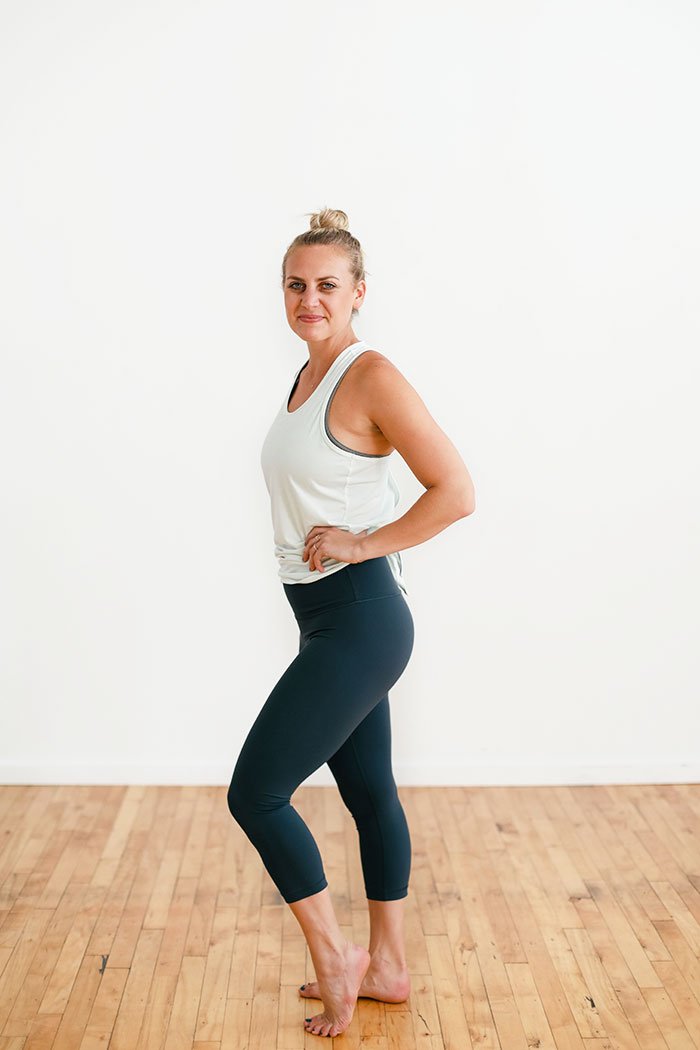 Lululemon is always a favorite here on Team Fit Foodie. They know what they're doing when it comes to workout leggings. I do also love the Hi-Rise Wunder Unders. They are reliable and so comfortable. However, this year I found my new favorite Lululemon workout legging–> THE ALIGN PANT. If you can imagine a workout pant that is silky smooth like butter, but structured enough that it holds in all your lady-bits just right, the Align pant is exactly that!
I love wearing the Align to yoga or during high-intensity workouts. The Align Pant is also a high waisted workout legging (let's be real, I don't wear anything else anymore) and is incredibly breathable and they hit me in just the right place! -Linley // 5'3″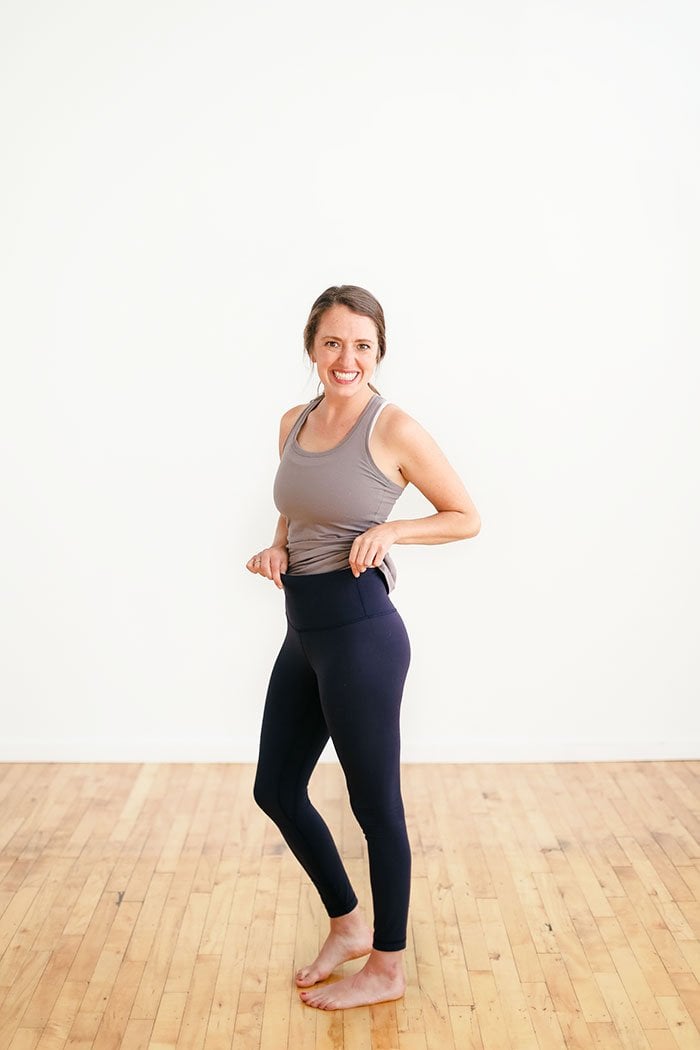 Yay P'tula! P'tula is a newer brand that the team found due to this research and I'm so glad we did! Emily and I both love the Alainah Allure crop/pant. I've done both yoga and strength training in these pants and I do have to say…they remind me of my all-time favorite pant from Lululemon, the Wunder Under Hi-Rise.
I am a big fan of soft fabric, but also fabric that is thick enough to hold everything in. The high-rise fit is perfect and the color selection is on point! Lastly, the price point is totally there! At $65, I'd say these pants are for sure more affordable than other big name brands.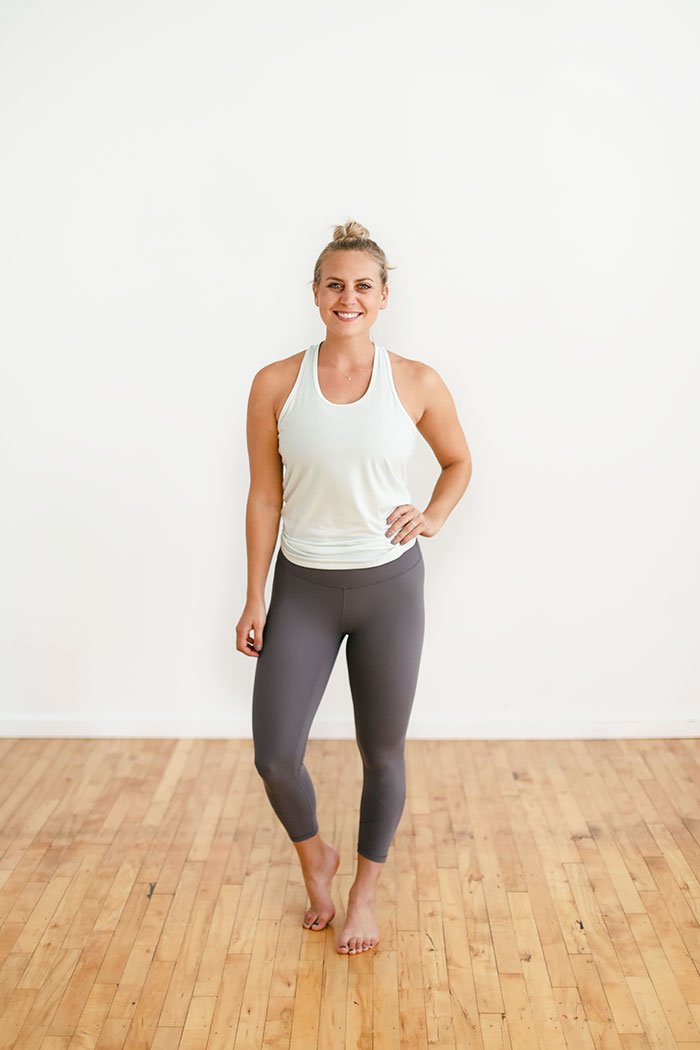 The Desa'ree II workout legging is the first pair of crop pants that I have LOVED. I never dilly dally with workout crop pants. I am an all (long pant) or nothing (shorts) kind of girl when it comes to workout leggings. Because I am on the shorter side, I always feel strange in crop pants. I feel like they cut the little length I have in my legs in half. When I wear crop workout pants it usually looks like I bought pants that don't fit me.
I love the Desa'ree workout leggings because they hit me exactly where a crop should fit me. The fabric is thin, breathable, very stretchy. When I first received my Ptula pants, they looked like they were made for a 5-year old. They looked so small. Low and behold they stretched out and fit me perfectly! -Linley // 5'3″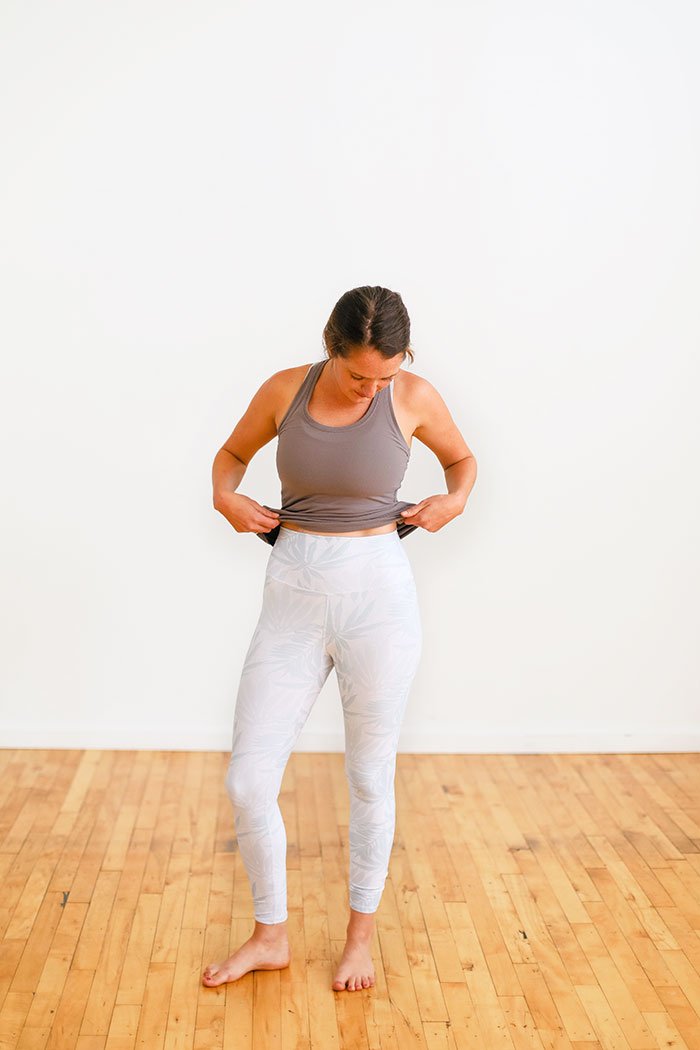 Other Workout Leggings We Love
If you are a yogi, you MUST check out Beyond Yoga! They high-waist leggings are my all-time favorite. I love how soft their fabric is and TBH, most of the time I wear these just lounging around!
A new one for us this year, Crane & Lion came highly recommended by Lindsey Blomgren of Nourish Move Love. We tried the 7/8 tights, and loved them for cycling class — they were thinner, breathable, but didn't ride up and give the camel toe look (ain't nobody need that).
This Target line of leggings is new to our list this year, and came highly recommended by all of you. We tried the high rise seamless leggings, and would recommend these for athleisure (or a brisk fall or winter walk!), but they were a little too thick and warm for anything high intensity.
This Nordstrom brand has been one of our faves for a long time. They come in so many fun styles and colors, and are always a great price point. While they didn't make our top 3 this year, you'll still find us wearing Zella leggings for yoga, HIIT and athleisure.
We're big fans of Nike's high waisted leggings (ESPECIALLY the Nike Sculpt Lux) for all things high impact. We run in these tights and do HIIT workouts in these tights. They stay up and don't give that dreaded camel toe effect.
Senita also came highly recommended by all of you. We love the playful patterns that Senita currently offers, and love that they're true high rise workout leggings, but don't pinch in weird places and give that muffin top feeling.
We LOVE Outdoor Voices sports bras, and their coordinating leggings are just as amazing. Plus, this brand continues to feature a wide variety of body shapes and sizes to model their clothing, AND never retouches their photos. Cheers to you, Outdoor Voices!
GapFit came in as one of our favorite brands of workout leggings last year, and this year was no different. The GFast High Rise workout leggings are SO breathable and I feel like i can do anything in these – yoga, circuit training, coffee shop sitting, and everything in between. They also look great with tennis shoes OR boots.
So there you have it, my friends! Hopefully, we helped you hunt down some new amazing workout leggings without the hassle of having to try them on all. Let us know in the comments below which pair are your favorites. And if we didn't cover the brand you <3 in this post, let us know what we should try next year!
---
Disclaimer: some of the links in this post are affiliate links. If you purchase an item through one of these links, we will get a monetary kickback. Some of the brands in this post provided us product, but we were not compensated.