We're sharing our go-to lululemon maternity products for pregnancy and postpartum, including tops, bottoms, and, of course, bras!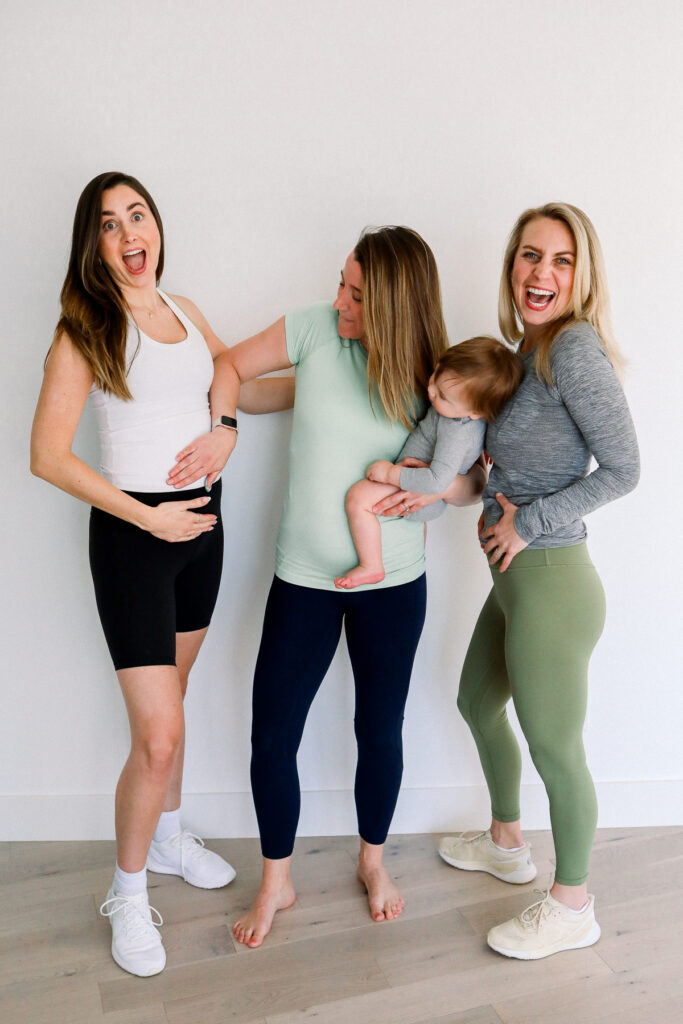 Read on for each of our go-to lululemon products for all stages of pregnancy and postpartum.
why you'll love lululemon during pregnancy
Stretch: growing a baby means a growing and changing body, and you'll love the way these lululemon products stretch with you as you go without ever feeling stretched-out.
Comfort: there's enough discomfort that comes along with growing and raising babies, you don't need to experience that from your clothes! These lululemon products are oh so comfy cozy.
Versatility: whether you're working out, lounging on the couch, or bringing your baby home from the hospital, get the versatility you need 😀
lululemon Maternity FAQs
Does lululemon have a maternity line?

While lululemon doesn't have a maternity specific line, they do have many products that are ideal for pregnancy and postpartum.
Can I wear lululemon while pregnant?

Yes! We practically live in lululemon leggings and bras during pregnancy and postpartum because of their amazing stretch and super comfy fabrics.
Are lululemon leggings good for postpartum?

Yes! lululemon's align leggings are the perfect postpartum and pregnancy leggings thanks to the incredibly soft and stretchy fabric that can grow to fit your changing body.
To size up or not to size up? Emily sized up one size in most lululemon products for the last few months of her pregnancy and early postpartum, but we recommend sizing up whenever is comfortable for you and your body!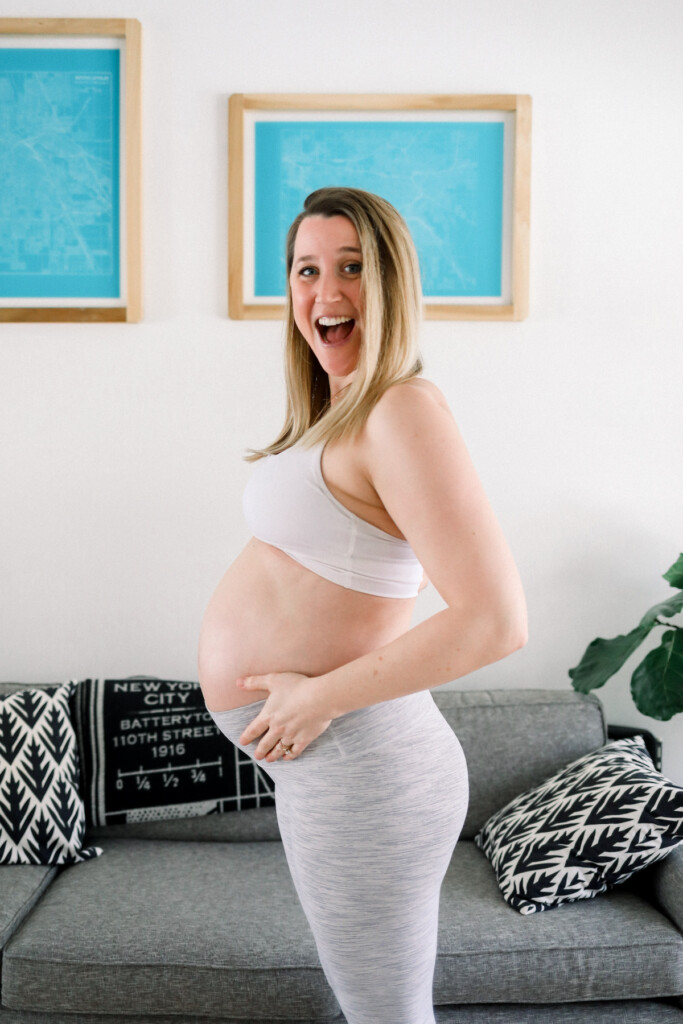 lululemon Maternity: Best Tops
When it comes to maternity tops, we're big fans of things we would wear even when we're NOT pregnant! These tops are perfectly stretchy, super soft and great for everything from workouts to lounging to nursing your baby.
Swiftly tech tops
The swiftly line is seamless, super stretchy and made from sweat-wicking material, which makes it great for everything from workouts to walks. Did we mention it comes in a long sleeve, short sleeve, and racerback tank version? We might own all 3 😀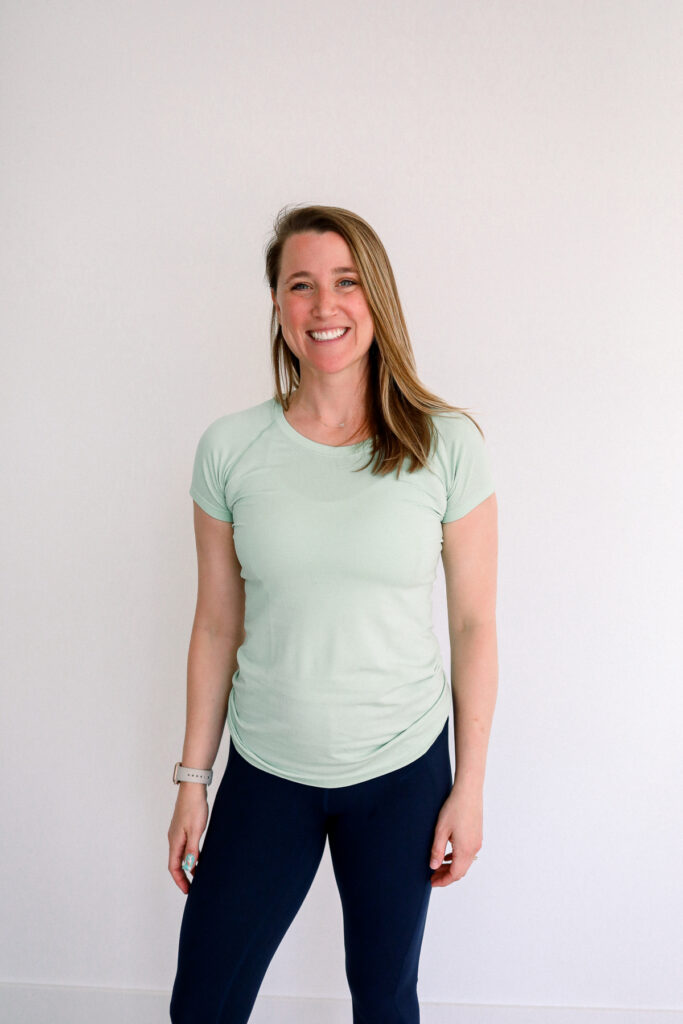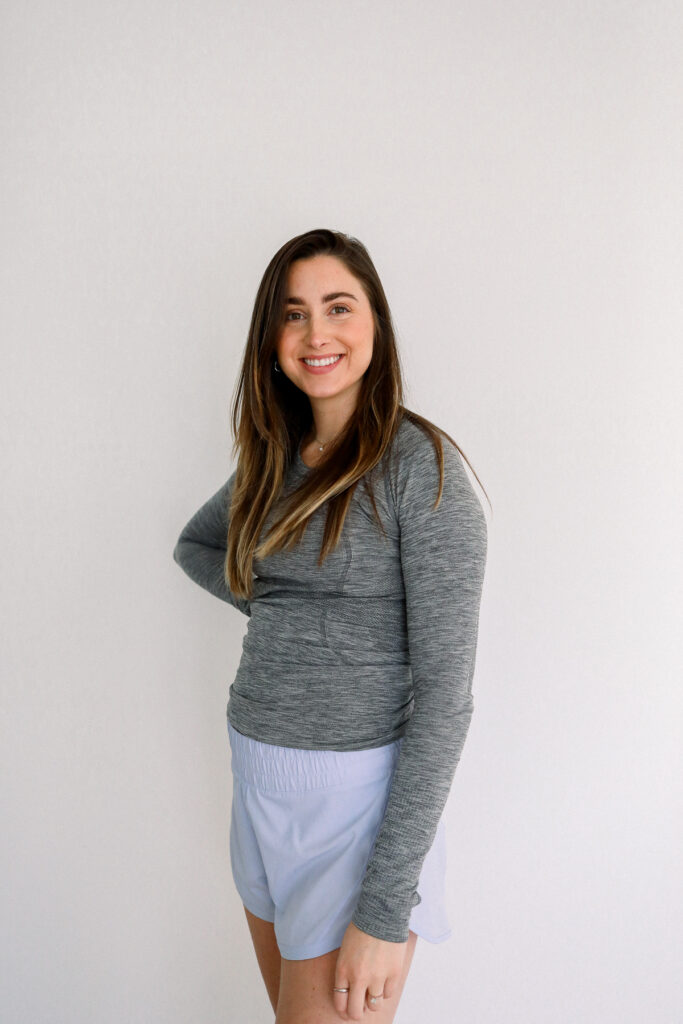 Scuba sweatshirts
We've never met a scuba top we don't love, especially for pregnancy and postpartum! The Scuba Oversized Half Zip is oh so soft, and the oversized fit gives you room to move throughout pregnancy. The half-zip is great for nursing, too 😀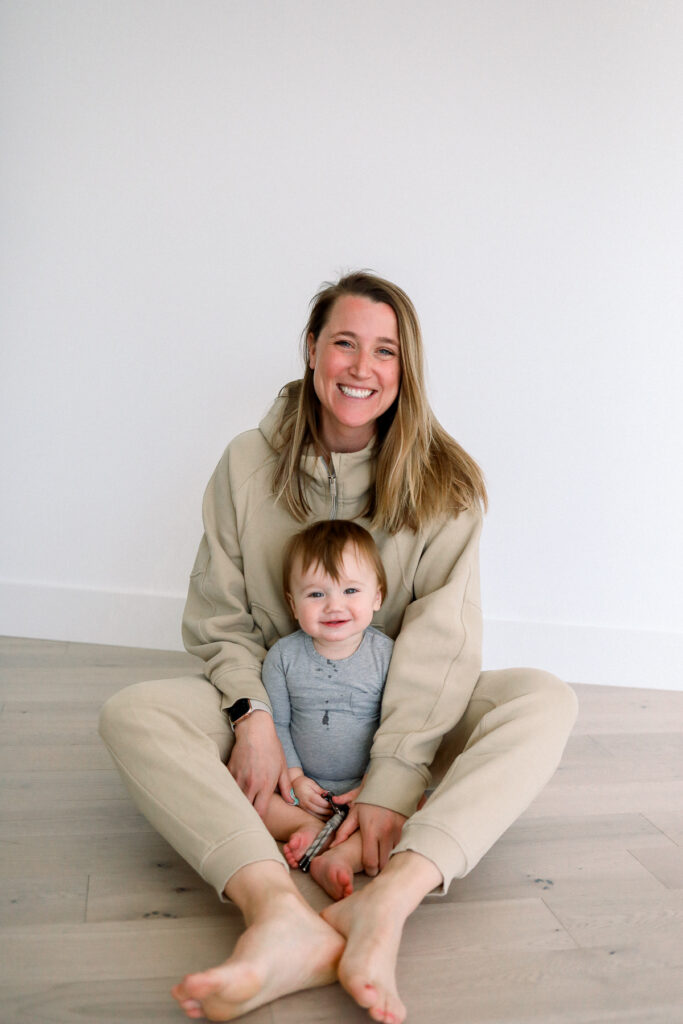 Perfectly oversized cropped crew
This sweatshirt comes in the amazing Softstreme material that is so seriously buttery soft. We love the Perfectly Oversized Cropped Crew because it's a baggier fit that's perfect for a growing belly or lifting up to nurse. It can easily be dressed up with jeans or worn with your align leggings.
Don't want a cropped version? The full-length Oversized Crew is amazing for pregnancy, and fit over Emily's bump til the very end.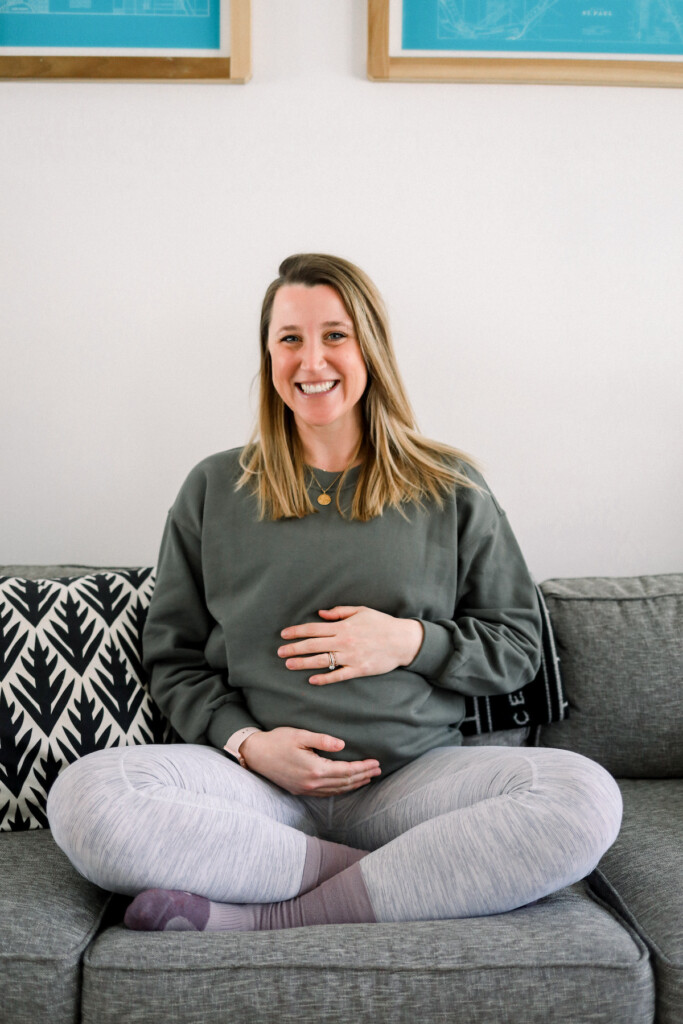 Ebb to StreeT Tank
The Ebb to Street Tank is a wonderful top for breastfeeding. You can easily pull the strap down and the built-in bra provides enough coverage and light support. We recommend going a size up from your normal-sized tank.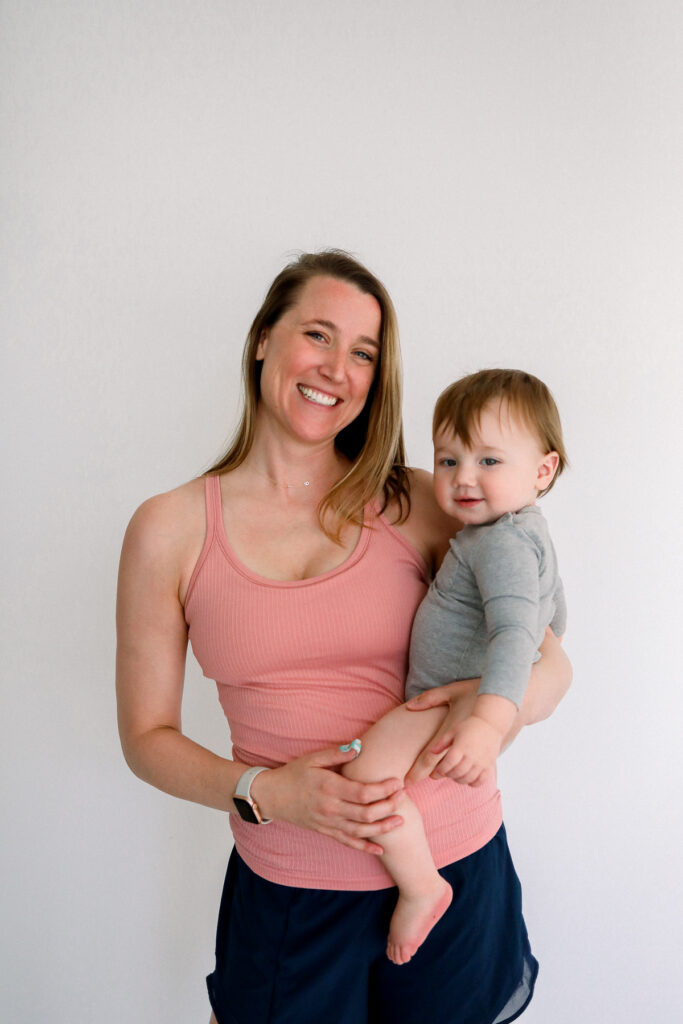 All Yours Cotton T-Shirt
The All Yours Cotton T-Shirt is a great shirt to wear during pregnancy and post-partum. It is cotton so it holds its shape quite nicely and has a decent amount of room without feeling too oversized. Lee is wearing her normal size – 6.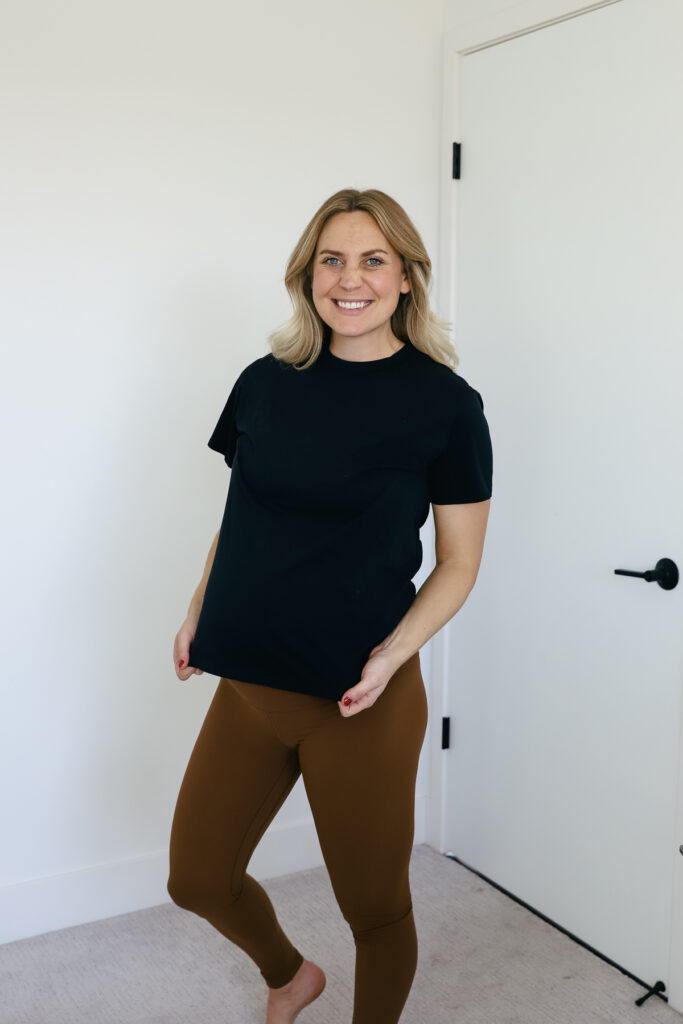 lululemon Maternity: Best Bras
lululemon is our go-to for both sports bras and everyday bras whether we are pregnant or not! We love the thought and design that goes into all of their bras and have been very happy with all of their new bra-sized styles that have been coming out.
Align Bra (D/DD)
The Align Bra recently came out in a C/D variation, which is perfect for both pregnancy and post-partum when the ladies start to produce milk. Lee has lived in the Align Bra throughout pregnancy because it's so soft and actually has enough coverage for her growing boobs. She sized up 1 size and is wearing a 10.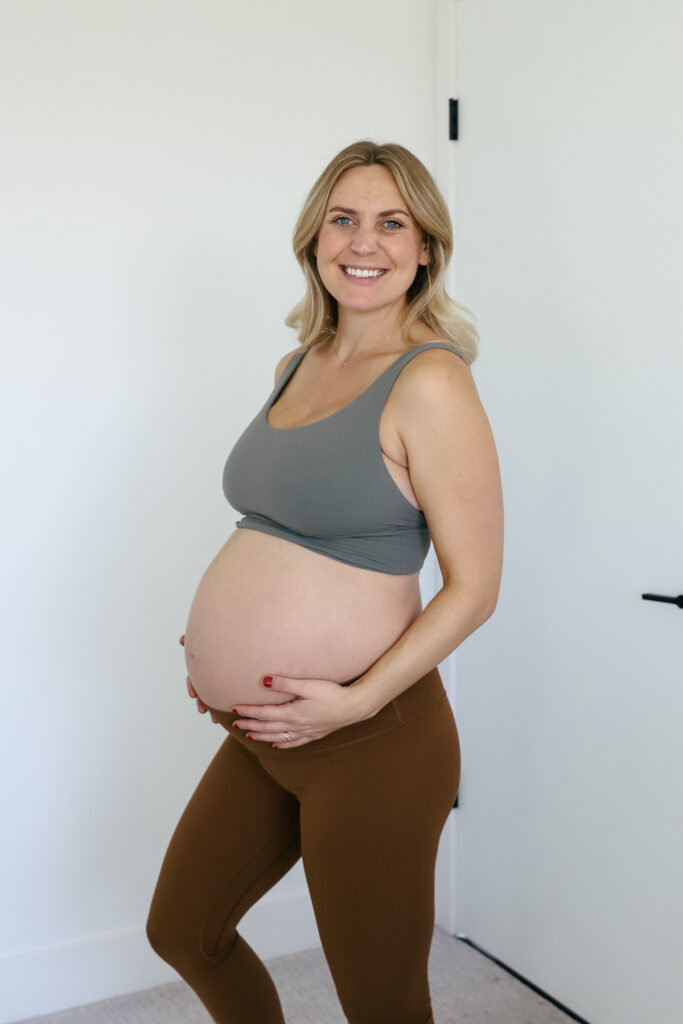 Like a cloud bra
The Like a Cloud Bra is truly life-changing. It's silky smooth, not too tight, but still has enough coverage for pregnant and postpartum moms. Lee is a huge fan of the long-line variation and is wearing a size 8 in the D/DD version. PS: this comes in a handful of size variations including B/C and D/DD.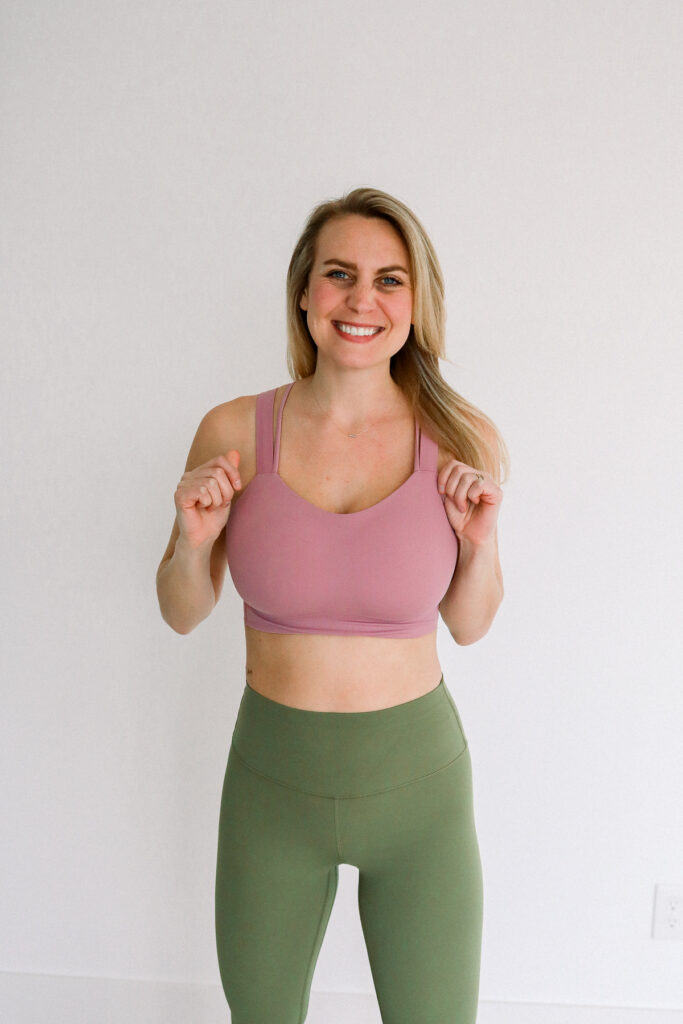 All powered up bra
The All Powered Up Bra is so great for anything higher impact because of its amazing support. lululemon considered it a medium-support bra, but Lee has done countless cycle and HIIT workouts in this bra and it holds the gals in great! She's wearing a 34E and loves that this bra gives her full coverage and great support.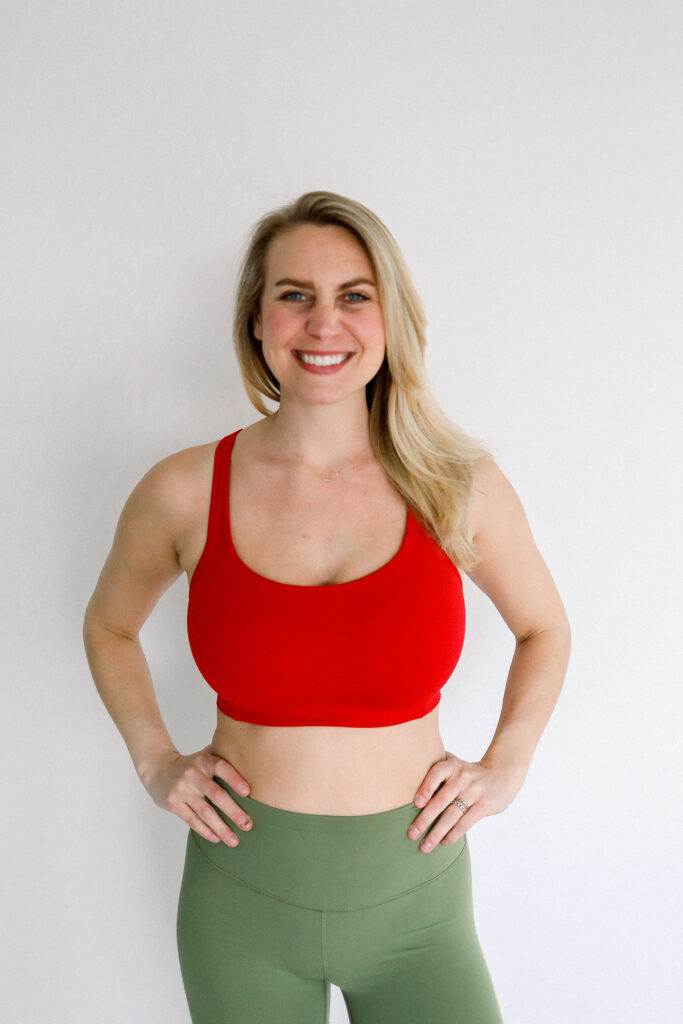 In alignment bra
The In-Alignment Bra comes in many variations – A/B, C/D, and now D-G bra sizes (linked to what I'm wearing below)! When going for something more structured, Lee goes for her 34DD and when she wants something more t-shirt bra-like, the size 8 in the C/D is the perfect fit.
The In-Alignment Bra is truly her everyday bra because of the straps. You can wear it with tank tops, under v-necks, and heck you could even do yoga in it!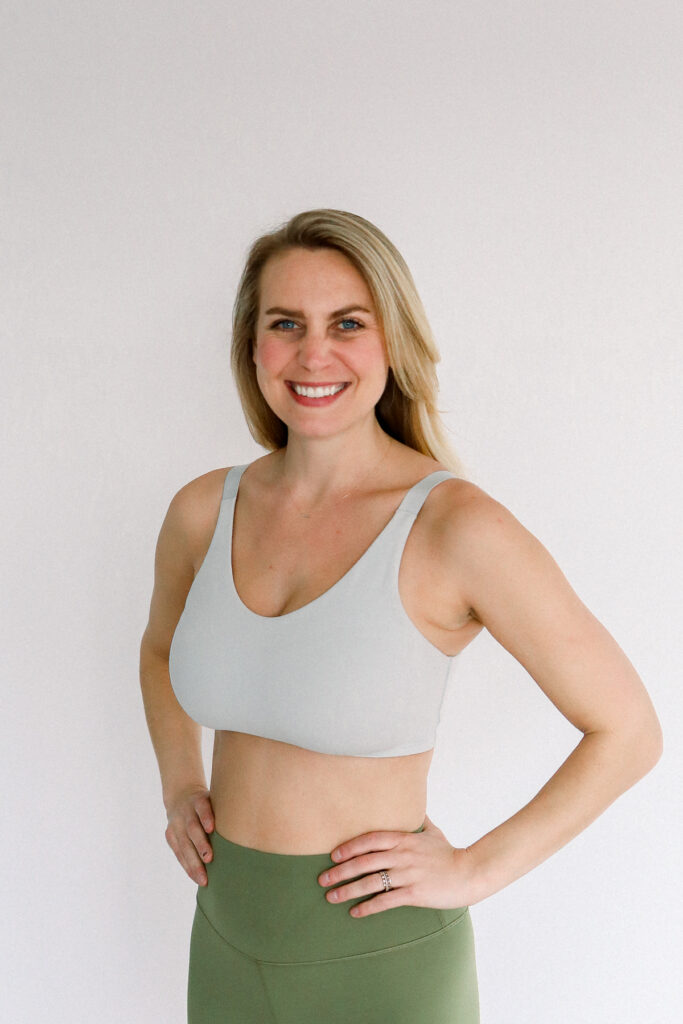 Energy Bra
The Energy Bra is really what made us fall in love with lululemon sports bras in the first place (YEARS ago!), and it's what we recommend to anyone who has never bought a lululemon sports bra before. The Energy Bra is a medium-support, B-D cup racerback sports bra that's great for high-impact workouts.
Emily sizes up from an 8 to a 10 for pregnancy and nursing in the Energy Bra, and Miranda sized up from a 6 to an 8 in her second trimester.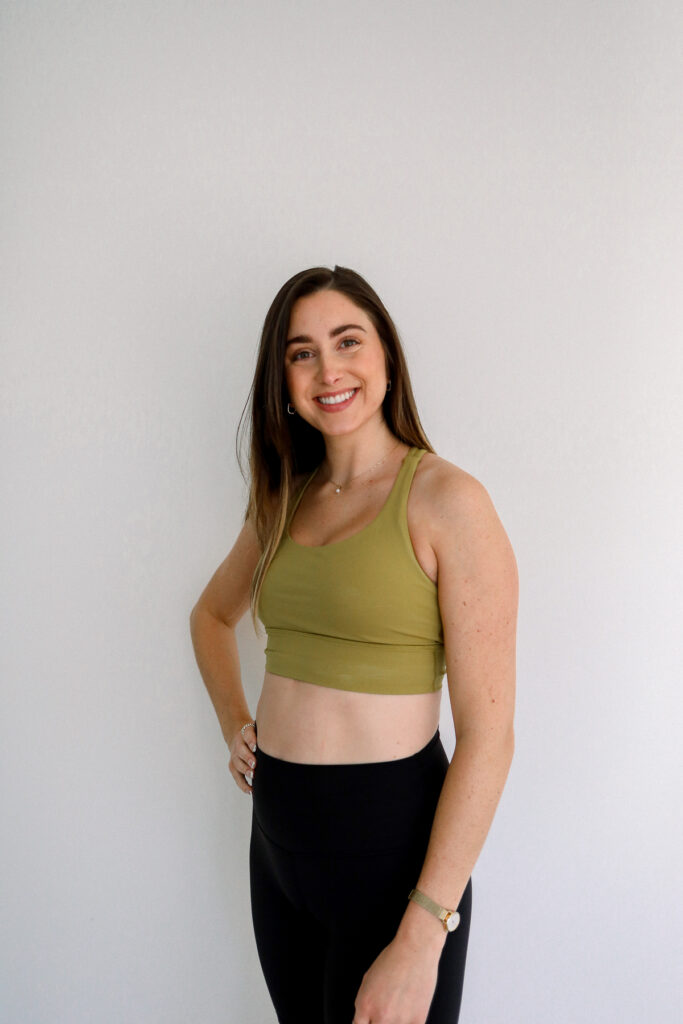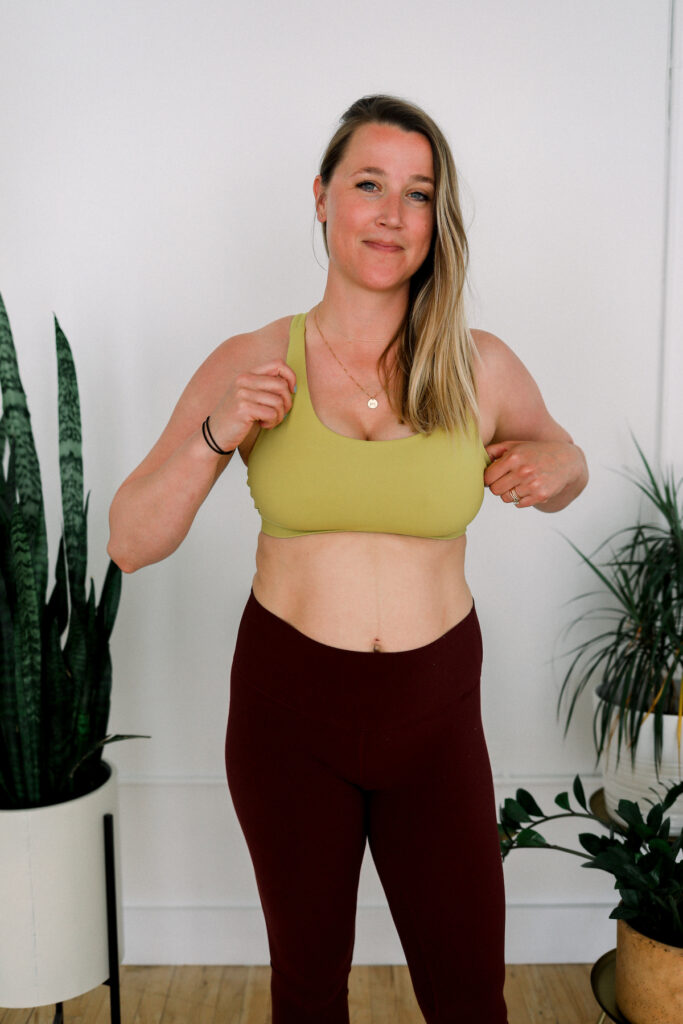 lululemon Maternity: Best Bottoms
Never are we ever wearing any bottoms that cut in or tug in the wrong way during pregnancy and postpartum, which is why you'll almost always find us wearing lululemon pants or leggings. Here are some of our favorites!
Align leggings
The Align leggings have been a Fit Foodie favorite for YEARS. We absolutely love the buttery soft fabric and high-rise fit that moves with you regardless of what activity you're doing, and especially for a changing body during pregnancy and postpartum.
Emily sized up from a 6 to an 8 in her Align leggings after 30 weeks during her pregnancy and loved the roomier fit for postpartum as well. Miranda is wearing a size 4.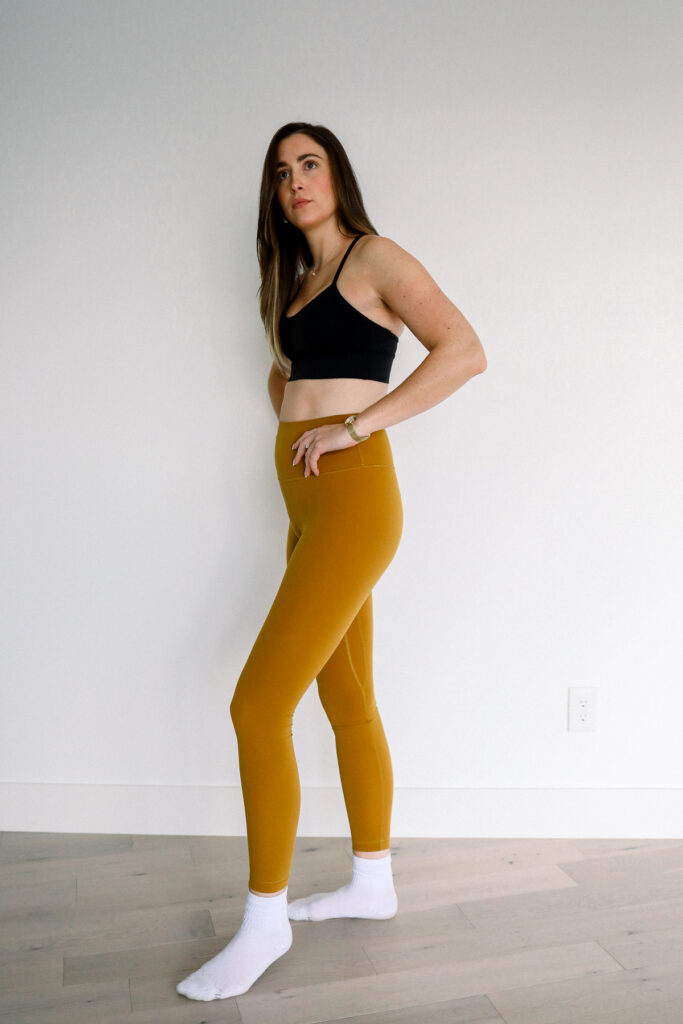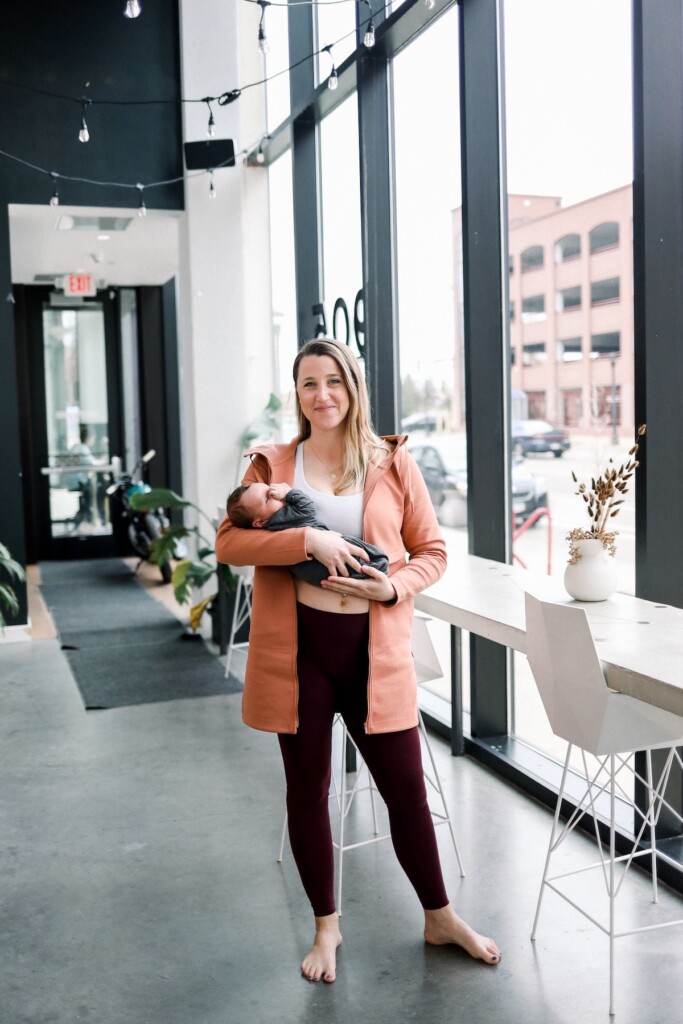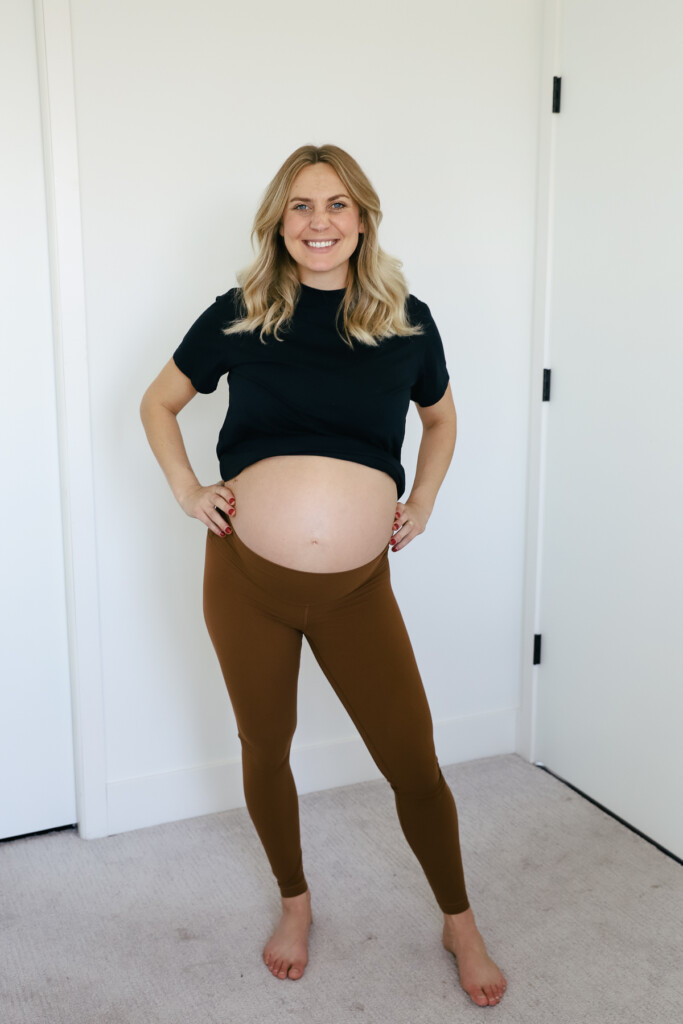 Align Joggers
The Align Joggers come in a variety of different fits, but the one that is best for pregnancy is by far the Align Sper High-Rise Ribbed Waist Jogger. It folds down so it can easily sit below the belly, or you can unfold it and it can hug the belly like a belly band. It's truly life-changing! Lee is wearing her normal size – 8.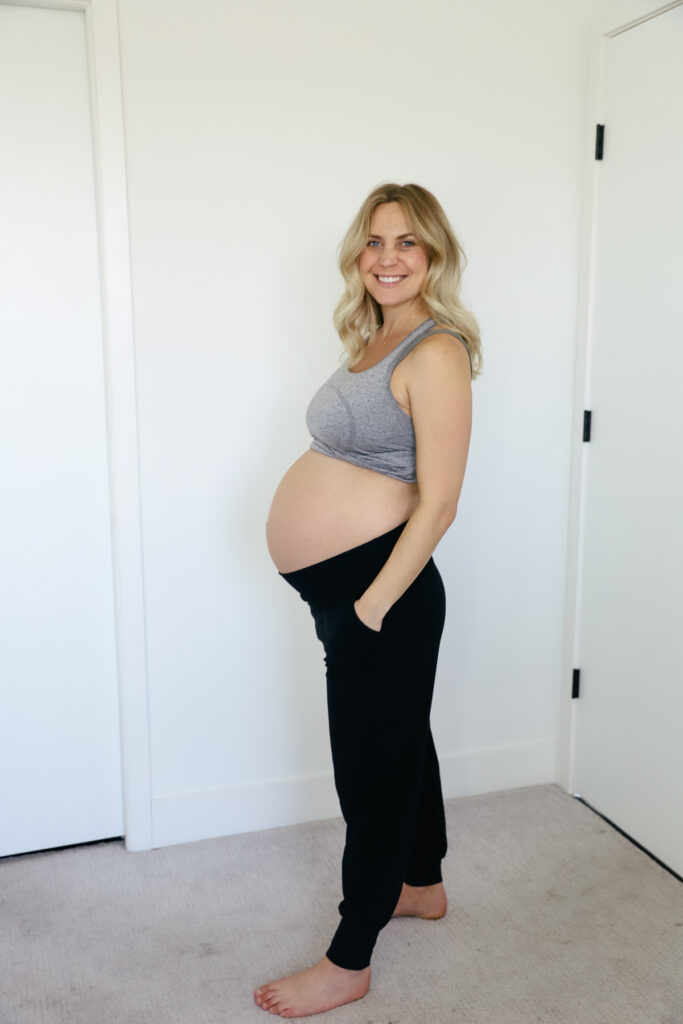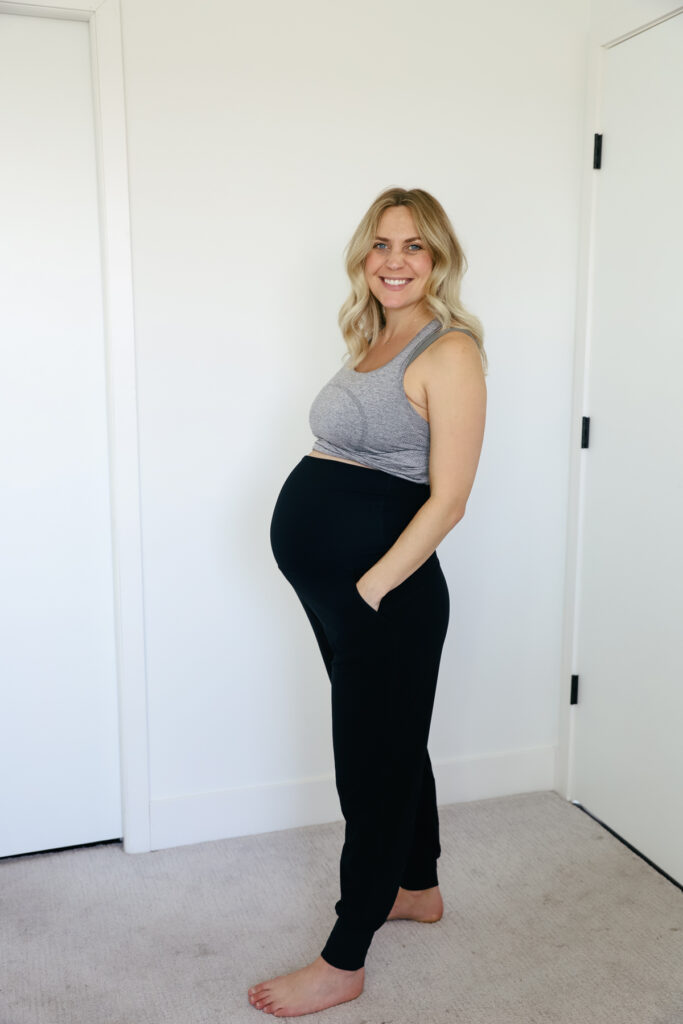 Scuba high-rise jogger
The Scuba Joggers are ultimate comfort! A true soft sweatpants feel makes these oh so great for the days you just want to feel cozy. Plus, the high-rise waist is great for everything from a growing belly to a healing c-section scar. We recommend sizing up for a roomier, comfy fit!
Align shorts
The Align shorts offer all the buttery soft goodness of the Align leggings, but with 4 shorts length options, and some that even have pockets.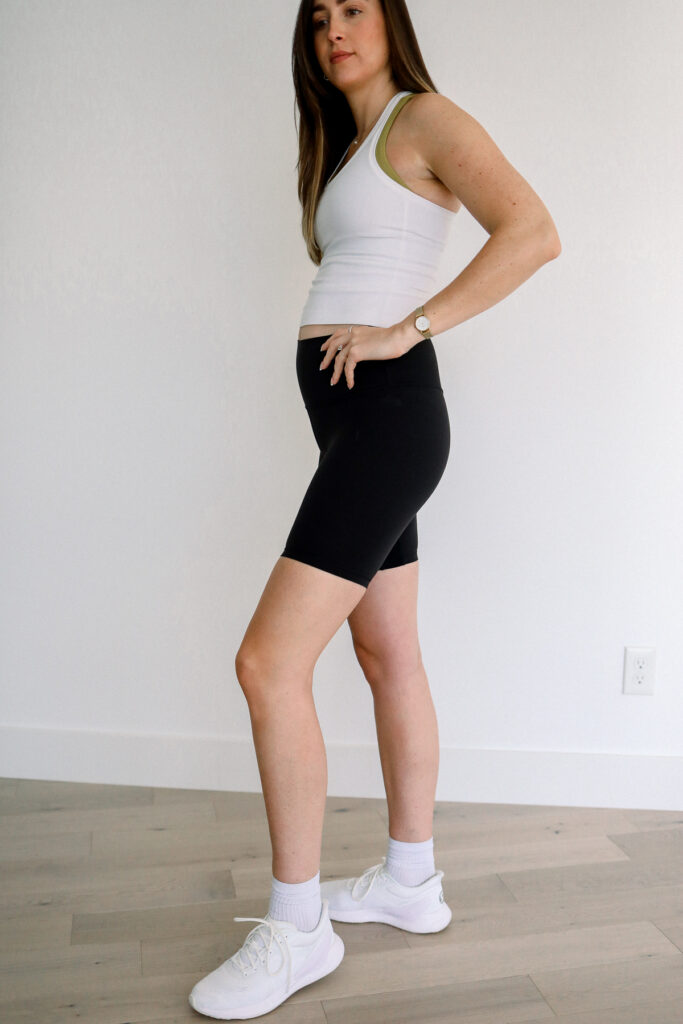 Hotty hot shorts and skirt
The Hotty Hot Short is so great for pregnancy and postpartum, especially during the warm summer months because the fabric is so lightweight. These shorts have a wider quad opening and a 4-inch inseam that gives you a little bit more coverage as well.
And don't sleep on the Hotty Hot Skirt version as well that boasts the same wide stretchy waistband and lightweight fabric 😀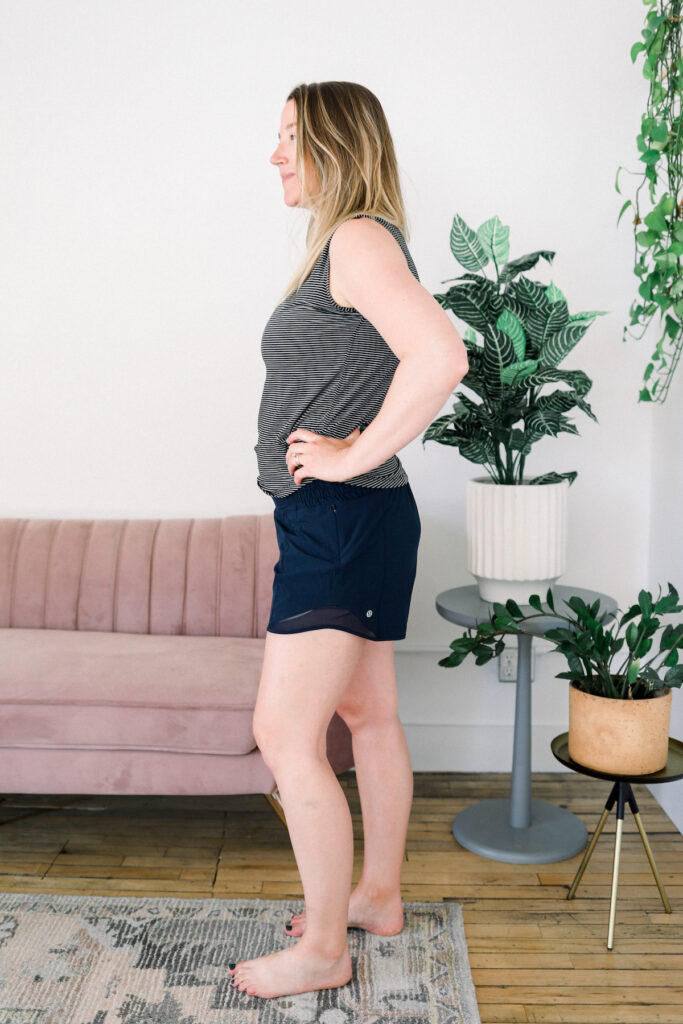 Track that shorts
We love the Track That Mid-Rise Shorts because they're super free-flowing with a wider leg opening and have an amazing wide elastic waist that doesn't dig in even with a growing belly and hips.
Disclaimer: This post is sponsored by lululemon. We were compensated and all opinions are our own. Thank you for supporting Fit Foodie Finds!