Girlllll! We are officially moved into the Fit Foodie Casa (what I'm calling it) and I am oh so pumped. I am so excited for you guys to watch this video of my…empty new home! From the moment we walked into this house we knew we wanted to buy it. It isn't perfect, but that's what excites us because we are going to be able to give it our own personal touch and make it our own. While we don't have to do any extreme renovations, we do have a long list of projects we'd like to complete that are more cosmetic! Think windows, shiplap, paint, etc.!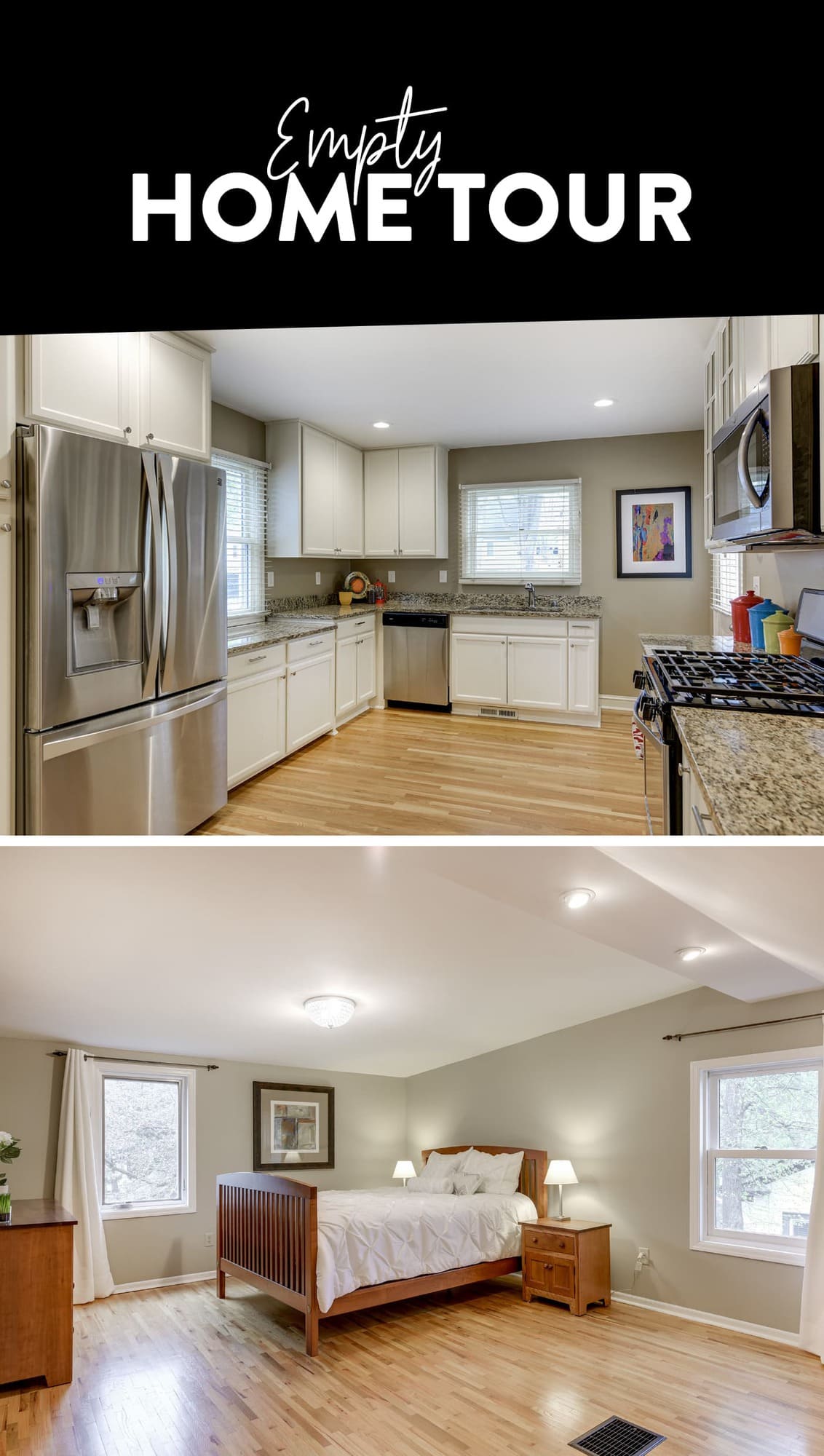 The day I found out HGTV was a thing was the day I fell in love with real estate and interior design. I'm no expert, that's for sure, but I do have a design eye and I'm thrilled to own a home that I can invest in and make my own. The home we ended up purchasing fell in the middle of our budget, which means it's definitely not perfect. It also means that we have some leftover cash to play around with to give this house the Lee and Mark twist. Honestly, I feel like I have such a specific style, that I'm excited to update things myself! I've also got some extremely talented friends (Hey, Sam Salinas and Construction2Style) who are great to bounce ideas off of and help us GSD.
Like I mentioned above, we've got a laundry list of to do's. The Fit Foodie Casa was built in 1939 and we've got original windows, hardware, built-ins, etc. She's got a lot of character and I'm excited to give her a modern twist. My style? I've been calling it modern farmhouse mixed with a bohemian mid-century modern. I'll do a mood board post later so I can show you what I mean! I'm for sure going to do room reveals as we finish each one, but what I really love doing is Piterest-ing and looking up are before and after projects that other DIYers have done. So? We made an empty home tour video so we could show you the bones before we do any small renovations and updating. That way, when we post the after videos you can see how much has changed!
Alright, I'll give you a mini rundown of what we want to do to each room <3
Note: all of furniture and "stuff" in these photos are pulled from the listing. I wanted you to see exactly what we saw when we first looked at it!
General
General is a big category, but there are a handful of things that need to be done around the entire house. Gulp.
Windows: The Fit Foodie Casa has original windows and we're excited to clean things up and make our home more energy efficient. I've gotten a few quotes and getting 17 new windows ain't cheap, but I think in the end it will be worth it. Now the question is, do I go black or white?
New trim + baseboards: This is a massive project, but I told myself before buying the house that I'd replace the trim around all windows and doors and the baseboards because these suckers have been painted about 100 times. They're peeling and gross and I really believe that new trim will transform our house!
Paint: Turns out the old owner loved beige. Like so much that every single wall is beige. Turns out I hate beige. I can't wait to brighten up our entire home and paint it all…PURE WHITE. I'm painting every wall the same color, Pure White by Sherwin Williams and I'm so giddy I can't wait.
Doors: This is last last last on my laundry list and I'm not sure we'll ever get to it. All of the doors in our home extremely heavy and don't close properly. If I get my list, all doors will be replaced!
Door hardware: Turns out locks stop working after a really long time. We can't open one of our exterior doors into the house and every other time my key gets jammed in my front door. We're going to need to replace hardware on all doors…even the interior ones! I'd say half the doors won't stay shut, which is kind of an issue, too!
These general tasks sort of all go together. We need to remove the trim around the windows and baseboards, then get new windows, then paint, then put new trim on. I can't keep my head on straight with this and I just want it all done ASAP. I truly believe that even if this was all we did, the house would be a completely different space!
Family Room
The most work needs to be done in the family room. Let me set the stage. The front of our house is VERY shaded. We've got a giant ass tree in our yard (probably 100 years old) and she blocks a lot of the sun in the morning even though we're East facing. With that said, light is for sure a big issue. The family room is the one and only room that has textured plaster walls with a coved ceiling…my favorite. NOT. Apparently, this is back in, but IMO, I hate it. I've gotten a few quotes so far to get rid of it and it turns out that plaster is NOT easy to remove and a cove ceiling s nearly impossible. We'd have to either re-drywall the entire room and lose square footage or sand it all off costing a whopping $5,500. I've settled on just repainting and redoing the fireplace area. Here's our list:
Bay Window Area: The bay window area is going to be a beast of a project. You guys know that I crave light. Well, our home is VERY shaded and on top of this, the bay windows in the front (family) room block a lot of light. Hear me out. There is a large chunk of wall in between each of the three windows (see photos below) with white paneling going down each window. I'm hoping to get a bay window that lets far more light in, while still being eco-friendly.
Front Glass Door: The glass door in front of our front door has a handful of gaps in it. I like to keep our front door open at all time because it lets SOOO much more light in. Replacing this will allow me to keep the front door open in the winter.
Fireplace: Oh the fireplace. First of all, I'm excited we have a fireplace. Second of all, I'm excited to completely transform this room by redoing the fireplace! I want to rip out the built-ins, which surround the fireplace because they really clutter things as well as remove the mantel. From there we will shiplap the entire thing and then add a barn wood mantel. This is going to open the entire room up and brighten it so much!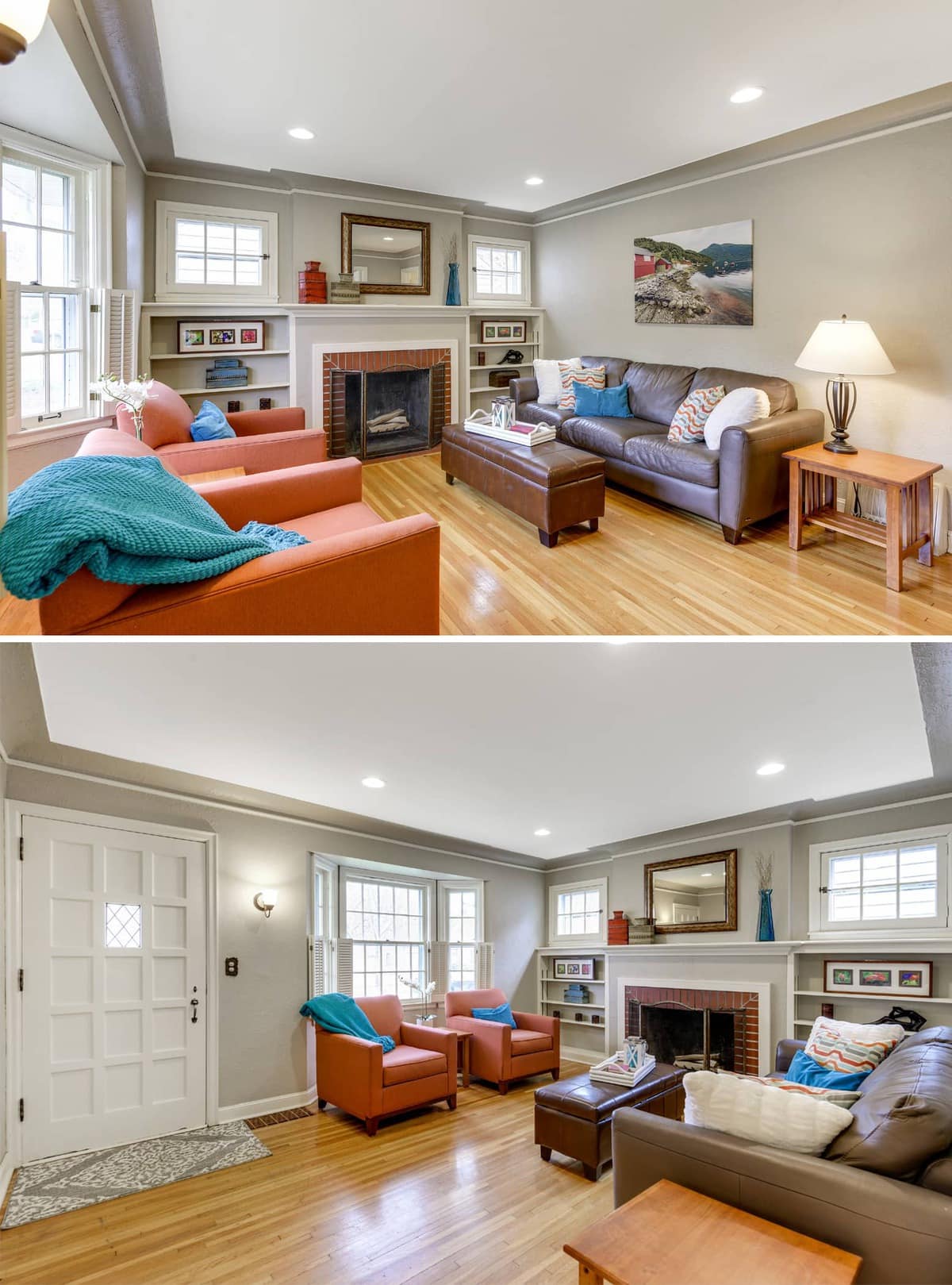 Kitchen
Ohhhh the kitchen. So this kitchen definitely isn't my dream kitchen. It was an addition put on like 10 years ago and very interesting. While it is very large, it's not large enough for an island so there's a lot of wasted space. The cabinets are old and the countertops are very traditional. If I had it my way, I would completely gut this kitchen to make it very farmhouse midcentury. We're talking bright and white with wood floating shelves and pristine appliances. I spend almost all my time in the kitchen and have dreamed of the perfect one all my life. Sounds corny, but it's true. The kitchen is up in the air for us right now only because we need to fully commit on staying in this house 5+ years if we want to redo it. If we do redo it…here's what I'm thinking:
Cabinets: The current cabinets are old and have been painted a few times. I'm thinking we'd just replace the cabinets because our current ones don't have the soft shut and are also deeper than standard cabinets making it very hard to find anything!
Countertops: The common person probably likes the current countertop in my kitchen, but I hate it. It's just not my style! I want either a butcher block countertop or a marble/white quartz!
Backsplash: There's currently no backsplash, so even if we don't redo the entire kitchen, I think we will at least add a backsplash. I'm thinking white subway!
Floating Shelves: I've always wanted wood floating shelves to add character in my kitchen. That way, I can add 10 more plants in there too 😀 I'd love to get some barn wood if possible!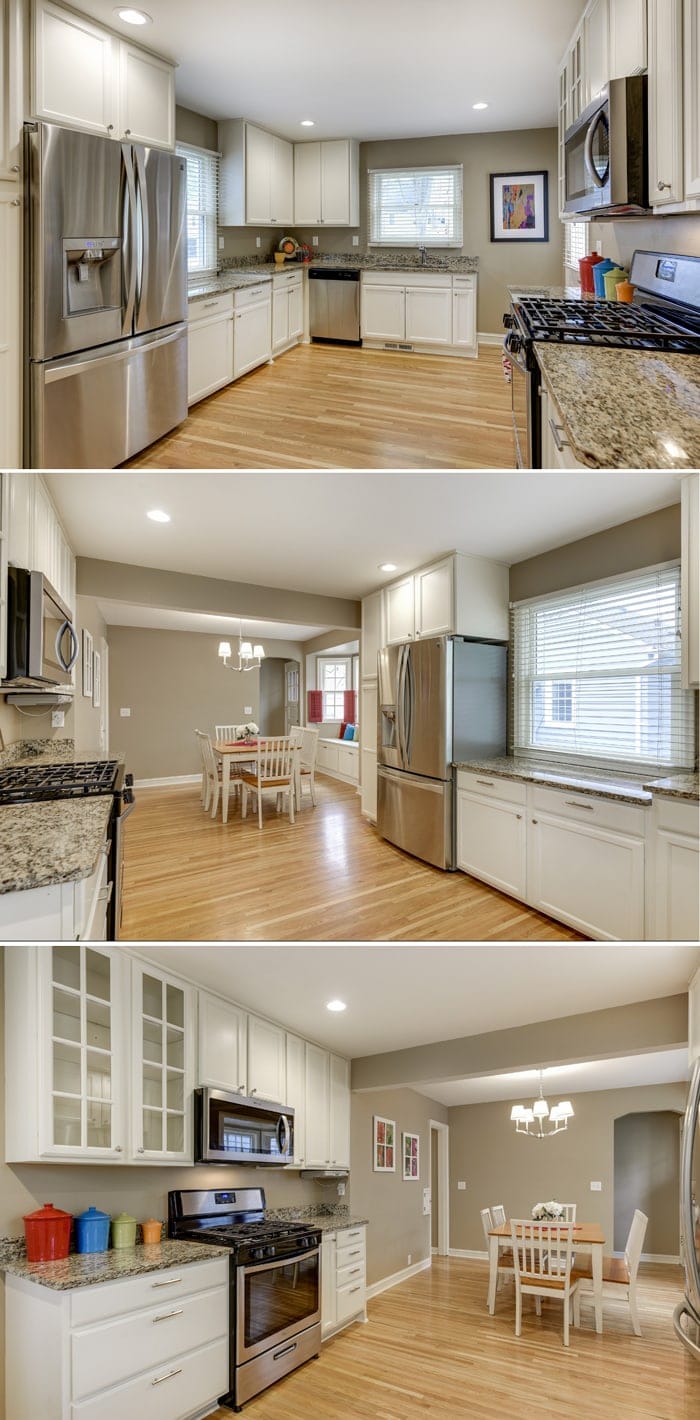 Office
A few simple tweaks in the office are going to have Fit Foodie HQ looking swoleeeeee. Not much needs to be done in here other than new trim and paint. One thing that I do want to do is a plant wall! You guys know I have a major obsession with plants and I'd love to turn one of the walls into a plant wall.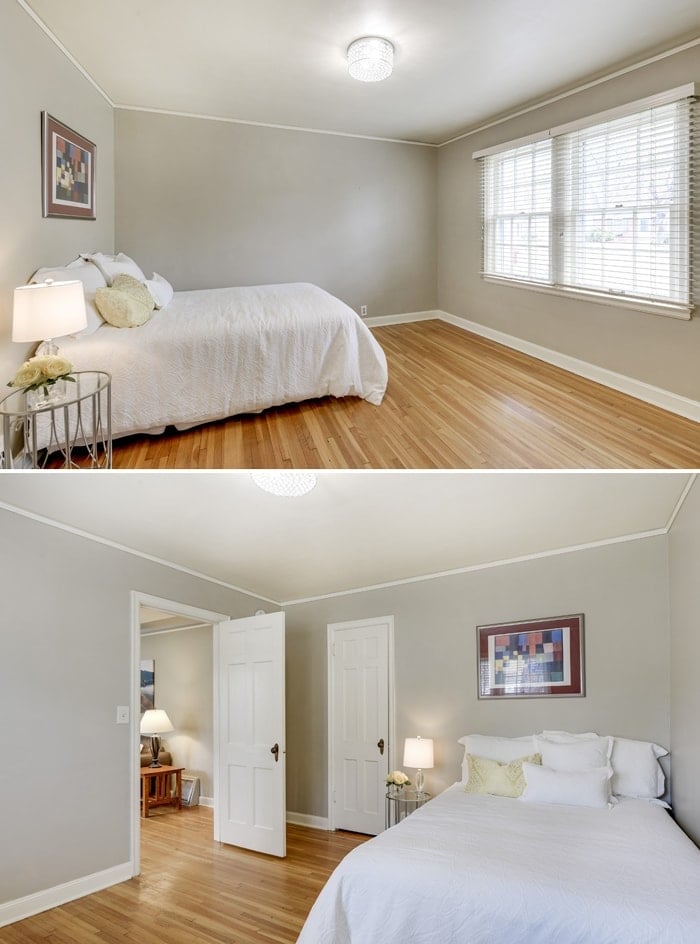 Master Bedroom
I've already shared a few sneak peek photos of the master bedroom and let me tell you, paint and trim really does wonders. The first true test of Pure White already happened in the master (will show a photo on IG later tonight) and it looks SO GOOD. My mom, Mark, and I painted the ceiling and the walls. Now, all we have to do is install trim. One other thing we may or may not do is add a California Closet. I got a quote and TBH, it's not that bad! We will see how budgeting ends up at the end of the year. Right now, we have a pretty basic closet system in there, but a California Closet would be SOOOO nice. TBD on this one.
Oh, a little tidbit of history. The master bedroom was part of an addition. We believe it happened over 10 years ago. My house used to be a 1.5 story (there's lots of these in MPLS) and what they do is pop one side up so that they can expand it and add a bathroom.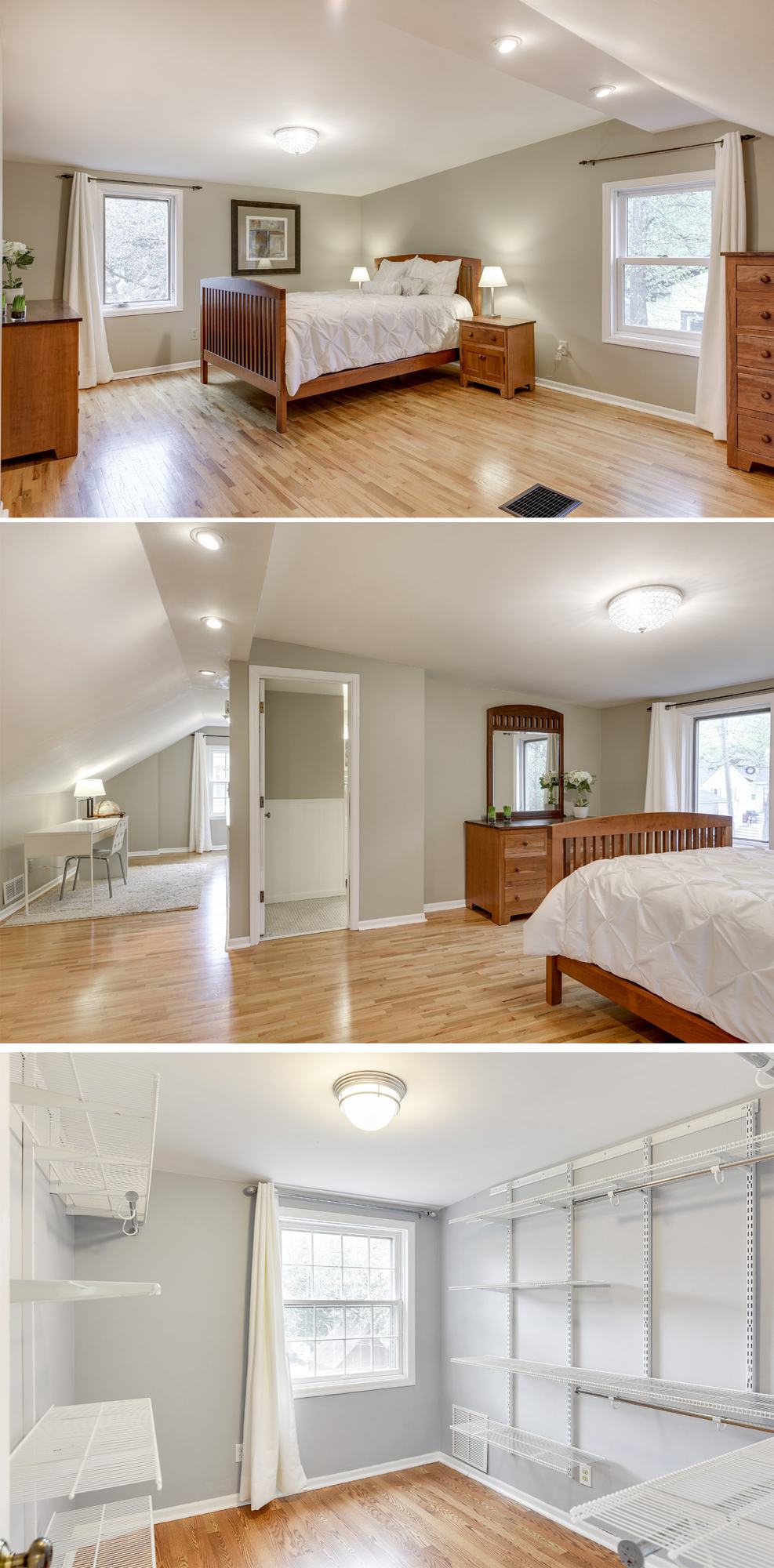 Master Bath
The master bath situation was also part of the addition. I mentioned that this was put in over 10 years ago and well…it's 10 years old. I really hate the vanity that's currently in there. It's not TERRIBLE, I just don't love it. I do like the floors, but unfortunately there's paint all over them! The old homeowners were not very meticulous when painting and often got paint on our hardwood floors and bathroom floors. If I have my way, one day we will tear this bathroom out and completely renovate it.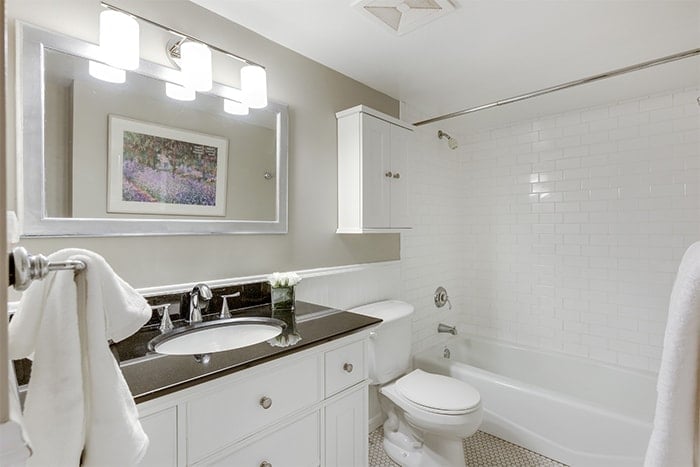 Guest Bedroom
This space is similar to the office. New trim and paint are going to do wonders!
Guest Bath
The guest bath is the only bathroom on the main level. We might end up having to redo this entire bathroom because when they last updated it (I'm guessing 15 years ago) they did a super shitty job. The tile is uneven and there's caulk everywhere and the drywalling was installed horribly. There's also water damage on the ceiling which is concerning to me. I think we'll end up gutting this bathroom before the upstairs one just because of the current situation. One thing I want to note is that the original floors ain't going nowhere! OBSESSED. There so beautiful! Below you will find what (eventually) needs to be done.
Tub: This is a caster tub, so I'm pretty sure our best bet is to refinish it, but who knows! Maybe we'll end up replacing it.
Toilet: The toilet is VERY low and VERY wide. I think a new one will be very efficient and look so much better.
Tiling: like I mentioned above, the old homeowners did a shitty job tiling. This is going to do wonders.
Drywall: We have some water damage in the ceiling, which needs to be fixed ASAP. While they're at it we'll likely have them fix the other drywall situation, which was installed very poorly.
Lighting and hardware: The lighting and hardware seem to be original. ADIOS.