This month we are making one of Fit Foodie Finds most popular salad recipes, Street Corn Salad. Just in time for the summer months, this corn salad is packed with flavor from an amazing cotija sauce and is full of delicious, crunchy veggies.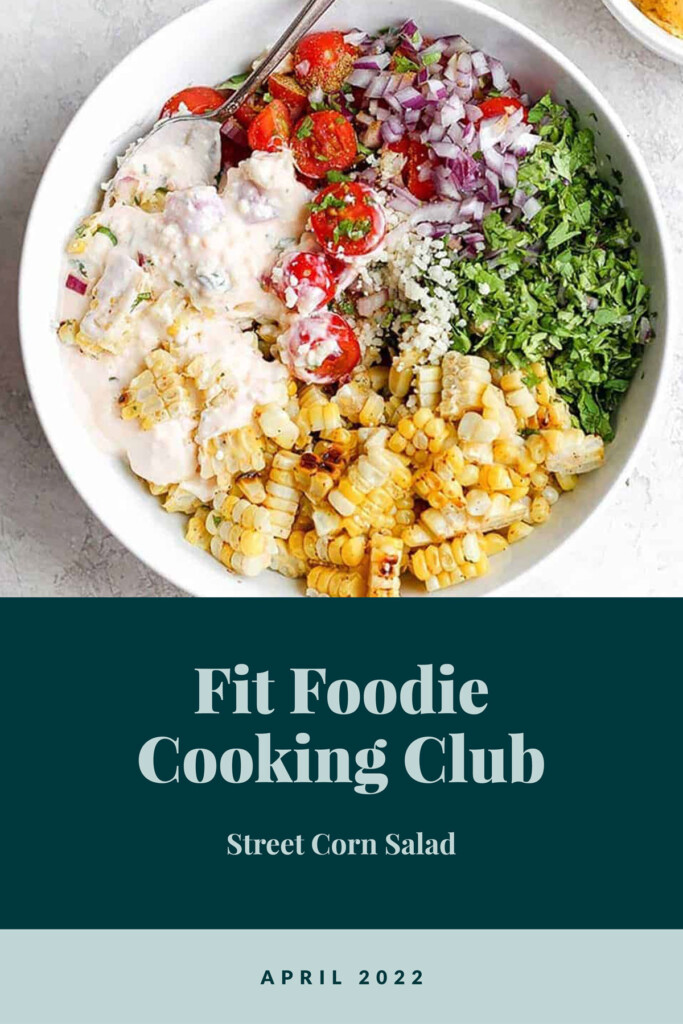 What is the Fit Foodie Cooking Club?
The Fit Foodie Cooking Club is a monthly cooking challenge to get you in the kitchen cooking from scratch!
We thought there was no better way to bring our virtual community together than to all make the same recipe each month to celebrate real food.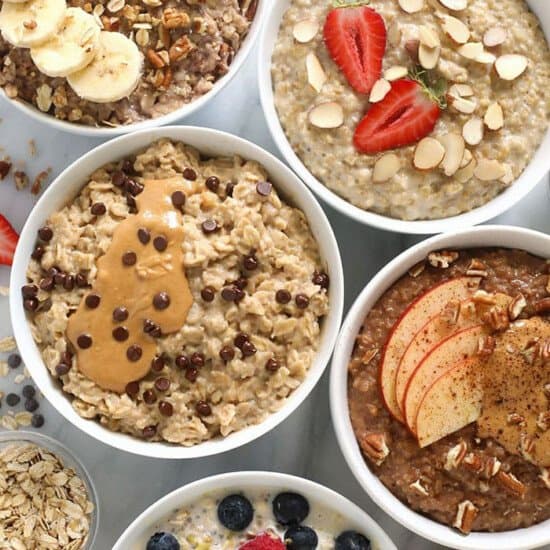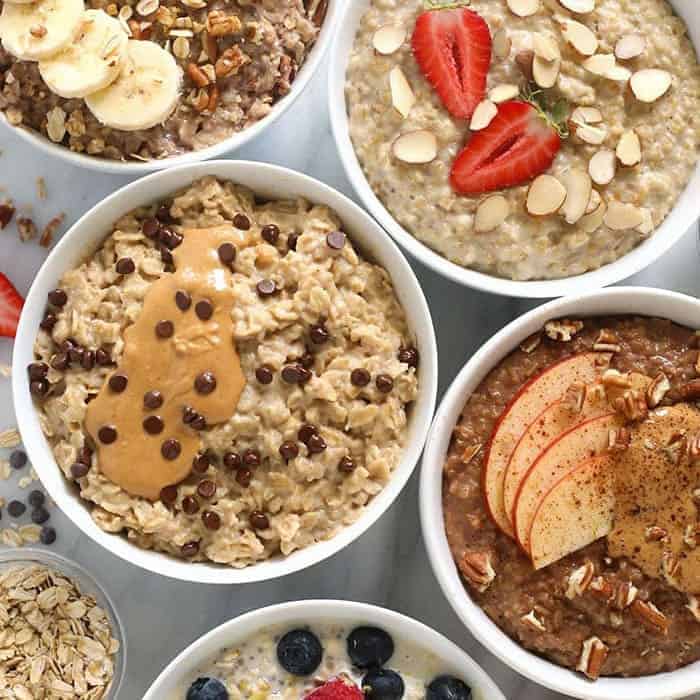 Join the Club!
Fit Foodie Cooking Club
Be the first to know about the recipe of the month + get other Fit Foodie Cooking Club announcements right to your inbox!
Subscribe
April 2022 – The Details
Read the below details VERY carefully as we want to make sure your entry counts! If you have questions, please leave them in the comments of this post.
Recipe of the Month
This months street corn salad is one of our favorite summer salads on FFF! It is crunchy, packed with so many vegetables, and is slathered with an amazing cotija sauce.
Why you'll love this recipe
The flavors of this corn salad are fresh, summery, and delicious.
The cotija cheese sauce for this salad makes the dish! It's salty, limey, and flavorful.
You can make this corn salad and eat it all week long on it's own, in a burrito bowl, in tacos, or any way your heart desires.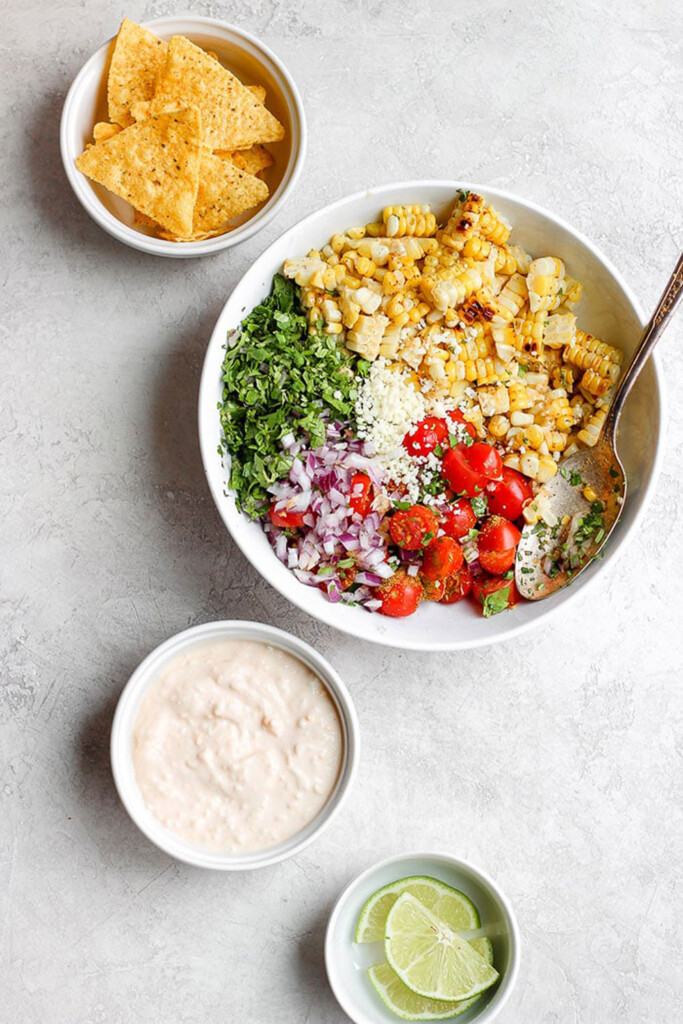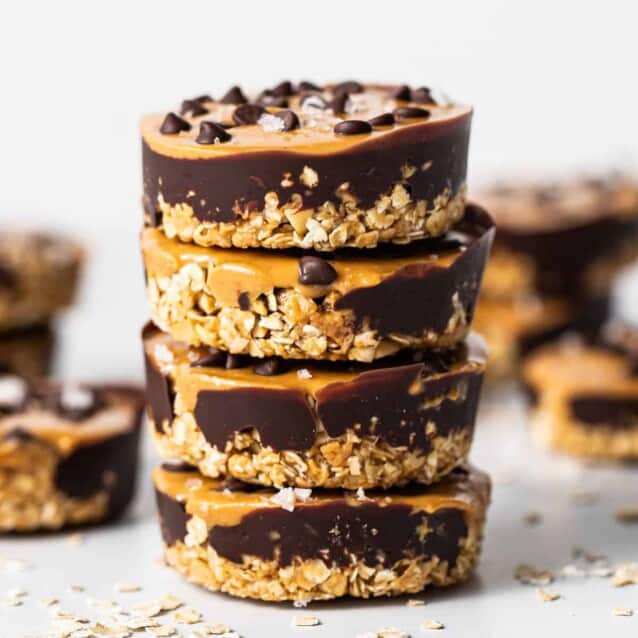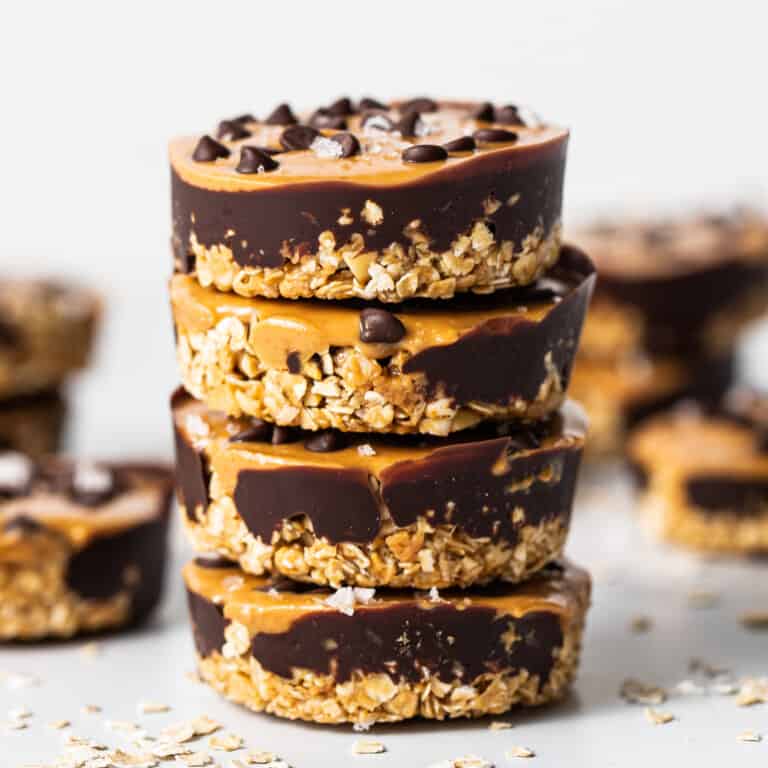 Get our Top 10 5-Star Recipes!
Join our email list for new recipes and BONUS: get our top 10 ⭐️⭐️⭐️⭐️⭐️ recipes e-book!
All About Street Corn Salad
This Street Corn Salad is inspired by classic Mexican street corn salad. Our version is made with grilled corn, tomato, onion, and the most delicious cotija yogurt sauce with lime juice.
Ingredients You'll Need
Corn– We highly recommend using grilled fresh corn, but if you are in a pinch you can use frozen corn. Just be sure that you thaw the frozen corn and remove any excess moisture from the corn before using it.
Cotija cheese- you make a creamy and salty cotija cheese sauce and mix it in with the corn and other veggies. You can buy already crumbled cotija or a chunk of cotija and crumble it yourself.
Spices– we use chili powder, cumin, garlic powder, salt, and pepper as the spice mix for this corn salad.
Tomatoes- We recommend using cherry tomatoes and halving them, but if you need to use large tomatoes and dice them up, go for it.
Red onion- Red onion can be a bit polarizing. If you love red onion, finely dice the red onion up and add it to your salad bowl!
Cilantro- You can't have a Mexican Street Corn Salad without cilantro. If you're not a cilantro fan, feel free to skip it or fold in some arugula to the corn salad.
Tools You'll Need
How to Cook Corn for Street Corn Salad
The most time intensive part of this recipe is cooking the corn. You have two choices when it comes to cooking the corn and after that you just toss all of your ingredients together. Before anything, decide how you are going to cook the corn.
Grilled Ears of Corn
If you are going to grill the corn for this street corn salad, slather 6 ears of corn with oil and the spices required for this recipe and wrap the ears of corn in tin foil. Grill the corn at 400ºF for 20-25 minutes.
Remove the corn from the grill and let it cool before cutting the corn kernels off the grill.
Sautéd Corn Kernels
If you are sautéing the corn on the stove top, cut the fresh corn kernels off the cob or thaw out frozen corn.
Heat a large skillet over medium/high heat and add the avocado oil to the skillet. Add the corn kernels and spices to the pan and sauté the corn until golden brown.
Recipe Tips
Char the corn. Whether you are making this recipe with grilled corn or sautéd corn, cook the corn until it starts to turn golden brown or has charred bits. It adds so much flavor to the salad.
Make sure everything is chopped the same size. They key to salads like this corn salad is to get a little bit of each ingredient in every bite. Be sure to chop everything into bite-sized pieces.
Have fun. Make this recipe your own by adding fun toppings and mixing in other ingredients.
How to Enter
Now that you know how to make the recipe, it's time to submit your creation!
Go to the Street Corn Salad blog post.
Make the recipe and snap a photo of it.
Leave a comment on the Street Corn Salad blog post with a photo of your creation letting people know how it went. We'd love a star-rating, but it's not required. Make sure to leave your name and email in the comment form because this is how we'll contact the winners!
join the fit foodie cooking club on facebook!
Join in on the Fit Foodie Facebook fun and become a member of our FREE Facebook Group. The Fit Foodie Cooking Club group on Facebook is a way to share your cooking creations and make new like-minded friends online.
Important Dates
Tuesday, April 5, 2022 – the first day you are eligible to submit an entry.
Tuesday, April 26, 2022 – the last day to submit your photo and comment.
Wednesday, April 27, 2022 – the winners will be randomly selected and announced in this blog post and on social media.
The Prize
2 participants will each win a $100 Target gift card. The selection will be random and based on comments that are received between April 5 through April 26, 2022.
Winners will be announced on the last Wednesday of the month (April 27, 2022) via social media and blog post.
Charity of the Month
TRANS YOUTH EQUALITY FOUNDATION
Each month we select a different charity to support. This month we are standing next to our LGBTQIA family and donating to the Trans Youth Equality Foundation. We believe that everyone should grow up feeling supported and loved.
April 2022's charity of the month is the Trans Youth Equality Foundation. We'll be doubling the match from our giveaway winners to donate $400 to Trans Youth Equality Foundation.
The Trans Youth Equality Foundation provides education, advocacy and support for transgender and gender non-conforming children and youth and their families.
Their mission is to share information about the unique needs of this community, partnering with families, educators and service providers to help foster a healthy, caring, and safe environment for all transgender children.
DONATE
We would love for you to support our monthly charity and donate what you can.
If you feel so inclined, donate to the Trans Youth Equality Foundation here.