This month's cooking club recipe is the ultimate comfort meal. Our Chicken and Rice casserole is a one-pot meal with a ton of flavor. It is going to be a new family favorite!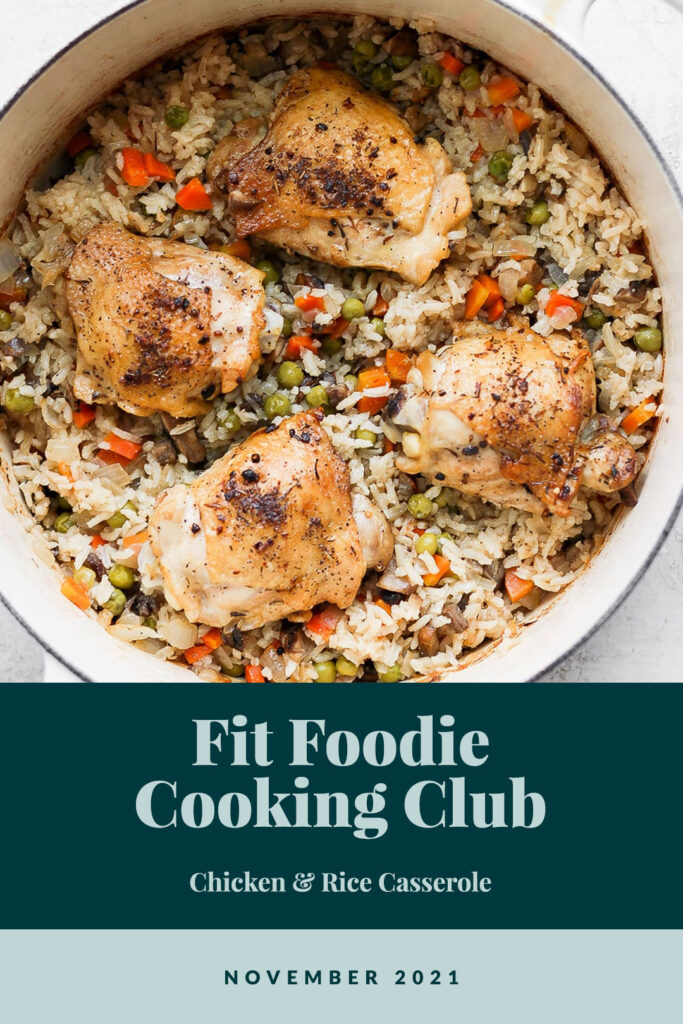 What is the Fit Foodie Cooking Club?
The Fit Foodie Cooking Club is a monthly cooking challenge to get you in the kitchen cooking from scratch!
We thought there was no better way to bring our virtual community together than to all make the same recipe each month to celebrate real food.
November 2021 – The Details
Read the below details VERY carefully as we want to make sure your entry counts! If you have questions, please leave them in the comments of this post.
RECIPE OF THE MONTH
November 2021's recipe of the month is our chicken and rice recipe. This chicken and rice recipe is a one pot meal with a ton of flavor. It is the ultimate comfort food that we guarantee the whole family w ill love!
The minute we posted our chicken and rice recipe, people went crazy. From the chicken thighs to the veggies to the seasoning people couldn't get enough. Give it a try for this month's cooking club recipe.
Why you'll love it
One-pot meal. This chicken and rice recipe is made in one dutch oven. The chicken is seared in the pot, the rice cooks in the same pot, and then boom, you add the rest of the ingredients and bake to perfection.
Classic flavors. If you love home-cooked, comfort food flavors, this chicken and rice recipe will be right up your alley. It is made with classic vegetables and seasonings. It is also made with our oh-so-popular chicken seasoning that we love to use on almost everything.
Great meal prep. If you are looking for a meal that you can make and serve for a few days, this chicken and rice is a great option!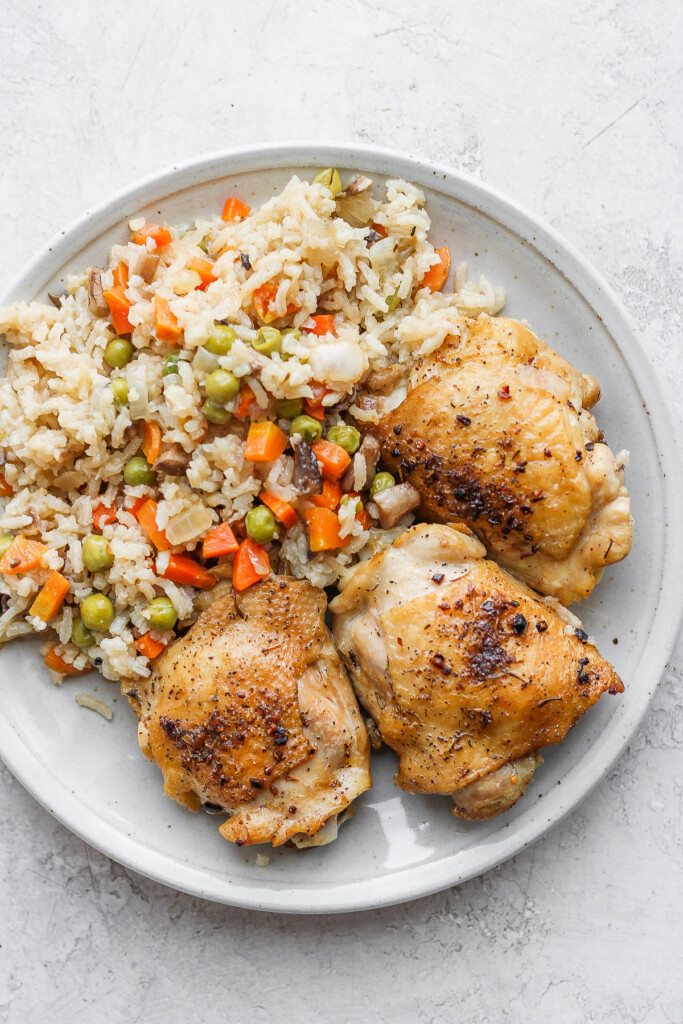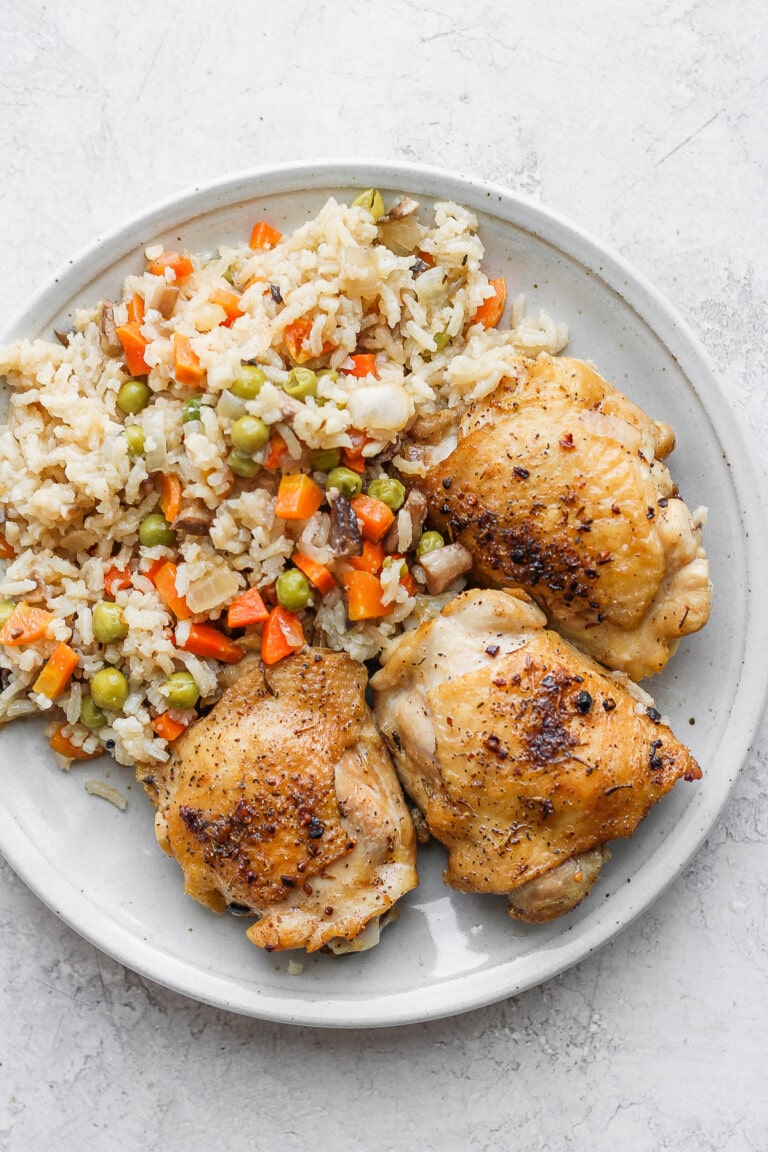 Ingredients You'll Need
Chicken Thighs: We use bone-in and skin on chicken thighs for this recipe. We love the flavor bone in chicken thighs give this recipe as well as the skin.
Homemade Chicken Seasoning: One of the stars of this recipe is the homemade chicken seasoning we have on FFF. We found the perfect combination of garlic powder, chili powder, cumin, dried thyme, brown sugar, and a few more spice that compliments chicken perfectly.
Long grain white rice: This recipe calls for basmati white rice, but it will also work with jasmine rice. We did NOT test this recipe with brown rice or any kind of instant rice, so stay away from those.
Veggies: Vegetables you need for this chicken and rice recipe are carrots, onion, mushrooms, and peas. Feel free to substitute our veggies with some of your favorites.
Broth: We use chicken broth in this recipe. Try something new and skip the boxed broth for better than bouillon. It has a ton of flavor, takes up less room, and lasts forevers. It's also a great way to reduce waste. If not, any chicken broth works:)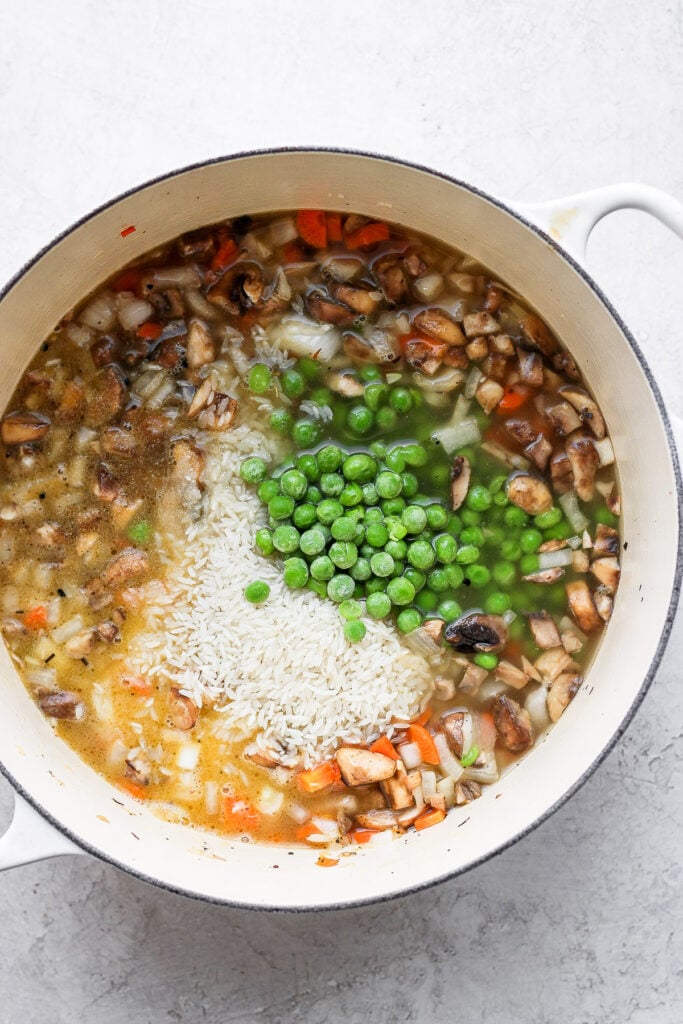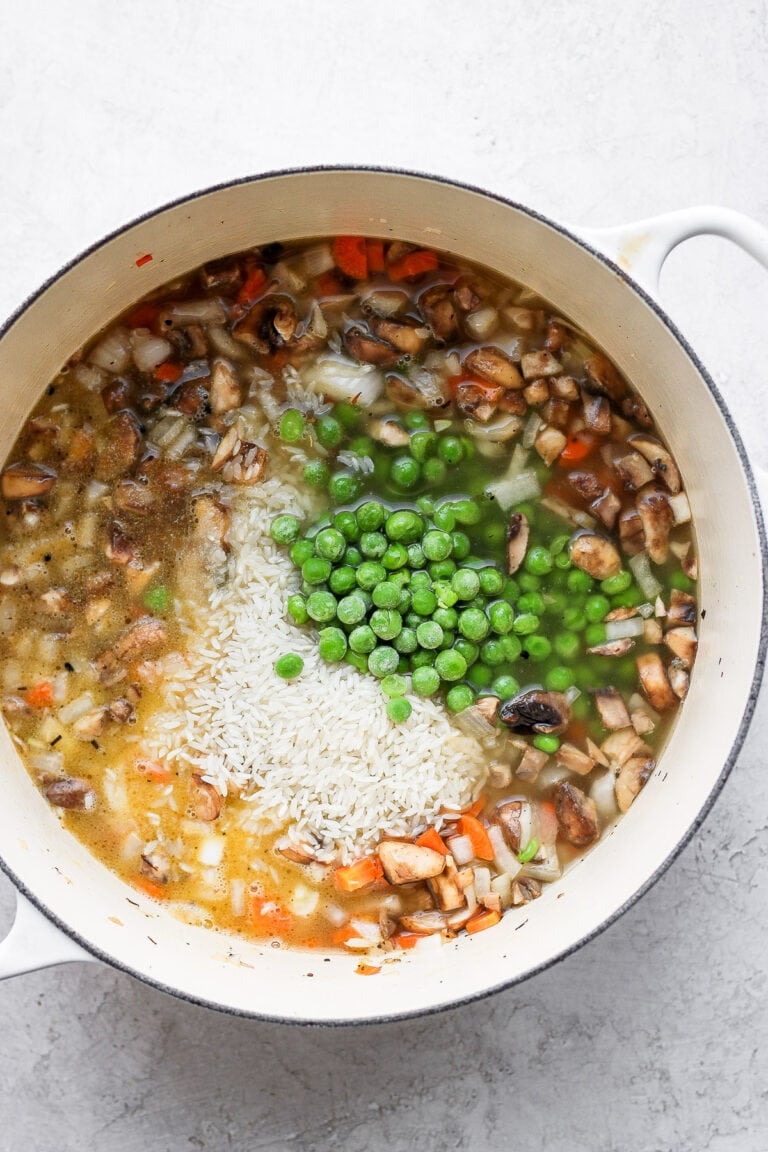 Recipe Tips
Sear the chicken first
Be sure that you sear the chicken thighs before you move on with the recipe. It adds so much flavor to the whole dish and also crisps up that chicken skin to perfection.
Make your own chicken seasoning
If you have the time, we 100% recommend making your own chicken seasoning because it's the flavor is better AND there isn't any added junk. Try our homemade chicken seasoning and keep a batch in your cabinet at all times.
Secret Ingredient
Our secret ingredient is Worcestershire sauce! It's vinegary and savory and such a great flavor addition. Don't have Worcestershire? Try using balsamic or apple cider vinegar instead.
Spice to your liking
If you want to give this chicken and rice a bit of a kick add 1- 2 teaspoons of red pepper flakes to your spice mix.
How to Enter
Now that you know how to make the recipe, it's time to submit your creation!
Go to the Chicken and Rice blog post.
Make the recipe and snap a photo of it.
Leave a comment on the Chicken and Rice blog post with a photo of your creation letting people know how it went. We'd love a star-rating, but it's not required. Make sure to leave your name and email in the comment form because this is how we'll contact the winners!
join the fit foodie cooking club on facebook!
Join in on the Fit Foodie Facebook fun and become a member of our FREE Facebook Group. The Fit Foodie Cooking Club group on Facebook is a way to share your cooking creations and make new like-minded friends online.
Important Dates
Monday, November 8, 2021 – the first day you are eligible to submit an entry.
Tuesday, November 30, 2021 – the last day to submit your photo and comment.
Wednesday, December 1 , 2021 – the winners will be randomly selected and announced in this blog post and on social media.
The Prize
2 participants will each win a $100 Target gift card. The selection will be random and based on comments that are received between November 8 and November 30, 2021.
Winners will be announced on the last Wednesday of the month (December 1) via social media and blog post.
Charity of the Month
Each month we choose a charity to support. This month we supporting Feeding America. November is a busy month with many gatherings and we wanted to support a non-profit that supports people who need a little extra help, because no one should go hungry.
Feeding America works to get nourishing food – from farmers, manufacturers, and retailers – to people in need. "When you support Feeding America, you are helping our nationwide network of food banks deliver programs at the front line of hunger. Programs like school-based food pantries, emergency disaster relief, and Kids' Cafe."
We'll be doubling the match from our giveaway winners to donate $400 to Feeding America.
DONATE
We would love for you to support our monthly charity and donate what you can.
If you feel so inclined, donate to the Feeding America directly.