We're home!!!!! I just went on the trip of a lifetime with my two best friends and team! As I mentioned before, we were in Salt Lake City for the Everything Food Conference last weekend, so we took the opportunity to do a little more exploring in Utah considering none of us had ever been there. WHAT AN UNDERRATED STATE. I feel like Utah has 6 different climates and could probably be the movie set for 3 different planets. In one direction there's lush green trees, in another there's snow capped mountains, and in another it's MARS.
Lin, Em, and I ventured down to Moab, UT Saturday night after the conference. It was about a 4 hour drive and not bad at all, plus the views along the highway were breathtaking. We rented a standard sized car (it's all you really need unless you go off roading) and decided to stay in a cheaper hotel because we knew we'd pretty much only be using it for sleep and to store our schtuff. Up at 6AM and in bed at 10PM every day….without an alarm. That's how excited we were to be in Moab. We had a few goals for our girls trip:
1. EAT – because we love good food and micro brews.
2. HIKE – because we were born with legs and the best way to explore is on foot.
3. BOND – because everyone should take time to spend time with their people.

What We Hiked
If you've ever met Linley or Emily then you know that they are GO GO GO. Emily has run a few ultra marathons (ULTRA — that's 50k, people) and Linley is an energizer bunny so I knew I'd be the slow poke of the three. While it was challenging keeping up with them, it's nice to know that I can still push myself and do 30 miles in 3 days. We had plans to do 2 long hikes (12 miles+) and 1 shorter hike (8 miles) and we almost got there. We ended up running into some weather on the 3rd day so our second 12 miler got cut short, but was still equally as amazing.
I want to start off by saying that Moab is a fantastic place to stay if you're looking to hit up Canyonlands and Arches. It's rather close to Arches (less than a 10 minute drive to get inside the park) and around an hour and a half to Canyonlands. We chose hikes based on mileage and what was at the end. Oh and of course we took recommendations from YOU guys, so thank you!
miles: 12.8 || time: 6.5 hours
This was the longest and most challenging hike that we did during our stay in Utah. We drove about an hour and a half south to the Island in the Sky sector of Canyonlands National Park. It starts off by basically scaling down a canyon into a valley, where you then zig zag your way through the canyons on a wash (pretty much what used to be a river) ending at an awesome view of Zeus and Moses (a rock structure in the distance). We only passed 3 other hikers while we were there, which was really cool because a lot of the hikes we did in Arches were packed with people. I suggest getting there as early as possible and packing a LOT of water. Most of the trail is in direct sunlight, so be mindful of that and be sure to pack extra water and food as the total mileage is close to 13 miles. I would consider this hike advanced, but 100% worth it.

miles: 3 || time: 1.5 hours
If you're in or around Moab, Delicate Arch IS A MUST. This hike is located in Arches National Park, which is about 2 miles outside Moab. It's a 3 mile round trip, out and back hike, that ends with an unbelievable, up-close view of Delicate Arch. There are plenty of opportunities for photos and I suggest that you spend some time at the arch and take it all in. If you can, go at sunrise or sunset. Unfortunately we were not able to do so due to construction on the main highway, but we talked to so many people who suggested doing this. You'll want to make sure you have a headlamp because navigating the 1.5 miles to and from the arch would be a bit challenging in the dark. PS: if you're not into hiking, but still want to see Delicate Arch, you can see it from 2 different view points in the park.

Arches — Broken Arch, Tapestry Arch, and and Windows
miles: 9.5 miles (combination) || time: 4 hoursish
When in Arches, SEE ALL THE ARCHES. This was a great combination hike to hit em all at the same time! The terrain was pretty flat (I say this with a grain of salt), but worth going on if you like Arches. You're pretty much exposed in the sun the whole time, so don't forget sunscreen! Arches National Park seems to be more touristy than Canyonlands because there are many view points where people don't even need to hike. We suggest getting there as early as possible so you have a place to park and so the sun isn't so treacherous. Don't forget to pack a ton of snacks and water, water, water.

Canyonlands — Chestler Park
miles: 6 || time: 3 hours
The Chestler Park hike is located in the Needles sector of Canyonlands, about an hour and a half drive from Moab. You pretty much zig zag your way through a canyon with needle-like rock formations everywhere. A lot of the hike is on exposed rock, but there is also quite a bit of sand that you'll have to tromp through. If sunny, you will be in direct sunlight, so make sure that you bring a lot of water. We ended up getting hit with a ton of rain and temperatures plummeted, so we didn't actually finish the hike. We didn't have proper rain gear which was really unfortunate, so make sure you pack your rain coat just in case!

Lions Head Trail
miles: 4 || time: 1.5 hours
This is actually a bike path that spans all the way from Moab to Canyonlands and beyond! We started at the Colorado River right outside of Moab and headed towards the campground. If you're a runner, this would be a great place for you to hit the pavement — because you're on pavement 🙂 While we didn't run it, we talked about it. It's surrounded by beautiful red rock and the raging Colorado River! The nice part about this stroll is that it's right on the outskirts of Moab, so pretty much 5 minutes from wherever you stay in town!
Hiking Tips in the Moab Region
I wanted to end with a few hiking tips for the Moab region if you do end up adventuring here.
Always bring more water than you think you'll drink!
Check the weather before you set off for your hike because flash floods and lightening can be epically dangerous. If there is lightening, avoid rocky areas as lightening can travel through the iron in the rocks.
Ask locals and park rangers for their hiking recommendations. They know what's up.
Be flexible. You never know what kind of weather or construction there will be, so make sure you have a back up plan for your hikes.
Pack light, but smart. Always have snacks and extra water and a rain coat. Weather can change in the blink of an eye inside these parks, so just make sure you're prepared!
PS: here's a post I wrote on all of my favorite active travel gear!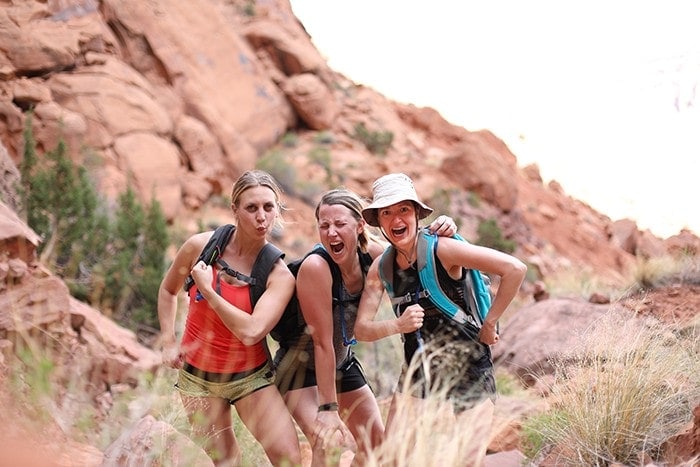 EAT
I think we might have eaten at every single restaurant in the entire town of Moab. JK, but we tried! As you know, we're all about balance here at Fit Foodie Finds. When in doubt, eat the fish and chips, especially after a 13 mile hike! Oh and don't forget about the beer. If it's local, order it! We learned a lot about the liquor laws in Utah…they cray if you ask me! No more than 4% alcohol is allowed in beers poured from the tap and all hard liquor is very regulated. No worries – we found a way around the beer thing and just had to order them from the can.

Peace Tree came HIGHLY recommended by everyone who sent us recommendations on Moab. Heart Heart Heart. I think we ended up going here three times…once for dinner, once for coffee and a smoothie, and for an app and beer. What a fun place and GREAT menu. Their patio is also pretty amazing. I ordered the burrito for dinner and it didn't disappoint. Order any beer on the menu from Moab Brewery and you're good to go.
By now you know that Team Fit Foodie has a mild obsession with beer, especially if it's brewed locally. Moab Brewery was AMAZE. Not only did we love their beer, but their menu was HUGE. We went here for dinner after our 13 mile hike day and were all satisfied with our orders. I went fish and chips with a side of vegetables and as a Wisconsinite, I was NOT disappointed. Their wheat beer was really yummy and I highly recommend this place if you're in Moab for any amount of time. There will likely be a line, but we hunkered down in the bar area!
We ended our stay in Maob with breakfast at the Jailhouse Cafe. I mean, who can really pass up a giant sign that says WHOLE GRAIN WAFFLES? While the hostess at this restaurant was not a very nice person, our server was amazing and the food was great! I obviously got the waffle with a black coffee and it gets an A+ for flavor and texture. I highly recommend! If you're not a waffle girl, Emily got the Swedish pancakes which were phenom and Lin got the all-American breakfast with a side of The World's Best Bacon (YOU MUST ORDER THIS).
We hit this cafe up not once, but twice! Once for lunch and once for breakfast to-go. They have great sandwiches, but where they really shine is in the breakfast burrito department. They actually serve breakfast until noon, so if you go here for lunch, I'd go before then so you can order a burrito! I ordered their chorizo burrito and it was SO. FLIPPING. GOOD. There's something about a chewy tortilla that I just love. You WILL be seeing something similar on FFF.
If you like Mexican you HAVE to go to Miguel's. We waited 45 minutes for a table but it was well worth the wait! There's nothing like authentic tacos and chips n' salsa…so good! We ended up ordering 2 orders of tacos (carne asada and pork) with a side of Modelo Negro. We heard from a few locals that Miguel's was the place to go in town for the real deal Mexican so we were really glad we waited so long for a table.
What a hidden treasure. This restaurant is off the main drag, but SO GOOD. Plus, they served brown rice which was a huge win. We ordered shrimp spring rolls for our appetizer and then 2 mains to share between the 2 of us: yellow curry panang and shrimp Thai basil stir fry. Finger licking good, I mean WOAH. I'm am definitely going to try and recreate that Thai basil stir fry sauce, it was brothy and delicious. What a great way to get your veggies in if you ask me 🙂
This is another restaurant that we hit up twice. Once we went for an appetizer and beers and the other we went for their ICE CREAM. Can we talk about how much I love ice cream? They have the cutest little window that you can walk up to for soft serve or normal ice cream. I'll take vanilla with sprinkles PLEASE! When we went for drinks and an app we got beers a la Moab Brewery and their brussels sprouts. YESSSS PLEASE. Highly recommend this place!
Woah that was a long post! I'd love to know if you've been to Moab and what you loved about it. I'd also love to know where you're traveling to next 🙂