GUESS WHAT I DID?
Buzzed my hair. JK, but I did cut 6 inches off! Life with short hair is actually kind of nice. I've been a long-haired, wild-child since I can remember…except for that one time I cut half my bangs off. Really though, I've had long hair almost my entire life and every time I cut it semi-short, I cry because I miss my long locks so much. This time I'm proud to say that I did not cry…but I did freak out a little bit. You know the first time you wash your hair after cutting 6 inches off, IT'S SCARY. Then the first time you do it and you're like WTF AM I DOING? Scary. Then you learn how to do it and all is good again.

This post was suppose to go up about 3 weeks ago, but life just gets the best of you, yah know? I've had this look since Halloween and I can't even count on all my fingers and toes the amount of times I've been asked how I style it! I learned how to style these texturized curls from Maggie, my stylist at Studio 890 in Milwaukee, and from watching about 16 hours worth of "LOB texture hair tutorials" on Youtube. In case you're wondering, LOB means long bob. I'm super proud that I've been able to semi-replicate what Maggie first did to my hair so I decided to film a little tutorial for your enjoyment. Technically this technique can be done with any length of hair, but I especially like it on a long bob. ENJOY!
PS: Is anyone else mesmerized by hair tutorials…and cupcake tutorials for that matter. I watch one and then they just keep playing and playing and before I know it, it's been like 2 hours.
As you can see from the video above, I've got a head full of curls. When I blow it out, it's one big frizzy mess. I've also got thick, coarser hair. There are definitely pros and cons to my kind of hair. The major pro, is that my hair will hold whatever I do to it. The biggest con is that I pretty much always have to style it in order for it to look presentable.
First comes first, you've got to dry your hair. I prefer to let my hair air dry as much as possible and then blow it out a bit. Right when I get out of the shower I use Moroccan oil throughout the entire thing. No matter how I plan on styling my hair, I use oil because it hydrates it and helps with my frizz. Before putting any heat to it, I spray on some Bb Primer from Bumble and Bumble (this protects your hair and smells really good) and then I'm ready to go! Once my hair is dry, I section that afro off with some clips and then I'm ready to curl! I just got a new straightener from Target…her name is FHI. The FHI Hair Straightener is pretty reasonably priced and perfect for curling your hair with a flat iron! It's a great size and ceramic all the way around so you don't pull your hair out as you're curling.

The reason why I like to use a flat iron to curl my hair, is because us curly haired gals need to actually semi-straighten the hair before actually curling it. A flat iron is basically a two in one and huge time saver! I used to go over my hair with my curling iron just like a flat iron before curling, but the fhi works even better. I also love the type of textured curl a flat iron creates as opposed to a wand or curling iron.
I've learned that the best way to learn how to do your hair is watch 16 hours of tutorials. So just watch my video about 194 times and then you'll get it! Instead of going step by step on how I curl…I'm going to give some tips!
Curl the majority of your head AWAY from your face, but throw in some pieces that go the opposite direction.
Leave out the ends! It gives it a more texturized look!
If you brush through it at the end, it will loosen your curls.
The longer you hold down on your flat iron as you're curling, the "curlier" your curls are going to turn out.
POMADE IS LYFE.
Practice, practice, practice!
Once I'm done styling I spray it with a good amount of hair spray and then run some pomade through the tips and at my roots. Pomade is key friends! Don't use too much or it will get sticky, but adding a little to the ends will help the hold and give it a pieces look. It's also great for flyways at your roots!
Here's a list of the product I use: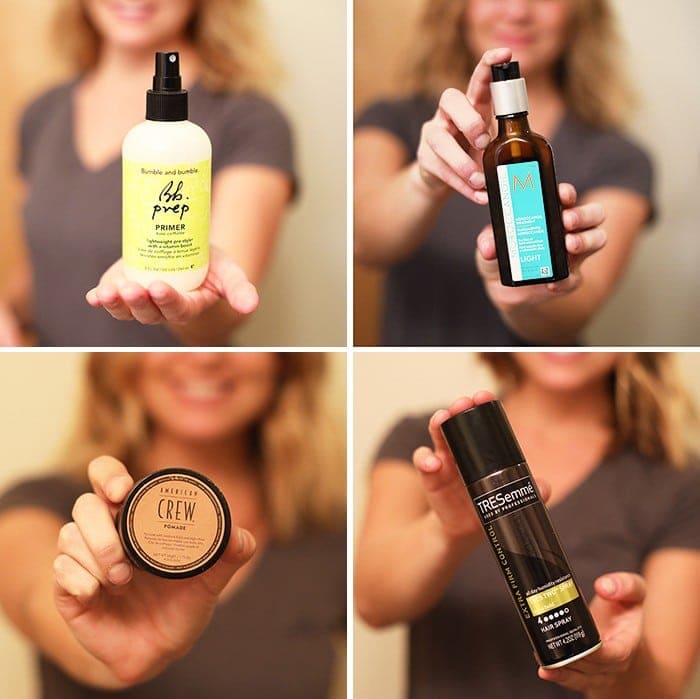 Bumble and Bumble Primer // Moroccanoil Treatment Light // American Crew Pomade // TRESemme Hair Spray
Since I've made this tutorial, I've experimented even more with my hair! For example, instead of trying to get actual curls with the flat iron, I go in and make sort of a kink in my hair. If you do this at all different sections (some at the top, middle, and ends), you get a really nice textured look!
Okay- short-haired ladies, tell me your secrets! OR if you have naturally curly hair and wear it with your natural curls, give me tips!