…at Anytime Fitness HQ
I get this question a lot and it's about time I write a blog post on it! I think this is a really interesting story and it definitely parallels generation Y. It all started, way back at the very beginning stages of Fit Foodie Finds and my love for social media. During my sophomore year of college, I got a membership at the local Anytime Fitness near the University of Minnesota. At the same time, I was taking a New Media and Culture class, where I learned all about social media and how it was going to be the next best thing. We were encouraged to follow our favorite brands and role models on Twitter by the instructor and it was then that I decided to follow Anytime Fitness. At the time I didn't even have an FFF facebook page and I think I had a total of like 14 Twitter followers.
Just as I was getting the hang of the "tweet thang," Anytime Fitness tweeted THE QUESTION: What's your favorite breakfast?
Of course I responded with OATMEAL!
I got a favorite from AF and that was that. I wasn't expecting anything else, so I went on Twittering. About 3 weeks later I got a DM from Anytime asking for my email because they loved my blog (and the fact that I was from Minneapolis and went to the U of M). They wanted me to write for Anytime Health AND be compensated for it. That was something I never EVER thought would come from blogging. Being paid to do something I love: recipe creation and photography.
It turns out that the Anytime Fitness Headquarters is based in Hastings, Minnesota, right down the road from me-about 30 miles south of Minneapolis. Sweet, I really had no idea.
After about a year of blogging and recipe creation for AF, I got an unexpected invitation to attend their Annual Conference. Heck yes, a free trip to a place I'd never been! I was flown out to Washington DC and little did I know….I was presented an inspiration award for my healthy living blog in front of over 1,000 people from Anytime Fitness! It was like my 5 seconds of fame! I got a really cool trophy and got to wear a 2i (2 inspire) ribbon on my name tag.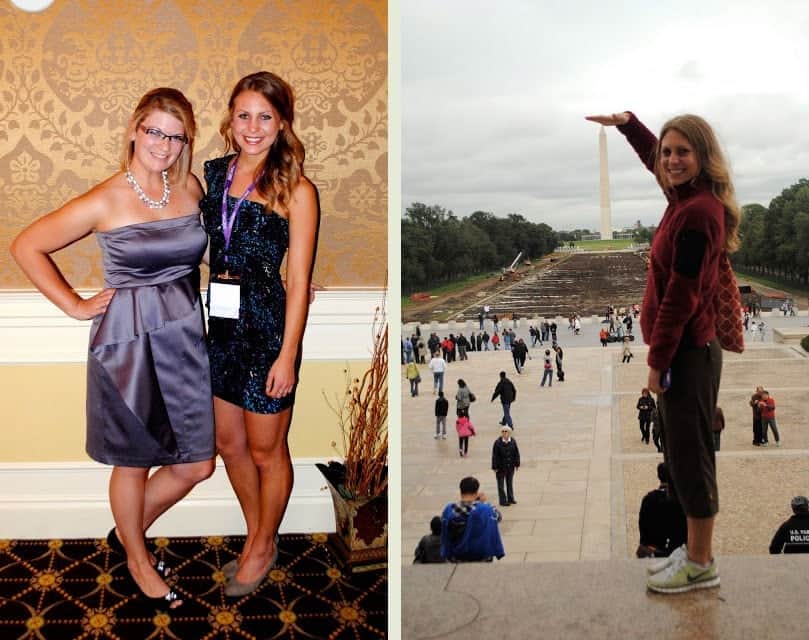 The conference is where I truly fell in love with the brand. I met the founders, owners, trainers, managers, etc.
So- the conference was the October of my Senior Year and I just knew AF was where I wanted to work post graduation. Operation: let's make this happen. I asked what their internship opportunities were like, and the Social Media Director, Andy, and blog content manager, Amanda, took me under their wing. During my internship I just so happened to be stationed in the "executive office." Don't ask me why…but I got to know the founders really well, which is what really solidified my wanting to be employed by AF.
I interned for about 5 months and when it came time to seal the deal, I just brought in some peanut butter balls. HAHA JK, I went through a few interviews and that was that. I had 2 weeks off from graduation to my first day of work and BOOM. I was a workin' woman. My first position was Social Media/Online Communications Specialists. It was a little bit of a lot of different, and I found myself really enjoying the social media marketing side of things. I just had my 1 year "official" anniversary at work this past week and my role is very different now than when I started. I just updated a new page in my menu bar about what my role is like at Anytime Fitness. CLICK HERE to read that.
I wanted to share this story to show the power of social media and how important your online presence is. You NEVER know who is watching or what kind of opportunity will come your way. That is why everything you post, write, and share should come from your HEART. I like to think I am the same girl offline as I am on.
(PS: I am currently in the car on the way to New Berlin, WI on my Verizon Hot Spot. Seriously, the most amazing feature on my Android.)
Questions- feel free to ask!