It's not every day that you get to speak with a veterinarian and ask them anything about your dog! Today we're chatting with Purina's Chief Veterinary Officer, Dr. Kurt Venator about why choosing the right nutrition for your dog is so important!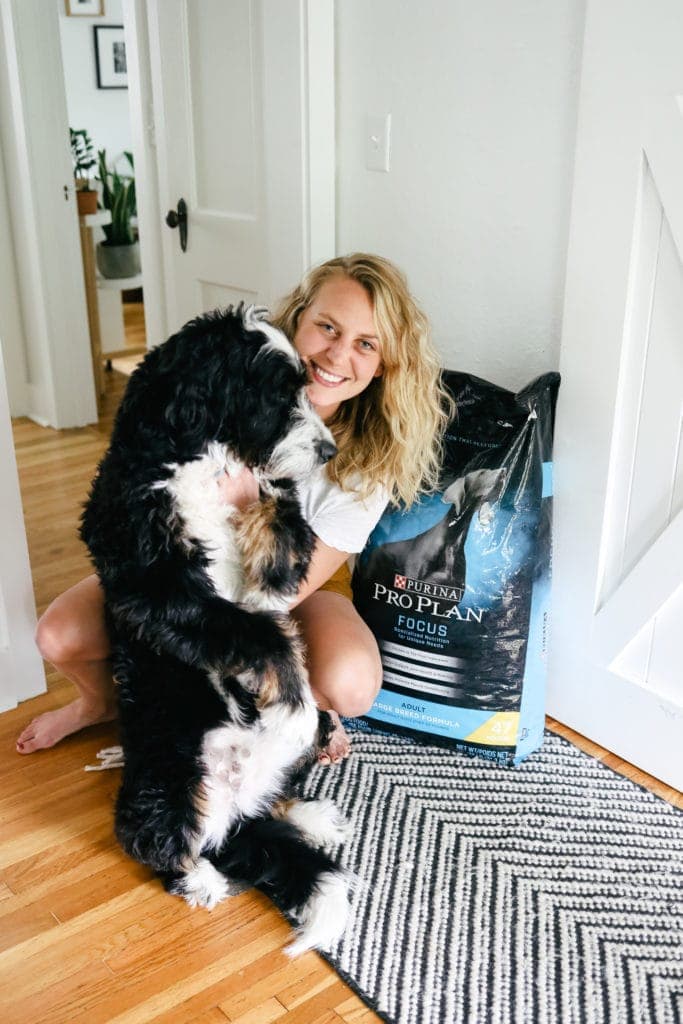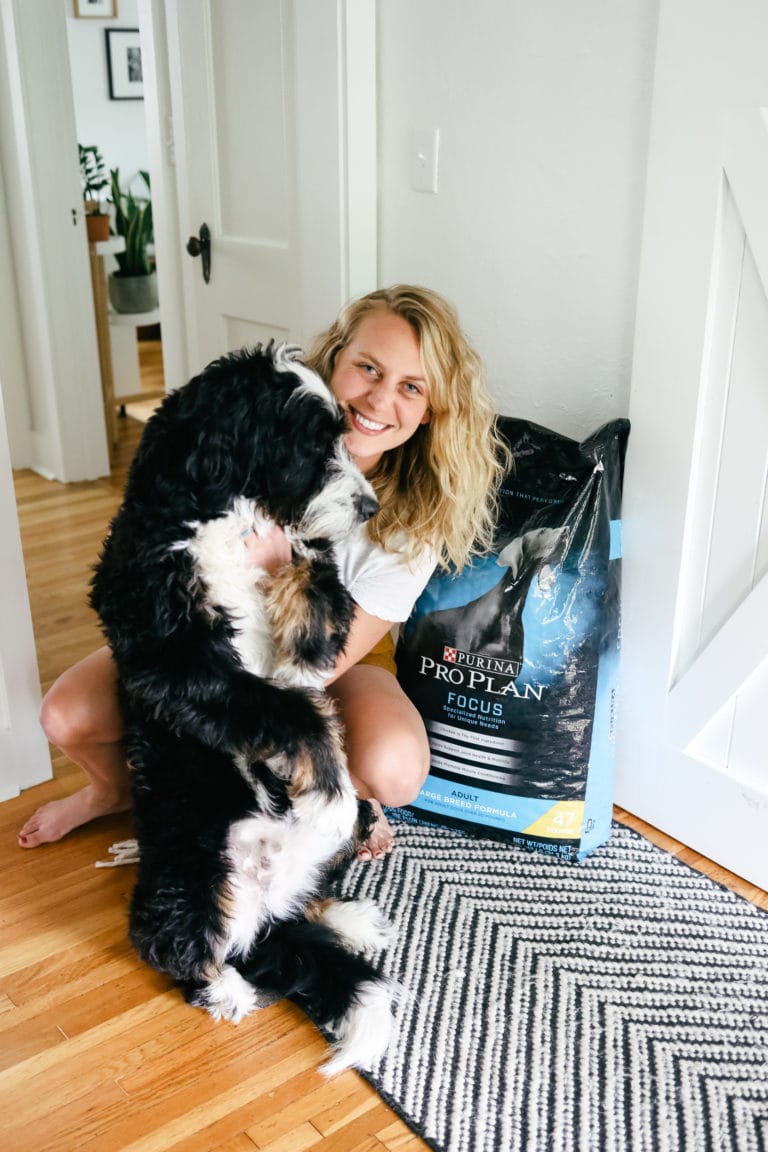 Meet Jasper!
Being a dog parent is one of the best parts about my life. Mark and I brought home our dog, Jasper, in May of 2019 and he really is part of the family. He's an 80 lb. bernedoodle who has the best demeanor and is just a joy to be around.
He gets us outside in all types of weather (even when it's -20ºF outside!), ask for pets when we are sad, and make us smile when he has puppy dreams sleeping on his back.
We have had quite the health journey with Mr. Jasper who just turned 1 in March. J
azz is our first dog as adults and we definitely didn't expect so many trips to the vet during his first year of life, but I am so glad we got introduced to Purina Pro Plan, which has been our saving grace for fixing his super sensitive tummy problems!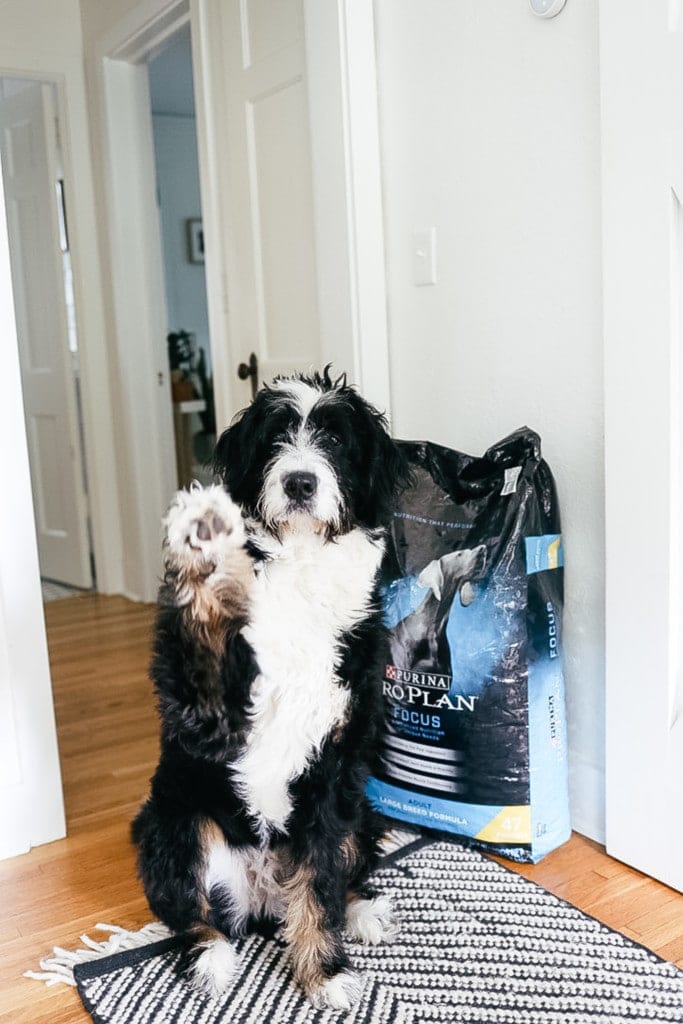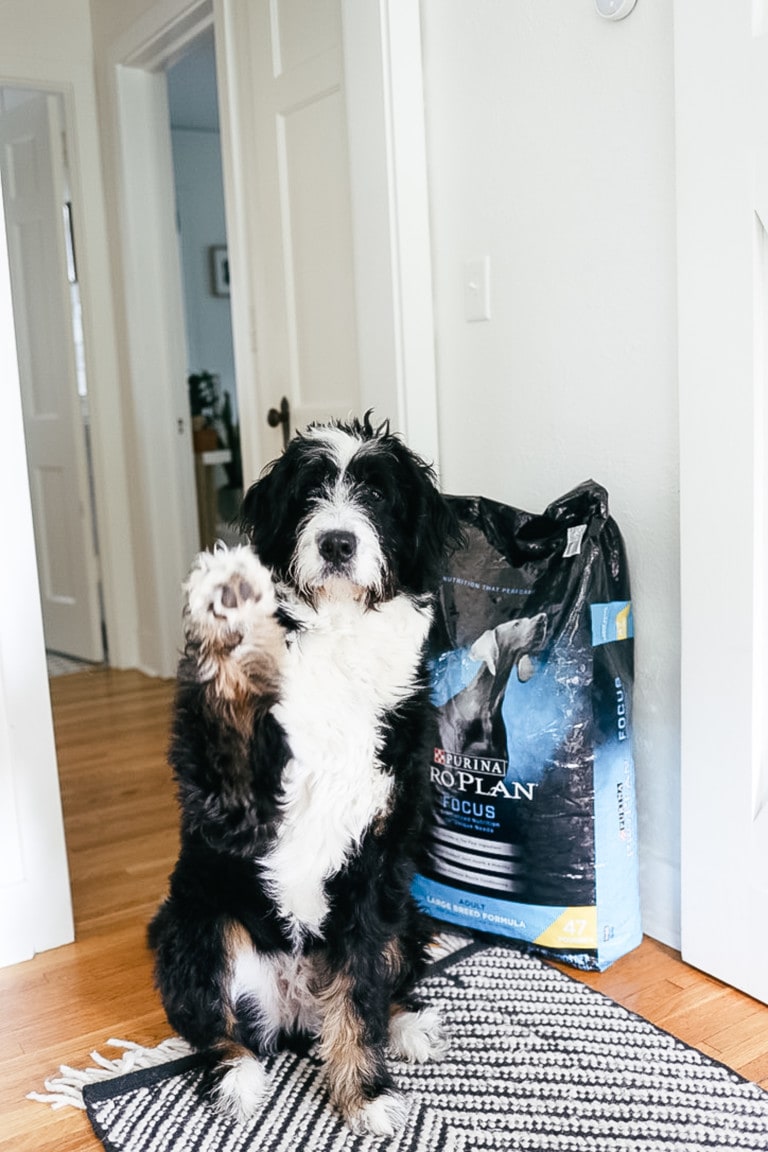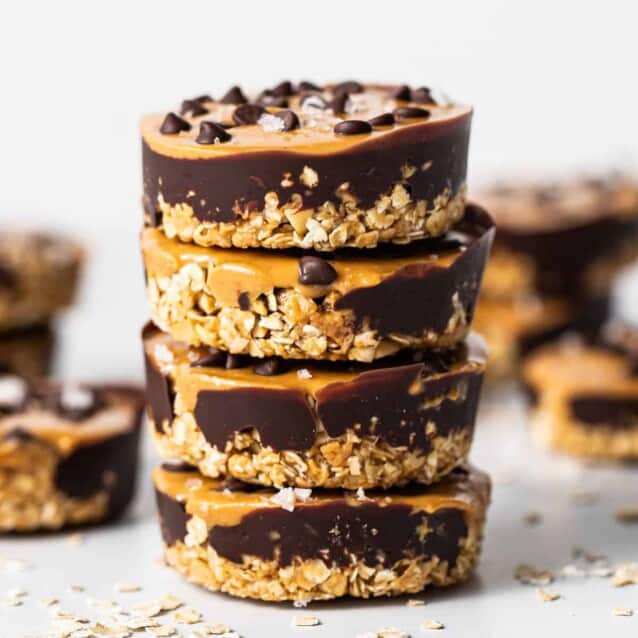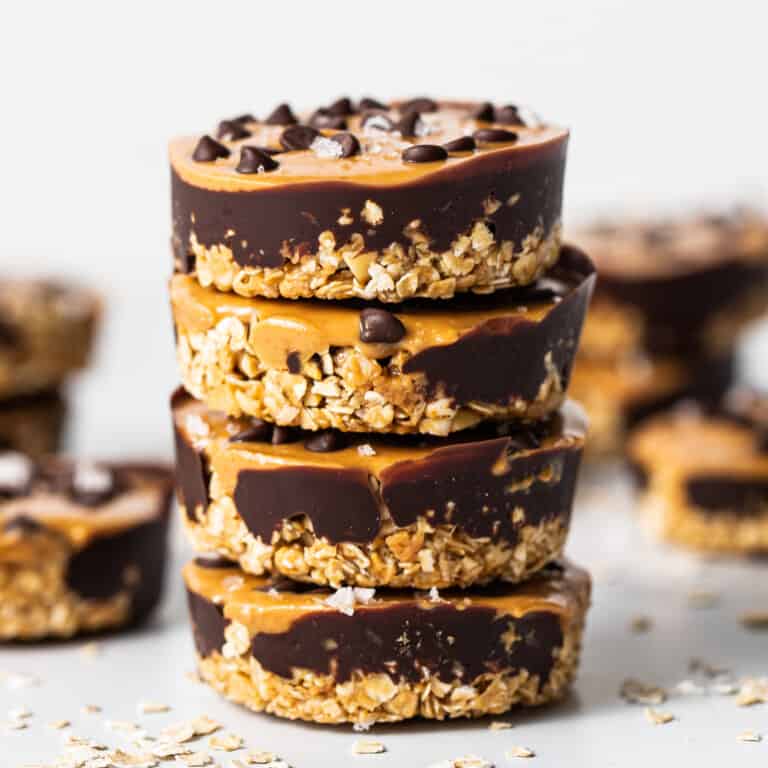 Get our Top 10 5-Star Recipes!
Join our email list for new recipes and BONUS: get our top 10 ⭐️⭐️⭐️⭐️⭐️ recipes e-book!
Purina Pro Plan
Purina Pro Plan is our #1 choice when feeding our pet for a variety of different reasons. Beyond Jasper absolutely LOVING the taste of his food, it's also backed by science.
85+ years of research
Backed by 400+ Purina scientists
Vet-recommended
High-quality ingredients
Purina Pro Plan has such a wide variety of products for every size and age dog. They pretty much have a special formula for every health need imaginable!
Jasper has been on an array of Purina Pro Plan products ranging from EN (which is a prescription food for when he was sick) to a probiotic to a large breed formula. Best part? Our vet recommended Pro Plan before we even heard of the brand, which really solidified my choice is choosing this brand for Jasper.
I was super nervous to transition him from his prescription food to regular adult food, but it was actually a breeze. Jasper is officially on Purina Pro Plan's Adult Large Breed Formula Focus and loving every bite. Cue: *happy dance.*
Since I'm a crazy dog mom and got the opportunity to ask a Purina vet some questions about how to choose the right food for your dog, I thought I'd share the answers with all of you!
Pro plan's myplan tool
Here's a link to Pro Plan's myPlan tool where you can take a short quiz to help find the right formula for your pet!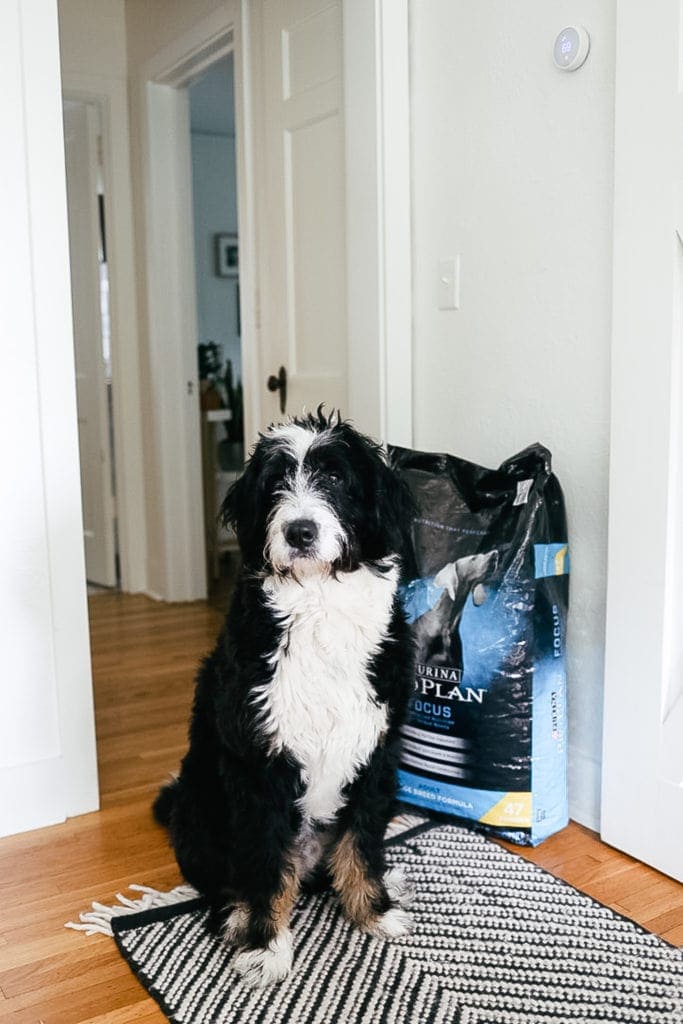 Q&A with Purina Vet, Dr. Kurt
When it's a good time to transition a dog from puppy formula to adult dog food?
As dogs age, their nutritional needs change. Puppies require more protein than adults to support their growing bodies, and they need DHA for brain and vision development.
To help you determine when your puppy is ready for adult dog food, you need to consider both his age and breed size.
pro tip
The general rule of thumb is to feed a puppy food that is specifically designed to meet the nutritional needs of puppies, until the age of 1. For some large and giant breeds, this could be up to age 2.
Why is my dog such a picky eater?
There are a variety of reasons why a dog may become choosy about his food:
Too Much Variety: It may be that you're offering your dog a large variety of foods, which could encourage him to refuse his regular food in order to see what will be offered next. Some dogs are eager to eat a particular pet food for several days, and then suddenly this eagerness vanishes and they eat reluctantly or refuse to eat for a few days.
Digestive Discomfort: Sometimes a refusal of food is the dog's attempt to control calorie intake. Overeating can cause a dog, like a human, to experience an uncomfortable feeling. It can be normal for a dog to attempt to relieve his discomfort by not eating or eating very little of his food.
Ask Your Veterinarian: If your dog isn't normally picky about his food and you've avoided creating "problem eater" habits, a trip to your veterinarian may be in order. Any deviation from his normal habits may be a sign of illness.
Why is my dog not motivated by food?
Just as people are motivated by different things, so are dogs. For some dogs it could be food, for others, it's a ball or disc. If you're trying to teach your dog a new skill or command, find what works for them and use it as a reward for their effort.
How much does a dog's ideal macronutrient balance differ from a human's ideal macronutrient balance?
The nutritional balance for dogs and humans is actually quite similar. Just like you, your dog's nutritional health depends on receiving the correct amounts and proportions of nutrients from the six required groups: water, protein, fat, carbohydrate, minerals and vitamins.
With the exception of water, commercial dog foods identified as 100% complete and balanced contain all of these required nutrients. For humans, we obviously obtain our required nutrients from a variety of food and beverage sources. But ultimately, the basic nutrition balance for us both is quite similar.
Is dry or canned/wet food better for my animals?
As long as you are feeding a complete and balanced food, neither is considered better, and both have benefits.
When it comes to cats, they are considered neophiliacs, meaning they like trying new things. They may get bored eating the same food the same way day in and day out. Mixing wet and dry cat food for a meal or feeding them at separate meals is a good way to give your cat the variety she not only wants, but also needs.
With all of the dog food options out there, choosing one for your dog can feel overwhelming. A good first step is deciding which form of dog food is right for your dog.
Whether you decide to feed your dog wet dog food, dry food or soft dry dog food, always read the packaging carefully so you understand what you're buying.
Make sure the food is 100% complete and balanced, and check the ingredient label for high-quality ingredients. It's also a good idea to consult your veterinarian before purchasing, so you can confidently choose a food that will help your dog stay happy and healthy.
How important is variety in your pet's diet? Is it better to change his food once in a while or have them eat the same food?
While it's perfectly fine for your dog to eat the same food on a daily basis, some dogs may get bored with their meals and turn into picky eaters.
To offer variety without a substantial change to your dog's diet, you can try offering a wet food on occasion, which are available in a wide variety of proteins. Or, you can look at rotating the protein within the same formula your dog is used to.
Pro Plan offers a variety of formulas with beef, chicken or salmon as the #1 ingredient.
Disclaimer: This post is sponsored by Purina Pro Plan. We were compensated and all opinions are our own. Thank you for supporting Fit Foodie Finds!