Oh hey frands! I have had THE CRAZIEST past couple of weeks. I feel like I've been going and going and going and not necessarily getting anything done when it comes to business. This past weekend I was part of two AMAZING events in the Twin Cities. One was put on by Lindsey from Nourish Move Love and The Her Initiative and the other one was in partnership with Lululemon St. Paul! The next couple of weeks are INSANE with travel, so I've been trying to buckle down the past couple of days GSD.

Lululemon Ambassador!
I have been a Lululemon lover since I started teaching group fitness back in 2012. If you look in my closet you know more than half my fitness clothes are Lulu and if you follow me on Snap…you know it's pretty much all I wear even when I'm not working out. Why? Well, their pants make my butt look good, they actually have bras that fit my DD's and the quality is exceptional. Plus- I love the community they create at each and every one of their stores and think their team member development is so awesome. Wahhhhhh! I am so excited that Team Lululemon Twin Cities asked me to join their ambassador team. They surprised me at the Vision and Goals event I was part of at the St. Paul store and I completely lost my shit. They made me an adorable Fit Foodie sign and asked me over donuts. SWOON. More on this when I find out more information 😀

Man Candy
I've dropped a few hints over the past few months, but I am dating again and so happy! If you're an FFF Snapchat follower…you've probably noticed an increased amount of travel to Milwaukee and that's because I am dating my best friend from high school. NUTS, right? Friends- meet Man Candy…aka Mark.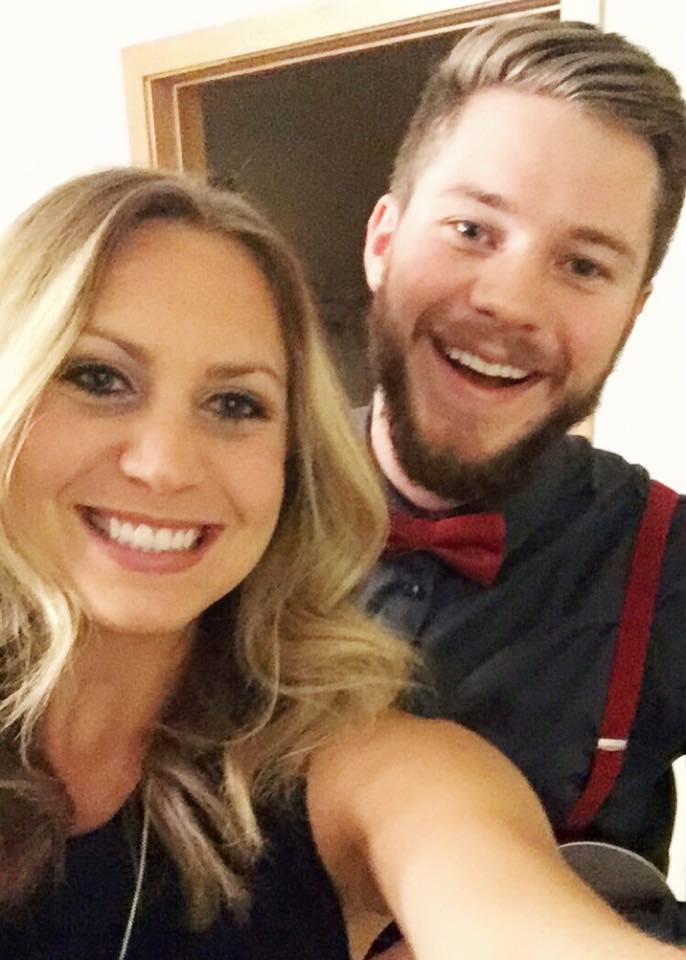 So what's the story? Here's the short version:
Mark and I went to high school together, but never "dated." We became really good friends my senior year of high school and spent a lot of time with one another as just friends (aka he kicked my ass in many games of bowling and lots of different kinds of sports for that matter!). I realized I "liked him liked him" the summer going into college, but we never actually dated because we chose to go to different universities and didn't think distance would be the best idea. In college, he got a long-term girlfriend and then I got a long-term boyfriend, so for 8 years one of us was taken. Whelp- this summer…life brought us back together and months later after lots of visits to one another we decided to be bf/gf 😛
Long distance, eh? It's been tough, but not as hard as I had imagined! Minneapolis and Milwaukee are 5 hours apart by car and a short 45 minute plane ride. Lucky for me, I can do a lot of my work from anywhere, so traveling to see Man Candy isn't a huge deal.
Ummmm. How cute were we in high school? This was the summer before I went to college and before Mark's senior year. Yup- I'm a year older 😀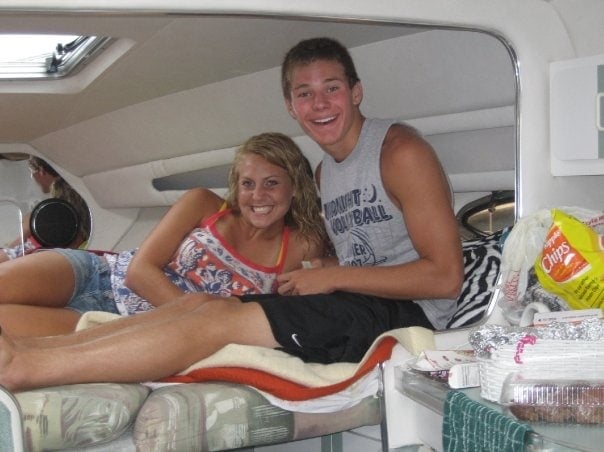 Recipe Video
I am so flipping excited that Team Fit Foodie is venturing into the realm of video. I know that as a consumer, video is what catches my eye and makes me stop in my tracks to watch. I could literally get lost on Youtube watching cupcake tutorials. It might sound weird, but I am obsessed with cake/cupcake decorating videos. Video is also what's taken over my Facebook feed within the last 6 months and I can totally see why- because it's what the people want! Video is a lot of planning and work, but I am ready for the challenge. A few weekends ago Team Fit Foodie filmed our first 4 recipe videos. The first one went live 2 weeks ago and video #2 goes up on Monday. WEE.

26!!!
Holy shiitake mushrooms. SOoooo much has changed this past year and I am so excited to make my way into my upper twenties (kinda, sorta, pretty much). I'm turning 26 on Sunday and life just keeps getting better. I celebrated this year's b-day a few days early with with all of my besties at Surly Brewing Co. Wednesday was pretty much the first nice Spring day (65 and sunny!) in Minneapolis so an outdoor patio sounded amazing. Plus- my little brother and I share a b-day (4 years apart) and he's a beer guy!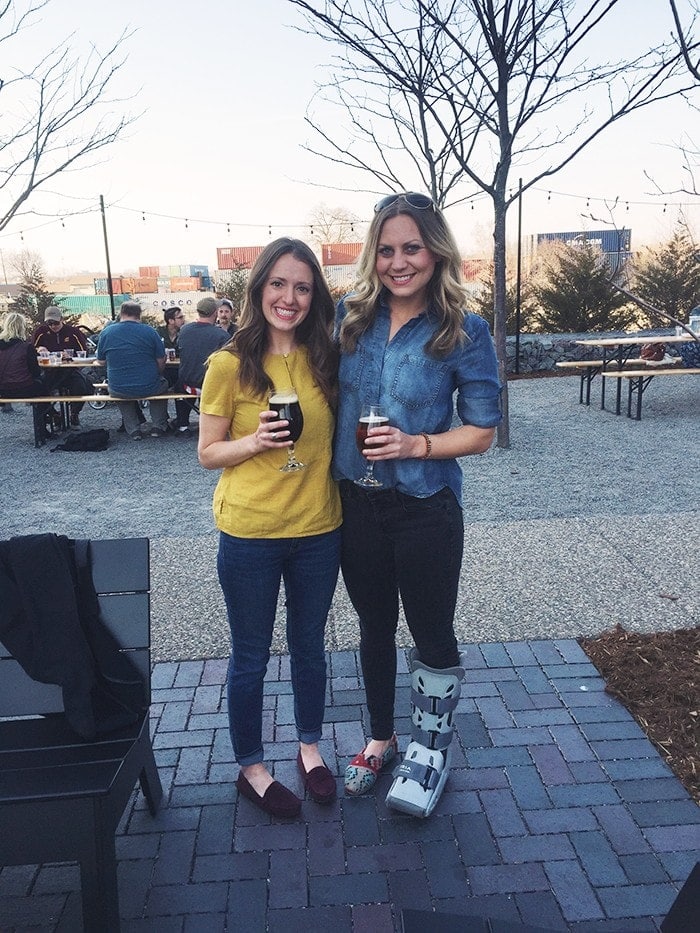 Upcoming Travel
The next 4 weeks are absolutely CRAY with travel. I get asked all the time how I do it and my answer? I wouldn't have it any other way. I actually prefer to rally when it comes to work. I like working my ass off for 2 or 3 days and then letting loose a bit. I've got my next 3 weekends planned…Here's where I'll be:
THIS weekend: Milwaukee.
I am so excited that this weekend I am in Milwaukee visiting Mark ANDDDDD GUESS WHO CAME WITH ME?!
Linley!!!
This was a birthday surprise from both Mark and Lin. I've been planning on traveling to MKE over this weekend for quite some time and the two of them have been scheming. So pumped to be with my favorite people over my b-day weekend!
April 21-24: Grand Rapids, Michigan
I am going on my first blogger retreat and I can't wait! There are so many lovely ladies online that I am great friends with who I have never actually met IRL before. #FreshCoastRetreat here I come!
April 28 – May 2nd: Toronto
Can you guess who I'm visiting? The Mave, of course! Both Linley and I are going for a long weekend because Vids is hosting an avocado party! There's no way we were going to miss a weekend in TO celebrating the aguacate.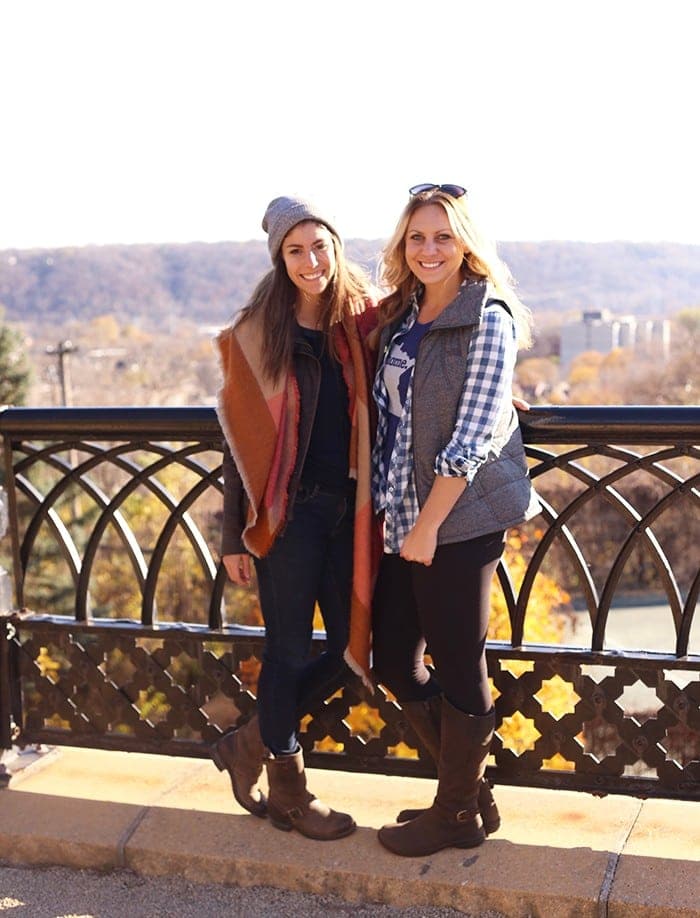 Happy weekend!