I did something the other week that NEVER in a million years think I would ever do.
No I didn't eat a jar of olives or magically start liking mushrooms.
I went to a destination wedding, solo. That's right, I hopped on a airplane all by myself and stayed at an all-inclusive resort with me myself and I. There has literally been one time that I can think of that I've even eaten dinner alone at a restaurant…and it was a Chipotle! Also- Can I just make a note that people used to go to weddings to meet other people. I feel like the wedding industry has completely changed to people thinking they always have to bring a date because going solo makes you seem lame. Well let me tell you, it's not lame! I went to effing Mexico by myself and it was awesome.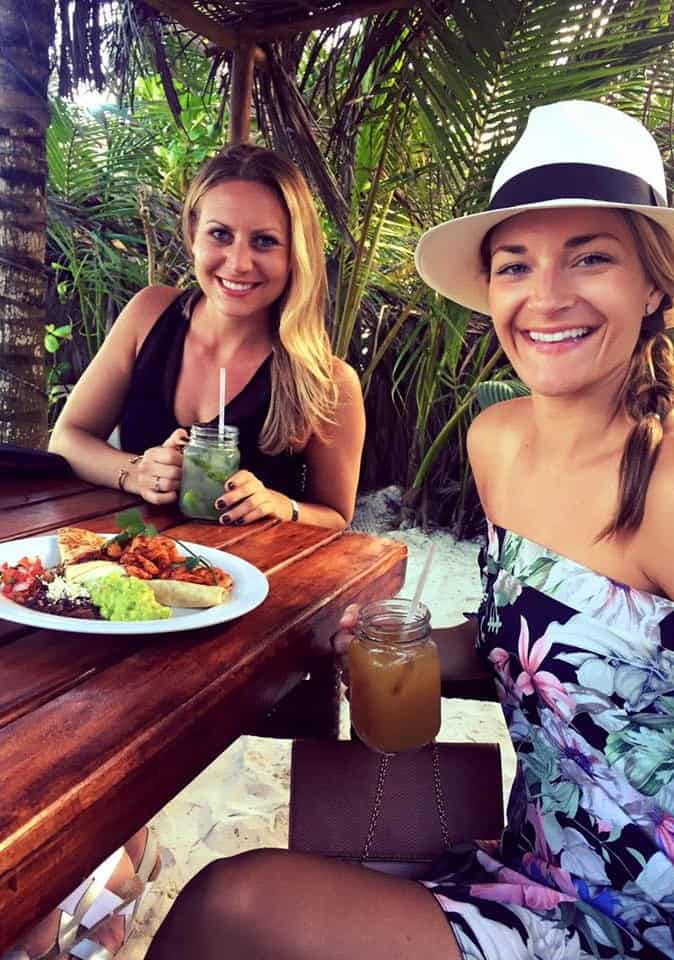 My bestie from college got married and SHE WAS THE MOST BEAUTIFUL BRIDE I EVER DID SEE. Sam and I met our sophomore year in design school at The University of Minnesota. It was bestie at first sight. Seriously, we were inseparable the moment we met. Sam ended up moving home to Boise after only a year at the U of M, but when you meet good people, you don't let them go. Sam and Jake went to high school together, but reconnected in college. They are the most perfect couple ever. We've gone on the same epic west coast road trip more than once and are planning some big thangs for this summer, too!
Okay, so Mexico was SO FUN! 1. I love Sam and Jake and 2. I love Sam and Jake's family and friends. 3. I love warm weather. They only invited 24 people to the wedding and I think I knew every single person other than 3 before getting to Mexico. I feel like I could secretly be in Sam's family. I LOVE LOVE LOVE her parents, brother, and cousin. And her friends…never laughed more in my life. Gahhhhh, I wish we all lived in the same dang state.
We stayed at The Grand Oasis Tulum, just outside of Tulum, Mexico. It's an all inclusive resort that's super family-friendly. The price wasn't bad either! I flew down to Cancun on the Saturday after Thanksgiving and stayed until that Thursday- 5 nights and 6 days…the perfect amount of time. Because Sam is Sam, she decided she wanted her beach-side wedding to be black tie. I was actually super pumped when I got that memo because when else am I going to get to wear a black tie dress? The wedding was on a Tuesday…now we're talkin' people. I love how unconventional and laid back Sam and Jake are. Really all you need are your bestest people and paradise to have the most perfect wedding ever.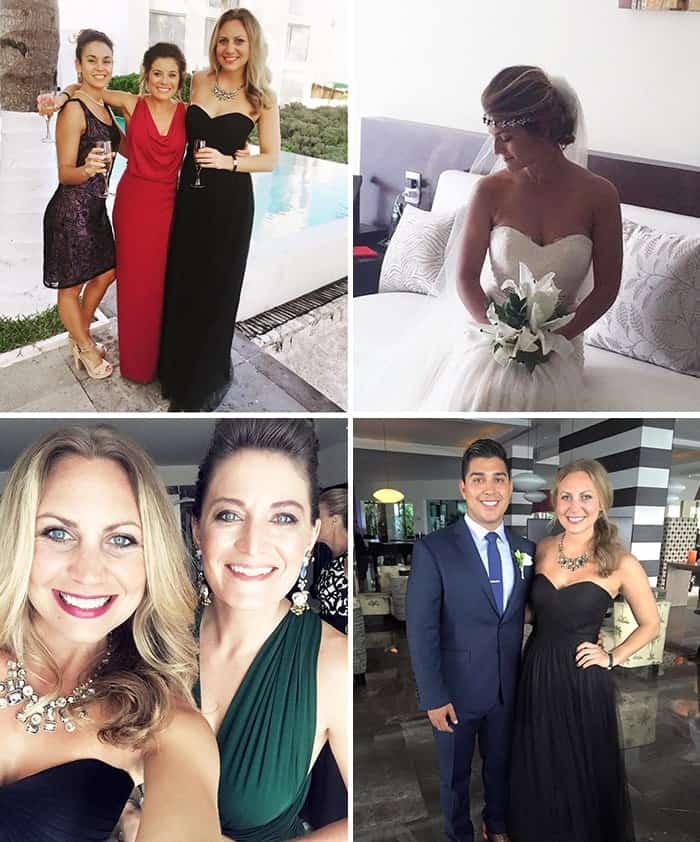 Sam and Jake decided they were just going to do maid of honor and best man when it came to the wedding. Cortney, Sam's cousin (basically sister), was the MoH (lower righthand corner), and Jando, Jake's brother, was BM. I hung with Sam and Jake's best friends from home, Sam and Don. Sam might actually be the funniest person I've ever met. She's 4'10" and 1/2 and just hilarious.
I actually ate really well on this trip. Sometimes things can get a little out of hand when there is an all you can eat buffet, but I LOVE MEXICAN FOOD AND FLAVORS. I stuck mostly with mojitos and vodka sodas when it came to the drinking. For food- I ate a lot of protein, guac, beans, and rice. Typical. I was pretty stoked that they had peanut butter. I almost had a melt down when I couldn't find it at first 😀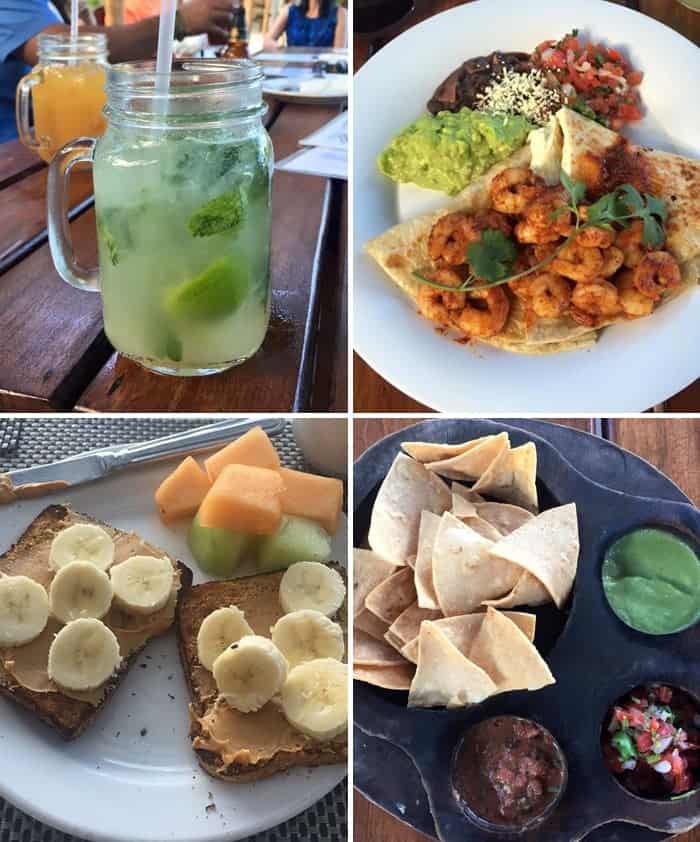 Sam requested that we be workout buddies while we were in Mexico together. Well, you don't have to as me twice! She's actually the one who introduced me to hot yoga back in college. The gym at the resort sucked (for lack of better terms). It was teeeeeeeeny. However, we made do with what we had. All you really need while you're traveling to get a good workout in is a tabata timer and it's gold. We pretty much did a rendition of my Bodyweight Plyo Tabata Workout every single morning. I also ran one day, which was horrible because 1. I hate running 2. it was on a treadmill and 3. it was like 95 degrees.
What else did I do while I was in Mexico? Other than a 45 minute workout each day, laying in the sun, eating and drinking good food, having good times with good people…we did get our butts to the town of Tulum. SOOOOOOOOO cute. Tulum was nothing like I expected it to be. There were soooo many boutique hotels and yoga retreat centers. It was super hippie dippie and I loved the vibe! Not a care in the world. Instead of a rehearsal dinner, we all ate at this local restaurant that was SO DELICIOUS. They had quinoa on the menu, people. And their drinks were insane.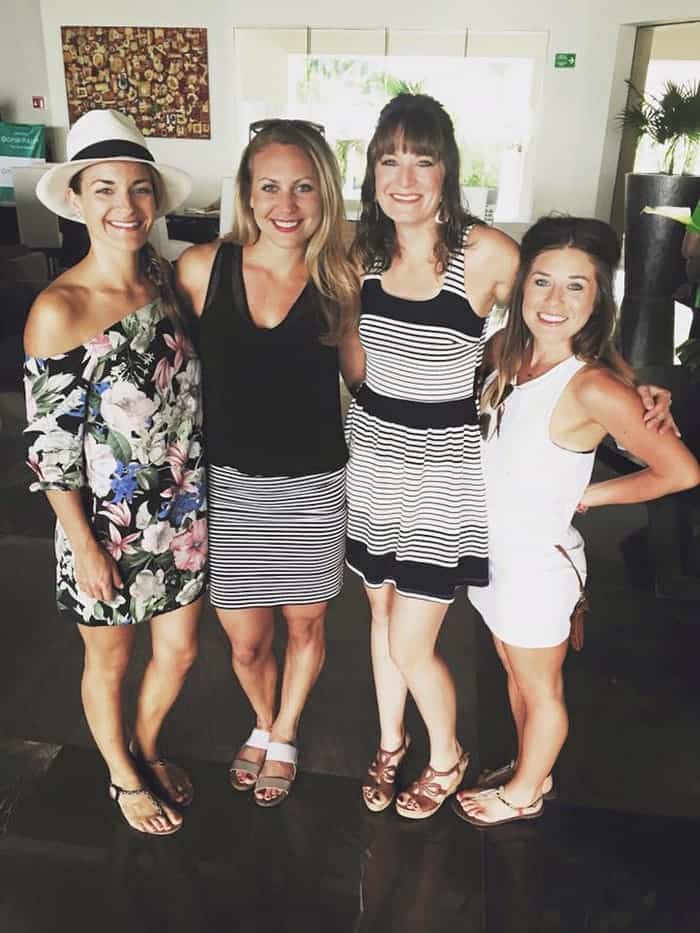 Overall I'd have to give this trip a gold star. I love, love and am so happy I grew a pair of balls and went on this trip solo. I wouldn't change a thing about it if I could!
Cheers to stepping outside of my comfort zone…And to the new couple 😛