All the same flavors of a blueberry muffin but 100% better for you! Make these Blueberry Muffin Overnight Oats tomorrow for a healthy breakfast. 
Just when you thought we couldn't come up with another overnight oat recipe this one slaps yah right in the face. OMG do you know how amazing it would be to take a bath in this oatmeal recipe? Seriously- I bet this stuff would be a great exfoliant. NOTEVENJOKING.
Oh, hai Overnight Oat Week Day #5. You're lookin' mighty fine. I've been a sucker for blueberries lately. It's been my favorite berry for the past few months…even over strawbs! I can't wait until it's the dead of summer and the blueberries are bigger than my face. YAS.
Speaking of summer. Does anyone have major summer plans this year? I feel like my calendar is filling up for June-Sept and it's only April. I've got lots of trips to Milwaukee on the books, a few to Chicago, some to up north, and 4 weddings. Weeee summertime cannot come soon enough. This recipe is pure summer to me.
Let's look at the lineup of ingredients…
The lemon zest you guys.
We tested this recipe a couple of times and….
THE LEMON ZEST YOU GUYS.
Don't skimp on it. It really makes the recipe sooooo tasty.
Plus then you get to play with your zester (which apparently isn't a word because there is a red squiggle underneath it).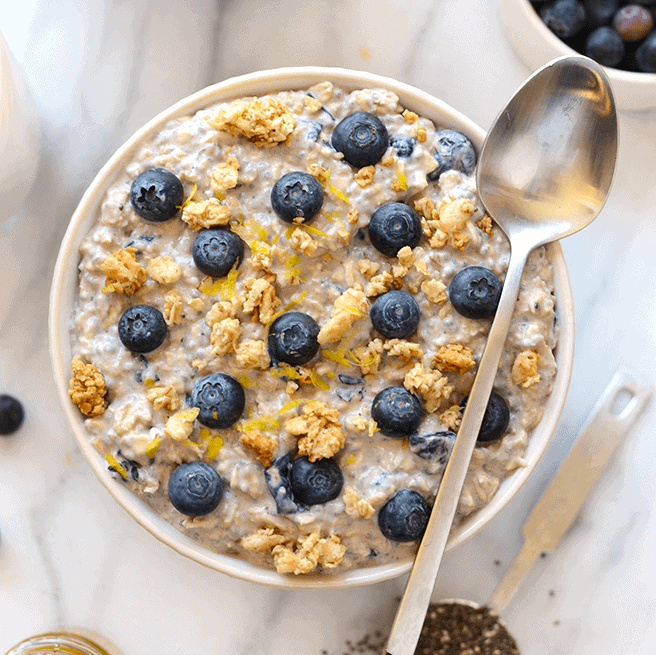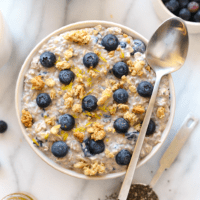 Blueberry Muffin Overnight Oats
All the same flavors of a blueberry muffin but 100% better for you! Make these Blueberry Muffin overnight oats tomorrow morning for a healthy breakfast! 
Prep:
10 minutes
Cook:
0 minutes
Total:
10 minutes
Fat
8
Carbs
49
Protein
14
Ingredients
Dry
1 cup

rolled oats

1/2 cup

blueberries, mashed with a fork

2 tablespoons

chia seeds

1 teaspoon

vanilla extract

1 tablespoon

honey

1 teaspoon

lemon zest (+more for topping!)
pinch of salt
Wet
1/2 cup

vanilla Greek yogurt

3/4 cup

unsweetened almond milk
Instructions
First, mash 1/2 cup blueberries in a large bowl. Then add the rest of the wet ingredients and mix until smooth.
Add in dry ingredients and mix again.
Place in the refrigerator, cover for at least 2 hours or overnight. Serve cold.
Top with granola, lemon zest, and fresh blueberries.
Tips & Notes
Feel free to double this recipe
It should stay good refrigerated for up to 3-4 days.
Depending on how thick you like your overnight oats, you may add a splash of almond milk before serving.
Nutrition facts without toppings.
Nutrition Facts
Serving Size:
1/2
Calories:
315
Sugar:
16
Fat:
8
Carbohydrates:
49
Fiber:
6
Protein:
14
We suggest topping this oatmeal with a sprinkle of your favorite granola so that you get that blueberry muffin crumble. Don't forget about more bloobs and FRESH LEMON ZEST. Did I mention the lemon zest?