Say hello to these saucy Chicken Tinga Tacos. These Chicken Tinga Tacos are our spin on the classic Mexican dish. Grab your favorite tortillas and taco toppings and make these tacos for dinner tonight.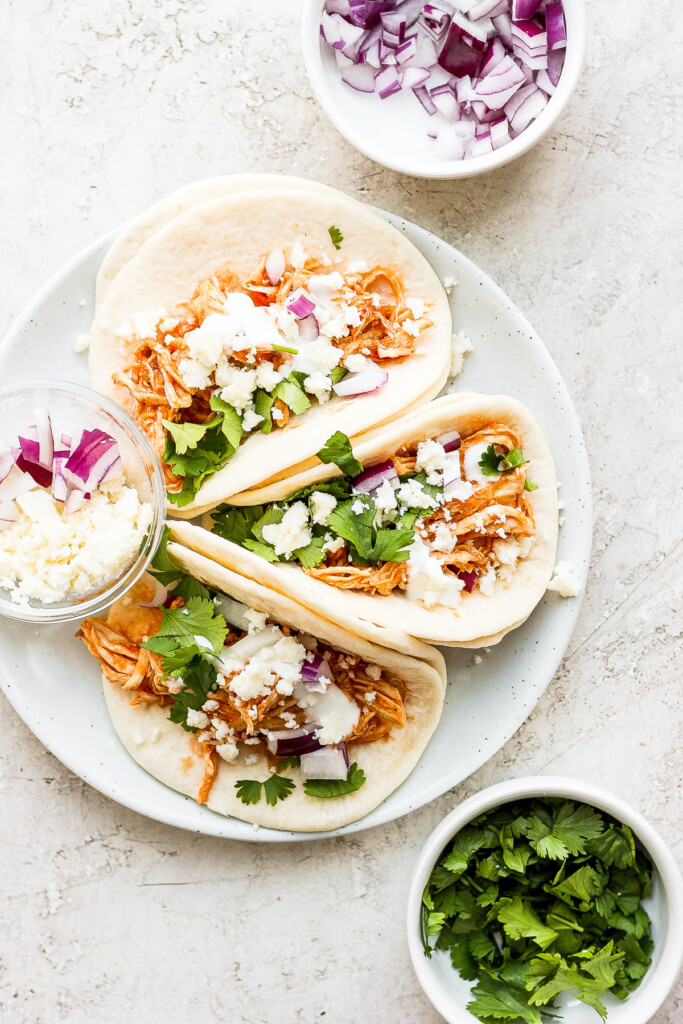 Chicken Tinga Tacos
What is better than a big batch of chicken tinga wrapped up in a warm flour tortilla? Nothing! These chicken tinga tacos are made with a saucy and spicy chicken tinga sauce.
We use our delicious chicken tinga to make these delicious tacos, people. It is so much easier than you think to make! Another thing that makes these chicken tinga tacos are the toppings you choose. Let's get down to business and whip up chicken tinga tacos for dinner!
Check out Mexican Food Journal and Cooking con Claudia for 2 authentic versions of this recipe. They were our inspiration in creating our own.
Why you'll love it!
Reasons why you'll love it.
The chicken tinga sauce in these tacos are the perfect balance of sweet and spicy.
Chicken tinga tacos are the perfect meal for meal prep through out the week.
You can make these tacos your own by changing up the toppings or what type of tortillas you use.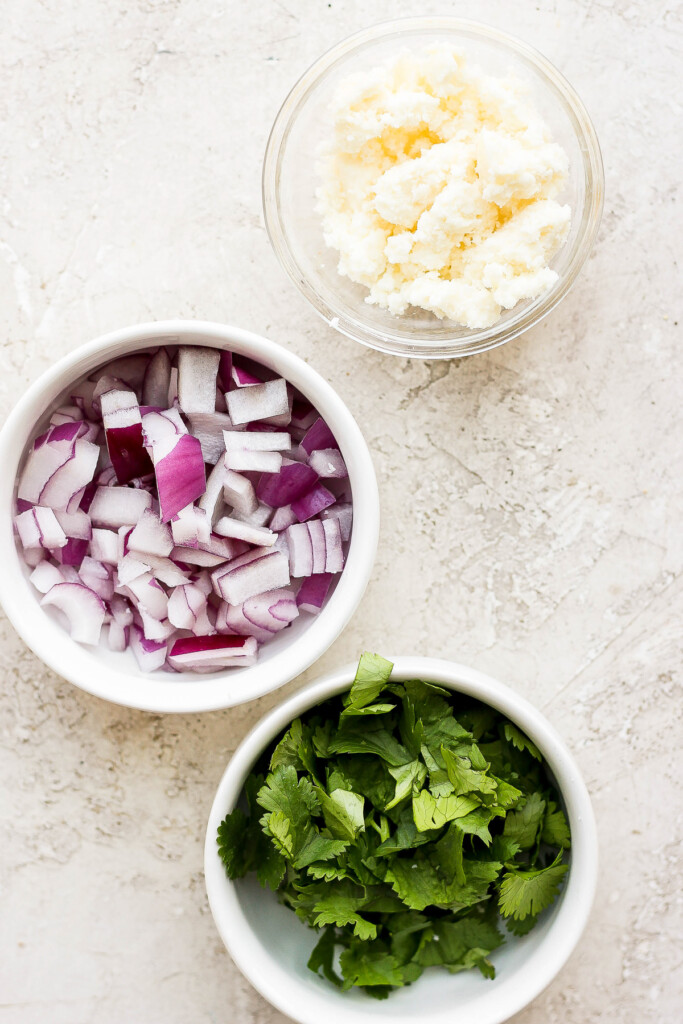 Featured Ingredients
Once you've made your chicken tinga, you are all set to have tacos any day of the week! Here are the featured ingredients you need.
Chicken tinga: chicken tinga is inspired by the traditional Mexican dish that is made with shredded chicken and a chili and adobo sauce. We used chicken breast for the chicken tinga tacos, but feel free to use chicken thighs if you'd like! It can be very spicy, so we cut our delicious tinga with a bit of agave syrup and simmer it to perfection. We suggest making this chicken tinga beforehand and eating it throughout of the week.
Tortillas: we suggest using flour tortillas. Specifically street taco shells. The size is perfect and the thickness of the flour tortilla helps to cut some of the spice. They are the perfect vessel.
Cotija cheese: a little cotija cheese adds the perfect bite and saltiness to these tacos.
Red Onion: red onion is both sweet and flavorful. We prefer red but if you need to use white onions you can.
Fresh cilantro: never skip the fresh cilantro (unless you're one of these people who thinks it tastes like soap). Cilantro brings tacos to the next level.
Fresh lime juice: a squeeze of lime brightens up these tacos.
Table crema: is the chicken tinga a bit too spicy for you? Don't skip the crema or the Greek yogurt!
Ingredient Add-Ins
You can really make these tacos your own by topping them with whatever you would like! Below are great ingredient add-ins.
Halved cherry tomatoes
Fresh corn
Sliced avocado
Refried beans
Sliced jalapeno peppers
Don't forget the lime wedges!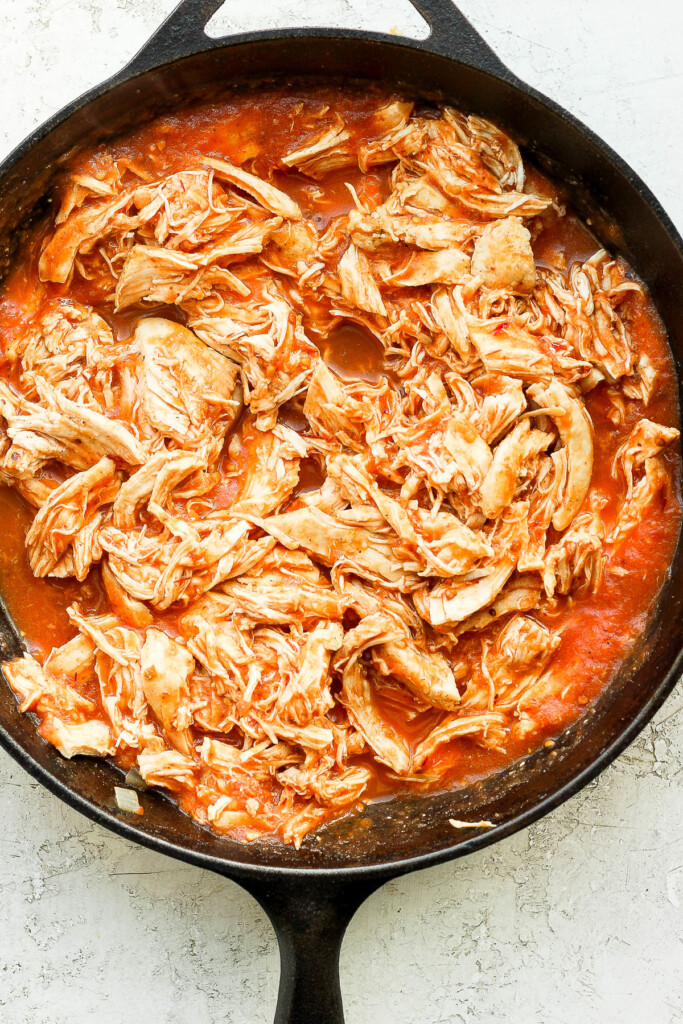 Simple Instructions
Make Chicken Tinga
This step is the longest step in making chicken tinga tacos. Good news for you, we have an entire guide on how to make chicken tinga! Check it out below.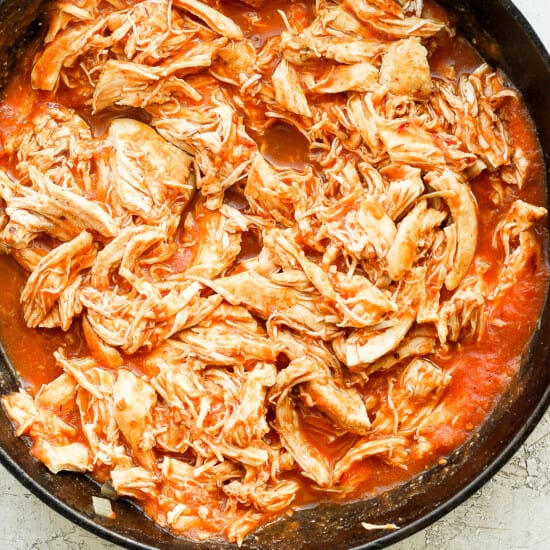 Make it!
Chicken Tinga
Check out this easy guide to making chicken tinga in your own kitchen. You'll need a deep cast iron skillet and a blender!
Get Recipe
Heat Flour Tortillas
Once your chicken tinga is almost done, it's time to heat up your tortillas. We recommend using flour street taco tortillas over corn tortillas. They hold together better.
Warm them up in your preferred method. You can either briefly pan fry them or heat them in the oven.
Assemble Tacos
Assemble your tacos by adding 1/4 cup of shredded chicken tinga to the tortilla and then topping with Mexican crema, cilantro, queso fresco, minced onion, and fresh lime juice.
Latest Chicken Recipes
More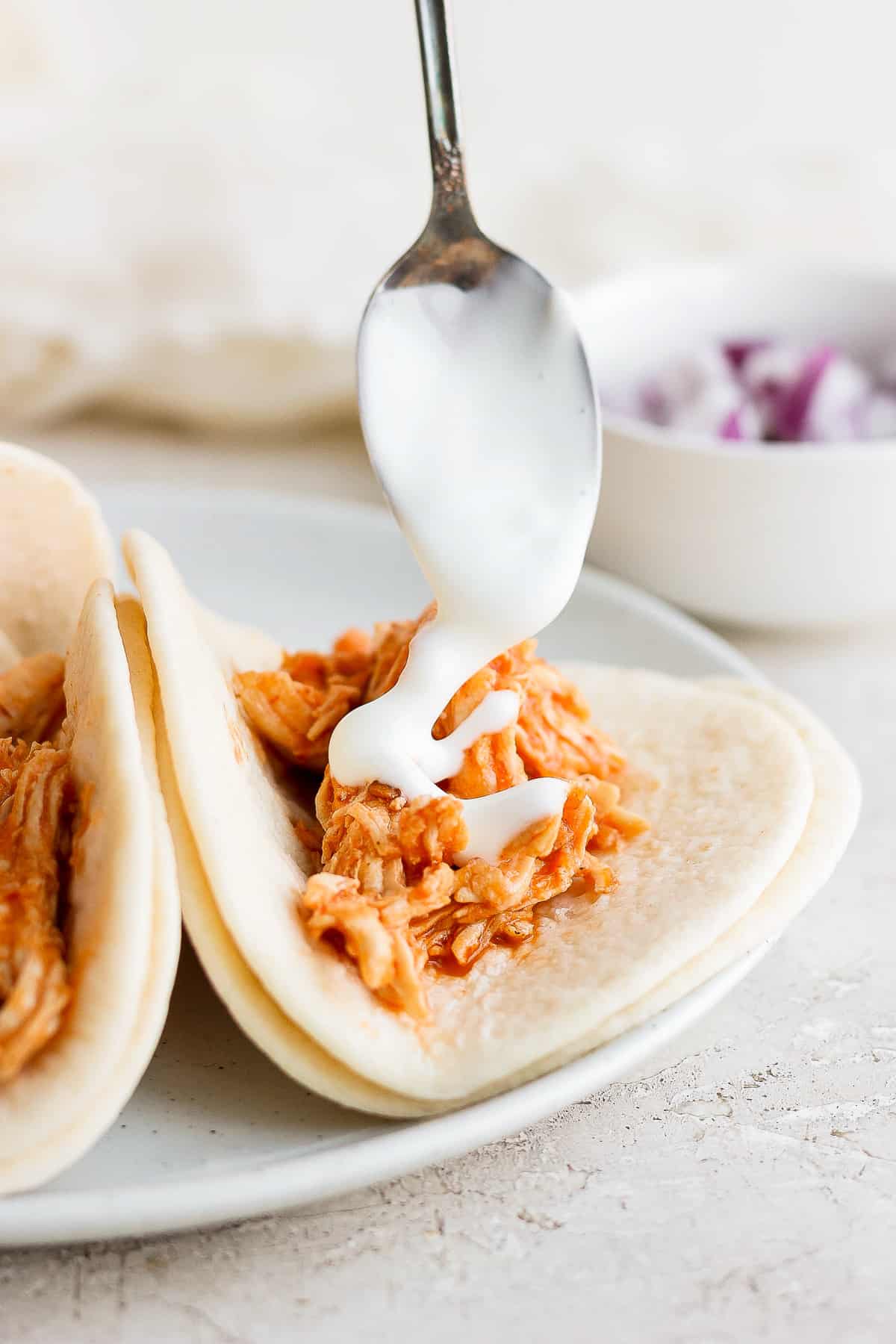 Top Tips
Temper down the spice. If you have let the chicken tinga sit overnight it may have become spicier. If that happens, feel free to stir in a tablespoon or two of crema or Greek yogurt to the tinga itself. Or? Add a little bit more agave.
Prepare the tacos right before serving. Don't let the chicken tinga sit in the tortillas too long or else they'll get soggy.
Change up the toppings. You don't have to listen to us when it comes to tacos, feel free to top them with whatever you would like.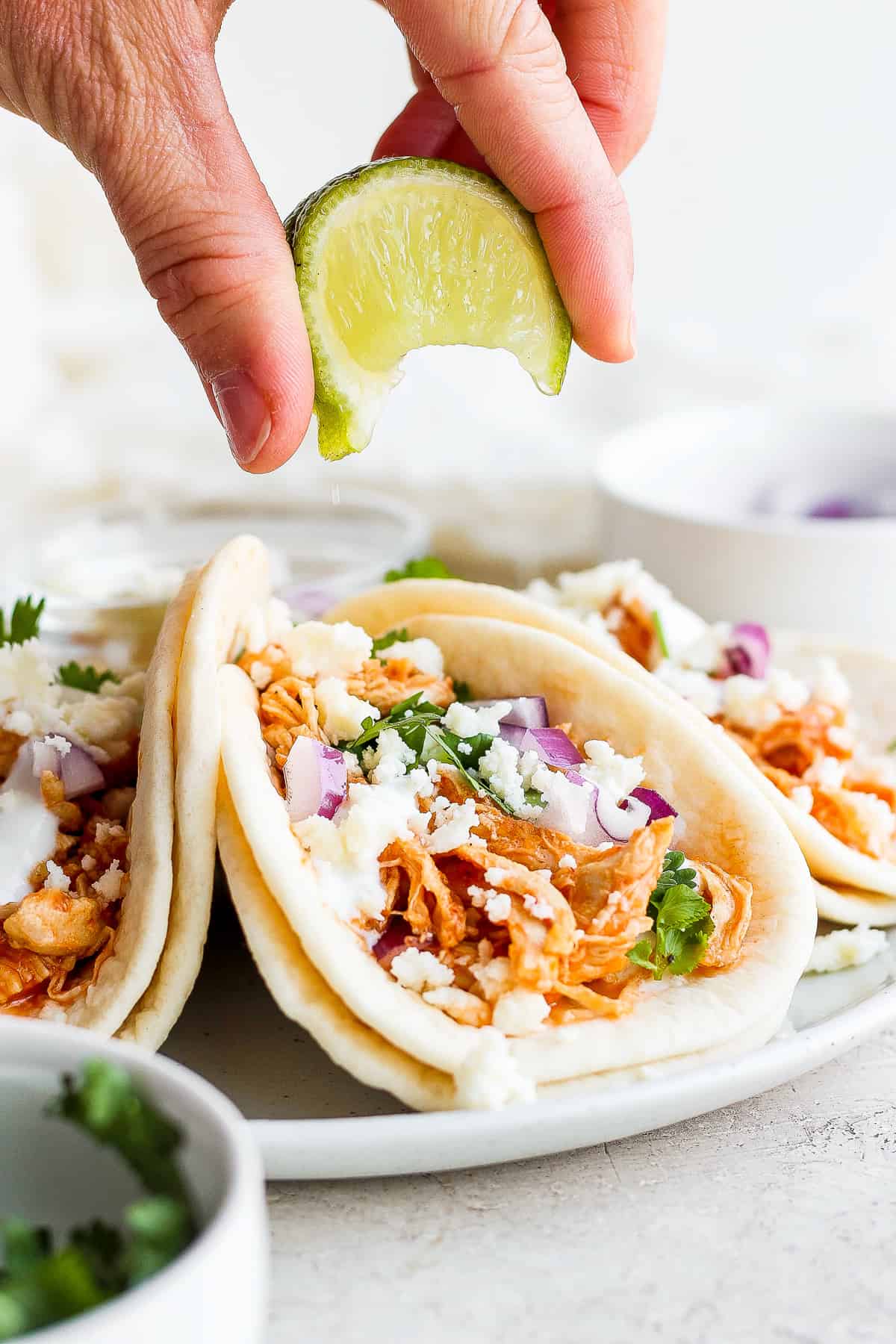 Storage
Store the chicken tinga separate from the taco fixings and the tortillas to avoid soggy tortillas. The ingredients will last for up to 5 days in a sealed container in the refrigerator.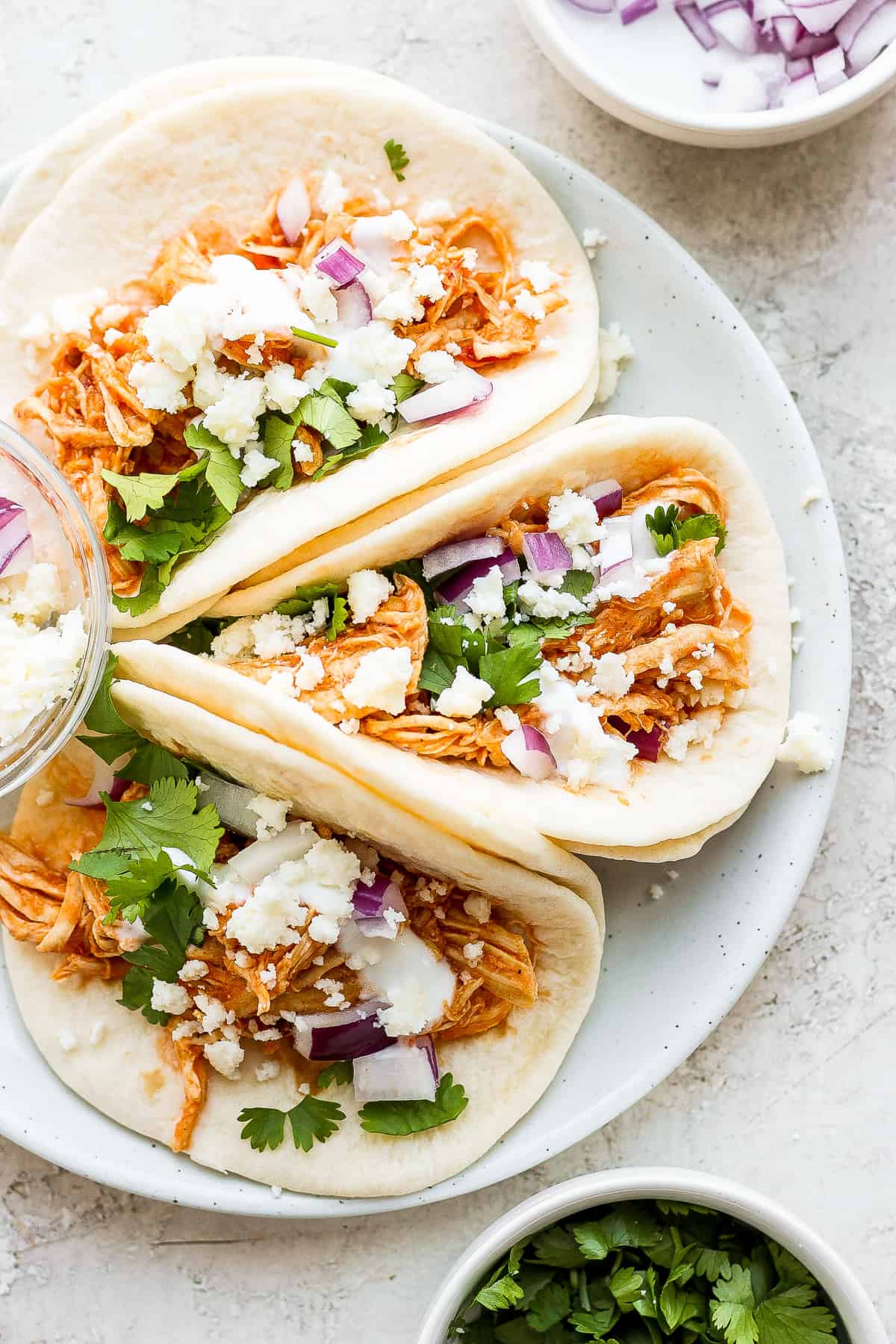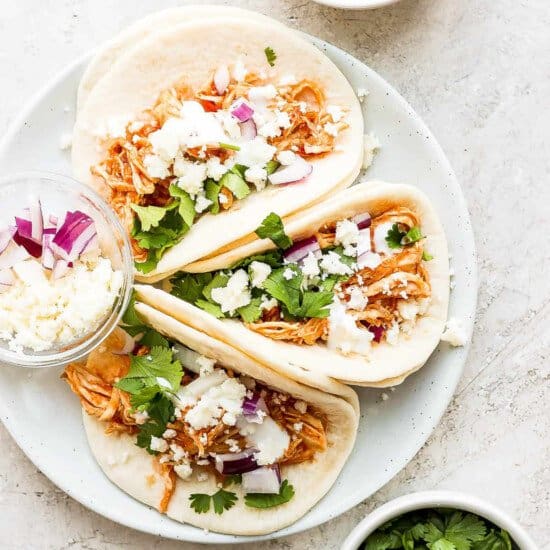 Chicken Tinga Tacos
Serve these chicken tinga tacos to serve a crowd of for an easy weeknight dinner. Prepare your favorite taco toppings and enjoy.
Ingredients
Chicken Tinga
2

lbs.

boneless skinless chicken breasts

2

teaspoons

garlic powder

1

teaspoon

coarse salt

½

teaspoon

ground black pepper

2

tablespoons

olive oil

3

cups

chicken broth

separated

½

large yellow onion

chopped

4

cloves

garlic

peeled and minced

2

large tomatoes

rinsed, de-stemmed and quartered

⅓

cup

of canned chipotle peppers in adobo sauce

3

tablespoons

honey or agave syrup

½

cup

water

separated
Tacos
2

lb.

shredded chicken tinga

from above

8

mini flour street taco tortillas

½

cup

Mexican crema

or Greek yogurt

½

cup

chopped fresh cilantro

½

cup

queso fresco crumbles

½

cup

red onion

minced

2

large limes

sliced into wedges
Instructions
Season the chicken breasts with garlic powder, salt, and pepper and set aside.

Heat a large pot over medium/high heat. Add olive oil. When the olive oil is fragrant and hot, add the chicken breasts and sear them on each side for 3-4 minutes or until golden brown. Remove the chicken breasts and set aside.

Deglaze the pot with 2 tablespoons of chicken broth. Scrape the bottom of the pot with a wooden spoon to remove any brown bits.

Add the onion to the pot and saute for 2 minutes and then add the garlic and the quartered tomatoes. Sauté for an additional 3-4 minutes.

Next add the chicken breasts back into the pot and pour the rest of the chicken broth into the pot. Stir the mixture and bring to a boil.

Turn the heat to low and cover. Simmer all the ingredients together for 20 minutes.

After 20 minutes, remove the chicken breasts from the pot and set them aside to cool.

Remove the tomatoes from the pot and then carefully remove the tomato skins from the tomatoes. You can use a fork so you don't burn yourself. Discard the tomato skins and transfer the tomatoes into a high speed blender.

Use a slotted spoon to remove the onions from the pot and place them in the blender, too. Add 1⁄4 cup of the cooking liquid from the pot, chipotle peppers in adobo sauce, honey, and ¼ cup of water to the blender. Blend on high until completely smooth. Taste the sauce, it will be spicy. If you would like it spicier, add ⅓ cup more of chipotle peppers. If you would like it less spicy add 1-2 tablespoons more of sweetener. Blend the sauce again and set aside.

Discard any excess liquid that is in the pot and place the chicken back into the pot. Shred the chicken with two forks.

Pour the sauce from the blender over the chicken and stir to combine. Add the last ¼ cup of water to the sauce and bring the mixture to a boil over medium/high heat.

Turn the heat to low and allow the mixture to simmer and cook down for 15 minutes.

Warm up the flour tortillas and then assemble the chicken tinga tacos by first placing about ¼ cup of chicken tinga on each tortilla.

Top the chicken with a drizzle of Greek yogurt or crema, sprinkle with fresh cilantro, queso fresco, minced onion, and a squeeze of fresh lime juice.
Tips & Notes
These chicken tinga tacos are very spicy. If you would like them less spicy, use less meat and more Greek yogurt or crema.
Nutrition facts
Calories:
349
kcal
Carbohydrates:
23
g
Protein:
28
g
Fat:
15
g
Fiber:
2
g
Sugar:
7
g
Photography: photos taken in this post are by Erin from The Wooden Skillet.