Homemade Chicken Alfredo is so much easier to make than you may think. In this post, we'll teach you how to make chicken Alfredo in less than 45 minutes!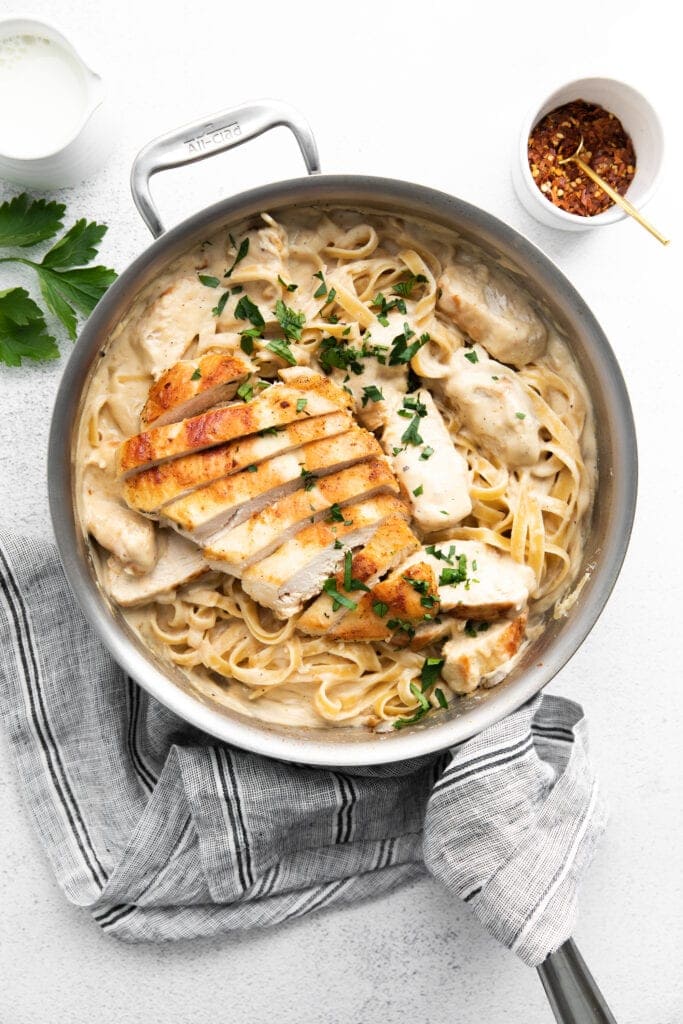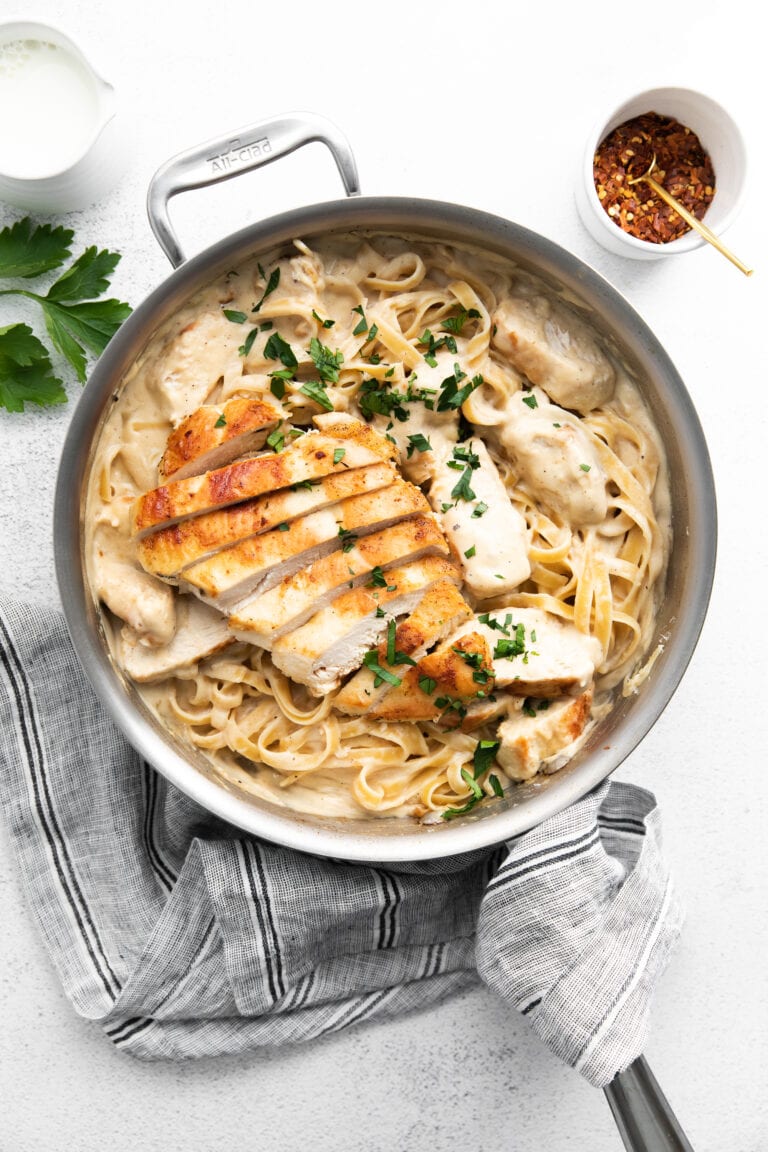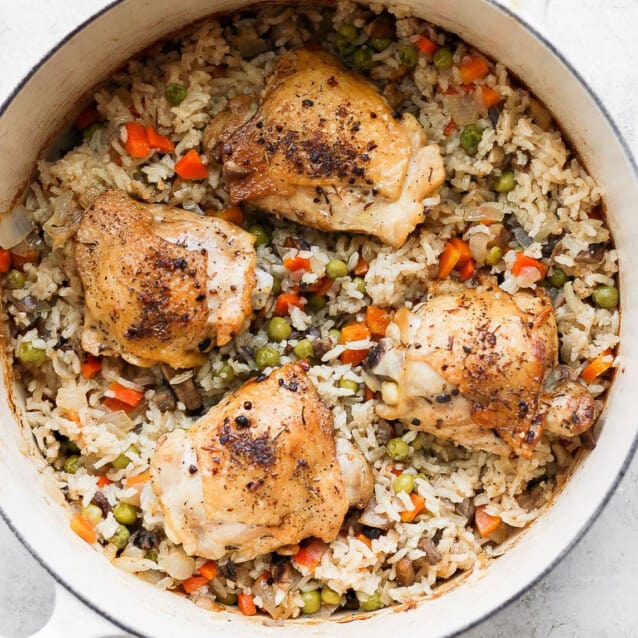 Become a Pro at Cooking Chicken!
Subscribe to our list and we'll teach you everything you need to know on how to cook chicken perfectly every time!
We are huge pasta lovers over here. My personal favorite is our Garden Summer Pasta followed by our Roasted Balsamic Chicken Pasta. Chicken Alfredo used to be something I thought I could only get at a restaurant, but we're here to teach you how easy it really is!
What is Chicken Alfredo?
Chicken Alfredo is an Italian pasta dish that is made with a creamy white sauce traditionally composed of butter, heavy cream, and parmesan cheese.
Chicken Alfredo is classically served over a fettuccini noodle. Fettuccini is a flat, long spaghetti-like noodle.
How can you make Alfredo sauce better for you?
It wouldn't be a Fit Foodie Finds recipe with a few better-for-you-swap. In order to make this Alfredo sauce a little bit better for you, we used Greek yogurt in place of the heavy cream.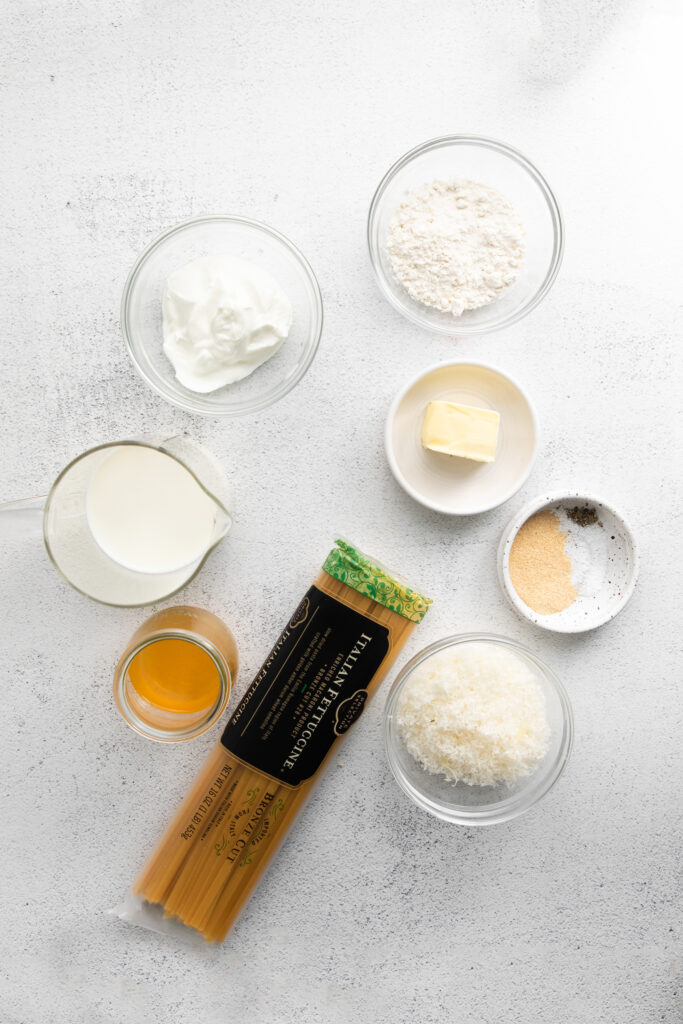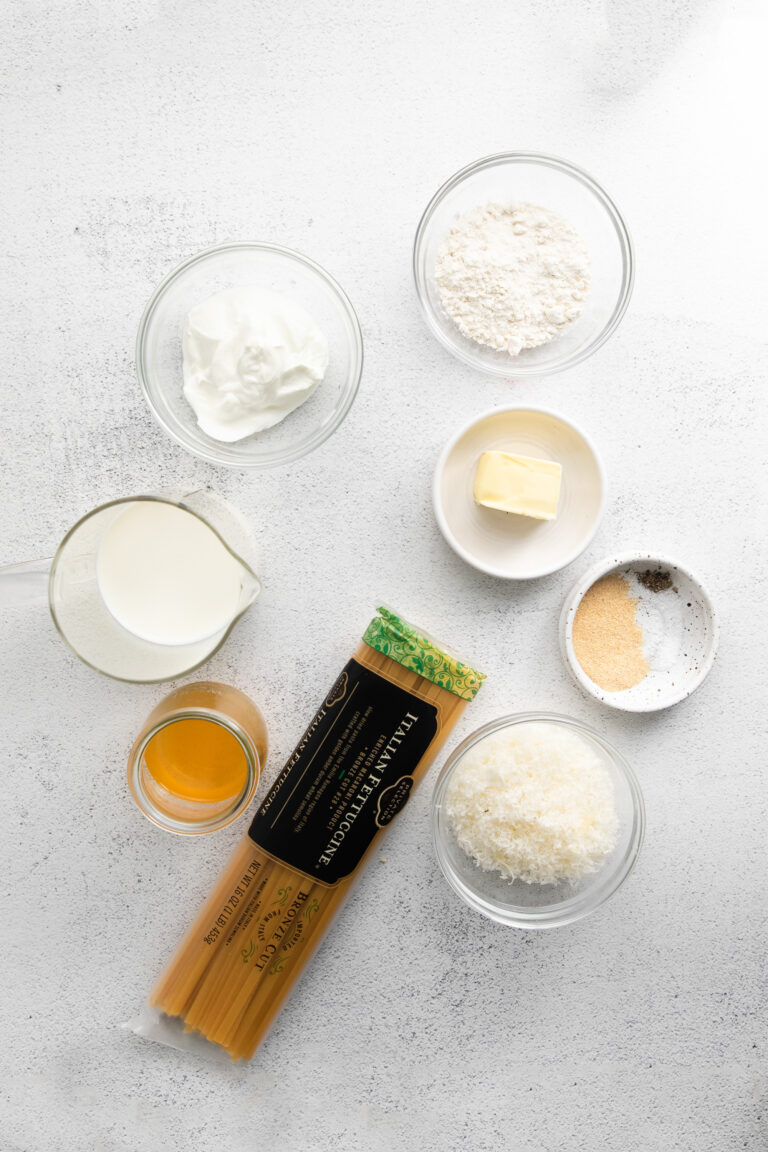 What You Need
For the full recipe, scroll down to the recipe card to get ingredient amounts and the recipe instructions.
For the Chicken
chicken breast
white whole wheat flour
garlic powder
dried thyme
salt
ground pepper
olive oil
For the Sauce
chicken broth – any kind of broth works.
salted butter – butter is going to add a silkiness to this alfredo sauce.
white whole wheat flour – option to use all-purpose flour instead.
2% milk – any kind of milk will work for this.
Greek Yogurt – Greek yogurt not only creams up this alfredo sauce but also adds a bit of acidity to balance things out.
starchy pasta water – don't forget to reserve starchy pasta water. This helps thicken the sauce.
spices – you need garlic powder, salt, and pepper.
grated parmesan cheese – make sure to buy grated parmesan cheese as this will melt in the sauce the easiest. You can also buy block parmesan and finely grate it.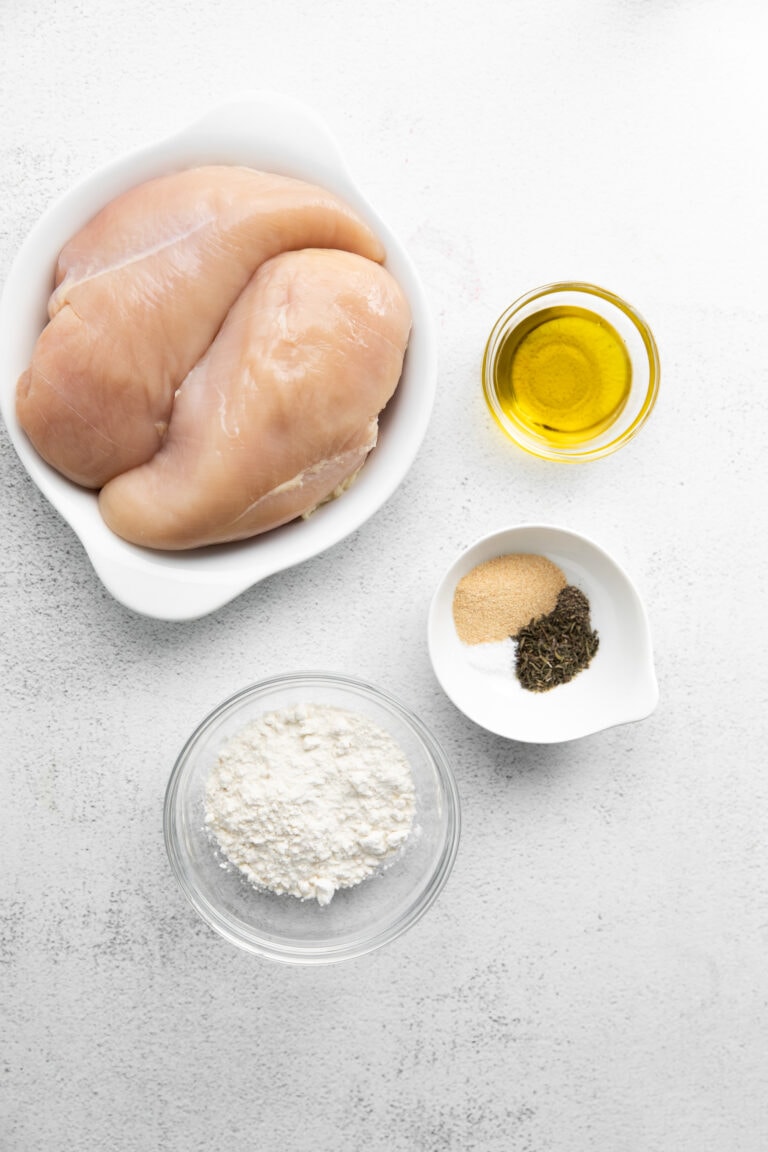 How to Make Chicken Alfredo
This easy chicken Alfredo recipe is a 2 part recipe – 1. chicken and 2. Alfredo sauce. Here's a quick run-down of how to make it.
Pan-Seared Chicken
Tenderize Chicken: use a meat tenderizer to pound chicken to around 1/2-inch thickness. Make sure the chicken is the same size throughout.
Dredge Chicken: Mix flour, garlic powder, salt, and pepper in a bowl. Then, rinse chicken breast underwater and dredge in the flour mixture to completely coat.
Pan-Sear Chicken: Sear chicken breast in olive oil for 4-5 minutes on each side or until golden brown and 165ºF internally.
Slice: slice chicken breast and set aside.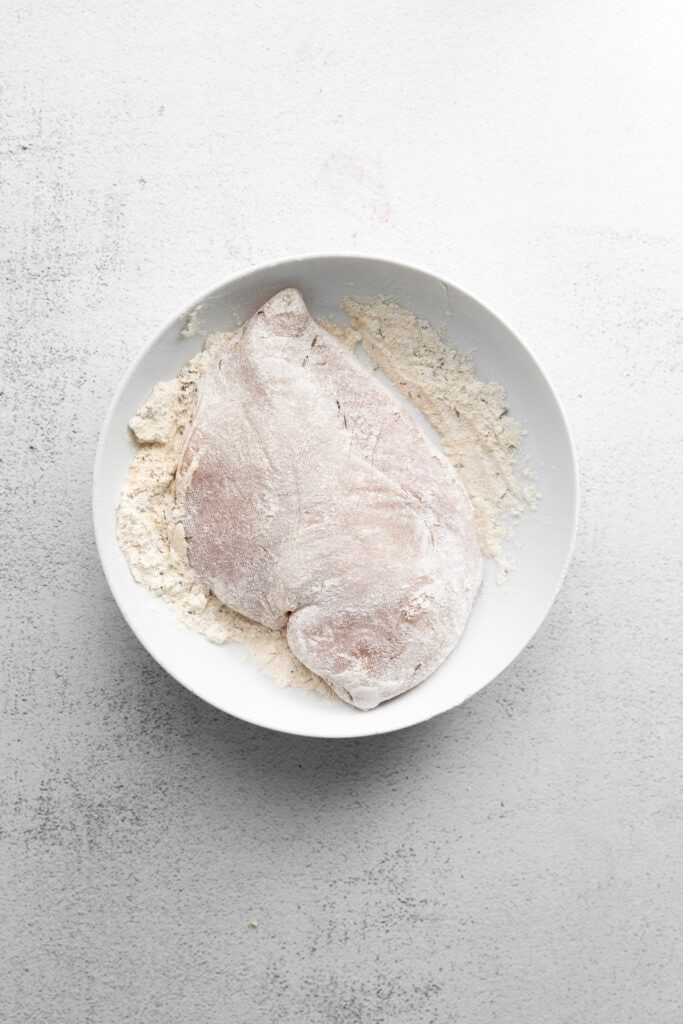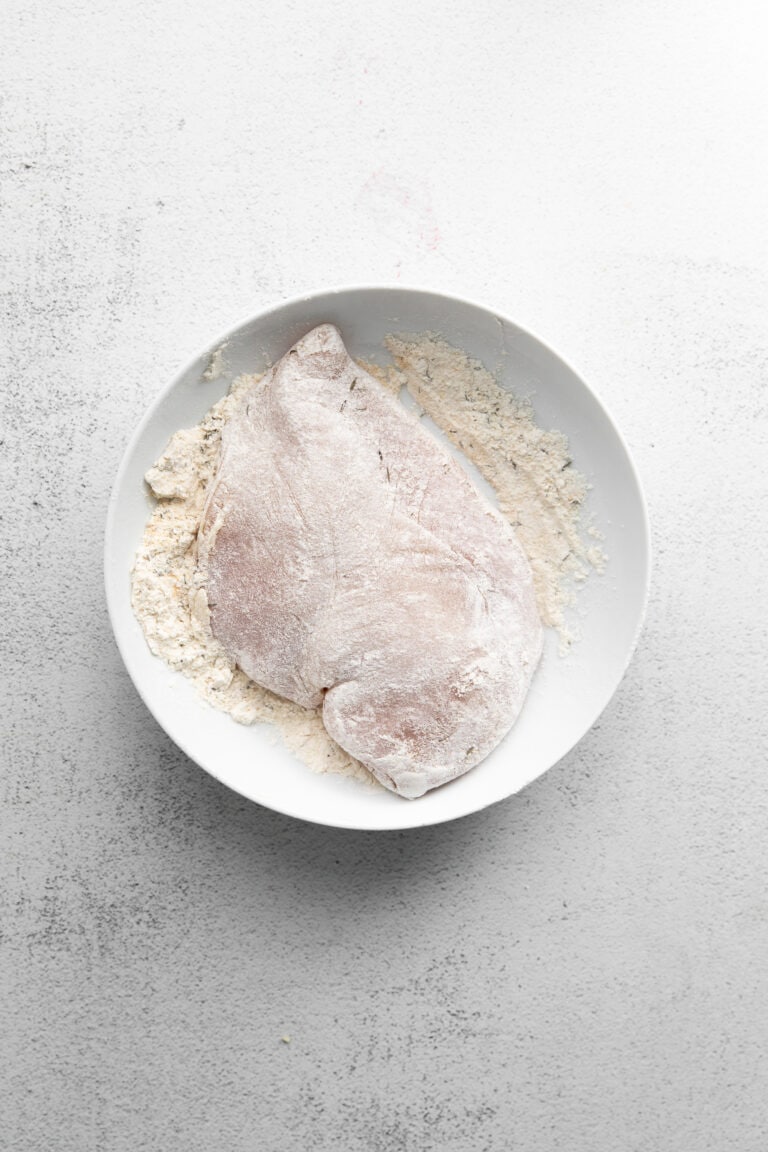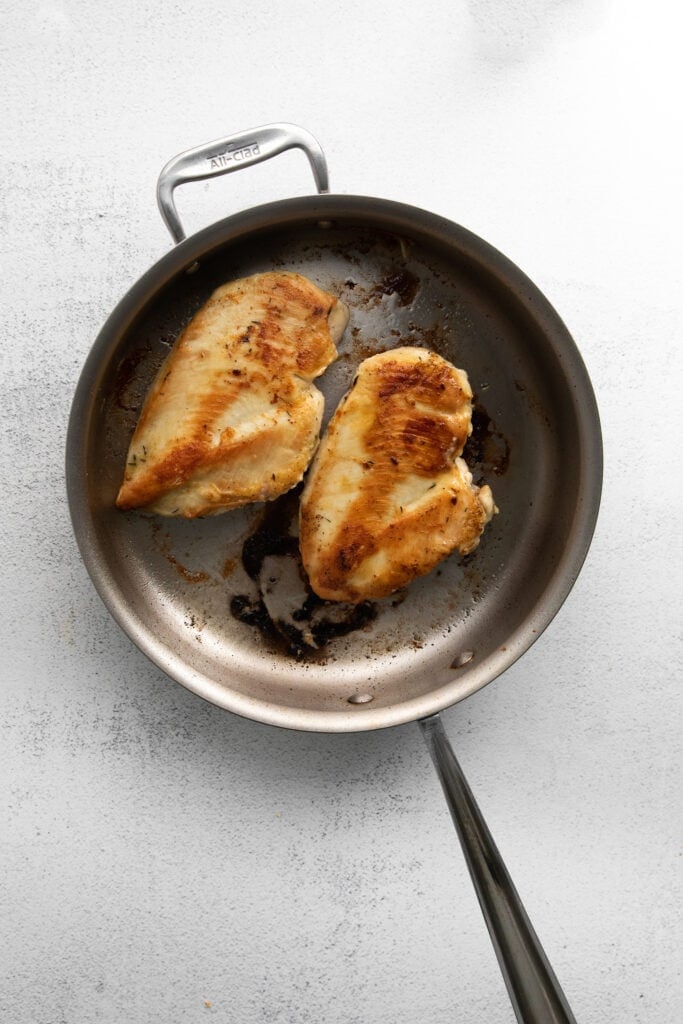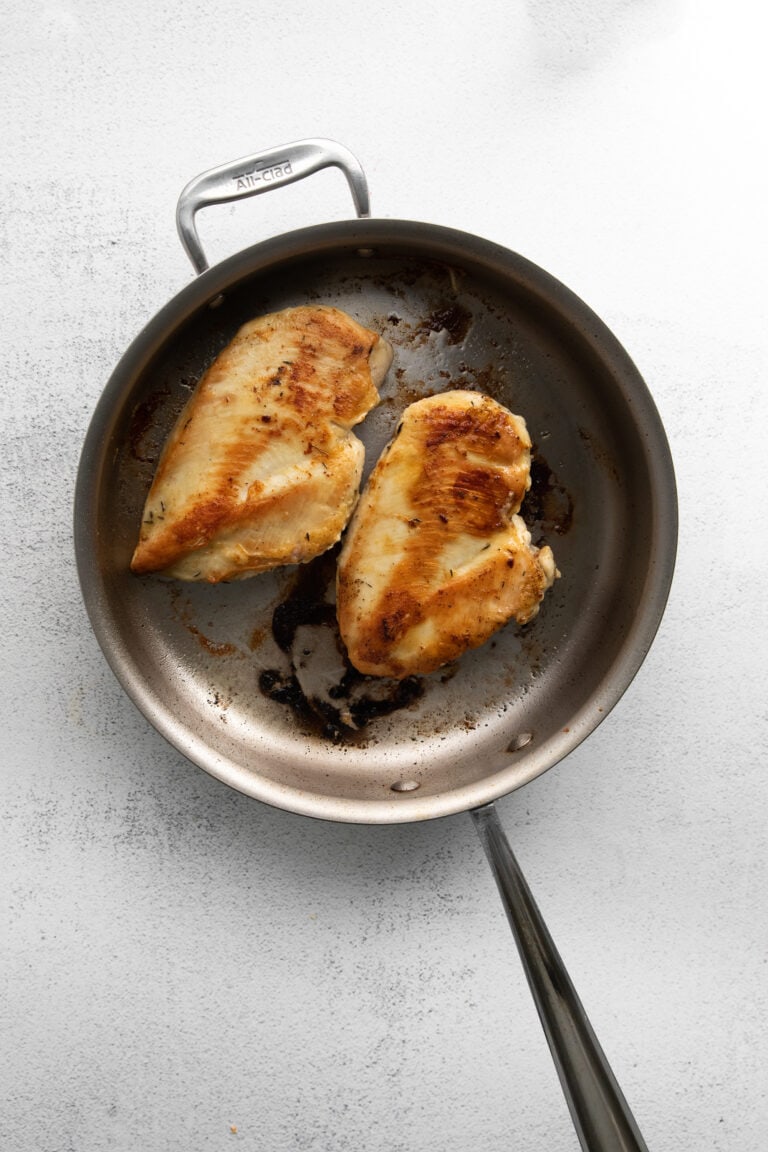 Chicken Alfredo Sauce
Wondering how to make alfredo sauce from scratch? Here's a super simple tutorial on how to do so:
Deglaze: add chicken broth to the bottom of the same pan you used for the chicken to deglaze it. Use a spatula to scrape the brown bits from the bottom.
Make Roux: add butter to the pan and fully melt. Then, slowly add flour and whisk until it forms a crumble.
Make Creamy Sauce: add milk and continue to whisk over medium heat until the sauce has thickened. Add Greek yogurt, starchy pasta water, and spices. Continue to whisk until creamy.
Add Parmesan: finally, add grated parmesan cheese and whisk until it has melted in the Alfredo sauce.
Toss with Pasta: toss alfredo sauce with cooked fettucini noodles to fully coat.
The final step in this recipe is to place the sliced chicken breast on top of the fettuccini Alfredo. Cover it and let steam for 5 minutes to warm up.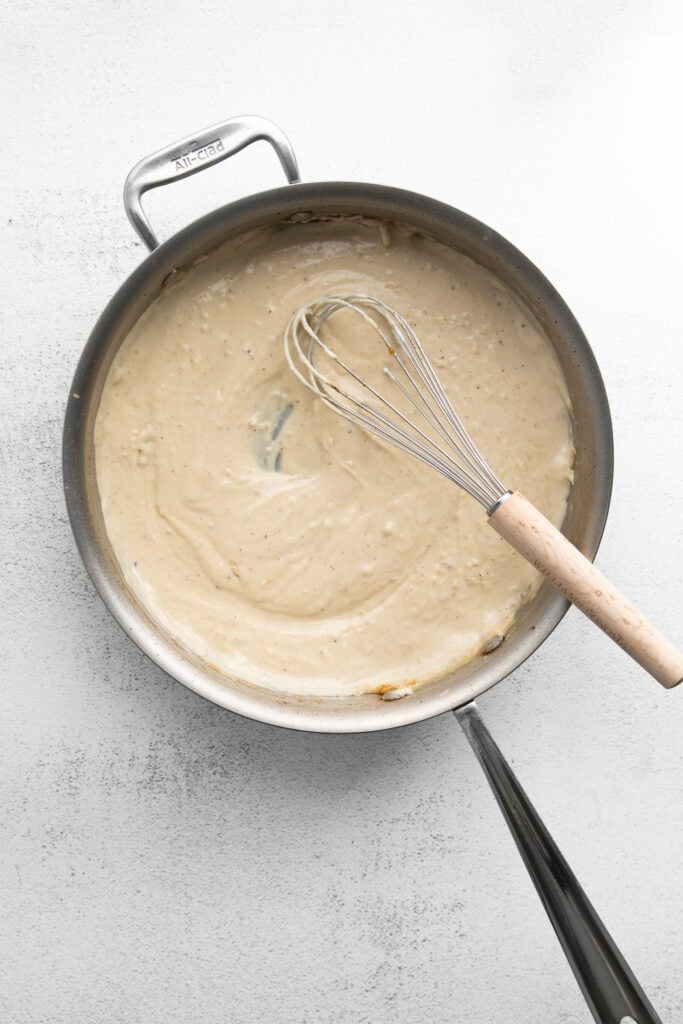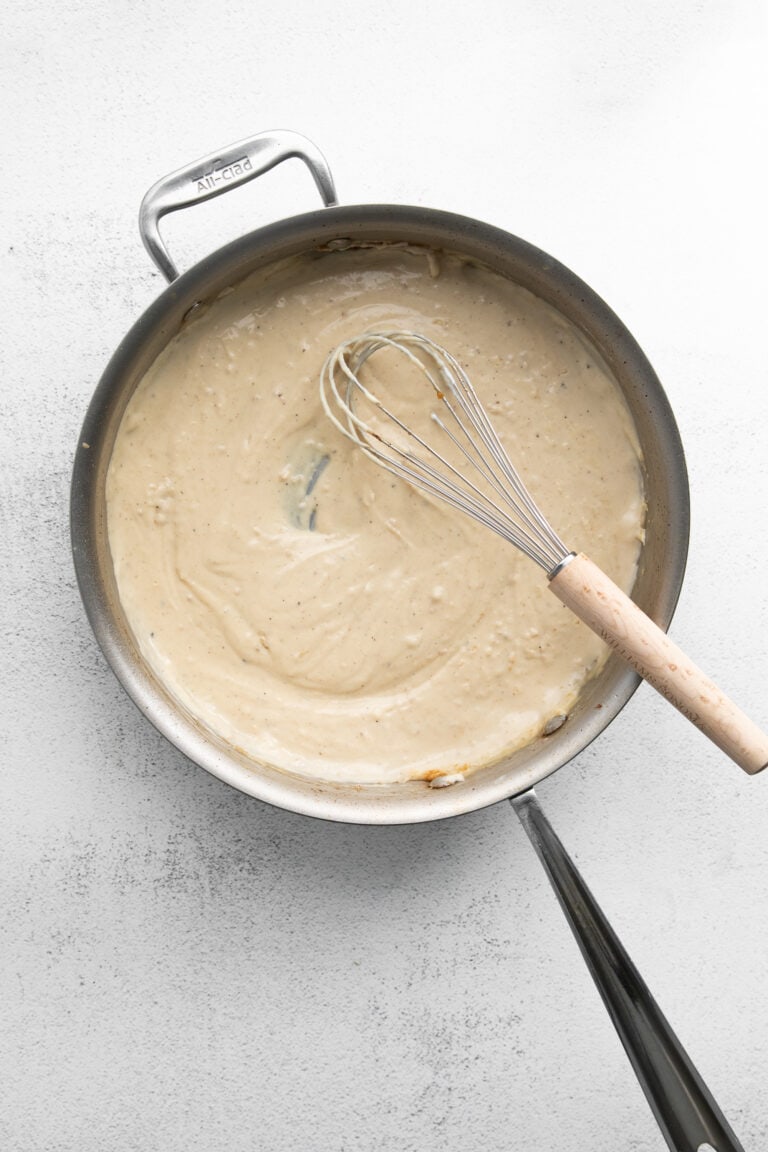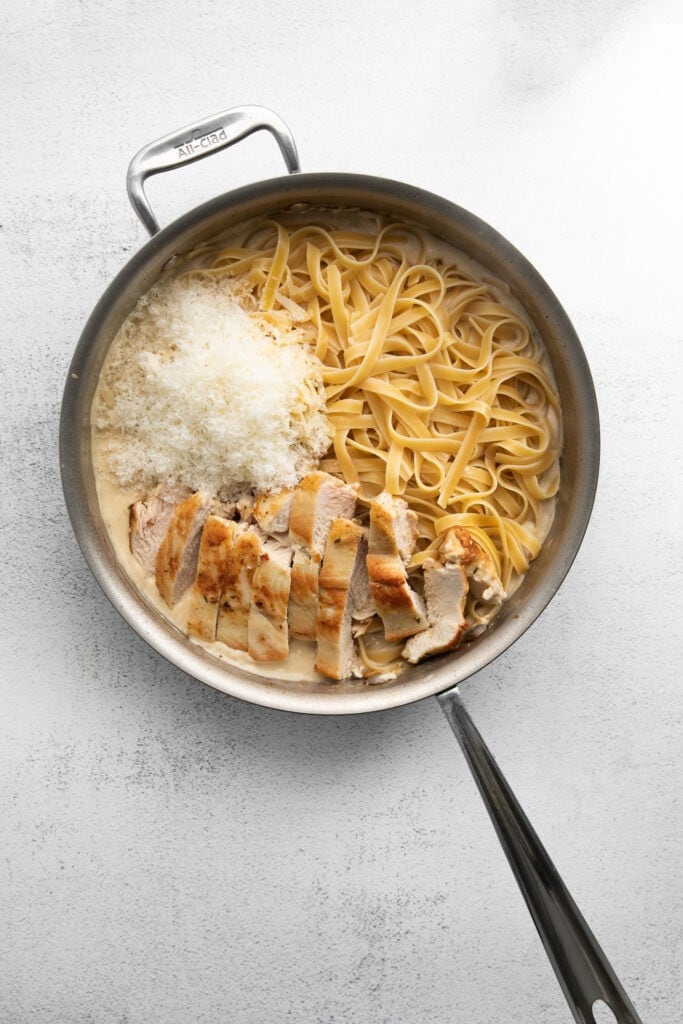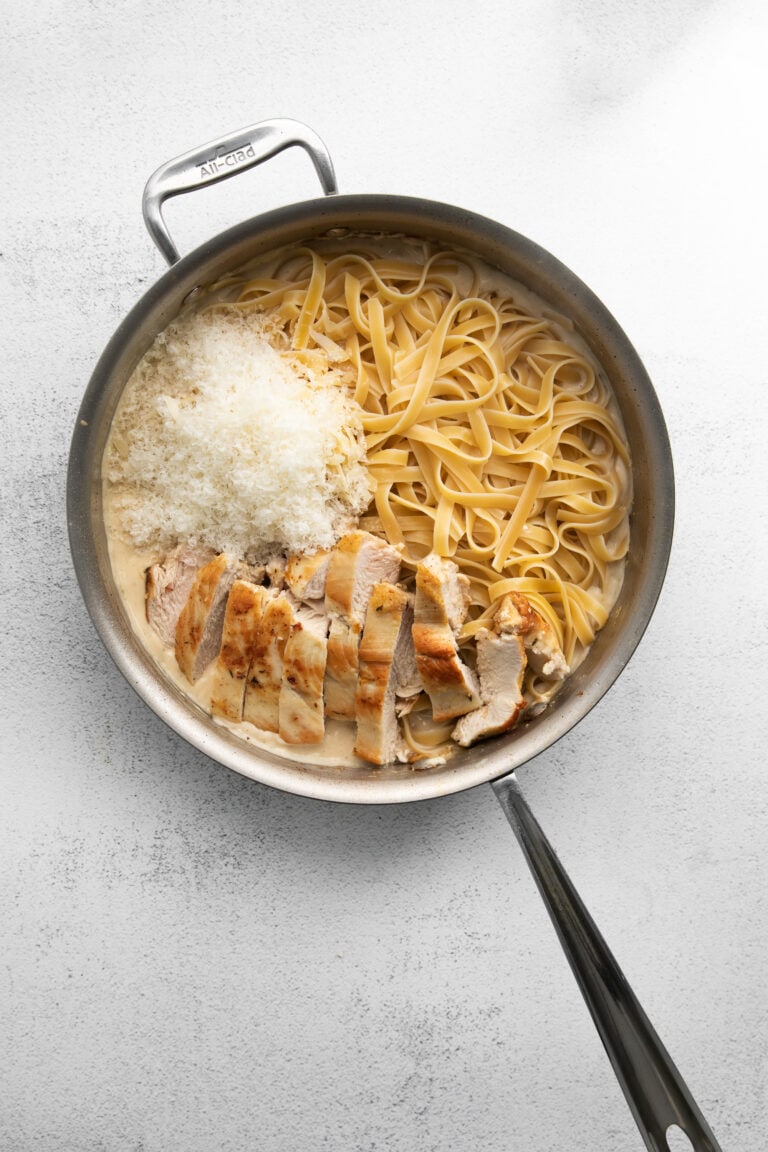 Chicken Alfredo Variations
Roasted Broccoli: Roasted broccoli would be such a delicious add to this chicken Alfredo. Plus, it would add some veggies 😀
Caramelized Mushroom: where my mushroom fans at? Caramelize sliced mushrooms with onion, olive oil, and salt and then toss it with the sauce before serving.
Skip the Chicken: Vegetarian? Try skipping the chicken or even replacing it with tofu.
Use a different noodle: Have fun with your noodle choice! Try penne, angel hair, or rigatoni!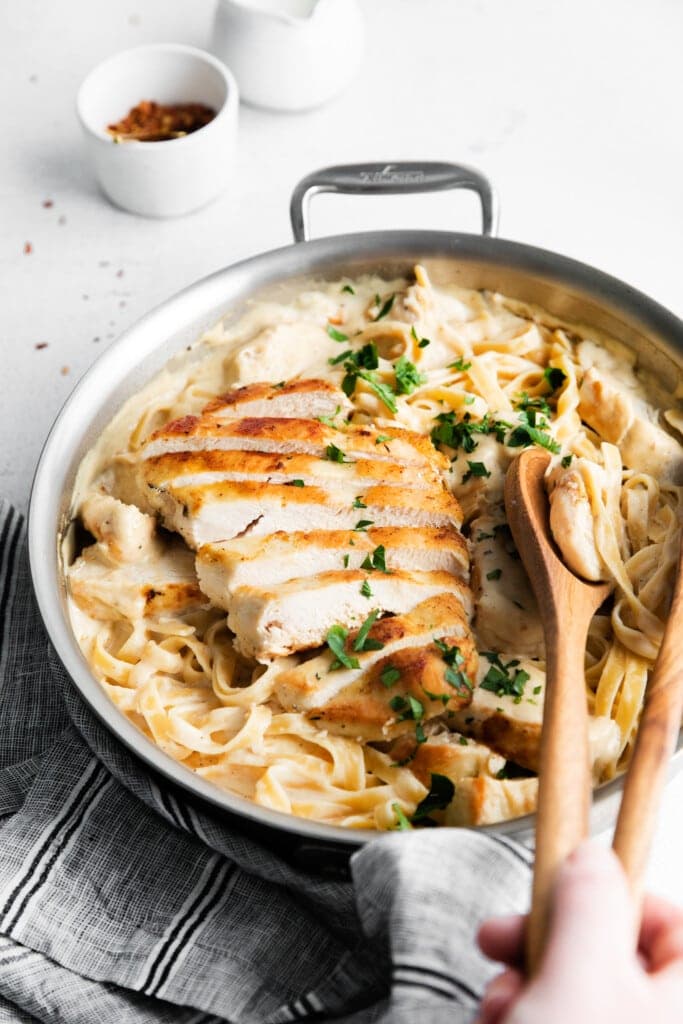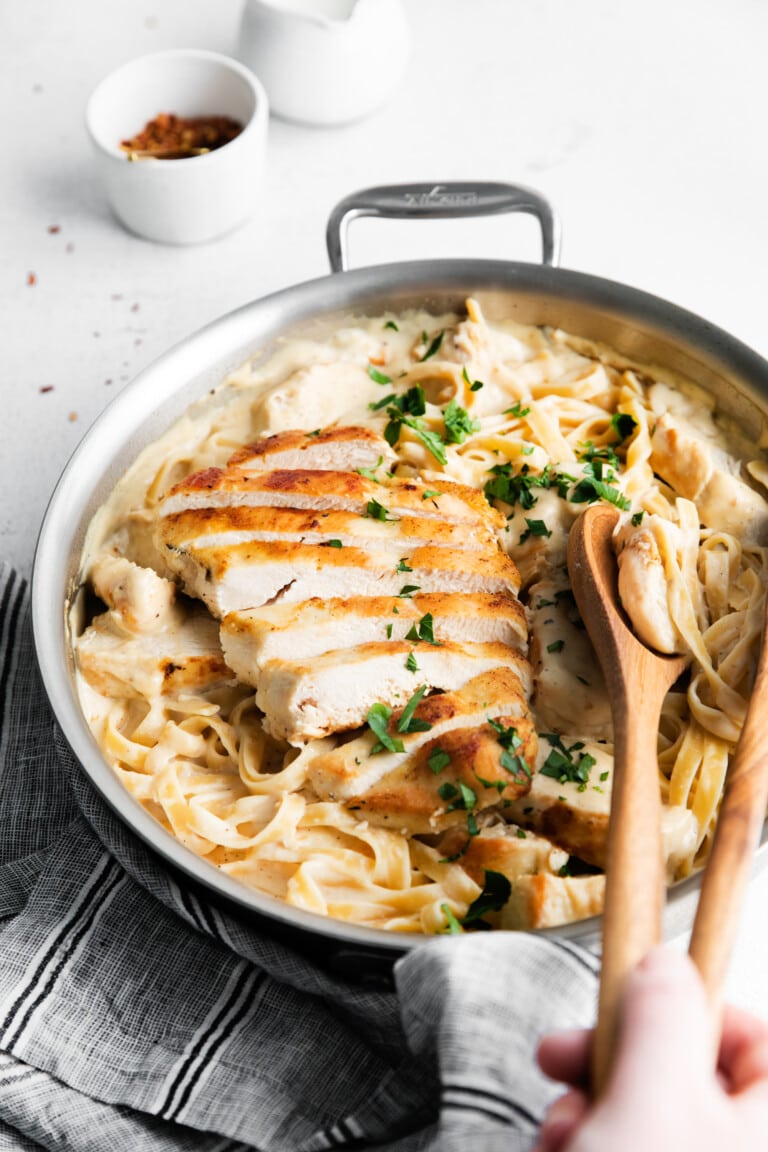 Storage
Let Chicken Alfredo cool completely. Then, transfer it into an airtight container and seal. Store in the fridge for up to 3-5 days.
To reheat: Transfer chilled chicken Alfredo into a large frying pan. Add a few tablespoons of chicken broth and reheat over medium heat until warm.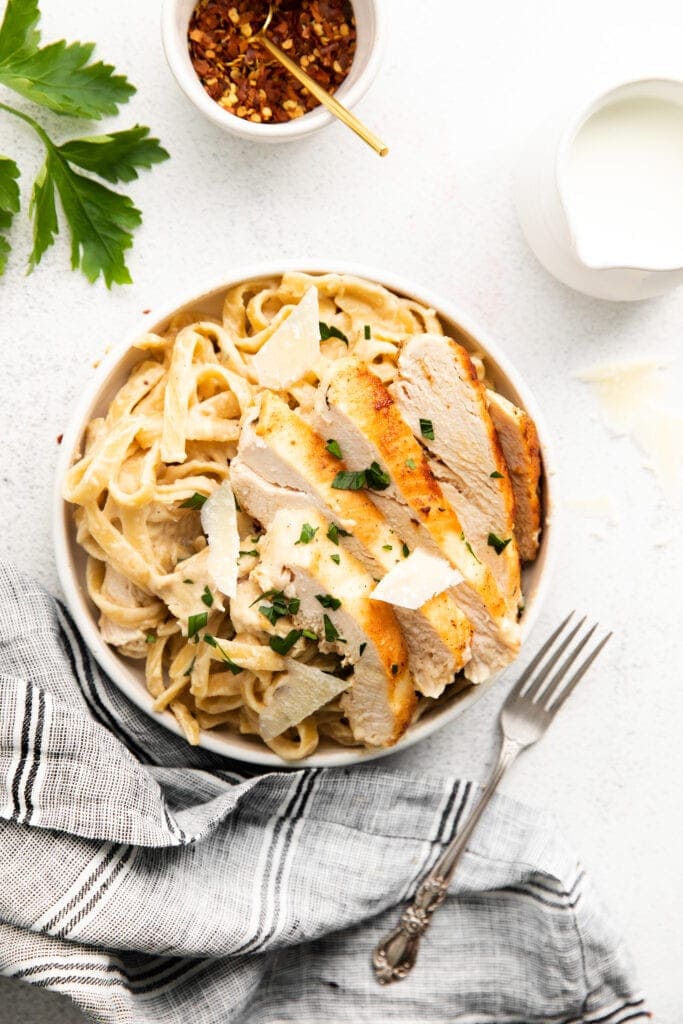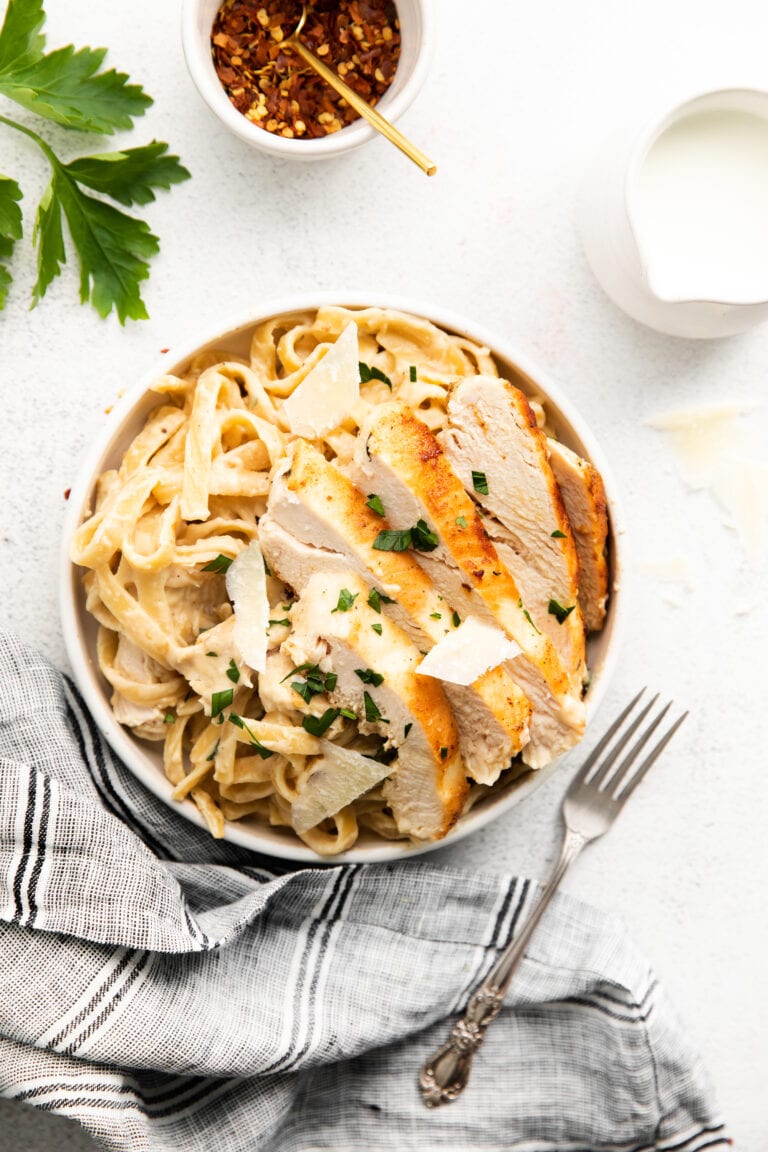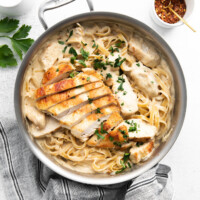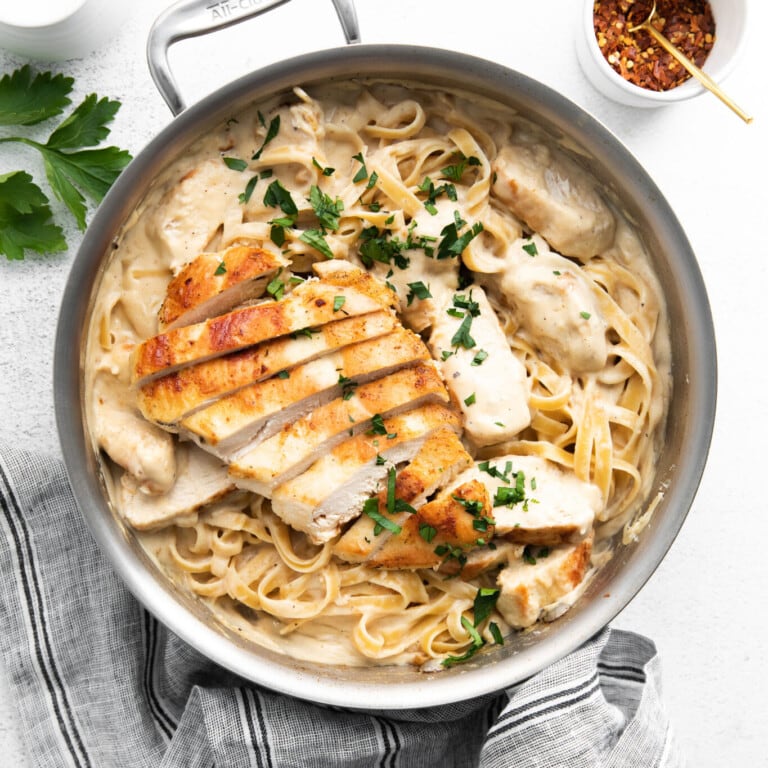 Homemade Chicken Alfredo Recipe
Homemade chicken Alfredo is easier to make than you think. You'll love this silky, flavorful Alfredo sauce paired with pan-seared chicken and fettuccini! 
Ingredients
Alfredo Sauce
1/4

cup

chicken broth*

3

tablespoons

salted butter

1/4

cup

white whole wheat flour

3/4

cup

2% milk

or any kind

1/2

cup

2% Greek Yogurt

1/2

cup

starchy pasta water

1.5

teaspoons

garlic powder

1/8

teaspoon

salt

1/8

teaspoon

ground pepper

1

cup

finely grated parmesan cheese

9

oz.

fettuccine noodles
Instructions
Begin by bringing a large pot of salted water to a boil. Add the fettuccine to the boiling water. Cook the pasta to al dente. Before straining the water from the pasta, remove 1/2 cup of pasta water from the pot to use for later. Set pasta aside.

Next, place the chicken breasts on a cutting board and cover them with plastic wrap. Using a meat tenderizer, pound the chicken to a ½-inch thickness. Set aside. 

Mix chicken breading together in a medium-sized bowl by combining white whole wheat flour, garlic powder, salt, pepper, and dried thyme.

Rinse each chicken breast with water and then dredge the chicken in the flour mixture. Make sure the chicken breast is completely coated.

Next, heat a large and deep skillet (or Dutch oven) over medium/high heat. Add olive oil. When olive oil is fragrant, add the chicken breasts to the pan. 

Sear each breast for 4-5 minutes per side on medium heat or until golden brown and fully cooked (internal temperature of 165ºF). When the chicken is golden brown on both sides, remove chicken breasts from the pan. 

Let the chicken rest for 5 minutes and then slice the chicken into 1/2 inch thick strips. Set aside. 

Prepare the alfredo sauce. Deglaze the same skillet pan that the chicken breasts were cooked in with the chicken broth. Scrape the brown bits from the pan with a spatula. 

Turn heat to medium/high heat and add the 3 tablespoons of butter to the pan. 

When the butter is melted add flour to the pan and whisk the butter and flour together until it forms a crumble. 

Slowly begin to add milk into the pan while whisking the milk, butter, and flour together consistently until all the milk has been added to the pan. 

Turn the heat to medium/low and continue whisking the milk mixture until it begins to thicken. 

Add Greek yogurt and whisk until it dissolves in the sauce. Slowly whisk in 1/2 cup of pasta water to the sauce and season with garlic powder, salt, and pepper. Mix well.

Add 1/2 cup of the grated parmesan cheese to the sauce and whisk until the cheese has melted. Add the last 1/2 cup of the parmesan cheese and whisk again until melted. 

Toss the fettuccine noodles with the alfredo sauce until all the noodles are coated in sauce. 

Finally, add the chicken strips to the pan, toss, and cover the pan for 5 minutes and let everything cook for an additional 5 minutes. 

Garnish with chopped parsley and enjoy. 
Tips & Notes
If the sauce seems too thick, feel free to whisk in more broth or starchy pasta water to thin it out.
Nutrition facts
Calories:
602
kcal
Carbohydrates:
57
g
Protein:
51
g
Fat:
29
g
Fiber:
3
g
Sugar:
4
g