Chicken piccata is made with boneless skinless chicken breasts, a delicious white wine lemon sauce, and capers. We love serving this chicken piccata recipe next to angel hair pasta for a complete meal.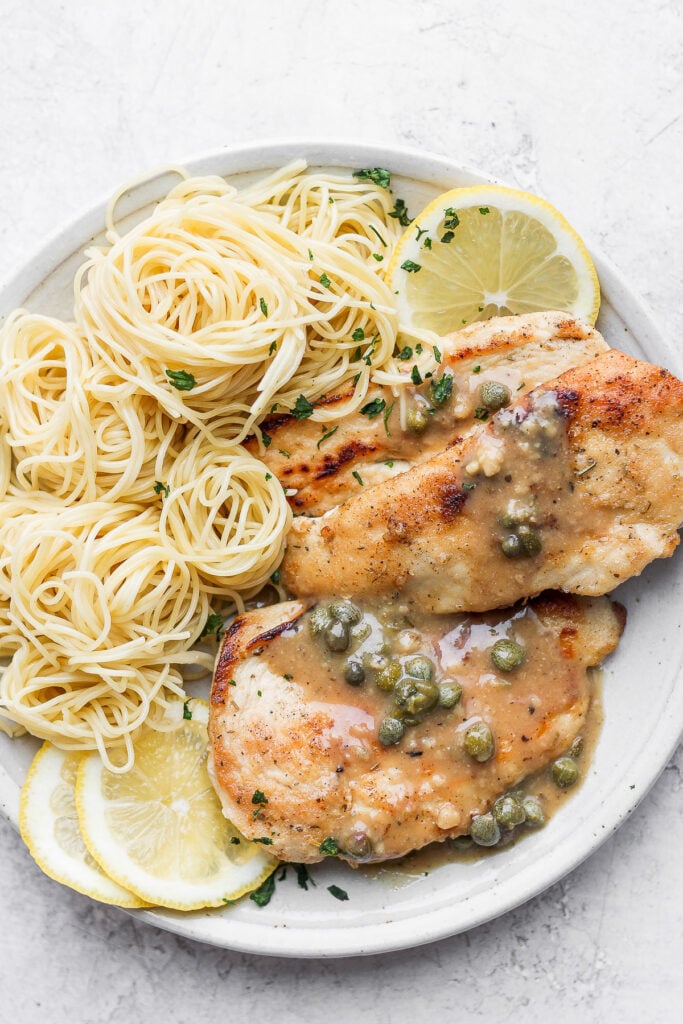 This 30-minute meal is a Fit Foodie reader favorite. This Chicken Piccata is made from scratch with just a few simple ingredients. It's high protein and comes together so easily!
Chicken Piccata = Favorite Dinner
If you have never had chicken piccata, today is your lucky day! This chicken piccata recipe is one of our new favorite chicken dishes. You just can't go wrong with adding this meal to your weeknight dinners rotation.
What is chicken piccata? Chicken piccata is an Italian dish that is made with tenderized chicken breast (originally made with veal) that is dredged in a flour mixture, fried, and then doused in a white wine and caper sauce.
You are going to love this version of the chicken piccata. It is rich and flavorful and also ready in 30 minutes.
Chicken Piccata Ingredients
Not only does this chicken piccata have a short cook time, but it has a short ingredient list, too! Here is everything you need for this flavorful chicken piccata recipe.
Chicken breast – classic chicken piccata uses chicken breast, but you can also use boneless, skinless chicken thighs.
White whole wheat flour – a little flour is used for dredging to make the chicken golden brown and delicios.
Spices – you only need basic spices for this recipe — salt, ground pepper, granulated garlic, and Italian seasoning.
Olive oil – the olive oil is used for searing, but you're more than welcome to use butter instead,.
Dry white wine – the piccata sauce is made with the base of a yummy dry white wine. 
Chicken broth – broth is used to add volume to the sauce.
Lemon juice – freshly squeezed lemon juice is important for the sauce. Make sure to use fresh squeezed!
Capers – capers add just the right amount of saltiness to this recipe.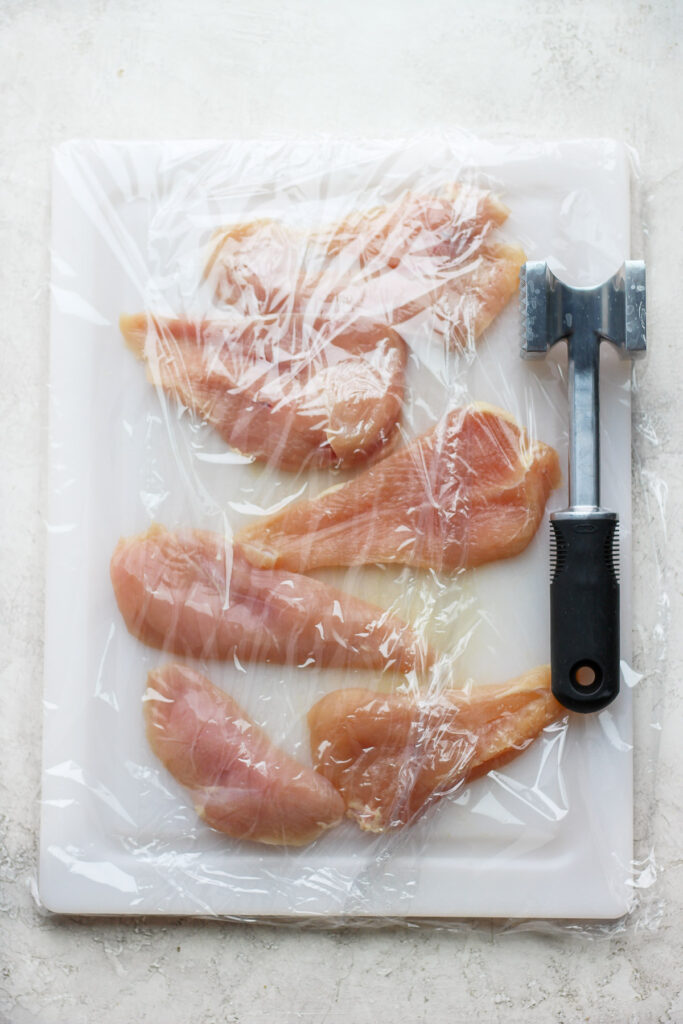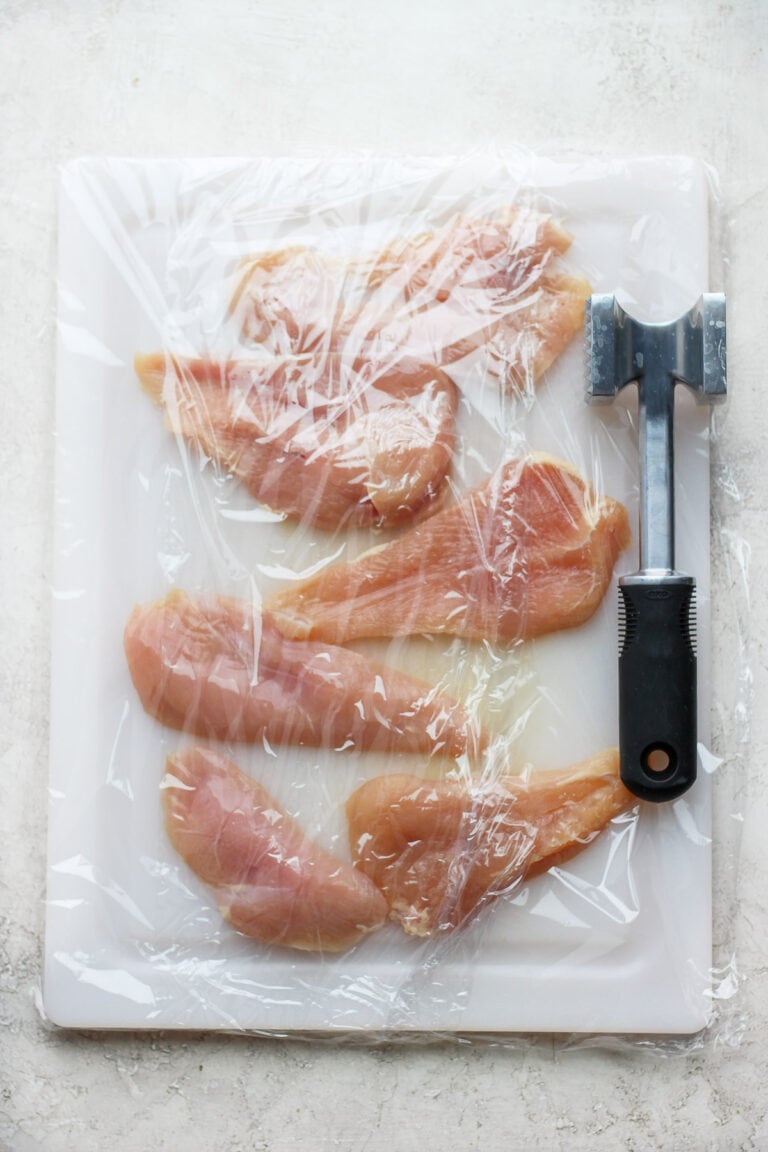 How to Make Chicken Piccata
Prepare the Chicken
One of the most important parts of making chicken piccata is making sure that the chicken is thin and all of the chicken pieces end up close to the same thickness.
The first thing you want to do when preparing the chicken for chicken piccata is cut each chicken breast in half lengthwise. This creates double the amount of chicken and you end up with thin chicken pieces that make for perfect piccata.
After the chicken is cut in half, it's time to pound the chicken, both to get the chicken to the same thickness and to tenderize the meat. To pound the meat, place the chicken on a cutting board and cover it with plastic wrap.
From there, pound the chicken with a meat tenderizer until all of the chicken pieces reach the same thickness.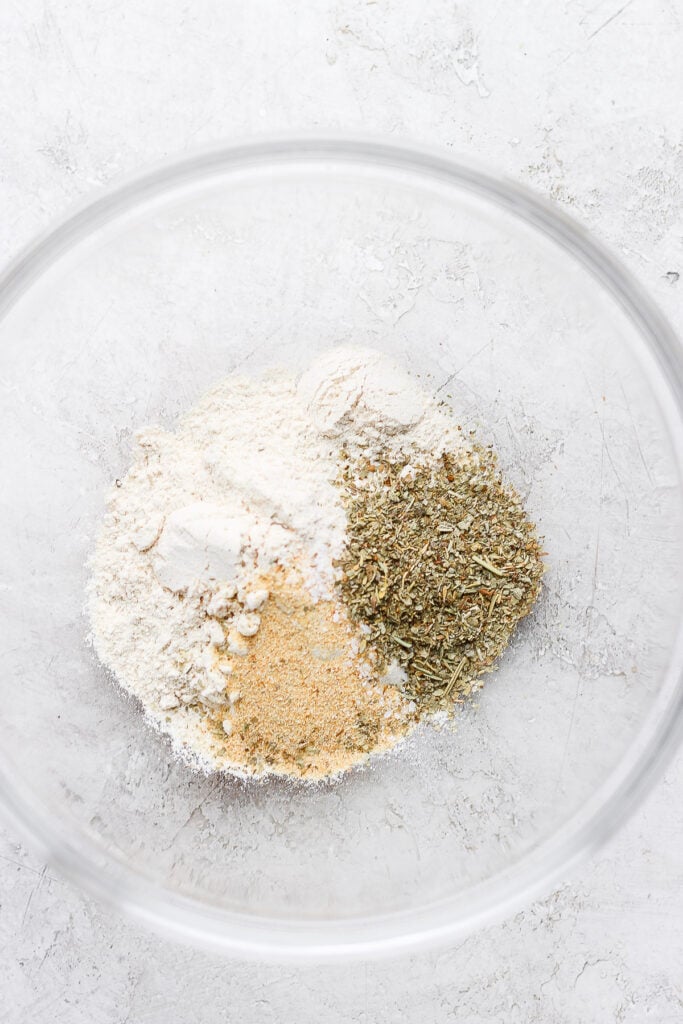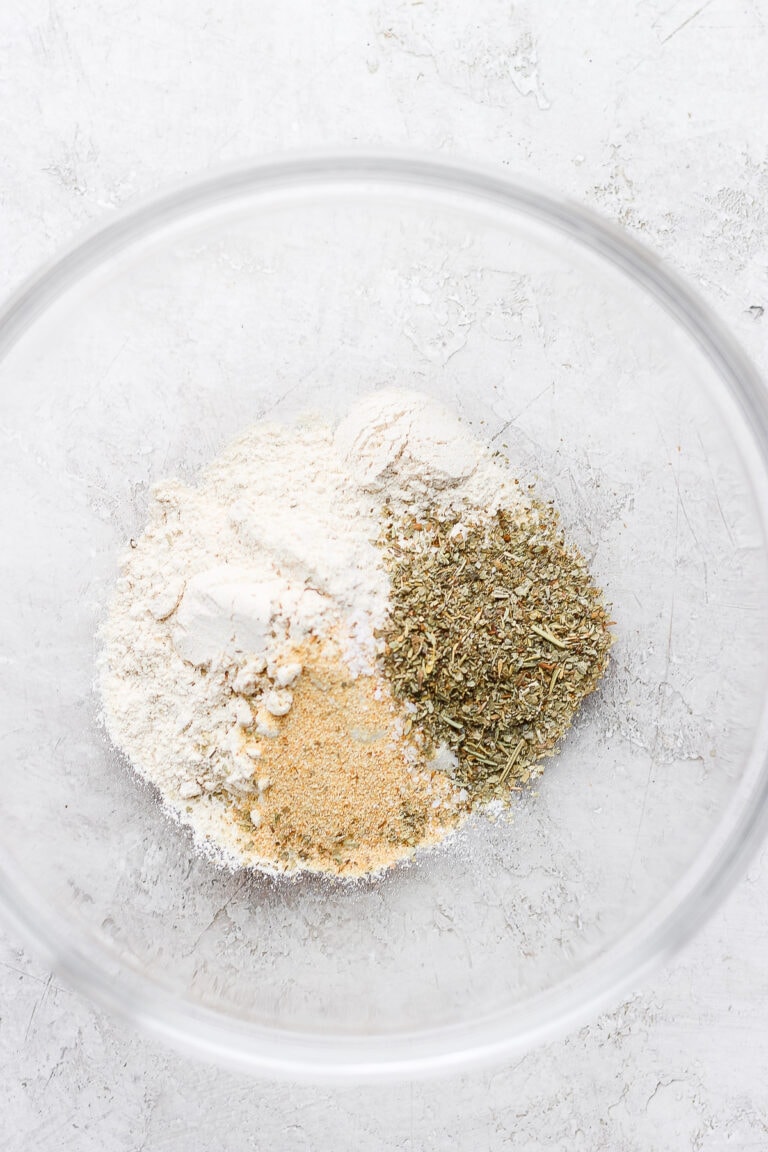 Chicken Seasoning for Chicken Piccata
The seasoning for the chicken piccata is a mixture of simple spices and flour (yes, flour!).
Why do you need to dredge the chicken in flour? You do this to form a coating on the chicken that will create the most golden-brown crust on the chicken that soaks up the delicious white wine sauce.
After you have pounded the chicken, run the chicken in water, let the excess moisture drip off, and then dredge (or cover) the chicken in the flour mixture until the chicken is fully covered.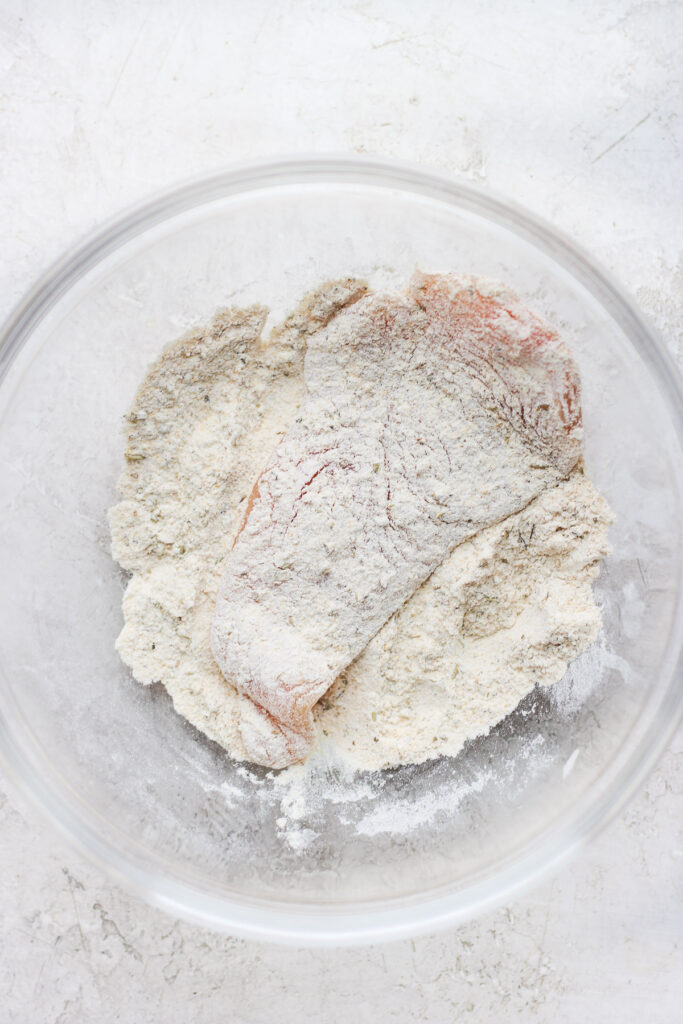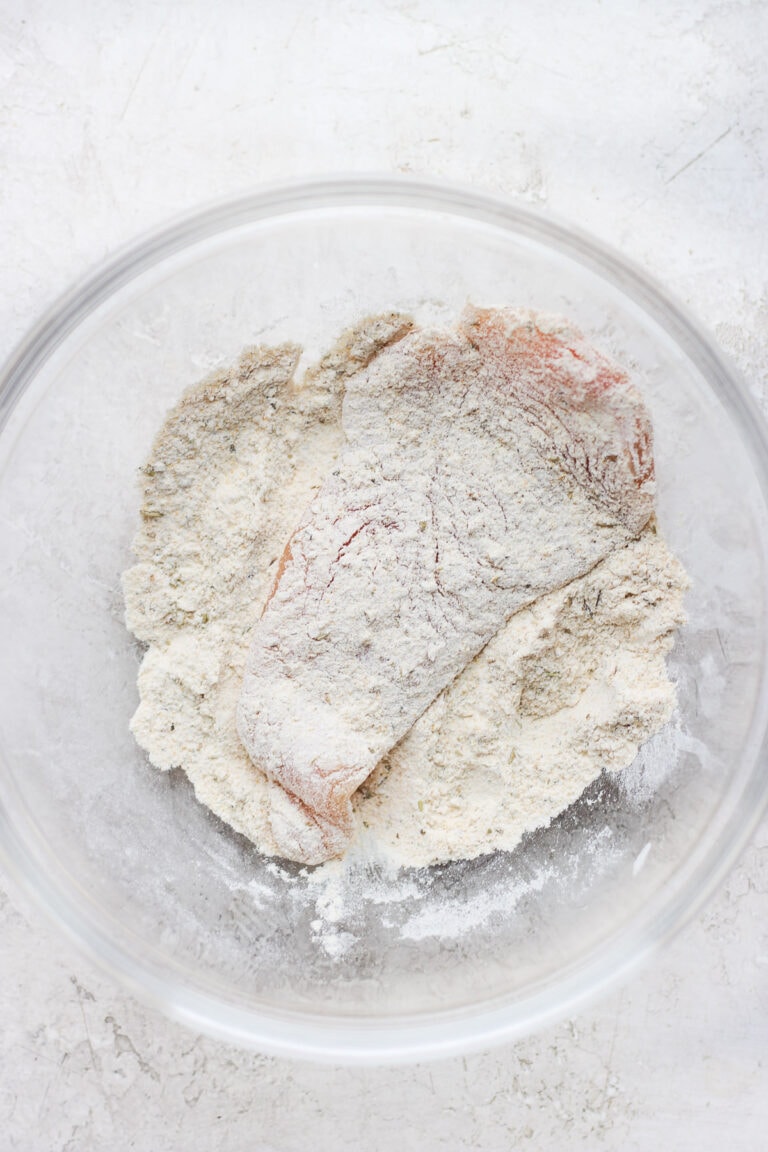 Pan Fry the Chicken
After the chicken has been dredged through the flour, it's time to brown the chicken.
To do this, heat olive oil over medium high heat in a skillet. Cook the chicken on each side for 3-4 minutes or until the chicken is golden brown or until the internal temperature of the chicken reaches 165ºF.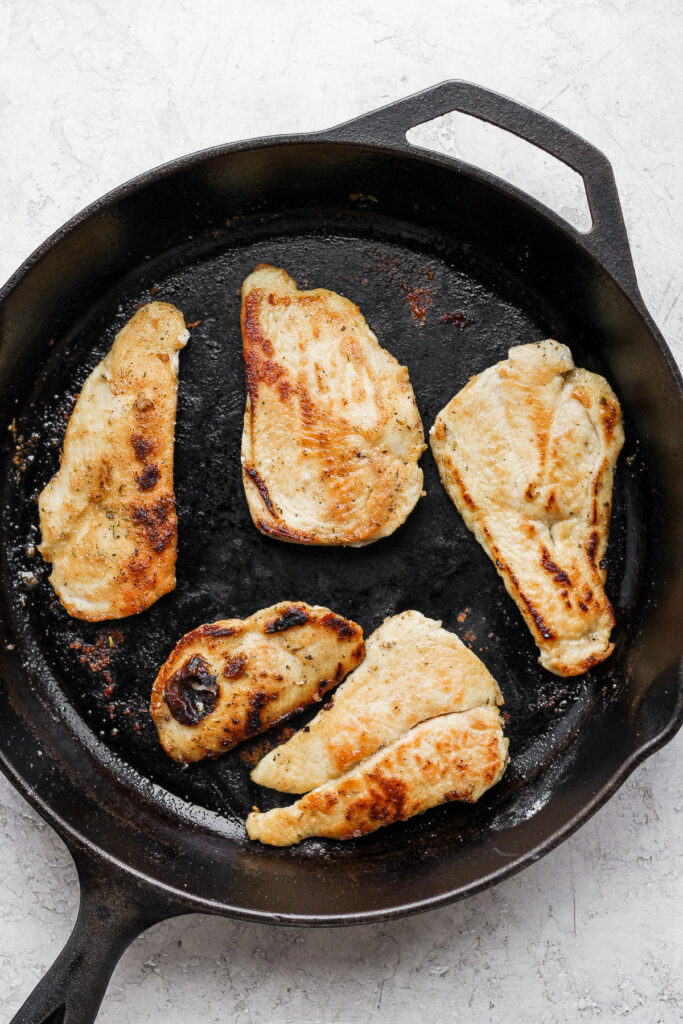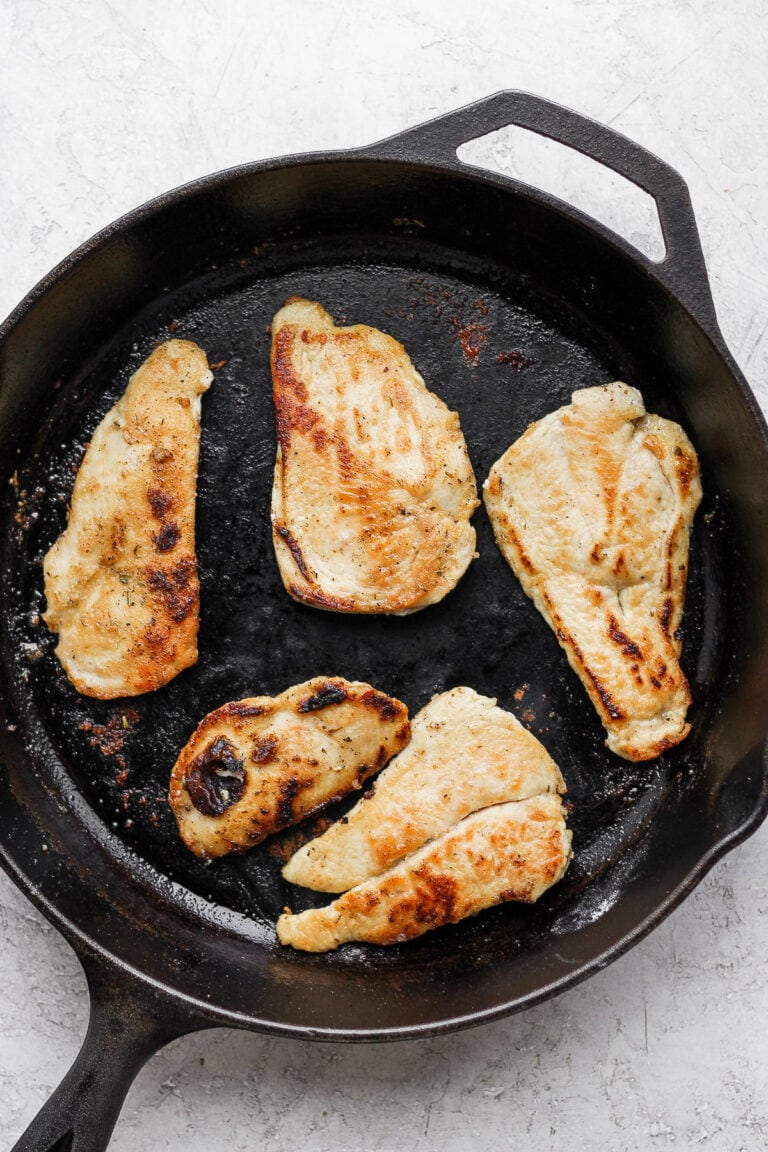 Make Lemon White Wine Sauce
When you ask people what they love about chicken piccata, usually they say that the white wine sauce is their favorite part. Why? Because it is so rich and delicious.
The sauce may seem like a complicated thing to make, but it is a beautiful combination of little bits of chicken, chicken seasoning, and all of the delicious sauce ingredients.
What is chicken piccata sauce made of?
The chicken piccata sauce is made with white wine, flour, chicken broth, fresh lemon juice, and capers. You simmer the sauce until it thickens and then pour it over the perfectly cooked chicken.
What does chicken piccata taste like? This delicious sauce tastes like a lemony, garlicky, tangy sauce with a hint of salt (thank you capers!).
Best Wine for Chicken Piccata Sauce
We mentioned that you need dry white wine and this is extremely important. Our favorite dry white wines to cook with are:
Sauvingon Blanc (hints of citrus)
Pinot Grigio (fruitier)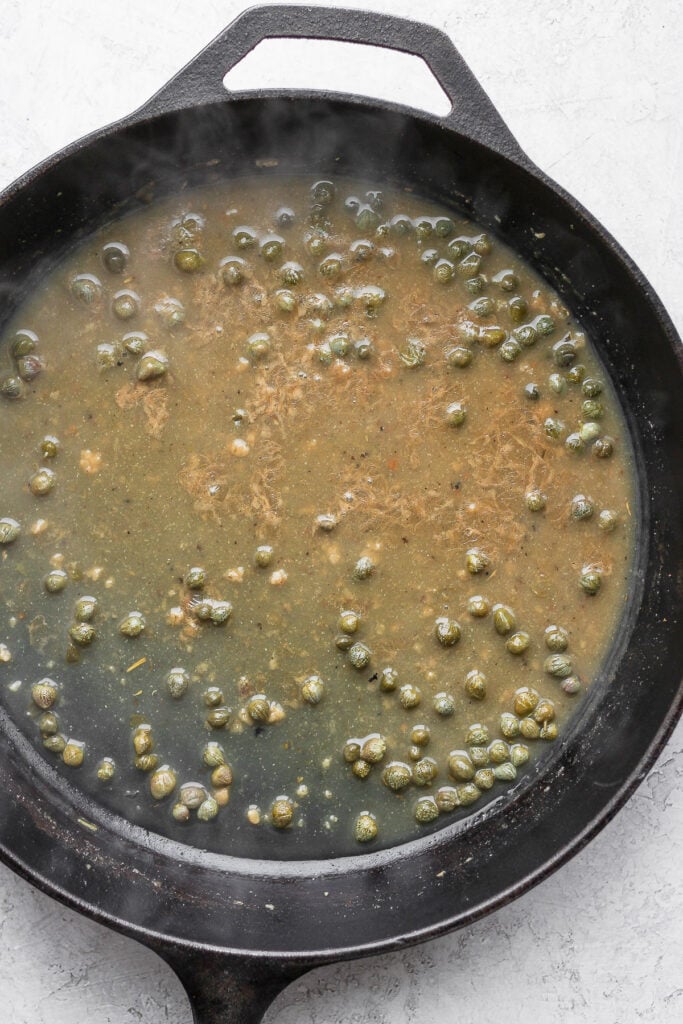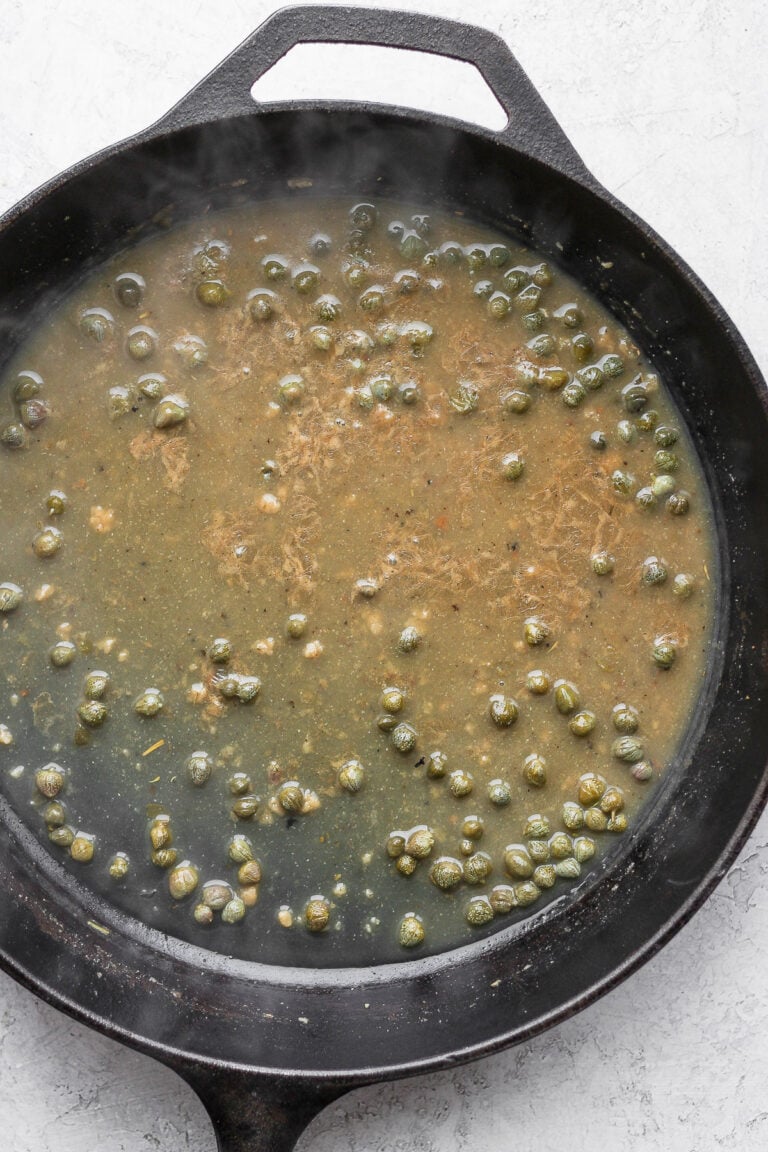 Chicken Piccata Tips + Tricks
Don't forget to Tenderize the Chicken!
Tenderizing your chicken breast (AKA pounding it) so that it's all relatively the same thickness is important. The more even your chicken, the more perfectly it will cook.
Can I meal prep chicken piccata?
Yes, you can meal prep chicken piccata. We suggest keeping the chicken separate from the sauce until you are ready to prepare the chicken throughout the week.
How do you store chicken piccata?
To store chicken piccata, you want to let the chicken cool completely before placing it in an air-tight container. You also want to store the sauce in a separate air-tight container.
Switch up the protein!
You read that correctly. You can easily make this recipe with boneless skinless chicken thighs instead of breasts. But, did you know you can also make it with a completely different protein like salmon? Check out our Salmon Piccata recipe.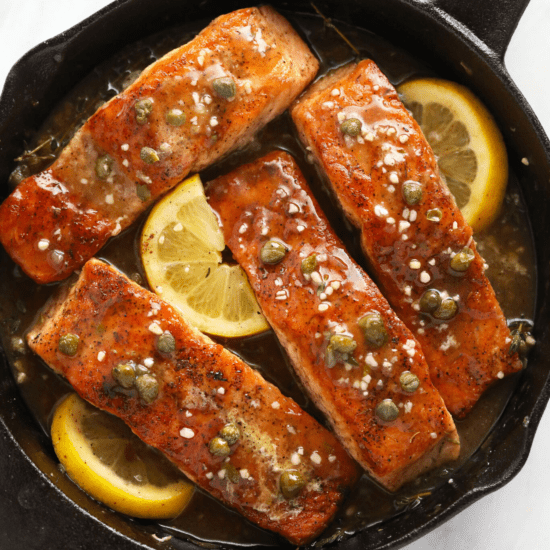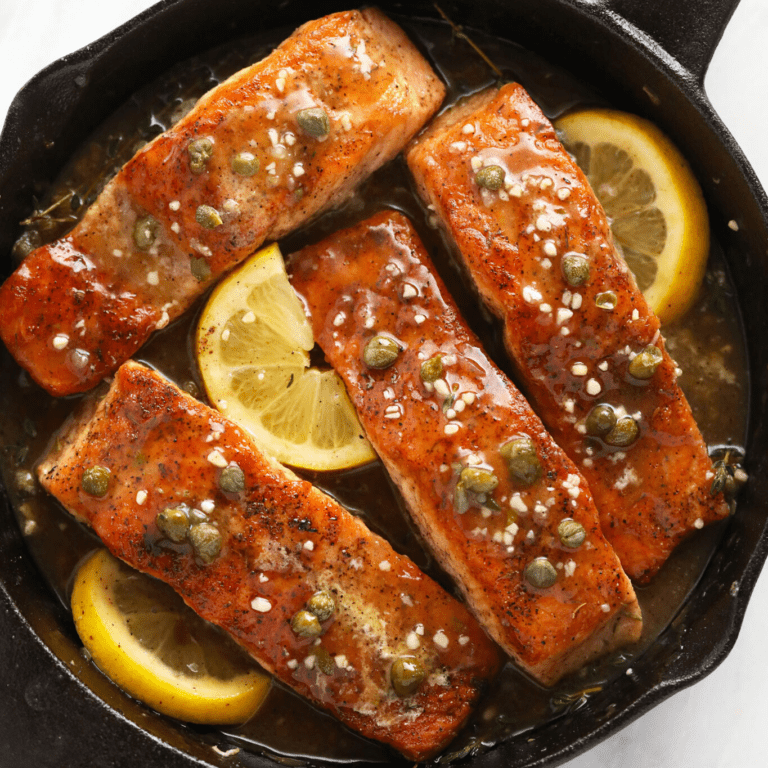 Try it!
Salmon Piccata
This salmon piccata is a flavorful 30-minute meal that will blow your mind. You sear your salmon to perfection and then serve it with a delicious piccata sauce.
Get Recipe
Serving Suggestions
Chicken piccata is delicious on its own but it is commonly served on top of angel hair pasta with fresh parsley and sometimes parmesan cheese. However, you could serve it on top of any pasta! You could even serve chicken piccata on top of mashed potatoes!
Chicken piccata would also be delicious with salads or side dishes. Here are some of our favorites.
Salads
Side Dishes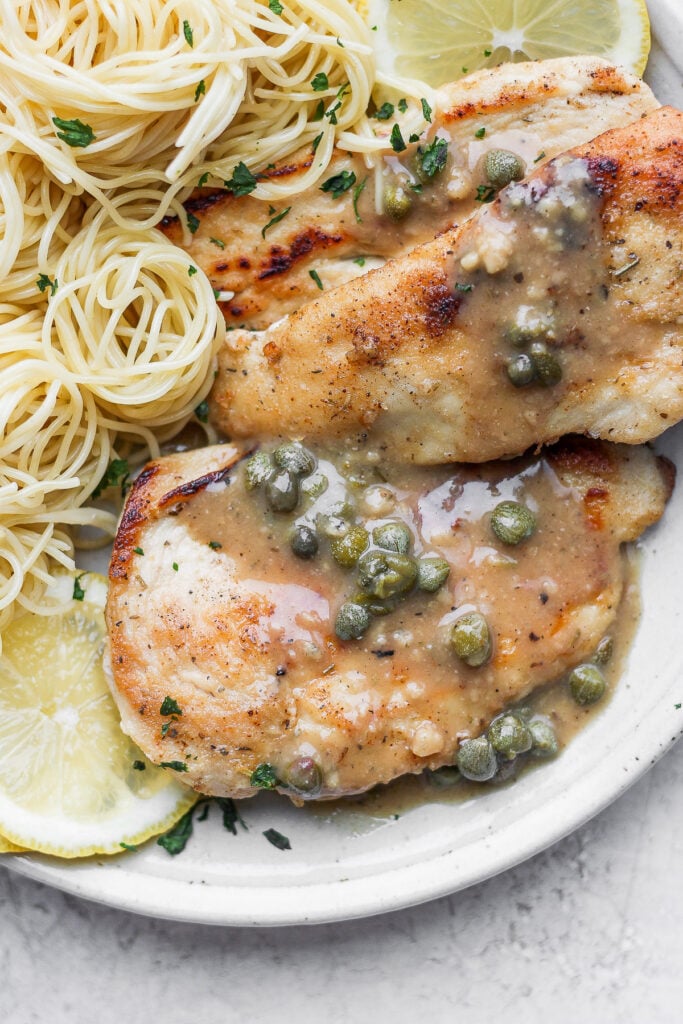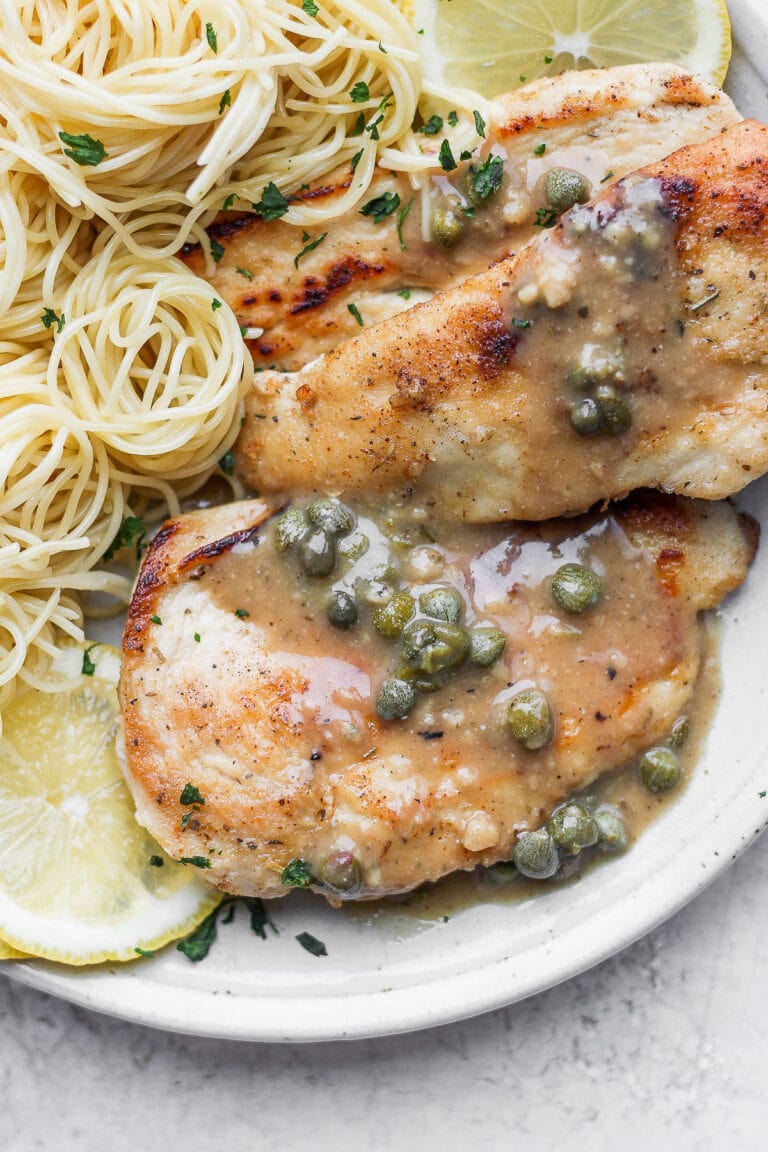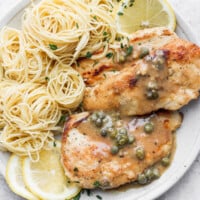 Chicken Piccata Recipe
Our easy chicken piccata recipe is made 100% from scratch with pan-seared chicken breasts and the most perfect lemon white wine sauce.
Ingredients
Chicken
1-

lb.

Boneless

skinless chicken breasts (2 large chicken breasts)

⅓

cup

white whole wheat flour

2

teaspoons

granulated garlic

or garlic powder

⅛

teaspoon

salt

½

teaspoon

ground pepper

½

teaspoon

Italian seasoning

2-3

tablespoons

olive oil
Sauce
½

cup

dry white wine

we used Sauvignon blanc

1

tablespoon

flour mixture

from above

1/2

cup

chicken broth

2

tablespoons

fresh lemon juice

2

tablespoons

capers

including juice
Instructions
Begin by slicing the chicken breasts lengthwise in half to create 4 cutlets.

Then, place the chicken cutlets on a cutting board and cover them with plastic wrap. Using a meat tenderizer, pound the chicken to a ½-inch thickness. Set aside. 

Mix chicken breading together in a medium-sized bowl by combining whole wheat flour, granulated garlic, salt and pepper, and italian seasoning. Reserve 1 tablespoon for later.

Dredge the chicken by first rinsing each chicken breast with water and then dredging the chicken through the flour mixture. Make sure the chicken breast is completely covered in the flour mixture. 

Next, heat a large skillet over medium/high heat. Add olive oil. 

When olive oil is fragrant, add the chicken cutlets to the pan. 

Saute each cutlet for 4-5 minutes per side on medium heat, or until golden brown and fully cooked.

When the chicken is golden brown on both sides, remove chicken cutlets from the pan. Set aside. 

Deglaze the pan by pouring the white wine into the skillet. Use a spatula to scrape the little brown bits from the pan. 

Next, add 1 tablespoon of the remaining flour mixture to the pan and whisk together with wine until it thickens

Add broth, lemon juice, and capers to the pan and whisk together. 

Remove from heat and pour the piccata sauce over the chicken.

Serve over pasta of choice, or on its own.
Nutrition facts
Calories:
240
kcal
Carbohydrates:
7
g
Protein:
28
g
Fat:
10
g
Fiber:
1
g
Sugar:
0
g
Photography: photos taken in this post are by Erin from The Wooden Skillet.
Photography: photos taken in this post are by Erin from The Wooden Skillet.