Get your vegetables in and make one of these healthy salad recipes for lunch or dinner this week!
Meal prep a healthy broccoli salad recipe for dinner or a healthy potato salad for your next BBQ. Add any of these healthy salad ideas to your menu this week!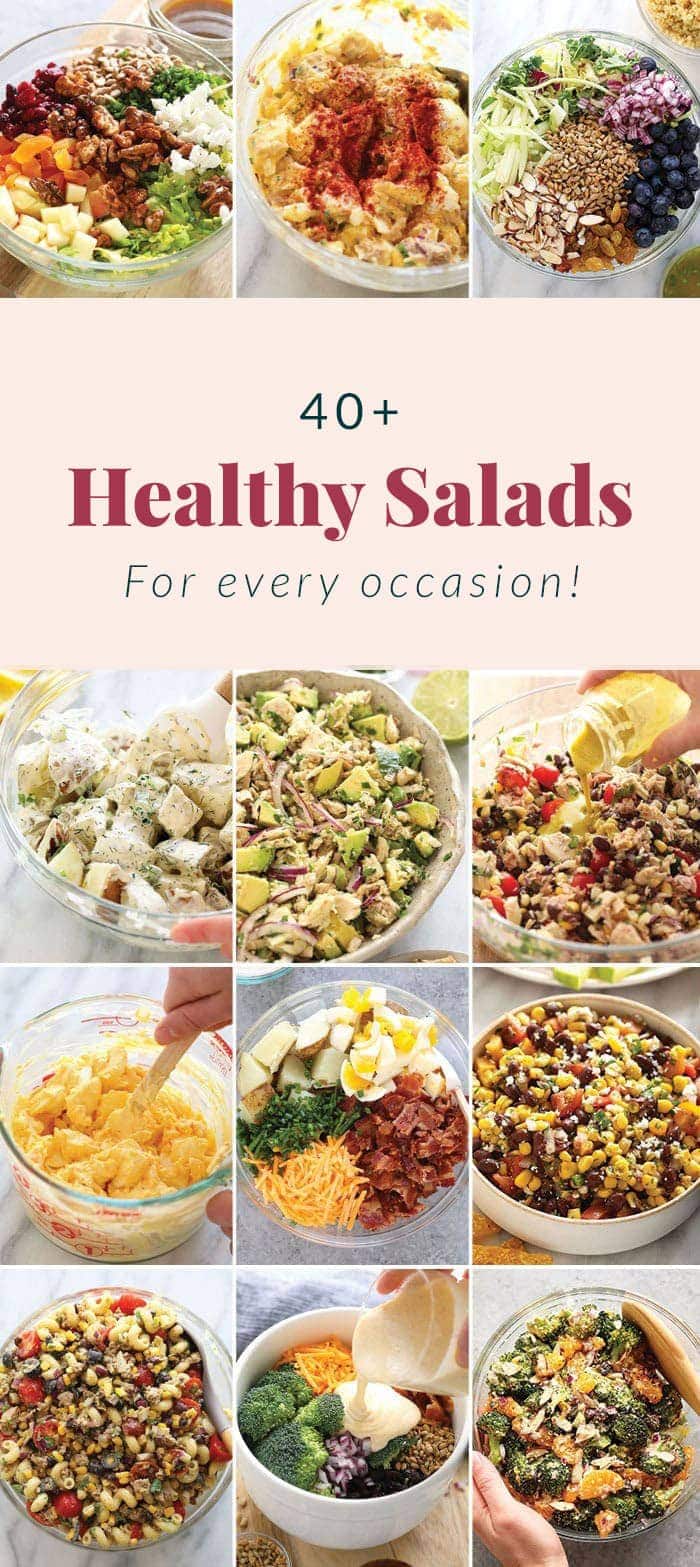 All the BEST Healthy Salad Recipes
There is no shortage of salad recipes on Fit Foodie Finds. We love salads of all kind! One thing we've learned about salads in the past couple of years is that a salad doesn't have have a base of greens in order for it to count as a salad.
Here on Fit Foodie Finds we have quinoa salads, kale salads, potato salads, tuna salads, broccoli salads, and everything in between!
All you have to do is throw veggies, a protein, and your favorite dressing in a bowl and you're all set to call it a salad.
Sometimes the base of the salad maybe kale and other times it may be quinoa! We want people around the globe (especially people who have despised salads in the past) to break out of the box on how they think of salads and mix it up a bit.
Even those of you who aren't "veggie people", I guarantee you will like one of the salads below after reading this post! Let's do this.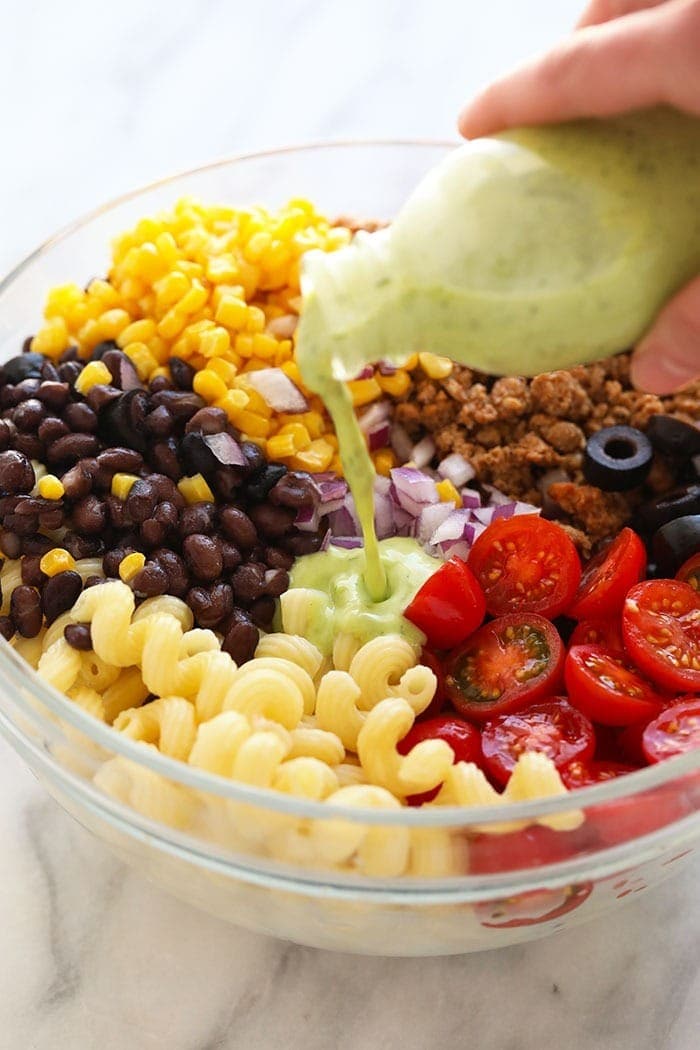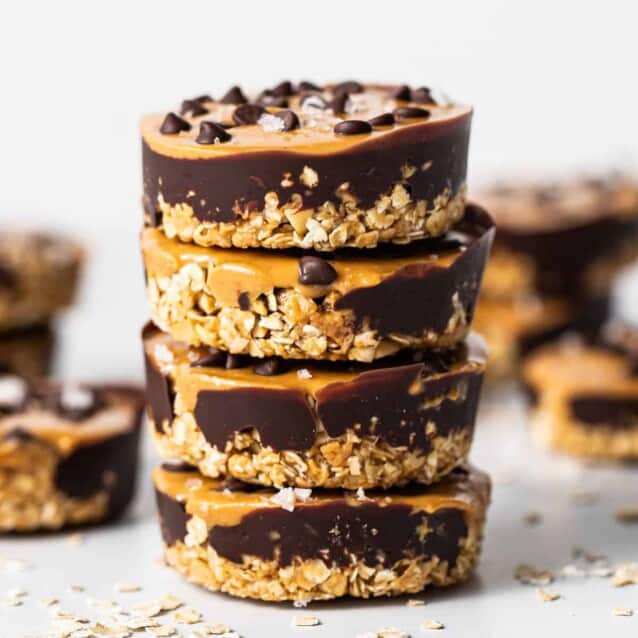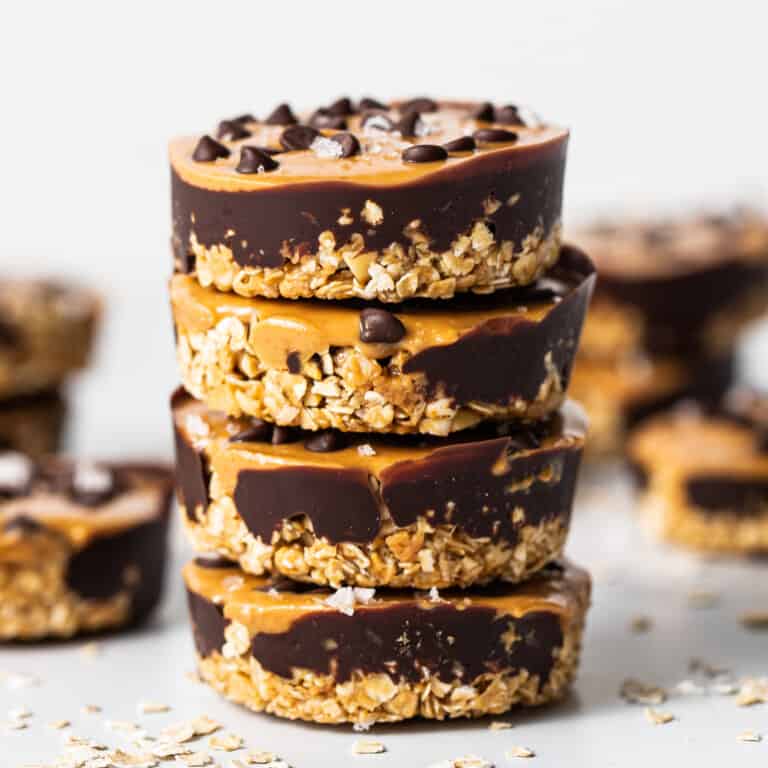 Get our Top 10 5-Star Recipes!
Join our email list for new recipes and BONUS: get our top 10 ⭐️⭐️⭐️⭐️⭐️ recipes e-book!
How to Build a Salad
Like I said above, salad is made up of vegetables, protein, and some kind of dressing (even if it's just a drizzle of EVOO). You can mix and match as much as you'd like and replace eggplant with potatoes if you're not a fan.
hot tip
One rule of thumb we like to live by is to chop up your salad ingredients into bite-size pieces. Not only does it make it easier to eat a salad, but it will ensure that you get a little bit of each ingredient in every bite!
Choose a Base
First things, first. Choose a base. Do you want a leafy salad or a substantial salad that has a protein or grain as a base? Below are all different options for a salad base that you could choose from!
Greens
Kale
Spinach
Arugula
Microgreens
Romaine lettuce
Spring greens
Hearty Vegetables
Broccoli
Cauliflower
Potato
Corn
Brussels sprouts
Sweet potatoes
Grains
Quinoa
Farro
Bulgar
Buckwheat
Whole wheat pasta
Protein
Chicken
Tuna
Garbanzo Beans
Tofu
Jackfruit
Tempeh
Black Beans
Bacon
White beans
Healthy Salad Fixings
After you have decided on having a green leafy salad, a grain salad, or a hearty vegetable salad, it is time to choose what salad fixings go well with your salad.
We like to balance our salads with a mixture of sweet and savory flavors as well as different textures (crunchy, chewy, etc.) Generally, I choose one or two ingredients from the list below and add them to my salad!
Dried Fruit
Raisins
Cranberries
Cherries
Apricots
Seeds + Nuts
Almonds
Walnuts
Pecans
Sesame Seeds
Sunflower Seeds
Pine Nuts
Fresh Fruit
Apples
Oranges
Raspberries
Blueberries
Strawberries
More Vegetables
Red Onion
Sweet Peppers
Green Onion
Fresh Herbs
Basil
Cilantro
Oregano
Parsley
Mint
Cheese
Goat Cheese
Feta Cheese
Cottage Cheese
Parmesan Cheese
Pecorino
Cheddar Cheese
Choose a Healthy Salad Dressing
Finally, DRESSING. Dressing on a healthy salad is like the cherry on top for an ice cream sundae. The salad is amazing, but the dressing really takes it to the next level.
When choosing what type of healthy salad dressing goes with a salad, make sure there is a nice balance of sweet and savory between the dressing and the salad.
All the best salad dressing recipes
We have so many delicious healthy dressing recipes on FFF to choose from, so try them all and choose your favorite! Here is a list of some of our most used dressings.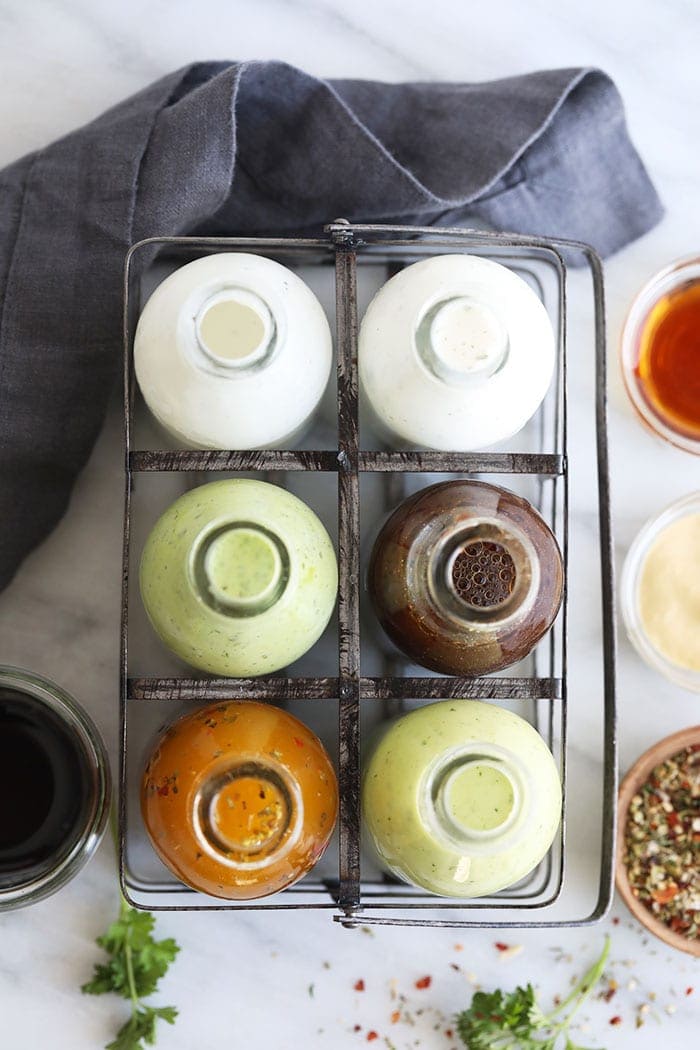 Tuna Salads
Does tuna salad bring you back to your youth? Me too. I still love a good tuna salad served with crunchy crackers for a snack.
Tuna salad can be a great meal prep lunch, a high protein snack, and you can eat it alone or in a wrap! The options are endless.
Here are some super tasty healthy tuna salads.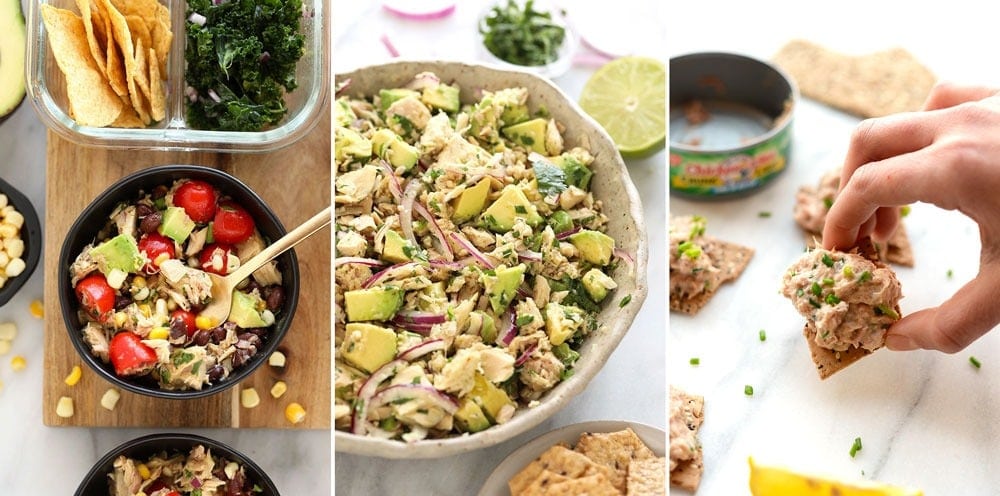 Chicken Salads
The sky is the limit when it comes to chicken salad. Chicken is a great protein base for a salad because you can really flavor a chicken salad any way you would like.
Add greek yogurt to any chicken salad for a creamy salad, olive oil and lime juice for a simple and lighter salad, or mix the two!
Check out our favorite healthy chicken salad recipes!

Green Salads
Massaged kale salads are hot right now. Have you noticed? We love love love a good massaged kale salad for lunch mixed with goat cheese, cherries, and almonds. You just can't beat it! If you've never massaged kale, check out on our post on How to Massage Kale!
Though we love kale, we are also big fans of spinach, arugula, romaine, and more! If you're looking for a healthy green salad, look no further!

Pasta Salads
Raise your hand if you love pasta salad. WE DO! Sometimes pasta salad can get a bad rap because it incorporates pasta. Well, guess what, life is all about balance and there are so many pasta options out there that you can take your pick. Are you gluten free? No problem!
There are so many gluten free pasta options out there, as well as whole wheat pasta, fresh pasta, even black bean pasta! Just keep your pasta salad balanced with healthy ingredients and you're good to go.

Potato Salads
If Fit Foodie Finds had a spirit vegetable, it would be the potato. It is only natural that we are a big fan of healthy potato salads. We lighten our potato salad recipes up by using Greek yogurt instead of mayonnaise and by adding extra protein and vegetables.
There are so many amazing potato salads on FFF right now. Check them out!

Veggie-Based Salads
Get me a big bowl of broccoli salad and I am one happy girl. Veggie based salads have the main ingredient like broccoli, cauliflower, corn, cucumber, tomato, Brussels sprouts, etc.
Feel free to leave the veggies raw, but we also like to throw veggies in the oven and roast them a bit before tossing them in a salad. So much yum.

Grain-Based Salads
Give me all the grain based salads. We're talking grains like quinoa, farro, bulgar, wheat berry, brown rice, white rice and more.
We're talking about healthy versions of those grain based salads you walk buy at the deli at your local fancy grocery store. We love using quinoa as our grain AND protein in a salad. Quinoa is just such a nutrient dense ingredient that adds so much. Check out all of our grain based salads below!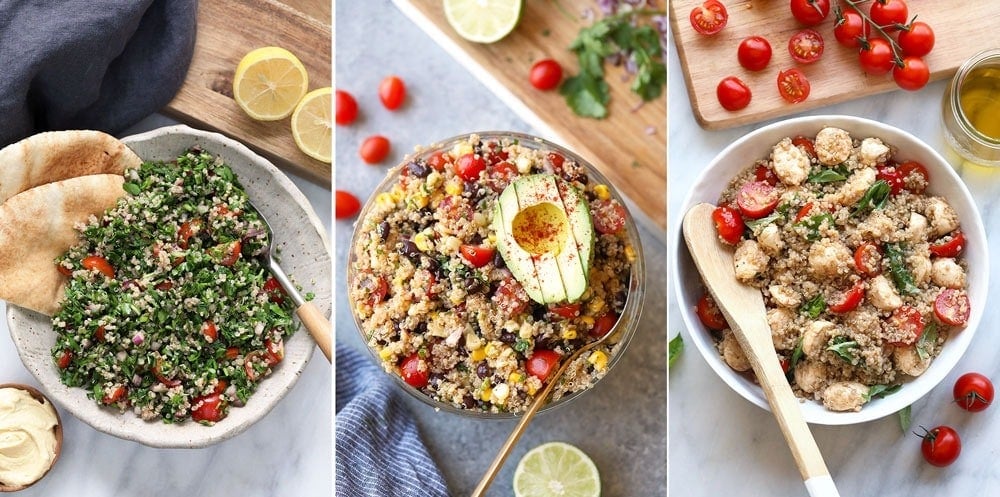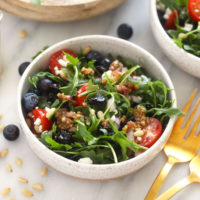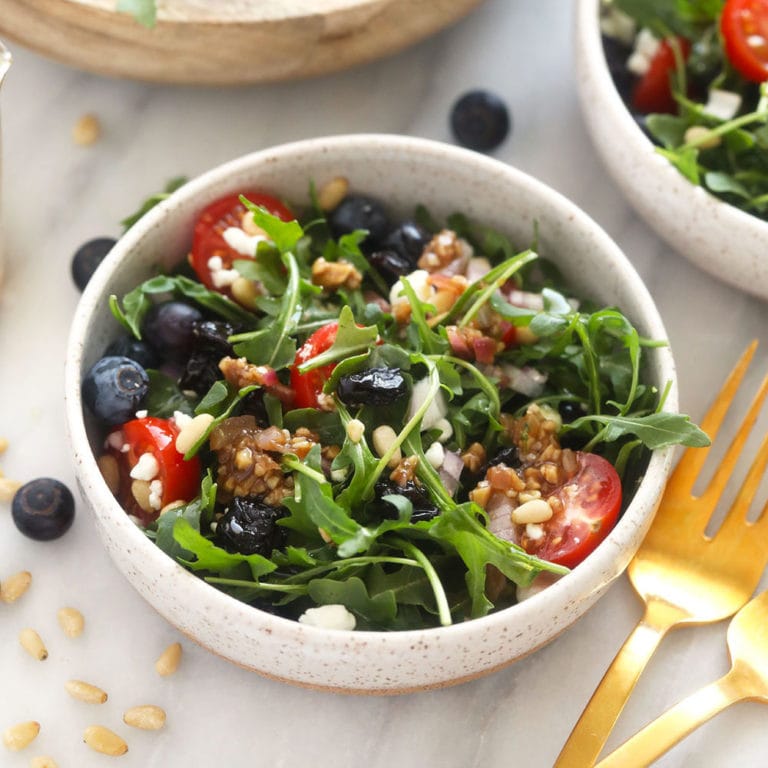 Healthy Salad Recipe
This healthy salad recipe is easy to fix up on a weeknight as a side or as a delicious lunch! 
Ingredients
3

tablespoons

balsamic vinaigrette*

1/4

cup

pine nuts

2.5

oz.

arugula

1/2

medium red onion

diced

1/2

cup

fresh blueberries

12

oz.

cherry tomatoes

1/3

cup

dried cranberries

1/3

cup

goat cheese crumbles
Instructions
Begin by preparing this balsamic vinaigrette and then set aside. Option to use whatever vinaigrette you have on hand, but we love our homemade balsamic.

Next, in a small skillet, toast the pine nuts over medium heat for 4-5 minutes or until golden brown. Be careful, pine nuts can turn from brown to burnt very quickly, so keep an eye on them. Remove from heat and set aside until cool.

Add arugula, red onion, blueberries, tomatoes, cherries, goat cheese crumbles, and pine nuts into a large bowl and toss all of the ingredients together.

Finally, drizzle dressing onto the salad, one tablespoon at a time. Continue to add one tablespoon of dressing until salad is dressed as desired.**
Tips & Notes
If you make our entire homemade balsamic vinaigrette, you will have leftover dressing! It will last up to 7 days in the refrigerator!
If you are not serving right away, refrain from dressing your salad until serving.
Nutrition facts
Calories:
173
kcal
Carbohydrates:
21
g
Protein:
4
g
Fat:
9
g
Fiber:
3
g
Sugar:
14
g