The easiest honey mustard dressing recipe you'll ever make! This homemade honey mustard is made with Greek yogurt, yellow mustard, honey, and a little white vinegar.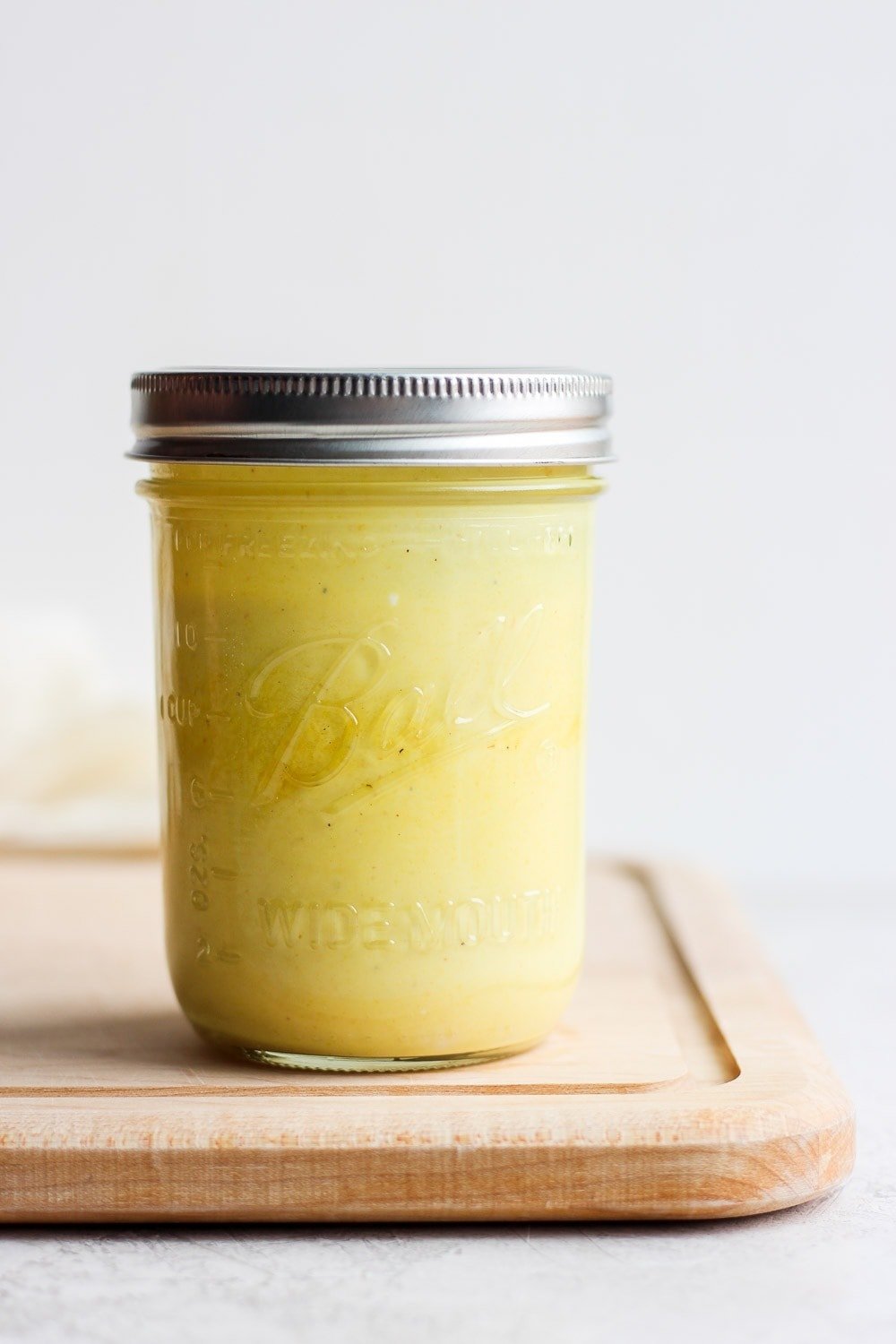 Whether you love dipping your chicken nuggets in honey mustard dressing or dressing up your salad with this dressing, we're here to share an easy honey mustard salad dressing recipe with you!
This Homemade Honey Mustard Dressing is…
thick
creamy
sweet
high-protein
refined-sugar free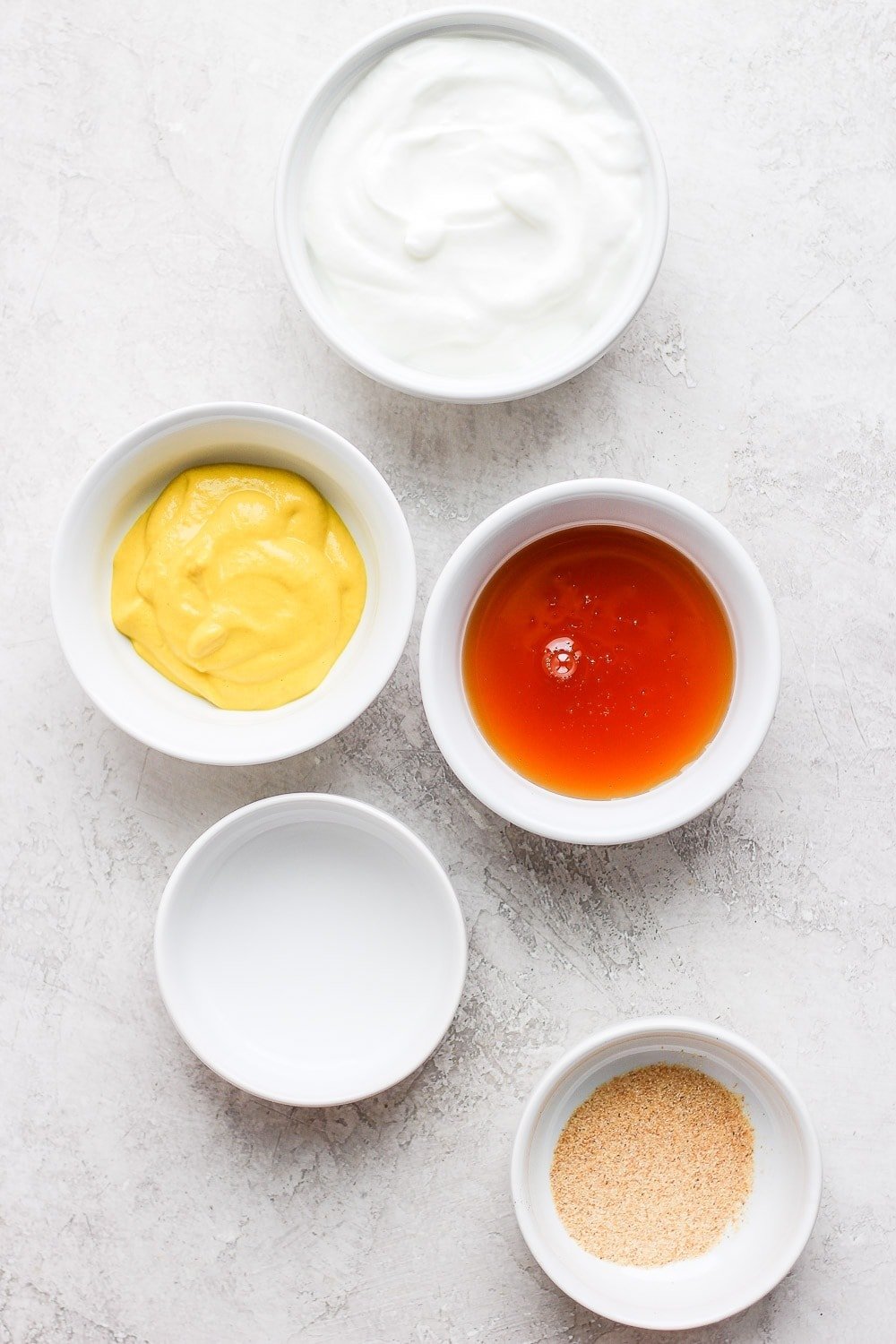 Honey Mustard Dressing Ingredients
Classic honey mustard is made with mayo, white sugar, and vinegar. Today, we're showing you how to make honey mustard – but better for you.
Greek yogurt: the basis of this recipe is tangy, delicious, thick Greek yogurt. Feel free to use any fat %. We love full-fat Greek, in case you're wondering!
Honey: honey is such a great all-natural sweetener to use because it's sweet and refined-sugar free!
Yellow mustard: you'll need 1/4 cup of yellow mustard. We haven't tried dijon or any other kinds of mustard, but be my guest!
White Vinegar: vinegar is essential for this recipe. It adds a tang and really balances out the sweetness.
Garlic Powder and Pepper: finally, a little garlic powder and pepper go a long way. Don't skip this part!
What about mayonaisse?
If you are a huge mayo fan, feel free to add a few tablespoons. We love the tang from Greek yogurt, which is why we swapped the mayonnaise for Greek. By adding a dash of white vinegar, you get that mayo flavor, without the mayo.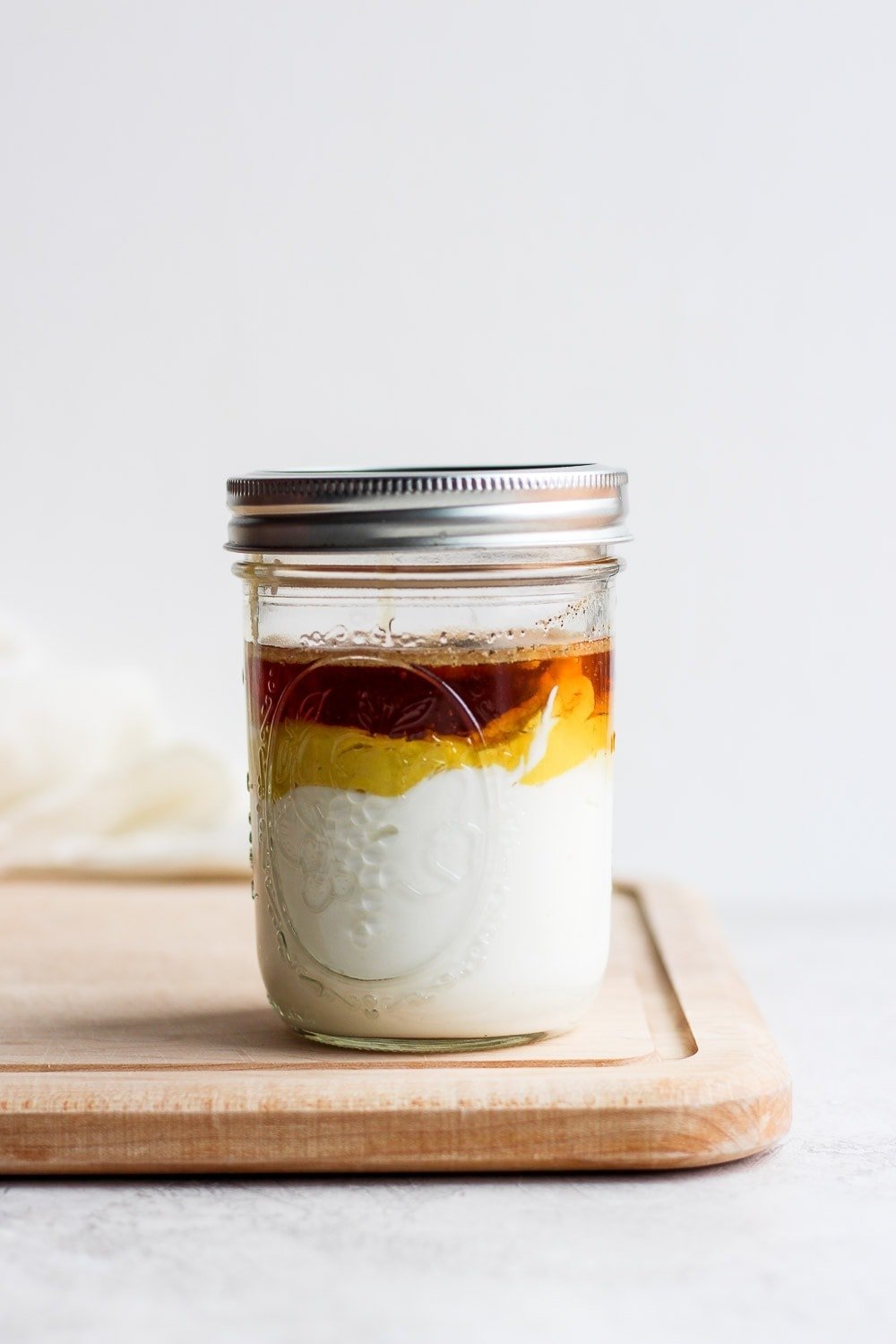 How to Make Honey Mustard
This may be the easiest honey mustard dressing recipe you've ever seen, but believe me, it sure if tasty. Here's an easy tutorial for how to make honey mustard dressing!
Assemble ingredients: Place all of the ingredients into a mason jar and secure the lid.
Shake it up: Then, shake it up until everything is combined.
Alternatively, you can mix this up in a medium bowl or Pyrex and use a spoon instead!
Dip it or Dress it – Serving Suggestions
This honey mustard dressing recipe is meant to be thick so that you can dip it or dress it!
Use it as a Dip
Air Fryer Chicken Tenders: Air Fryer Chicken Tenders come out super tender on the inside and crispy on the outside. You will love this 30-Minute meal!
Soft Pretzels: Please tell me you're a soft pretzel fan! We took it upon ourselves to develop a healthy soft pretzel recipe that uses a combination of white flour and whole wheat flour. Check it out!
Crispy Baked Sweet Potato Fries: Perfectly crispy baked sweet potato fries ready in 30 minutes. In this post, we're sharing all of our secrets for perfect crispy sweet potato fries every time!
Use it as a Salad Dressing
Grilled Chicken Salad: There's nothing better than a crunchy, topping-packed grilled chicken salad on a hot summer night.
Sriracha Chicken Salad: This sriracha chicken salad is a delectable combination of fresh greens, spicy chicken, and a tangy Greek green goddess dressing! If you're looking to add a flavorful and healthy salad recipe to the menu, here it is!
Salmon Salad: This salmon salad is packed with flavor from grilled corn, fresh radishes, apple chunks, and, of course, salmon and a delish dressing.
If you are planning to use this as a dressing and want to thin it out a bit, we suggest adding a few teaspoons of water so that it's more "pourable" instead of dippable.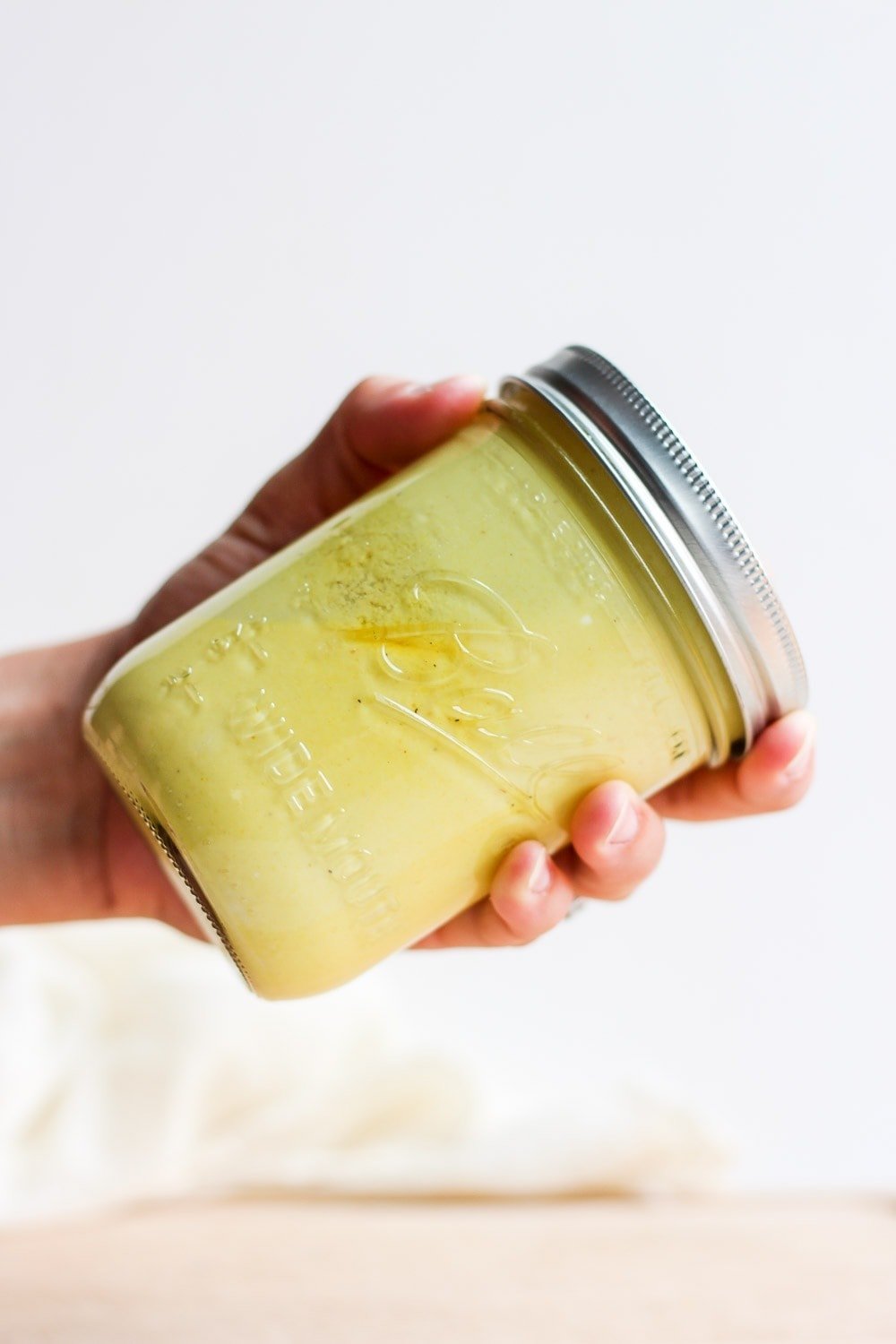 How many people does this dressing serve?
This dressing serves 6 people and each serving is around 1/4 cup.
How long does homemade honey mustard dressing last?
Store your honey mustard in an airtight, glass container in the refrigerator and it will last for up to a week!
Don't forget to mix!
Make sure you give your honey mustard salad dressing a good shake before using it if it's sat in the fridge for a while.
How to make this honey mustard dressing thinner.
Easy! Add a few teaspoons of water to your dressing and shake it up. This will thin out your thick and delish honey mustard.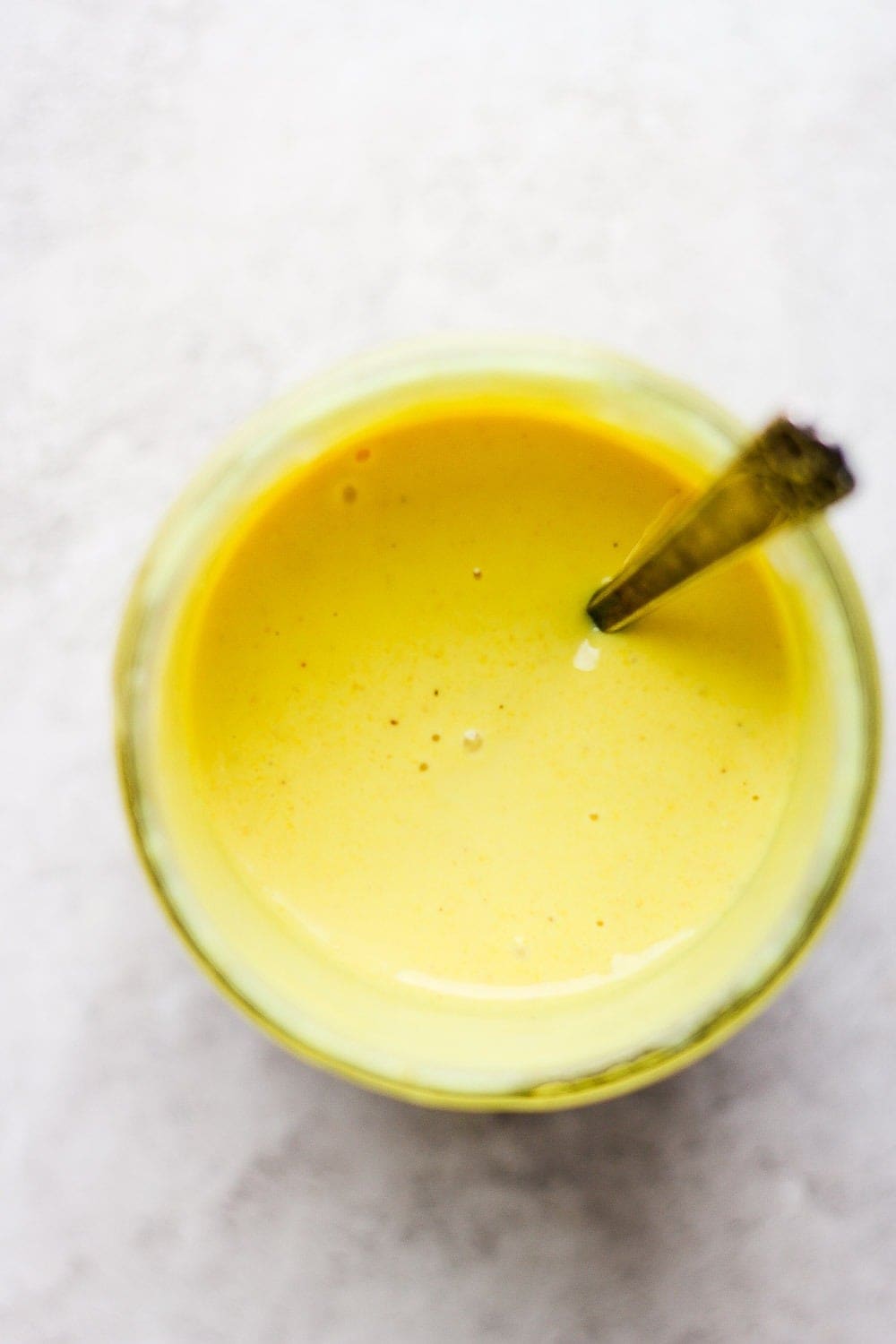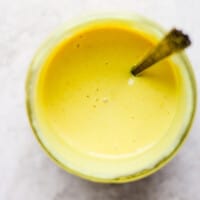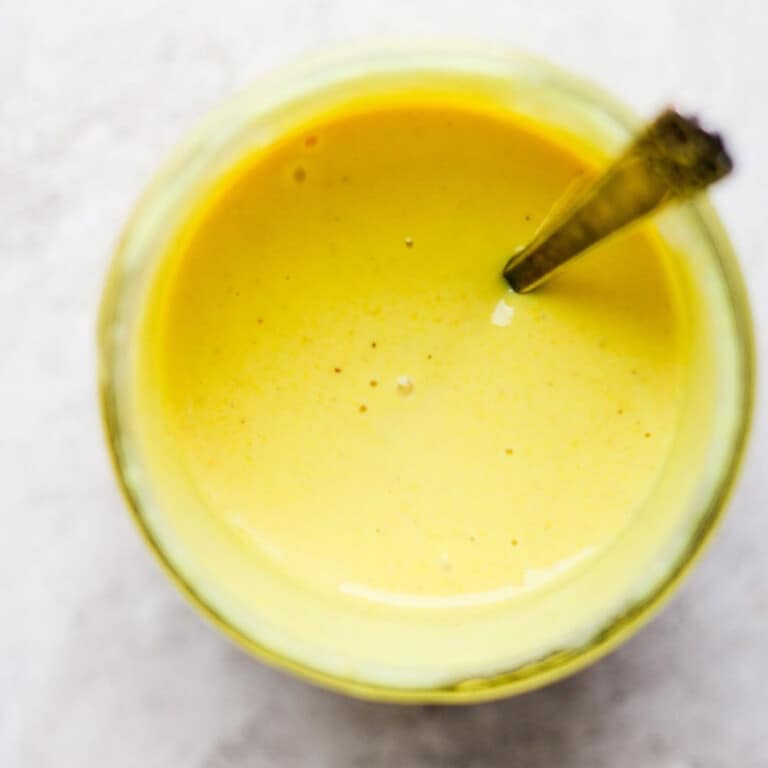 Honey Mustard Dressing (Homemade Honey Mustard Dressing)
Honey mustard dressing is creamy, tangy, and slightly sweet. It's perfect for dipping or dressing and our honey mustard dressing recipe is made with a secret ingredient - Greek yogurt!
Ingredients
1

cup

2% Greek yogurt

¼

cup

yellow mustard

6

tablespoons

honey

½

tablespoon

white vinegar

1

teaspoon

garlic powder

pepper

to taste

water

to thin out dressing*
Instructions
Place all ingredients into a glass Mason jar and cover.

Shake Mason jar until all ingredients are combined. This honey mustard is meant to be thick so that you can dip it or dress it!

Option to add a few teaspoons of water* in order to thin this dressing out for easier pouring.
Tips & Notes
Storage: store in an airtight container in the refrigerator for up to a week.
Serving size: ~1/4 cup
Nutrition facts
Calories:
98
kcal
Carbohydrates:
20
g
Protein:
4
g
Fat:
1
g
Fiber:
0
g
Sugar:
19
g