Please tell me you're a soft pretzel fan! We took it upon ourselves to develop a healthy soft pretzel recipe that uses a combination of white flour and whole wheat flour. Check it out!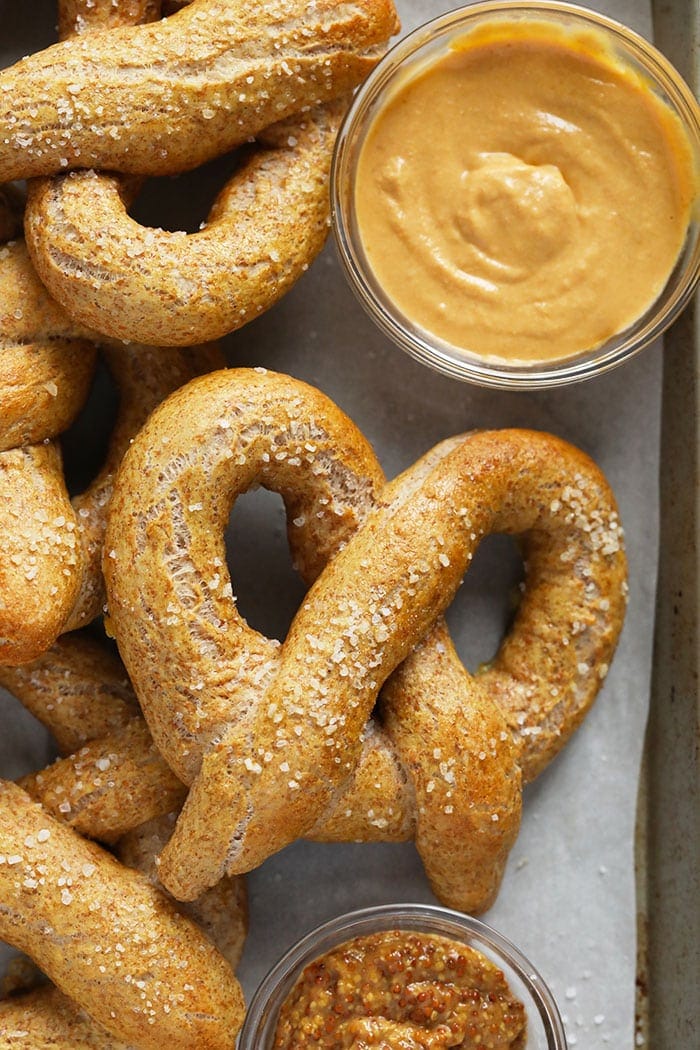 Football season is in full swing and the only thing Mark has been requesting is a homemade soft pretzel recipe. Well, guess what Mark? Your soft pretzel dreams are coming true today! We've partnered with Walmart to show you how easy it is to make your own soft pretzels at home using the KitchenAid Deluxe Stand Mixer.
Can you believe that until a few weeks ago, I had never owned a KitchenAid?! For some reason, I thought KitchenAid Stand Mixers were much more expensive, but they're actually super affordable! Right now the Deluxe version is $100 off at Walmart, on rollback for just $229. Guys, that is such a steal!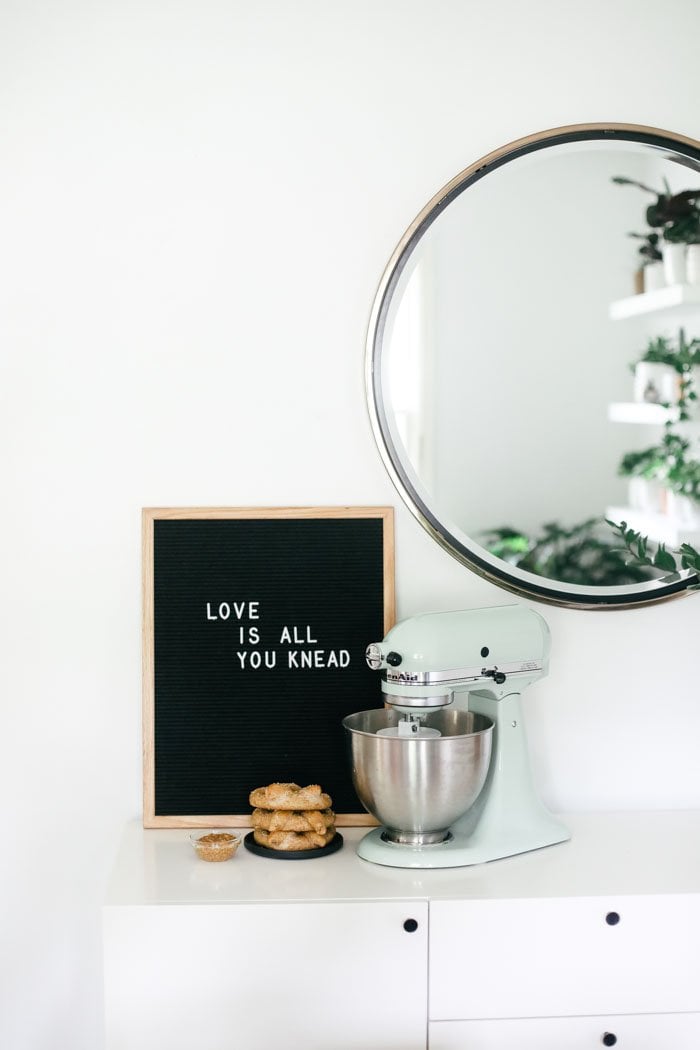 I'm super excited about my new KitchenAid for a few reasons. 1. You can do so many things with it! There are over 10 new optional attachments and you can buy to do even more with your stand mixer. For example, you can do things like spiralize veggies, juice citrus fruit, and slice fruit/veggies. 2. I'm obsessed with the color pistachio, so naturally that's the color I bought. 3. I CAN NOW MAKE SOFT PRETZELS AT HOME!
More about the…
Available at Walmart
Available colors: silver, cobalt, pistachio (the one I have!)
10 speeds to mix, whip, and knead
Includes 3 attachments: coated flat beater, coated dough hook, wire whip
Optional attachments (i.e. spiralizer, fresh prep slicer, food grinder, and citrus juicer)
What are you waiting for? Get your booty to Walmart.com or your local Walmart store, get yourself a new KitchenAid Stand Mixer and let's get homemade soft pretzel making!
Step 1: Activate Yeast
Place water, sugar, and yeast at the bottom of your KitchenAid Stand Mixer bowl and whisk. Let sit for about 15 minutes until it begins to foam.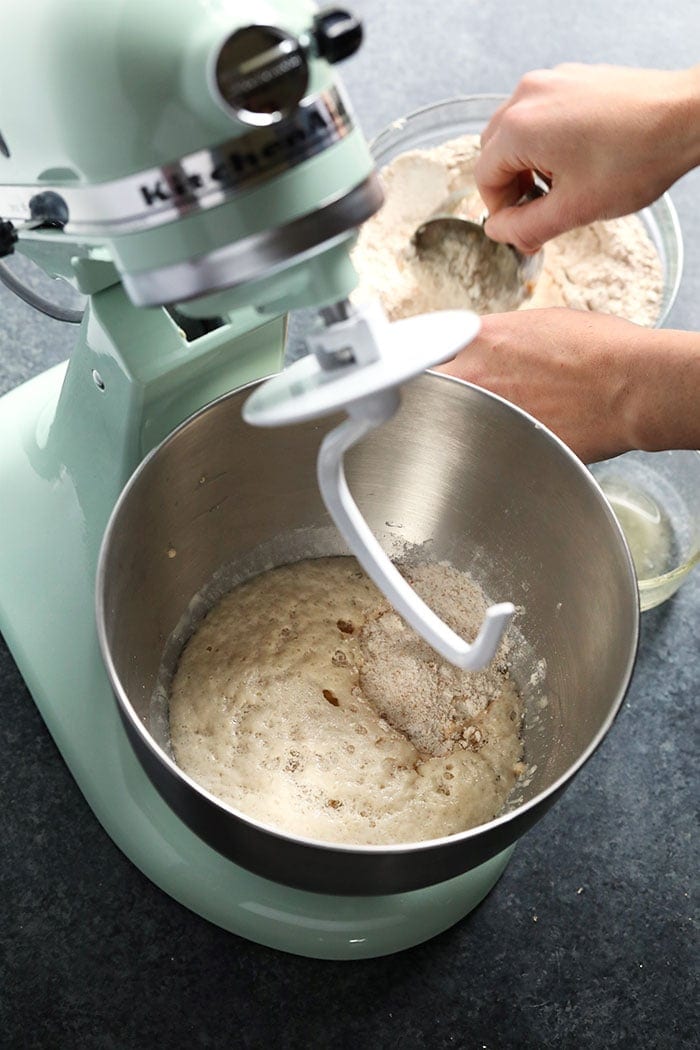 Step 2: Make Soft Pretzel Dough
Attach your dough hook to your KitchenAid Stand Mixer. Then, mix together melted butter, both types of flour, and salt in a separate bowl. Add flour mixture by the third cup to your KitchenAid and turn to low. Continue adding flour and mixing until dough has formed and is no longer sticky.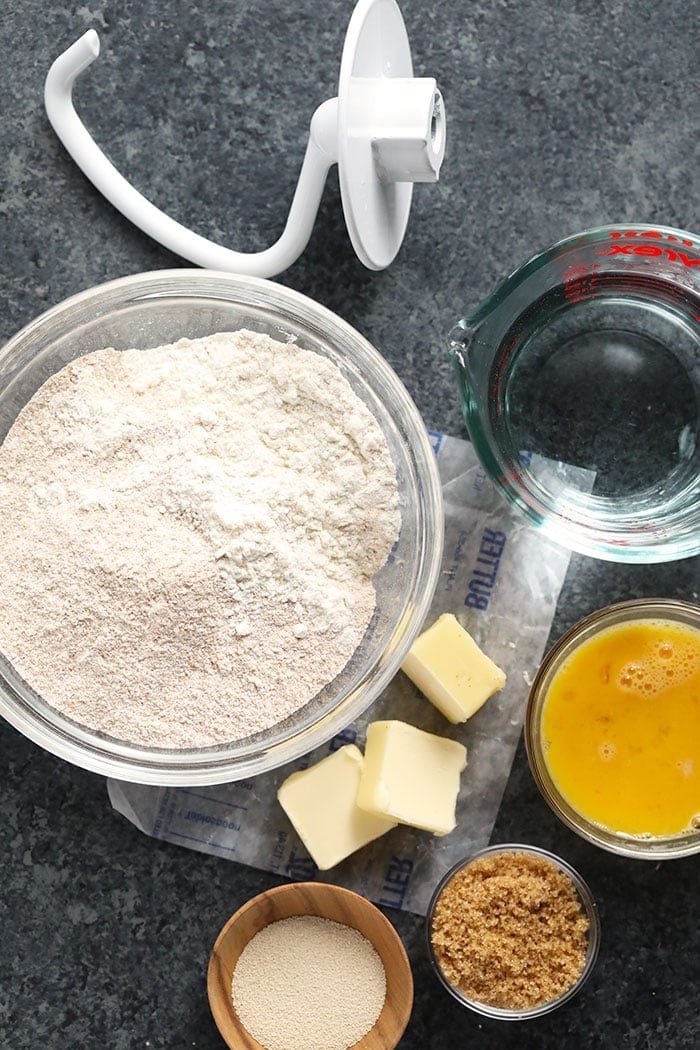 Step 3: Let Dough Rest
Remove dough from KitchenAid and form a ball. Sprinkle flour onto the countertop, set dough on top, and cover with a tea towel. Let rest for around 10 minutes.
Step 4: Roll + Make Pretzels
Separate dough into 6 balls and then use a rolling pin to create 20-25 inch ropes. Form each rope into a pretzel shape and set aside.
Pro tip: You can twist your pretzel into any shape you would like. Just make sure to pinch dough together making it one shape, rather than having any ends free, so that your pretzel does not fall apart in the water bath.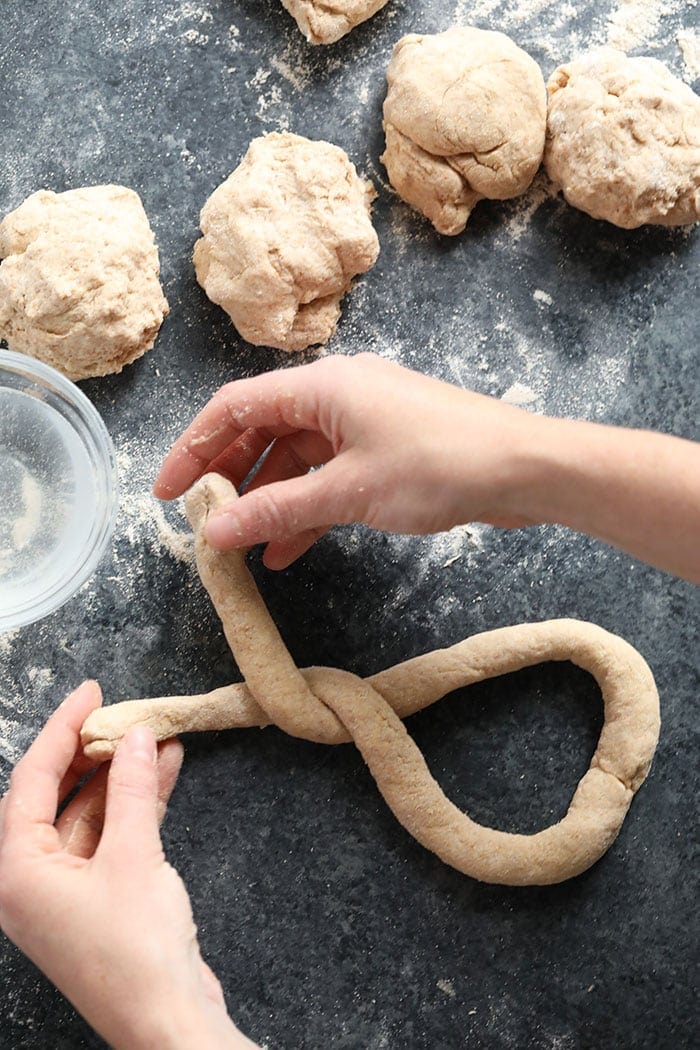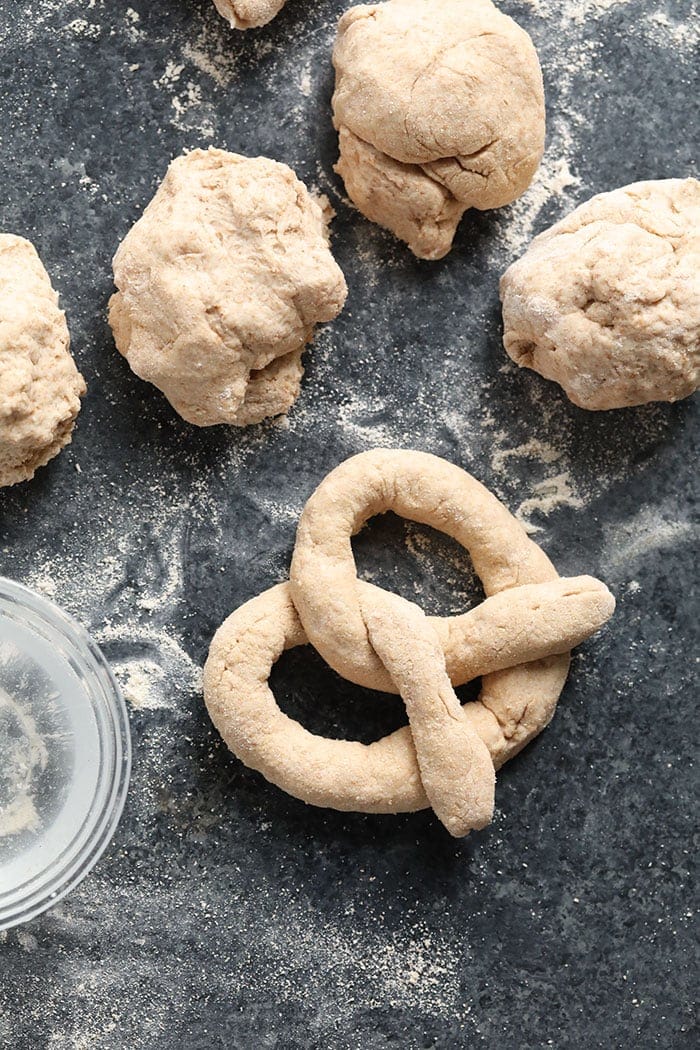 Step 5: Flash boil
Once you've formed your pretzels, boil around 8 cups of water and 1/3 cup of baking soda in a large stockpot. Flash boil each pretzel for about 15 seconds.
Step 6: Egg Wash + Salt
Remove from water and place on a parchment paper-lined baking sheet. Wipe on an egg wash and sprinkle with a generous amount of sea salt.
Step 7: Bake Soft Pretzels
Bake your pretzels at 400ºF for 13-15 minutes or until golden brown.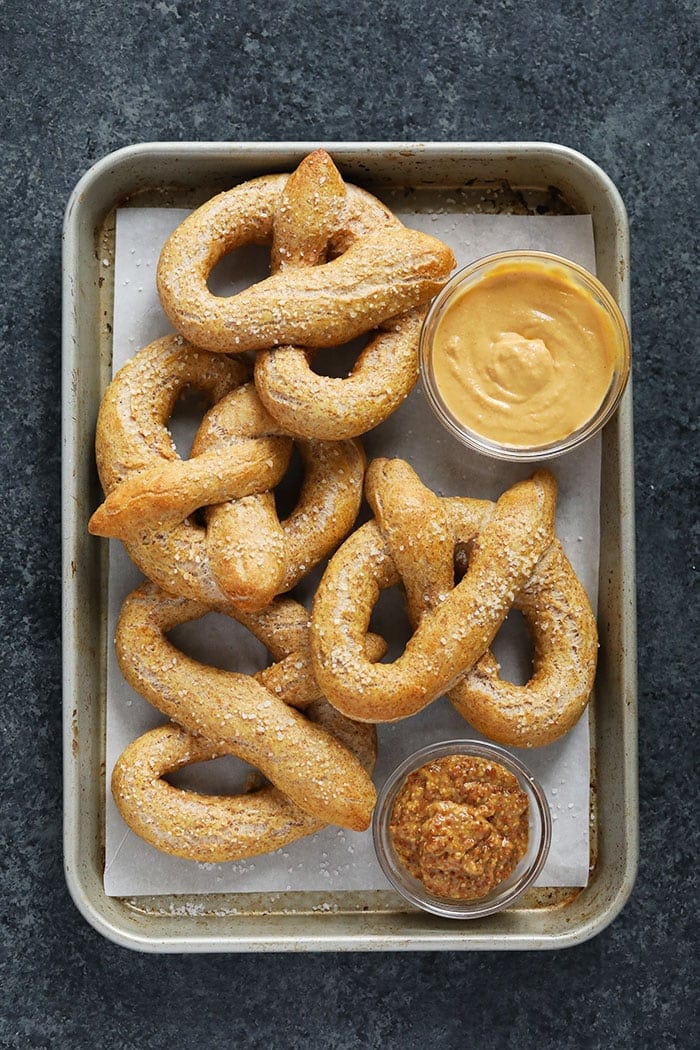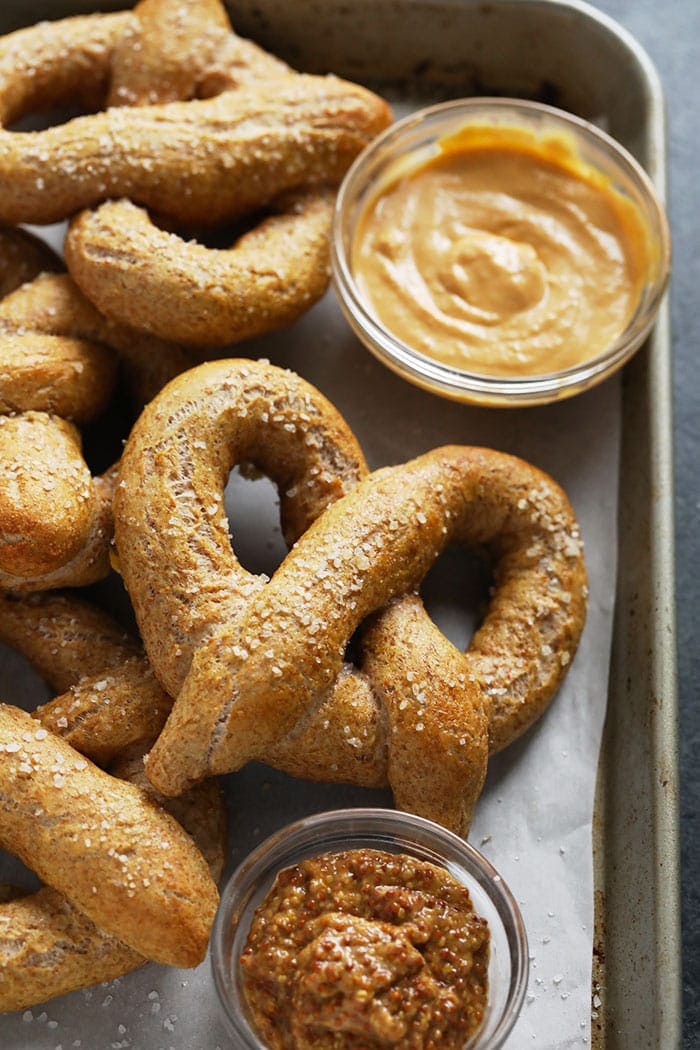 Perfect for Soft Pretzel Dipping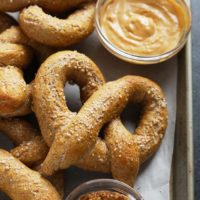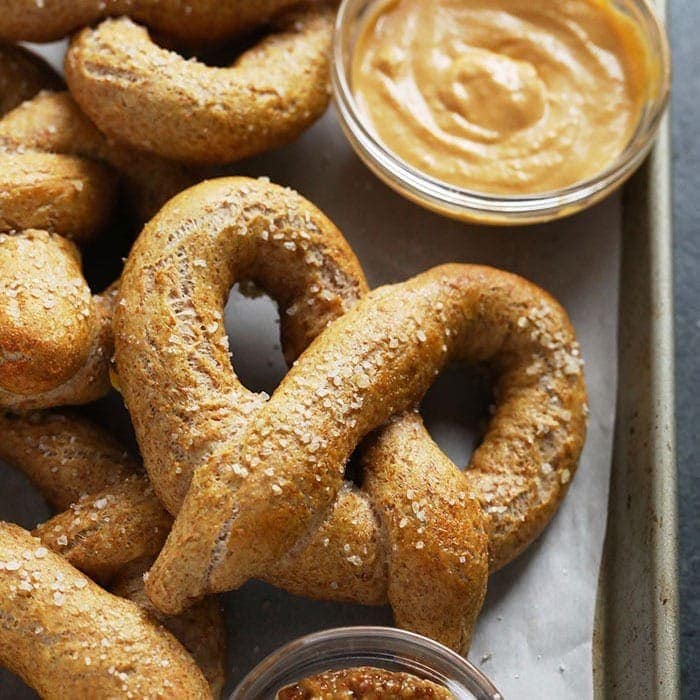 Healthy Soft Pretzel Recipe
Please tell me you're a soft pretzel fan! We took it upon ourselves to develop a healthy soft pretzel recipe that uses a combination of white flour and whole wheat flour. Check it out!
Ingredients
1

packet of active yeast

(~about 2.5 teaspoons)

2

tablespoons

brown sugar

1

cup

lukewarm water

1.5

cups

all-purpose flour

1.5

cups

whole wheat flour

1

teaspoon

salt

2

tablespoons

butter

melted

1/3

cup

baking soda

1

large egg

coarse sea salt

for topping
Instructions
Preheat the oven to 400ºF and lay a piece of parchment paper down onto a baking sheet. Set aside.

Next, pour yeast, water, and sugar into the bottom of your KitchenAid Stand Mixer's metal bowl. Gently stir mixture together (be careful not to over stir) and let sit until foam begins to form. This will take around 15-20 minutes.

While yeast is foaming, add all-purpose flour, whole wheat flour, salt, and butter to a medium bowl. Mix until combined.

Once yeast mixture is ready, place mixing bowl onto your KitchenAid Stand Mixer and attach the dough hook. Turn KitchenAid Stand Mixer to low and slowly add in 1/3 cup of the flour mixture at a time. Continue to mix until the dough has formed. Pretzel dough is ready when the dough is no longer sticky.*

Sprinkle a little flour onto a clean counter and create a ball with your dough. Cover dough with a tea towel and let sit for 10-15 minutes.

While dough is resting, add 1/3 cup baking soda and 8-9 cups of water into a large stock pot. Cover and bring to a boil.

After dough has rested, knead pretzel dough with your hands for 3-4 minutes and then separate your dough into 6 dough balls.

Take a dough ball and use both hands to evenly roll pretzel dough out into a 20-25 inch dough rope. Twist dough into a pretzel shape and pinch the ends so they do not fall apart in the water bath. Set aside.

When water has come to a boil, place one pretzel at a time into the boiling water for 15-20 seconds. Remove with a slotted spoon or spatula, shake access water from the pretzel, and place onto baking sheet lined.

Lastly, create an egg wash by whisking 2 large eggs in a small bowl. Then, wipe the top of each pretzel with the wash and sprinkle them with coarse sea salt.

Place pretzels in the oven and bake for 13-15 minutes.

Remove from oven and enjoy!
Tips & Notes
You may need a little more or a little less flour than the recipe calls for. When the dough is no longer sticky, your dough is ready!
Nutrition facts
Calories:
275
kcal
Carbohydrates:
48
g
Protein:
8
g
Fat:
6
g
Fiber:
4
g
For shares that include a brand URL, please include the #sponsored hashtag in your social share.