Make your own homemade applesauce at home with our easy Instant Pot Applesauce recipe! This recipe is made with no added sugar and is kid-approved!
We love homemade applesauce for so many reasons. It's a delicious snack, great to bake with, and a fun way to use up all of your apples.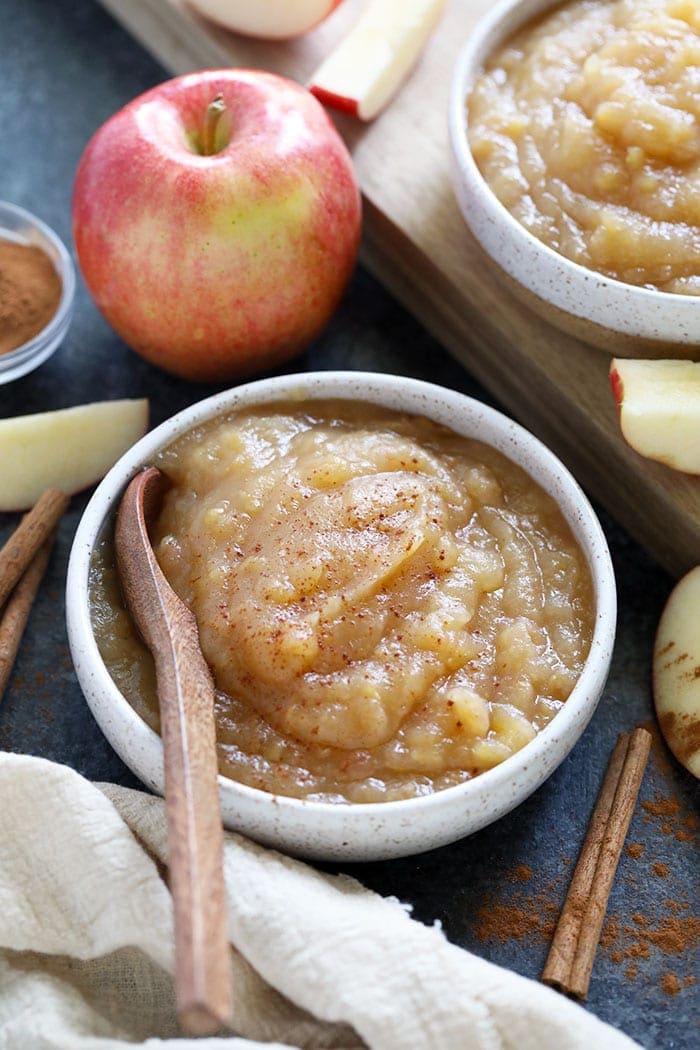 It's applesauce time and we're jumping right in. First things first, let's talk apples!
What apples do you use for applesauce?
Pretty much any kind of apple can be used for applesauce. Our favorites include Gala, Pink Lady, Honeycrisp, and McIntosh.
Pro tip: if you like your applesauce to be on the sweeter side, make sure that you use a sweeter apple like Gala. And, if you like a more sour taste, use something like a green apple.
How to Make Instant Pot Apple Sauce
Making Applesauce in the Instant Pot is quite simple and only requires 3 ingredients: apples, orange juice, and cinnamon sticks.
Step 1: Place apple chunks, orange juice, and cinnamon sticks on the bottom of your Instant Pot and cook on high for around 6 minutes.
Step 2: Once the apples have fully cooked and have softened, remove the cinnamon sticks and use an immersion blender to roughly mash your apples into applesauce.
Step 3: let applesauce fully cool before transferring into a glass container or mason jar. Cover and place in the refrigerator for up to 10-14 days.
Note: we left the skin of the apples on, but you are more than welcome to peel your apples before pressure cooking. To be honest, you can't even tell there is skin on the apples after they are pressure cooked and we love the extra nutrients they add!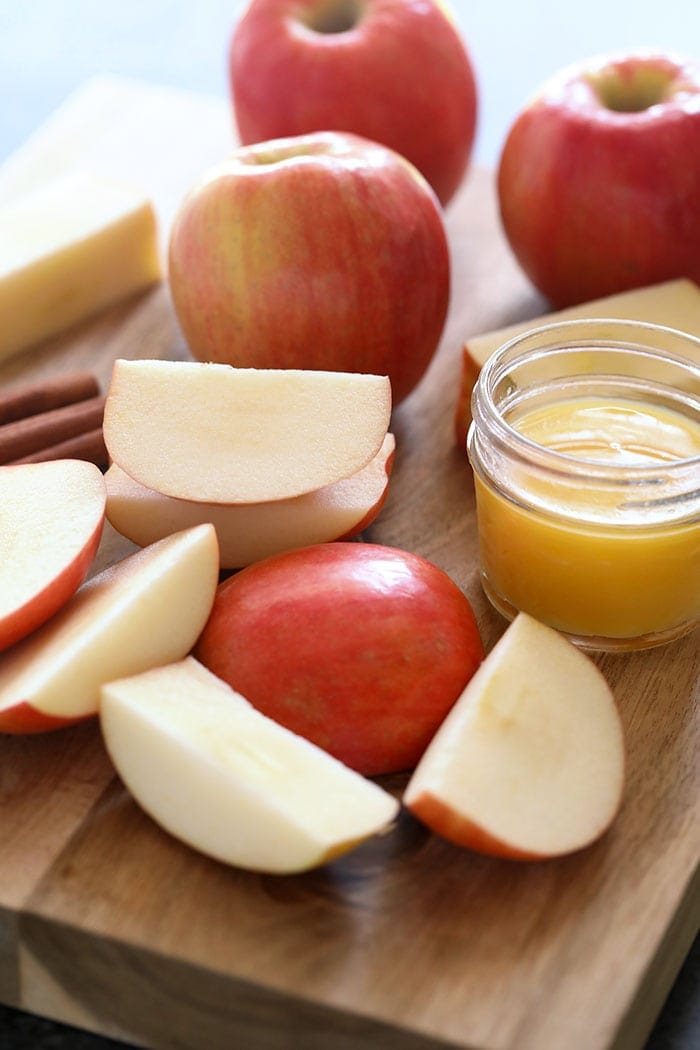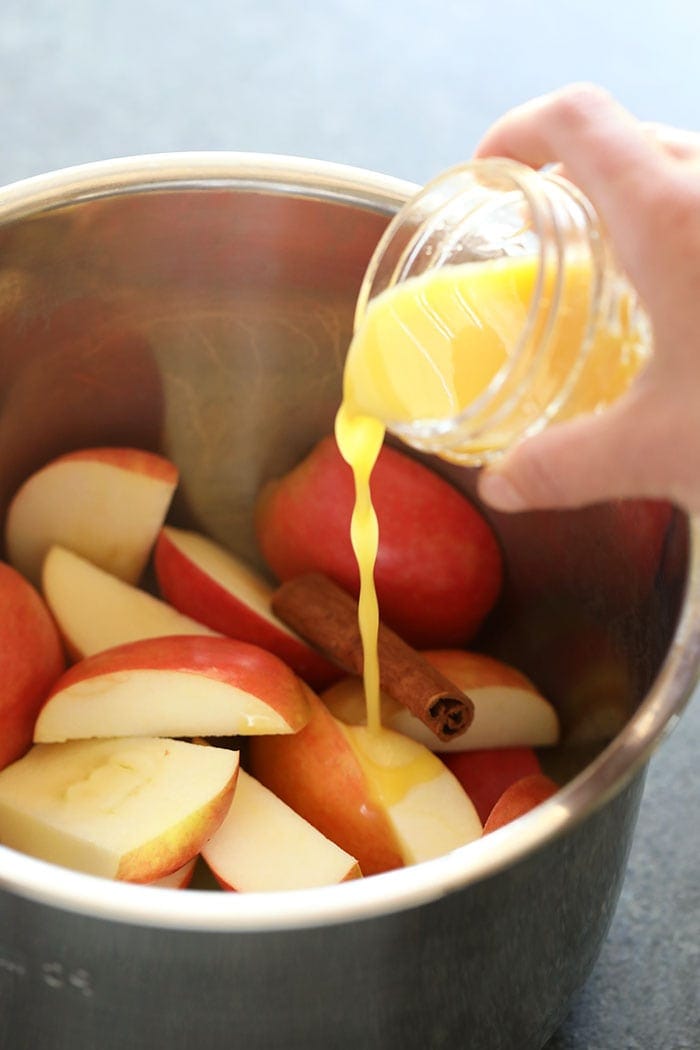 Why Orange Juice?
You'll notice that this recipe calls for orange juice instead of apple juice or water. We do this for a very specific reason and it's because citrus preserves fruit. Lemon and lime are too bitter and orange juice is just right when it comes to sweetness. A little goes a long way, but orange juice will help your applesauce from browning!
Cinnamon Sticks vs. Ground Cinnamon
In addition to apples and orange juice, this recipe also calls for cinnamon sticks. If you can't find them or don't have any cinnamon sticks on hand, feel free to substitute for actual ground cinnamon.
Cinnamon sticks add the perfect amount of spice to your applesauce and really help to bring out the natural flavors and sweetness of your apples. Don't skip this part!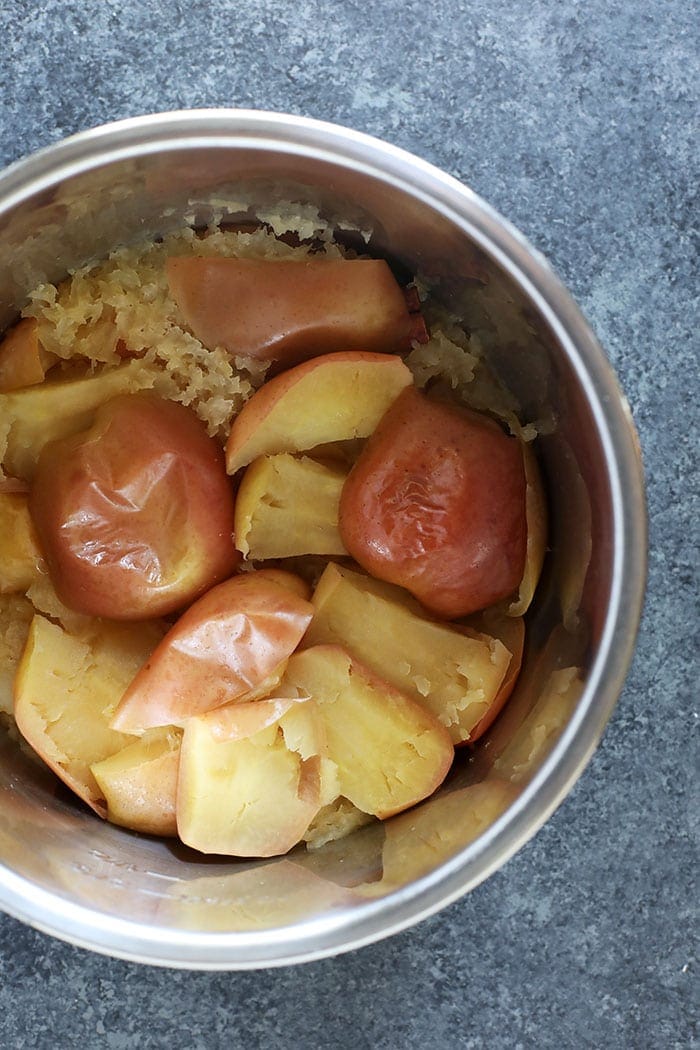 How do you thicken up applesauce?
Applesauce will thicken as it cools, but if you're hoping to get your applesauce even thicker, you can use a thickening agent like arrowroot starch.
Can you freeze applesauce?
You can easily freeze applesauce and it's super easy. We suggest transferring your applesauce into an ice cube tray and freezing it that way. Once frozen, transfer your applesauce cubes into a freezer-safe gallon-size bag for later!
How long does homemade applesauce last?
Homemade applesauce will last you around 10-14 days. Make sure that you store it in an airtight container in the refrigerator for best results. You know your applesauce has gone bad when it starts to mold or smells funny.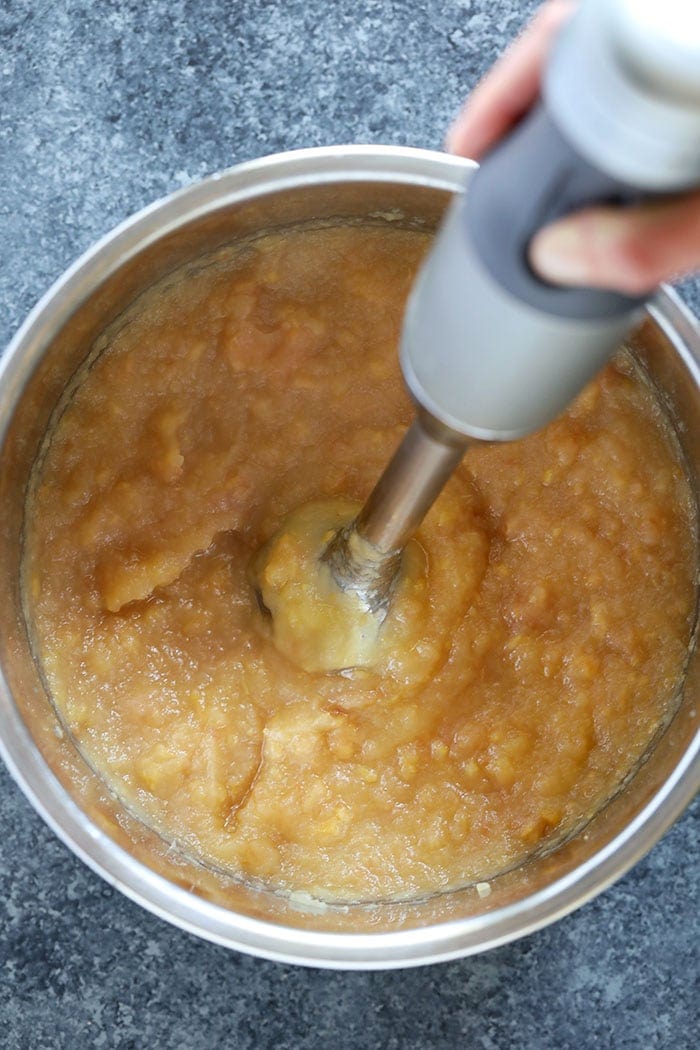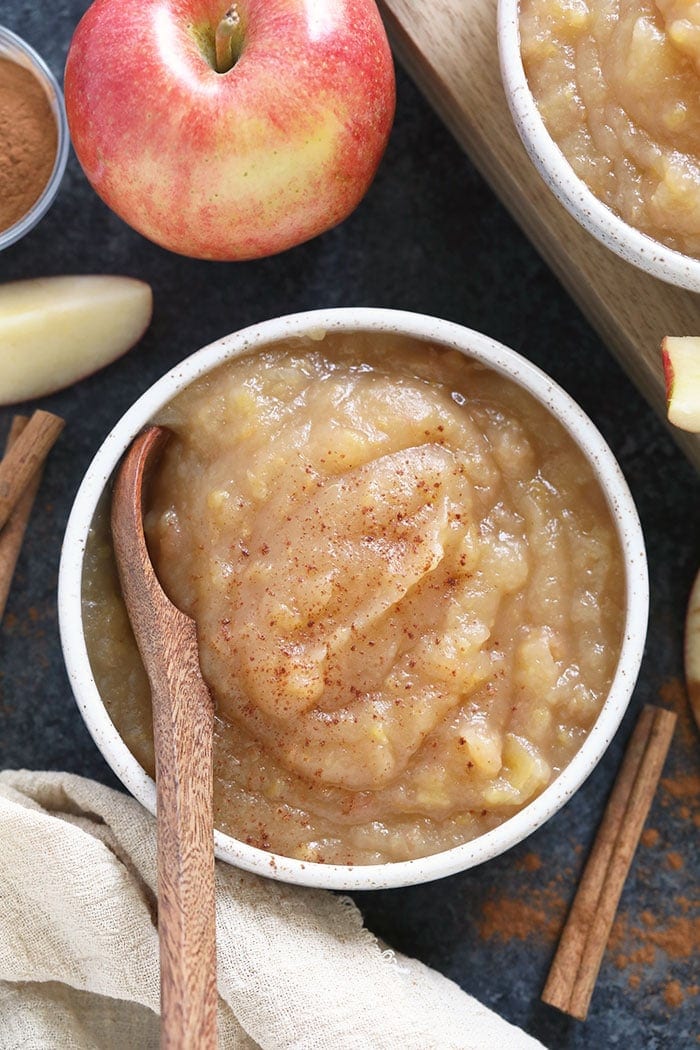 Try our Crockpot applesauce recipe, too!
Recipes with Applesauce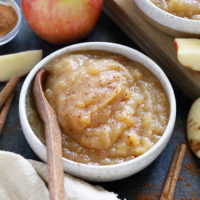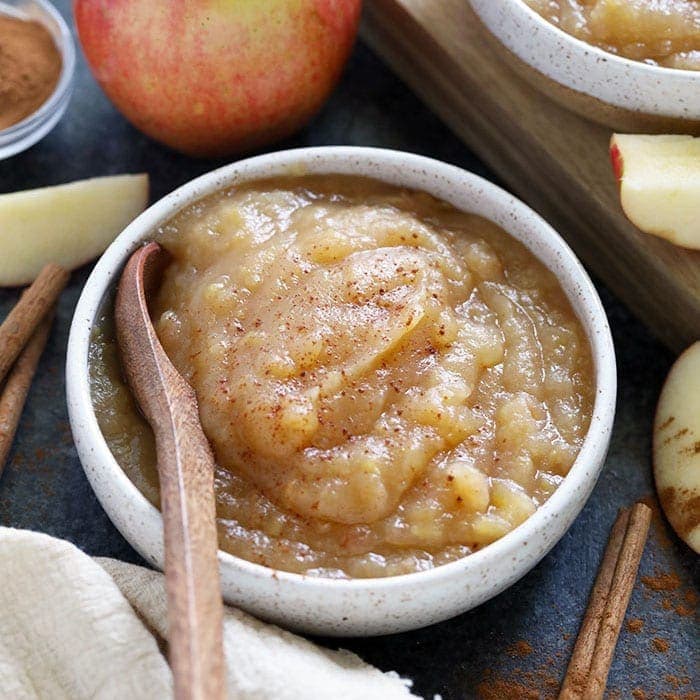 Instant Pot Applesauce
Make your own homemade applesauce at home with our easy Instant Pot Applesauce recipe! This recipe is made with no added sugar and is kid-approved!
Ingredients
8

large Gala apples*

1/3

cup

orange juice

2

cinnamon sticks

or 1/2 teaspoon ground cinnamon
Instructions
First, chop apples into large chunks and discard the apple cores.

Then, place apples into the Instant Pot.

Add orange juice and cinnamon sticks (or ground cinnamon) to the pot.

Cover Instant Pot and make sure the pressure valve is turned to seal.

Turn the Instant Pot to high pressure and set the time for 6 minutes. It will take a little while for your Instant Pot to build pressure and start counting down.

Once the timer goes off, quick release the pressure from the Instant Pot by opening the valve.

Once the pressure is fully released, remove the cinnamon sticks from the Instant Pot and use a handheld immersion blender* to pulse the cooked apples into applesauce.

When the applesauce has reached the desired consistency, transfer applesauce into a glass container and let cool.

Cover and place in the refrigerator for up to 10 days.
Tips & Notes
Any kind of apples will work for this!
Option to peel you apples before you chop them.
*Option to use a potato masher, blender or food processor.
Nutrition facts
Calories:
135
kcal
Carbohydrates:
32
g
Protein:
1
g
Fat:
0
g
Fiber:
5
g
Sugar:
25
g