It's time to make this moist and flavorful Cinnamon Apple Bread. Packed with shredded apples and unsweetened applesauce + the just right amount of cinnamon, nutmeg and ginger.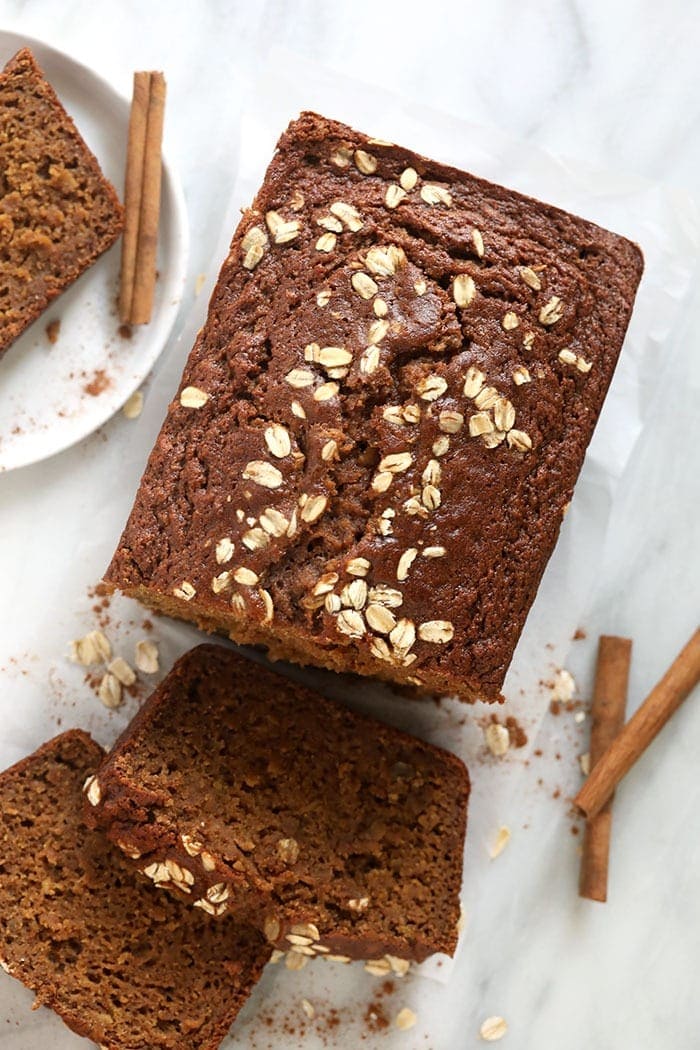 It's Apple Season!
It's finally here! The days of apple picking with your loved ones, and always having bags of fresh apples on hand. Now comes the time to decide what to do with all these apples.
Of course, we'll be making apple crisps, apple muffins, and apple granola, but you'll also find us whipping up AT LEAST a loaf a week of this delicious apple bread.
why you'll love it!
Packed with clean ingredients
Uses FRESH shredded apples + applesauce
Easy peasy to make + the kids will love it!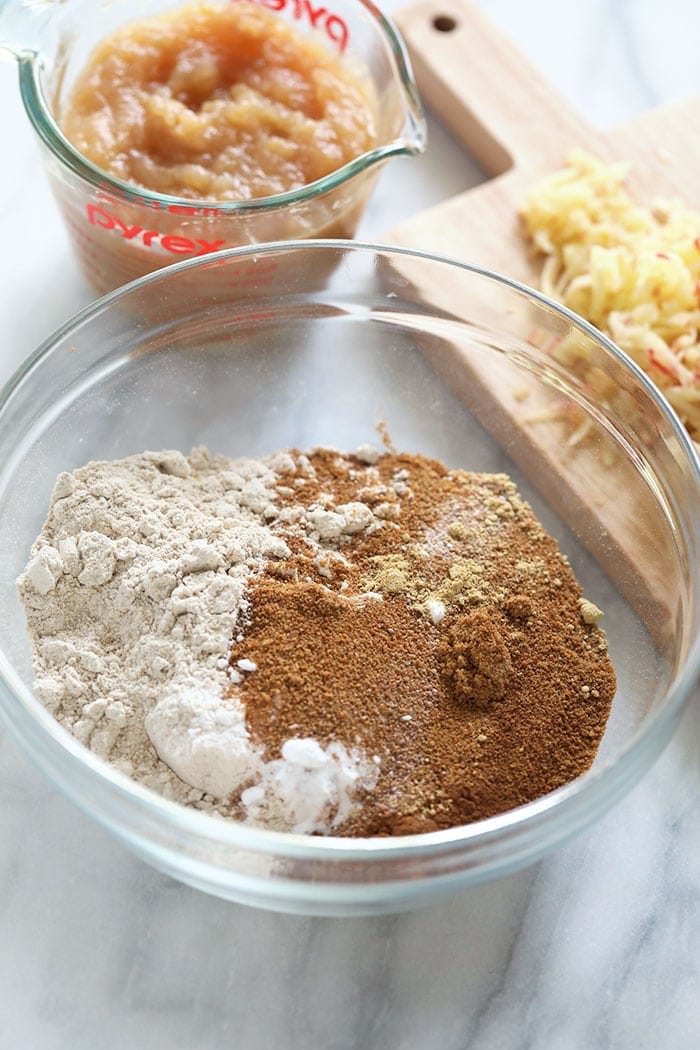 Cinnamon Apple Bread Ingredients
Shredded apples
Ground ginger
Baking soda
Eggs
Unsweetened applesauce
Plain unsweetened almond milk
Easy Ingredient Swaps
Light brown sugar –> coconut sugar
Plain unsweetened almond milk –> any unflavored milk
White whole wheat flour –> all-purpose flour
Which Apples are Best for Baking?
Fuji apples and Gala apples both are delicious in this apple bread! If you prefer a tarter apple, go for it! If you're a sweet apple fan, you can absolutely go that route for this apple bread as well.
Here in Minnesota, we're BIG fans of the Honey Crisp apple, which was invented at the University of Minnesota. It's a great combination of sweet and tart, and holds up nicely when baked.
Why Use Shredded Apples?
This is our #1 way to use apples in recipes like this bread! It's not too chunky that you're noticing a mushy apple in every bite, but still gets that delicious apple flavor completely immersed in every bite of this delicious apple bread.
We use a course grater as this will give you a true shredded apple instead of more of a course puree you'd get from a fine grater.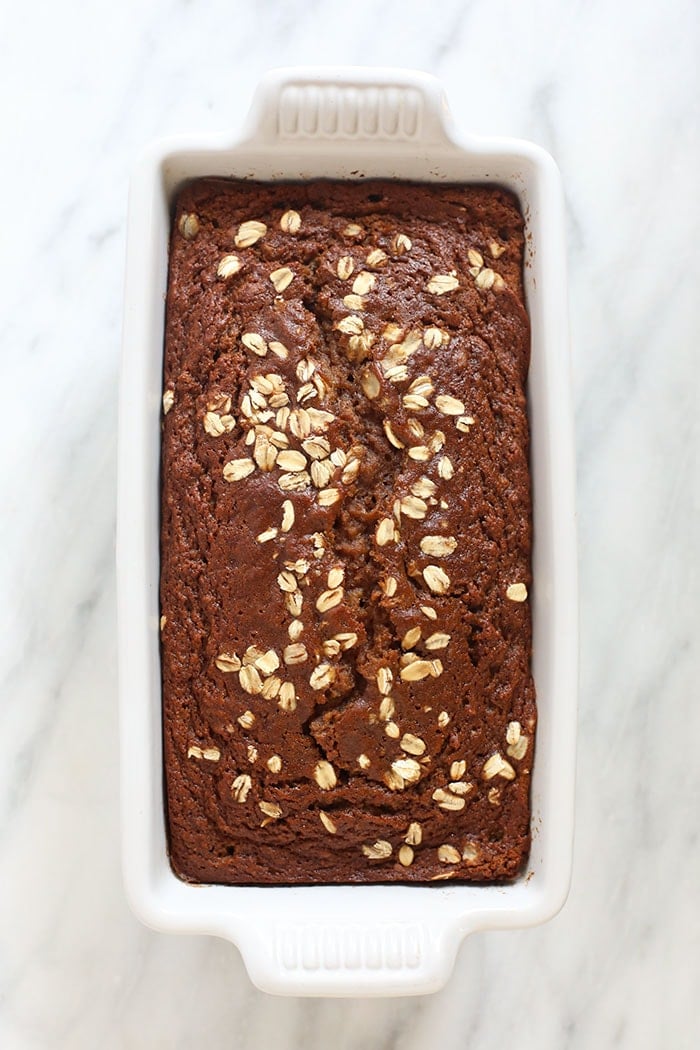 Apple Bread Baking Tips
Don't over mix: When in doubt, do NOT over-mix the batter. If you do so, you risk over-whipping the eggs, which will leave you with a flat loaf.
Let cool completely: This is probably our #1 tip for preventing a bread flop. I'm speaking from experience here when I say let the bread cool completely before slicing! The bread continues to bake as it cools and if you cut it too soon it may fall apart or seem uncooked.
Use a toothpick to test doneness: There is nothing worse than over or under-cooking your pumpkin bread. So? Make sure to use a toothpick to test the doneness before removing it from the oven. Stick your toothpick in the middle of the bread and press it halfway down. If it comes out clean, you know it's done!
Storage
Store apple bread in an air-tight container or gallon-size Ziploc with a piece of paper towel on the bottom to soak up the moisture. Store at room temperature on the counter top for up to 3 days or in the fridge for up to 5.
To freeze your apple bread, first let cool completely. Then, tightly wrap it in a piece of plastic wrap and then once more with a piece of tin foil. Remove as much air from around the bread as possible. Write the name of the recipe and the date. This bread will last in the freezer for up to 3 months.
To thaw frozen apple bread, remove from freezer and let sit at room temperature on the counter top until fully thawed. Do not refreeze once thawed.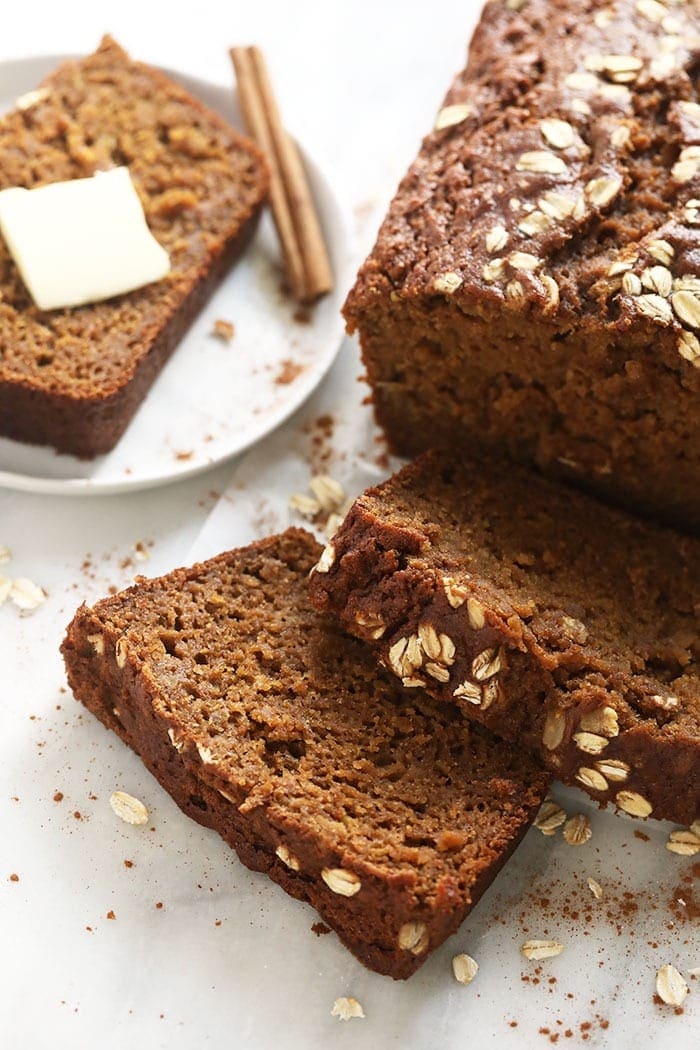 Toppings for Apple Bread
A slice of this apple bread is entirely moist enough to enjoy on its own, but if you're looking to jazz it up a bit, it's also delicious spread with the following:
Butter
Ghee
Peanut butter
Honey
Apple jam
Cream cheese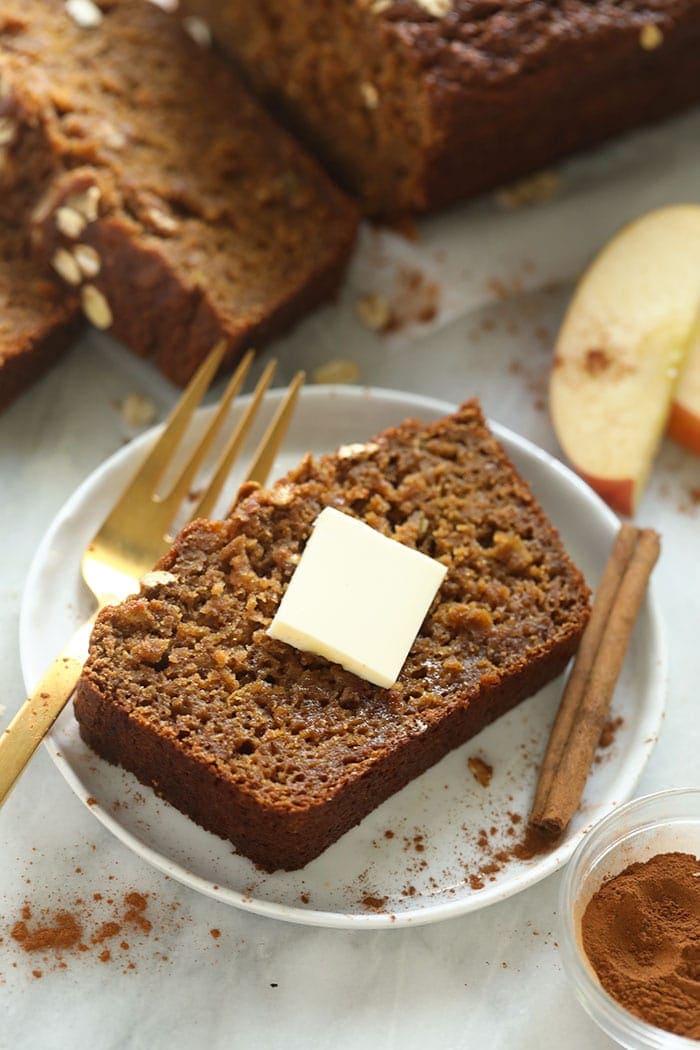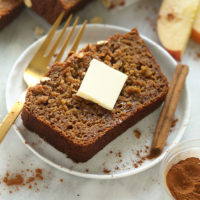 Easy Cinnamon Apple Bread
It's apple season! Which means it's time to make this moist and flavorful Cinnamon Apple Bread. Packed with shredded apples and unsweetened applesauce, this healthy apple bread is something your whole family will enjoy!
Instructions
Preheat oven to 350ºF and spray a loaf pan with nonstick cooking spray.

In a medium size bowl, mix together all of the dry ingredients until they are combined. Set aside.

In a seperate bowl, mix all of the wet ingredients together (except for the coconut oil).

Slowly add dry ingredients to wet ingredients and mix until smooth.

Finally, fold the melted cocont oil into the batter.

Pour batter into bread pan and top with oats or nuts (we used oats).

Bake for 40 minutes and then cover the bread with tin foil. Place bread back into the oven and bake for another 20 minutes.

Remove from the oven and let cool for at least 30 minutes and enjoy!
Nutrition facts
Calories:
283
kcal
Carbohydrates:
43
g
Protein:
5
g
Fat:
5
g
Fiber:
3
g
Sugar:
28
g