It's blueberry banana bread time! Make a loaf of this wonderful, naturally sweetened  banana bread and add some fresh blueberries for a fun twist on the classic banana bread recipe.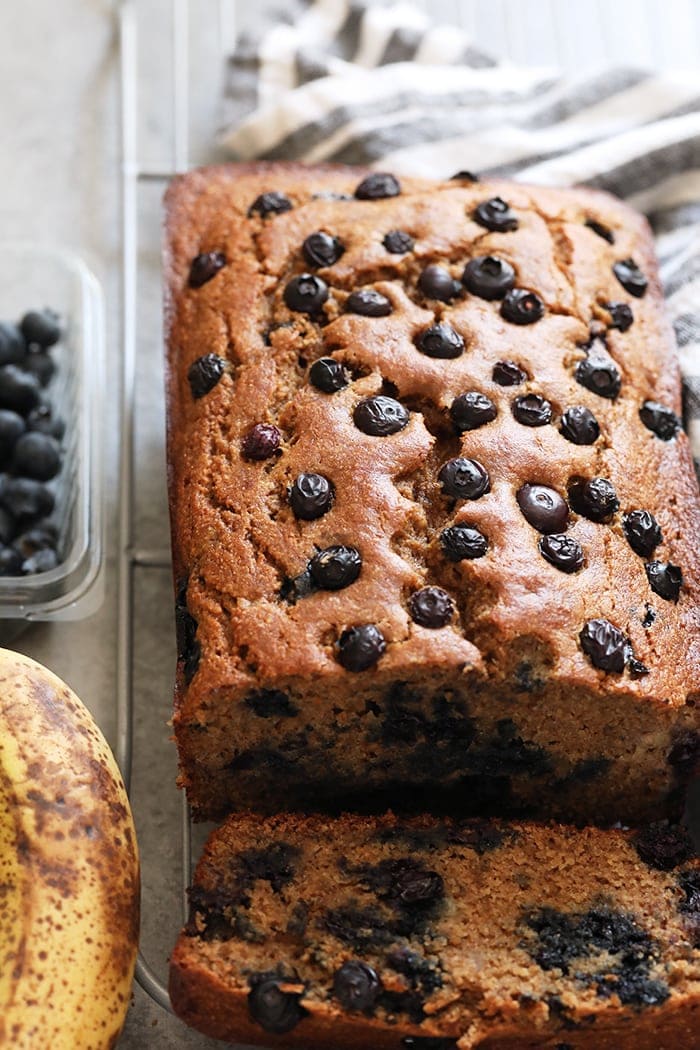 I don't know about you, but banana bread is so nostalgic for me. The smell banana bread baking in the oven and I am immediately taken back to a crisp fall day cerca 2004. I was probably listening to Ja Rule or Ashanti in the kitchen while my dad baked loaves and loaves of banana bread (yes, I was totally into a little early 2000s R&B. There were probably cornrows in my hair, too). Anywho, we would save bananas in the freezer and when it was too full to fit anymore, my dad would bake all day.
Isn't it crazy how different smells and scents take us immediately back to a memory? The brain is a crazy thing.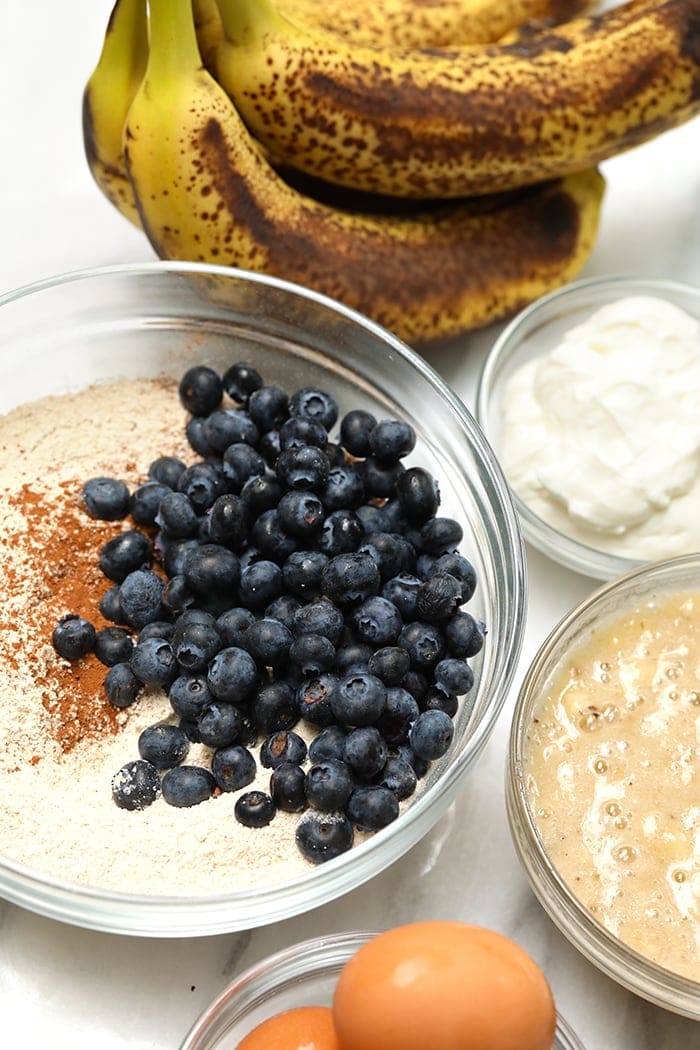 This Blueberry Banana Bread is a healthy banana bread recipe that will (hopefully) bring you back to your most joyful memories of blueberry muffins or banana bread. This blueberry banana bread is deliciously moist, naturally sweet, and I don't know many people who would turn down a slice of this banana bread with a cup of coffee!
Another thing I love about this recipe is that it is pretty easy to change up the recipe if you are missing some ingredients. Don't have blueberries? Feel free to sub your favorite berry or even some chocolate chips. If you feel like you're not in the mood for bread, you can make this batter into muffins, too! Have no fear, there are so many ways you can change up this recipe.
Blueberry Banana Bread Ingredients
white whole wheat flour: this blueberry banana bread is made with a white whole wheat flour base. This is our go-to flour when making healthy muffins or loafs! We choose this flour over normal whole wheat because it creates a less dense bread!
blueberries: the star of this blueberry banana bread is obviously the blueberries! It's what gives this classic recipe a sweet twist!
bananas: the runner-up star of this recipe is, of course, mashed bananas. In this recipe, we used 3 ripe bananas. Don't sell yourself short and make sure you use RIPE bananas because they're sweeter and more flavorful.
Greek yogurt: For a little extra protein, we snuck some Greek yogurt into this blueberry banana bread recipe. This also helps reduce the amount of additional fat or oil needed in order to get a moist bread!
vanilla extract: Cuz every loaf deserves some vanilla.
maple syrup: Instead of using refined sugar, we stuck with maple syrup, our favorite plant-based sugar!
coconut oil: This recipe only calls for 2 tablespoons of melted coconut oil. If you don't have this oil at home, you casn easily sub for a different baking oil such as canola.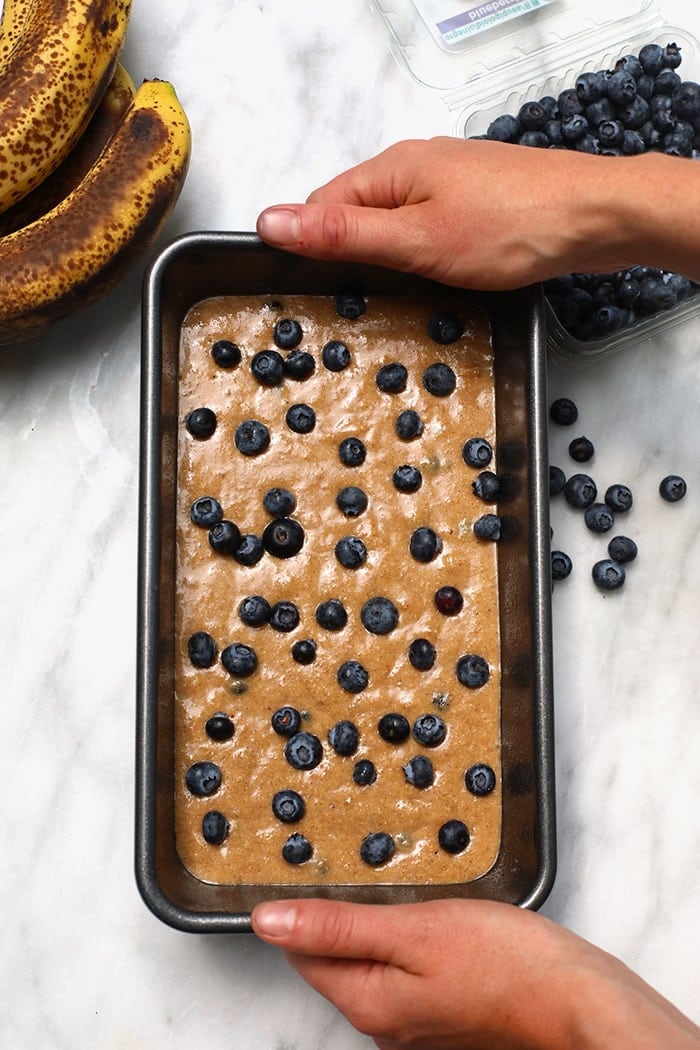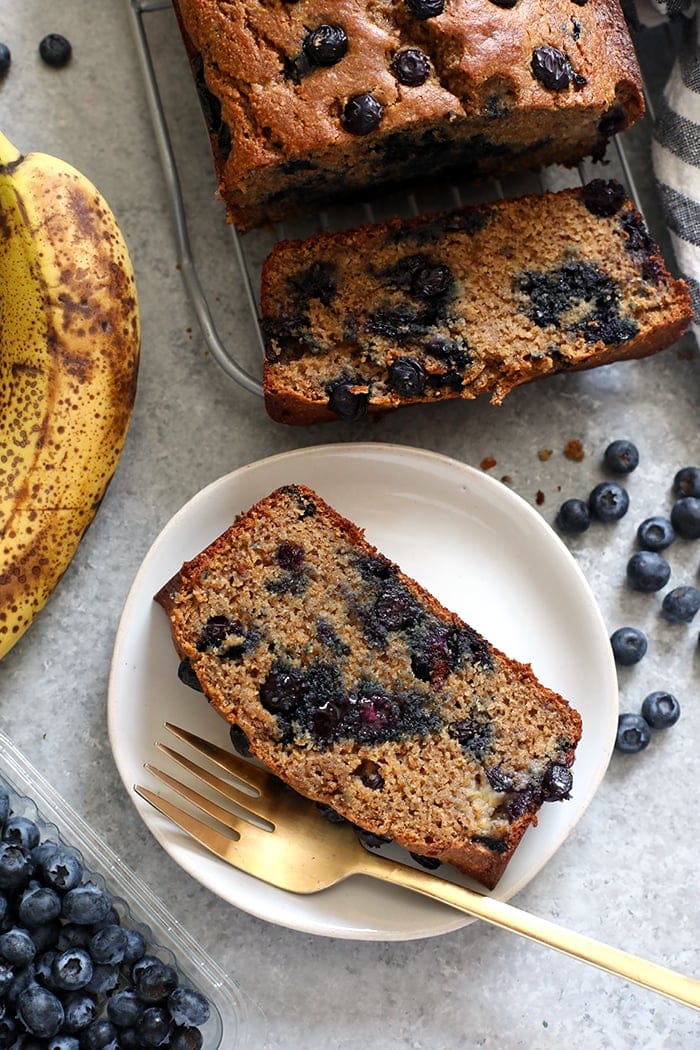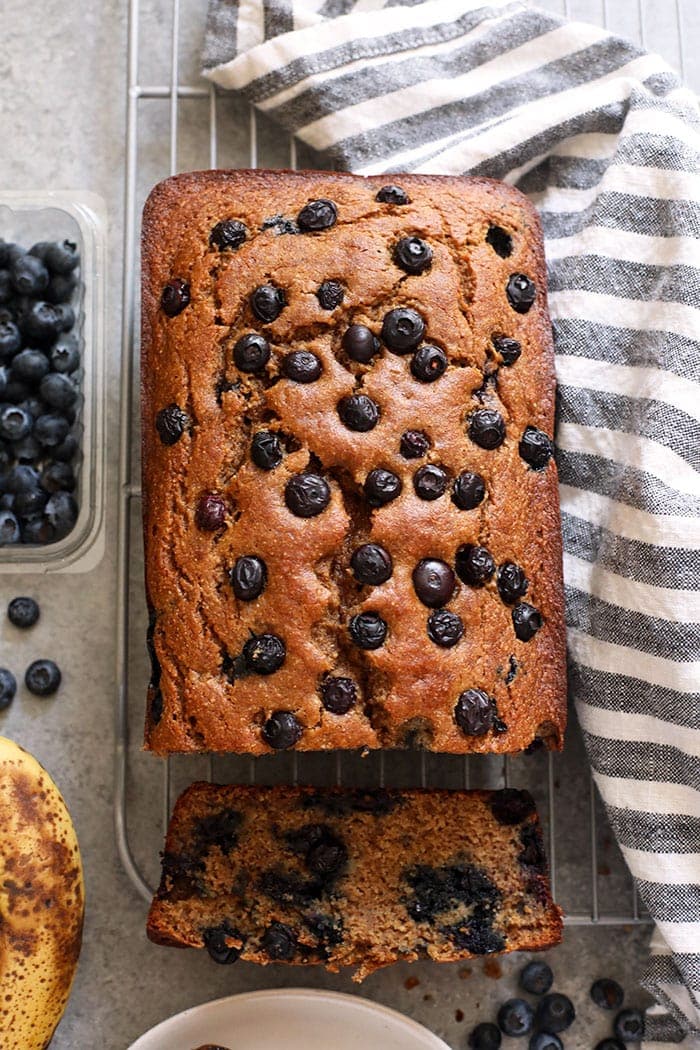 More Bread Recipes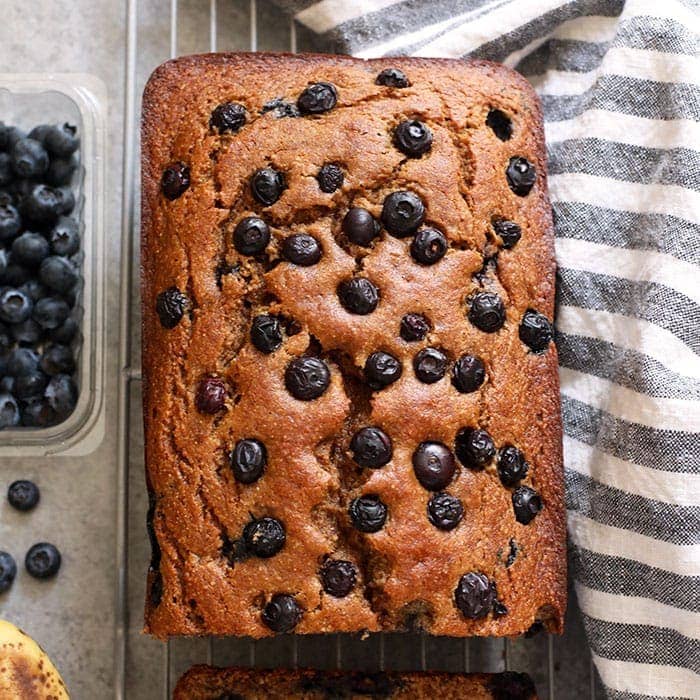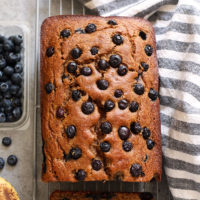 Blueberry Banana Bread
It's blueberry banana bread time! Make a loaf of this wonderful, naturally sweetened banana bread and add some fresh blueberries for a fun twist on the classic banana bread recipe.
Prep:
20 minutes
Cook:
45 minutes
Total:
1 hour 5 minutes
Ingredients
Dry Ingredients
1.75 cups

white whole wheat

1 teaspoon

baking soda

1 teaspoon

ground cinnamon

⅛ teaspoon

salt

1.5 cups

fresh blueberries
Wet Ingredients
2

large eggs

½ cup

maple syrup

3

medium ripe bananas, mashed (

1.5 cups

mashed)

¼ cup

Greek yogurt

1 teaspoon

vanilla extract

2 tablespoons

melted coconut oil
Instructions
First, preheat oven to 350ºF and spray a bread pan with nonstick cooking spray.
Set aside ½ cup of blueberries for later. Mix dry ingredients together in a medium-sized bowl and set aside.
In a separate mixing bowl, mash the 3  bananas with a fork (or alternatively you can place them in a blender to get extra smooth). Then, mix in the rest of the wet ingredients minus the melted coconut oil.
Slowly add dry ingredients to wet. Then, add in melted coconut oil and mix again.
Pour batter into greased bread pan, sprinkle the last half cup of blueberries on top, and bake at 350ºF for 45-50 minutes.
Remove banana bread from oven, let cool for 5 minutes, and remove from pan to finish cooling.
Tips & Notes
Freezer Directions: let blueberry banana bread cool completely. Then, wrap bread tightly with saran wrap, removing as much air as possible. Follow the saran wrap with tin foil. Freeze for up to 3 months.
Nutrition Facts
Serving Size:
1/8
Calories:
252
Sugar:
21
Sodium:
217
Fat:
5
Protein:
7
Category:
Breakfast
Method:
Oven
Cuisine:
American
Keywords: blueberry banana bread