Pour yourself a cup of coffee and enjoy a slice of this vegan banana bread. It's made with flax eggs, naturally sweetened, and makes for a great snack all week long!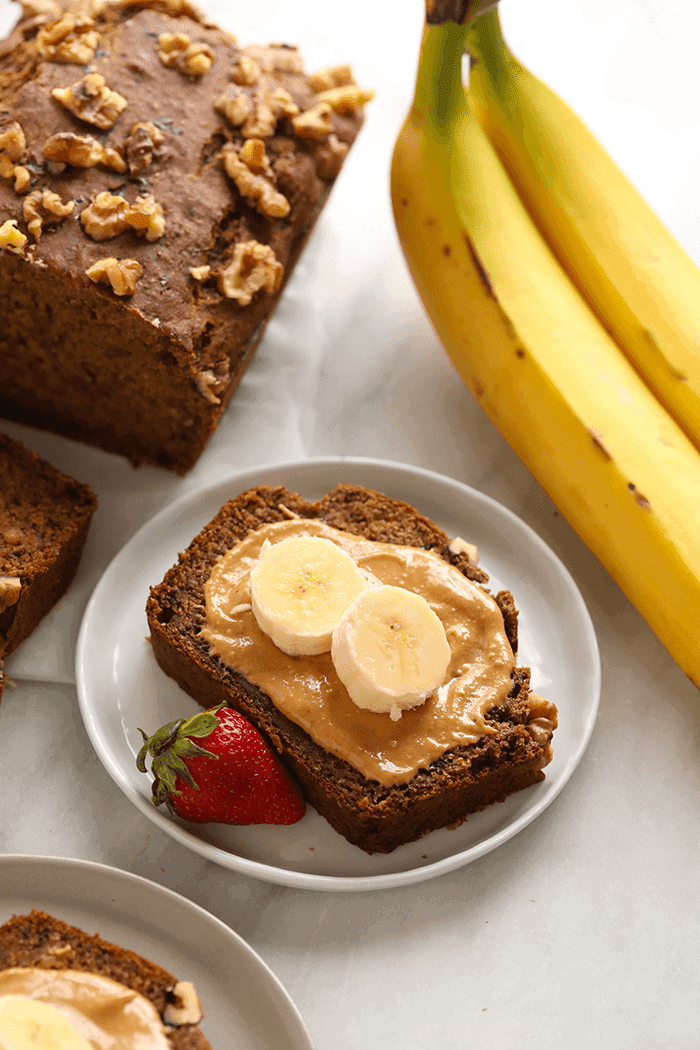 This Bread Rules
We cover all bases here on Fit Foodie Finds and for those of you that follow a vegan lifestyle, we got you. I'm not going to lie, vegan baking is hard! People like the Minimalist Baker have it down and we try our best to get you amazing vegan baking recipes when we get them exactly right. This vegan banana bread is perfect because…
100% whole grains
Naturally sweetened
100% plant-based
Easy to freeze!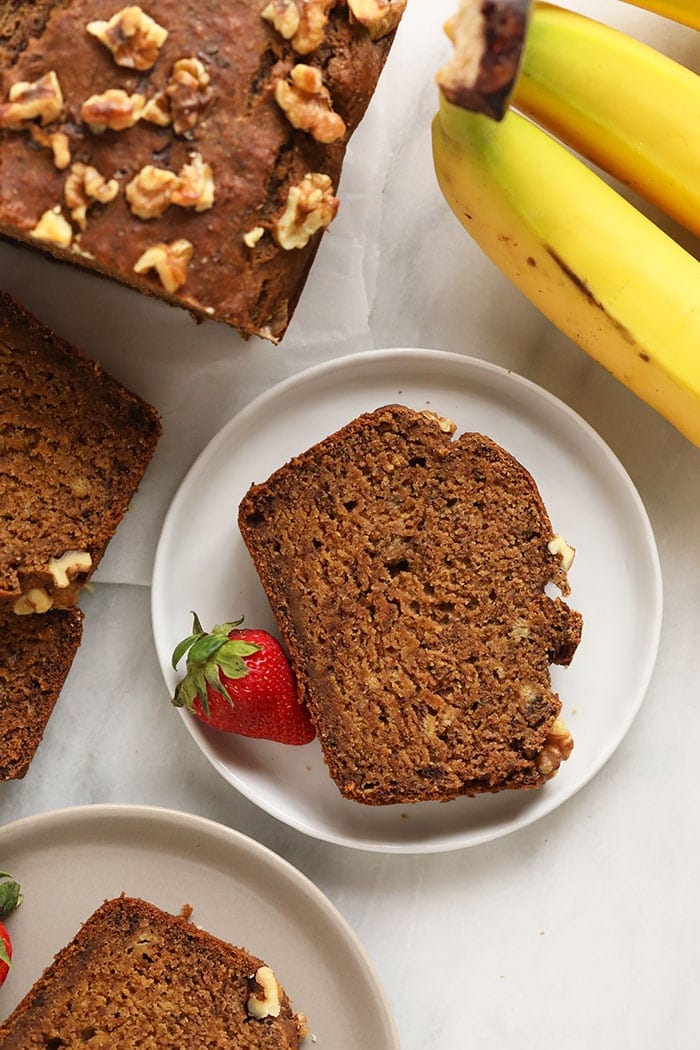 How to Make Vegan Banana Bread
Step 1: Make Flax Egg
It's time to mash and mix. Before doing anything you need to prepare a flax egg. If you've never made a flax egg before, we show you how to do this in our post called how to make a flax egg.
Step 2: Prep Batter
After the flax egg is nice and gooey, you can start preparing the batter! Add all of the dry ingredients into a bowl and whisk together removing any lumps.
Next, in a different bowl, mix together the wet ingredients. Start by mashing the bananas to make them nice and moist.
Mashing the bananas is an important step in this recipe. You don't want the bananas too runny or too chunky. Too runny will leave the banana bread batter too thin and if the banana chunks are too big they will sink to the bottom. A nice even mash is the goal.
After the banana is mashed, add the rest of the wet ingredients (including the flax egg) and mix until combined.
Step 3: Mix Batter
Slowly add the dry ingredients to the wet ingredients and mix. Be cautious not to overmix or else your bread will become dense and for this recipe, we're going fluffy and airy!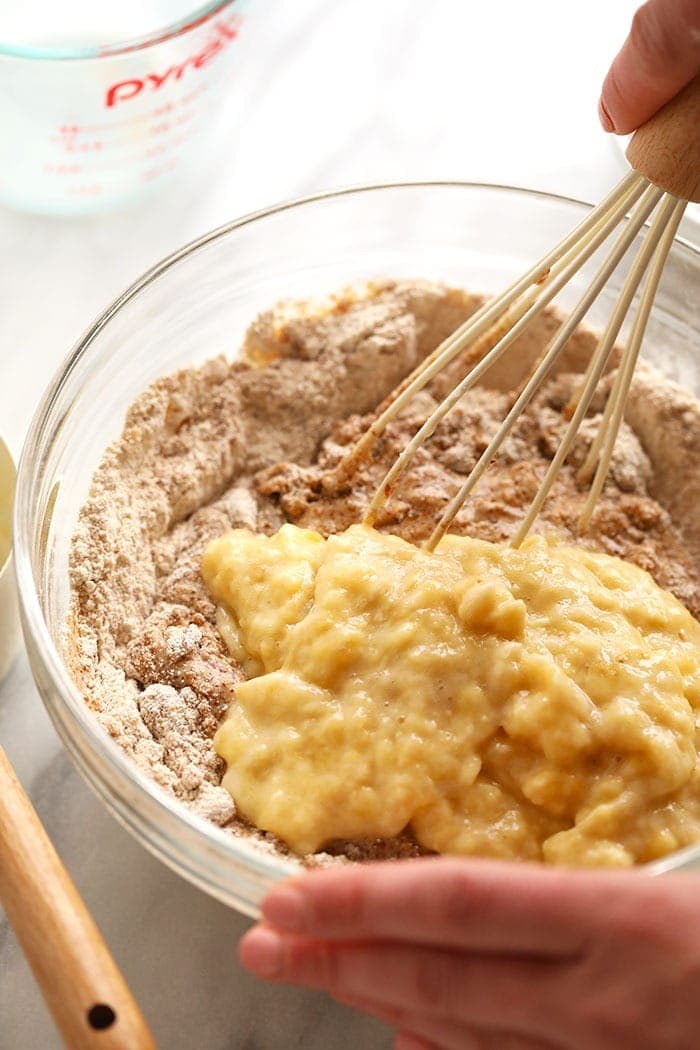 Step 4: Transfer Batter
It's time to pour the batter into a loaf pan. We use a 9-inch loaf pan and spray it evenly with nonstick cooking spray or coconut oil to make sure there will be absolutely NO sticking.
You can also place a strip of parchment paper at the bottom of the loaf pan so when the baking is done, it is easy to lift the banana bread right out of the pan.
Slowly pour banana bread batter into the loaf pan and sprinkle toppings onto the banana bread. We used walnuts, but feel free to use whatever nut you would like.
Step 5: Bake
Bake vegan banana bread at 350ºF for 45- 50 minutes. Every oven is different, so be sure to check the banana bread around the 30-minute mark and if the top is browning, cover it with tin foil to prevent the top of the banana bread from burning.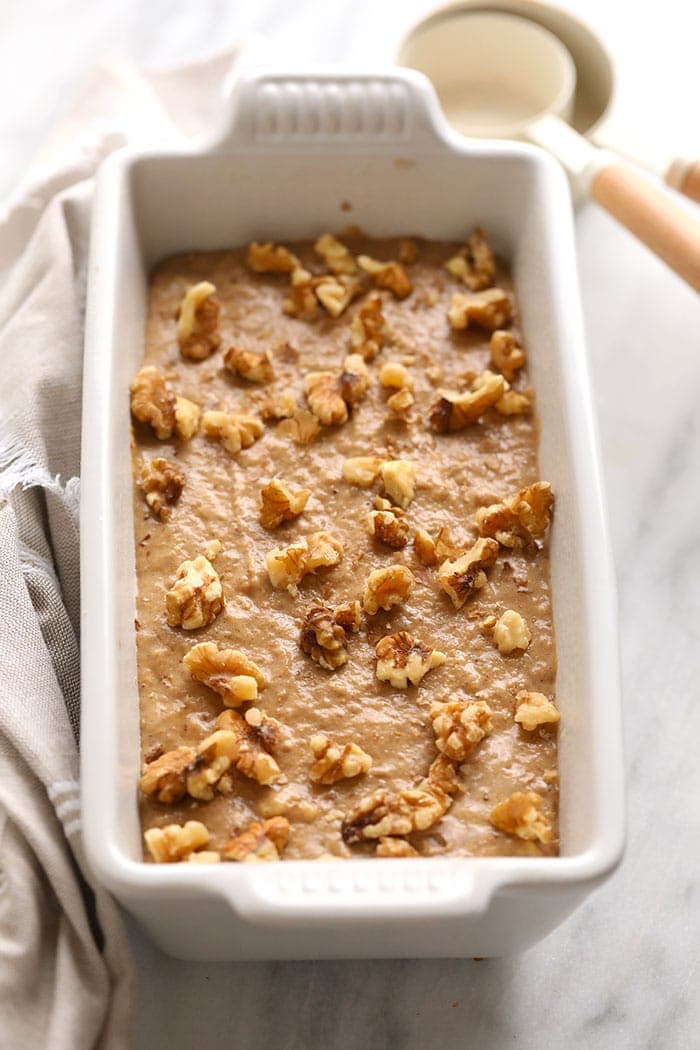 Step 6: Let Cool
Remove the banana bread from the oven and let cool for 5-10 minutes. You have two options here. Remove from the pan immediately (be careful) if you feel the banana bread is perfect and needs no additional time in the oven. Or you can let the vegan banana bread cool in the loaf pan.
All of this depends on what type of loaf pan is used, the oven temperature, and if the middle of the banana bread is fully cooked. We generally leave the banana bread in the loaf pan for 5-10 minutes to cook a bit longer and then we remove it and let it cool on a cooling rack.
Storage
Enjoy the banana bread within 5-7 days of baking. Be sure to let the bread cool completely before writing it in plastic wrap or storing it in a glass, airtight container.
Freezer directions: let banana bread cool completely before wrapping it in a piece of plastic wrap and then with a piece of tin foil. Remove as much air as possible. Store in the freezer for up to 3 months.
Vegan Baking Tips
Egg Substitute. No eggs, no problem! You are still able to bake delicious recipes without eggs with FLAX EGGS. Check out our how to make a flax egg post on the ins and outs on how to mix up a flax egg just right to incorporate into tasty baked goods.
Change up the sweeteners. In all of our baking recipes, we try to use natural sweeteners no matter what! Our favorite vegan baking sweetener is maple syrup. Maple syrup gives any recipe it's in a warm sweetness that you just can't beat!
More Banana Bread Recipes
Vegan Banana Bread Video
Recipe
Vegan Banana Bread
Pour yourself a cup of coffee and enjoy a slice of this vegan banana bread. Made with a flax egg, naturally sweetened, and makes a great snack all week long!
Prep Time:

20 minutes

Cook Time:

50 minutes

Total Time:

1 hour 10 minutes
Ingredients
Dry
1¾ cup

s white whole wheat flour

3/4 cup

coconut sugar

2 teaspoon

s baking soda

1/8 teaspoon

salt

1 teaspoon

ground cinnamon

1/3 cup

chopped walnuts (for topping)
Wet Ingredients
1 flax egg (1 tablespoon ground flaxseed + 3 tablespoon warm water)

3

medium ripe bananas, mashed

1/4 cup

maple syrup

1/2 cup

almond milk, unsweetened*

1 teaspoon

vanilla extract

1/4 cup

melted coconut oil
Instructions
Preheat the oven to 350ºF and spray a 9-inch loaf pan with nonstick cooking spray.
First, prepare your flax egg. Place 1 tablespoon ground flaxseed and 3 tablespoons of warm water into a small bowl. Whisk and set aside for 15 minutes to thicken.
Next, mix all of the dry ingredients (except for walnuts) into a medium-sized bowl. Mix until combined and set aside.
Check your flax egg. If it has thickened and become goopy, you're ready to rock and roll! If not, wait a few more minutes.
Place bananas into a separate large bowl and use a fork to mash, making sure to leave some nice sweet chunks of banana. Then, add the flax egg and mix. Add the rest of the wet ingredients (except for coconut oil) to the bowl and mix again.
Slowly add dry ingredients to the wet ingredients and mix until combined.
Finally, add melted coconut oil to the batter and mix again.
Transfer batter into the loaf pan and make sure that batter is evenly spread out. Sprinkle walnuts over the top of the banana bread and place banana bread into the oven.
Bake banana bread at 350ºF for 45-50 minutes, covering the banana bread with tin foil at about 30 minutes.
Remove from oven, let cool for around 15 minutes and then remove from the loaf pan to continue cooling.
Notes
You made need to add a splash more of almond milk depending on how thick your batter is! It should be similar to pancake batter.
Nutrition
Serving Size:

1/8

Calories:

321

Sugar:

29

Fat:

11

Carbohydrates:

52

Fiber:

5

Protein:

5
Similar
Baked Goods & Coffee
There is nothing better than waking up in the morning, pouring a cup of French pressed coffee (or tea), knowing that you also have a fresh loaf of vegan banana bread waiting for you.
My ideal morning consists of a slow wake up with time to sit and enjoy breakfast and wait for a poop! HA. It's true.
Honestly, if every morning could start out just like that life would be a dream! We love developing healthy and delicious breakfast options for all of you and this vegan banana bread is one of our new favorites. Some of our most recent breakfast favorites right now are below!