This Healthy Banana Bread with coconut oil is about to change your life. It's made with white whole wheat flour, roasted bananas, coconut oil, and dark chocolate chips.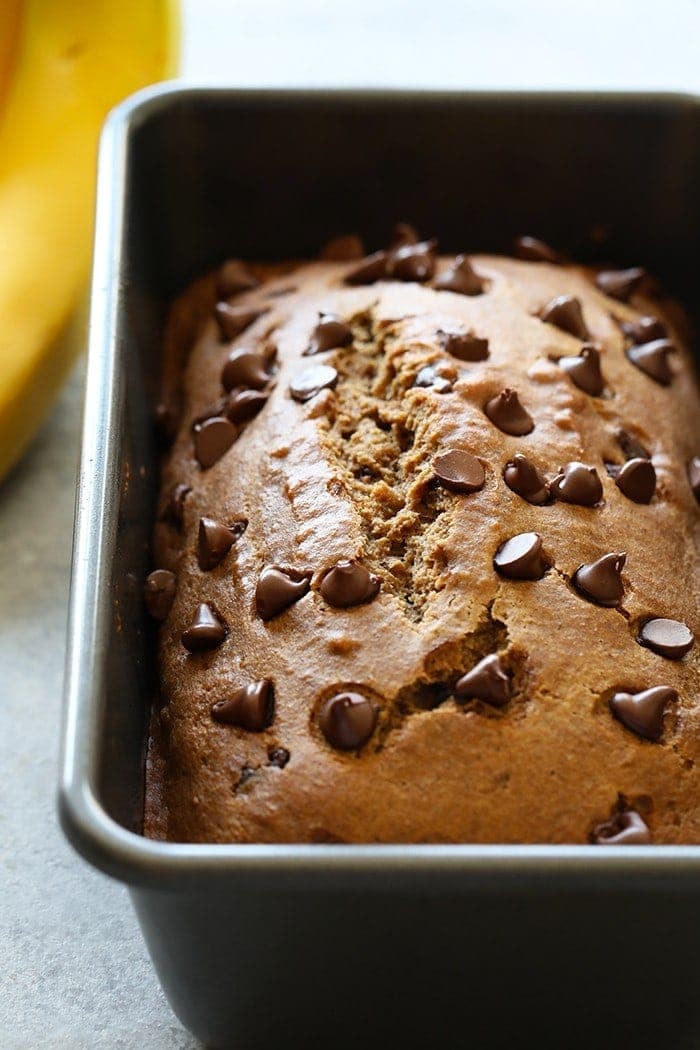 If you love banana bread (or banana muffins!) but are looking for a healthy chocolate chip banana bread recipe, I have the perfect one just for you!
Healthy Banana Bread
I've been a banana bread lover since I was a kid. My mom used to make two loaves at a time that's how much we loved it! Today's recipe is a healthier twist on classic banana bread. We used a variety of swaps to add a little bit more nutrition to this epic loaf.
white whole wheat flour: we love baking with white whole wheat flour because it's a 100% whole grain and in our opinion, is the best whole grain to bake with.
brown sugar: in this recipe, we used brown sugar because that's what gives it the best texture and flavor. Option to sub coconut sugar here if that's your preference.
eggs: eggs are essential for this recipe!
bananas: wether you decide to roast your bananas or not, you're going to need 3 of them for this recipe! Pro tip: for sweeter banana bread, make sure that your bananas are ripe with brown spots.
vanilla extract: A little bit of vanilla extract goes a long way!
coconut oil: we used coconut oil in place of vegetable oil or butter and absolutely love the flavor! Make sure that you melt your coconut oil before using it in the recipe.
PS: if you are banana bread obsessed like me, then you HAVE to try our chocolate chocolate chip banana bread.
Roasted Bananas
One reason why I love this recipe is that we gave it our own little twist by roasting the bananas before mixing them into the batter. Roasting your bananas will bring out that lovely flavor even more. Do note that this recipe still works even without roasting your bananas!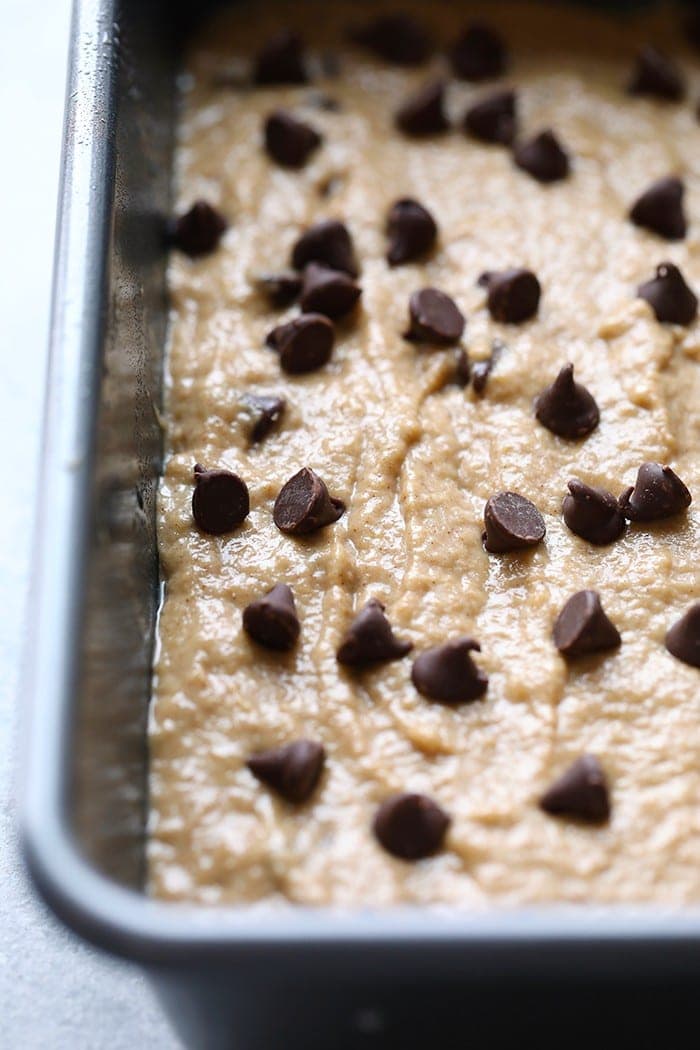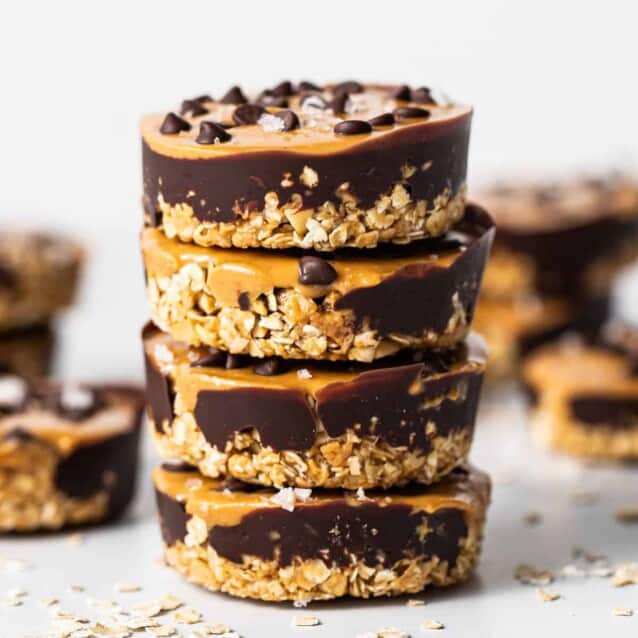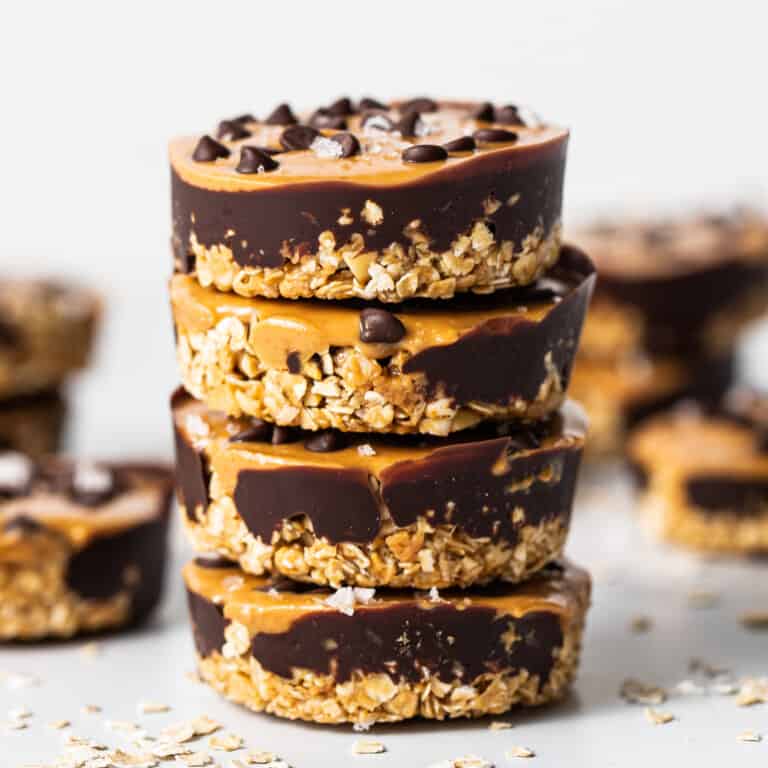 Get our Top 10 5-Star Recipes!
Join our email list for new recipes and BONUS: get our top 10 ⭐️⭐️⭐️⭐️⭐️ recipes e-book!
Coconut oil vs. vegetable oil
I'm sure you're wondering why we decided to use coconut oil in place of vegetable oil. Actually, you'll see coconut oil all over our baked good recipes on Fit Foodie Finds because it's our favorite oil to bake with. Not only do we love the flavor of it but coconut oil is…
high in the "good" saturated fats
increases the level of HDL cholesterol
amazing for your skin
improves digestion
boosts immunity
We often use it in place of vegetable oil 1:1 because of all of these benefits. One thing I want to note about coconut oil is that you do have to melt it if it gets below 76ºF, so don't freak out if your coconut oil hardens in your kitchen!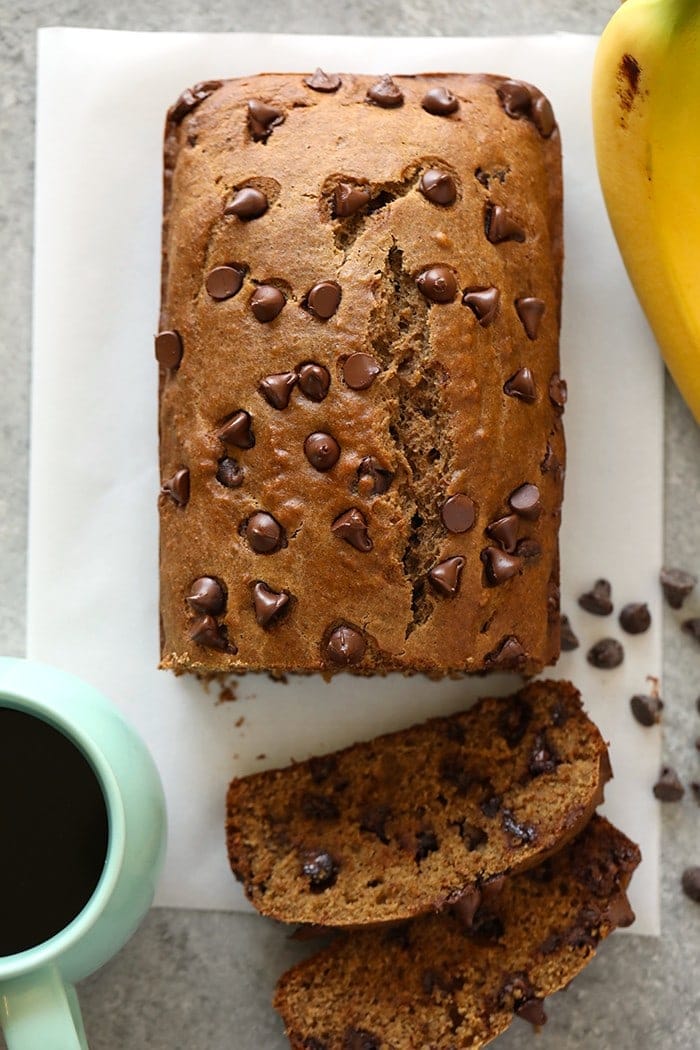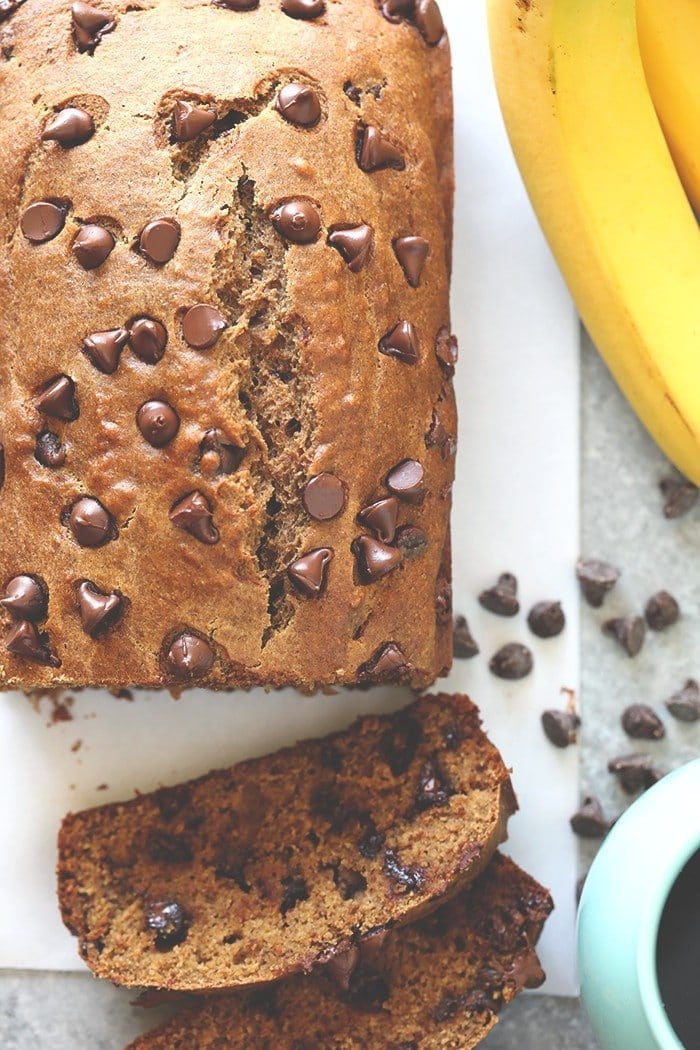 How to Freeze Banana Bread
Before I share the recipe, I wanted to let you know that you can totally freeze this bread for later! All you have to do is let your banana bread cool completely. Then, wrap it tightly in saran wrap, making sure there are no air bubbles. Next, tightly wrap it with a piece of tin foil. I like to write the name of the recipe and the date on the tin foil so that I don't forget what it is! Place in the freezer for up to 3 months.
To thaw: remove the healthy banana bread from the freezer and unwrap the tin foil and saran wrap. Let sit in the counter for a few hours before slicing and toasting in your toaster oven or heating in the microwave for 30-60 seconds.
More Banana Bread Recipes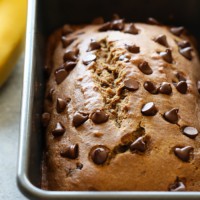 Coconut Oil Banana Bread Recipe
This Healthy Banana Bread with coconut oil is about to change your life. It's made with white whole wheat flour, roasted bananas, coconut oil, and dark chocolate chips.
Instructions
First preheat oven to 350ºF and spray a bread pan with nonstick cooking spray. Set aside.

Place 3 bananas (with peels still on) on a cookie sheet and place in oven for 10-15 minutes until fragrant and dark brown. Remove from oven and set aside. (PS: If you do not want to do this step, no fear! You can skip it and mash your bananas like normal.)

Mix dry ingredients (except chocolate chips) together in a medium-sized bowl.

In a separate mixing bowl, mash the 3 roasted bananas with a fork (or alternatively you can place them in a blender to get extra smooth). Then, mix in the rest of the wet ingredients.

Slowly add dry ingredients to wet. Fold chocolate chips into batter and mix again.

Pour batter into greased bread pan, sprinkle a few chocolate chips on top, and bake for 45-50 minutes.

Remove banana bread from oven, let cool for 5 minutes, and remove from pan to finish cooling.

Enjoy!
Tips & Notes
If your batter seems way too thick (see the video for thickness), you may need to add a few tablespoons more of almond milk. This is due to the fact that all bananas are different sizes, which release a different amount of moisture 😀
Nutrition facts
Calories:
279
kcal
Carbohydrates:
50
g
Protein:
6
g
Fat:
11
g
Fiber:
5
g
Sugar:
21
g
OH EM GEE. I don't know how I've kept this a secret for so damn long but….
MARK IS MOVING TO MINNEAPOLIS! First of all, I have no idea how we have already been dating for a year and a half, but finally after doing long distance this whole time between Minneapolis and Milwaukee, we're going to be in the same city under the same roof! I feel like living apart for so long has been both really difficult and really good for strengthening our relationship. Mark and I were really good friends in high school, so we didn't start our relationship from scratch, but it did take us a while to get in a good groove of balancing distance and seeing each other IRL.
To give you some background on the situation, we weren't always sold on staying in Minneapolis. For a while I was planning on moving to Milwaukee, but then I vetoed that rather quickly. For the past 6 months we've been decided between Minneapolis and Denver (hence the large amount of spontaneous trips to Denver). Denver has had my heart since the first time I went in high school. It was actually the plan for me to move there after college, but life has it's ways of keeping you where you're suppose to be. Mark fell in love with Denver last year so it felt like a really great option for us knowing that we both love the outdoors and warmer weather. Plus, it seemed like neutral territory for the both of us. Long story short, Minneapolis has my heart and my business for the time being. For a while I tried to tell myself that "I can do my job from anywhere." But can I? While this is true for some extent, I know that I can't replicate my situation here in Minneapolis (Linley = God). I just can't justify leaving this amazing community that I've built my business around. Plus, my family and co-workers are here!
I am so lucky that Mark's job is flexible and he's able to work remotely and most of all, willing to move to me. You have no idea how happy this makes my heart that someone would be willing to do this for me. So, he's moving here in June! We found an adorable townhouse to rent near Lake Calhoun and we couldn't be more excited to live together in the same city. WEEE. Now he gets to be my taste tester 100% of the time 😀