Are you ready for the most delicious chocolate banana bread you've ever tasted? It's so chocolatey and moist and tastes like dessert.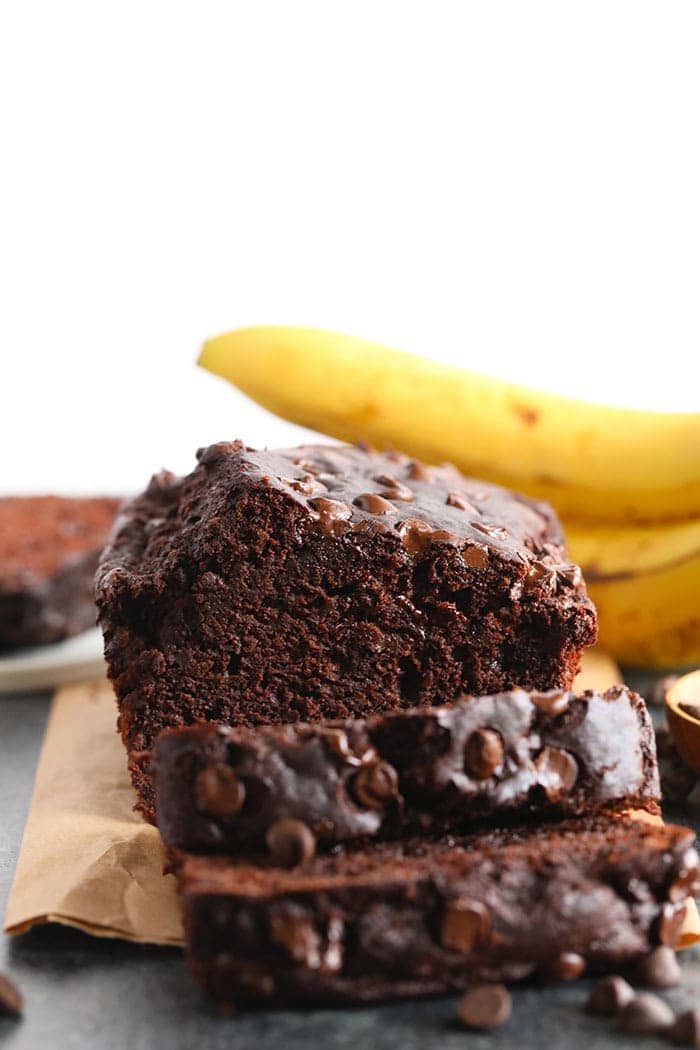 Best Ever Chocolate Banana Bread
This chocolate banana bread continues to get 5-star review after 5-star review! It's chocolatey, fluffy, and made with whole ingredients!
Similar to our healthy banana bread recipe, this chocolate banana bread is made with white whole wheat flour and coconut oil.
We just can't get enough of the banana + chocolate flavor combo!
Why make this chocolate banana bread recipe?
Whole grains: this chocolate banana bread is made with white whole wheat flour instead of refined flour.
3 bananas: we aren't skimping on the banana flavor in this recipe!
Chocolate x 2: not only does this recipe call for cocoa powder, but we're also using chocolate chips too!
Is chocolate banana bread healthy?
Not all chocolate banana bread recipes are created equal! This recipe, however, is healthier than most because we use whole grain flour and coconut oil.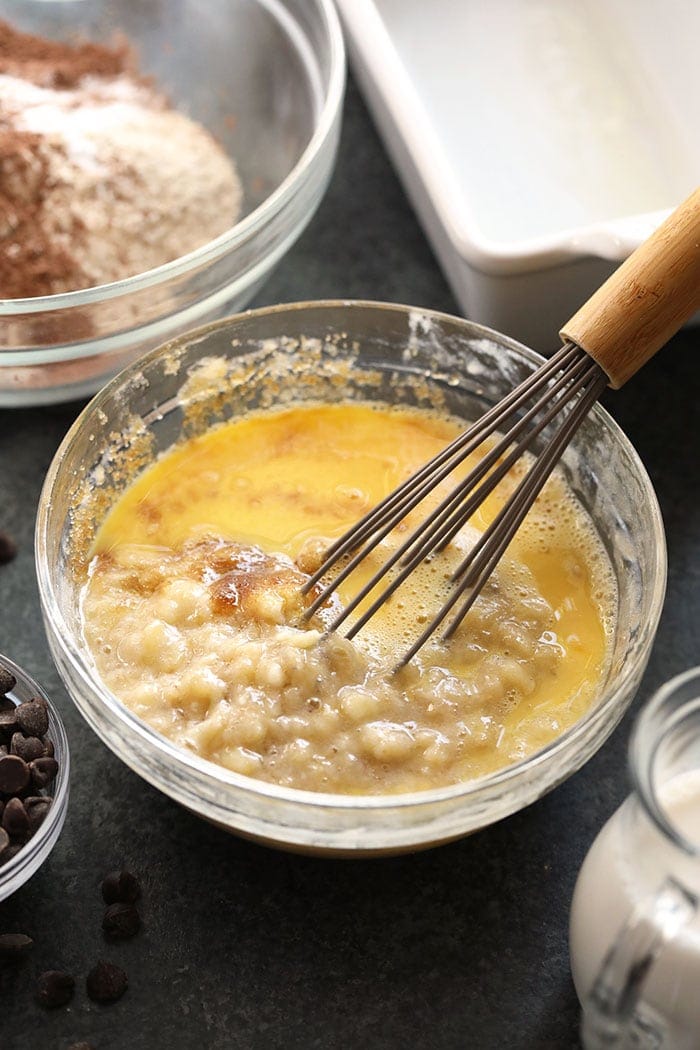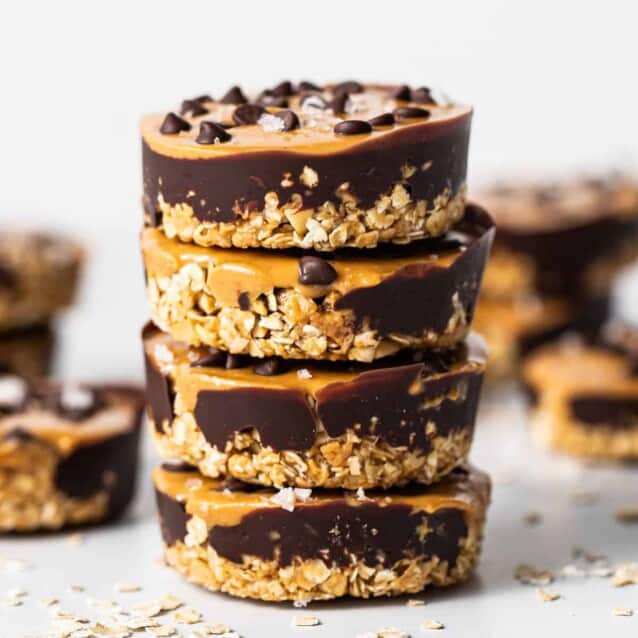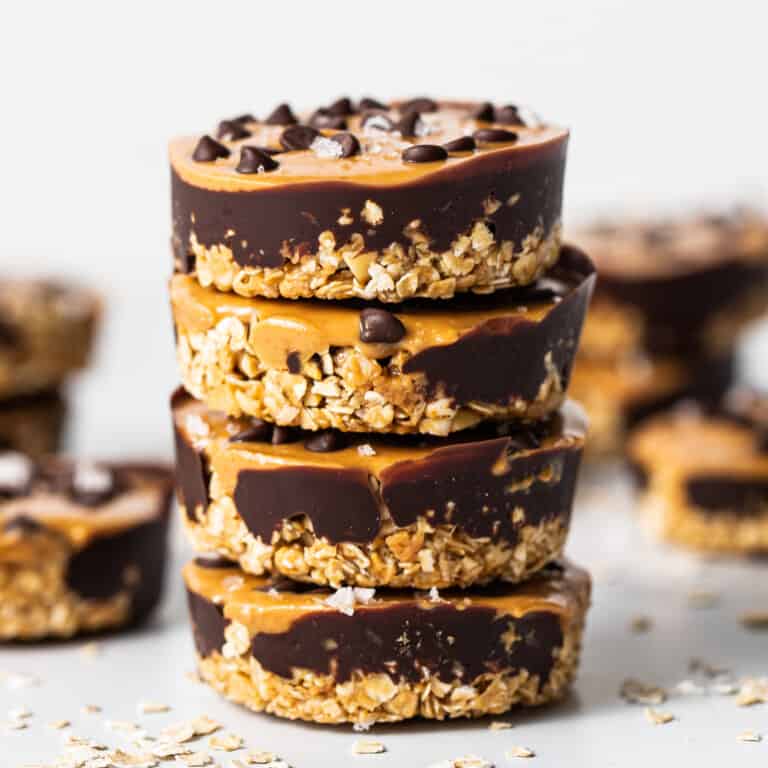 Get our Top 10 5-Star Recipes!
Join our email list for new recipes and BONUS: get our top 10 ⭐️⭐️⭐️⭐️⭐️ recipes e-book!
Recommended Kitchen Tools
Ingredients Needed
Wet Ingredients
eggs – we haven't tried this recipe, eggless, but you can always try to sub 2 flax eggs! If you're looking for a vegan banana bread recipe try ours!
mashed banana – the riper the bananas you use, the sweeter your chocolate banana bread will be.
almond milk – I love the nutty flavor of almond milk, but feel free to use any kind of milk.
vanilla – we used 2 whole teaspoons in this recipe and I absolutely adore the flavor it adds.
coconut oil – coconut oil is a great sub for vegetable oil, but you can always swap if you don't have any coconut oil on hand!
Coconut oil tip!
This recipe calls for melted coconut oil, which means that you should measure your coconut oil after it's melted.
Coconut oil should be the last thing you mix into your batter so that it doesn't coagulate with the cooler ingredients.
Dry Ingredients
white whole wheat: this is our absolute favorite flour to make any kind of bread loaf with. We haven't tested this recipe with anything else, but I'm sure you could sub either all-purpose flour or an all-purpose gluten-free flour blend.
brown sugar: A little bit of brown sugar goes a long way! Classic banana bread calls for brown sugar and that's why we kept it in this recipe. If you're looking for a substitution, I'd use coconut sugar or another granular sugar.
cocoa powder: since this is CHOCOLATE banana bread, the cocoa powder is essential! Make sure you look for a cocoa powder that is unsweetened for the best results.
chocolate chips: Don't skimp on the chocolate chips…is a rule when making banana bread. Just trust me.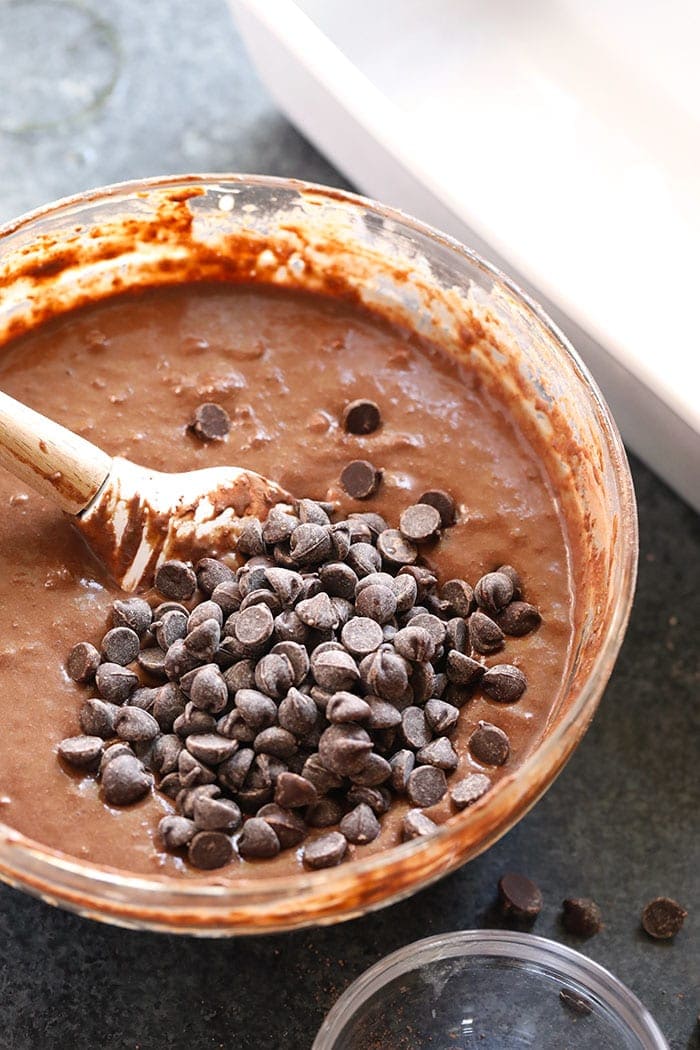 How to Make Chocolate Banana Bread
Mix Dry: Combine dry ingredients together in a medium bowl and set aside.
Mix Wet: Mash 3 medium bananas in a large bowl until there are little to no lumps. Then, all all of the wet ingredients minus the coconut oil. Whisk to combine.
Combine: Slowly add the dry ingredients to the wet and mix to combine.
Add Coconut Oil: Finally, add melted coconut oil and mix one more time.
Bake: Transfer batter into a standard-size bread loaf and bake at 350ºF for 45-50 minutes.
Make chocolate banana muffins instead!
Would you rather make chocolate banana muffins instead? Here some easy direction on how to use this batter to make muffins instead.
Line a muffin tin with muffin liners and spray them with cooking spray.
Make the batter as directed in the recipe card.
Fill each muffin well about 3/4 of the way full. You should get around 12 muffins.
Bake at 350ºF for around 18-23 minutes or until the centers are fully cooked.
PS: check out our healthy chocolate muffins.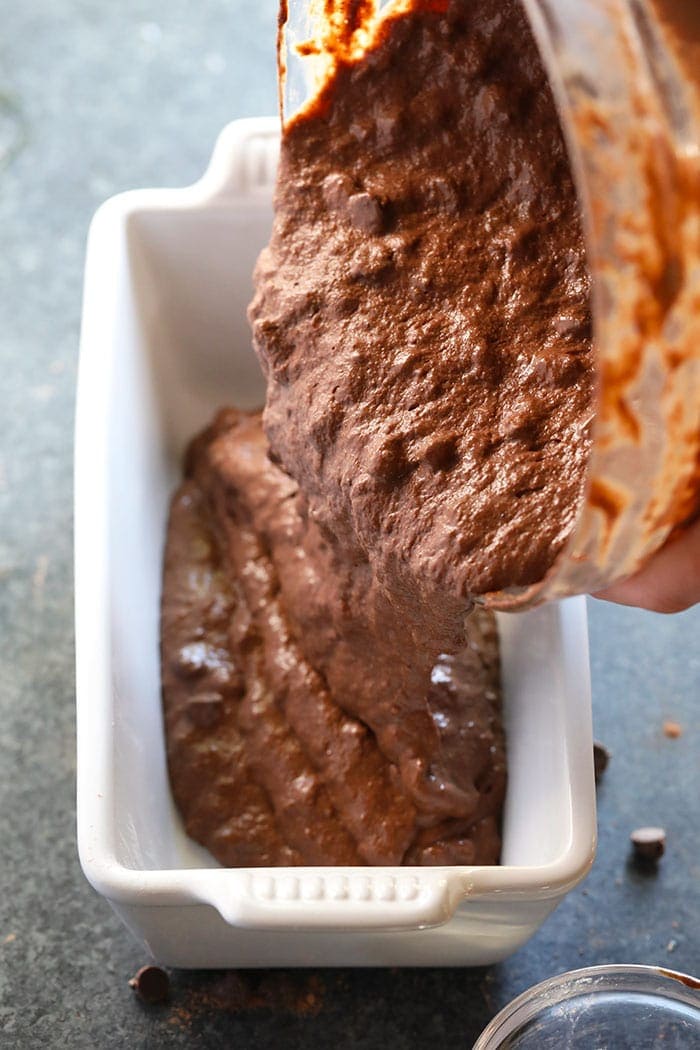 Chocolate Banana Bread Tips
The bananas matter: The riper the banana, the sweeter. They are also easier to mash. One thing we've learned is that if you don't mash your bananas enough, they will sink to the bottom, so just make sure you get in there and mash them well.
The pan you use matters, too! There is no wrong answer, but if you use a metal loaf pan, it distributes the heat more evenly, where there is more of a chance of uneven cooking in a ceramic pan.
Add the coconut oil last: I know I mentioned this once before, but it's the best tip I ever received. Make sure that you add the coconut oil last so that it doesn't firm up when it mixes with the other cold, wet ingredients.
Don't over cook: Make sure to keep an eye on the center of your loaf. If you overcook your bread, it will end up tough and crumbly.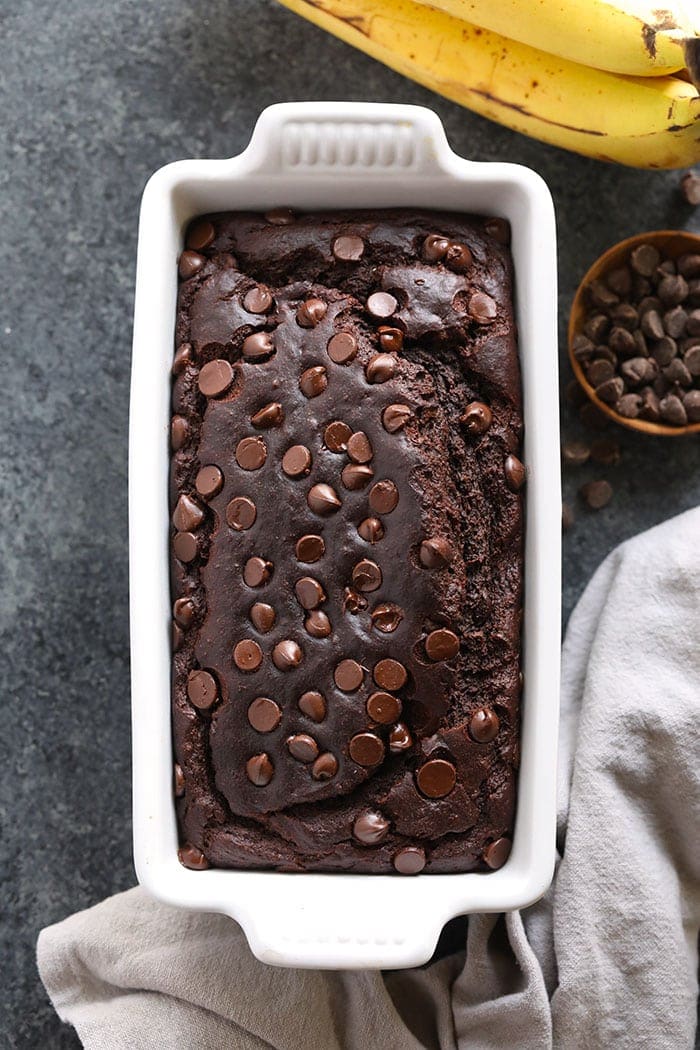 Chocolate Banana Bread Variations
Use nuts: chocolate walnut banana bread? Yes please! Swap the chocolate chips for chopped walnuts or pecans.
Use applesauce: don't like bananas? Try using a heaping cup of applesauce instead!
Make it dark chocolate: instead of normal unsweetened cocoa powder, use dark cocoa powder instead for a more intense chocolate flavor. PS: go big and swap the semi-sweet chocolate chips for dark chocolate chips.
Storage
Let banana bread cool completely. Then, wrap it with a piece of tin foil and store on the counter in a cool, dark place for up to 3 days or in the fridge for up to 5 days.
Can you freeze chocolate banana bread?
Let your healthy chocolate banana bread cool completely. Then, tightly wrap it in tinfoil and remove as much air as possible. Freeze for up to 3 months.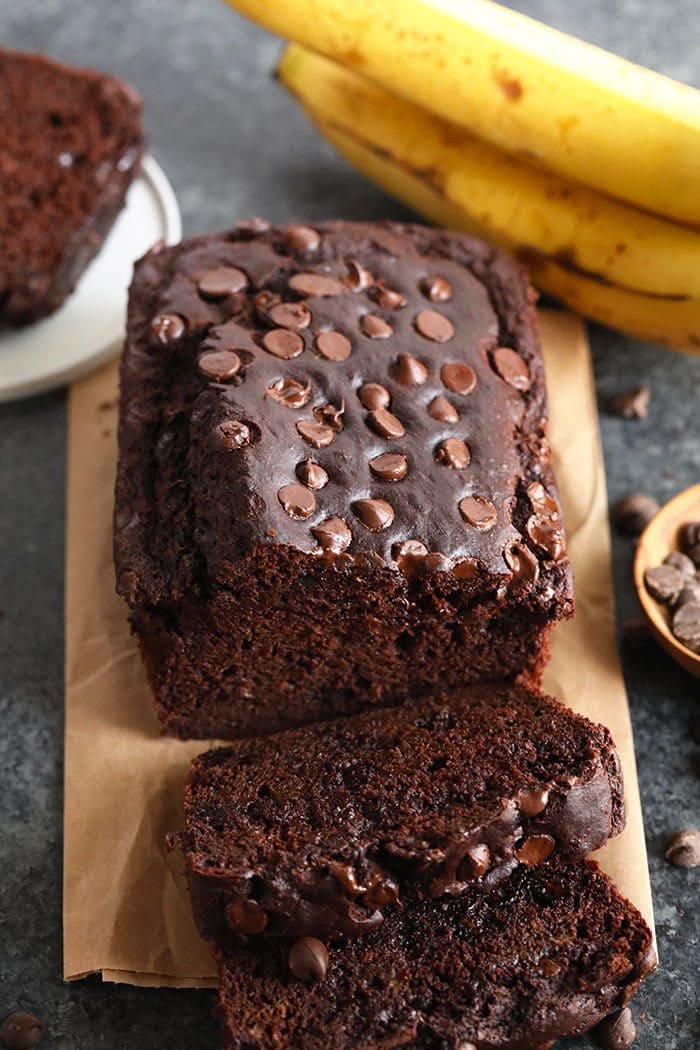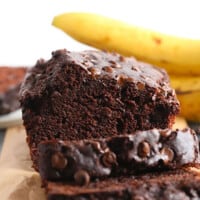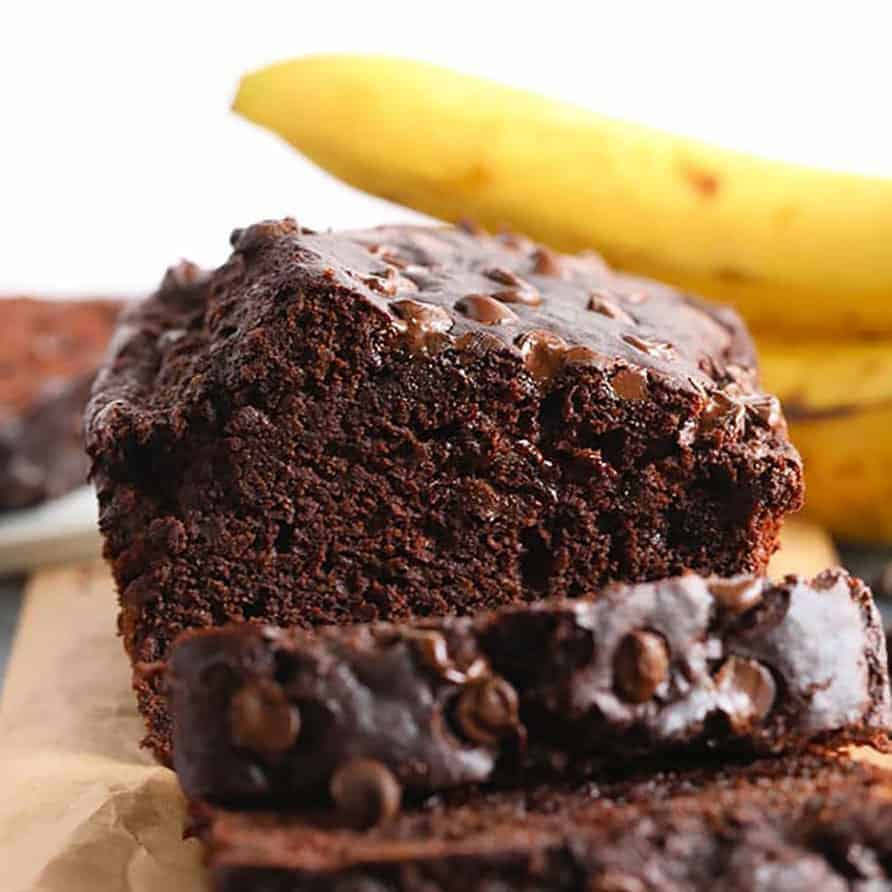 Incredible Chocolate Banana Bread
Made with 3 super ripe bananas this chocolate banana bread is so tender, fluffy, and chocolatey! 
Instructions
First, preheat the oven to 350ºF and spray a standard-size bread pan with nonstick cooking spray. Set aside.

Mix dry ingredients together in a medium-sized bowl. Set aside.

In a separate mixing bowl, mash 3 bananas with a fork. Then, mix in the rest of the wet ingredients minus the coconut oil.

Slowly add dry ingredients to wet and mix to combine. Then, add in the melted coconut oil and mix again to combine.

Pour batter into greased bread pan, sprinkle a few chocolate chips on top, and bake at 350ºF for 45-50 minutes or until the center is fully cooked.

Remove banana bread from oven, let cool for 10 minutes, and remove from pan to finish cooling.

Enjoy!
Tips & Notes
Almond milk*: If the batter is unusually thick, add a little bit more almond milk. Thick batter can be due to the bananas you used!
Make it vegan**: swap the eggs for 1/3 cup of unsweetened pumpkin puree.
Nutrition facts
Calories:
327
kcal
Carbohydrates:
49
g
Protein:
7
g
Fat:
14
g
Fiber:
7
g
Sugar:
28
g