These Classic Oatmeal Muffins are simple, satisfying, and oh so delicious! Packed with 11 healthy ingredients, and ready to enjoy in under 45 minutes, this healthy muffin recipe can't be beat!
In the mood for more muffin inspo?! Check out all our healthy muffin recipes HERE! Happy baking, loves.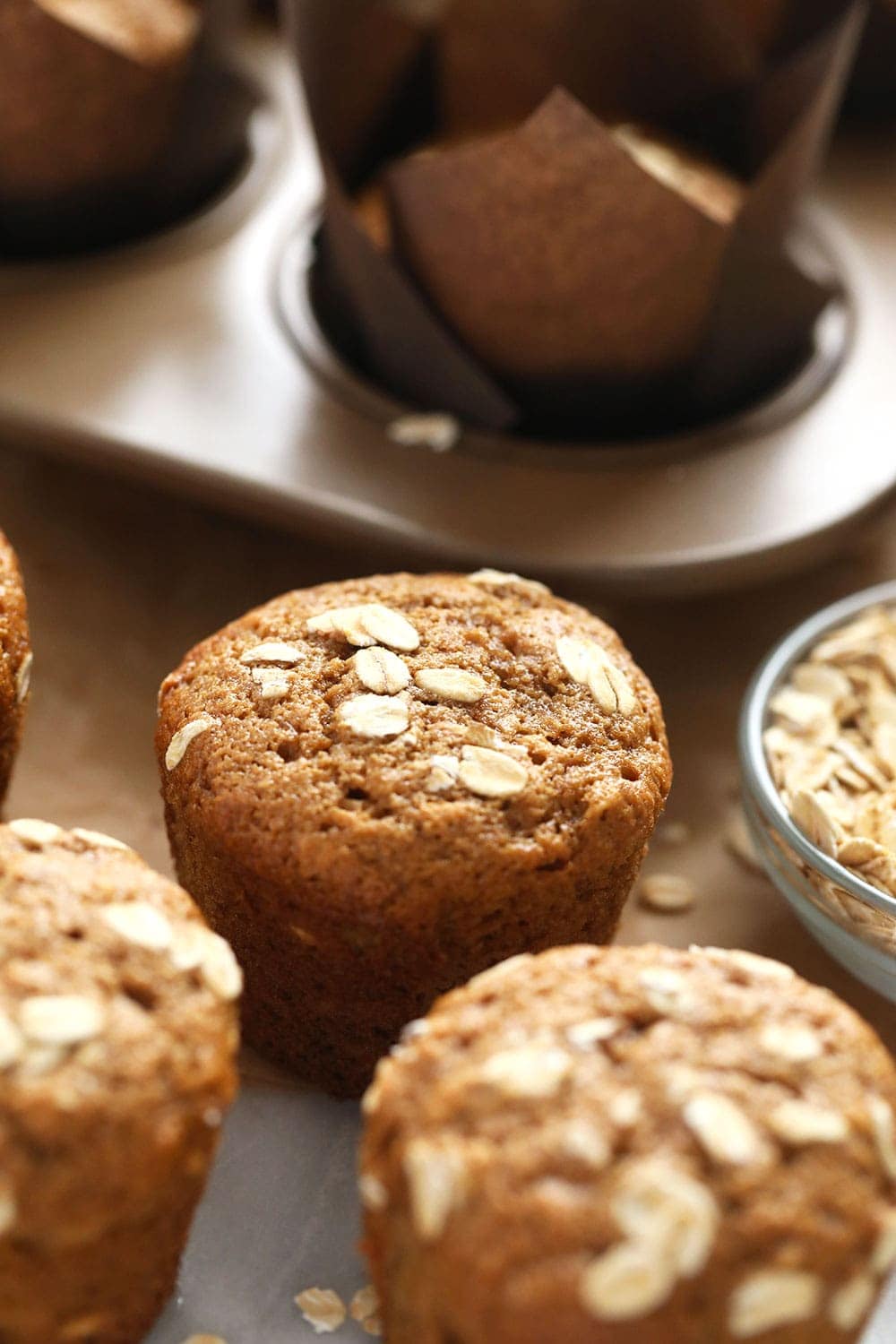 Bookmark This Recipe!
These classic oatmeal muffins have quickly become one of our go-tos in the Fit Foodie kitchen. They're easy to make, pack healthy ingredients and are a true crowd pleaser. Do yourself a favor, and make a double or triple batch to have on-hand whenever the muffin mood strikes.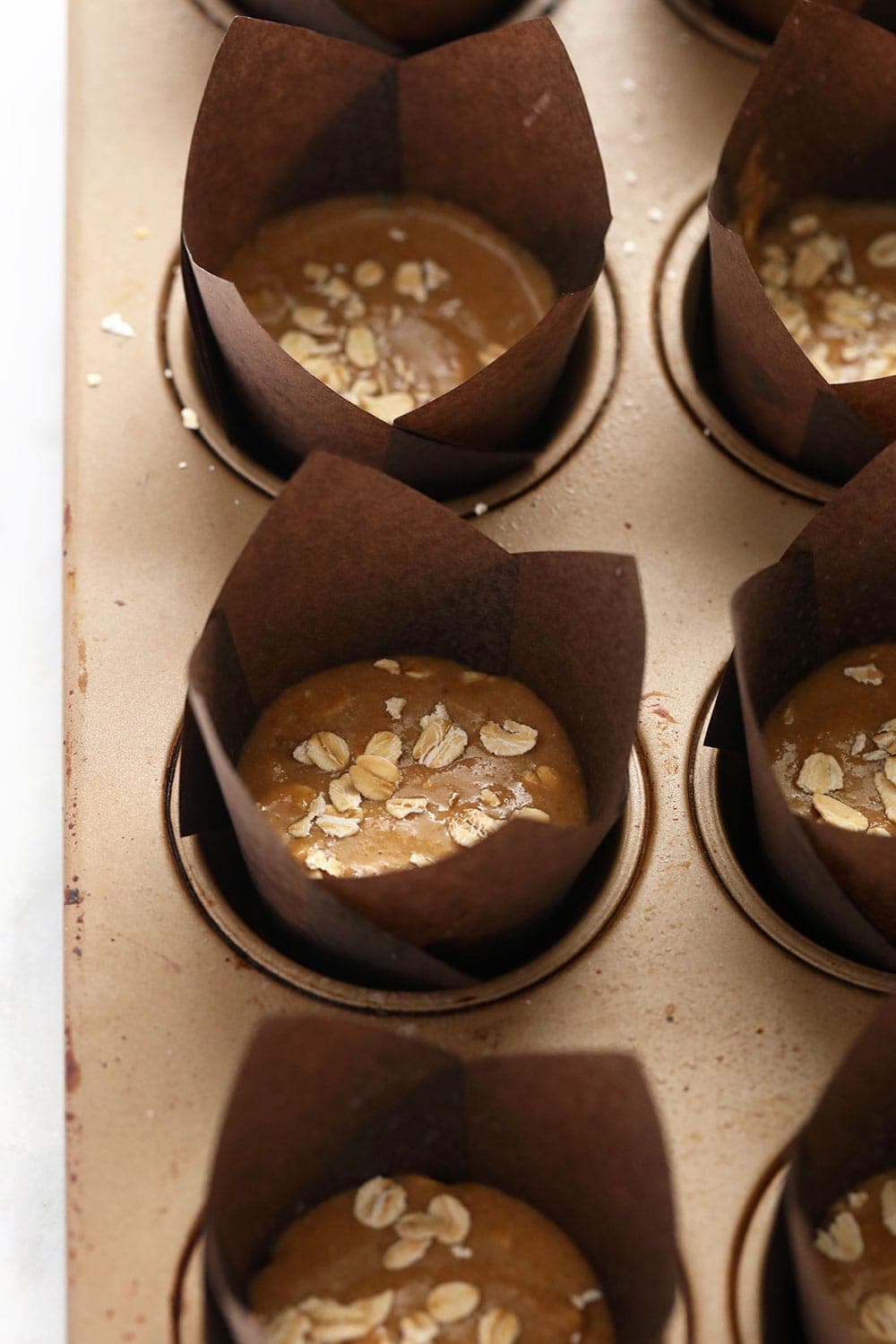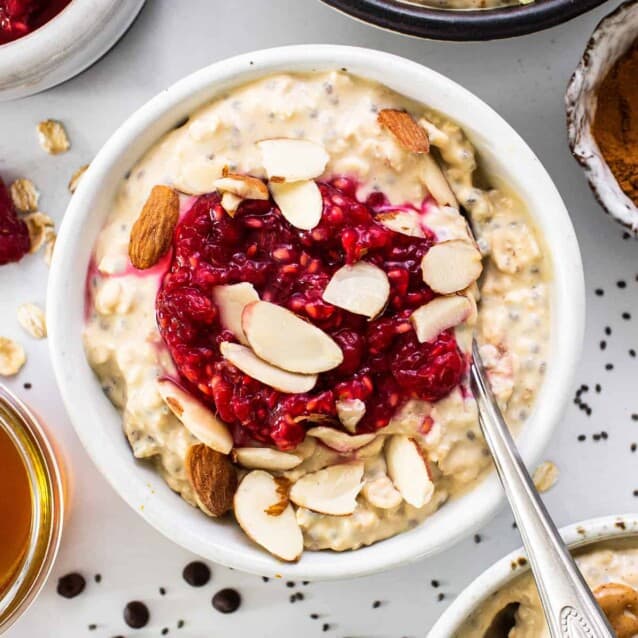 Need Breakfast Inspo?
Subscribe to our emails and get all of our best breakfast recipes straight to your inbox.
Make Oatmeal Muffins Like a Pro
Baking can be intimidating, but we're here to tell you that muffin making does not need to be scary or result in muffin fails! Follow these pro tips to ensure muffin success in your own kitchen EVERY TIME.
Making Healthy Swaps
Flour: Ditch the all-purpose flour and swap it for something a little bit heartier (but still light!). For this recipe, we went with white whole wheat flour and oat flour, which is a great 1:1 sub for all-purpose. Pro Tip: don't have oat flour on hand? You can make your own by blending rolled oats into flour in your food processor or high-speed blender!
Sugar: Instead of white sugar, this recipe calls for a combination of coconut sugar and maple syrup. The maple syrup brings out amazingly sweet and warm flavors of oatmeal muffins!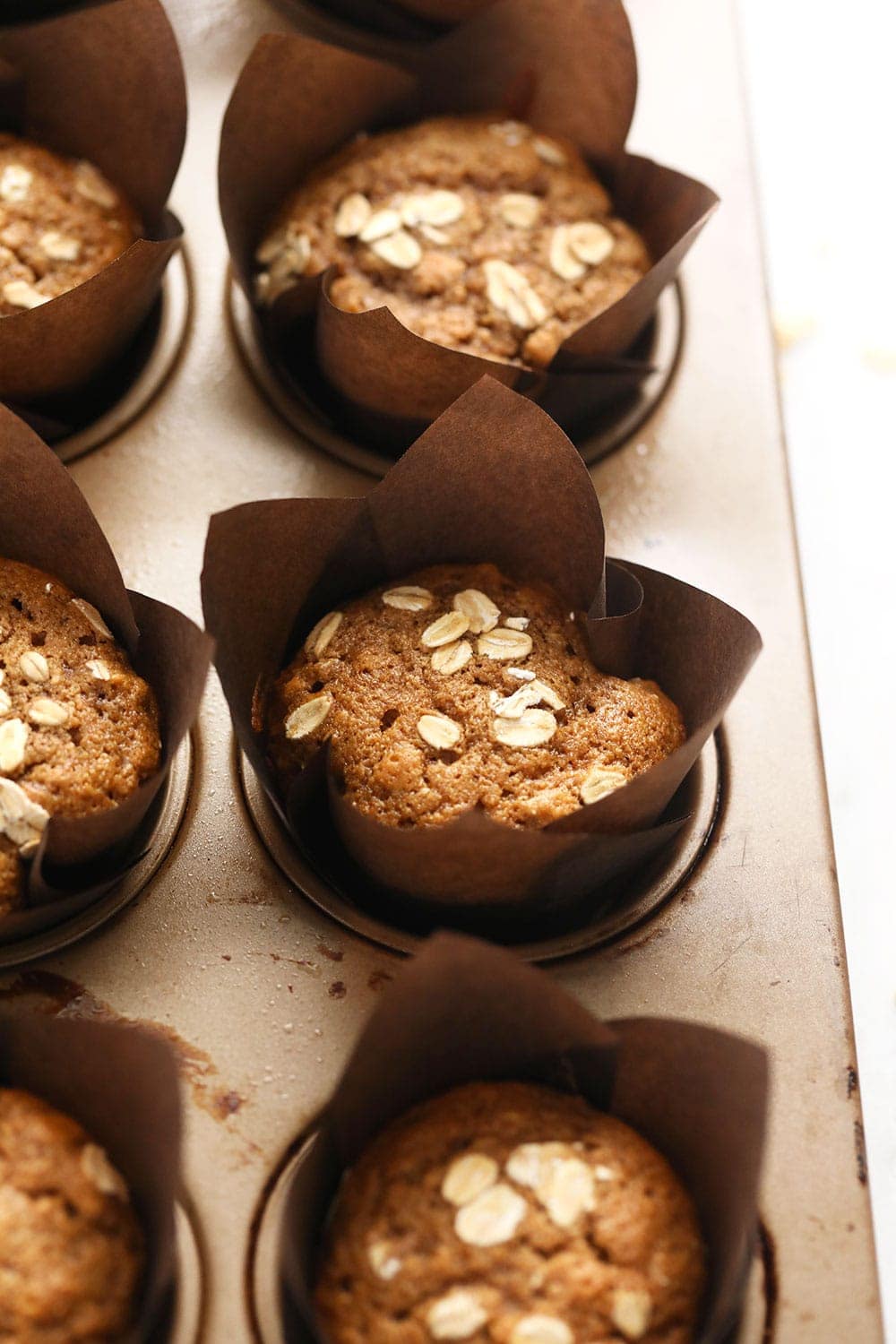 Fat: All you need for this recipe is 2 tablespoons of coconut oil and that's it for fat! The reason this works is because we're supplementing fat with mashed banana, for a healthier and lower in fat way to get moist muffins! Pro Tip: you can also sub equal parts applesauce for mashed bananas in this recipe.
Milk: Instead of dairy milk, we used unsweetened almond milk for this recipe. But if you prefer another milk variety, go for it! Any milk will do.
Greasing Muffin Liners
Making a batch of muffins just to find out you can't get them out of the pan is devastating! Even when using muffin liners, we spray each one with a little cooking spray just in case! This will prevent your muffins from sticking either to the liners or the muffin tin.
Variations
Use this as a base healthy muffin recipe to really make them your own. Here are some variation ideas:
Lemon Blueberry: Add about a tablespoon of lemon zest and about 3/4 cups of fresh blueberries!
Sea Salt Chocolate Chip: Add a handful of chocolate chips and top the completed muffins with some sea salt.
Carrot Cake: Add around 3/4 cups grated carrots + 1/2 teaspoon ground cinnamon, 1/4 teaspoon ground ginger and a pinch of allspice.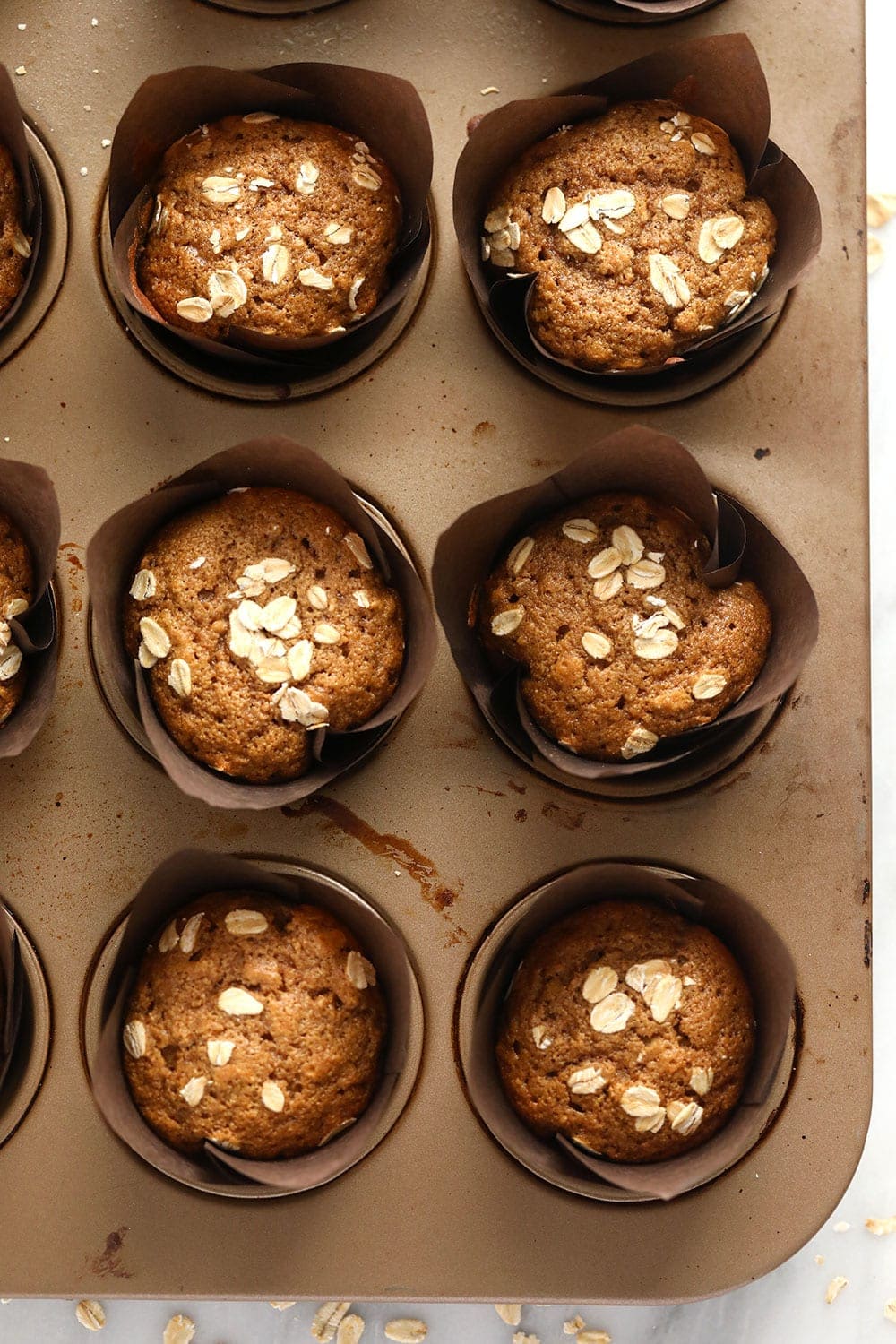 How to Freeze Muffins
If you love to have healthy muffins on hand, but don't want them to go bad, this is a great recipe to make a double or triple batch and then freeze for later enjoyment. It's super easy:
First, let your oatmeal muffins cool completely.
Then, place muffins on a baking sheet and place the baking sheet into the freezer.
Freeze for at least 2 hours.
Once the muffins are frozen, transfer into a freezer-safe, gallon-size bag. Then, remove as much air as possible and seal.
Write "Classic Oatmeal Muffins" on the front of the bag along with an "eat by date" 3 months from the time you made the muffins.
To Thaw: Remove a frozen muffin from the bag. Then, let thaw on the countertop for 30 minutes OR defrost in the microwave for a few minutes, and enjoy. If you're planning to enjoy a muffin later in the day, remove from freezer and place in a Stasher bag or other to-go container, and it will fully defrost by the time you're ready to enjoy it!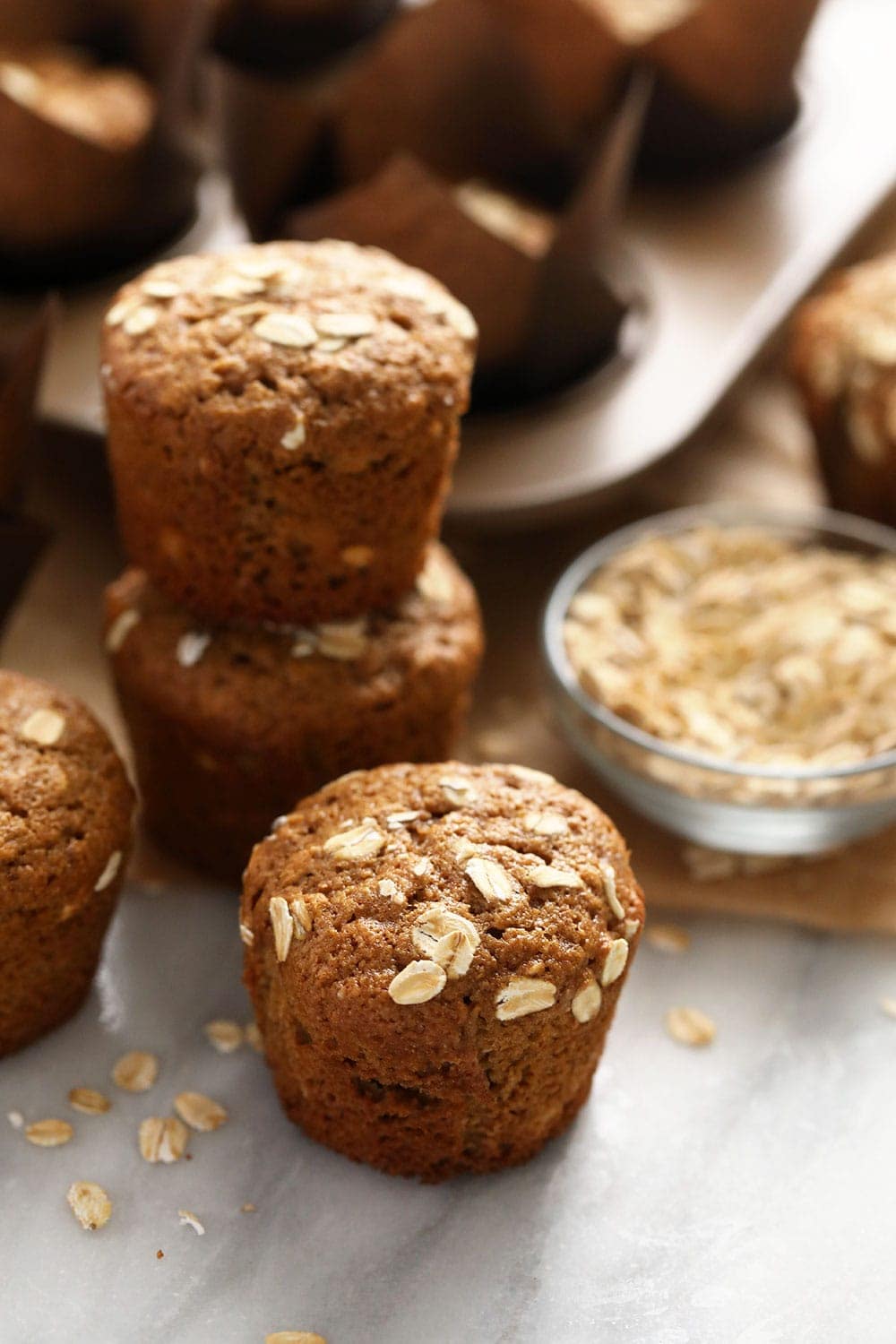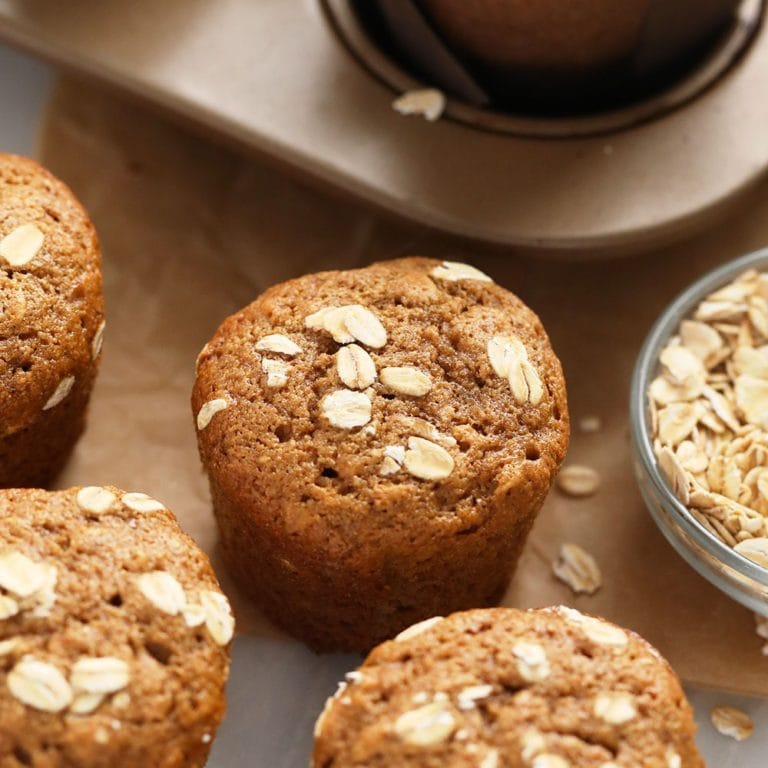 Oatmeal Muffin Recipe
These Classic Oatmeal Muffins are simple, satisfying, and oh so delicious! Packed with 11 healthy ingredients, and ready to enjoy in under 45 minutes, this healthy muffin recipe can't be beat!
Instructions
First, preheat oven to 350ºF and line a muffin tin with cupcake liners or spray with coconut oil cooking spray.

Place dry ingredients into a large bowl and whisk to combine.

Then, whisk eggs in a medium bowl and add maple syrup, almond milk, and mashed banana and mix until combined.

Add wet ingredients to dry and mix until combined.

Then, add in melted coconut oil and mix again.

Transfer batter into muffin tin, filling each one around 3/4 of the way full. Then, sprinkle on some additional rolled oats.

Bake at 350ºF for 20-23 minutes or until you do the toothpick test and it comes out clean.
Nutrition facts
Serving:
1
muffin
Calories:
177
kcal
Carbohydrates:
32
g
Protein:
3
g
Fat:
3
g
Fiber:
2
g
Sugar:
17
g