Add just 3 ingredients to your favorite gluten-free muffin mix to make these delicious gluten free pumpkin muffins that the whole family will love!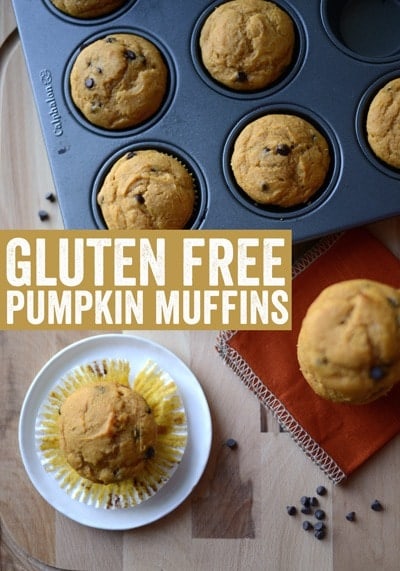 I can't tell you how many times I've attempted a gluten free pumpkin muffin recipe this fall and failed miserably. All I want it a gluten free pumpkin muffin that's not ugly and tastes delicious. Fail fail fail. I finally gave in a purchased a gluten free muffin mix (the King Arthur's brand), so that I could make my own pumpkin version by adding only a few ingredients to the mix!
What I used was: the gluten free muffin mix, an egg, pumpkin puree, and a little almond milk. That was my base…4 main ingredients.
To get that lovely spicy fall flavor, I of course added some Pumpkin Pie Spice and for kicks…a handful of mini dark chocolate chips.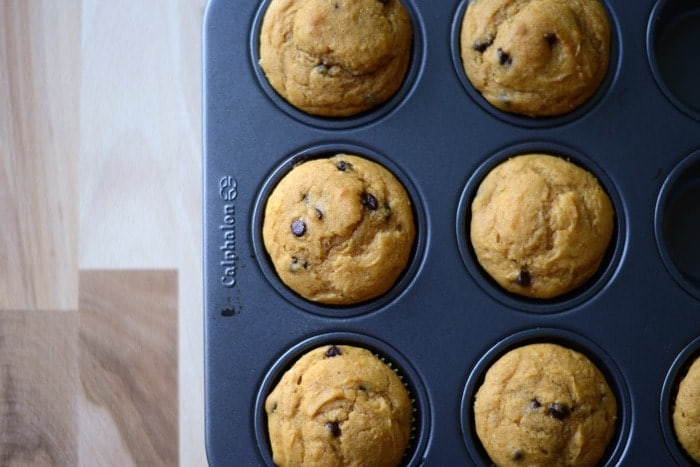 So really- it was more than 4 ingredients, but you get my jiff!
I am really happy with how they turned out. Extremely moist, fluffy, and not ugly! They also tasted good, which of course matters the most, right?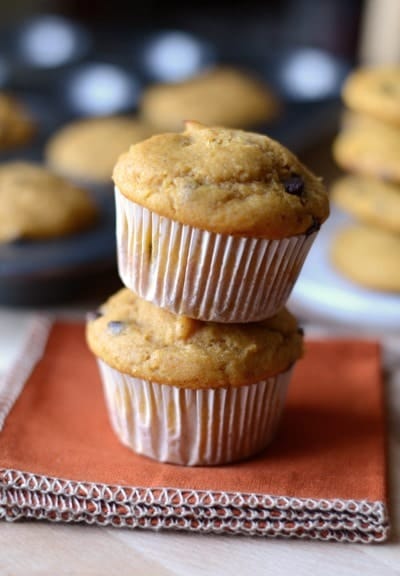 Because I am a chocolate lover, I added a chocolate/coconut oil drizzle to the top I simply mixed about 2 tablespoons of mini dark chocolate chips and about a teaspoon of coconut oil. I nuked it for about a minute and voila…you have the perfect chocolate sauce to top your muffins with.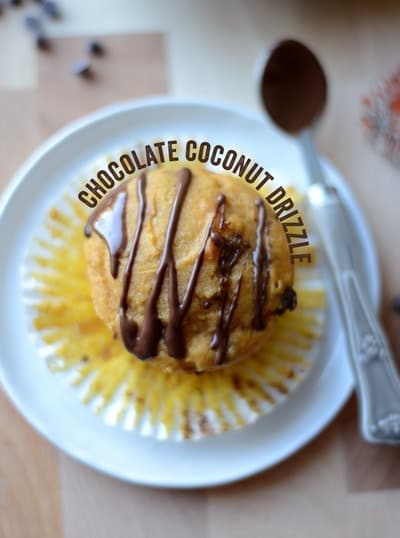 Recipe
4 Ingredient Gluten Free Pumpkin Muffins
Prep Time:

10 mins

Cook Time:

22 mins

Total Time:

32 minutes
Instructions
First, preheat oven to 375ºF and line a muffin tin with paper liners. Then, lightly spray with nonstick cooking spray (this will prevent the muffins from sticking to the paper liners).
In a medium size bowl, whisk eggs. Then add in milk and pumpkin puree and mix again. Next, add in gluten free muffin mix and mix until there are no more lumps.
Add in optional ingredients such as pumpkin pie spice or chocolate chips.
Fill each muffin about 3/4 of the way full.
Bake at 375ºF for 18-22 minutes or until you do the toothpick test and it comes out clean!
Notes
Option to add 1/2 cup chocolate chips!
Similar
I love how moist these ended up without ANY oil or butter! Thank you pumpkin puree.
#winning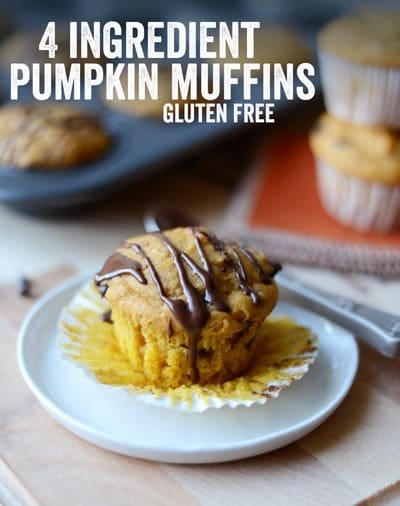 I'm so sad this entire batch is already gone. sigh.
Guess I'll just have to make more!
Check out some of my other favorite gluten-free pumpkin recipes…