Bread? Or Muffins? How about both! This Healthy Whole Wheat Pumpkin Walnut Bread and Muffins recipe will give you the best of both worlds. They're made with white whole wheat flour, pumpkin puree, warm spices, and walnuts.
We originally had this recipe scheduled to go live in a few weeks, and I just can't stand to make you wait any longer because they're THAT GOOD. I keep giving myself that excuse to "test it one more time" because these are actually the best muffins (& bread) we've ever made!
Can we talk about loaves vs. muffins real quick?
I asked Instagram last week which they preferred, and I totally thought loaf was going to sweep, but no! MUFFINS. Linley and I were between a loaf and a muffin for this recipe and decided to go loaf before asking IG. Whelp, turns out everyone wanted muffins, so we decided to test those too. 1 recipe, 2 ways! Which do I prefer? Muffins… duh. They take half the time to cook 😀 Plus, like a lot of FFF readers said, they help with portion control.
This batter is thick and flavorful and about to be your fav. We sweetened it with maple syrup and a little bit of coconut sugar (WOOT). It's made with a white whole wheat flour base and delicious warm spices to really enhance the pumpkin flavor. Oh, and the cool thing about this recipe is that you can pretty much change out the pumpkin for lots of other flavors! For example:
applesauce
peachsauce
sweet potato
squash
THE LIST GOES ON.
MY OTHER VIDEOS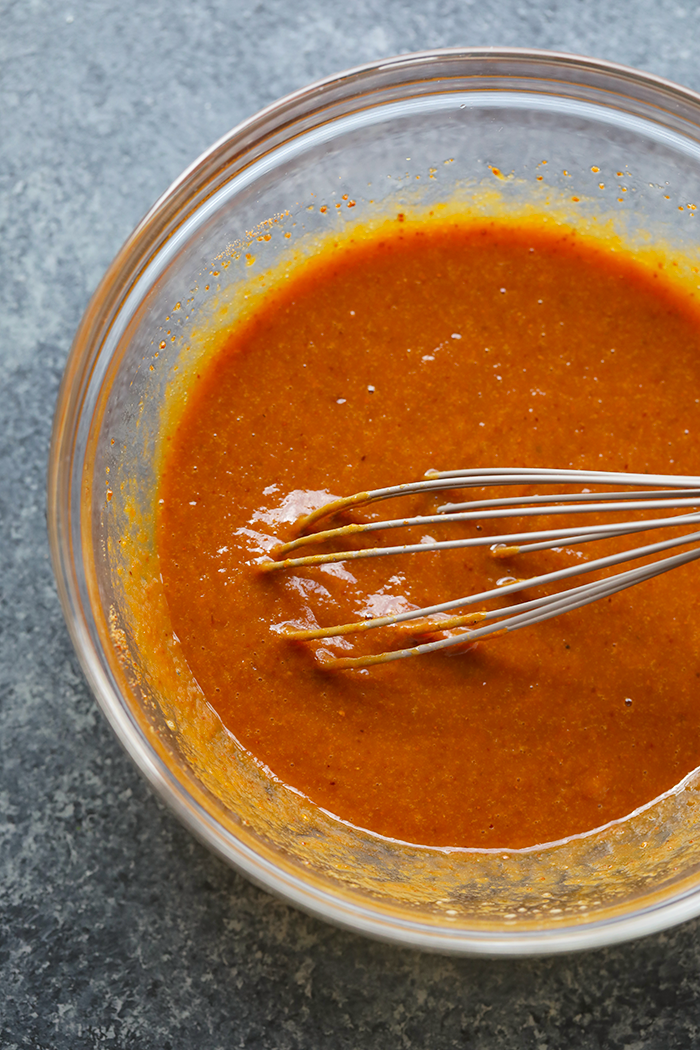 We have NOT tried this recipe with any other flours or without eggs. We'd love to know to know the modifications you use if you make this recipe not following 100%.
Here's a bajillion more photos. I hope they make you hungry 🙂
Healthy Whole Wheat Pumpkin Walnut Bread + Muffins
Prep Time:

10

Cook Time:

45

Total Time:

55 minutes

Author:
Yield:

8-12
Ingredients
Dry
1.75 cups white whole wheat flour
½ cup coconut sugar
1 teaspoon baking soda
2 teaspoons ground cinnamon
1/4 teaspoon nutmeg
1/8 teaspoon ground ginger
1/8 teaspoon ground cloves
1/8 teaspoon salt
1/2 cup chopped walnuts
Wet Ingredients
2 eggs, large
1/2 cup maple syrup
1 cup pumpkin puree
1/2 cups almond milk, unsweetened
1 teaspoon vanilla extract
1/4 cup coconut oil, melted
Instructions
First preheat oven to 350ºF and spray a bread pan with nonstick cooking spray OR line a muffin tin with 12 muffin liners. Set aside.
Next, beat eggs, coconut sugar, and maple syrup together in a large mixing bowl. Add almond milk, pumpkin puree, and vanilla and mix again.
In a separate bowl, combine dry ingredients together (except for walnuts).
Slowly add dry ingredients to wet and mix.
Finally, add in walnuts and coconut oil, and mix well.
Pour batter into greased bread pan or into 12 muffin cups (the muffins should be about 3/4 full). For the bread, bake at 350ºF for 45-50 minutes OR for the muffins, bake at 350ºF for 22-24 minutes.
Remove pumpkin bread or muffins from oven, let cool for 5-10 minutes, and remove from pan to finish cooling.
Enjoy!
Notes
The loaf serves 8-10 and the muffins serve 12.
Nutrition is for 12 muffins.
Nutrition
Serving Size:

1 muffin

Calories:

227

Sugar:

17

Fat:

9

Carbohydrates:

33

Fiber:

3

Protein:

4
So tell us. Are you team loaf or muffins?