These healthy pumpkin muffins are soft, moist, and are perfectly sweetened. Make a batch of these pumpkin muffins for an easy breakfast or snack throughout the week!
Do you need to use the rest of our pureed pumpkin in the refrigerator? Make this single-serve pumpkin mug cake or these fluffy pumpkin pancakes! You won't regret it!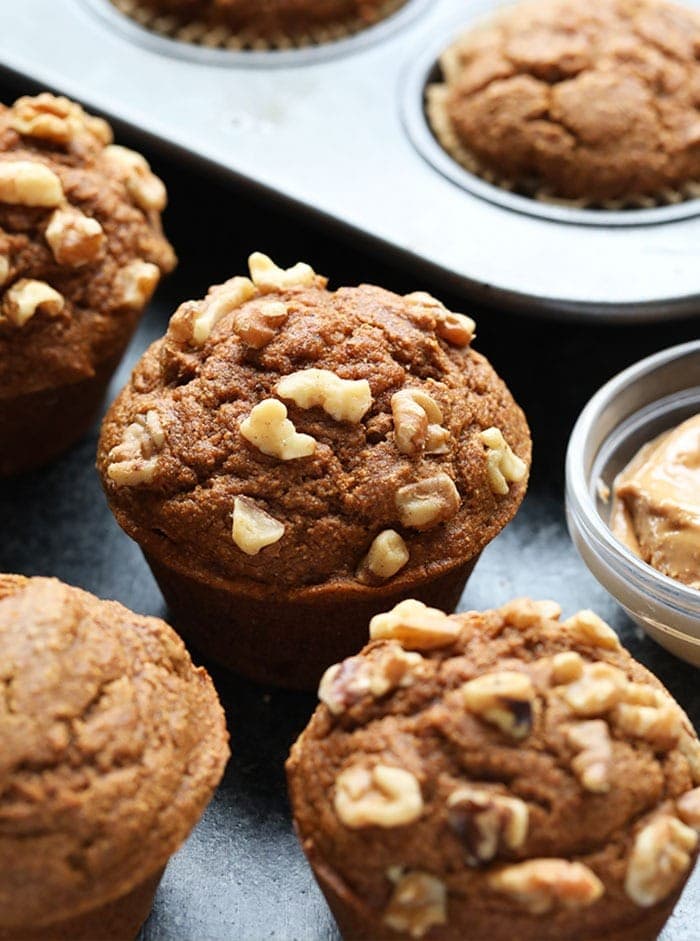 The Best Healthy Pumpkin Muffins
Is it pumpkin season? You've landed on one of our most popular (and delicious) healthy muffin recipes on Fit Foodie Finds. This healthy pumpkin muffin recipe is seriously so delicious and easy to make.
If you're more of a loaf person, you should check out our healthy pumpkin bread recipe. It's very similar to these delicious muffins, but it uses a loaf pan instead!
These healthy pumpkin muffins are:
100% whole grain
Naturally sweetened
Made with coconut oil
Easy to freeze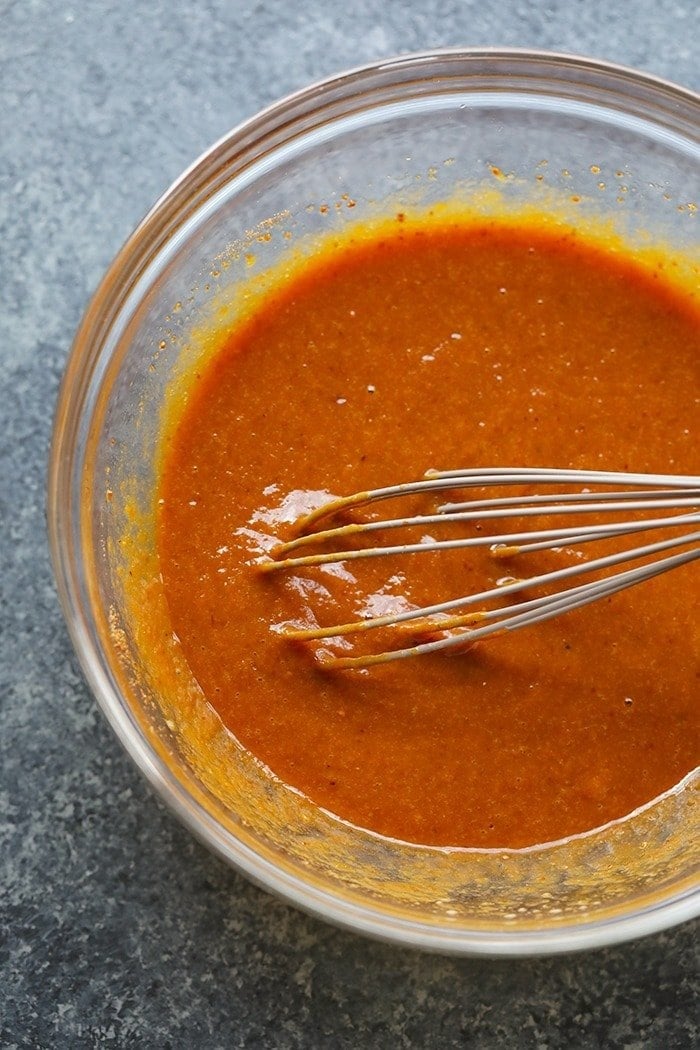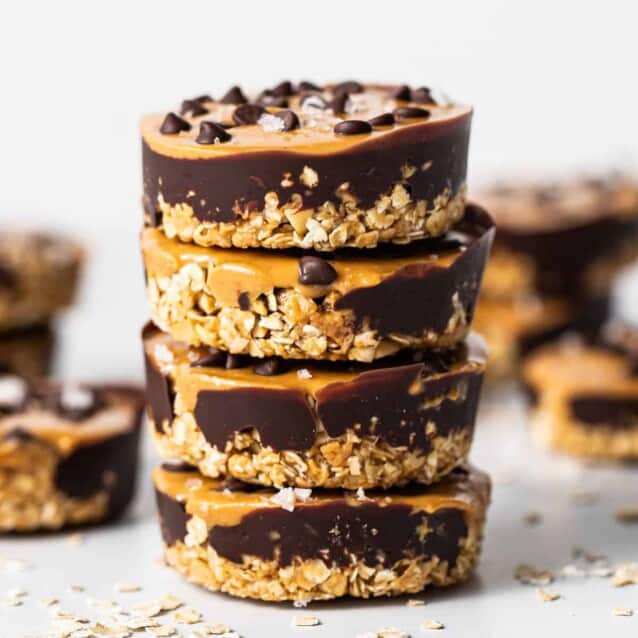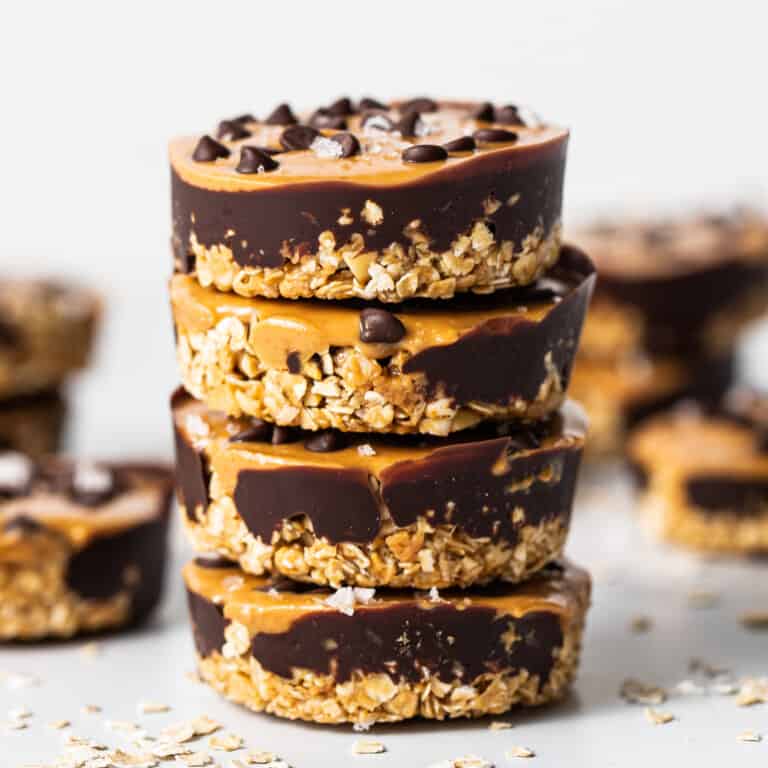 Get our Top 10 5-Star Recipes!
Join our email list for new recipes and BONUS: get our top 10 ⭐️⭐️⭐️⭐️⭐️ recipes e-book!
Everything You Need to Know about Healthy Pumpkin Muffins
Mix-ins
The options are endless when it comes to mix-ins for these healthy pumpkin muffins!
Nuts: Mixing nuts into muffins is a great way to add crunch and a little extra flavor to a muffin. Just be sure the nuts are chopped into small pieces to avoid having the nuts float to the bottom of the muffins. Here are some great chopped nut add-ins for these pumpkin muffins.
walnuts
pecans
pistachios
almonds
Chocolate Chips: Who doesn't love adding a little bit of sweetness to muffins? Add chocolate chips to your pumpkin muffins to make them more of a sweet treat or dessert!
You can also put chocolate chips in half the batter and nuts in the other! Half of the muffins could be breakfast and half of the muffins could be dessert!
Raisins: Raisins, craisins, or dried cherries add a great sweetness or bite to these pumpkin muffins. It makes them more of a morning glory muffin, which would make them great breakfast muffins!
Nut Butter (toppings): After these healthy pumpkin muffins are done baking and are ready to serve, top them with nut butter!
Substitutions
These healthy pumpkin muffins are very forgiving when it comes to ingredient swaps! Below are a list of ingredients and substitution options if you find that you are missing something or need to make a quick substitution!
Pumpkin. Feel free to swap any of the fruit or vegetable purees below if you are out of pumpkin!
butternut squash puree
applesauce
mashed banana (for a sweeter muffin)
shredded zucchini (remove the moisture)
Flour: We have only tested this healthy pumpkin recipe with white whole wheat flour! If you end up testing it with another flour, please let us know!
Oil: If you don't have any coconut oil feel free to use an extra 1/4 cup of pumpkin or use vegetable oil, olive oil, or your favorite oil substitute.
Sweetener: We love the flavor that coconut sugar and maple syrup give these muffins! However, feel free to substitute honey for the maple syrup or brown sugar for the coconut sugar!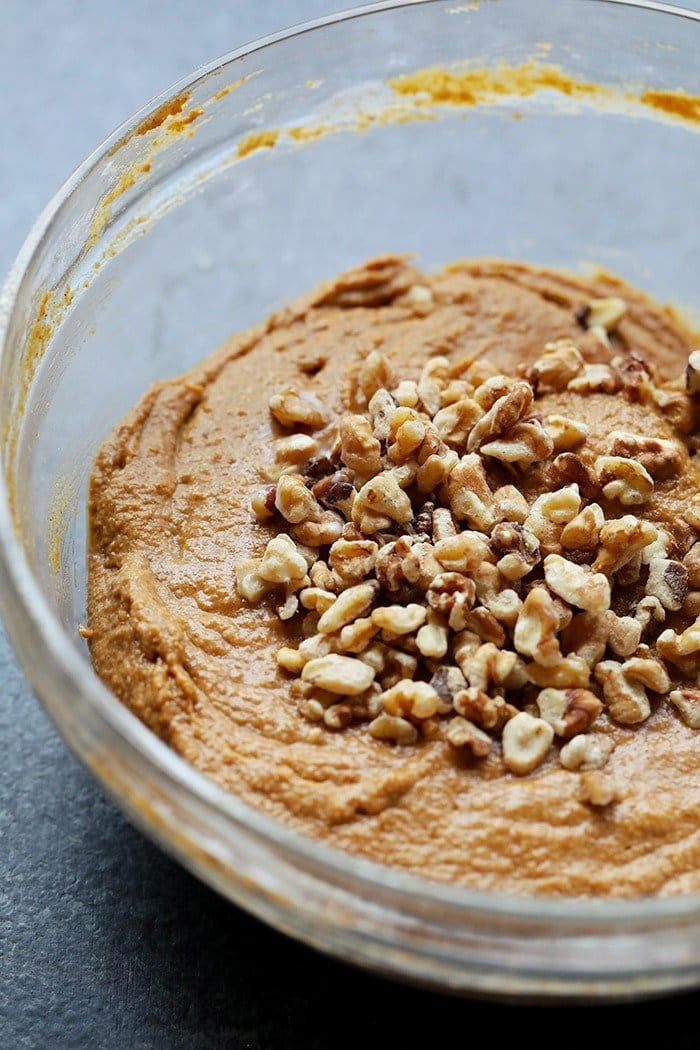 FAQ
How do I make my muffins fluffy?

Make sure that you use baking soda (not baking powder) in this healthy pumpkin muffin recipe. Also, be sure to check that the baking soda you use is not expired! Expired baking soda is no bueno!
The only other thing to watch out for is to be sure you do not overmix. We mentioned it once, but over-mixing can cause a muffin to be flat and dense!
Do I need muffin liners?

You do not need muffin liners if you have a non-stick pan that you have sprayed with non-stick cooking spray! If you are worried that your muffins will stick to the pan, better safe then sorry. Use the muffin liners!
Does pumpkin puree go bad?

Yes, pumpkin puree does go bad! After opening a can of pumpkin, transfer pumpkin puree to an air-tight container and store it in the refrigerator for 5-7 days.
If you have canned pumpkin in the cupboard and you are not sure if it is still good check for the 'best by' date and the 'expiration date'. The 'best by' date is just the manufacturer's date for when you should use the pumpkin. Check for mold or smell and if it doesn't have a smell or mold, you should be good!
If the pumpkin is past the 'expiration date' dispose of the pumpkin inside, rinse out the pumpkin can, and recycle the can!
Can I freeze pumpkin puree?

Yes! You can freeze pumpkin puree! Whether you have canned pumpkin or homemade pumpkin puree, we recommend placing the pumpkin puree into a freezer-safe glass container or reusable plastic bag. Remove air and store in the freezer for up to 6 months.
Can I freeze pumpkin muffins?
Yes, you can freeze pumpkin muffins!
Let the muffins cool completely before labeling a gallon-sized freezer bag and then placing the muffins in the bag.
Remove air from the bag and seal.
Store muffins in the freezer for up to 3 months.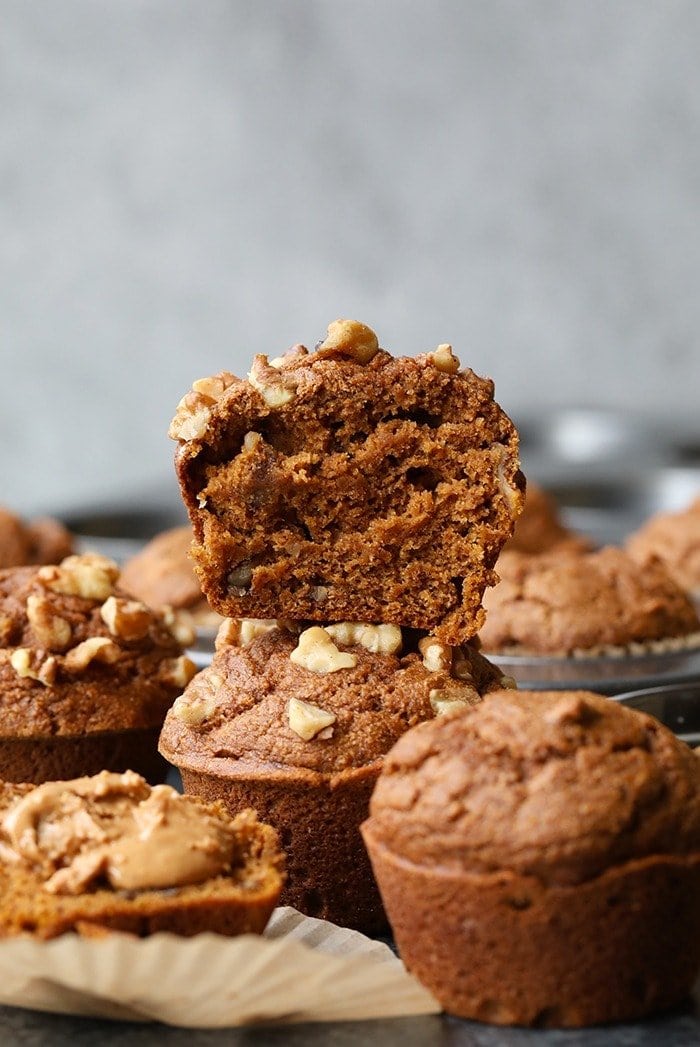 Baking Tips + Tricks
Baking with pumpkin is easier than you think! Some people like to make pumpkin the main ingredient in a recipe and some people like to use it as an oil substitute or just to add an extra serving of veggies to a recipe.
Here are some other tips + tricks when baking with pumpkin.
You can use canned pumpkin (not pumpkin pie filling) when a recipe calls for pumpkin puree or you can use homemade pumpkin puree.
If you are substituting pumpkin for oil in a recipe, the ratio is 1:1.
Don't underbake pumpkin baked goods! You are adding a bit of moisture when you add pumpkin to a recipe. Be sure baked goods are fully cooked by using a thermometer and making sure the internal temperature is at least 200ºF.
Don't overmix pumpkin muffins! Mix this muffin batter by hand (rather than an electric mixer) to avoid dense hard muffins!
Loaf Directions
Transfer batter into a standard-size greased bread pan.
Bake at 350ºF for 45-50 minutes or until the center is fully cooked. Check the bread at 30 minutes and if the outsides are beginning to brown too much, tent it with a piece of tin foil.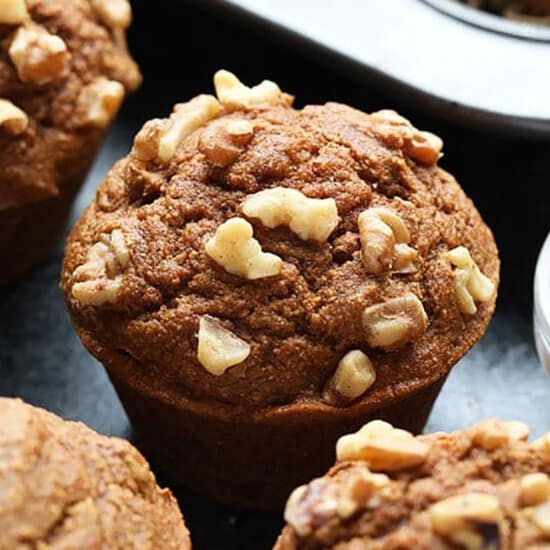 Healthy Pumpkin Muffins
These delicious healthy pumpkin muffins are made with white whole wheat flour, canned pumpkin, maple syrup, and walnuts!
Instructions
First, the preheat oven to 350ºF and line a muffin tin with muffin liners. We also suggest lightly spraying with cooking spray.

Next, beat eggs, coconut sugar, and maple syrup together in a large mixing bowl. Add almond milk, pumpkin puree, and vanilla and mix again.

In a separate bowl, combine dry ingredients together (except for walnuts).

Slowly add dry ingredients to wet and mix.

Finally, add in walnuts and coconut oil, and mix well.

Fill each muffin around 3/4 of the way full (these are going to be big muffins!). Then, sprinkle on more walnuts, if desired. Bake at 350ºF for 21-24 minutes or until the center is fully cooked.

Remove pumpkin muffins from the oven. Then, let cool for 5-10 minutes. Remove muffins from the pan and transfer them to a wire rack to finish cooling.

Enjoy!
Tips & Notes
The loaf serves 8-10 and the muffins serve 12.
Nutrition is for 12 muffins.
Loaf directions: pour batter into a greased bread pan and bake at 350ºF for 45-50 minutes.
Nutrition facts
Calories:
227
kcal
Carbohydrates:
33
g
Protein:
4
g
Fat:
9
g
Fiber:
3
g
Sugar:
17
g