Say hello to the more glorious fall dessert you've ever tasted — Pumpkin Oatmeal Cookie Bars made with maple syrup, cashew butter, and pumpkin puree!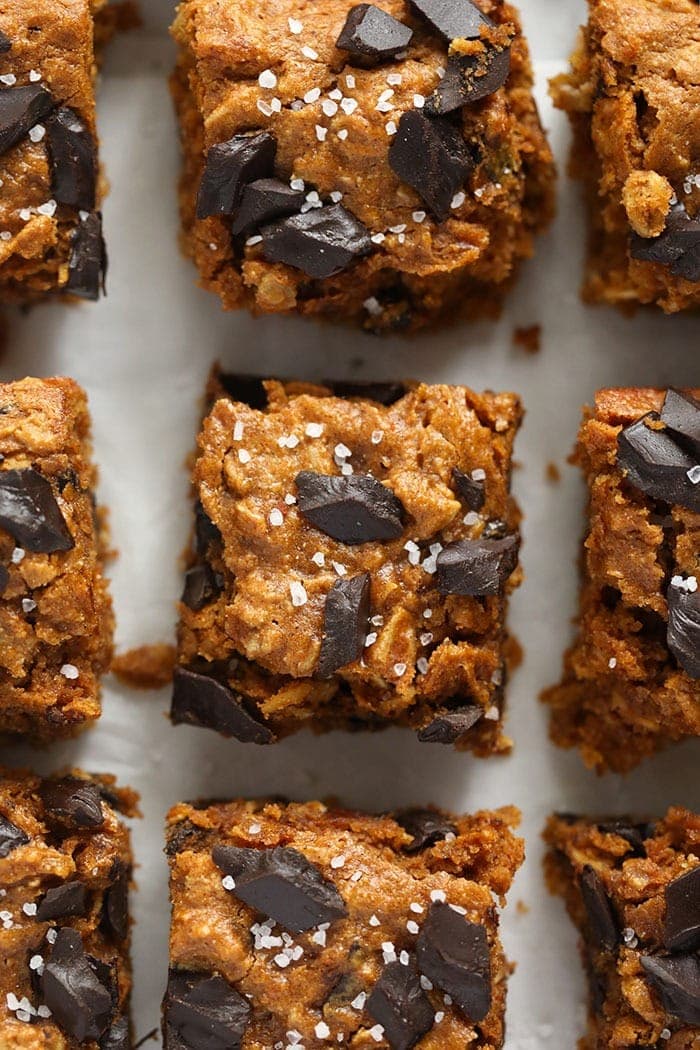 This is our September 2021 Fit Foodie Cooking Club recipe of the month. We hope you guys love this recipe as much as we do!
They're gooey, pumpkin-y, and made with healthy ingredients! These Pumpkin Oatmeal Bars are the perfect healthy dessert recipe for any fall occasion.
Pumpkin Oatmeal Bars with Real Ingredients
When it comes to healthy desserts, we love using nutrient-packed ingredients that not only taste good, but that are good for you! Here are some star ingredients:
Pumpkin Puree: Pumpkin is a great source of vitamin A and adds great flavor. When looking for pumpkin puree at the store, make sure that you buy unsweetened pumpkin puree, the kind with no additives!
Cashew Butter: Cashew butter adds just the right amount of fat as well as a delicious nutty flavor. Just make sure that the cashew butter you use is drippy and easily stirred with a spoon. We recommend the Target Good and Gather Cashew Butter.
Don't have cashew butter? Try using almond butter or even peanut butter instead. Just make sure they are drippy.
Maple Syrup: Maple syrup is our favorite plant-based liquid sweetener. It not only adds sweetness but a little warmth to bring out the amazing flavor of the pumpkin.
Pumpkin Pie Spice: Make your own pumpkin pie spice for this recipe. Here's what you'll need:
ground cinnamon
ground nutmeg
ground ginger
ground cloves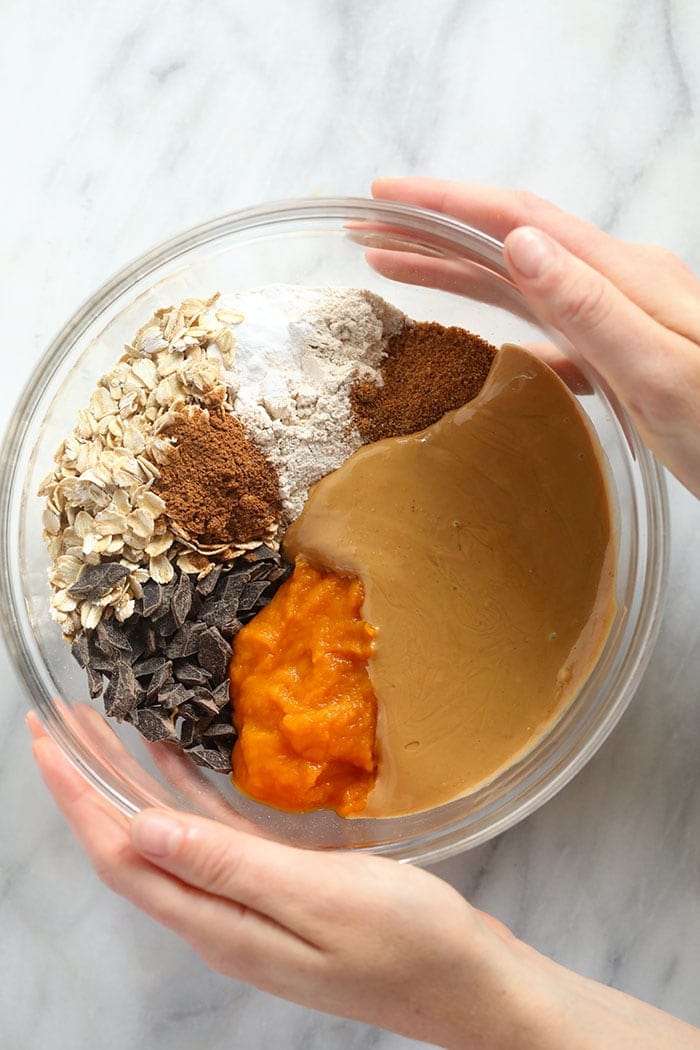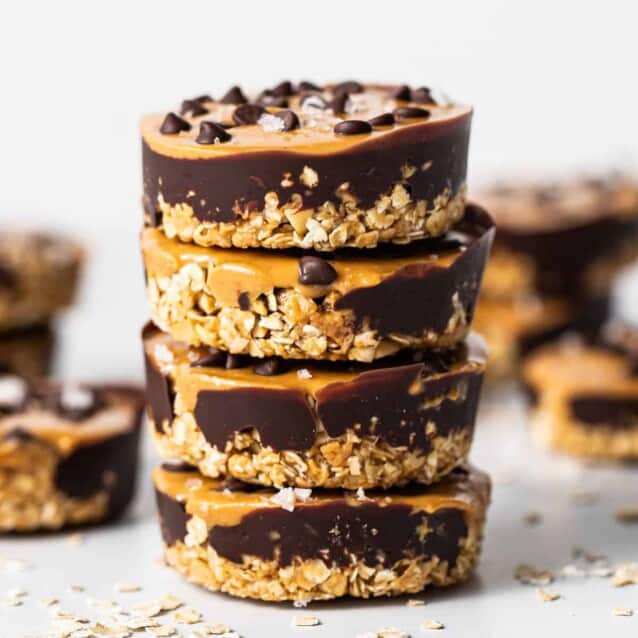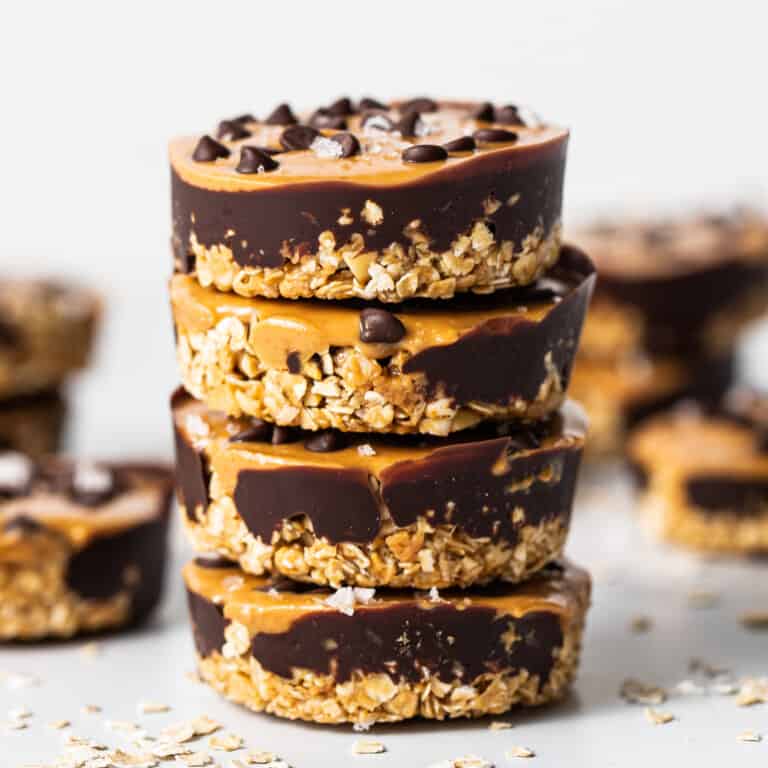 Subscribe!
Love desserts? Us too! Subscribe to our emails and get all of our best desserts straight to your inbox.
Pumpkin Oatmeal Bars for Every Occasion
What we love about these bars is that pretty much everyone who has tried them absolutely loves them! They make for a great addition to potlucks, family dinners, and countless other occasions.
Halloween Party
School Treat
Thanksgiving/Christmas
Birthdays
Family Celebrations
More Healthy Pumpkin Bars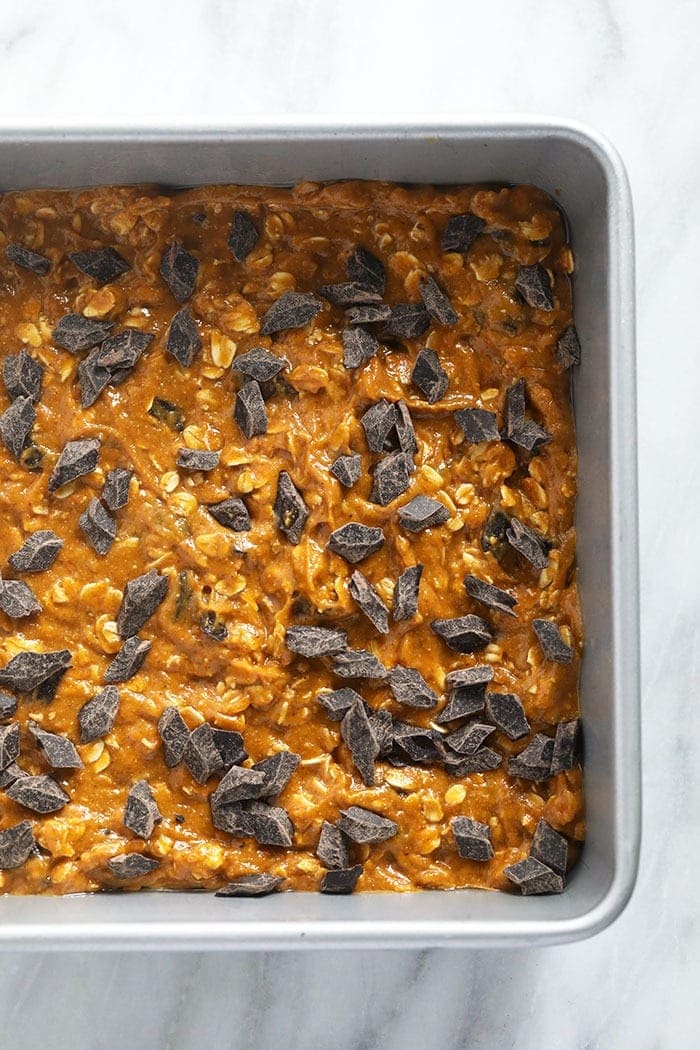 Pumpkin Substitutions
Have a can of butternut squash puree at home? Use that instead of pumpkin puree! You can also do the same thing with sweet potato puree. Both would be delish in these bars.
How to Store Cookie Bars
We suggest storing these bars in the refrigerator for longest lasting results! If you're eating them immediately, they will be fine on the counter, covered, for up to 2-3 days.
Can you make these gluten-free?
To make these pumpkin oatmeal bars gluten-free, replace the white whole wheat flour with a gluten-free flour blend of choice and make sure to use certified gluten-free rolled oats.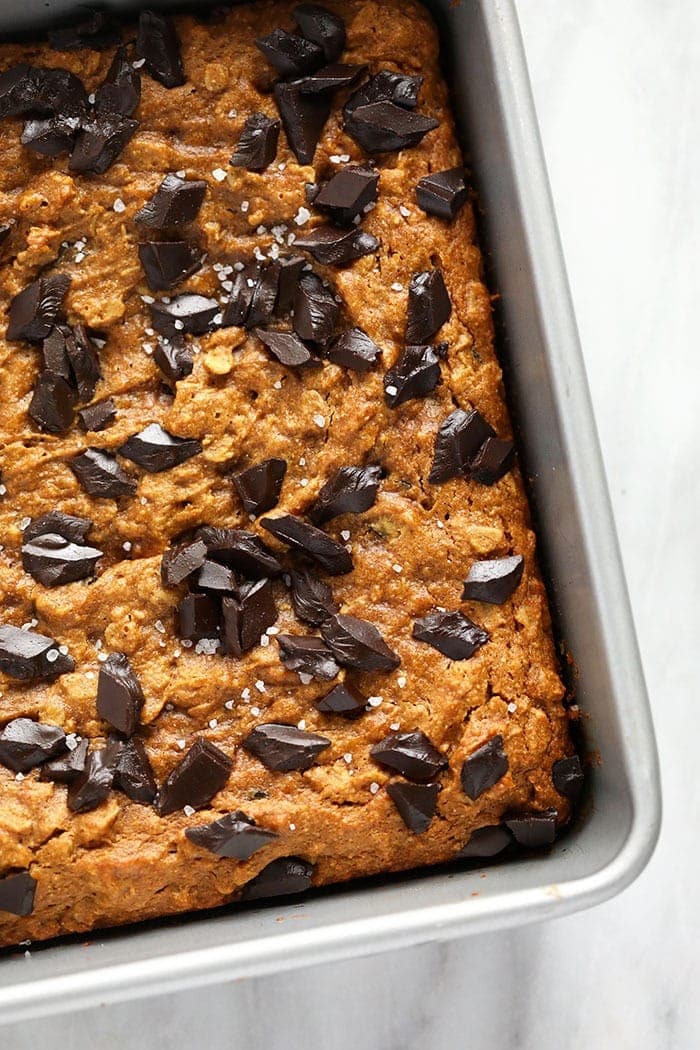 Can you make these vegan?
While we haven't tried to make these vegan, you can try to swap the egg for a flax egg to make these completely plant-based. Also, don't forget to use a dairy-free chocolate chip.
Can you freeze these bars?
These bars can be frozen easily. After you let them cool completely, cut them into 9 squares. Then, transfer them onto a baking sheet and place in the freezer.
Freeze for 30 minutes to 1 hour. Then, transfer them into a freezer-safe gallon-size plastic bag and remove as much air as possible and seal. These bars will last up to 3 months in the freezer.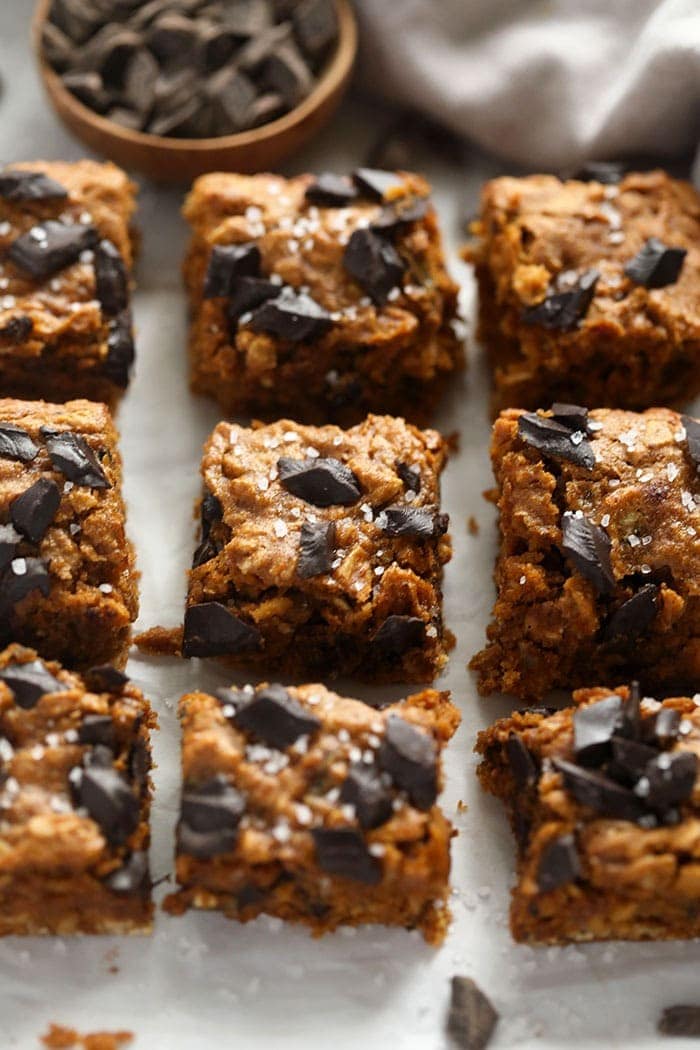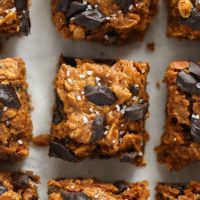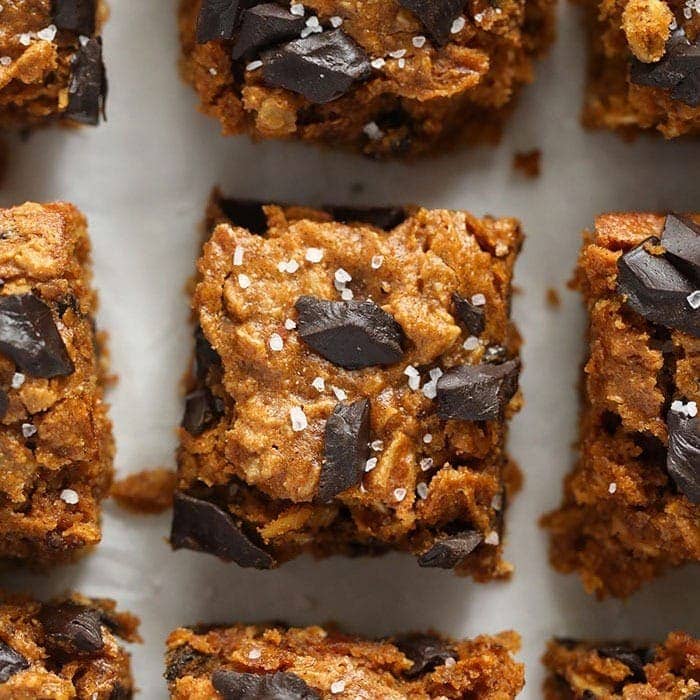 Pumpkin Oatmeal Bars
These Pumpkin Oatmeal bars are seriously so delicious. They're made with rolled oats, pumpkin puree, pumpkin pie spice, and chocolate chunks. Enjoy!
Instructions
First, preheat oven to 350ºF and spray an 8-inch x 8-inch baking dish( with nonstick cooking spray.

Place all dry ingredients into a medium bowl and mix. Set aside.

Then, add wet ingredients into a large bowl and whisk until combined.

Slowly add dry ingredients to wet and mix until combined, making sure not to over mix.

Transfer batter into baking dish and use a spatula to spread it out.

Add a handful of chocolate chunks to the top, if desired.

Bake at 350ºF for 18-22 minutes*.

Let cool for 10 minutes and then top with a generous amount of sea salt.

Slice and serve!
Tips & Notes
If you use a 9-inch x 9-inch baking dish, your cook time will decrease slightly.
We slightly reduced the bake time for this recipe to make sure your cookie bars come out ooey-gooey.
Nutrition facts
Calories:
272
kcal
Carbohydrates:
39
g
Protein:
7
g
Fat:
11
g
Fiber:
4
g
Sugar:
17
g