Popping in for a super speedy kitchen hack tutorial on how to make sweet potato puree! We've got a handful of recipes on Fit Foodie Finds that call for sweet potato puree and it turns out canned sweet potato puree is hard to find at the grocery store and IMO, over-priced. No fear, it's super simple to make sweet potato puree at home. All you need to get started is…
How to Make Sweet Potato Puree
Here's what you need:
Here's how you do it:
This part is super simple! 1 large sweet potato will get you around 1 cup of sweet potato puree, so depending on how much puree you need, will depend on how many sweet potatoes to roast. Begin by cutting the sweet potato in half, hot dog style. Then, spray with coconut oil cooking spray on both sides and pierce with a fork. Place on top of baking sheet and roast at 400ºF for about 40 minutes or until the flesh is tender. Let rest for 5 minutes before scooping flesh into a food processor or blender. Blend on high until pureed.

Sweet Potato Puree Uses
Sweet potato puree is super versatile. From baked goods to sauces, check out all of the different ways you can incorporate it into your cooking! 
Baby food: sweet potato puree is a great way to introduce sweet potatoes to babies.
Oil swap: sweet potato puree is an excellent swap for oil. It's moist and low fat, so it's a great sub if you're trying to minimize the amount of fat in a recipe.
Hidden baked goods: that's right, why not hide some nutrition in your baked goods?! I'm talking: muffins, brownies, and cakes!
Sauces: sweet potato puree is an excellent addition to any kind of sauce. It's slightly sweet and hearty, making it a fantastic addition.
Sweet Potato Recipes featuring Sweet Potato Puree
Here are some delicious recipes from Fit Foodie Finds that feature sweet potato puree! Enjoy.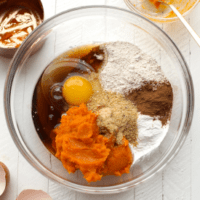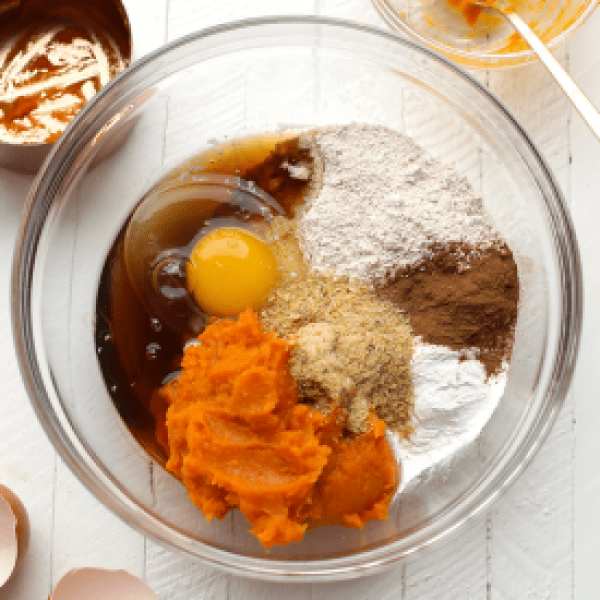 Easy Homemade Sweet Potato Puree
Want to make your own sweet potato puree? Here's an easy kitchen hack tutorial on how to make your own sweet potato puree at home. We love pureed sweet potatoes because you can often use it in place of oil, in pancakes, and in other baked goods!
Prep:
10 minutes
Cook:
40 minutes
Total:
50 minutes
Ingredients
1

large sweet potato*
coconut oil cooking Spray
Instructions
First, preheat oven to 400ºF and line a baking sheet with tin foil..
Then, slice your sweet potato(es) in half, hot dog style, and spray both sides with coconut oil cooking spray. 1 large sweet potato should get you around a cup of puree, so feel free to roast as many as you'd like.
Pierce with a fork a few times on both sides and then place on a baking sheet lined with tin foil.
Roast at 400ºF for around 40 minutes or your sweet potatoes are tender (depends on the size of your sweet potato).
Let sweet potatoes cool for about 5 minutes and then scoop out sweet potato flesh and place in a food processor. Blend until smooth.
Tips & Notes
Storage: Place in an air-tight container and store in the refrigerator for up to 1 week. OR, in the freezer for up to 3 months.
One large sweet potato = ~1 cup sweet potato puree*
Nutrition is for 1 cup of sweet potato puree.
Nutrition Facts
Serving Size:
1/4 cup puree
Calories:
45
Sugar:
3
Fat:
0
Carbohydrates:
10
Fiber:
2
Protein:
1
Category:
Sides
Method:
Oven
Cuisine:
American
Keywords: sweet potato puree