Mashed sweet potatoes are a silky smooth, buttery side made with roasted sweet potatoes, a whole head of garlic, and a little Greek yogurt.
Don't get me wrong, we love mashed potatoes (and mashed cauliflower, too!) , but this sweet potato mash recipe is just as good.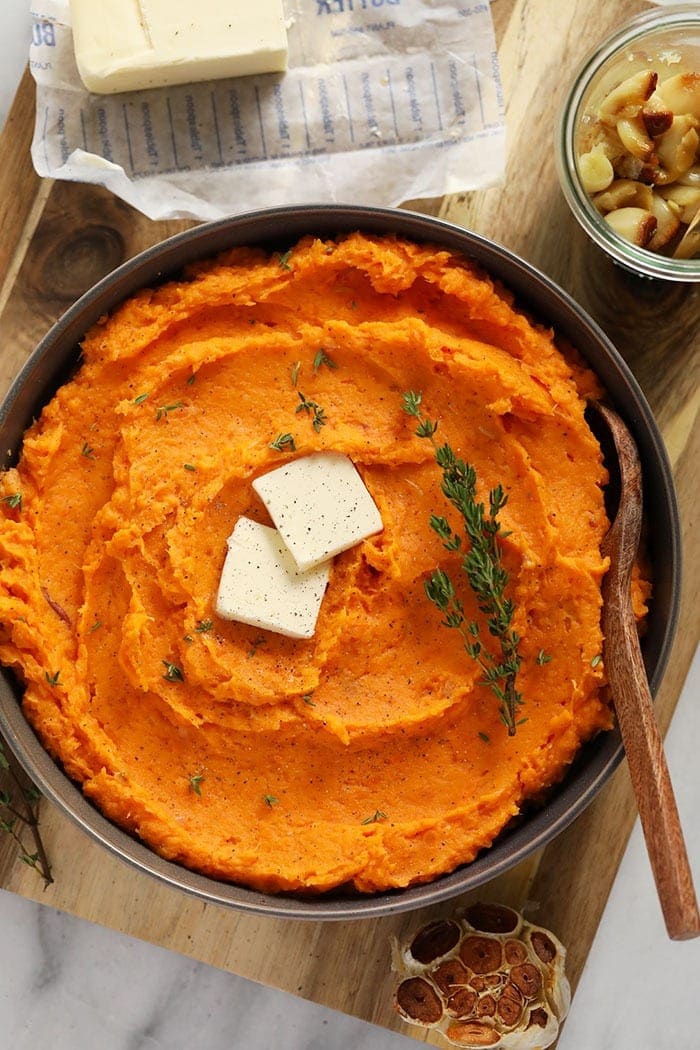 The Creamiest Mashed Sweet Potatoes
Serve these savory mashed sweet potatoes at your next holiday gathering or make it as a side next to any of your favorite entrees. They are the perfect combination of sweet, savory, and creamy,
Should I Roast or Boil?
Lots of mashed sweet potato recipes call for boiling your sweet potatoes. However, we are all about getting the most and best flavor our of our ingredients and this is why we're instructing you to roast them!
How to Roast Sweet Potatoes
We have an awesome tutorial on how to roast sweet potatoes, but I thought I'd give you the rundown for how to roast halved sweet potatoes.
Wash and Slice – begin by rinsing your taters under cold water to remove any residue. Then, pat dry with a kitchen towel. Slice each sweet potato down the middle, hot dog style, to cut them in half.
Rub with Olive Oil – place sweet potatoes on a baking sheet or in a casserole dish, and drizzle with olive oil. Then, use your hands to rub the oil into both sides of the sweet potato.
Season with Salt and Pepper – generously season potatoes with salt and pepper (and any other spices such as garlic powder, chili powder, etc.), making sure all sides are covered.
Roast, Flip, Roast – roast sweet potatoes for 20 minutes at 375ºF. Then, flip each one over and roast for another 20 minutes.
How do you know your sweet potatoes are fully cooked?
You know your sweet potatoes are fully cooked when then become darker in color and they are fork tender. Depending on how large your sweet potatoes are, you may need to cook them for an additional 5-10 minutes.
Would you rather boil your potatoes?
If you are partial to boiling your sweet potatoes or if you don't have space in your oven you can boil your sweet potatoes, too. Here's how.
Wash your sweet potatoes and chop them into quarters.
Place the sweet potatoes in a large pot and cover them with water. Add 1-2 teaspoons of kosher salt.
Bring the water to a boil over high heat and then turn heat to medium heat and let the potatoes simmer until they are fork tender (20-30 minutes).
Drain the water from the potatoes and continue with the mashed sweet potato recipe in the recipe card.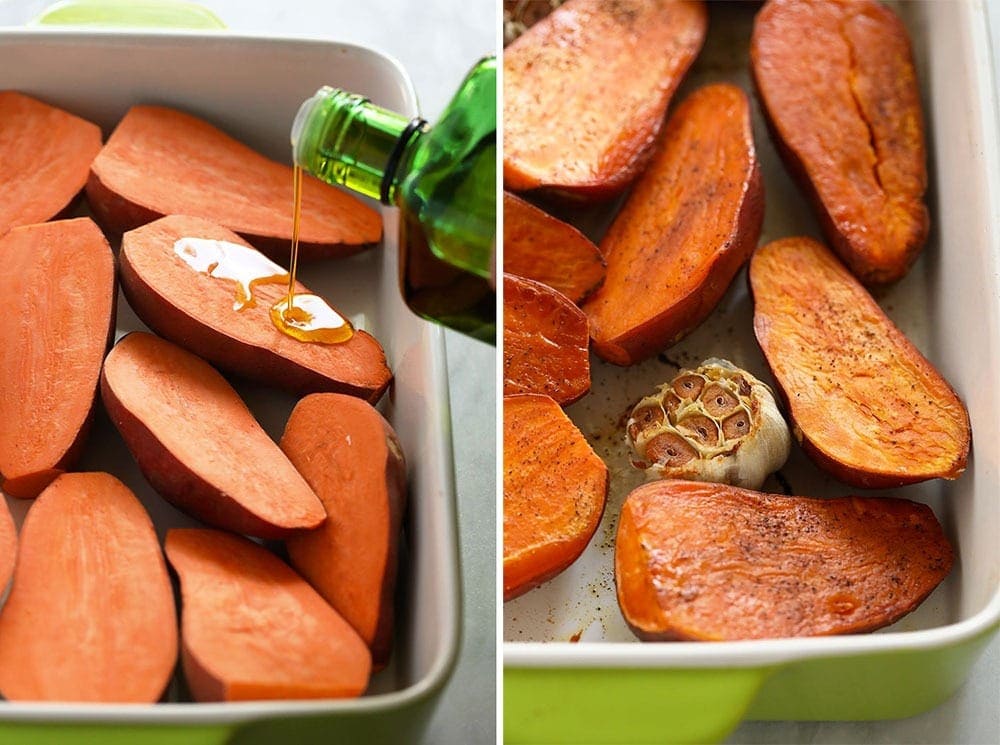 How to Mash Sweet Potatoes
Once you've got your potatoes perfectly roasted, they should be rather easy to mash. Don't forget about your whole head of roasted garlic, that's going to get mashed with sweet potatoes along with a little Greek yogurt, and butter.
When it comes to the mashing of your sweet potatoes. You've got options. Before you start to mash, just be sure your sweet potatoes are tender and cooked or else you'll end up with stringy mashed potatoes.
Here's the down-low on the kinds of textures you'll get with each.
Potato Masher: lumpy with bites of texture
Food Processor: super smooth and creamy
Hand Mixer or Immersion Blender: mostly creamy with few lumps
We used an immersion blender, but honestly, any of the options I shared work!
Fun Flavor Variations
Sweet . Add a little sweetness to your mashed sweet potatoes by adding a tablespoon of maple syrup or brown sugar to the potatoes when you mash them.
Spicy– You can give your mashed sweet potatoes a little kick red pepper flakes or cayenne pepper.
Add a spice mix. You can sprinkle a teaspoon or two of your favorite seasoning on top of your sweet potatoes for a pretty garnish and to add extra flavor. We suggest using this homemade everything bagel seasoning or homemade ranch seasoning.
Are these Potatoes Healthy?
Girl, you are in for a treat because our healthy mashed sweet potatoes recipe is naturally gluten-free AND….is so good for you.
Protein: thanks to the Greek yogurt and sweet potatoes, this recipe will get you 5g protein per serving.
Fiber:

sweet potatoes are a starchy vegetable packed with fiber and one serving of this sweet potato mash will get you 5g fiber.

Packed with Vitamins & Minerals:

this side dish is full of vitamins C and A and also carries magnesium and beta carotene.
How to make it even healthier!
We're all about balance at Fit Foodie Finds and that's why we're not afraid to use full-fat products and even BUTTER! We know that lots of our audience will make their own modifications to this recipe (YAY), so we thought we'd give some pointers on how to make it even healthier.
Olive Oil: instead of rubbing your sweet potatoes with 1.5 tablespoons of olive oil, try spraying them with coconut oil cooking spray.
Full-Fat Greek Yogurt: watching your fat intake? Swap the full-fat Greek for 0% Greek yogurt instead!
Butter: while butter adds amazing flavor, it's not totally necessary for this recipe. You can omit the butter all-together if need be.
How to Make this Vegan
If you're hoping to turn this recipe vegan, I've got a few tricks up my sleep that will help you accomplish this. Swap the butter for vegan butter and the Greek yogurt for a dairy-free yogurt. BOOM, you've got yourself some delicious vegan mashed sweet potatoes.
Storage
Let your mashed sweet potatoes cool completely before placing them in an air tight container. Store them in the refrigerator for up to 5 days.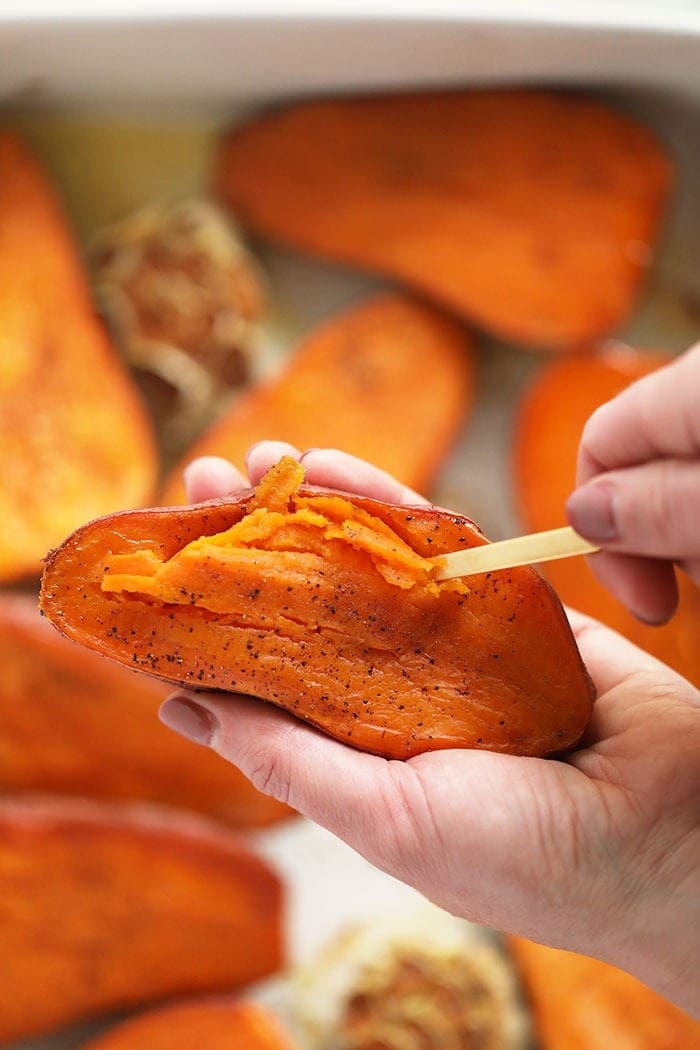 Since you're likely planning to serve these sweet potatoes next to other food, I thought I'd give some recommendations, in case you're still looking for more ideas!
Holiday Pairing Ideas
Weeknight Main-Dish Ideas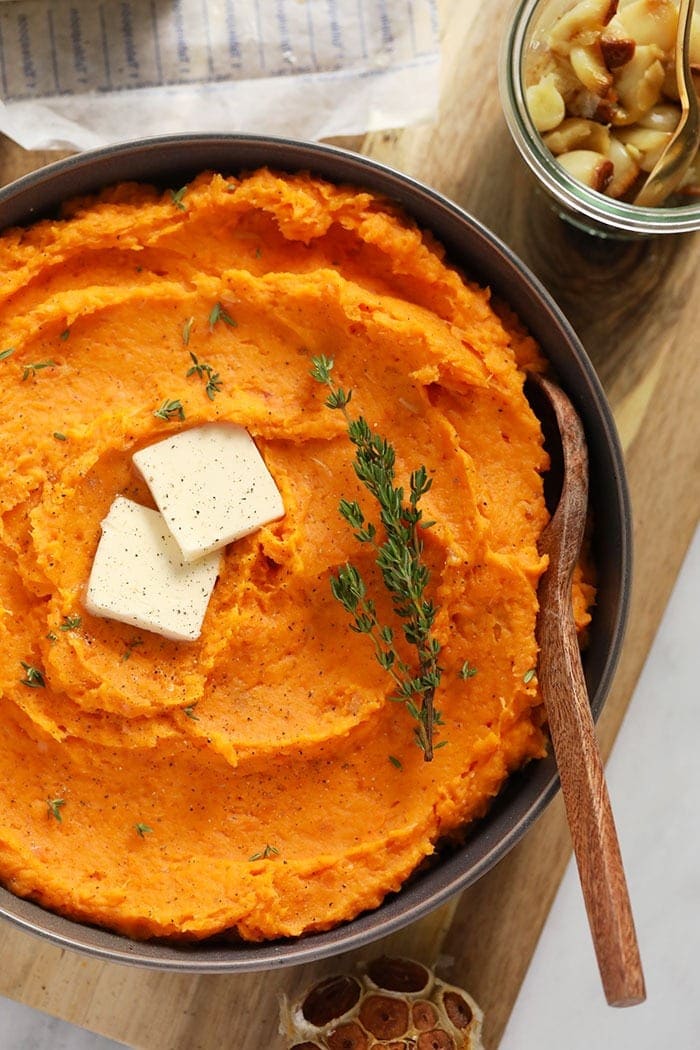 Sweet Potato Side Dish Recipes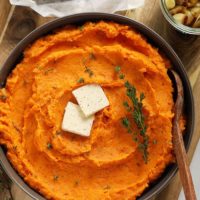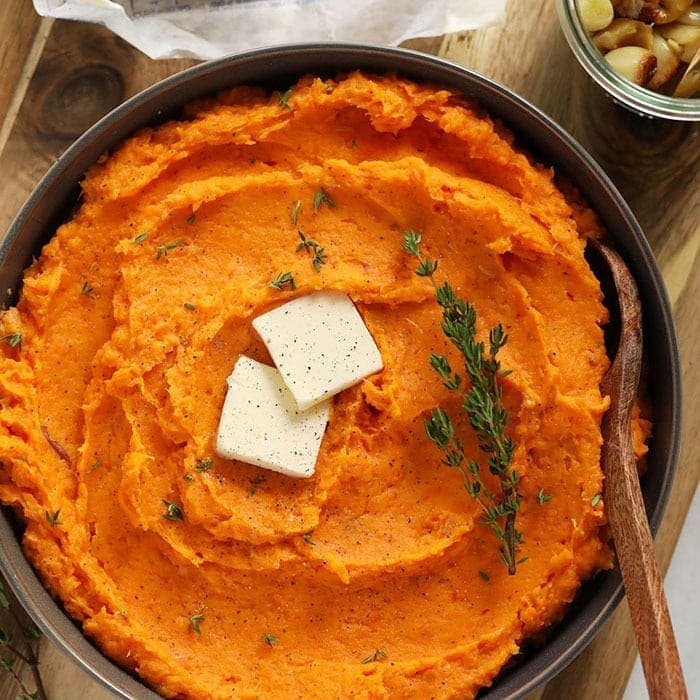 Healthy Mashed Sweet Potatoes
Make these healthy mashed sweet potatoes for a healthy and delicious Thanksgiving or holiday recipe.
Ingredients
Instructions
First, preheat oven to 375ºF and spray a large casserole dish or baking sheet with nonstick cooking spray.

Next, prep sweet potatoes by slicing off the ends and then slicing them in half long-ways (hot-dog style). Then, slice the pointy end of a head of garlic off to expose the cloves.

Lay the sweet potatoes and garlic head on the baking sheet, open face-up.

Then, drizzle with olive oil and season with 1/8 teaspoon salt and 1/8 teaspoon pepper.

Roast at 375ºF for for 20 minutes. Then flip sweet potatoes and garlic so that they are skin-side up and roast for another 20 minutes or until the sweet potatoes can be easily pierced with a fork.

Remove from oven and let cool for 10 minutes.

Next, use a spoon to scoop out the flesh of the sweet potatoes (or skip this step if you love the skin!) and place into a large bowl.

Then, squeeze the roasted garlic cloves out of their casing and place into bowl on sweet potatoes. Add Greek yogurt and butter.

Use a hand mixer to mix everything together until smooth.
Nutrition facts
Calories:
186
kcal
Carbohydrates:
29
g
Protein:
5
g
Fat:
6
g
Fiber:
5
g
Sugar:
9
g