This turkey tenderloin recipe is incredibly juicy and perfect for a smaller crowd. It's made with a turkey brine and a homemade turkey seasoning that infuses the meat flavor.
This turkey tenderloin is easy to prepare and roast, making it a go-to choice for any occasion or weeknight meal.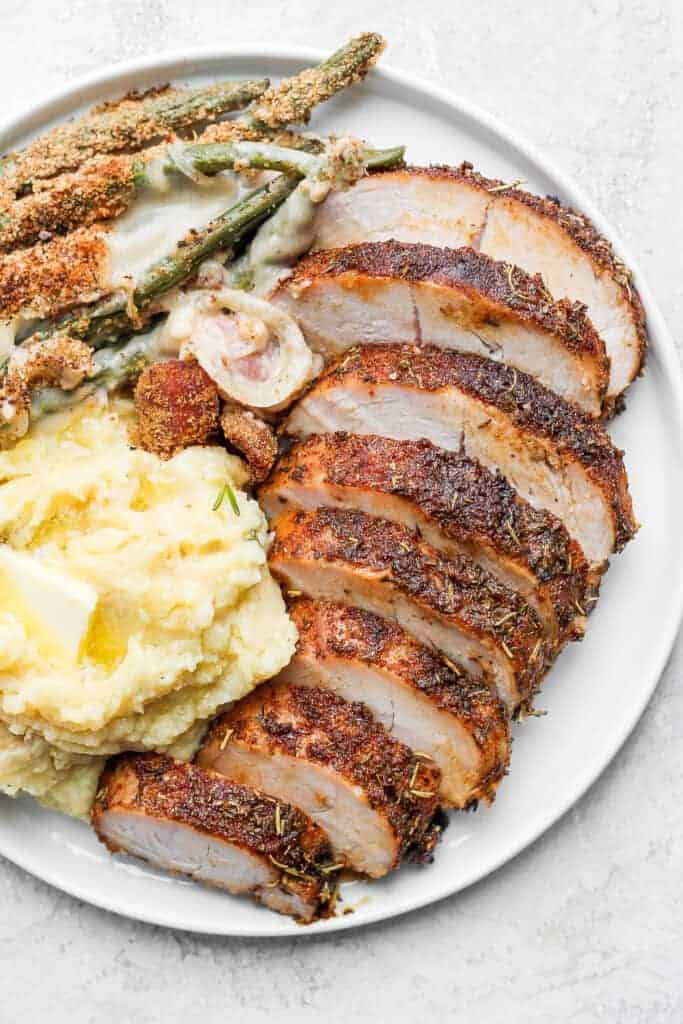 Turkey tenderloin is such a fantastic cut of turkey to not only serve at a smaller Thanksgiving gathering, but to eat any night of the week. This recipe for turkey tenderloin cooks up quite nicely in the oven, holds flavor very well, and comes out super juicy!
Featured Comment
"First time I have made anything on your website and this was absolutely amazing! My entire family asked me to make it again next week-I skipped the brine due to time but will try it next time! I look forward to trying more on your website!" -Kelsey
What do you need for this turkey tenderloin recipe?
This recipe includes a 2 lb. turkey tenderloin, a simple turkey brine, and our famous all-purpose turkey seasoning.
Where do you buy turkey tenderloin? Our favorite place to buy turkey tenderloin is Trader Joe's. They actually carry it year-round, which is fantastic!
PS: When purchasing turkey tenderloin, sometimes the tenderloin is sold with two tenderloins, so be cautious of that when looking for a certain weight.
Recommended Kitchen Tools
Before getting started with this turkey tenderloin recipe, here are our kitchen tool recommendations to make your cooking seamless!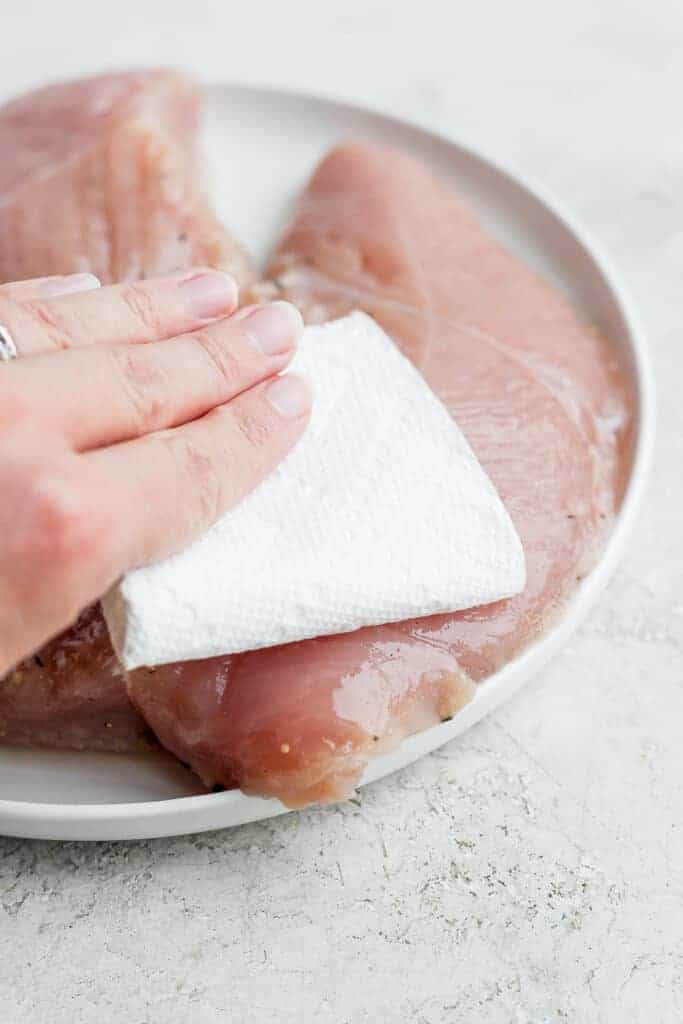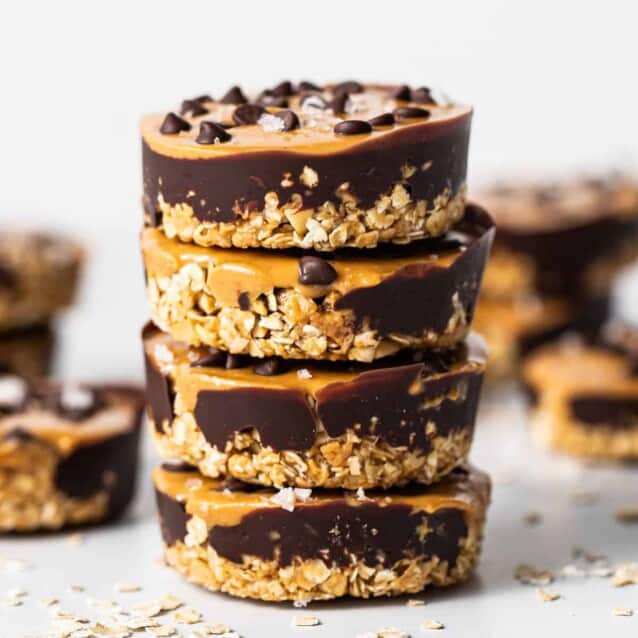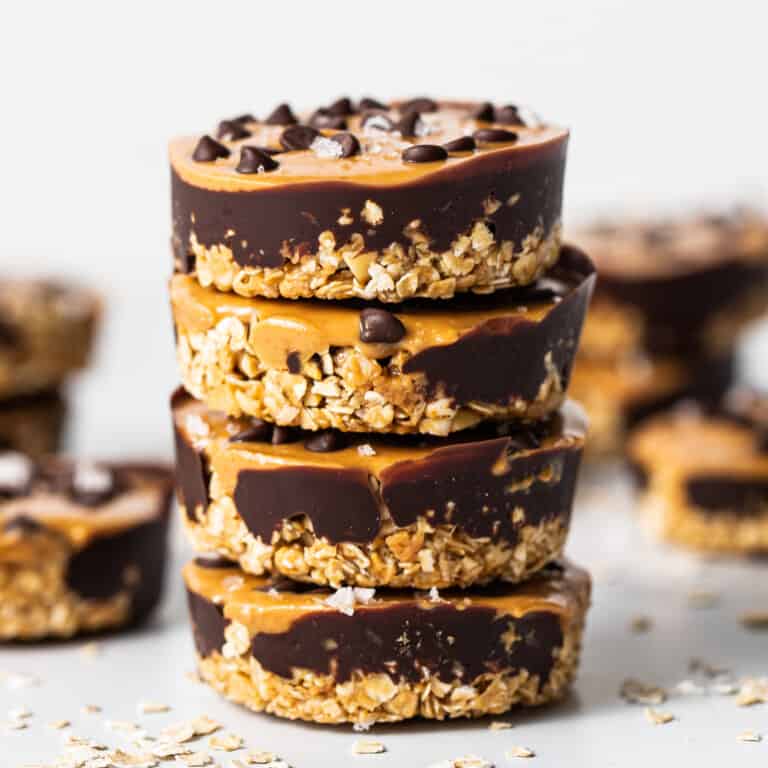 Get our Top 10 5-Star Recipes!
Join our email list for new recipes and BONUS: get our top 10 ⭐️⭐️⭐️⭐️⭐️ recipes e-book!
How to Flavor Baked Turkey Tenderloin
Like other cuts of poultry, turkey tenderloin does a really great job taking on the flavor of whatever you season or marinate it with. This cut of turkey is similar to chicken breast which also does a great job of absorbing flavor.
Turkey Brine: For this turkey tenderloin recipe, we used a simple turkey brine that infuses your turkey with so much flavor. If your turkey tenderloin comes pre-brined, you can skip this part!
Turkey Seasoning: our turkey seasoning is the perfect combination of dried thyme, dried rosemary, dried oregano, brown sugar, and garlic. We love that by adding a turkey dry rub, it gives the tenderloin a sort of crust when baked in the oven.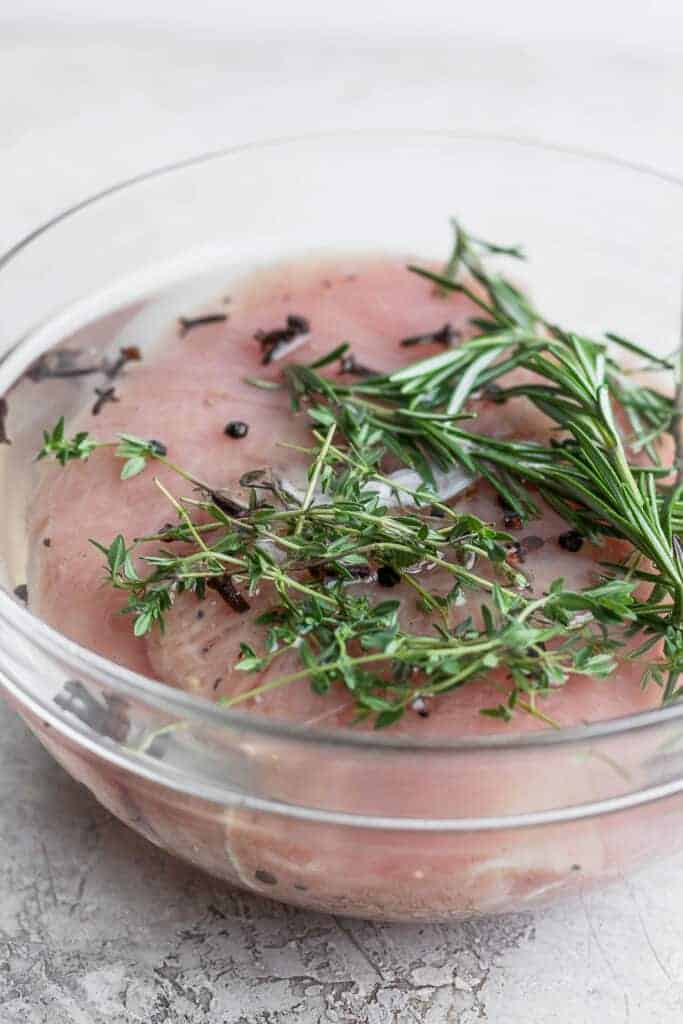 FAQ
What temp should I cook Turkey tenderloin?

The best oven temperature to cook your baked turkey tenderloin recipe at is 400ºF. The goal is to get the internal temperature of your pork to reach at least 165ºF (re: Food Safety).
How long do you cook turkey tenderloin at 350?

Turkey tenderloin takes around 50-55 minutes at 350ºF to reach a safe-to-eat, internal temperature of 165ºF.
How long does turkey tenderloin take to bake at 400?

Turkey tenderloin takes around 35-40 minutes at 400ºF to reach a safe-to-eat, internal temperature of 165ºF.
Should you cover turkey tenderloin in the oven?

Some recipes call for you to cover your turkey tenderloin while baking, however, our recipe does not instruct you to do so.
If your turkey tenderloin begins to brown too much on the top, you can cover it with tin foil until it reaches a 165ºF internal temperature.
Does turkey tenderloin get more tender the longer you cook it?

Turkey tenderloin is a very lean cut of meat, meaning that it can dry out quickly.
So, if you cook it too long, you risk overcooking your meat, which will leave it with a dry, stringy texture. And no one wants that!
Why should I let the turkey tenderloin rest?

You just let your turkey tenderloin rest to let the juices rest and absorb back into the meat.
What is turkey tenderloin?

Turkey tenderloin is the boneless, skinless part of the turkey breast. This is a very tender cut of meat (if cooked correctly!) because turkeys are typically not exercised frequently.
Is turkey breast tenderloin the same as turkey tenderloin?

A turkey tenderloin is a portion of the turkey breast that is boneless and skinless, and a turkey breast is typically bought bone in and skin on.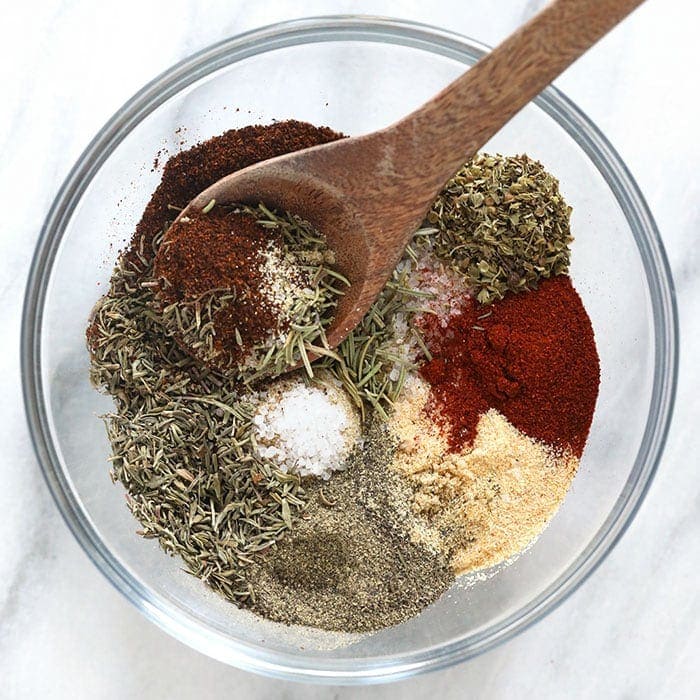 try it!
Turkey Seasoning
Ditch the store-bought turkey seasoning and use the most Flavorful Turkey Seasoning made with 9 ingredients you can actually pronounce. This seasoning is made up of garlic powder, brown sugar, kosher salt, and other simple seasonings.
get recipe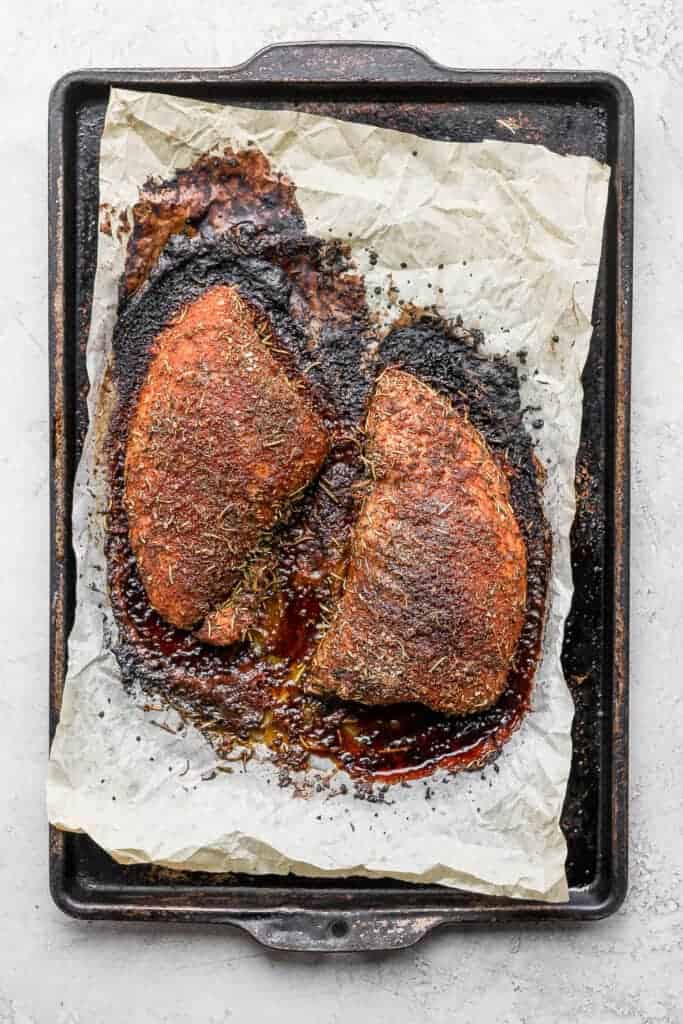 How to Store Turkey Tenderloin
Let your baked turkey tenderloin cool completely. Then, transfer it into a large, glass container, and seal. Store in the refrigerator for up to 3-5 days.
Reheating Instructions
Microwave: Place a serving of turkey tenderloin on a microwave-safe plate. Microwave on high for 60-90 seconds.
Oven: Preheat oven to 350ºF. Then, spray a baking dish with cooking spray. Add cooked turkey tenderloin. Bake, covered, for around 20 minutes or until the center is warm.
Freezer Instructions
To freeze leftover turkey tenderloin, let it cool completely. Then, transfer it into a gallon-size freezer-safe plastic bag. Remove as much air as possible and freeze for up to 3 months.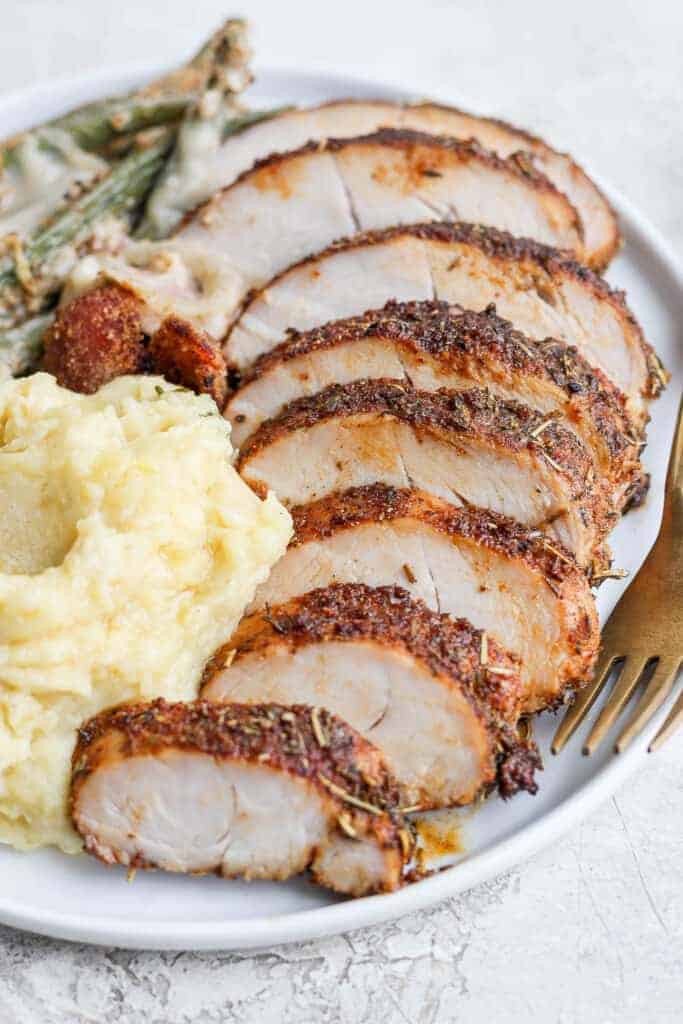 Serving Suggestions
If you are making this turkey tenderloin for Thanksgiving, we recommend serving it next to our green bean casserole with bacon and crockpot mashed potatoes. For dessert, try our apple tart.
If you've got leftovers, use it in our turkey soup or easy turkey salad!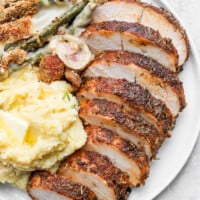 Baked Turkey Tenderloin Recipe
Learn how to cook turkey tenderloin by brining, seasoning, and baking this lean cut of turkey for Thanksgiving or any weeknight meal.
Ingredients
2

lbs.

turkey tenderloin

it should come in a pack of 2

2

cups

water

¼

cup

kosher salt

2

teaspoons

black peppercorns

2

teaspoons

whole cloves

2

sprigs fresh rosemary

or 1 tablespoon dried rosemary

2

sprigs fresh thyme

or 1 tablespoon dried thyme

1/2

tablespoon

olive oil
Instructions
Remove the two turkey tenderloins from the packaging and pat them dry with a paper towel. Set aside. 

First, make the brine. Add water and kosher salt to a small saucepan, whisk, and heat over medium heat until the salt dissolves. Do not bring it to a boil. Remove from heat. 

Next, add the black peppercorns, whole cloves, rosemary, and thyme to the sauce pan and mix. Set aside and let it sit for 10 minutes or until cooled. 

Place the turkey tenderloins in a deep bowl or 9×13 casserole dish. When the brine is cool, pour the brine over the turkey tenderloins. Be sure that the brine is covering the tenderloin. 

Cover the casserole dish with plastic wrap and place the turkey in the fridge. Let the turkey tenderloin sit for at least 6 hours but preferably overnight. 

When ready to bake the turkey tenderloin, preheat the oven to 400ºF and lay a piece of parchment paper on the baking sheet. 

Remove the turkey from the refrigerator and discard the brine. Rinse the turkey under cold running water and pat dry with a paper towel and place the turkey tenderloin on the parchment paper.

Sprinkle the turkey tenderloins with the dry rub. Massage the dry rub into the turkey tenderloin, being sure that the whole tenderloin is covered in dry rub. 

Drizzle the top of the turkey tenderloin with olive oil and place the baking sheet in the oven. 

Bake the turkey tenderloin for 20 minutes, flip the tenderloin, and bake for another 15-20 minutes or until the internal temperature reaches 165ºF. 

Remove from the oven and let the turkey rest for 5 minutes. 

Slice the turkey tenderloin and serve.
Tips & Notes
We used our homemade turkey seasoning for this recipe, so if you already have it on hand, feel free to sub 2 tablespoons.
Addressing the saltiness of this recipe: make sure that your turkey tenderloin does not come pre-brined. If it does, skip that step!
Nutrition facts
Calories:
222
kcal
Carbohydrates:
6
g
Protein:
43
g
Fat:
6
g
Fiber:
1
g
Sugar:
4
g
Photography: photos taken in this post are by Erin from The Wooden Skillet.