This roasted turkey breast recipe is perfect for a smaller Thanksgiving celebration. It is moist, flavorful, and goes great with any of your favorite Thanksgiving side dishes.
If you are looking for another delicious turkey recipe for a smaller group, try our baked turkey tenderloin recipe, too.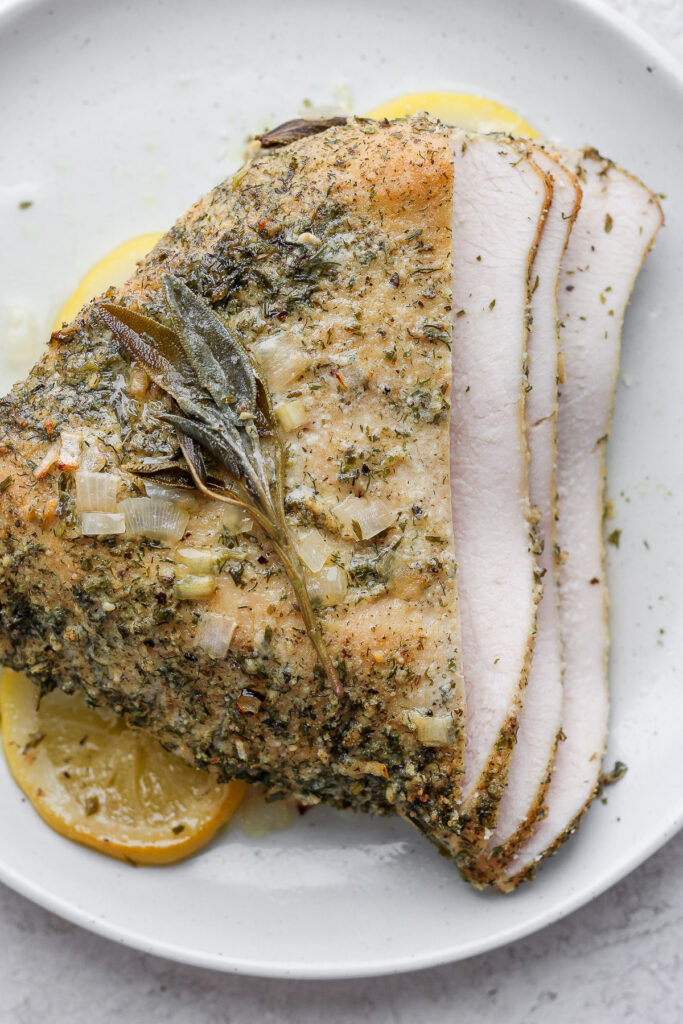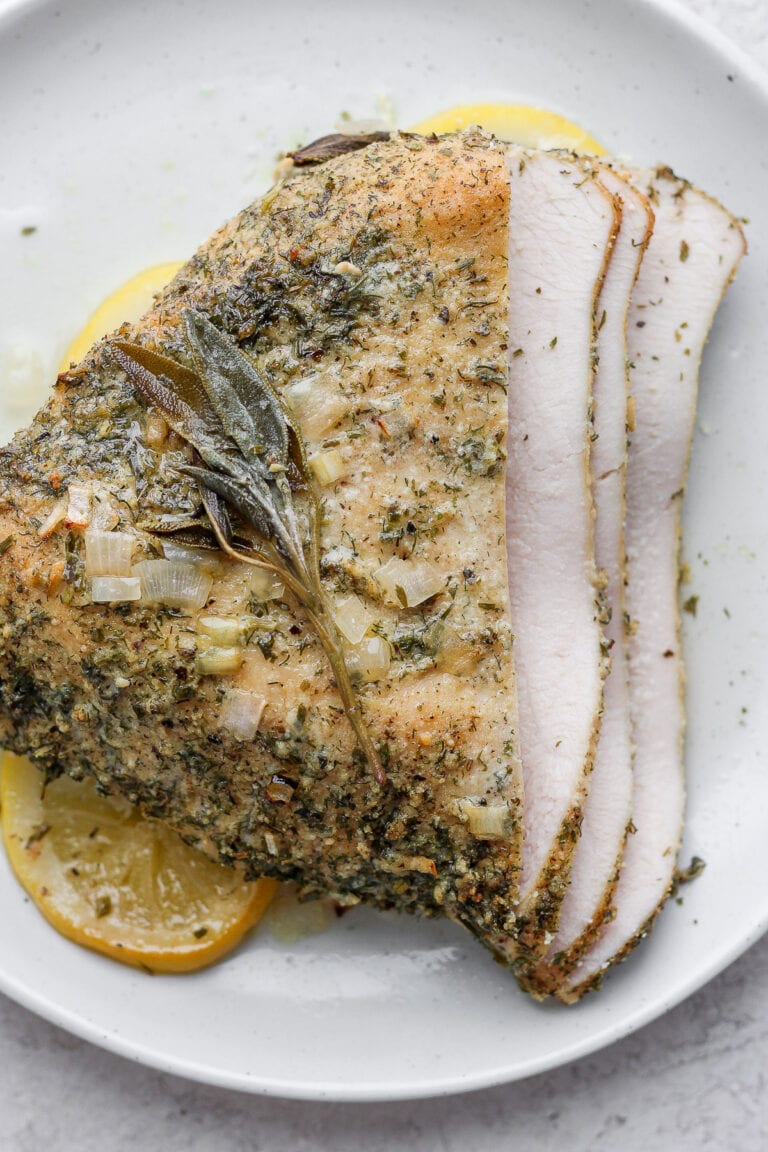 Turkey and ranch?! Yup, it's a match made in heaven. You guys are absolutely going to love this tender turkey breast seasoned with our homemade ranch seasoning because it's so flavorful and tender!
Why Should I Use a Turkey Breast?
Are you looking for a turkey recipe that will feed a smaller group? This herby ranch roasted turkey breast is the perfect alternative to a big bird for those of you who are looking for a small group turkey recipe!
Turkey breast is a great option for a small thanksgiving meal for so many reasons!
It is still the turkey you know and love, but not so much of it
Turkey breasts are easy to flavor and prepare
You don't have to spend the whole day baking, roasting a turkey breast takes about 1-1.5 hours.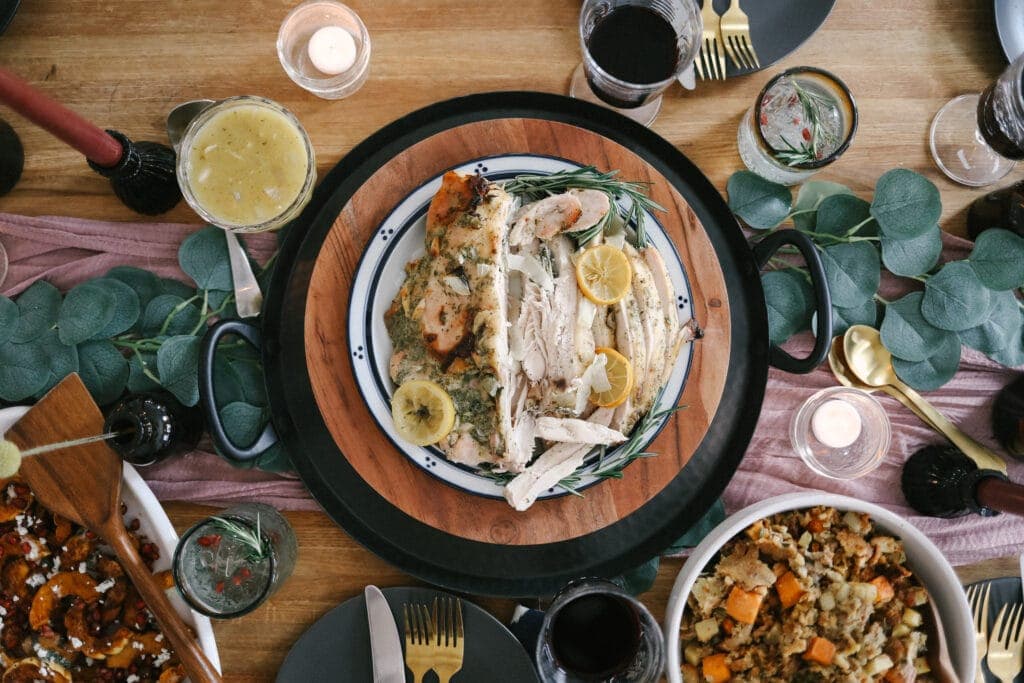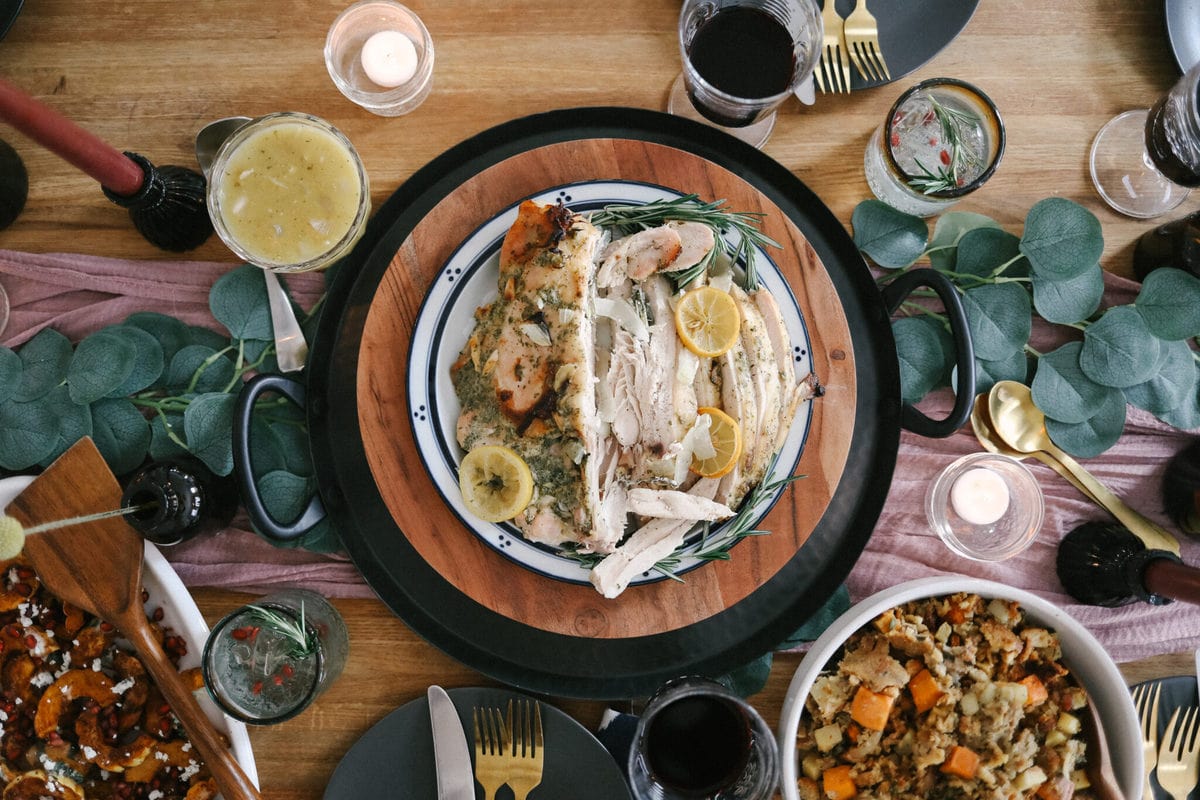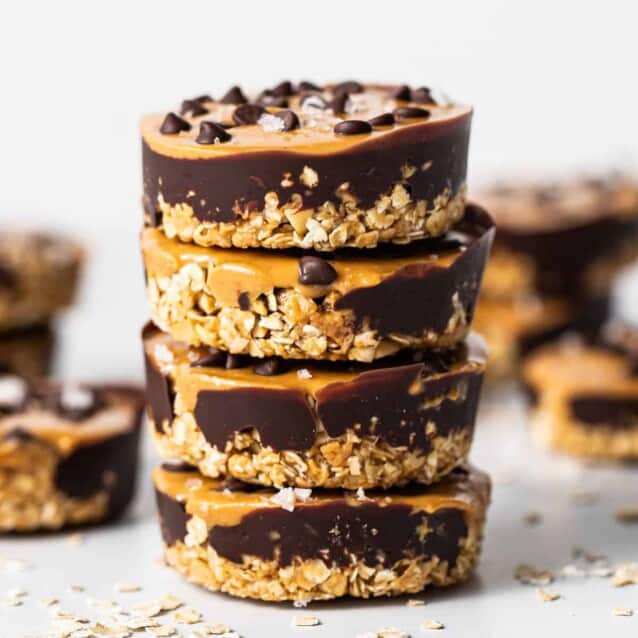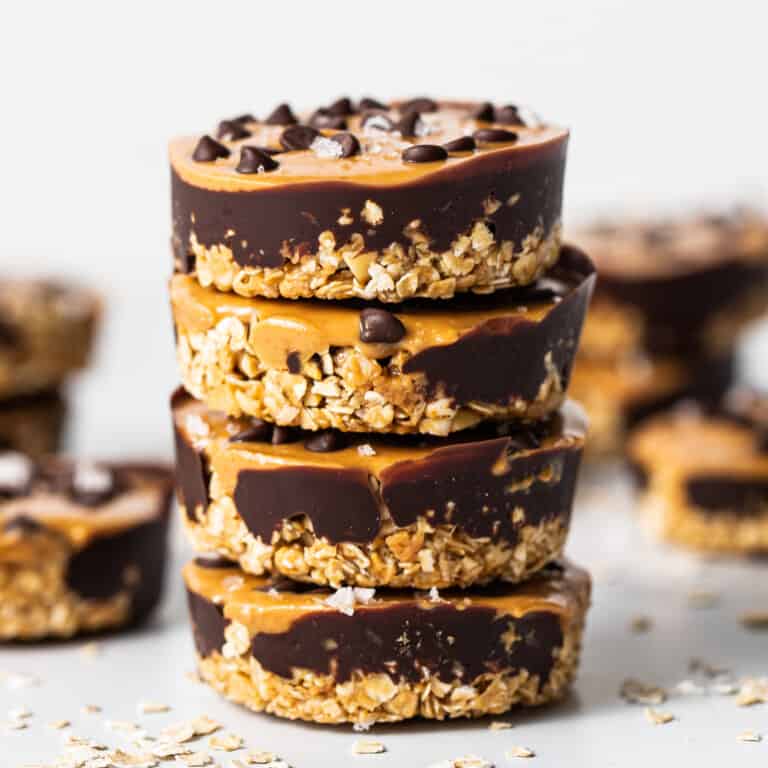 Get our Top 10 5-Star Recipes!
Join our email list for new recipes and BONUS: get our top 10 ⭐️⭐️⭐️⭐️⭐️ recipes e-book!
What Kind of Turkey Breast to Buy
There are a few different options at the grocery store when you're looking for a turkey breast. If it's not Thanksgiving season, then you will typically find frozen turkey breast, otherwise you can find turkey breast in the meat section at the grocery store.
Boneless Turkey Breast– A boneless turkey breast is the breast portion of the turkey with the bone pieces taken out.
Bone-in Turkey Breast – A bone-in turkey breast is the breast portion of the turkey with the ribs and bone pieces left in.
Turkey Breast Roast– A turkey breast roast is generally different pieces of meat (including the breast) that are bound together by netting.
Young Turkey Breast (with both breasts)– You may see this product in the grocery store, too! Sometimes a young turkey breast comes with two breasts and it looks like a smaller bird. We used this in our sous vide turkey recipe!
We tested this recipe with a bone-in turkey breast and a turkey breast roast and they worked great. Just be cognizant of the cook time and weight.
roasting tip
We it comes to bake time for a turkey breast we recommend adding 15 minutes per pound to your cook time!
Internal Temperature of a Turkey
The internal temperature of turkey should be 165ºF. Basting will give you juicy meat especially if you bake low and then let the turkey sit to absorb all the juices back into the meat.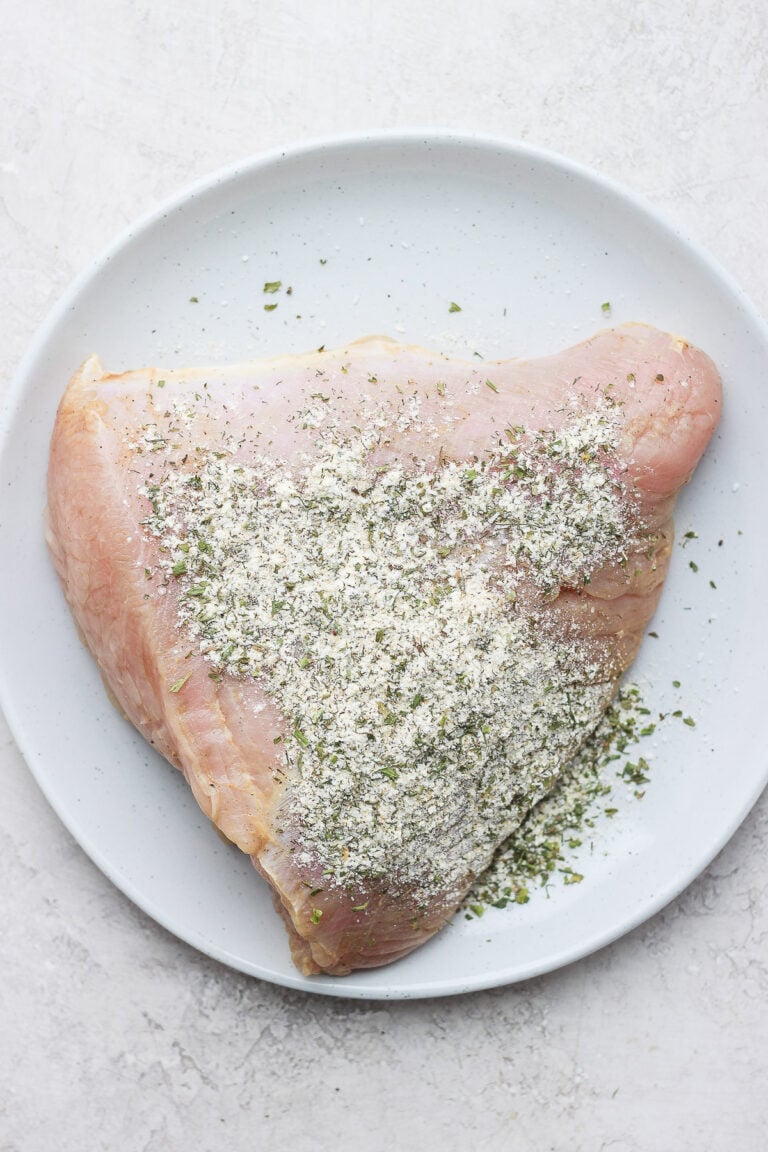 How to Roast a Turkey Breast
Roasting a turkey breast is as easy as 1-2-3. You will have a perfectly roasted turkey breast for you and your family in no time!
First things, first. Get your turkey breast ready to roast by taking it out of the refrigerator and pat it dry with a paper towel. You want to remove any access moisture from the turkey breast so you get a beautiful golden skin when you roast it!
Next, you want to add the dry rub to the turkey breast. We use our delicious homemade ranch seasoning to season this turkey breast. Sprinkle the ranch seasoning over the turkey breast and set it aside and let it rest for 15 minutes.
Add all of your aromatics (onion, herbs, lemon), broth, and wine to the bottom of a baking dish or roasting pan and place the turkey breast on top of the onion.
Finally, slather the softened butter over the top of the turkey and place your turkey in the oven to bake at 325ºF for 60 minutes!
DON'T FORGET that it is crucial that you baste the turkey breast every 30 minutes with the liquid at the bottom of the baking dish! It helps to keep the bird moist!
After the turkey breast has baked for 60 minutes you want to up to temperature to 400ºF and and bake for 10 minutes for crispy skin!
THEN YOU'RE DONE! Cover the turkey with aluminum foil and let it rest for 10 minutes.
Slice the turkey with a sharp knife and serve it with the drippings from the roasting pan. Pour the drippings over the turkey after it is sliced.
Serve it Up. Serve your turkey breast with flare by plating it with style. Place turkey on a beautiful platter after it is sliced. Brush the turkey with excess pan drippings or olive oil to shine it up.
Add fresh herbs and citrus around the sliced turkey and then serve.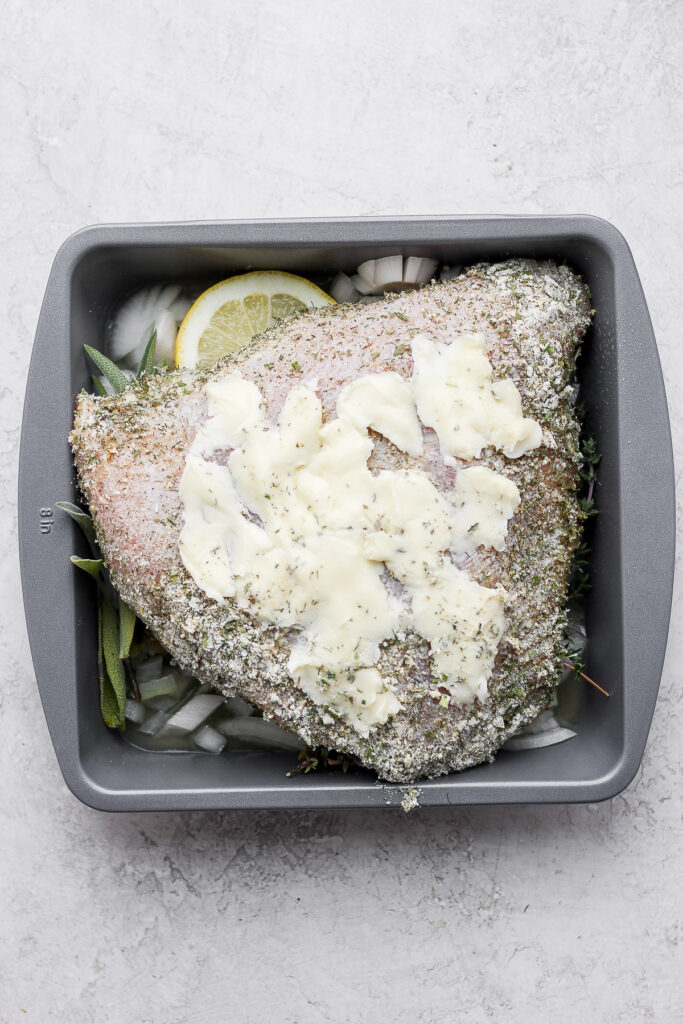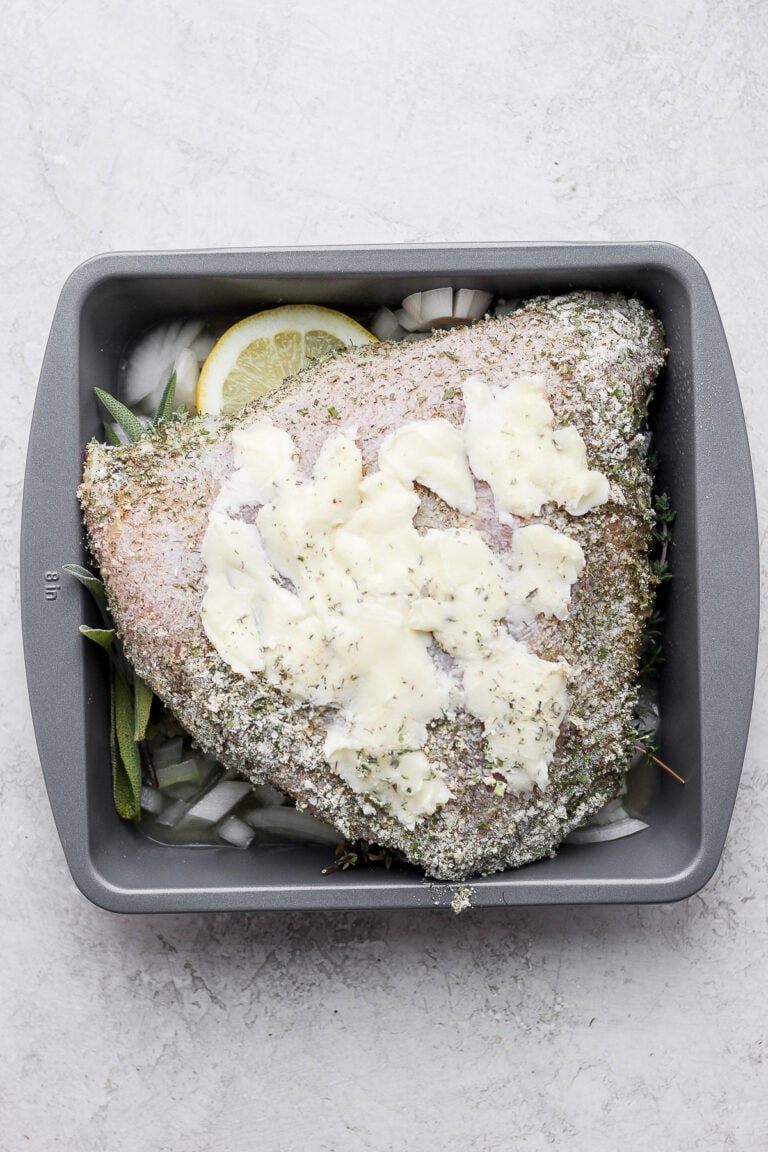 Roasted Turkey Breast Tips + Tricks
How do you keep turkey breast moist when roasting it?
The #1 way to make sure your turkey breast doesn't dry out is to baste, baste, BASTE!
Should I brine my turkey breast overnight?
If you have the time, you can definitely brine your turkey breast. Use this recipe similar to this smoked turkey brine recipe.
Simple Roasted Turkey Brine
Ingredients
1 gallons wate, separated
1/2 cup kosher salt
1/4 large white onion, chopped
3 cloves garlic, smashed
1/2 tablespoon peppercorns
1/2 tablespoon whole cloves
1 sprig fresh thyme
2 sprigs fresh rosemary
Fill a 10 quart pot with 1 gallon of water.
Remove 1 cup of water from the pot and add it to a saucepan with the kosher salt. Heat the two ingredients over medium heat and whisk until the salt has dissolved. Do not bring to a boil. Remove from heat.
Add the salted water back into the pot and whisk together.
Next, add the onion, garlic, peppercorns, cloves, thyme, and rosemary to the pot and stir.
Finally, add the turkey to the pot. Make sure the turkey is completely submerged in the water.
Place the pot in the refrigerator for 12 hours or overnight. Then follow the roasted turkey breast recipe.
What do I serve with turkey breast?
We have so many Thanksgiving sides to choose from on FFF! We love Thanksgiving, Friendsgiving, and everything in between! Below are our three favorite dishes to serve with turkey breast.
How do I know when turkey breast is done?
You know your turkey is done when the internal temperature of the turkey reaches 165ºF.
Can I use roasted turkey as leftovers?
Our favorite recipe to make with leftover turkey breast is this leftover turkey soup!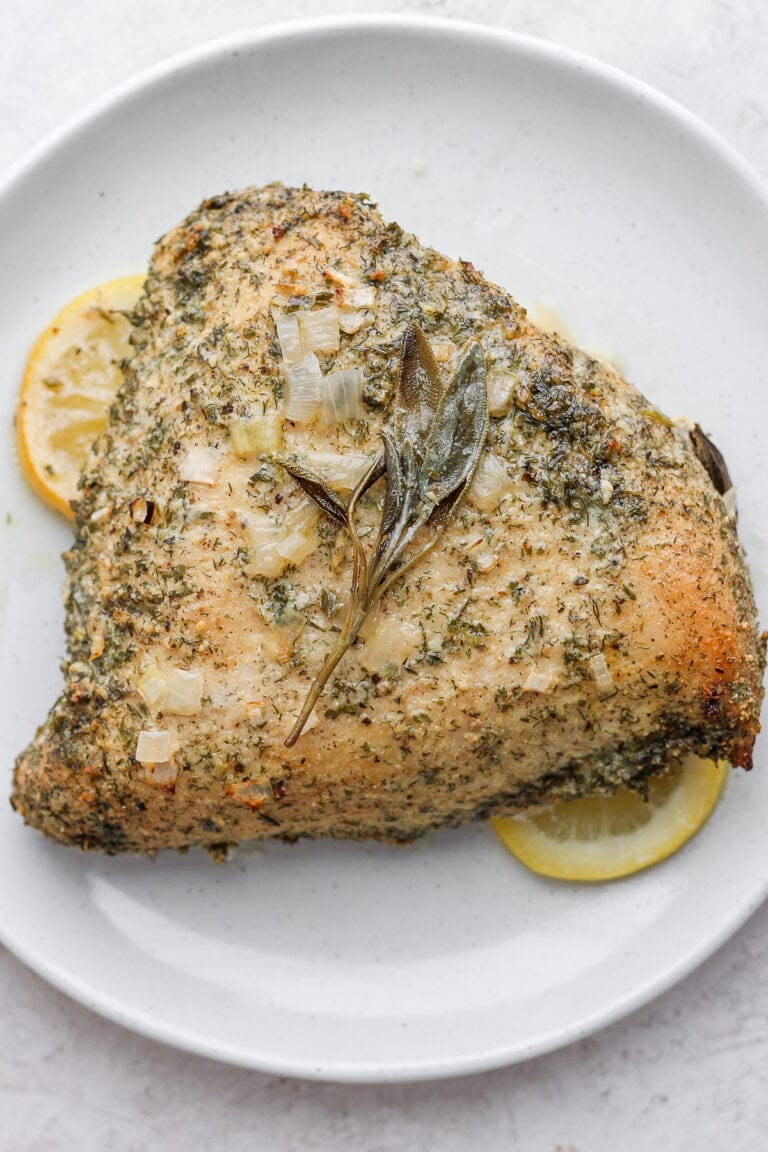 Flavor Ideas
As you know, for this roasted turkey breast recipe, we used our homemade ranch seasoning. It's buttery and so flavorful. Here are more flavor ideas!
Ranch Seasoning – if you haven't seen our ranch seasoning recipe yet, you can check it out here!
Turkey Seasoning – Use our all-purpose turkey seasoning that is the most perfect blend of spices for any cut of turkey!
Chicken Dry Rub – Chicken…what?! Chicken breast and turkey breast are very similar, so if you already have our chicken dry rub on hand you can easily use that! It's smokey and slightly sweet!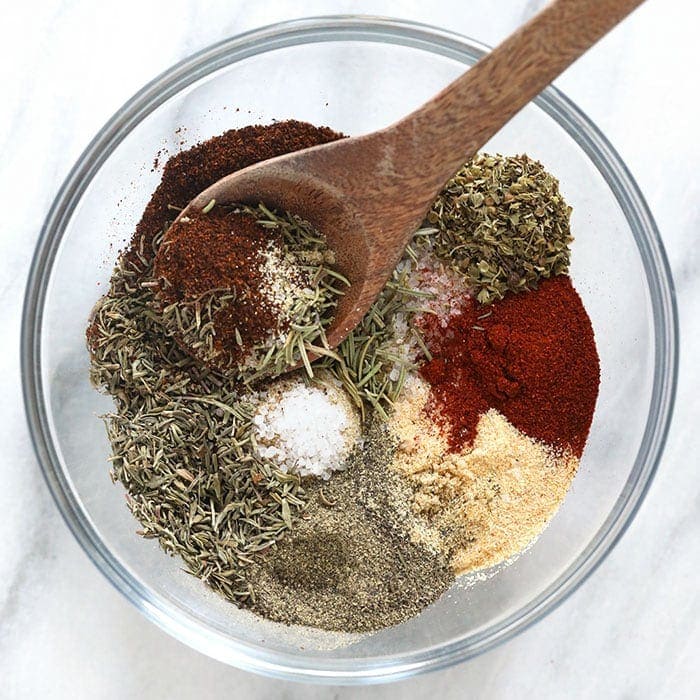 try it!
Turkey Seasoning
Ditch the store-bought turkey seasoning and use the most Flavorful Turkey Seasoning made with 9 ingredients you can actually pronounce. This seasoning is made up of garlic powder, brown sugar, kosher salt, and other simple seasonings.
get recipe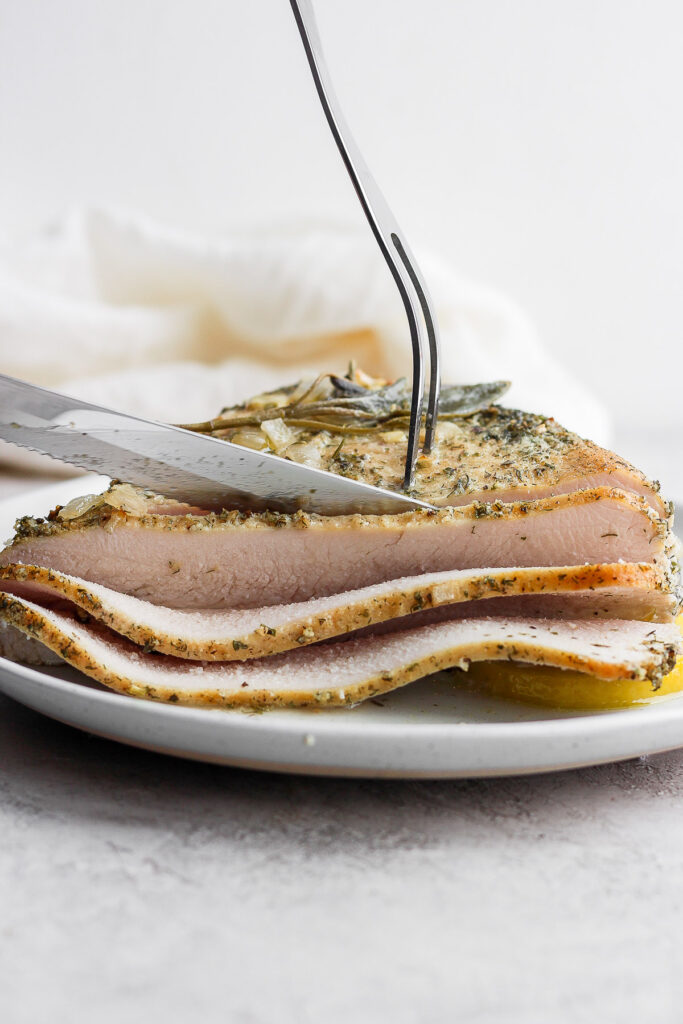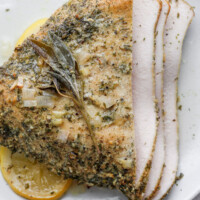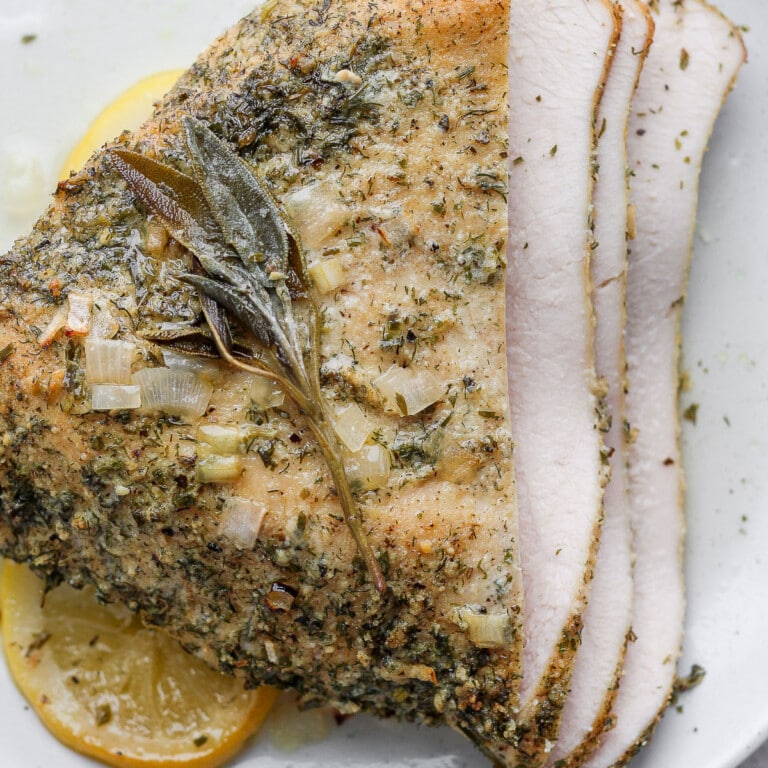 Herby Ranch Roasted Turkey Breast
Here's a great, simple recipe for livening up Thanksgiving turkey breast. Just season with homemade ranch seasoning salt, pepper, and fresh herbs. Bake and enjoy. 
Ingredients
2-3

lb.

boneless turkey breast

3

tablespoons

homemade ranch seasoning

1/2

large white onion

chopped

3

large garlic cloves

peeled and sliced

½

large lemon

sliced

3

sprigs fresh thyme

1

sprig fresh sage

1

sprig fresh rosemary

1

cup

chicken broth

any kind of broth will work

1/4

cup

dry white wine

1/4

teaspoon

salt

1/8

teaspoon

ground pepper

3

tablespoons

butter

softened
Instructions
Preheat the oven to 325ºF and spray an 9×13-inch baking dish with non-stick cooking spray. 

Prepare the turkey breast. Discard the gizzard from the turkey breast and remove any excess liquid from the turkey breast by patting it with a paper towel. 

Next, rub the ranch seasoning over the turkey breast making sure that the whole turkey breast is covered with dry rub. Let the turkey sit for at least 15 minutes (for optimal flavor, place the turkey breast in the refrigerator and let it sit in the dry rub for 1-2 hours).

Place the onion, sliced lemon, thyme, sage, thyme, broth, wine, salt, and pepper on the bottom of your baking dish and then place the turkey breast on top of the onions. 

Carefully slather the softened butter over the top of the turkey. 

Place the turkey in the oven and bake at 325ºF for 30 minutes. 

Remove turkey from oven and baste with the liquid on the bottom of the baking dish. Repeat this step again after baking the turkey for another 30 minutes.  

After the turkey has baked for 60 minutes and it has been basted twice, turn the heat to 400ºF and bake the turkey for another 10 minutes. 

Remove the turkey from the oven when it is golden brown or when the internal temperature reaches 165ºF. 

Let the turkey sit for 10 minutes, basting it with liquid. 

Serve the turkey sliced with the liquid from the bottom of the baking dish. 
Nutrition facts
Calories:
336
kcal
Carbohydrates:
11
g
Protein:
46
g
Fat:
8
g
Fiber:
4
g
Sugar:
5
g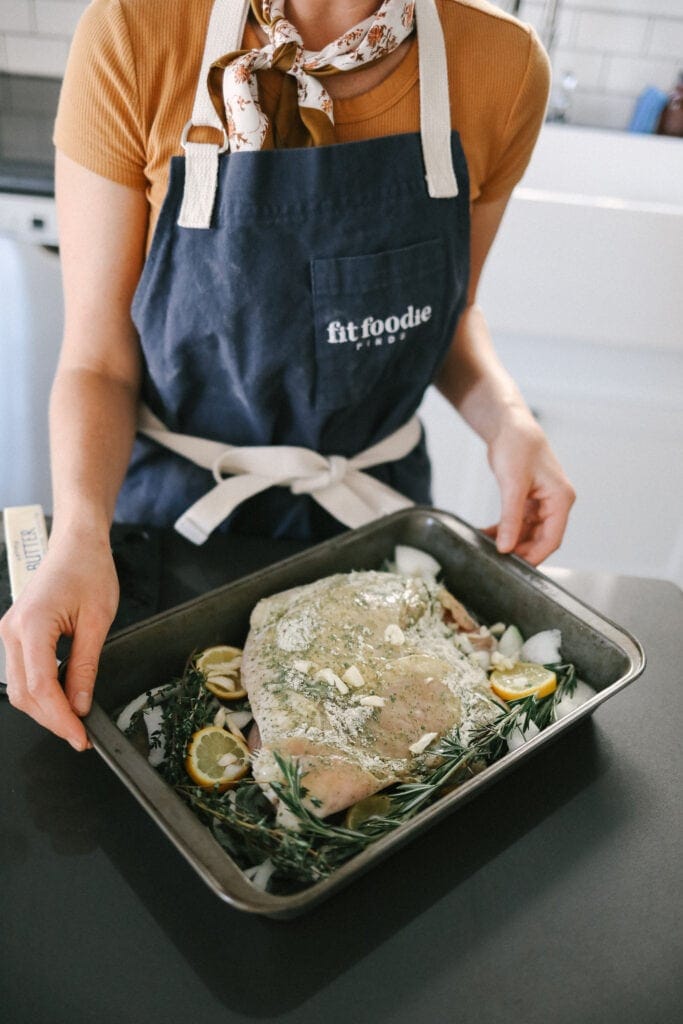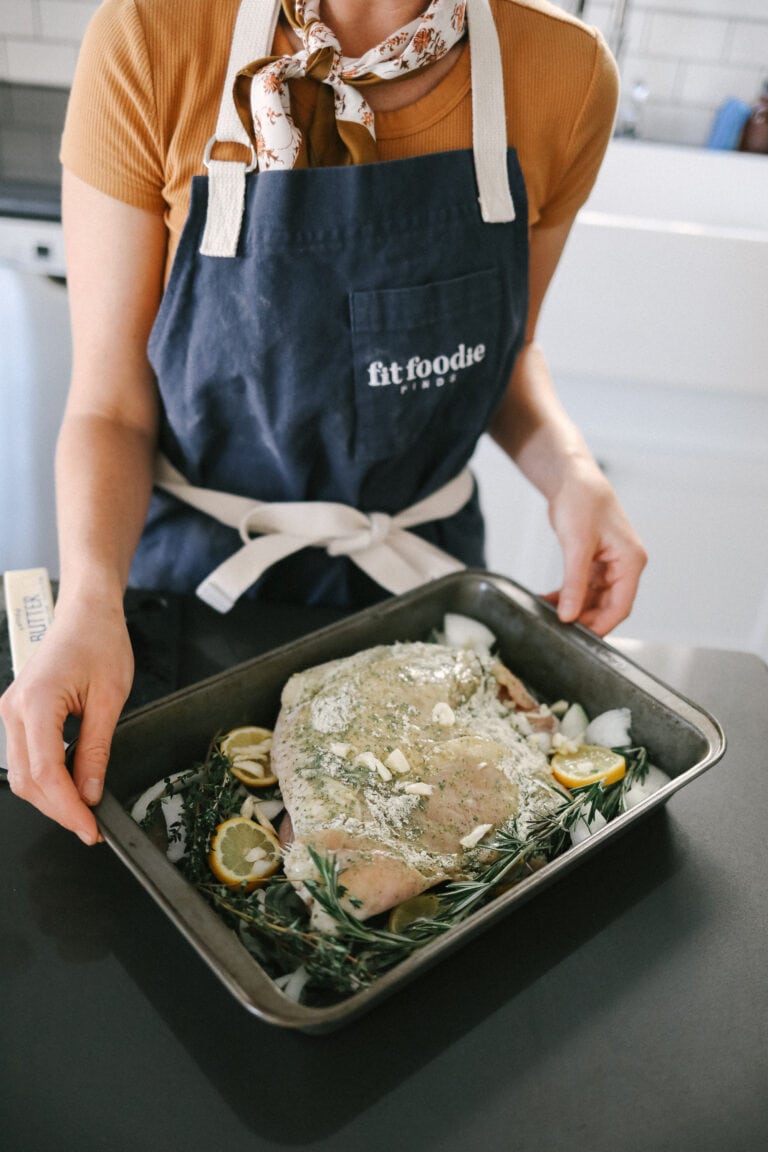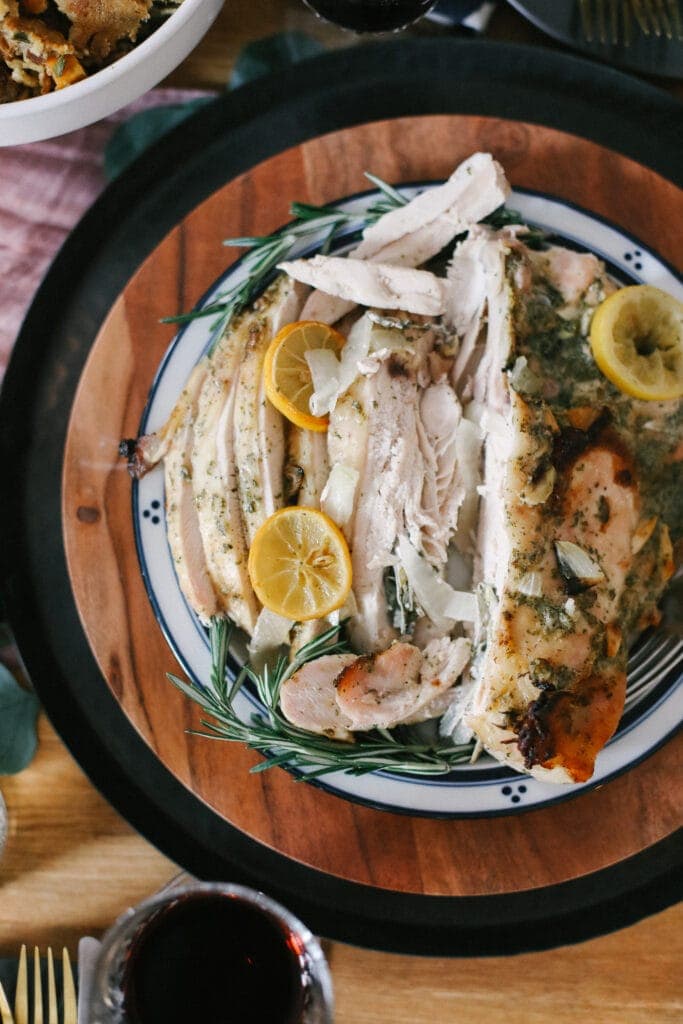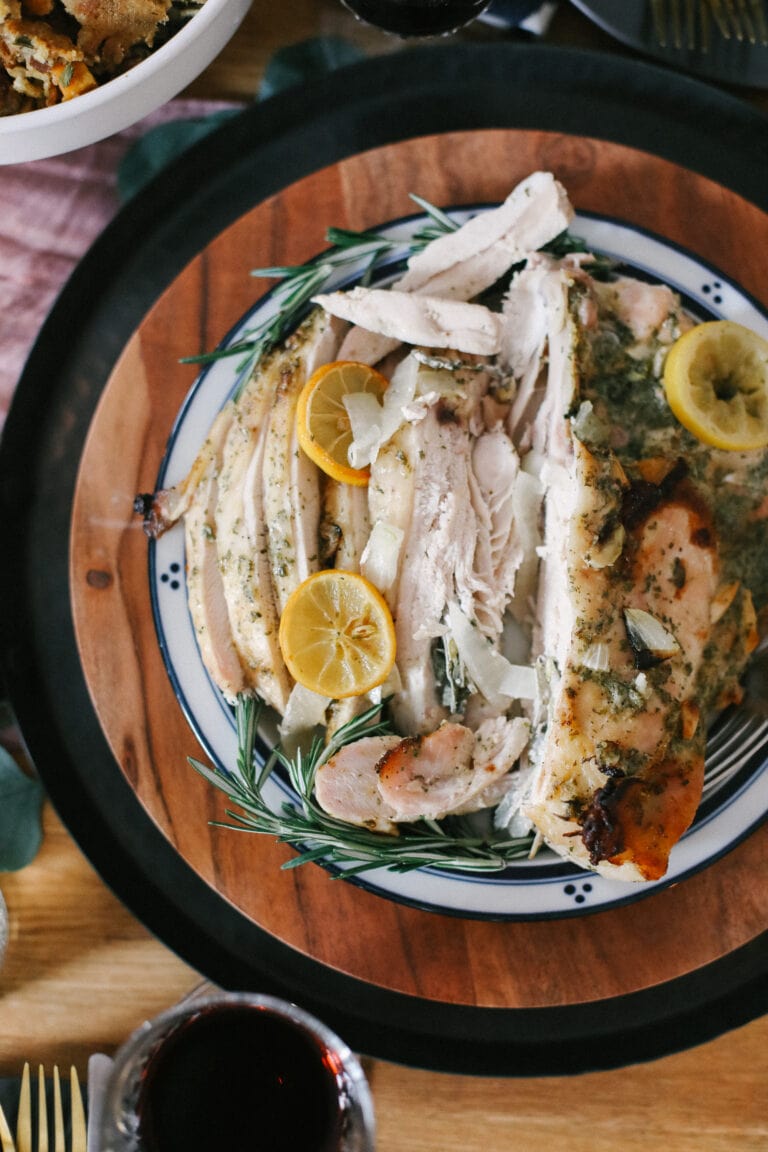 Photography: photos taken in this post are by Erin from The Wooden Skillet.